Hawker Hustlers: Brostern serves hearty fare that warms the heart & stomach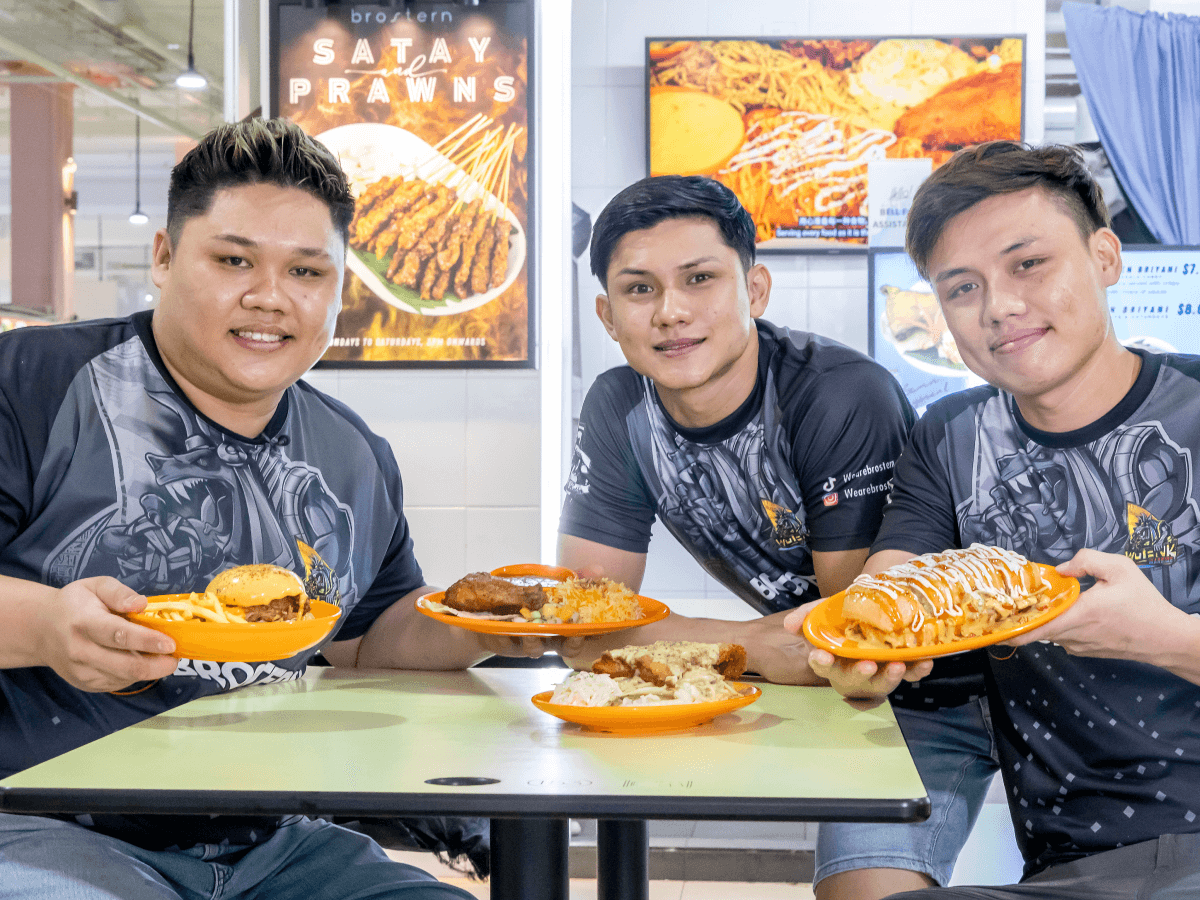 Hawker Hustlers is a new HungryGoWhere series spotlighting young and emerging hawkers with compelling stories. Read through all the way for an exclusive GrabFood promo so you can try their food, too.

Halal-Western fusion stall Brostern has made it a point to embody what it means to be not just a business, but also one with heart. 
It's certainly been making its presence felt within the community. Some of its initiatives include keeping meals affordable for people in need, sponsoring a mixed-age-group sepak takraw team named Wutank, dishing out life advice to youngsters, and even encouraging its staff to grow their savings through cash incentives.

Located at Ci Yuan Hawker Centre, Brostern was founded during the Covid-19 pandemic by four friends who had known one another since primary school.

Initially started by Roimy Tan, Khairul Sulaiman, Rully Romally, and Faliq Ahmad in September 2020, Brostern was meant to provide affordable and tasty meals for those who had been affected by pandemic job cuts.

They settled on their hometown Hougang, a stone's throw away from their alma mater, Yio Chu Kang Primary School.
Today, the Brostern brand is managed by brothers Raimy Tan, 31, Roimy Tan, 30, and Rainy Tan, 28, who are Chinese-Muslim.  
Upon entering the hawker centre, hungry patrons are greeted by Brostern's modern facade, cheery blue banners and brightly lit LED sign.

The business has expanded to include two stalls in the same row, one serving classic Western fare and the other offering fusion Indian cuisine. The second is a more recent addition, which opened in December 2022.

When HungryGoWhere met the three Brostern hawkers one afternoon in April, they cut a striking trio, sporting nearly identical Brostern jerseys they had designed themselves.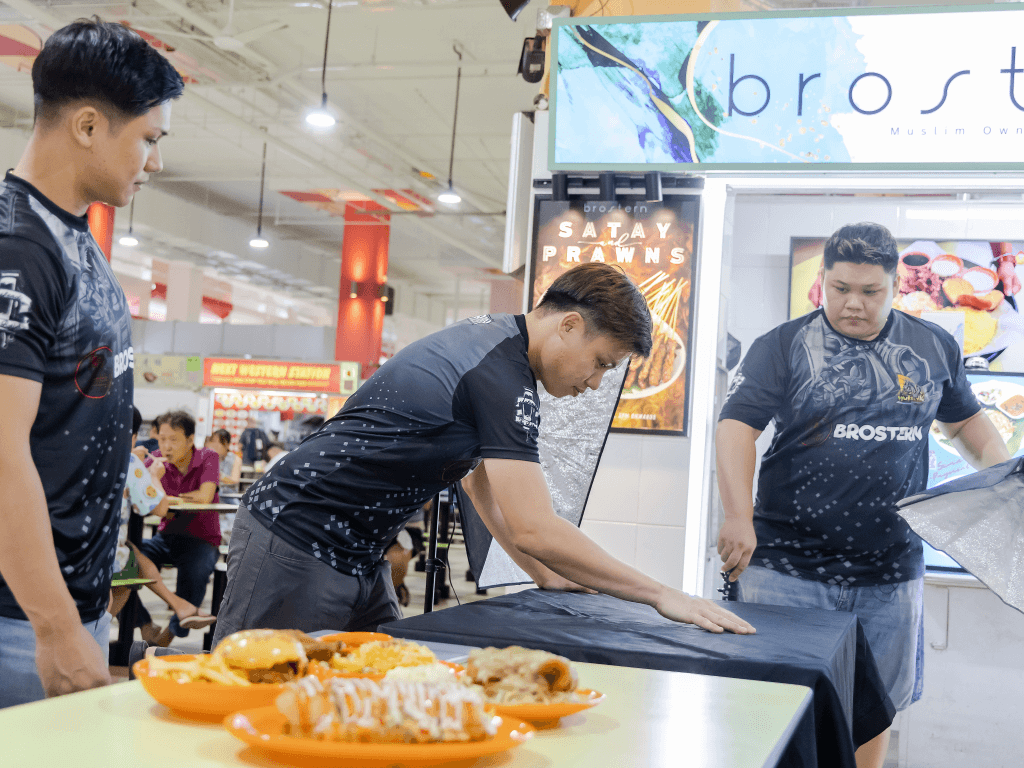 The "PR and marketing spokesperson" of the business is the burly and outgoing Raimy Tan, with the cheekily named title of "towkay" emblazoned on the back of his shirt. He's flanked by his brothers Roimy Tan and Rainy Tan.
With dishes such as the massive Brostern Ambeng platter, Volcano Burger — a homemade beef patty served with fries and a veritable flood of nachos cheese — and a spicy Lemak chilli padi pasta, Brostern's menu sports a greater variety than most Western stalls. And they're at affordable prices, too. 
It's garnered them some devoted fans. Our photoshoot with the brothers is brought to a momentary halt by a Brostern customer who came by to declare his love for their biryani dish.

Their dedication to do good — while uplifting the hawker culture — has earned them accolades such as the Promising New Hawker Award 2022.

On what drives their social mission, Raimy Tan says: "If we don't lead as an example to the new generation, then who will?
"When we put in effort to maintain hawker culture wholeheartedly, we create a sense of harmony. (This is) where we find love and unity in being a Singaporean."
Here's an edited excerpt of our interview with Raimy Tan:
1. How did you start Brostern? 
Brostern was started by four of our friends during the pandemic, but today, it has been taken over by our family. At that time, there were a lot of challenges and ups-and-downs, especially with food costs.

During Covid-19, our mission was to help those who lost their jobs or were trying to save money, because buying a meal would be difficult for them. Our idea was to sell food at a lower cost.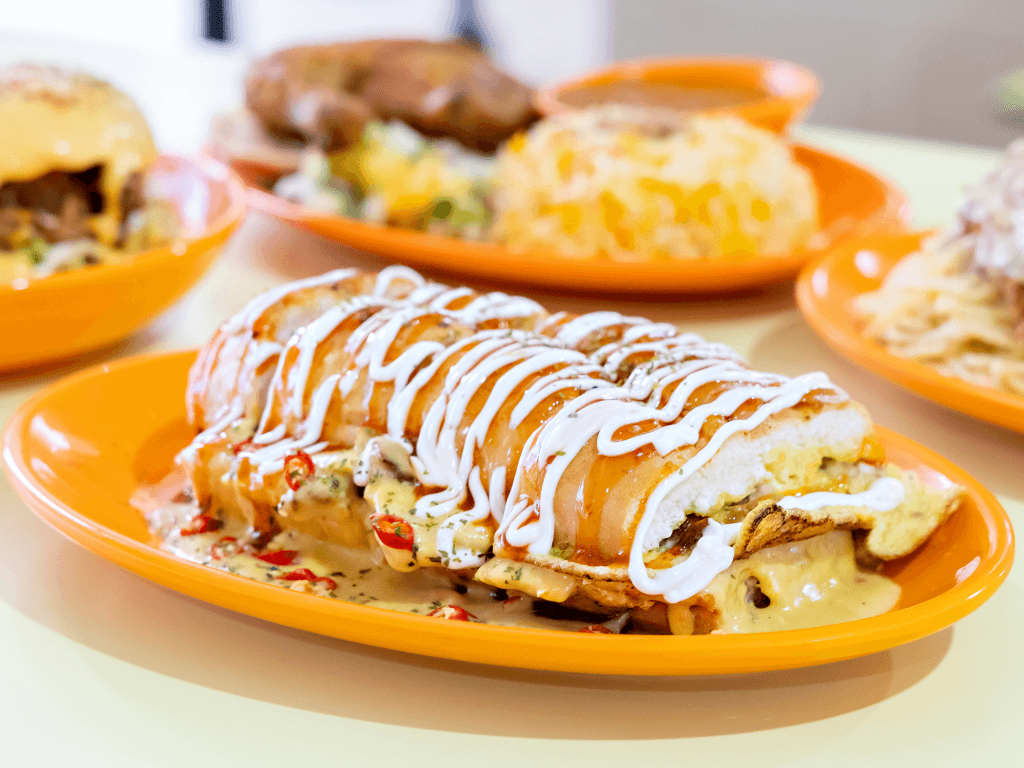 A lot of businesses are like: "I want to make a certain amount of money at the end of the month". To be able to reach that amount, they will break it down: "Okay, so my plan is to sell at S$8, so I can reach that." 
That's the businessman mindset. Ours is the other way round. We look at the cost and think: "Can we do this at S$5?" 
In order for us to profit, we have to sell twice the number of plates.
At the end of the day, with the prices that we sell at, a lot of residents and customers ask us: "Do you guys actually earn?"

(From the start,) we already had this mindset that we want to earn a salary. We are not here to scale up, to become a very big business.

The reason the government made a hawker centre like this is that they want heartlanders to have a cleaner place to eat and still maintain the lively culture of hawkers and affordable food. 
We try our best to also stick to it, but of course, balancing our costs, maintenance of the shop and everything.
2. Why did you decide to sell Western food?
Western food (in Singapore) can go many ways, be it Chinese, Muslim or Indian. It is a multiracial cuisine. You make it halal and everybody can eat. And of course it's easier to cook Western food.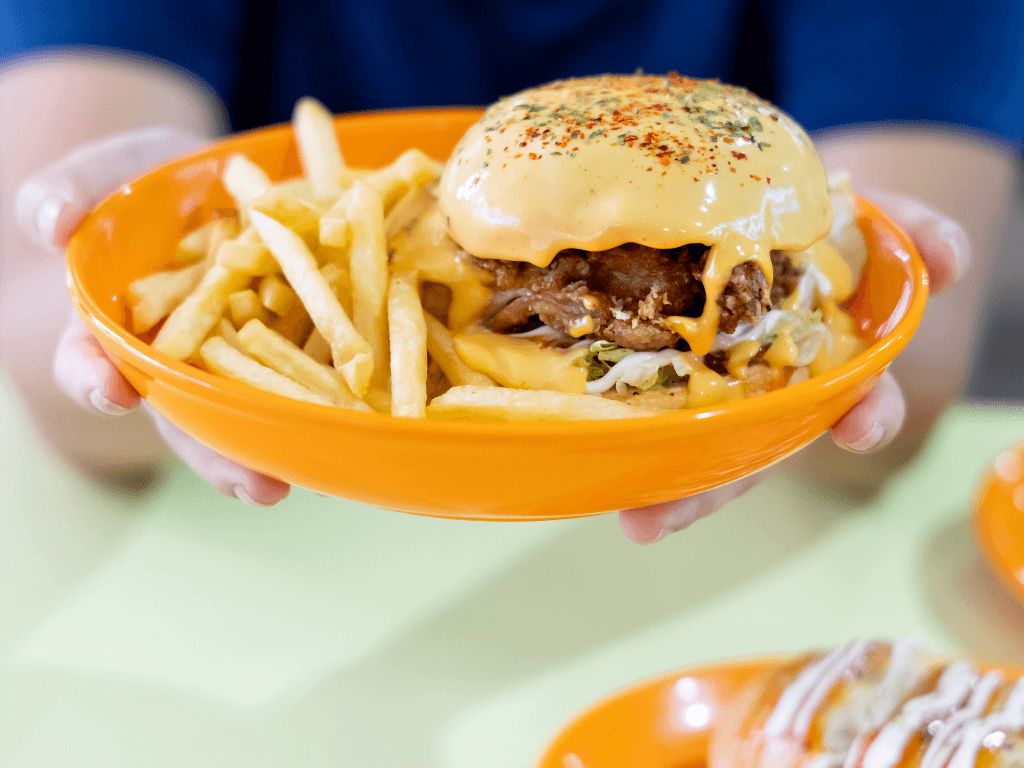 3. What was the business like starting out? 
Actually, we don't have culinary backgrounds; we were in the nightlife industry. I worked as head of security in a club, and my second brother Roimy was an assistant manager in a club while pursuing a diploma in aerospace engineering. My third brother, Rainy, was a bartender. 
So when Covid-19 struck, the nightlife industry closed. My brothers started thinking: "Should we open this (stall)?" 
So they went ahead and did it. I was not working then, but I was the backbone: Supporting everything, (overseeing) the set-up, doing handyman jobs for the stall. So we saved a lot on the piping work, the lights. Everything that we could do, we did ourselves, including the photos and design. For everything else, we got a certified person to come and do it.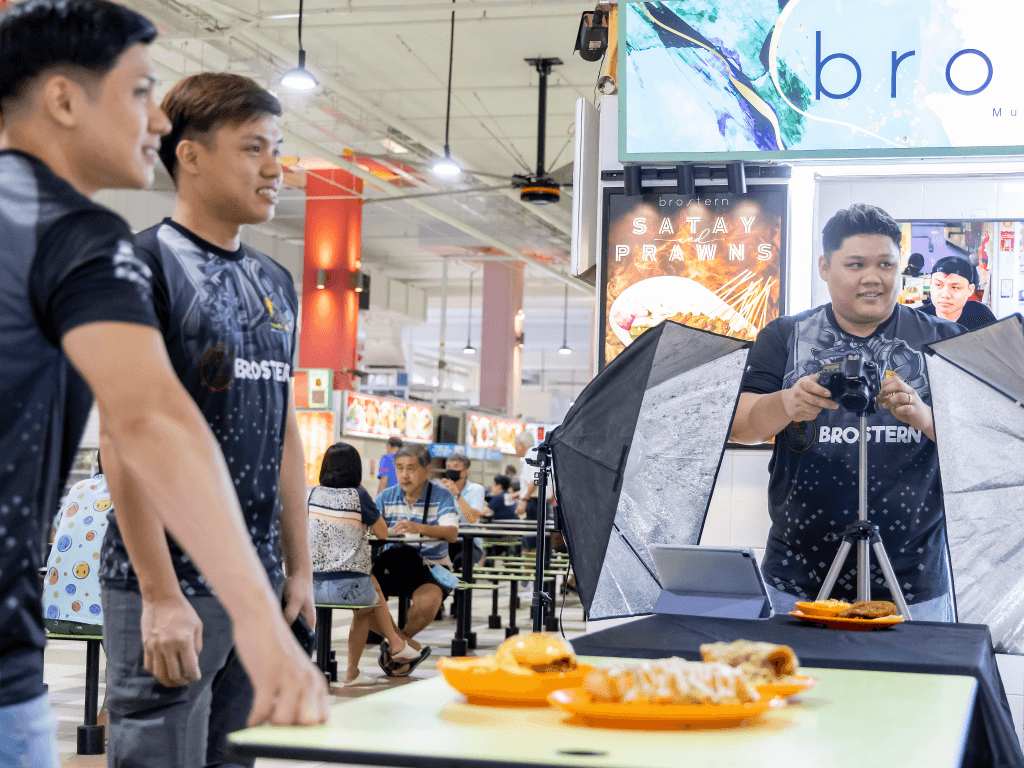 One month before the stall opened, my father and I would stand around and do PR for the stall. We (called out) in Mandarin: "Aunty, one more month and the stall will open."

Because we conversed in Chinese, it's comfortable for them. The residents — especially the elderly (around) my mother's age, 60-plus (years old) — know how to eat, but don't know how to say the dish name. 
(In Mandarin) "There's a person eating the noodles, it looks very good. What's it called?" they would ask me.

When we can explain to them in Mandarin, we win their hearts. When they feel comfortable, they will support you, and of course, you must be respectful. They will look at your manners all the time.

I have a customer who comes every day for our mac and cheese because we sell the cheapest mac and cheese. Back then, it was S$2.50 and the portion was big enough for two people to share. We really pulled the prices very low: Fish and chips, S$5, chicken chop and chicken cutlet, S$5.50. That kind of pricing.

Going through the pandemic, the challenge was ingredient costs. We were thinking: "Can we cover those costs?"
We really squeezed (prices) until last year, until we told the management we really could not do it anymore, and we decided to increase our price.

But when we increased our prices, our customers were really happy for me. They really hope that we can earn and profit.
4. What are some of Brostern's signature dishes?
Our signature is the Brostern Ambeng platter (starting from S$42). Nasi ambeng is a meal in Malay. It is a big platter with different Malay dishes with rice and (usually eaten by sharing it) in a group, so there's a sense of community while eating. That's why we named our dish that way, but we do it in the Western style and make it affordable for everyone.

As for our (second stall), we thought: "Why should we be known for only one cuisine?" So we went into nasi biryani, satay, and so on.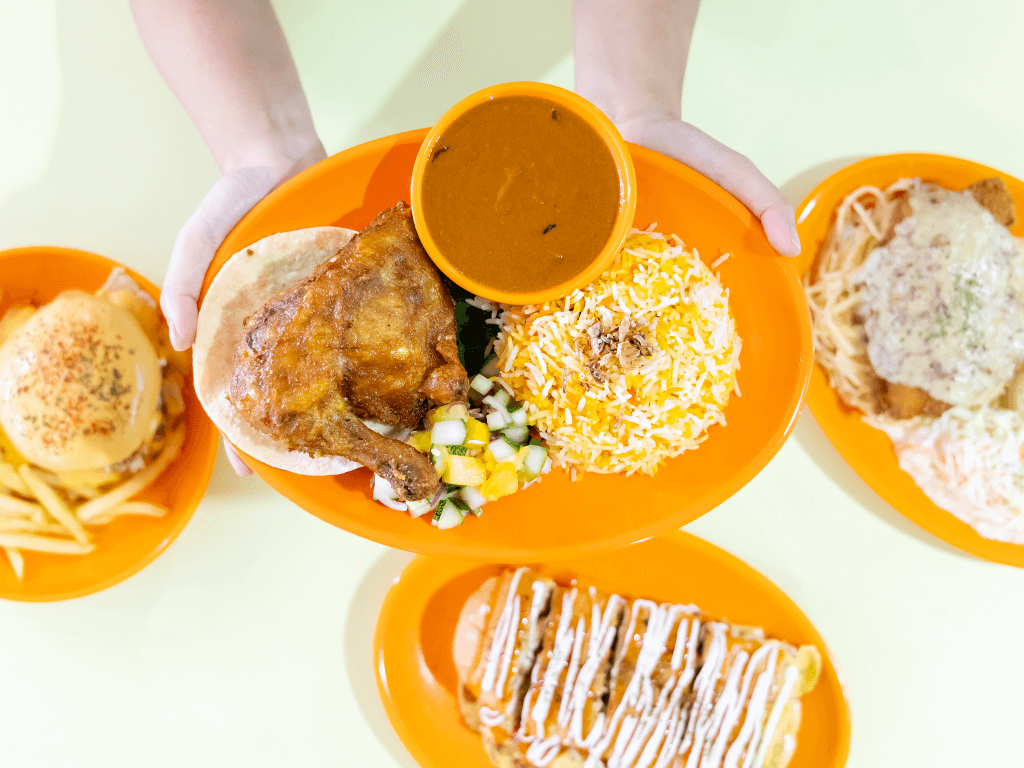 I learnt to cook this nasi biryani from my ex-boss Suzana Sarwan — the owner of wedding caterer Marvelicious by MLC.

She taught me all these skills and cooking techniques. Her standards for chefs are (just) like (those at) The Fullerton Hotel. She guided and taught me what to do, what cannot do.
I will put up a tripod and my camera, and I will put my spare phone there to record every single thing. I will write my notes, ask her questions and she will advise me: "Okay, this one, the taste is not enough, you add this one. What is this for? What is that for?"

… She makes amazing desserts and cakes… and she's more than willing to show me the ropes.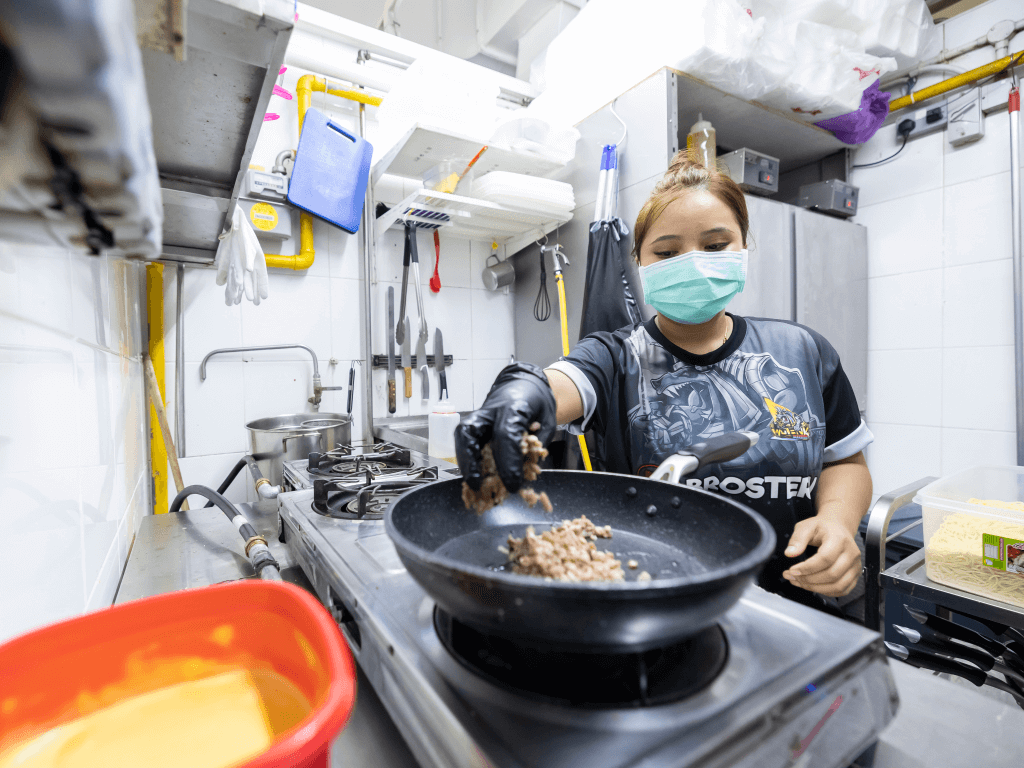 5. How do you differentiate the roles between you and your brothers?
My brothers will do operations, while I will go and study the area — other Western stalls and their food.
If this place is popular, I'll go and try it out. If the place serves pork, I will get my friend to go and eat and try what is so special about it. We always want to keep up.

My (second) brother Roimy has the most important role — the treasurer and purchaser of Brostern. Money in, money out — all his responsibility.
I will do the marketing and speak on behalf of the business. Because my younger brothers can't really talk much, but I can talk a lot.

In terms of character, Roimy is very calm. He has always contained his emotions very well. In business, there are always quarrels; I'm the one who's very aggressive. When certain things are not done right, I always press them: "Why is it not like this or like that?" 
My third brother (Rainy) just joined (us). He's very hardworking. He has an idea for a business, but (it's) more of a cafe. He likes that type. But I told him he must learn the ropes here first.
6. What are the best and worst parts of your day?
We were complacent. We thought that we had a branding that is very steady, so we opened our second outlet at Pasir Ris Central Hawker Centre without doing sufficient research to study the area and footfall. We thought: "We are Brostern!". 
We had a lot of customers coming from the east, Tampines and Bedok. So we thought we would go nearer to them — it'll be easier for them to come. But we lost it all and that was our downfall. Business was bad, (our finances) were (in the) negative. 
That's why we closed that outlet down after six months. After that we came here — we have the opportunity (to serve more people at Ci Yuan).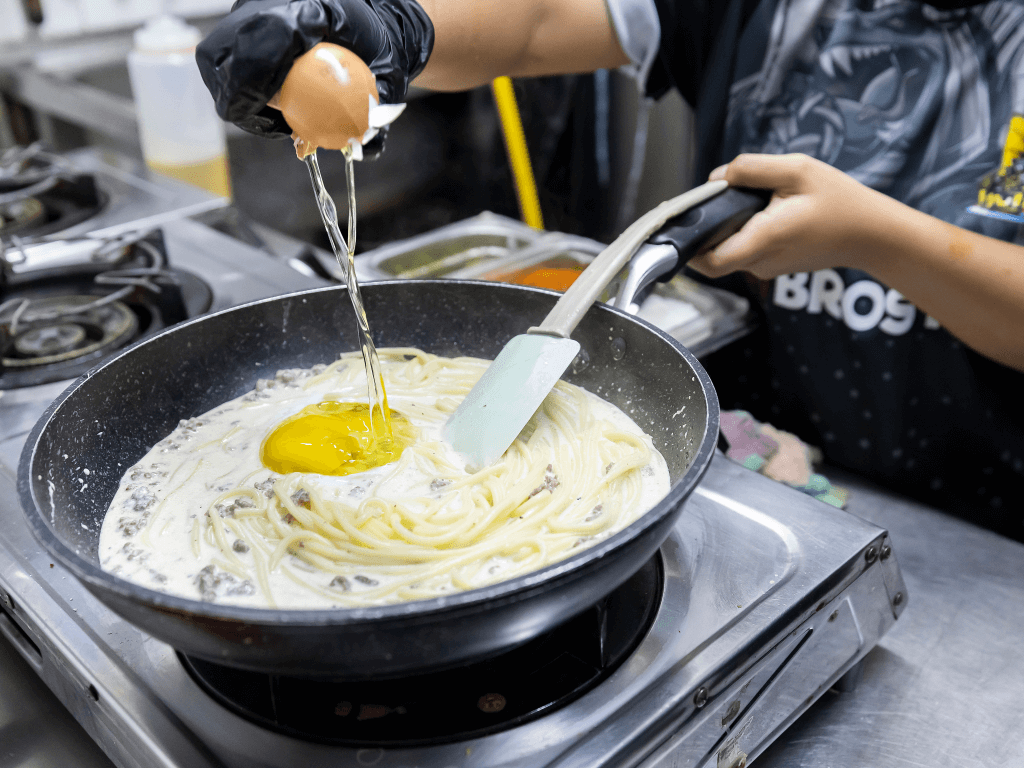 As for the happiest thing, it's that we are still around.

We didn't cut manpower; we still have the same manpower. Even though (our workers) are sitting down there (because there are sometimes no customers to serve). Even when we had that downfall in Pasir Ris and we closed for three months, everyone went jobless, and they still came back here and we started all over again.

So December 2022 was a brand-new start for us.

Till now, I feel like we have gone through a number of storms in our life. That period of time was really very bad. We opened there (in Pasir Ris), lost a lot of money. The staff still all get their salary, but for us, for a few months we didn't have a salary. That's a lesson for us to remember.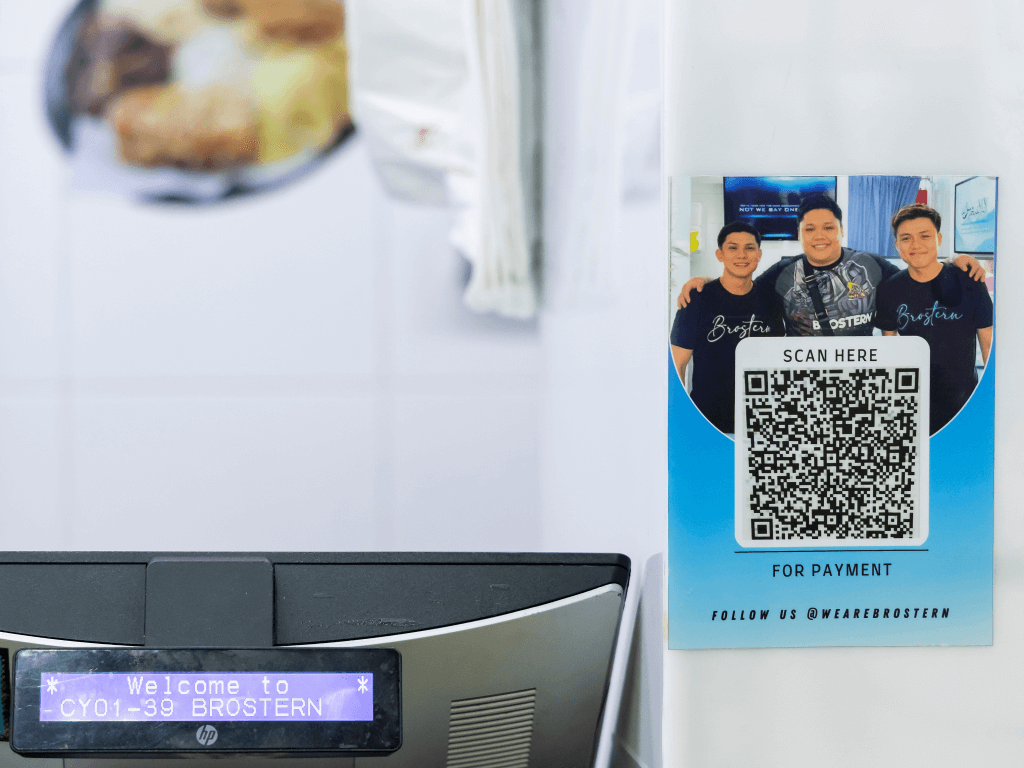 7. What's the plan for the brand?
We plan to do different things under our brand. We plan to open a barbershop, because we've got a good number of youngsters here and our branding is known as these three guys. So very easily, we can get all these boys to go and do all these gentlemen haircuts. They like it.

And we want to learn how to become a supplier. We want to be a one-stop-shop for Western suppliers. You come to me; I can tell you whatever you need. I can give you the (full) service. I can set up everything for you — even your photos I can take for you. So we (want to) become like a consultancy.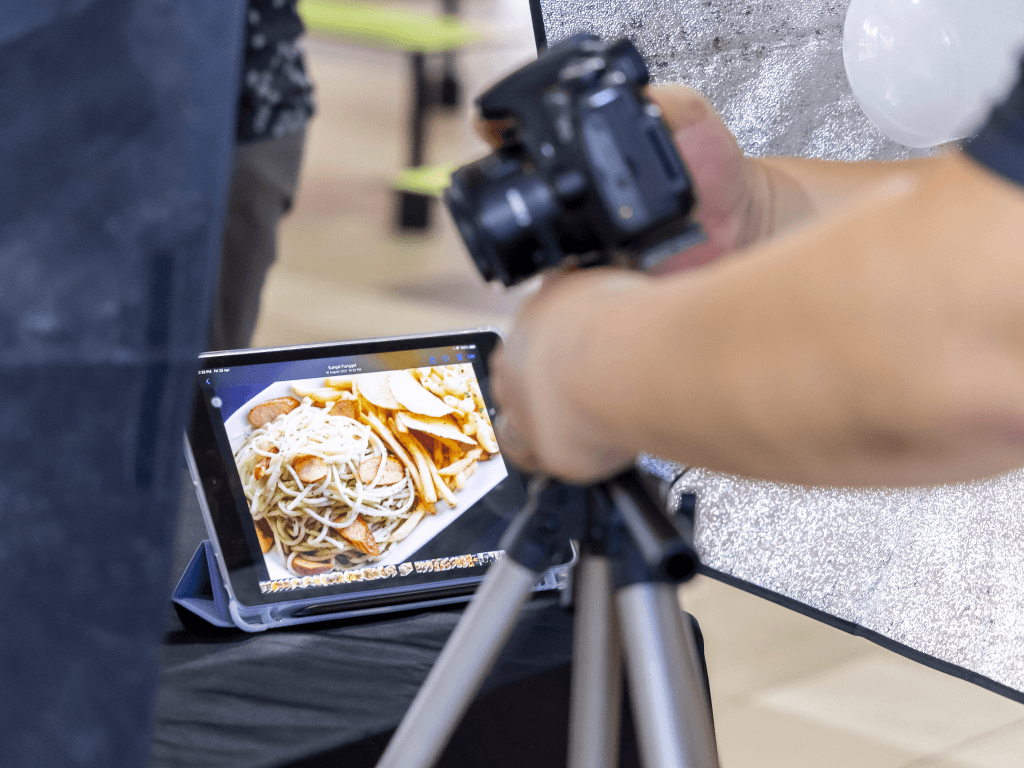 We can also help link them up to good staff.
8. You also have a heart for social issues. Why is that so?
Because in life, I have done wrong before. I have been the worst version of myself. I always got into unnecessary trouble with the law, chose to be a rebel and chose the wrong path in life. 

Today, I have overcome my past and turned over a new tree, instead of a leaf. 
I'm inspired to teach the younger boys and lead them to success in life, rather than being lost without proper guidance. I feel I should repay society. I will always believe that you should always give people a second chance.  
But I have no regrets. If I didn't go through that, I won't be who I am now at 31 years old.

I hope that my voice, or Brostern's (social) movement, can set an example for other youngsters.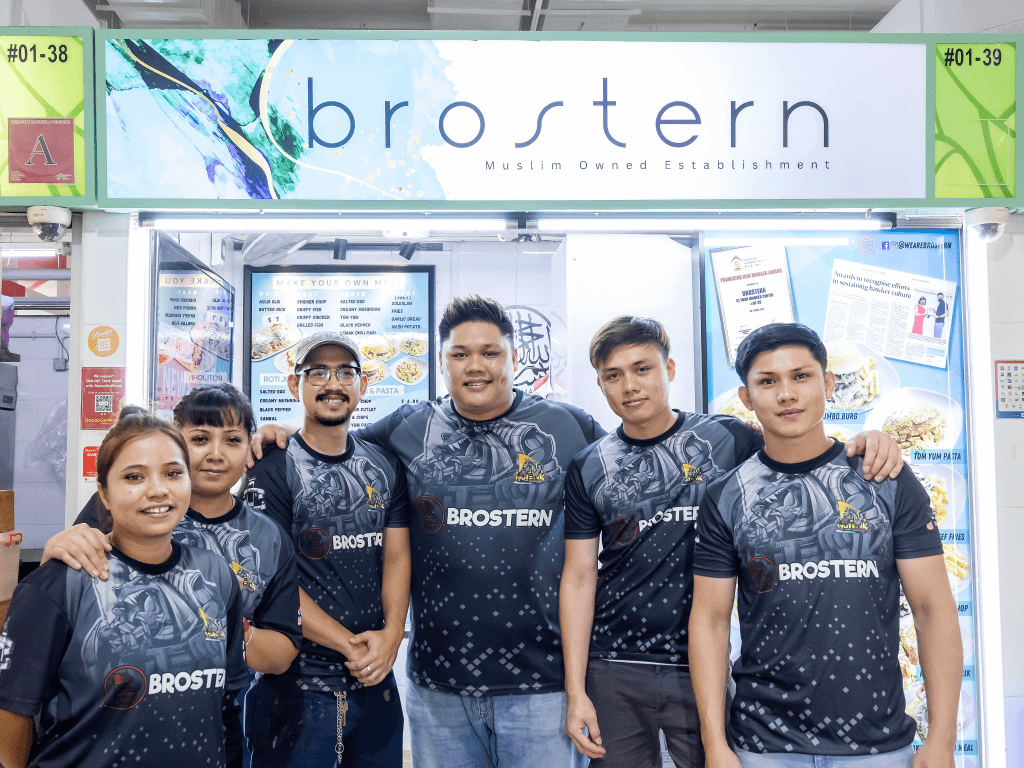 Our staff are always younger than us. From time to time, they may make wrong decisions in their lives that affect them badly. We encourage them to listen to us.
The boys from Wutank (sepak takraw group) also listen to us because they know about our past and what we have gone through. But we don't want them to walk the same path we took.
We have this dream that — one day if we can afford it financially — we want to go back to our primary school and offer financial assistance to the kids there.

That's the way we can inspire the younger generation. We are your seniors and now we're doing this… So we hope to influence them for good.
Exclusive GrabFood Promo
Good news for our readers who scrolled all the way to the end! Here's your exclusive GrabFood delivery promo for Brostern, valid from June 4 to July 4, 2023:
How it works
Use the promo code HGWBROSTERN for S$4 off your basket (minimum spending of S$20) when you order from Brostern @ 41 – Hougang Ave 9 and Brostern – Ci Yuan Community Club on GrabFood
Stackable with free Brostern delivery (up to S$3 off) with a GrabUnlimited subscription
While redemptions last, capped at one redemption per person
Ci Yuan Community Club, 01-39/41, 51 Hougang Avenue 9
Nearest MRT station: Hougang
Open: Monday to Saturday (12pm to 9pm)
Ci Yuan Community Club, 01-39/41, 51 Hougang Avenue 9
Nearest MRT station: Hougang
Open: Monday to Saturday (12pm to 9pm)
---