Ben Yeo talks about his pandemic babies: A mod-Chinese eatery, atas chee cheong fun & more
Actor-host Ben Yeo has kept himself busy during the pandemic with the launch of several F&B concepts
Yeo first worked in F&B as a teenager before he shot to fame
His latest venture, Tan Xiang Yuan, is a modern-Chinese restaurant in Little India
It would be a pretty massive understatement to call Ben Yeo — actor, host and fashion enthusiast — a mere fellow foodie.
It's been a whirlwind three years for the 44-year-old, who has launched several F&B concepts within this short period.
The list of ventures is impressive, stretching across the breadth of Singapore's food scene — and during Covid-19, too.
"I remember when we opened SG Umami (Yeo's fusion izakaya and pizza joint) with a soft launch on May 15, 2021. Right after that, at midnight, we started to pack away all our chairs and tables, because the Heightened Alert started on May 16," he says.
Heightened Alert refers to Covid-19 controls that were rolled out in 2021, which saw the cessation of dine-in activities at all F&B establishments in Singapore in May.
"It was a roller-coaster for all businesses."
Even then, the down-to-earth serial entrepreneur seems to have taken all these and more in his stride. After all, he's no stranger to the ups and downs of F&B, having been in the business for decades.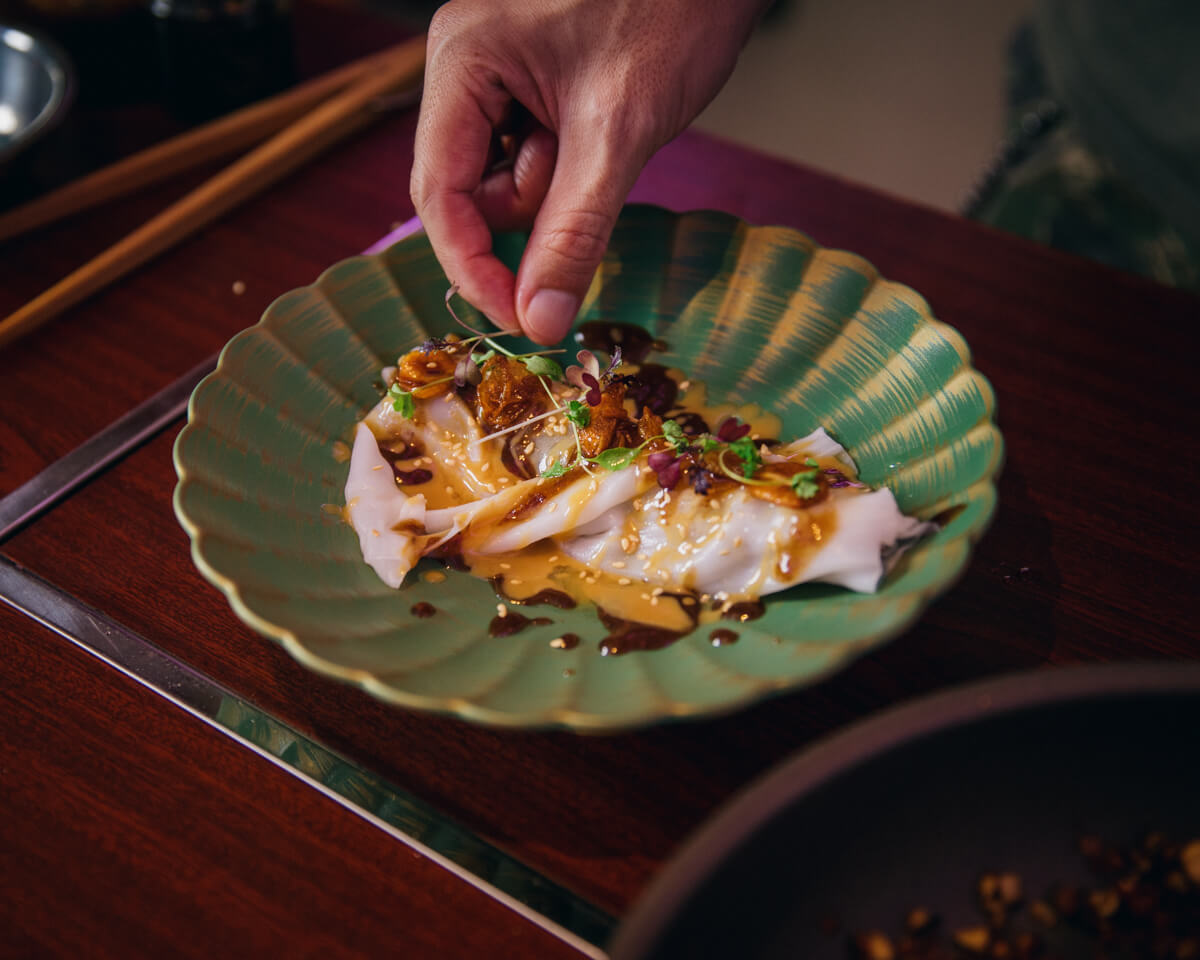 At present, there's SG Chee Cheong Fun — an online purveyor of gourmet chee cheong fun (rice noodle roll) kits with premium condiments — launched during the height of the pandemic. 
There's also the aforementioned SG Umami, specialty steamboat eatery Tan Xiang Charcoal Fish Head Steamboat Restaurant, lok lok stall Geon-Bae Korean Lok Lok, beer garden Playground, and even a durian business named SG Mao Shan Wang.
His latest venture, mod-Chinese resto Tan Xiang Yuan, opened in November on the fringes of Rochor and Little India.
Yeo had his fingers in the fast-casual pie, too — a 2021 tie-up with McDonald's saw the creation of an all-new Hainanese chicken burger.
And if that isn't enough to keep anyone busy, he's cooked up many a storm on YouTube and television, in addition to a steady stream of acting work.
HungryGoWhere sat down with him to get an insight into chef Ben.
Food and fashion
Yeo's fans are probably well-acquainted with his background before he embarked on his acting career. As a teenager, he trained in the culinary arts at Shatec, and interned at Cantonese restaurant Hai Tien Lo under legendary masterchef Chan Chen Hei.
"I always wanted to be a Japanese chef and work in Japan," he says. But he eventually took up work as a store manager for Delifrance for a year and a half, where he learnt the ins and outs of the F&B industry.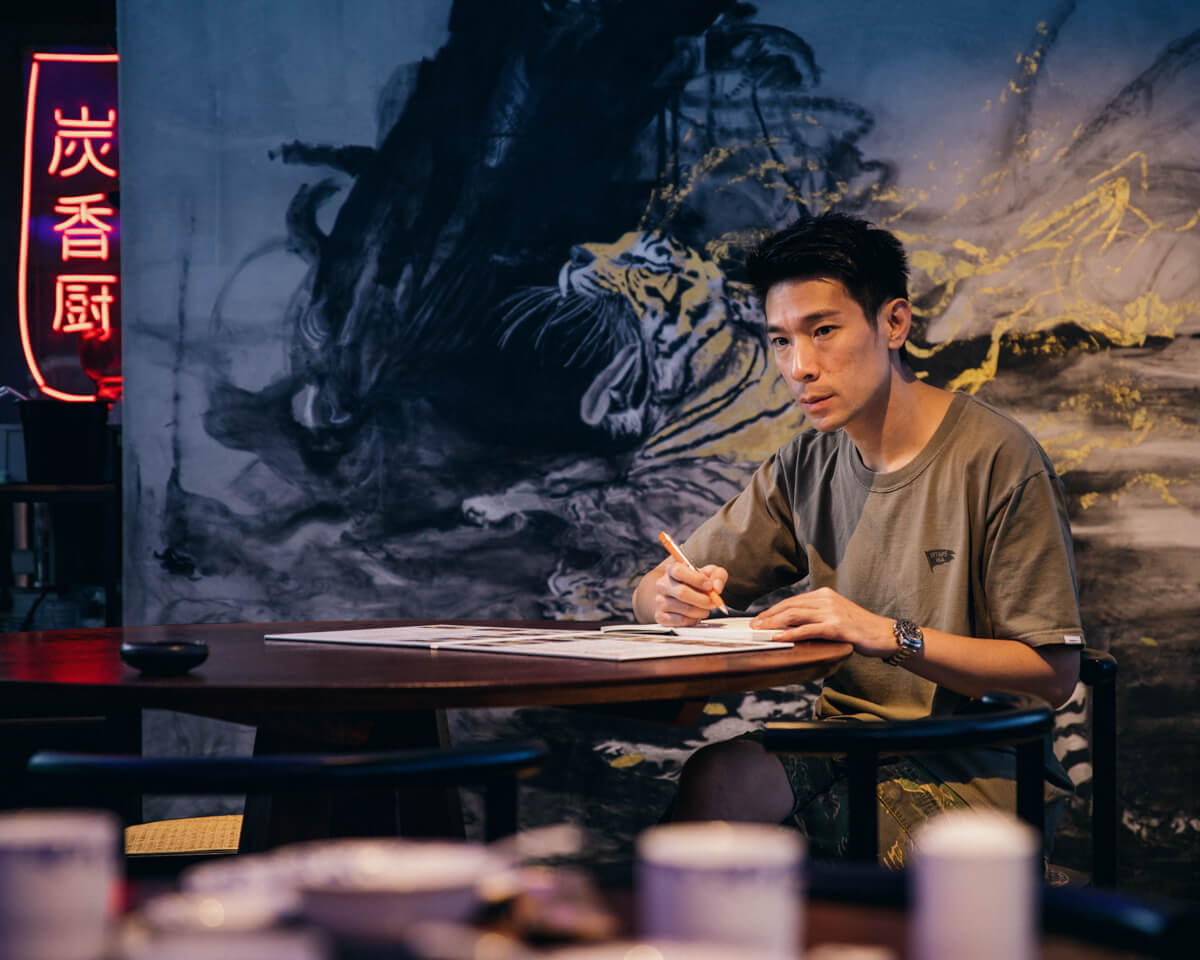 Spurred on by his love for fashion, he opened his own streetwear shop at Far East Plaza, at age 21.
"All my passions just so happened to start with the letter 'F'. Food, fashion, and now I'm a father," he muses. 
This was before he was scouted by then-broadcast giant SPH MediaWorks, and the rest is history, as they say.
Beyond showbiz
Even as an established actor-presenter today, Yeo has made it no secret that food continues to be a big part of his life.
"I can't act forever, so I still need something else to do," he says wryly.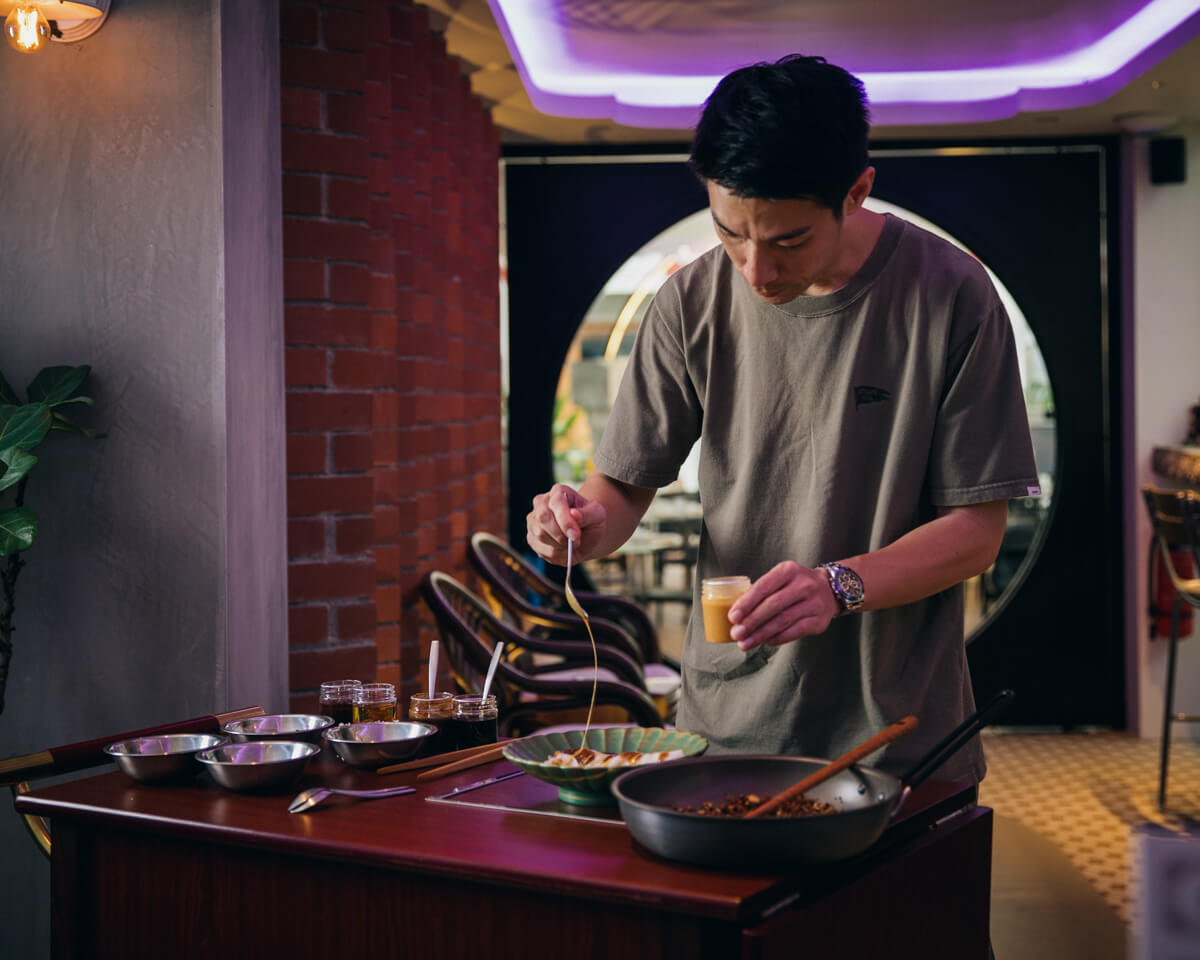 His forays into the food scene stretch as far back as late 2012 with Play Kitchen, a Western stall at Jurong Point. In the years that followed, Yeo's also helmed fried chicken chain Tenderfresh, as well as Hawkerman, a casual eatery.
As Yeo knocks out concept after concept — each with its own brand story and recipes — the burning question remains: Where does his inspiration come from?
"From everywhere," he says matter-of-factly. "(It comes) from my own experience, business partners, family — from my grandma and my mum."
His first pandemic venture, SG Chee Cheong Fun, was born out of some experiments with condiments from heritage soya sauce brand Kwong Woh Hin Factory. Yeo and his business partner Dickson Woo, the third-generation owner of Kwong Woh Hin, then pulled the business together into its present iteration.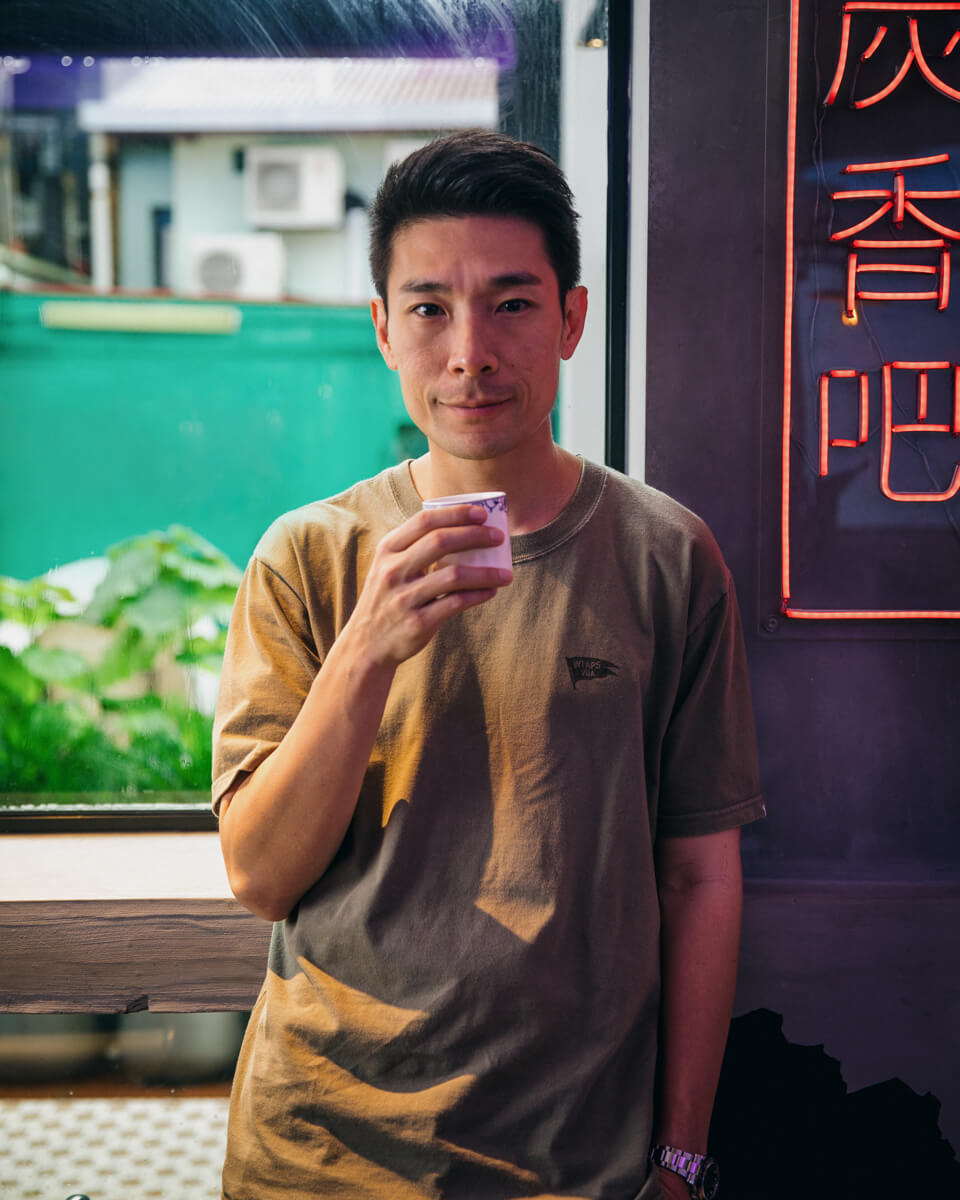 Yeo isn't one to stew too long on a good idea either. SG Mao Shan Wang, for example, took off in three days.
He recounts: "My partners and I discussed it on the first day. The next day I went out to source for durian suppliers, and on the third day, we started to sell them.
"All of us love eating durian, but when it comes to selling, none of us had any experience. Only I knew a little bit about how to open the fruit.
"With the help of a friend who has experience selling durians, we just whacked (got on with it)."
One thing he's learnt is that having to deal with uncontrollable variables, such as traffic, the weather and the fruit's short shelf life, makes selling durian a highly stressful trade. (Did you know, according to Yeo, that at room temperature, durians last only for 30 hours from the moment it falls off the tree?)
The business ran for two seasons, from June to September 2021, and again during the same months in 2022. Yet, due to the difficulty in ensuring the fruit's quality, Yeo doesn't foresee the business continuing into the new year.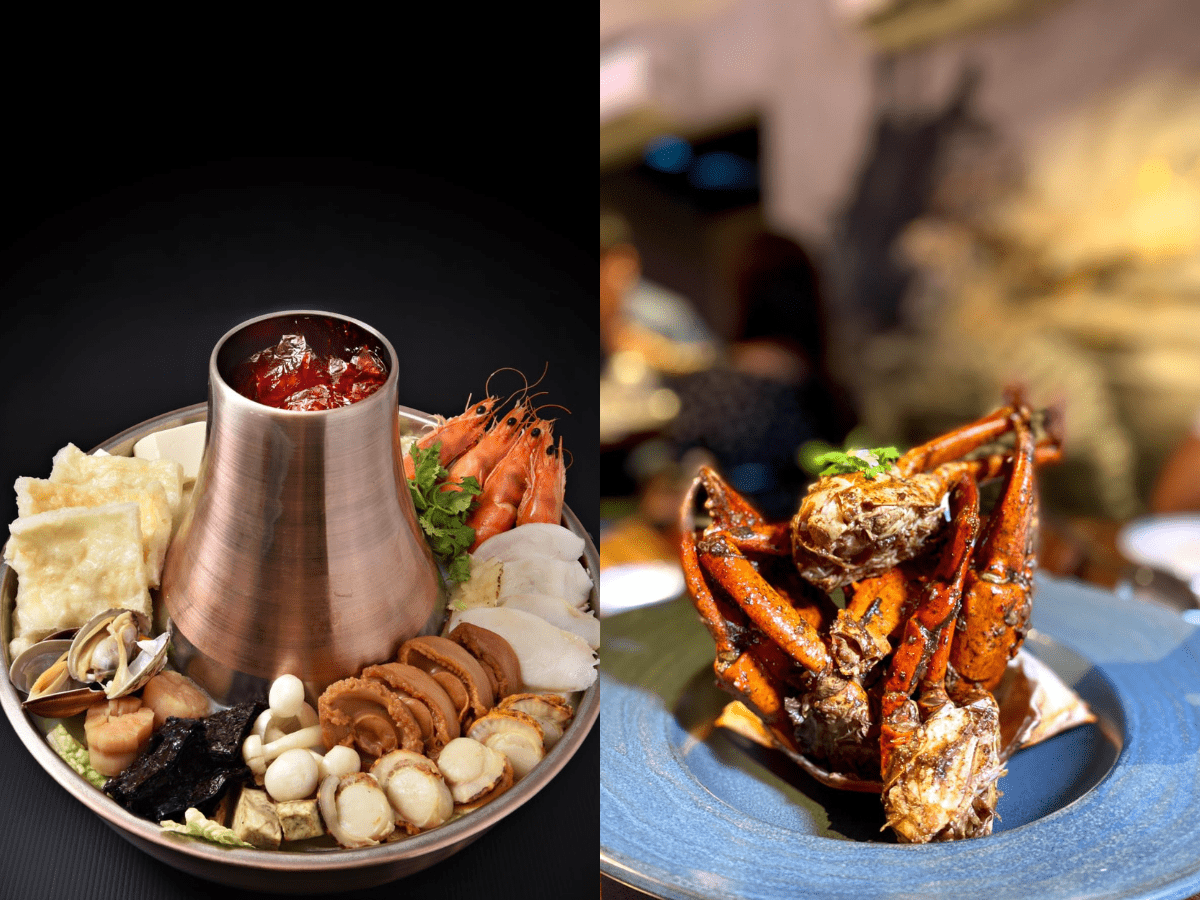 For him, though, the food always takes centrestage. 
"Usually, I will think of the food first — what to sell, what to create. After that, we will think of the environment and the concept."
The process sometimes evolves far beyond what he initially envisages — just as in Tan Xiang Yuan, which was intended to be a second outpost for his casual fishhead steamboat concept. 
"But when we came here, we saw the structure (of the conserved building) and thought: 'Maybe we can do a bit more.' Eventually, we changed the concept and it became a modern-Chinese restaurant."
Today, Tan Xiang Yuan seats 100 diners, with room for more when the eatery completes renovations on the second floor, hopefully before Chinese New Year in January.
It still has a signature hotpot dish, but it's not quite the same. The dish, and the restaurant as a whole, revolves around live seafood and atas (elevated) ingredients, such as scallops and fish maw. There's even a durian chilli crab and a fried Mao Shan Wang dessert.
What's next?
Yeo is still active in the media industry, and calls it his main business, while these are more like side ventures.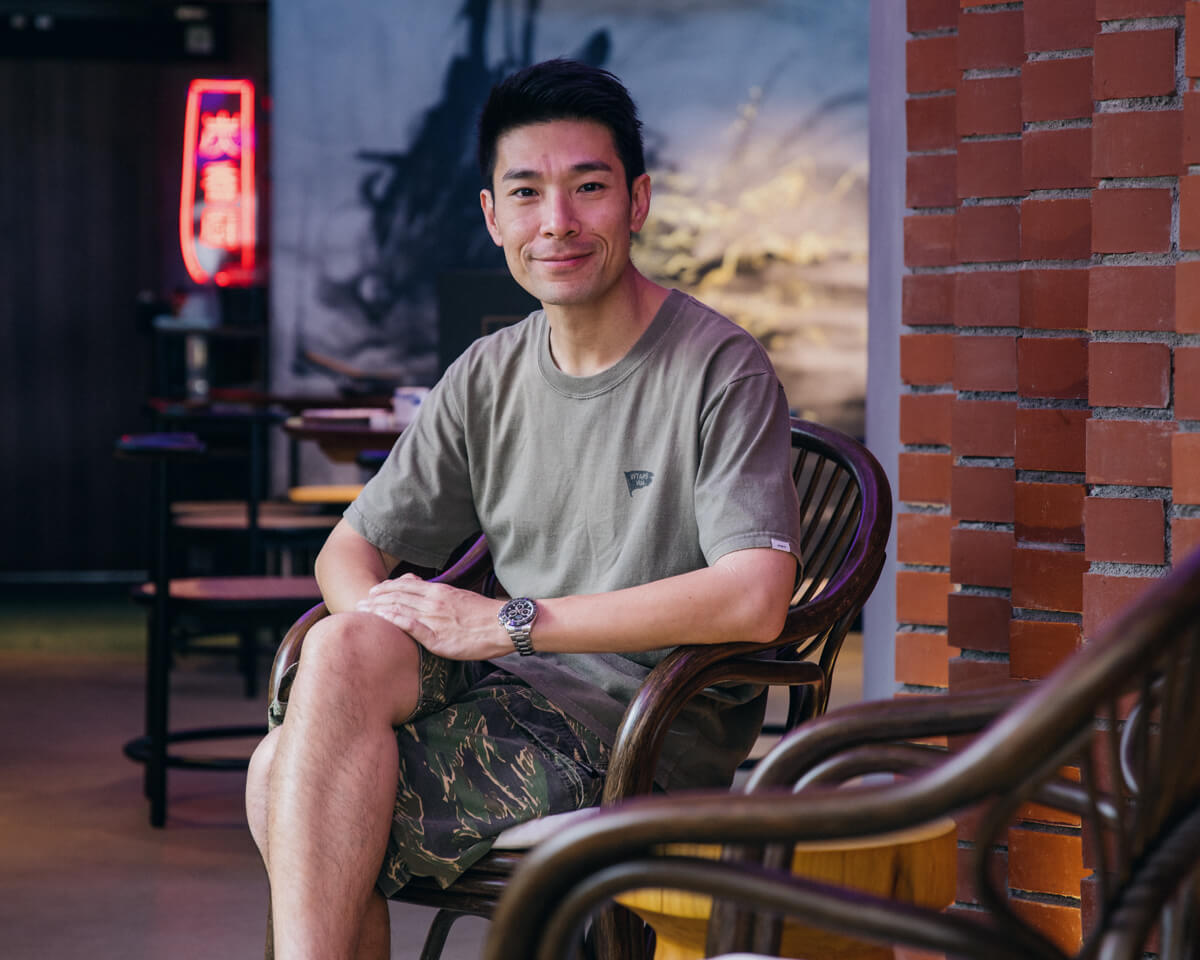 He hopes to bring Tan Xiang Charcoal Fish Head Steamboat Restaurant to more locations around the island. 
He can't quite promise that it'll look exactly the same, though. As with Tan Xiang Yuan, he and his partners dislike overhauling a new location just to fit the concept they had in mind.
"We will go to the location first, then try to incorporate the environment into our restaurants or stalls."
As for passing the businesses down to his two sons, aged 10 and 13, Yeo doesn't quite think they're keen.
"They're more interested in eating than cooking," he jokes.
Playground is on the GrabFood delivery service. Book a ride to any of these eateries.