The Flying Pan, a stall in Hougang, goes viral for hearty Western meals from S$5.50
Vicky Ho, 23, and Sean Leong, 38, are the hawkers behind a viral Western stall in Hougang
Prices start from S$5.50 for a generous portion of meat and three sides
Profits may be thin, but the owners are determined to keep prices low
It's a two-man team at The Flying Pan, a small Western stall in Hougang that caught the attention of Singapore's foodies in late November last year.
Today, it serves around 300 plates a day — including 100 or so of its signature chicken chops — for the low, low price of S$5.50 for a main course and a choice of three sides.
It's probably one of the cheapest offerings by a Western-food stall on the island.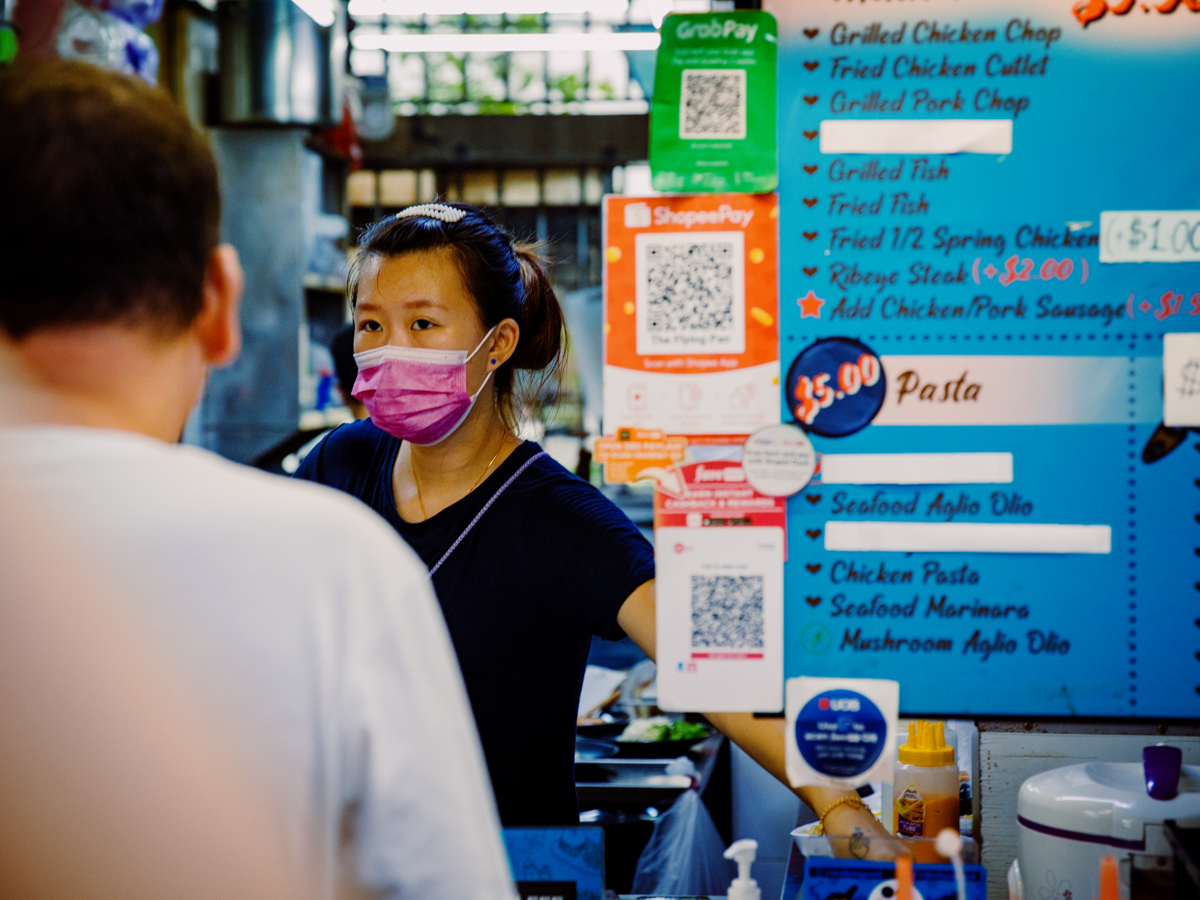 Vicky Ho, 23, is younger than most hawkers out there but is the backbone of this coffee-shop stall.
When the orders come in, Ho runs point on plating and packing takeaway orders, while her husband Sean Leong, 38, fires up the grill.
It's a delicate dance in its kitchen; the space is narrow and shared with a wanton mee stall. 
The couple count themselves lucky that their neighbour wraps up operations at 5.45pm — just before The Flying Pan's evening peak hour hits — and graciously allows them free rein over the space.
Born in April 2021, in the thick of Covid-19, the Flying Pan marks a return of sorts for Ho and Leong.
Leong had cut his teeth at fine-dining resto Ristorante da Valentino and ran another Western stall at Ci Yuan Community Club before the pandemic struck.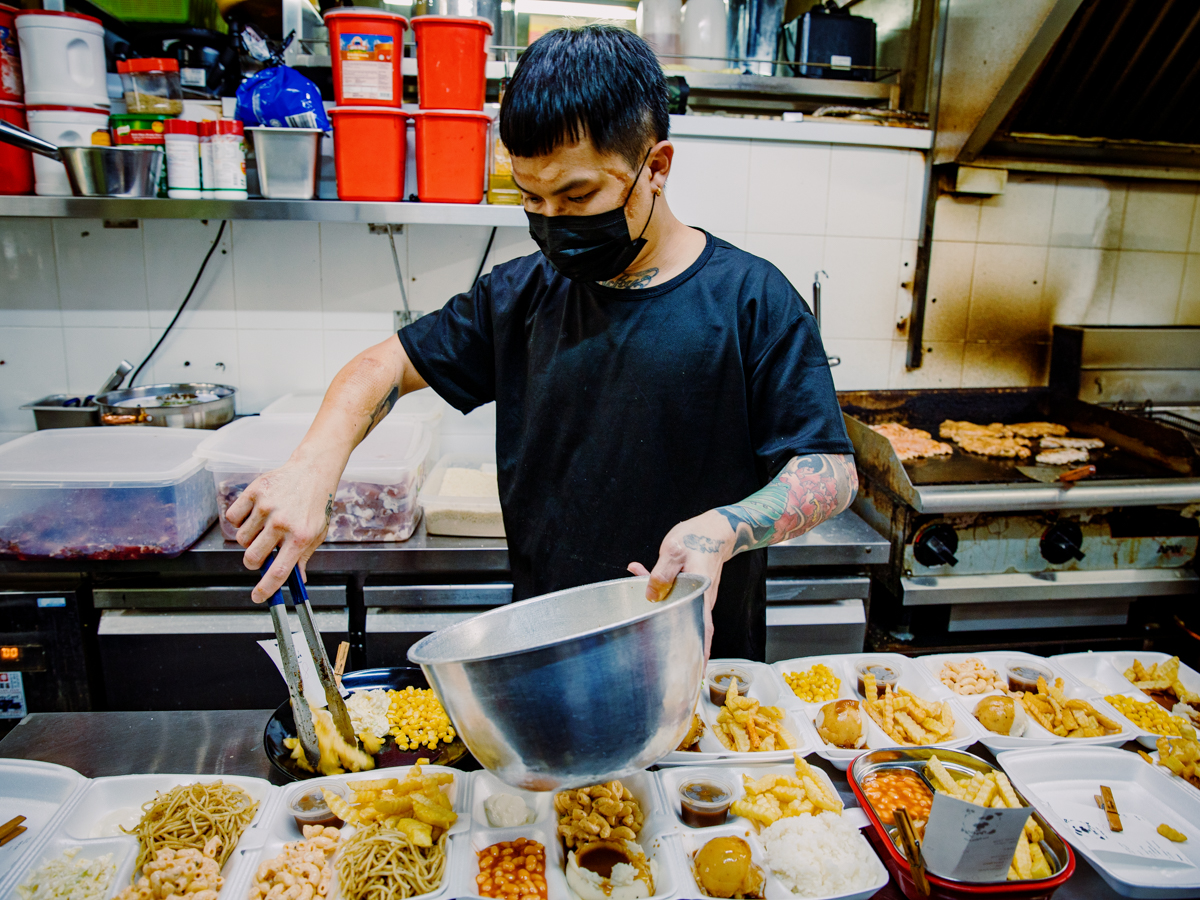 The stall's name comes from a chef with whom Leong apprenticed.
"He liked to throw the frying pan whenever he was upset with the food or the staff. I thought that'd make a good name," he jokes.
Keeping prices low
The couple always loved Western food but found that it could cost quite a bit — even in coffee shops.
"When you go to a coffee shop, the Western food can be the most expensive (cuisine)," says Ho. "We thought: 'Why not sell the food more cheaply?'"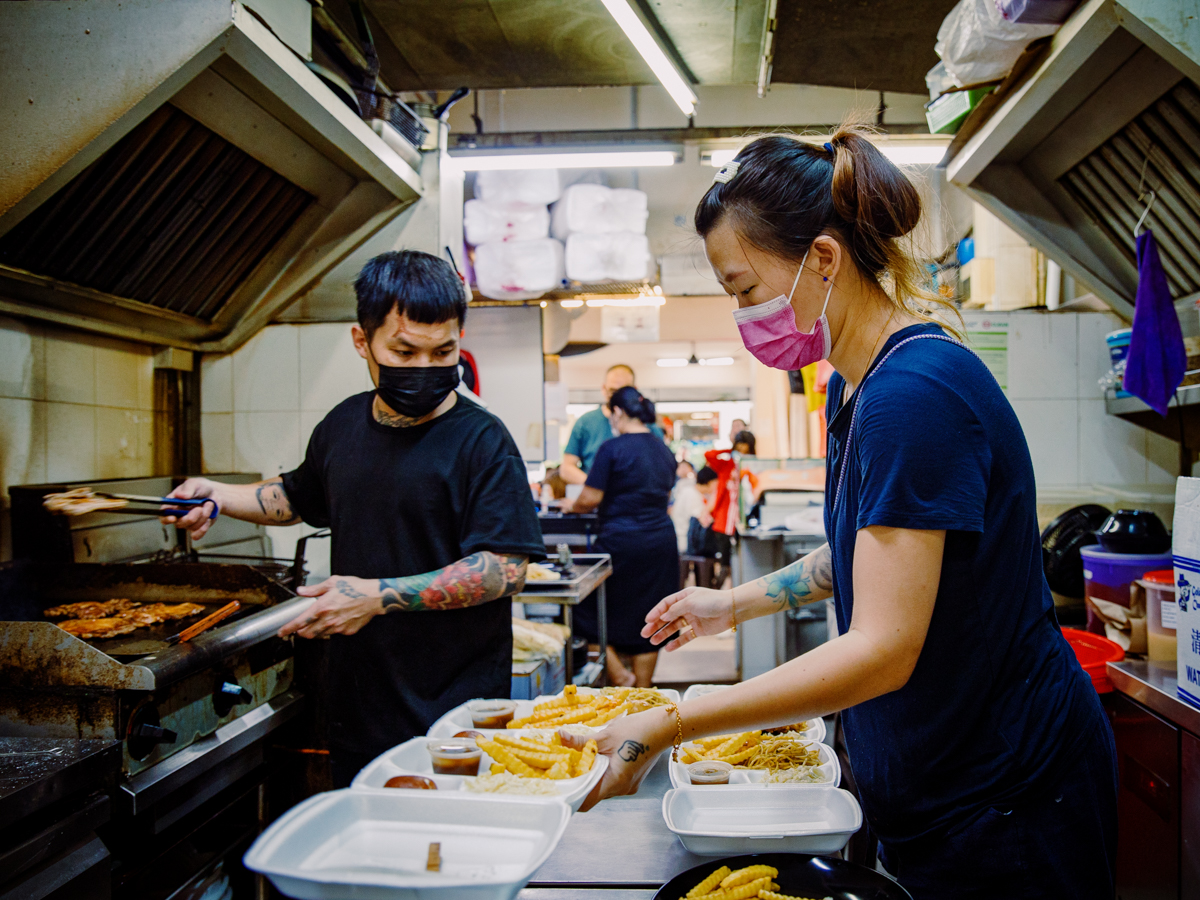 "We may earn less, but that way, more people will be able to enjoy our food."
Looking around the coffee shop it calls home, The Flying Pan's prices are on a par with those of its neighbours, which range from S$3 to S$7 a plate.
This means profits are thin, though.
When asked about rising ingredient prices, Ho says they were hit hardest in late 2021, when costs shot up drastically.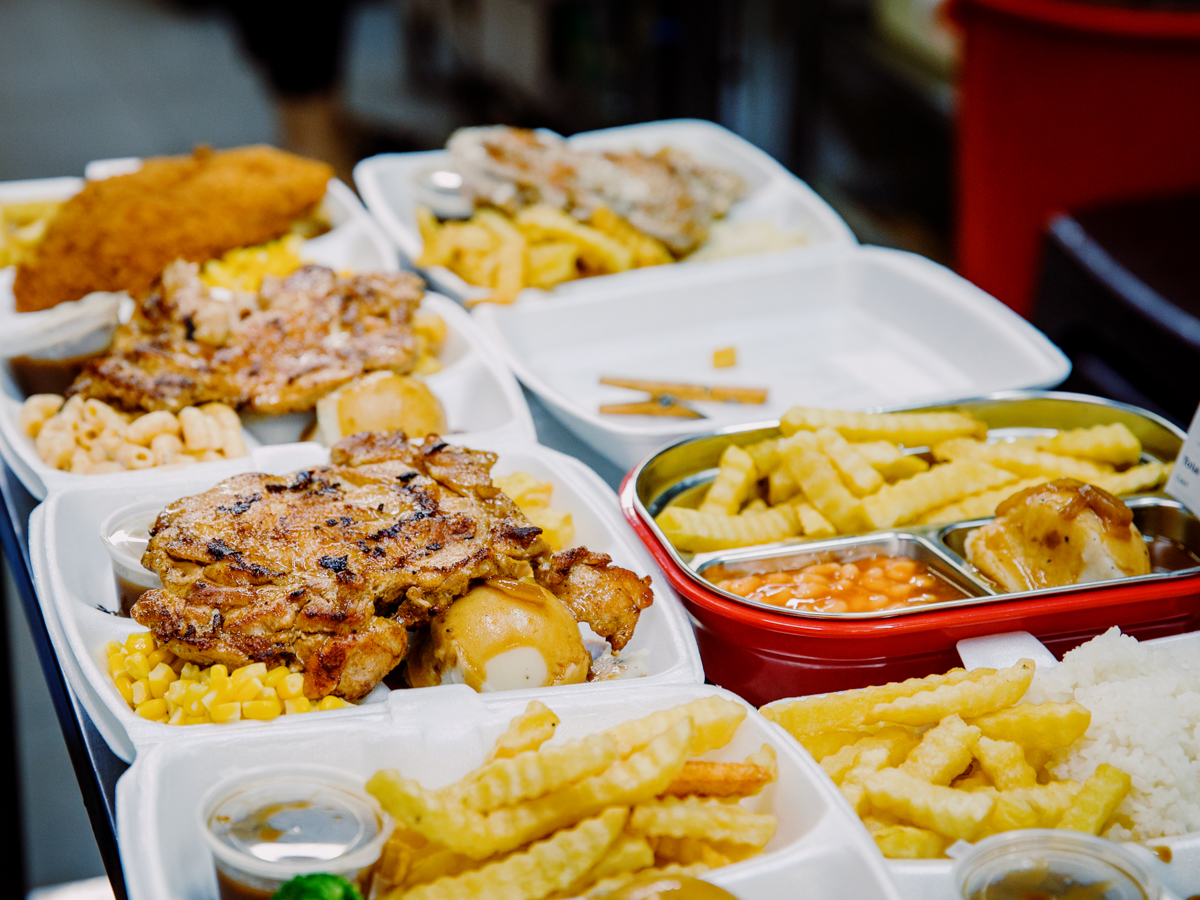 During the worst of it, the duo were on the verge of raising prices to manage costs.
"We were considering it for two, three months, but in the end, we didn't. We just didn't want to."
This was possible only because costs dropped gradually after the initial spike, says Ho.
What's on the menu
Plates start from S$5.50 for a choice of protein and three sides.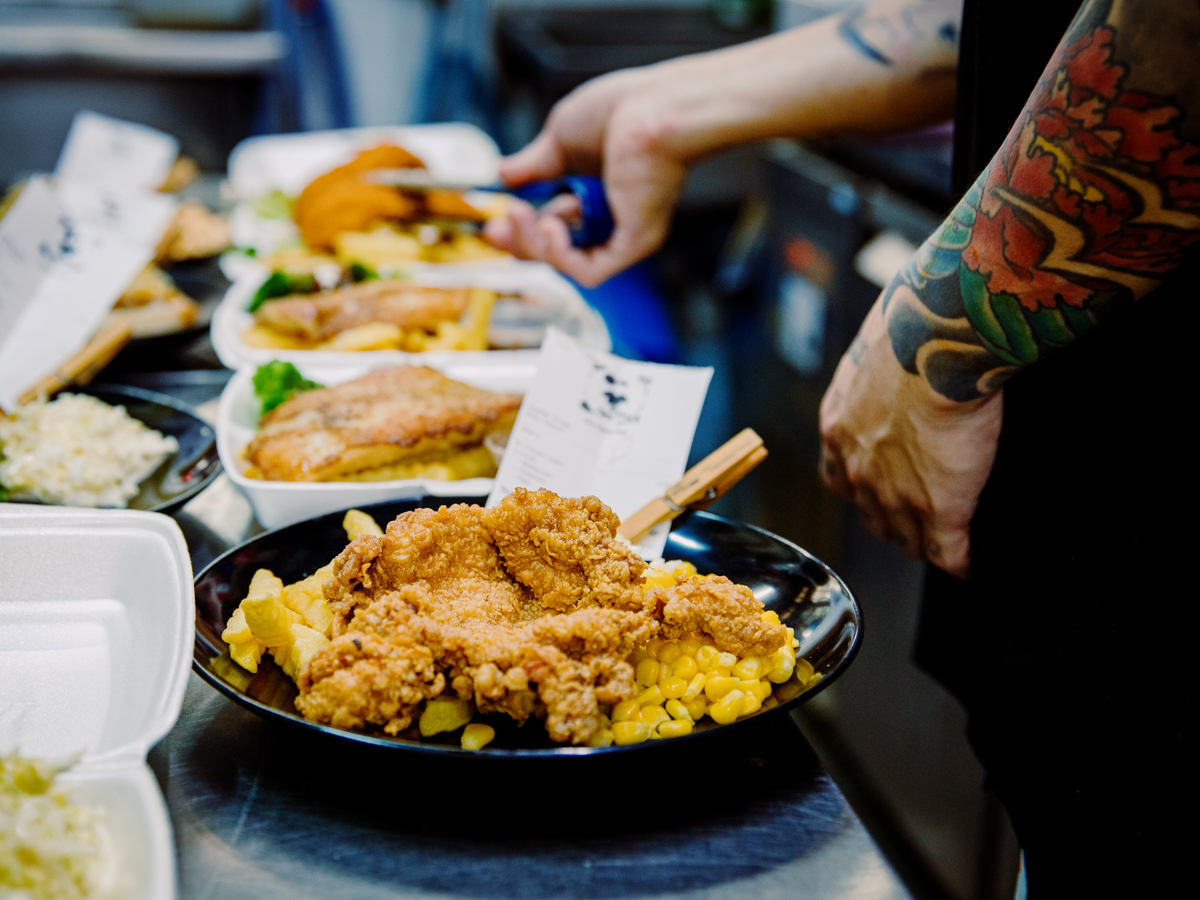 Here, you can choose from a range of meats for mains — chicken, pork and fish — with optional top-ups for more premium options such as ribeye. Next, take your pick from several carbs and greens, including aglio pasta, mashed potatoes, garden veggies and fried mini-buns.
The chicken chop is a crowd favourite, but Ho is partial to the pork chop and ribeye.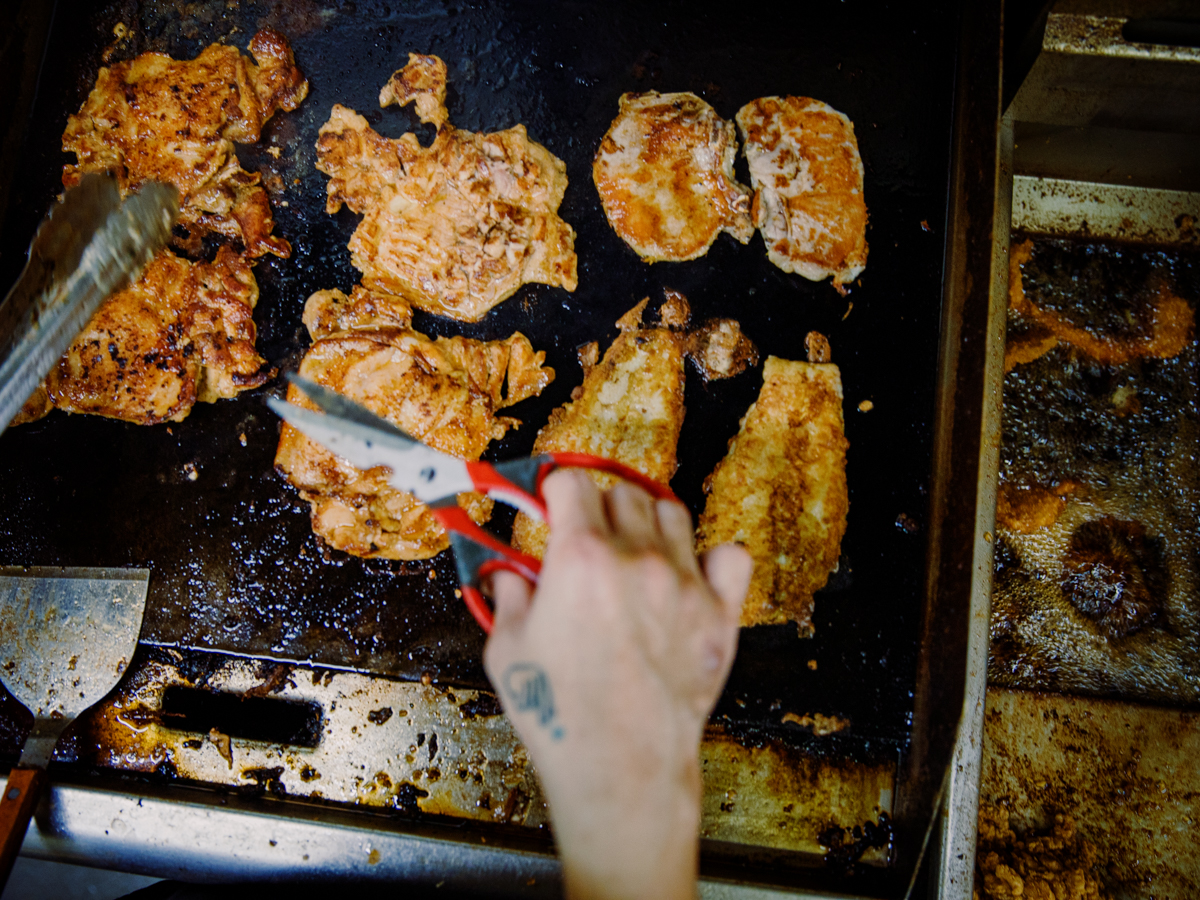 If there's one thing the couple are proud of, it's that the proteins are cooked on the spot instead of being par-cooked, as is common at many eateries. Grilling the meats fresh ensures they stay juicy and moist, and prevents certain meats from becoming stringy.
This, however, means customers may have to wait up to 45 minutes for their meal.
This doesn't seem to deter many diners, though. The stall sees a steady stream of patrons and takeaway orders, which continues until they sell out at about 8pm.
Going viral
Before the stall went viral, business was slow, says Ho, attributing it to the resumption of international travel in early 2022.
During this time, she managed the stall by herself, while Leong drove a private-hire vehicle to supplement their income and support their three children, aged five, seven and 15.
It was only in late November 2022, when a regular customer, Andrew Tang, wrote about their plight on the Can Eat! Hawker Food group on Facebook, that business started picking up — and quite suddenly, too.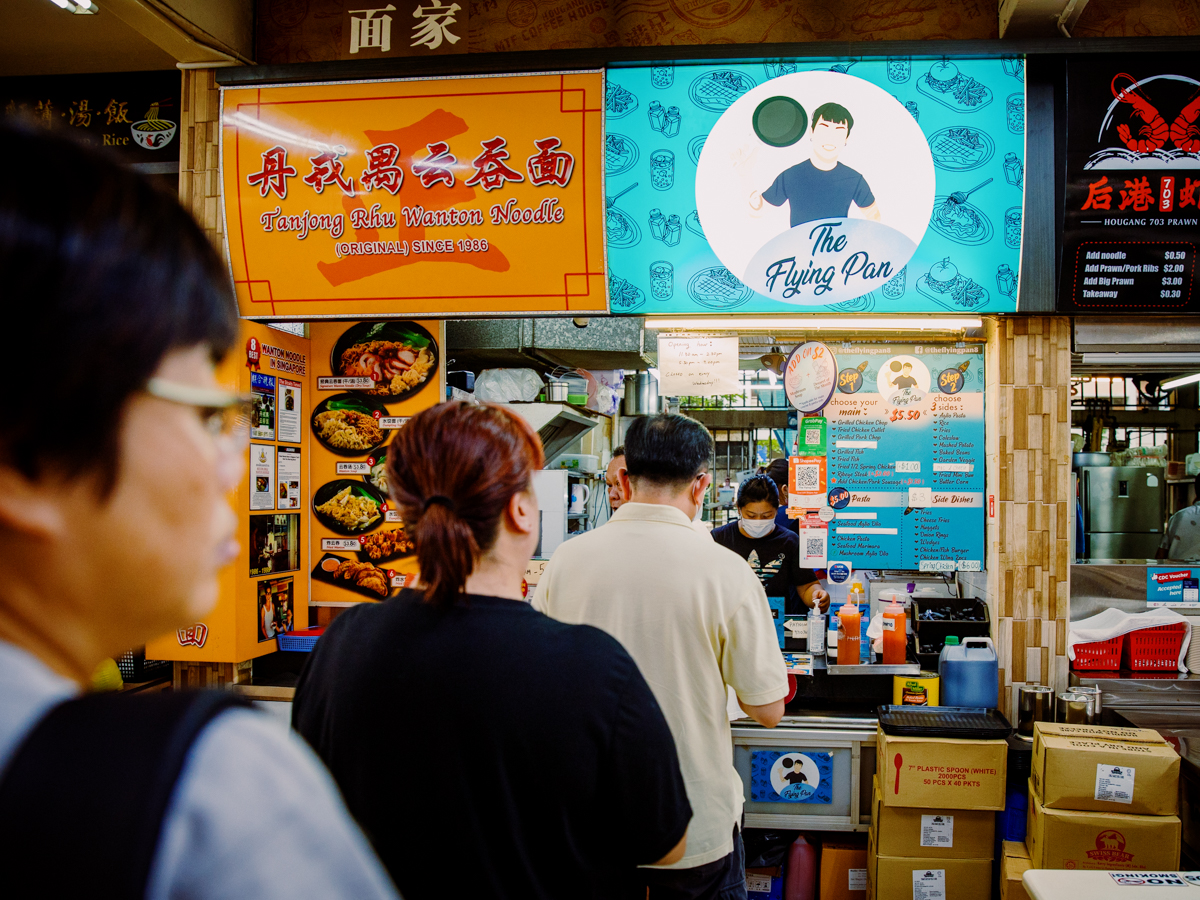 The sudden influx of customers caught Ho unawares, and the couple took a few days to adjust their processes and iron out the kinks.
When HungryGoWhere took a peek into their kitchen, they now have the process down pat, working with clockwork efficiency to turn out plate after plate. When things get hectic, Ho's 15-year-old stepson, aunt and cousin will help out on occasion.
Ho says The Flying Pan may be moving soon, though, since the current space is a tad too confined for its needs and its lease will be up in April. 
The couple are still mulling over their next steps, but Leong hopes to expand the menu to include more pasta dishes, pizzas and the like.
For more content on young hawkers, read about pasta eatery Nudedles.4 and Peranakan stall Nyonya Pok Pok Kay.  
The Flying Pan is on the GrabFood delivery service. Or book a ride to the stall.
703 Hougang Avenue 2, 01-201
Nearest MRT station: Hougang
Opens: Mondays and Tuesdays, and Thursdays to Sundays (11.30am to 2.30pm, 5.30pm to 9pm)
703 Hougang Avenue 2, 01-201
Nearest MRT station: Hougang
Opens: Mondays and Tuesdays, and Thursdays to Sundays (11.30am to 2.30pm, 5.30pm to 9pm)
---