Synthesis: Modern bar hidden behind a TCM shopfront showcasing Asian fusion flavours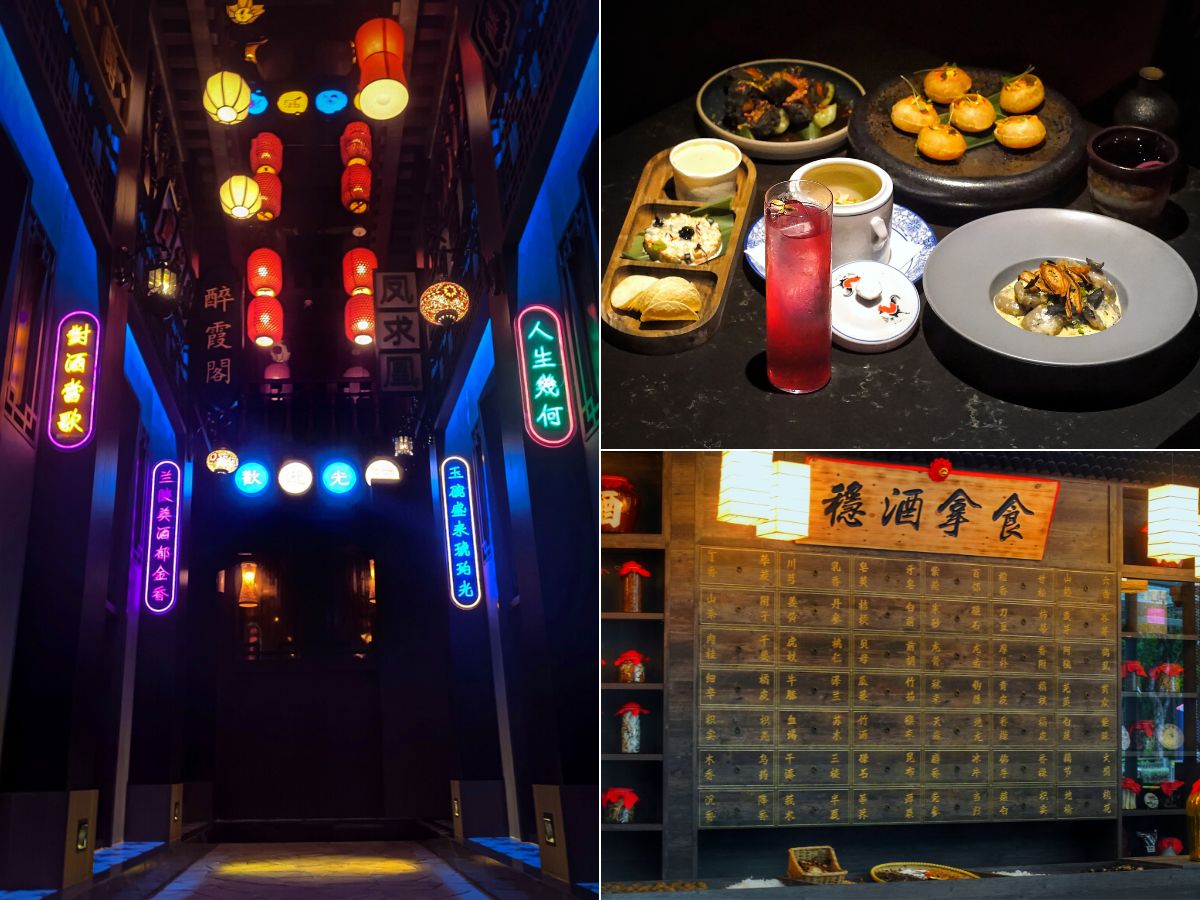 Suntec City's newest tenant has attracted many confused gazes from passers-by.
Its storefront is reminiscent of a traditional Chinese medicine (TCM) shop and medical hall, with vintage adornments (think dark oak cabinets and shelves filled with apothecary glass jars) and rustic wooden finishing, complete with an oriental signboard. 
There's even the musky aroma of Chinese herbs, thanks to the motley of herbs on display.
If you've been bewildered by the sight of this old-school addition to a modern shopping mall, you're not alone. Surprise — it's not actually a TCM hall, as realistic as it looks (and smells).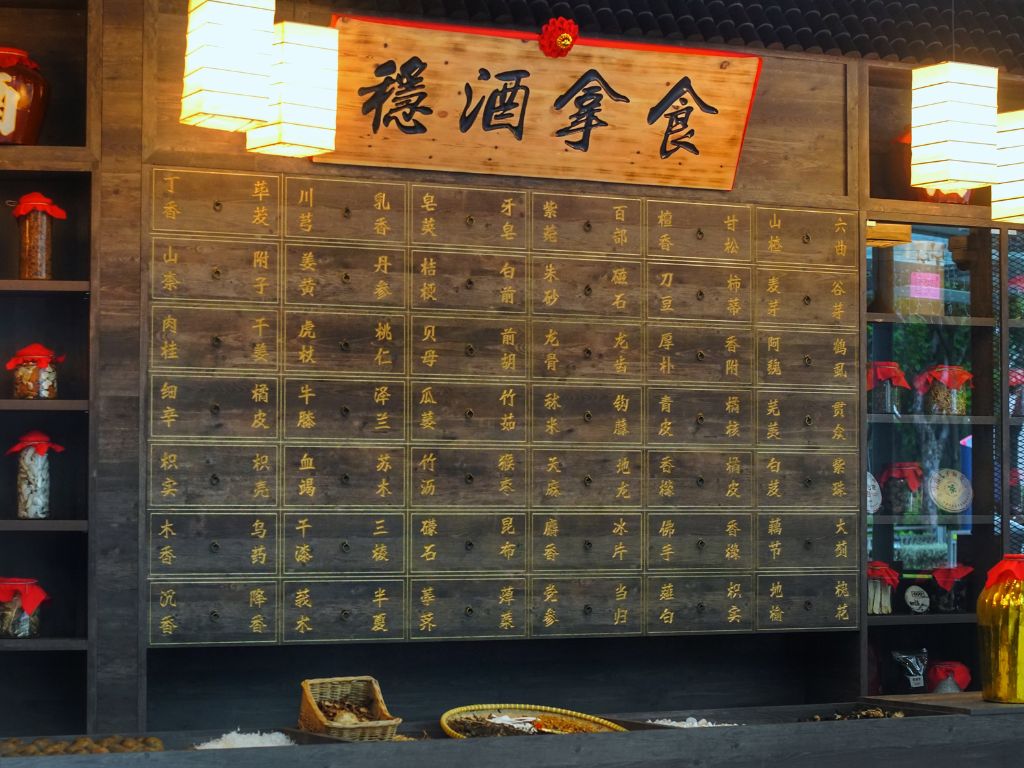 The shop's lifelike medicine drawers are not, in fact, all drawers either. One segment serves as a door — it slides open to reveal a secret neon-lit passageway that leads you into the swanky main area of a speakeasy, Synthesis.
Recently opened in February, Synthesis is a creative new concept by Sebastian Ang, also the brains behind the wildly viral Mama Diam — a whimsical gastrobar that pays homage to the mama shops that many of us grew up with.
Like the tenets of TCM, Synthesis hopes to strike a balance between Singapore's time-honoured traditions and modernity, while providing a sensorial experience.
Take the secret entrance, which welcomes diners with a flourish through its breathtaking shophouse alleyway that's lit with a captivating array of neon lights and lanterns.
Once you enter the main dining area, it's a whole other ambience altogether. The space is posh and intimate, exuding chic modernity with just slight touches of tradition. You can spot elements of metal, wood, water, fire and earth through striking fixtures, such as its shiny ripple-textured roof.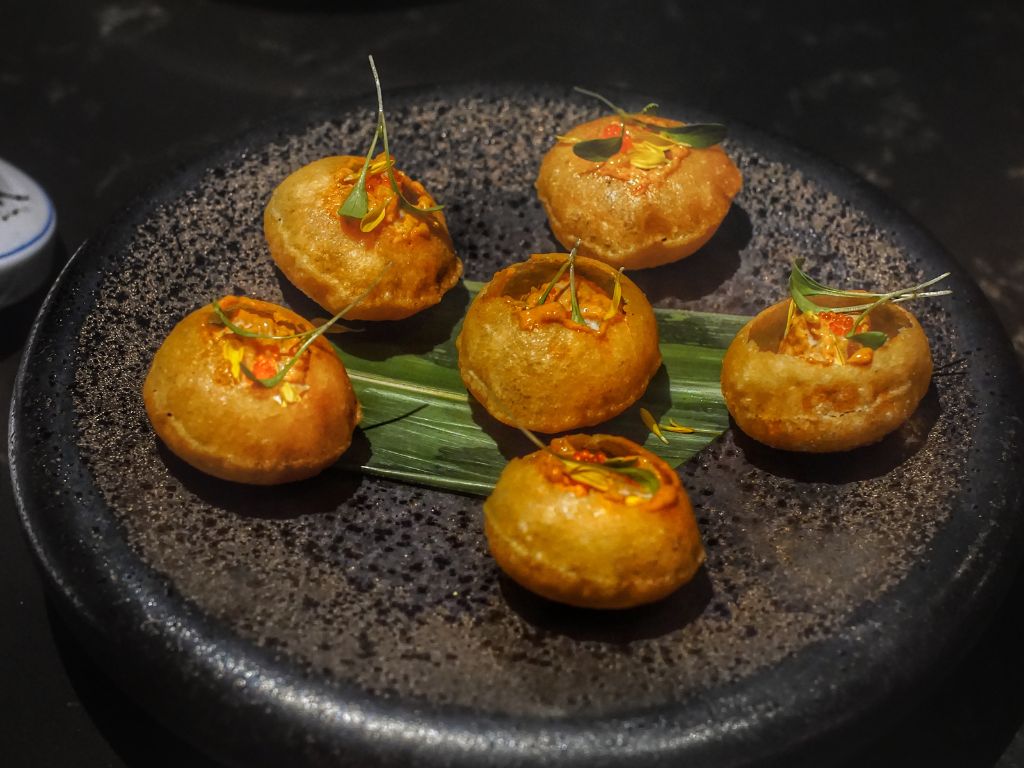 The menu at Synthesis focuses mostly on reimagining local classics or incorporating head chef Ezekiel Tan's favourite nostalgic flavours into elevated spins.
A good example of that is the "Xia Hua" charcoal youtiao (S$18), a prawn-paste-stuffed youtiao (Chinese fried dough) that reminds one of the beloved rojak dish, as well as the snow crab chawanmushi (S$22) that playfully riffs on the three-egg formula, combining custardy steamed egg with ikura and salted egg.
One of the more audacious reimaginings has to be the laksa prawn tartare (S$22) that features prawn tartare, Pringles potato chips, and a housemade laksa gelato that boasts intoxicating laksa aromatics.
Besides that, there's also the flavourful pani puri with cold assam curry (S$22), a crispy hollow Indian street snack that's filled with a robust mix of lemongrass cream and cured Atlantic salmon.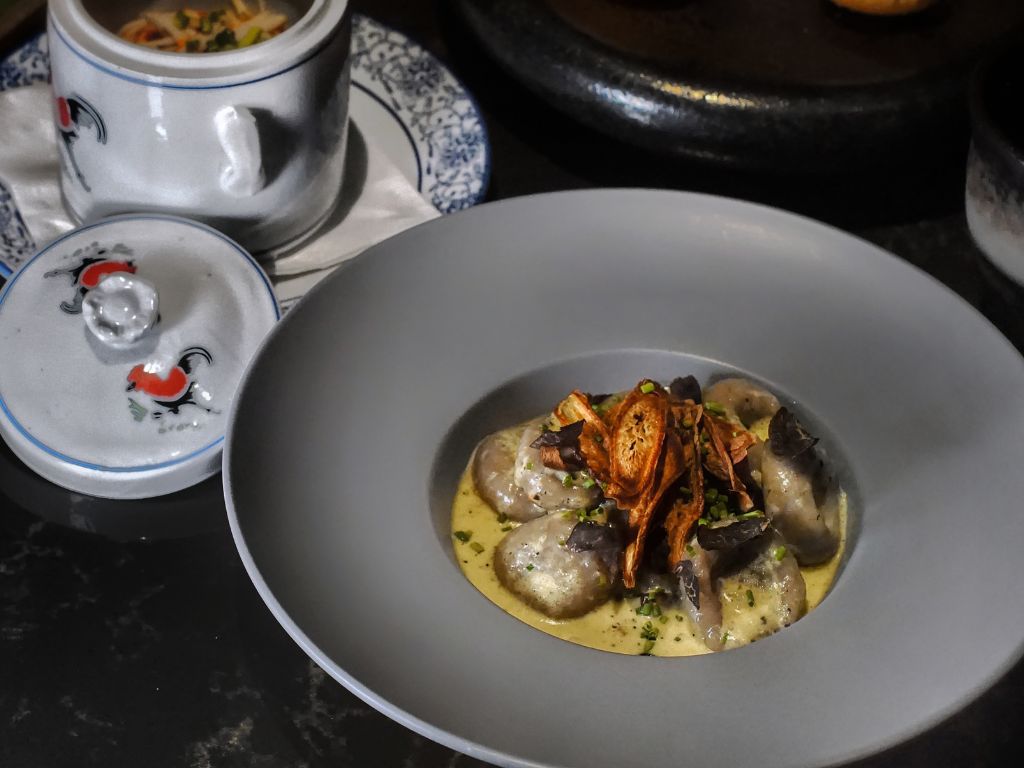 Synthesis also has pasta aficionados covered, with an array of creatively tweaked pasta classics including the glazed pork satay bee hoon (S$28) and "suan pan zi" truffle carbonara (S$30).
Gnocchi lovers would enjoy the latter, as the chewy and bouncy Hakka abacus seeds mimics the texture of pan-fried gnocchi. This was a standout dish, showcasing complex textures and a moreishly creamy truffle carbonara sauce.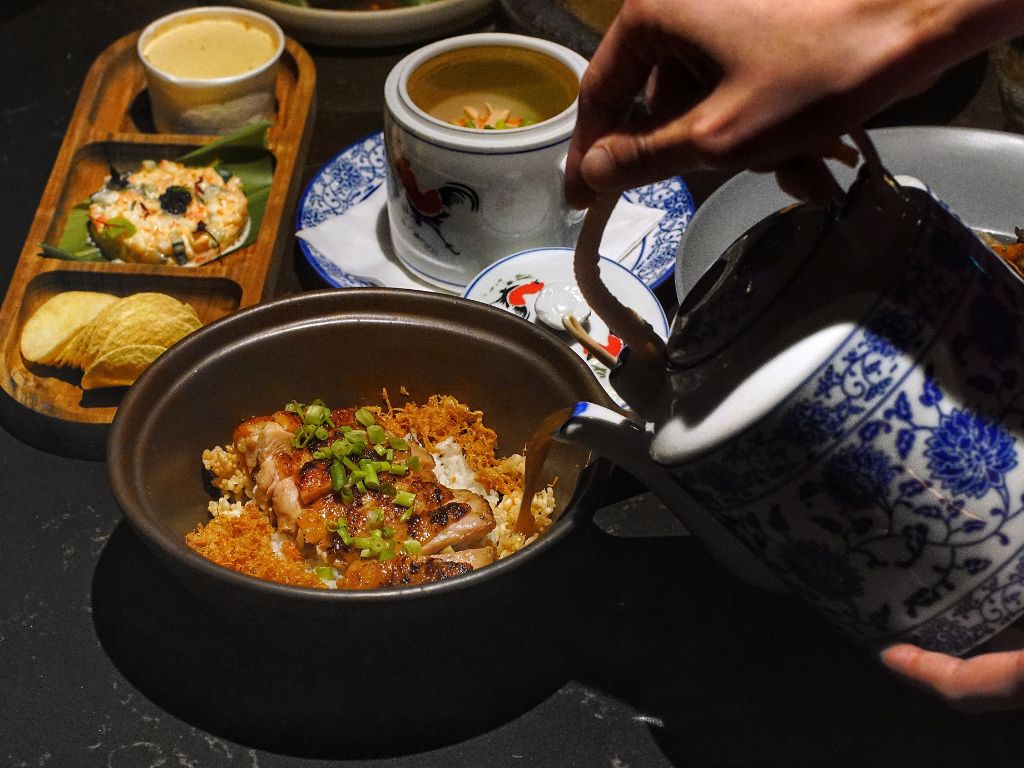 The nourishment that people typically associate with TCM can also be peeped through certain dishes such as the sakura chicken herbal "pao fan" poached rice (S$24).
Instead of the usual seafood broth, this dish features wholesome herbal pork collagen soup that sublimely accentuates the components of grilled chicken, umami rice, puffed rice, herbal fritters, and egg floss — a comforting dish that'll help with those hangovers.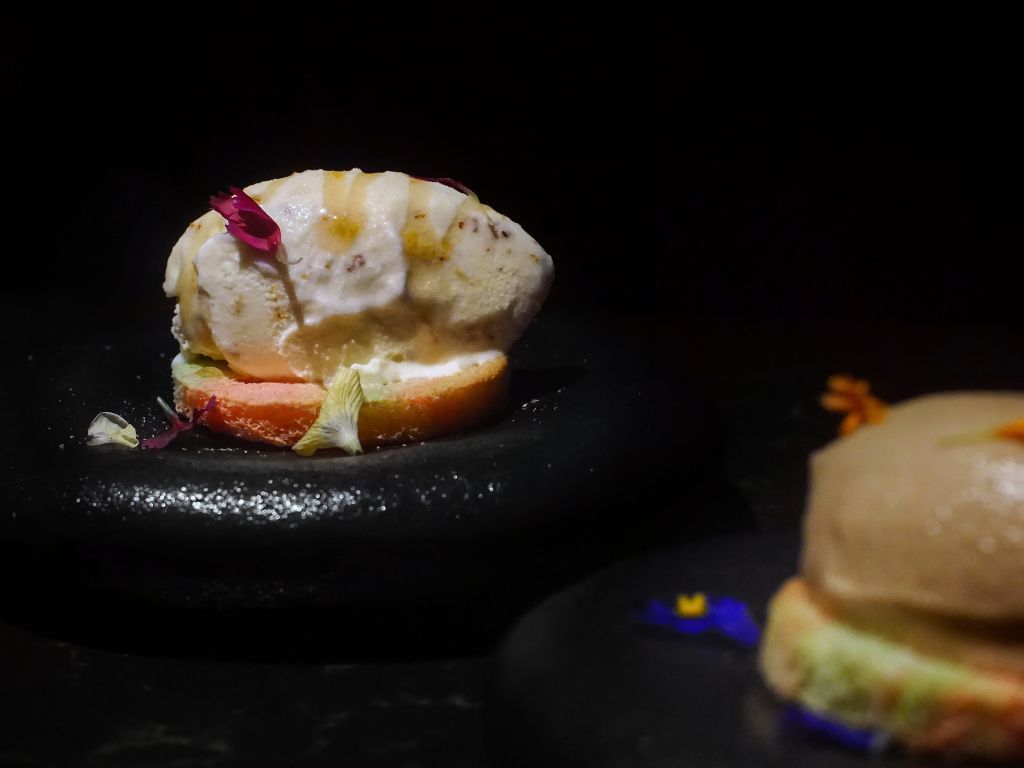 Sometimes, the simplest childhood treats make the best desserts. Synthesis tugs on the heartstrings here with its quirky "ice-cream sandwich" that was another highlight of the meal.
The rainbow bread sandwich (S$6) is simple. Diners are given a choice between the flavours of herbal peppermint or honey osmanthus, which are rested upon toasted rainbow bread that remains gratifyingly crunchy throughout.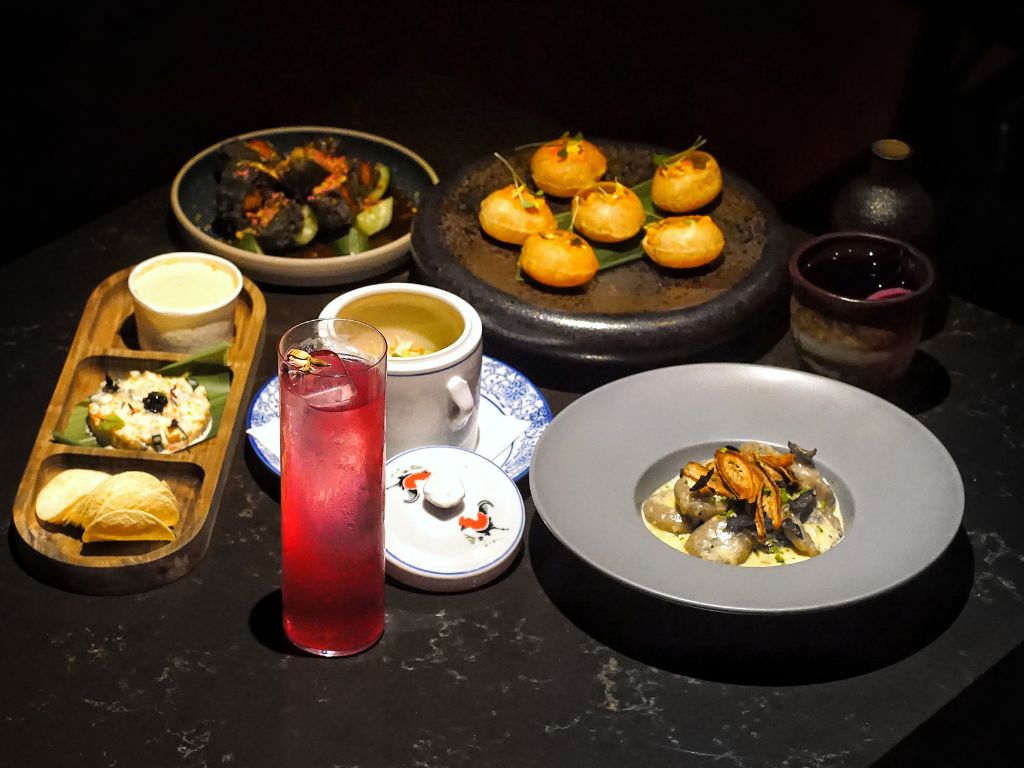 The food is the main focus here, but the gastrobar also provides an array of unique cocktails for anyone in need of a drink. 
There's the refreshing roselle gin highball (S$22) and sweet basilicious kaya (S$24) for those who aren't extremely keen on liquor, while those who prefer something punchier can go for the unique goji-roni (S$24) that injects a touch of goji sweetness into the classic negroni.
While such an ambitious concept runs the risk of becoming a gimmicky, style-over-substance experience, Synthesis is as smoothly and tastefully executed as they come.
Book a ride to this cool hidden bar.
Suntec City Tower 4, 01-643, 6 Temasek Boulevard
Nearest MRT station: Promenade
Open: Monday to Sunday (4pm to 11pm)
Suntec City Tower 4, 01-643, 6 Temasek Boulevard
Nearest MRT station: Promenade
Open: Monday to Sunday (4pm to 11pm)
---