8 rooftop bars in Singapore to bring a date for drinks and memorable scenic views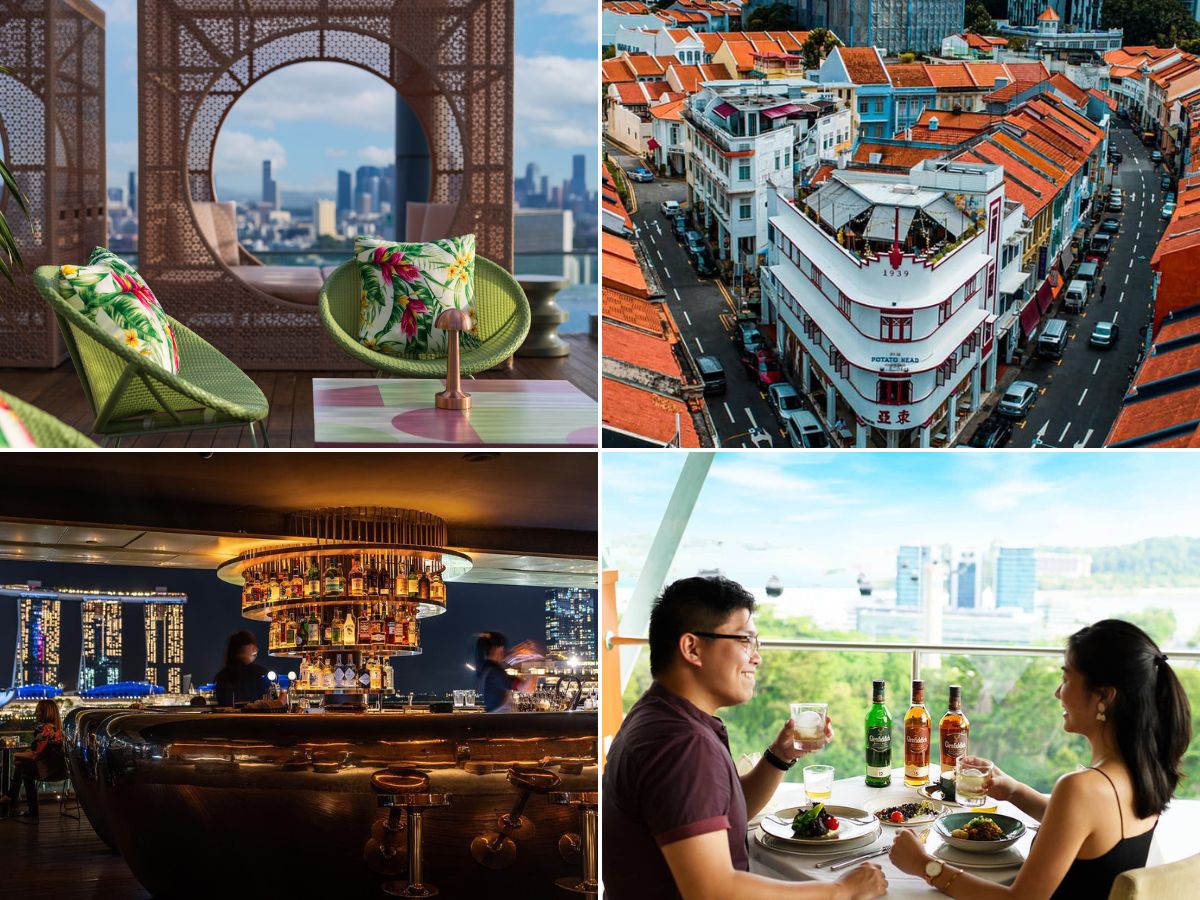 Singapore, while small, boasts a phenomenal city skyline. 
Its cityscape is a magnificent one filled with towering, modern skyscrapers of striking designs, offering diners picture-perfect opportunities for an after-dark sojourn at a rooftop bar. 
Now that the city's nightlife has returned to full swing, it's the perfect time to impress a date over some drinks while being accompanied by the resplendent sight of buildings such as architectural marvel Marina Bay Sands. It's an ambience to get lost in and a core memory that will linger long after. 
If that sounds like what you need, then reserve a table at one of these rooftop bars that promise to provide the greatest views in Singapore and the most memorable experiences.
1. Smoke & Mirrors
National Gallery Singapore, 06-01, 1 Saint Andrew's Road
Opening hours: Monday to Wednesday (6pm to 12am), Thursday to Saturday (6pm to 1am), Sunday (5pm to 12am)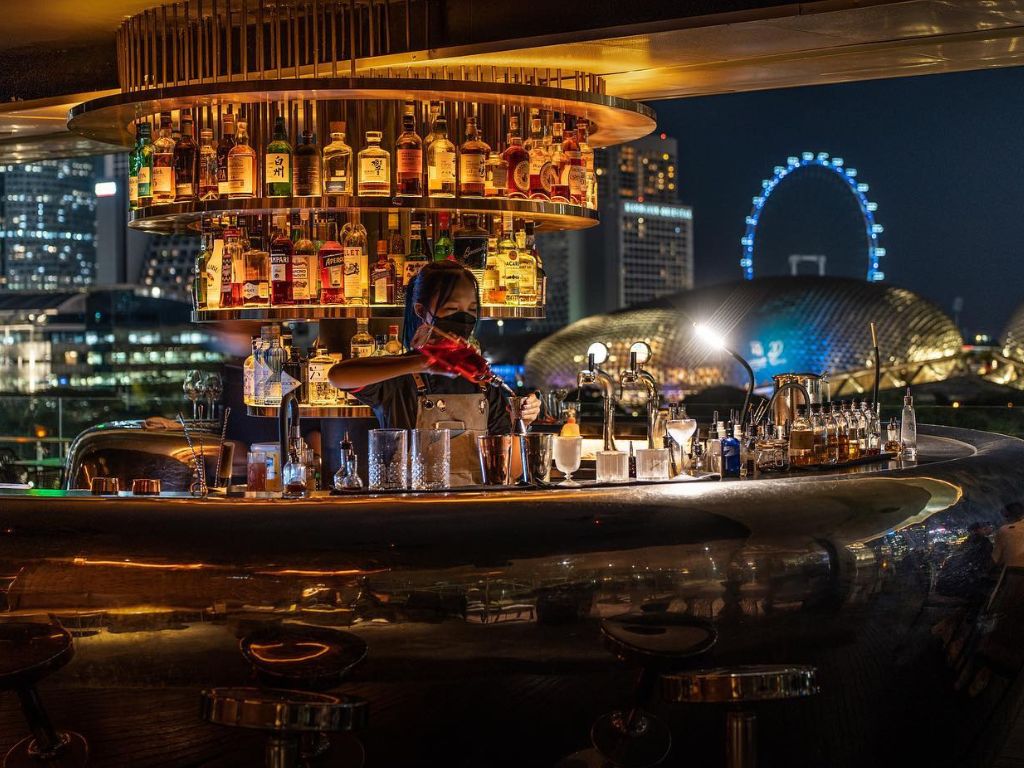 Why visit? Ranked number 60 on 2022's Asia 50 Best Bars list, Smoke & Mirrors is one of Singapore's most scenic rooftop bars. Located atop the National Gallery Singapore, the al fresco establishment bestows guests with a glorious panoramic view of the city.
You can pick out some of the skyline's most prominent landmarks at a glance, including the Singapore Flyer and Esplanade – Theatres on the Bay, which sit prettily alongside the iconic and picturesque Marina Bay Sands.
Price range: $$$
Crowd favourites: There's an extensive menu with plenty of easy-to-drink creations, but go for the nutty and tropical Moves Like Jigger (S$27) or the complex Magic Queen (S$29) if you prefer some theatrics. Also, don't miss out on the crispy fries (S$12), which come with an option of thick, silky truffle paste (+S$4) on the side.
2. Arbora
Faber Peak, 109 Mount Faber Road
Opening hours: Monday to Friday (12pm to 10.30pm), Saturday and Sunday (8.30am to 10.30pm)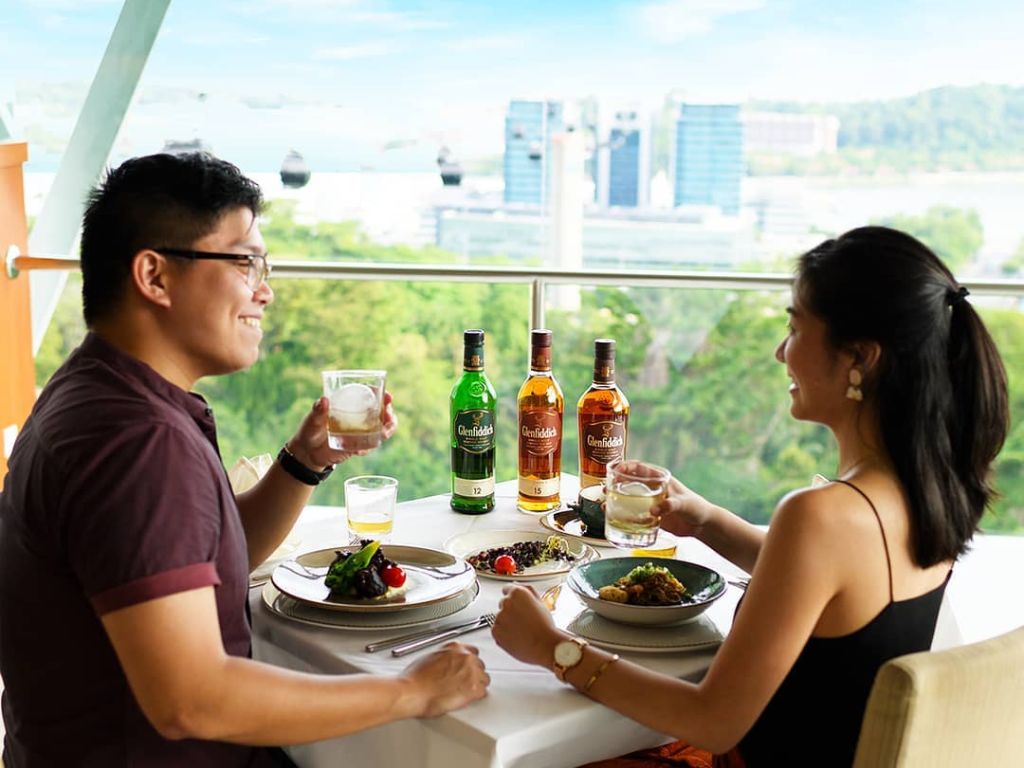 Why visit? Arbora is not just a typical rooftop restaurant and bar. At 100 metres above sea level, it's an enchanting date spot boasting one of the highest natural vantage points in Singapore.
Perched close to the peak of Mount Faber, you will be treated to sweeping aerial views of the ocean, colourful cable cars and the magical sunset on the distant horizon. 
Price range: $$$
Crowd favourites: Arbora's menu is made up of mainly classic Western-style dishes such as the steak au poivre (S$26) and beef bolognese pasta (S$18), but there are also some whimsical fusion-style dishes, such as the whole lobster laksa (S$40).
3. Foxtail
The Working Capitol, 02-01, 1 Keong Saik Road
Opening hours: Tuesday to Friday (6pm to 12am), Saturday (4pm to 12am)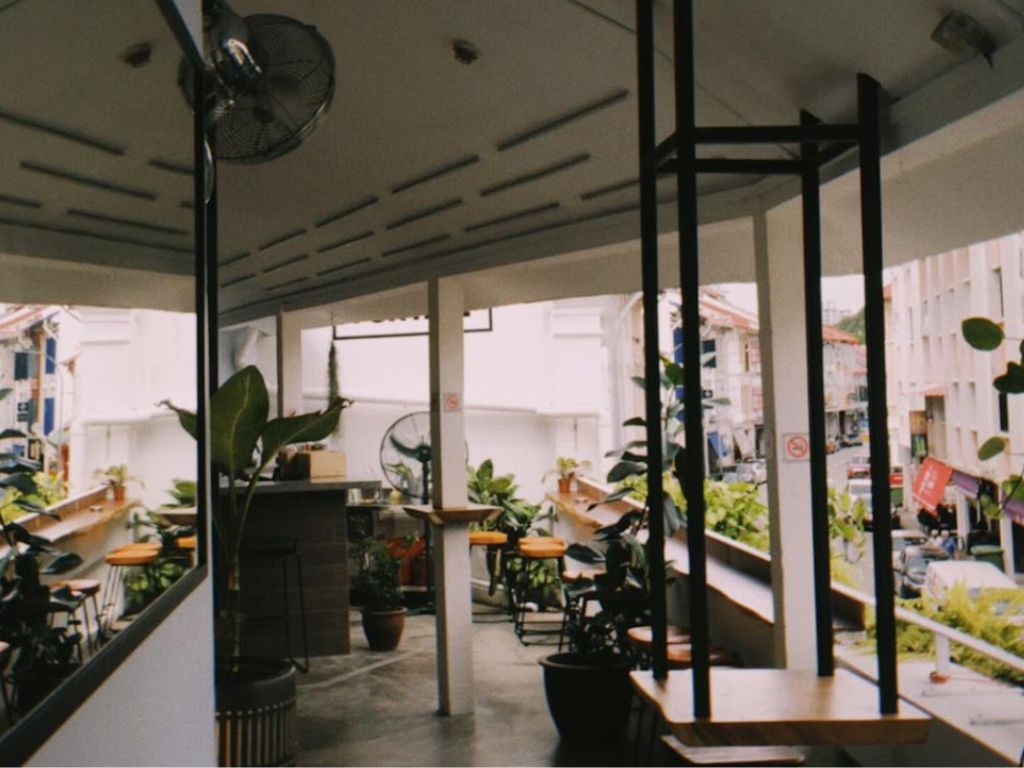 Why visit? Compared to many of the swanky rooftop bars on the list, Foxtail comes with a much more laid-back vibe. It's a quaint second-floor hideout where you can chat the night away against the backdrop of pulsating beats, lush potted greens, and a bird's eye view of the bustling Keong Saik Road.
Oh, and did we mention that all drinks are presented with nett prices between S$18 to S$22, and the bar doesn't impose GST or service charges? A rare thing to see at a cocktail bar!
Price range: $$
Crowd favourites: The drinks menu boasts a whole range of styles, from the refreshing Doses & Mimosas (S$18) that comes with a hint of fresh basil, to the spirit-forward 1 for Da Road (S$22) with mezcal, honey and lime. While it doesn't have a kitchen, it offers food from neighbours Pastaria Abate, in case anyone feels peckish. Expect simple, hearty bites such as the margherita pizzette (S$15) and focaccia (S$15).
4. Las Palmas Bar
Courtyard by Marriott Singapore Novena, Level 33, 99 Irrawaddy Road
Opening hours: Tuesday to Friday (5pm to 1am), Saturday and Sunday (11am to 1am)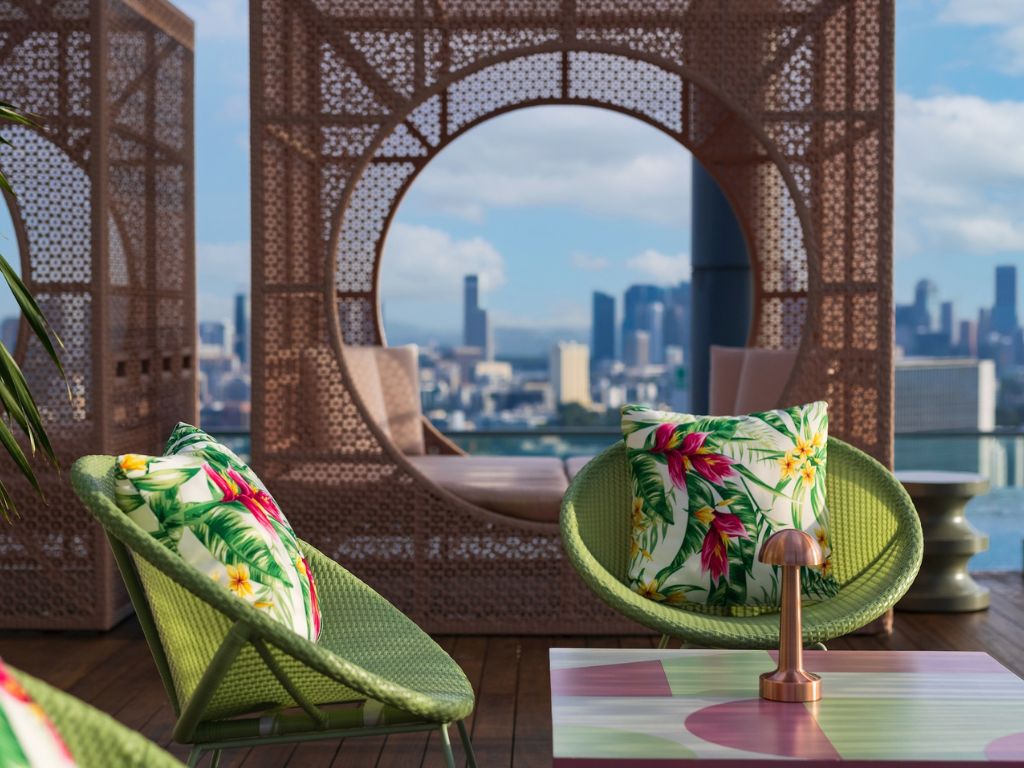 Why visit? Las Palmas Bar is one of the newest rooftop bars to pop up in Singapore, and it sets itself apart with a chic and vibrant Californian theme. It's dominated by swathes of tropical and pastel tones — a quirky and eccentric atmosphere that gives off a Wes Anderson vibe.
There's nothing quite like sinking into one of its comfortable sofa seats, with a cool drink in hand, while revelling in the vibrant pool party ambience. More importantly, the poolside setup makes this an exceptional spot for that all-important OOTD.
Price range: $$$
Crowd favourites: Las Palmas Bar's food menu mainly comprises Western bites with an Asian twist — think salted-egg-loaded chicken tacos Clock Out Cluck In (S$15) and churros (S$13) served with nostalgic kaya and peanut butter. On the other hand, the drinks menu is meant to whimsically recreate the mood of the 60s. So expect pop culture references in drink names, including Cheesecake Factory (S$25) and Big Trouble in Little China (S$25).
5. Wiped Out
Beauty World Food Centre, 04-61, 144 Upper Bukit Timah Road
Opening hours: Monday to Friday (4pm to 10.30pm), Saturday and Sunday (3pm to 10.30pm)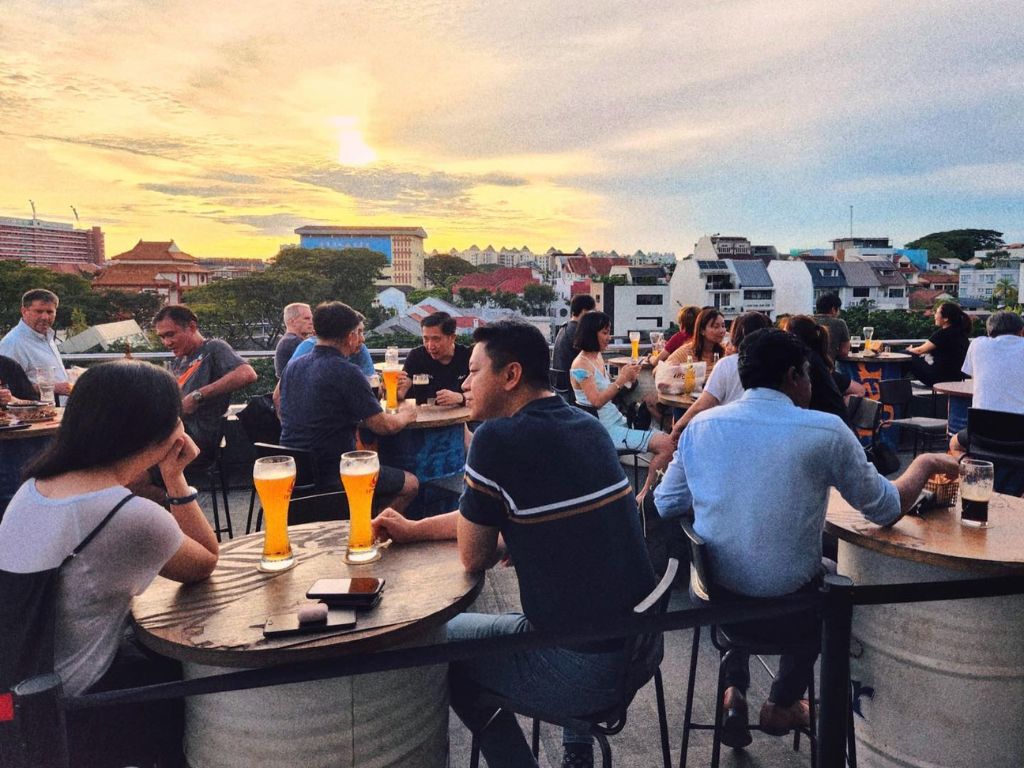 Why visit? Wiped Out represents a small departure from the other rooftop bars on this list. Instead of the usual suspects in the CBD, it's located in the far-flung Beauty World Centre at its fourth storey-food centre.
Don't be daunted by the location though — the no-frills industrial-style bar boasts a certain rustic charm, where you can admire the sunset while surrounded by neat rows of houses in the Bukit Timah area. Also, how unique is it to find a rooftop bar inside a hawker centre? Prices are affordable at this bar, especially with happy hour offers running from opening till 7.30pm daily!
Price range: $
Crowd favourites: Wiped Out is one of the more popular watering holes in the west, where 300ml bottles from brands such as Asahi and Heinken are affordably priced at S$5 during happy hour or S$6 during regular hours. There are also fresh pints available straight from the tap starting from S$8 for a pint during happy hour or S$9 during usual hours.
6. Kinki Restaurant + Bar
Customs House, 02-02, 70 Collyer Quay 
Opening hours: Monday to Saturday (12pm to 3pm, 6pm to 10.30pm)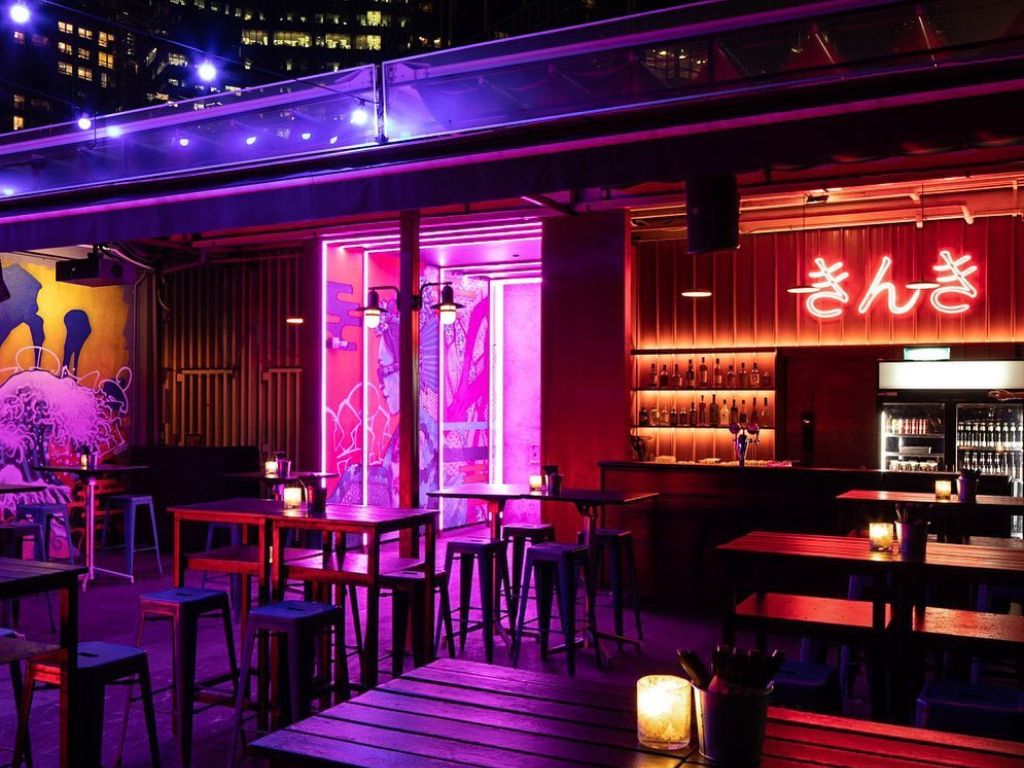 Why visit? Located by the water, The Customs House is known to be a hot date spot and Kinki is just the cherry on top, offering stunning waterfront views. Little wonder why — the edgy contemporary Japanese bar boasts groovy beats, cool murals and an unbeatable bustling energy.
Besides its fun atmosphere, Kinki is also an establishment known for pushing the envelope with its creative style of fusion that incorporates bold Western elements into familiar Japanese flavours. If work allows, pop by between 5pm and 8pm to enjoy its happy hour deals.
Price range: $$$
Crowd favourites: Many fans swear by its photogenic sushi rolls, such as the Golden Age (seared salmon, mentaiko sauce, mango puree, cucumber, avocado, chives, salmon roe, soy reduction, S$32). If you're not too keen on fusion flavours, another popular order is obviously the tried-and-tested salmon sashimi (S$21 for five pieces) — can't go wrong with that. Wash it down with one of its cheeky cocktails, such as the Naughty Kopi (S$22) with rum, kahlua coffee liqueur, espresso and Baileys Irish Cream.
7. Potato Head Singapore
36 Keong Saik Road, Level 4
Opening hours: Monday to Sunday (5pm to 12am)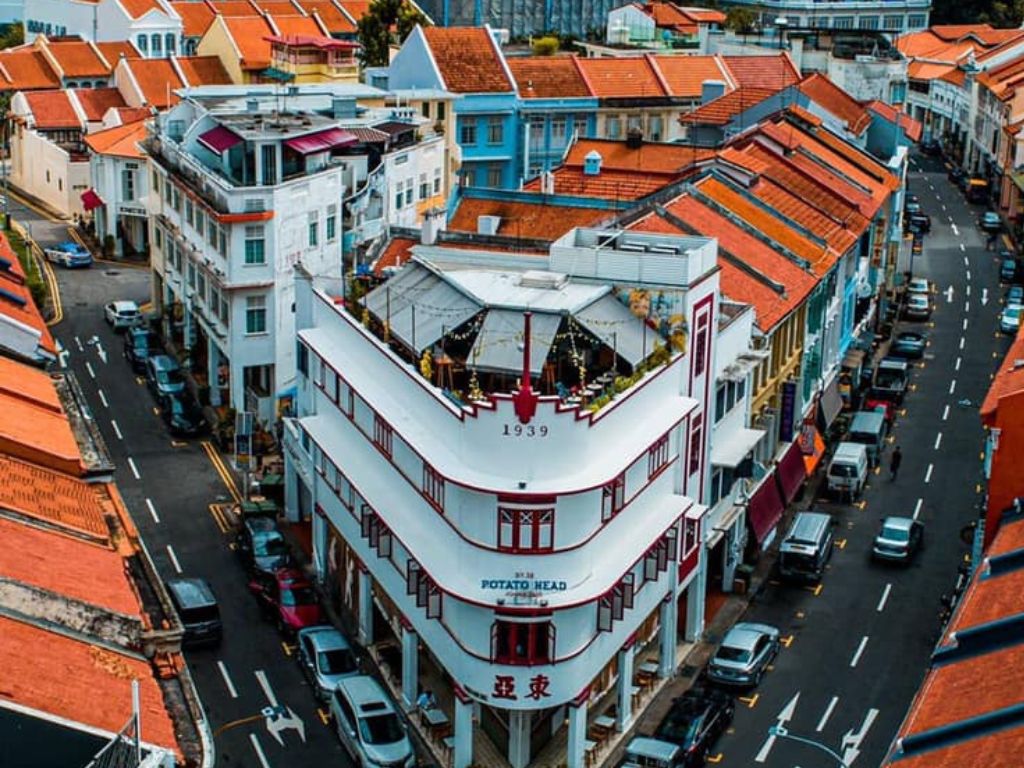 Why visit? A familiar name for regular visitors to the city of Bali, Potato Head is the Singapore outpost of the group behind the wildly popular Indonesian beach club — except our local version isn't a beach club. Instead, it's a multi-concept establishment that features a specialty burger bar and a bar, all under one roof(top).
Festooned with lines of fairy lights and surrounded by potted plants, the eclectic setup at Potato Head's rooftop is cosy and comforting — almost like you're being hosted for a dinner party in a friend's backyard.
Price range: $$
Crowd favourites: Burger lovers can order the juicy burgers from Three Buns Singapore while at the rooftop bar. That means you can pair the tropical or tiki cocktails offered there with decadent meals such as the Smokin' B-Boy (S$25), an earthy bun with smoked applewood cheddar, Dingley Dell beer bacon, BBQ ketchup and bawang goreng, and the punchy Burning Man (S$21) with gochujang, ketchup and jalapeño relish. Other bites include rice bowls and loaded fries.
8. Picotin
Waterboat House, 03-01, 3 Fullerton Road
Opening hours: Monday to Sunday (11am to 12am)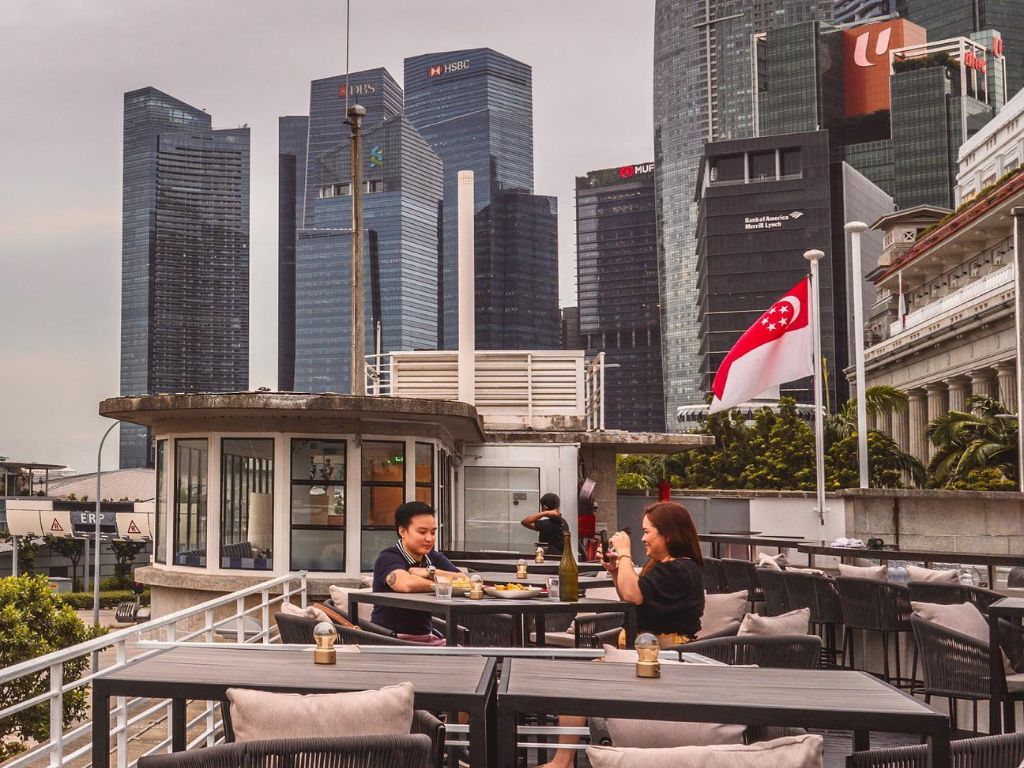 Why visit? Picotin may be a new find even for regular bar hoppers. It's nestled atop the Fullerton Waterboat House, a history-rich colonial building from 1919 that resides at the entrance of the Singapore River.
This riverside rooftop bar gets you up close and personal with Marina Bay Sands and the surrounding skyline, while also keeping you cool and relaxed as the seafront breeze ruffles your hair. 
Price range: $$$
Crowd favourites: Picotin has been in operation since 2007 and has amassed plenty of fans with its hearty range of European classics. This ranges from the signature Pinto pizza (tomato, mozzarella, parma ham, rocket salad, parmesan cheese, S$26) to juicy rib-eye (S$46 for 300g) cooked with wood fire. Pair these with a beverage from its extensive drinks list that include Picotin Brewhaus beers, wines and cocktails.