10 burgers under S$10 in Singapore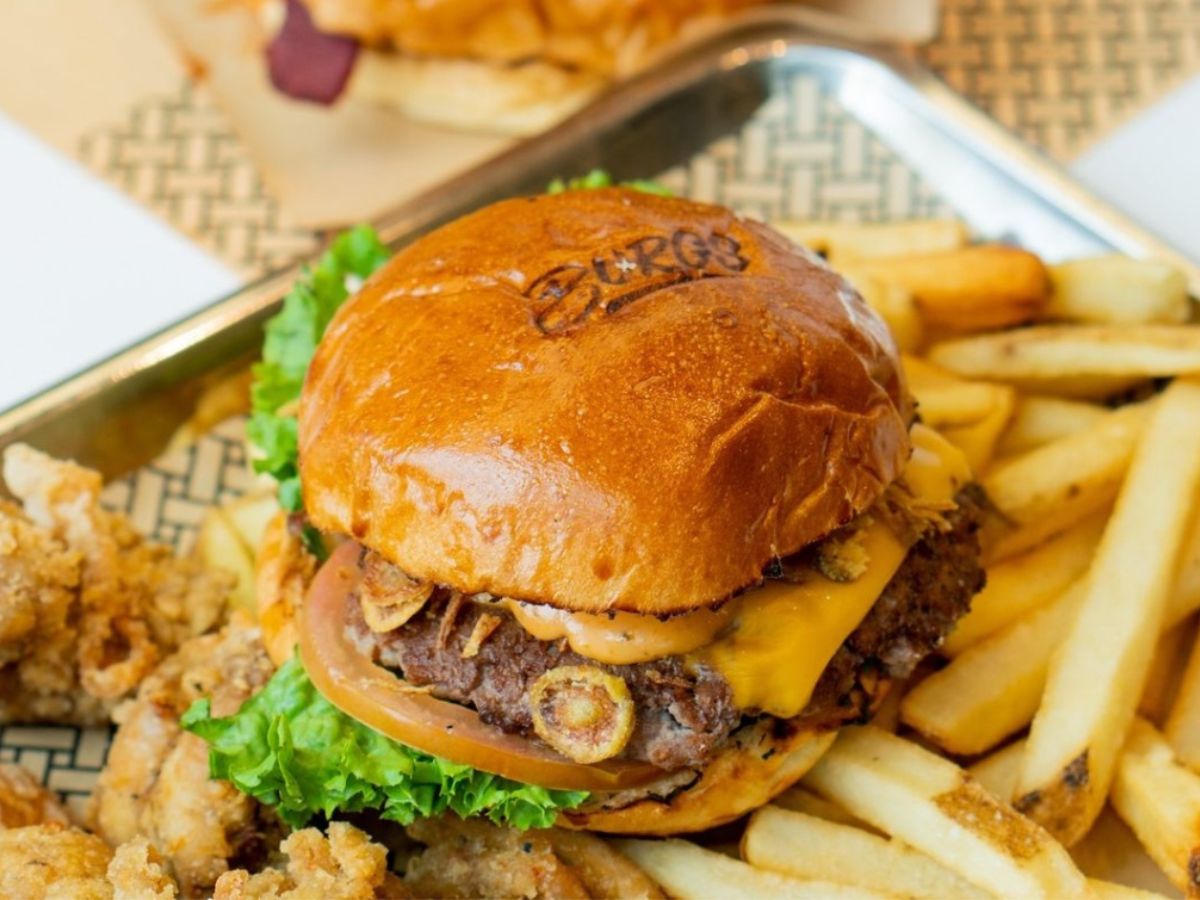 Between the GST hike and inflation, dining out might feel like a luxury these days.
But what's one to do when cooking may not be a feasible option for those busy work days, or when you just have an insatiable craving for, say, a good freshly made-from-scratch burger? 
While rising costs of ingredients may have pushed some menu prices up, there are still some burger places in Singapore that are bent on keeping their prices wallet-friendly. 
We look at some of the best burger places in Singapore that serve burgers below S$10 to help you satisfy those meat and bun cravings without placing too much pressure on your budget.
Sides and drinks are excluded, but some of these burgers are hearty enough alone to make a meal of it. And if you have a little loose change, we wouldn't say no to the addition of fries.
1. Buttermilk chicken burger from Ordinary Burgers (S$6.80)
Multiple stores islandwide.
Open: Operating hours vary across outlets.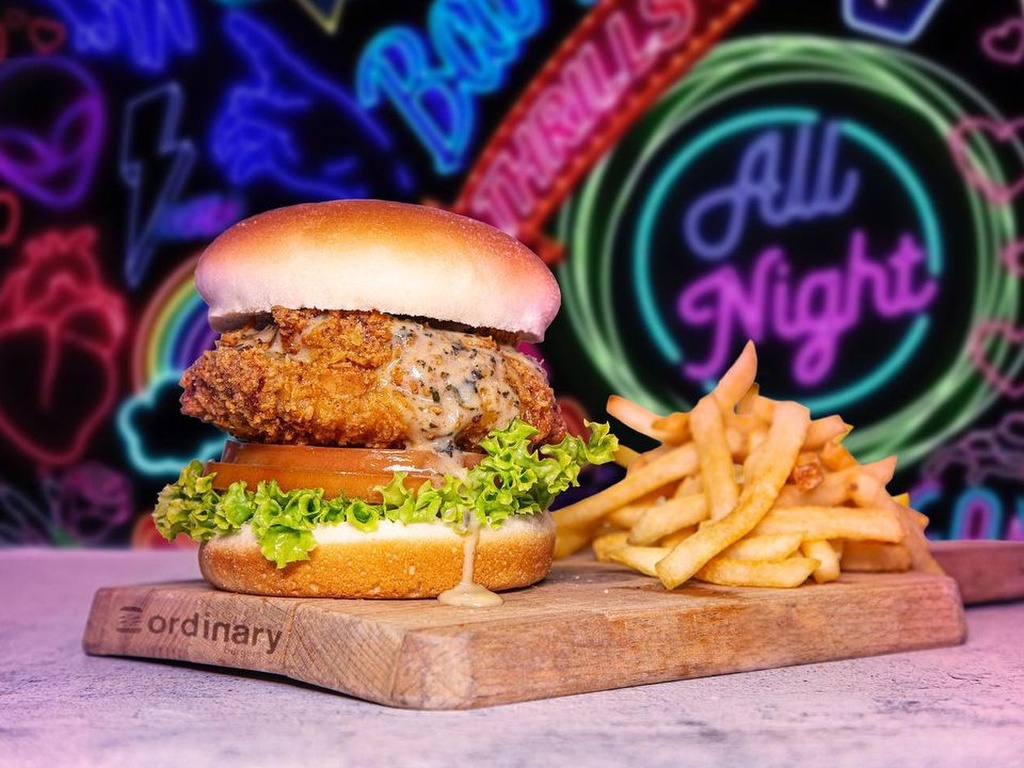 Ordinary Burgers is a local burger brand that started out quite recently in 2019 and wants to bring gourmet burgers to the masses at affordable prices. 
Despite its name, Ordinary Burgers's offerings are anything but ordinary. Its beef burger is a classic but we really liked the buttermilk chicken burger (S$6.80) which was deep-fried to crispy perfection yet still retained its juiciness. 
2. Burgs classic cheese burger from Burgs by Project Warung (S$7.90 at select outlets)
Multiple stores islandwide.
Open: Operating hours vary across outlets.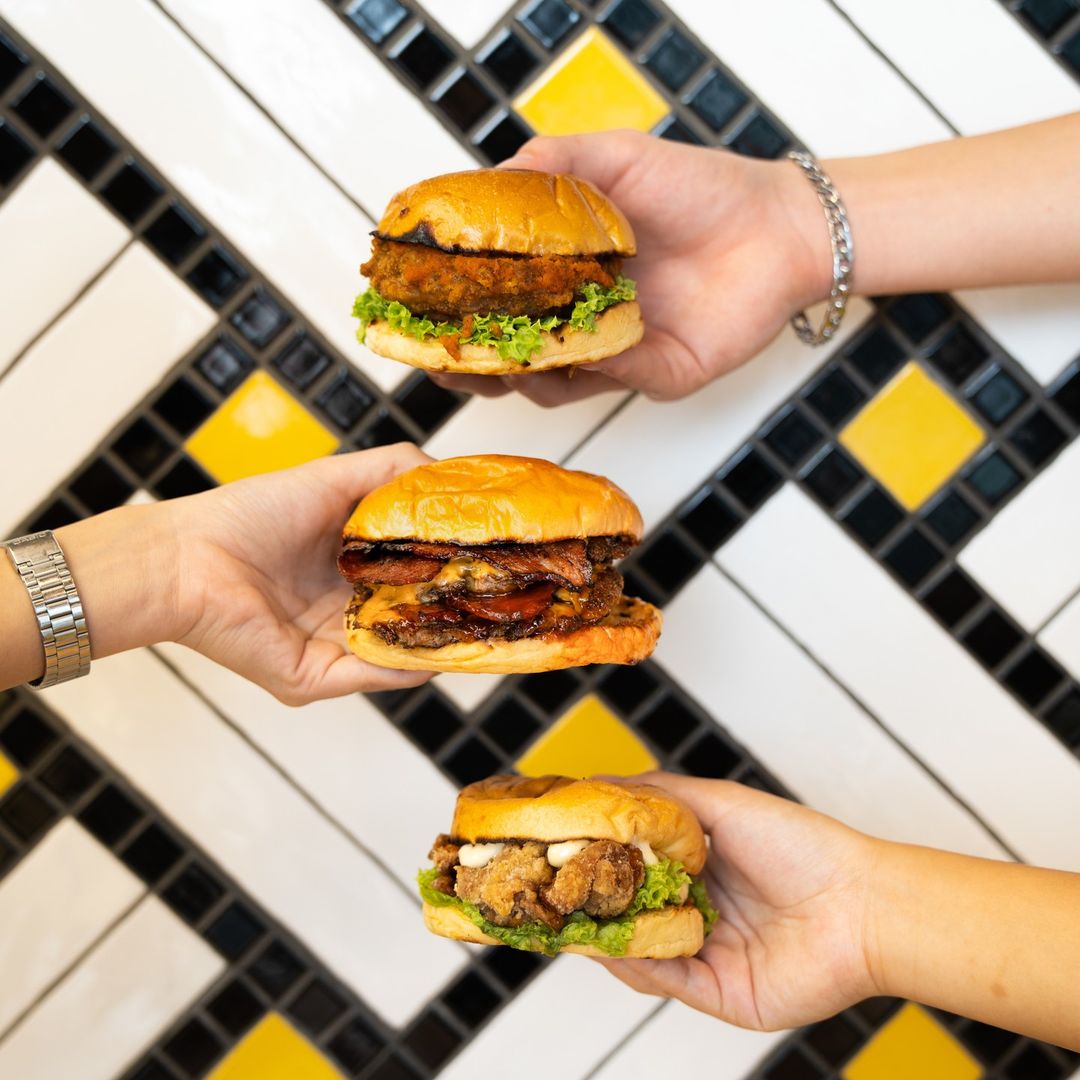 Started by a group of trained restaurant chefs, Burgs by Project Warung has sold close to a million burgers across its current seven outlets since it opened in 2017. 
Burgs strives to keep its gourmet-style burgers priced low, and quality high. Some rave about the flavour and juiciness of its burgers, but we really loved how delightfully soft yet toasted its buns were. 
Its classic burger (S$7.90 at VivoCity, Causeway Point, 313@Somerset and Lot One) is the one to try, comprising a handcrafted patty, onion jam, garlic chips and cheese.
3. CCB burger from NBCB (S$8.90) 
Orchard Central, 04-23, 181 Orchard Road
Open: Daily (11.30am to 9.30pm)
Katong I12, 01-17, 112 East Coast Road
Open: Daily (11.30am to 9.30pm)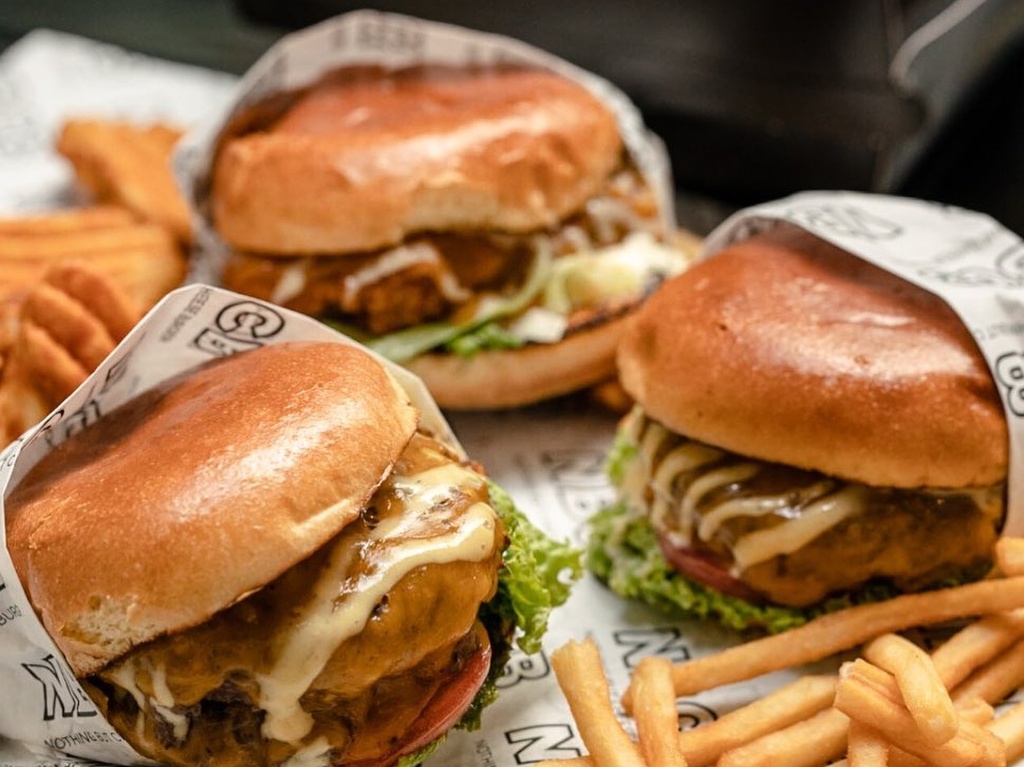 NBCB (also known as Nothing But Cheese Burger) has but one aim — for its diners to spout words of pure delight when they sink their teeth into its burgers. 
If you're curious about the origins of its name, it's because the former home-based business started during Singapore's circuit breaker (CB) period in the pandemic, when owner Tommy had to whip up these burgers for his hungry, pregnant wife.
Pregnant customer or not, we're sure NBCB's perfectly cooked burgers would satiate any craving. The place is known for its beef burgers but if you want to stay under budget, its chicken burger or CCB (S$8.90) also promises the same kick.
4. Single burger from 2280 by BurgerLabo (S$9.90)
Henderson Industrial Park, 01-10, 213 Henderson Road
Open: Monday to Saturday (11am to 3pm, 5pm to 9pm)
This one may have narrowly made the cut, but if you're burger-hunting on a budget, Burger Labo's 2280 beef burger's got you. Think quality, gourmet beef patties and good portions that won't break the bank. 
You'll need to stick with the single burger (grass-fed Aberdeen Angus patty, pickled red onions, American cheese, beef garum and housemade shio kombu burger) if you're keen to keep this under 10, but trust us – it's worth every dollar.
5. Double beef burger from Ramburger (S$6.50)
313@somerset, B3-48A, 313 Orchard Road
Open: Daily (10.30am to 10pm)
AMK Hub, B2-44, 53 Ang Mo Kio Ave 3
Open: Daily (10.30am to 10pm)
Clementi Mall, B1-K21, 3155 Commonwealth Ave West
Open: Daily (10.30am to 10pm)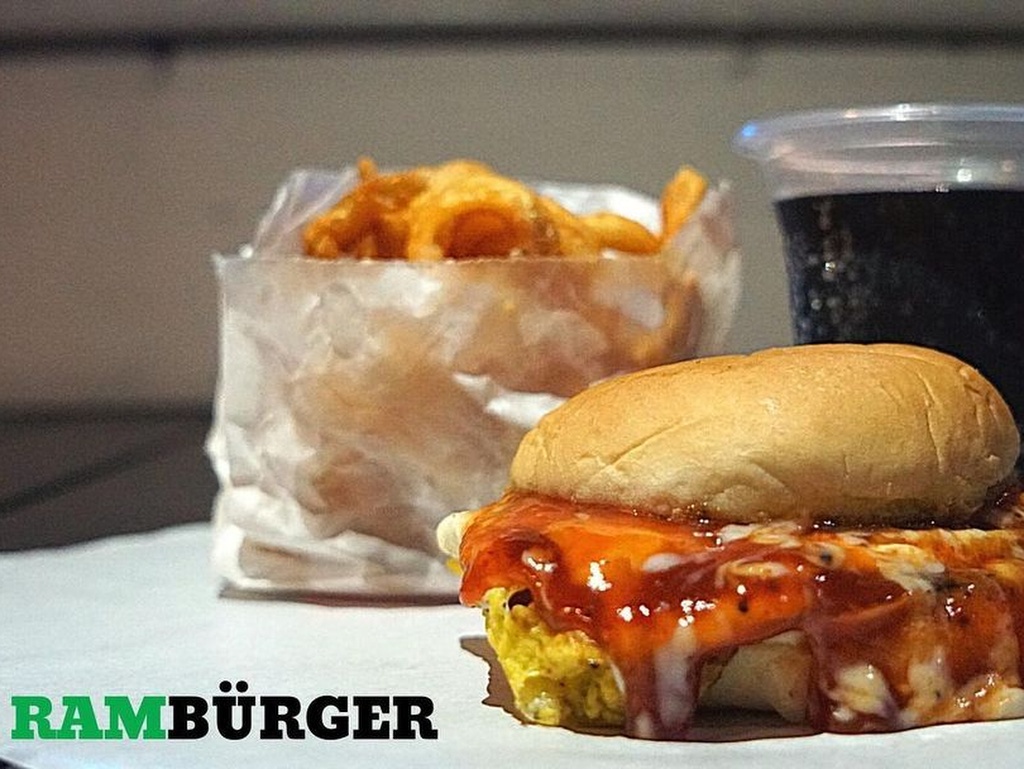 Gone are the days when you need to hunt a pasar malam down to get your hands on a piping hot Ramly-style burger. Ramburger is here to meet your Ramly burger cravings permanently with its chicken or beef options (S$4.80 for a single, S$6.50 for a double) on its menu. 
Each meat patty is enveloped with a fried egg before being doused with chilli sauce and mayo, just like how you'd have it at a night market. If you want to take it up a notch, get its umami-laden mentaiko frites! 
6. Classic Yangyeom burger from Phat Fingers (S$9.99) 
51 Telok Ayer Street, 01-03
Open: Daily (11am to 9pm)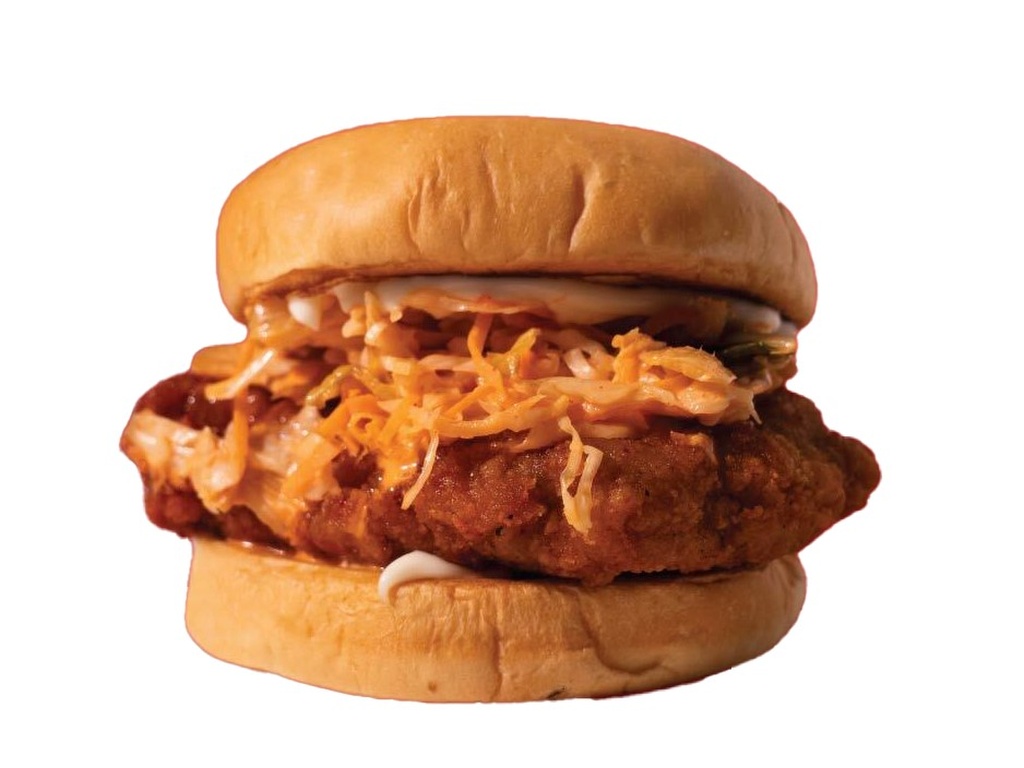 Phat Fingers started off as a cloud kitchen concept by TiffinLabs serving up Korean fried chicken and more. It opened its first physical store at Telok Ayer in 2022.
Its known more for its spicy deep-fried wings but if you wanted to do a burger, its classic yangneom burger (S$9.99) is one to try – the sweet and spicy yangnyeom-coated crispy chicken goes impeccably well with the tangyness of the kimchi slaw.
7. China mala chicken burger from Mr Burger (S$6.90) 
159 Rochor Road
Open: Daily (11am to 10.30pm)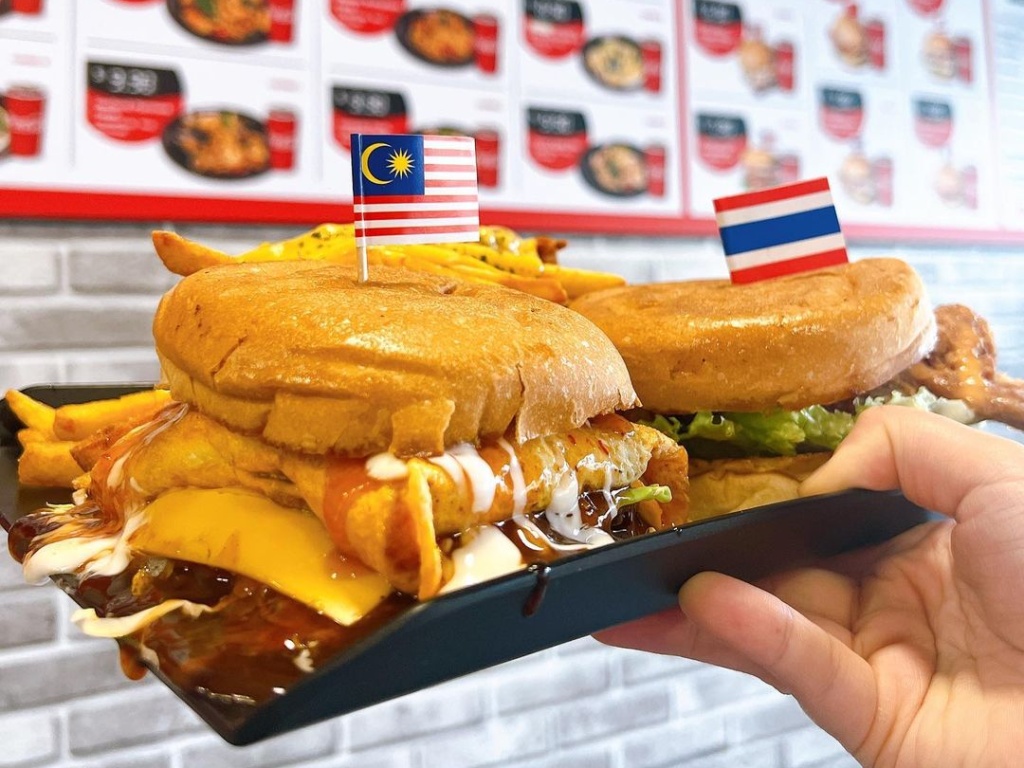 Mr Burger is known for its Malaysian-style Ramly burgers, but it has also started to gain a steady following for its internationally themed budget burgers in the city centre. 
Playing into Singaporeans' obsession with all things mala, Mr Burger has a China mala chicken burger (S$6.90) that gives you the best of both worlds. Also intriguing are its Thai-style chicken burger (S$6.90) and Japanese-style fish burger (S$6.90).
Don't worry too much about the restaurant's generous servings of sauces – it provides disposable gloves to make your dining experience mess-free.
8. Cheese skirt burger from Skirt & Dirt (S$8)
Tiong Bahru Market, 02-66, 30 Seng Poh Road
Open: Daily (11.30am to 8pm)
A cheese skirt is exactly what it sounds like. Skirt & Dirt, a hawker stall in Tiong Bahru Market that started in 2020, dishes out beef burgers with a unique cheese skirt. 
Drizzled onto the grill and patty while it cooks, the sharp and savoury cheddar cheese melts and then crisps up to form the 'gram-worthy skirt. There isn't a fixed way to enjoy this special burger, but you could fold the extra cheese in or eat around it till you get to the burger.
If that's not your thing, Skirt & Dirt also serves typical burgers with no skirt, such as the S&D hamburger (S$6) and the Big Bad Wolf's pork burger (S$7).
9. Crusty pork burger from Zipp Burger & Pasta (S$7.50)
Great World City, B1-K106, 1 Kim Seng Promenade
Open: 11am to 9pm (takeaway only)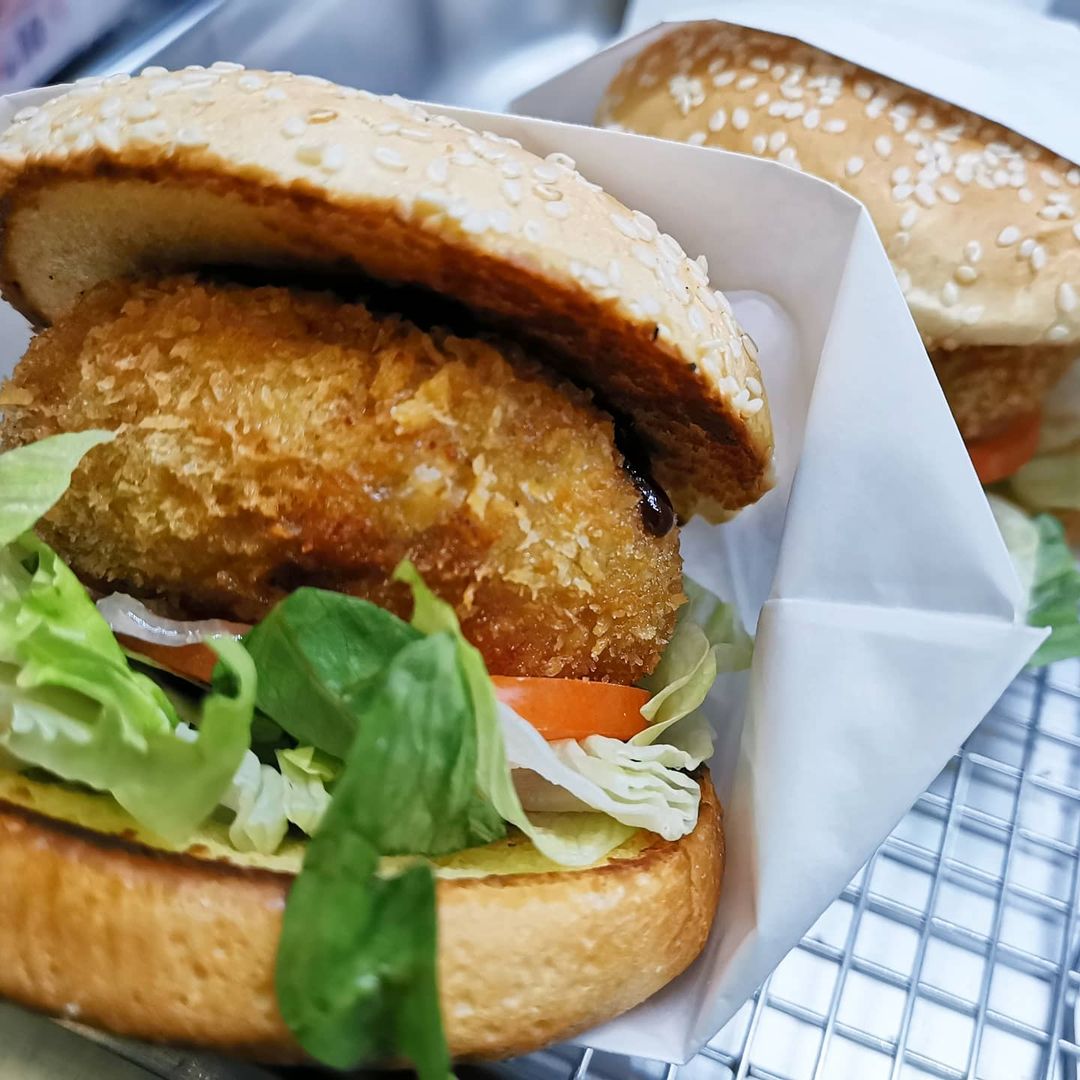 On a budget but looking for the ultimate value? Zipp Burger & Pasta delivers on all fronts. Its burger patties are thick with a capital T, despite its affordable price tag. Its crusty pork burger (S$7.50), for instance, sports a juicy crispy handmade pork patty drizzled with homemade sauce. 
Beyond burgers, the place serves pasta dishes that are customisable and oh-so-generous with its portions.
Zipp Burger & Pasta is a homegrown brand that used to be at Amoy Street Food Centre before it moved to Great World City. It is now a takeaway kiosk so there isn't anywhere to dig into your burgers straight after, but don't worry we've checked – they do just fine as a takeaway or delivered.
10. Original Fatburger from Fatburger (S$9)
Multiple stores islandwide.
Open: Operating hours vary across outlets.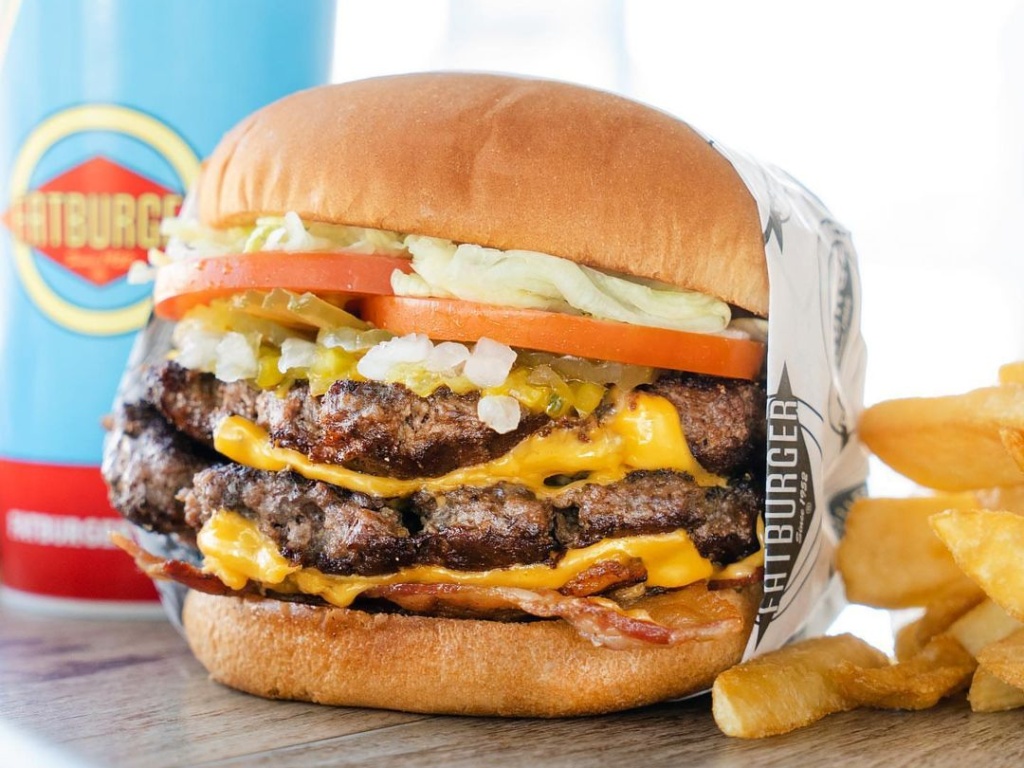 Looking every bit a legit American diner, Fatburger actually hails from the US and has been around since 1952. It first arrived quietly in Singapore in 2018 and has built a steady following so far, especially among diners who love that the chain allows you to customise the height of your burger.
On a budget? Get the single patty original burger (S$9). Happy to blow some dollars? Get the XXXL (S$17) and quadruple that beefy goodness while gaining a spot on its wall of fame. Still hungry? It's also got burger add-ons, such as onion rings, shrooms, beef bacon, egg and cheese.