Virtual restaurant Phat Fingers' first physical store is run by former Cathay Pacific cabin crew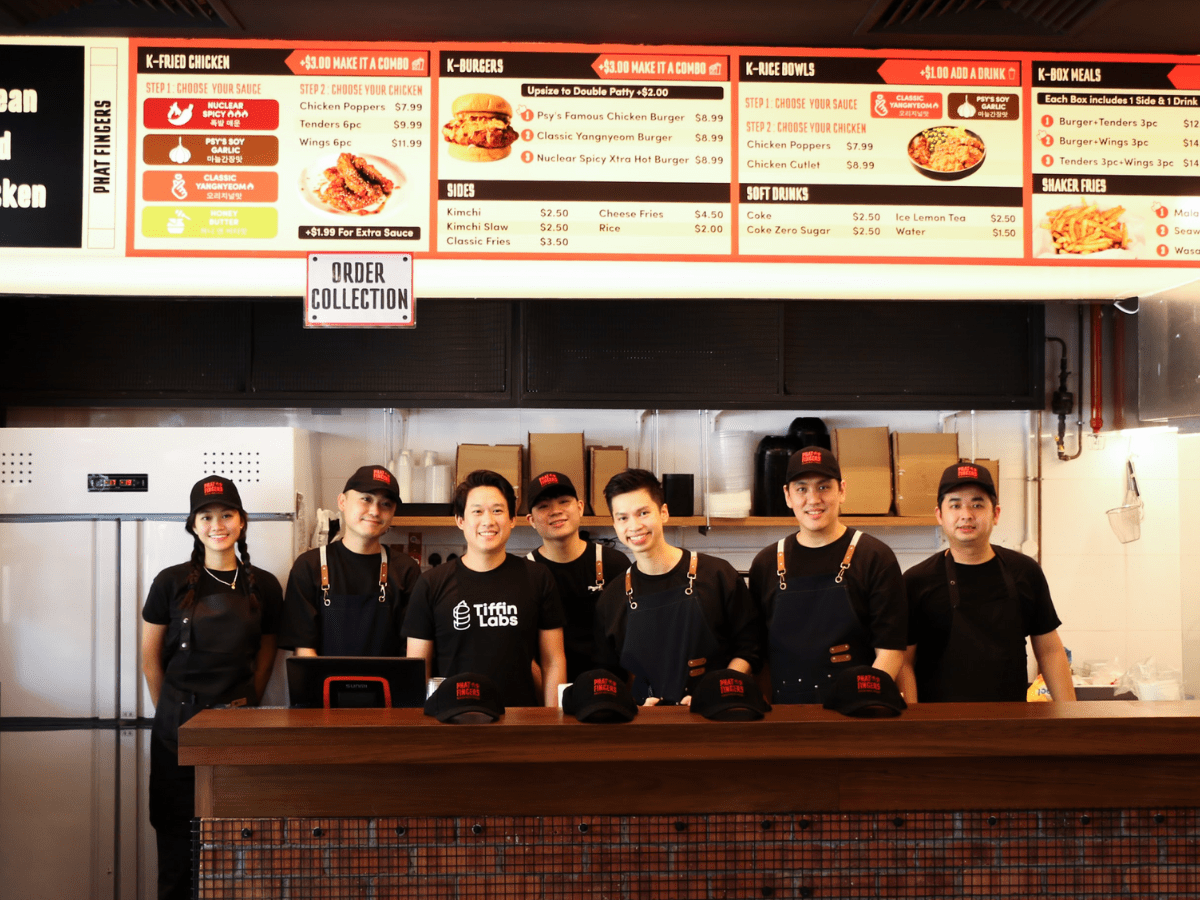 Good news for fans of Korean fried chicken brand Phat Fingers! You can now order and indulge in its addictive crispy fried chicken on the spot, as it has opened its first physical store at Telok Ayer.
Launched by TiffinLabs in 2021, Phat Fingers was available here only as a virtual restaurant. A virtual restaurant is an F&B store that does not have a dine-in venue and only delivers food to customers via a central kitchen. 
Known for its authentic fried chicken flavours and spice blends that are native to Korea, Phat Fingers opened the doors to its physical outlet on Oct 28. 
The physical outlet was made possible by Felix Tan, formerly a cabin crew member from Cathay Pacific Airways.
He has roped in some of his former cabin crew colleagues to help him run the store. All of them were displaced at the start of the Covid-19 pandemic in 2020 and they had been taking on other jobs to supplement their incomes.
Tan has always dreamt of starting his own restaurant. He stumbled on TiffinLabs while surfing the web earlier this year and was intrigued by the unique operating model offered by the food tech company.
Besides being a dine-in and takeaway store for Phat Fingers, the Telok Ayer outlet doubles up as a cloud kitchen serving other virtual brands in TiffinLab's portfolio, such as Southern Soul, PotatoLab and Bap Bap Korean Rice Bowl. 
This model allows Tan to maximise his revenue per square foot and optimise his kitchen efficiency.
TiffinLabs' brands are also designed such that they can be operated with simple preparation steps. This means F&B operators such as Tan can pick up recipes and start operations quickly.
For Tan, it took just 45 days to launch Phat Fingers, which he said was a "dream come true". With this model, "we can minimise our rental costs and diversify our revenue streams", he said.
He added that he was looking at starting more small-footprint F&B outlets that can function as cloud kitchens, as he hopes to provide consumers with more fried chicken options, anywhere and anytime.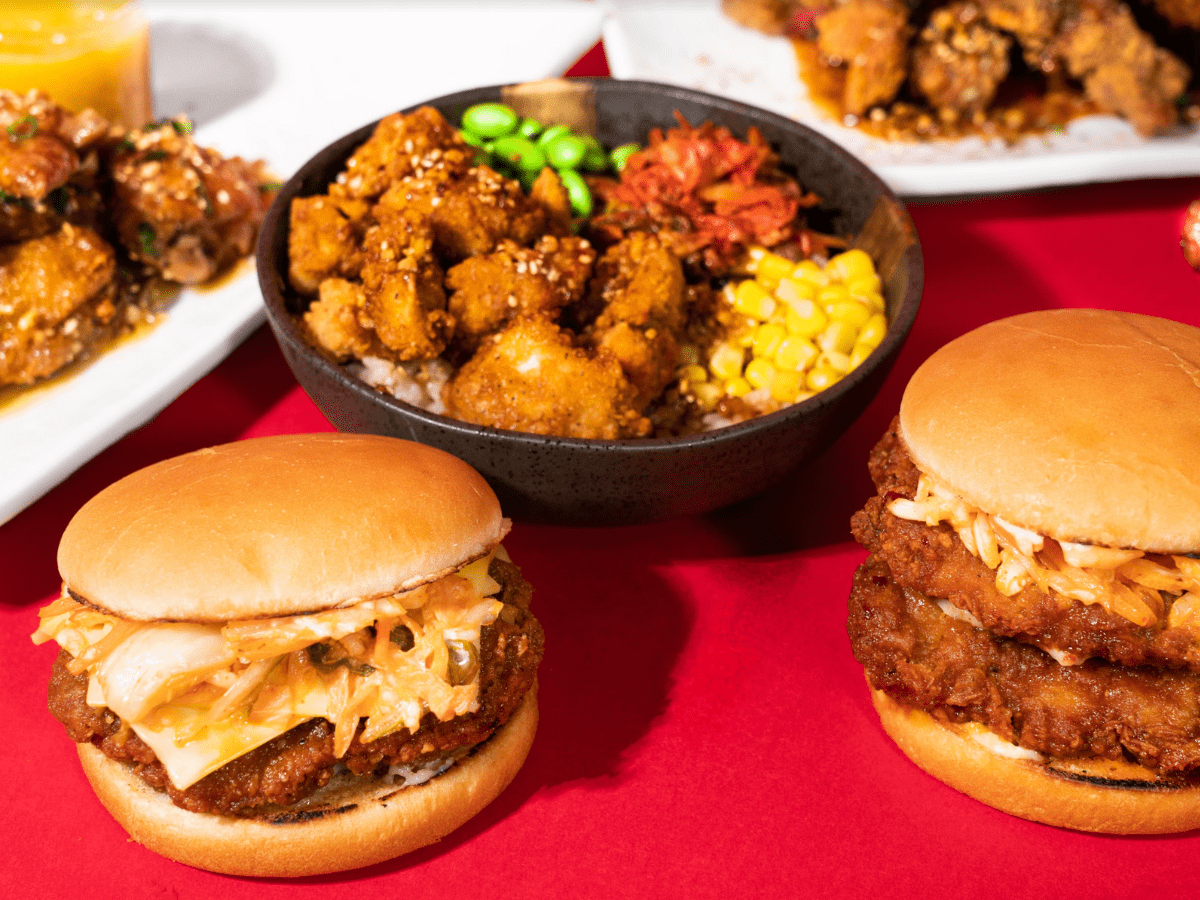 The food
A must-have from Phat Fingers' menu is the K-fried chicken. Choose from the three types of chicken parts available: Chicken poppers (S$7.99), six-piece tenders (S$9.99) or six-piece wings (S$11.99). 
Your selection of fried chicken will then be glazed with the sauce of your choice. If you prefer something on the sweeter side, you can try the honey butter or Psy's soy garlic sauce. For spice-loving foodies, you can opt for the classic yangnyeom or nuclear spicy, which is made from the potent ghost pepper.
Phat Fingers will also be selling its juicy burgers in the Telok Ayer store. The crowd favourite is Psy's famous chicken burger (S$8.99). The tender chicken patty is served with a mildly sweet and garlicky sauce, wrapped between warm, soft buns.
Hungry? Top up S$2 for a double-patty option.
For sides, diners can munch on Phat Fingers' addictive shaker fries (S$4.50). It's available in three flavours: Mala, wasabi or seaweed.
As part of its grand opening, Phat Fingers will be holding a "Spin & Win Wheel" activity every Friday from Oct 28 till the end of November. You stand a chance to win some prizes, including free chicken tenders for a whole year! 
Book a ride to Phat Fingers.
51 Telok Ayer Street, 01-03
Nearest MRT station: Telok Ayer
Open: Monday to Sunday (11am to 9pm)
51 Telok Ayer Street, 01-03
Nearest MRT station: Telok Ayer
Open: Monday to Sunday (11am to 9pm)