Ume San 100: Singapore's hottest new secret Japanese bar, hidden behind vending machines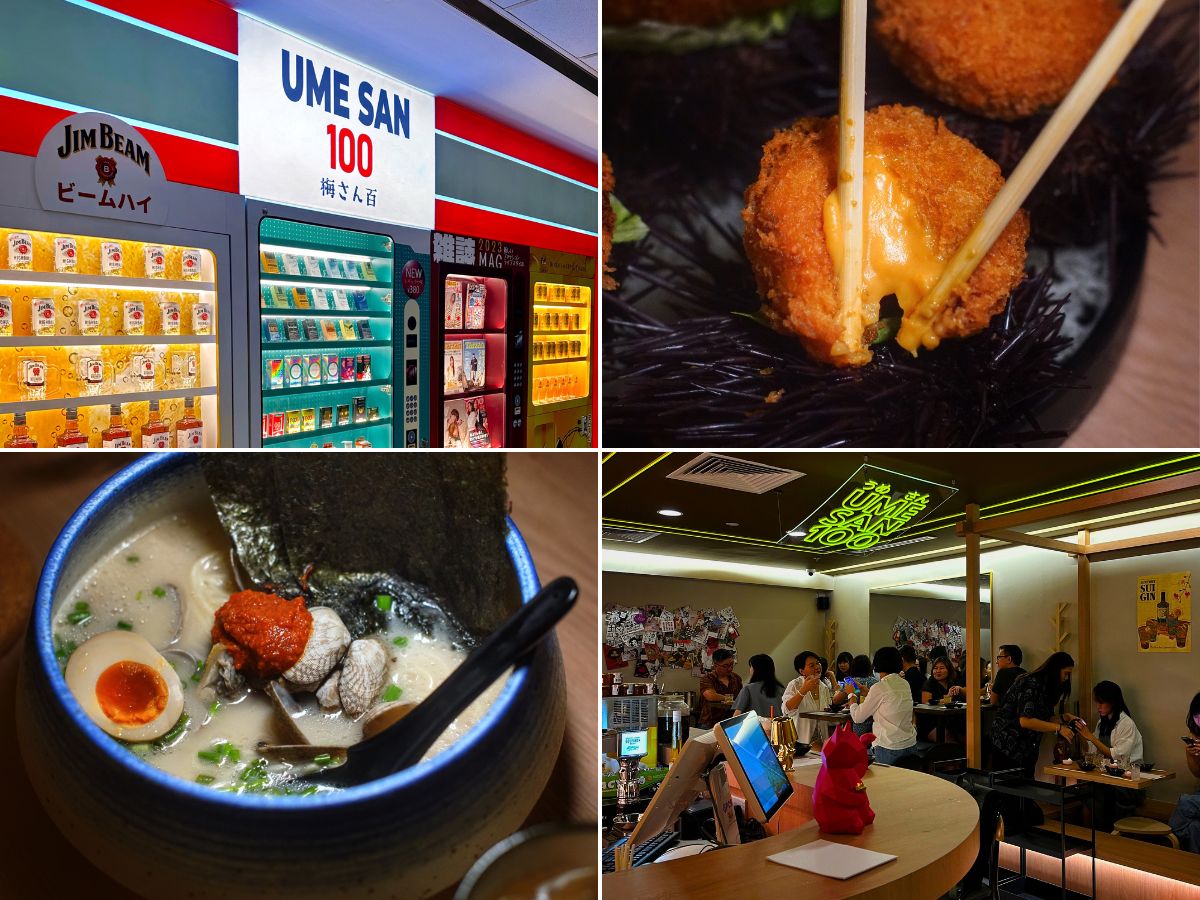 If you're on the lookout for quirky hidden bars in Singapore, here's a new one you shouldn't miss: Ume San 100, a speakeasy hidden behind a row of Japanese vending machines.
Located at Fortune Centre, Ume San 100 boasts the largest selection of umeshu in Singapore, sourced exclusively from Wakayama. It is the birthplace of the beloved Japanese liqueur. 
On its facade, you'll be greeted by vending machines carrying a litany of items such as liquor, magazines, and… condoms. 
We all know what you're thinking — yes, Ume San 100's unique entrance is perfect for those OOTDs.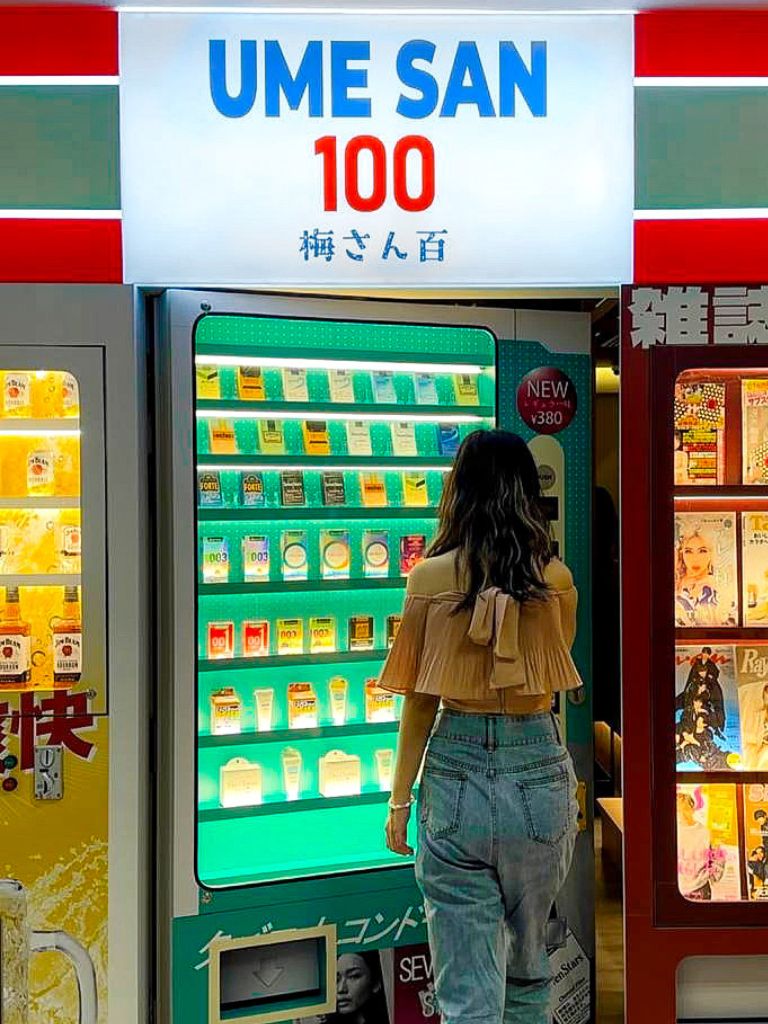 Once you're done with your photos, a gentle push on the "condom vending machine" (none of the vending machines are operational) in the middle will reveal a clandestine bar space situated just behind it, done up in a way reminiscent of authentic Japanese izakayas.
This means a laidback ambience underscored by rustic wooden fixtures, high stools, retro flag banners, and vintage posters.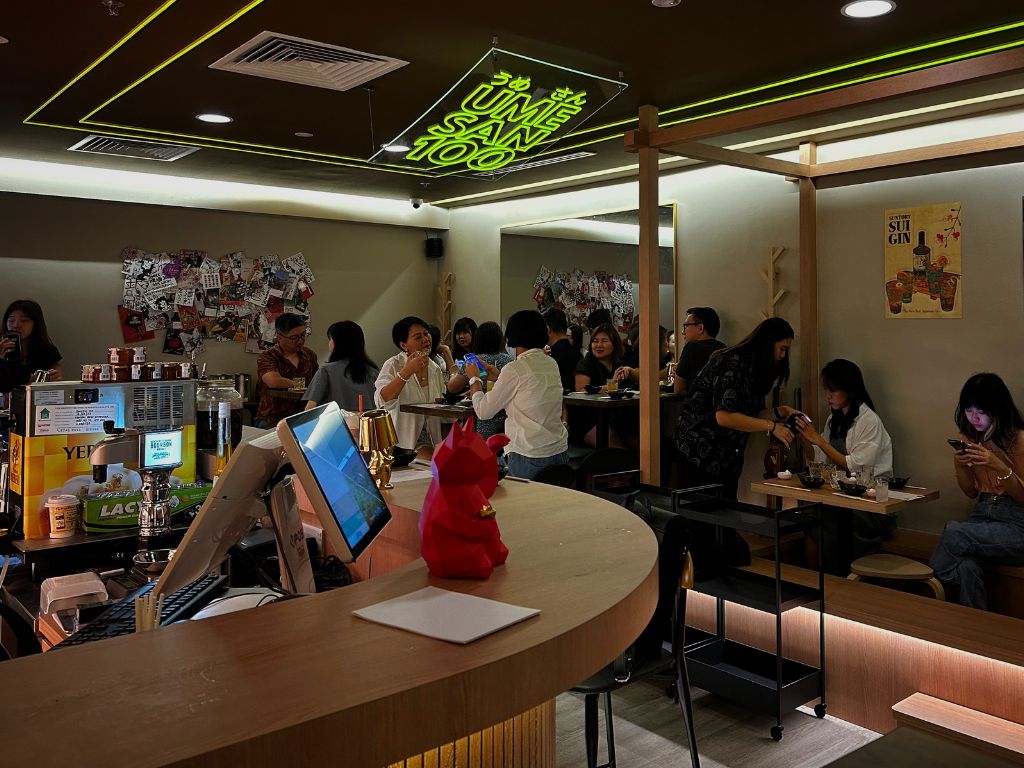 Complementing the umeshu experience, Ume San 100's menu also offers a delectable array of Japanese food and bar snacks.
If you're not sure what to try, the bar's signature Umesan Nachi Pagoda (S$20) is a good, safe option. It is an assortment of four seafood–focused sides — such as luscious lobster salad and numbing mala clams — paired with a stack of crunchy, fried gyoza skin.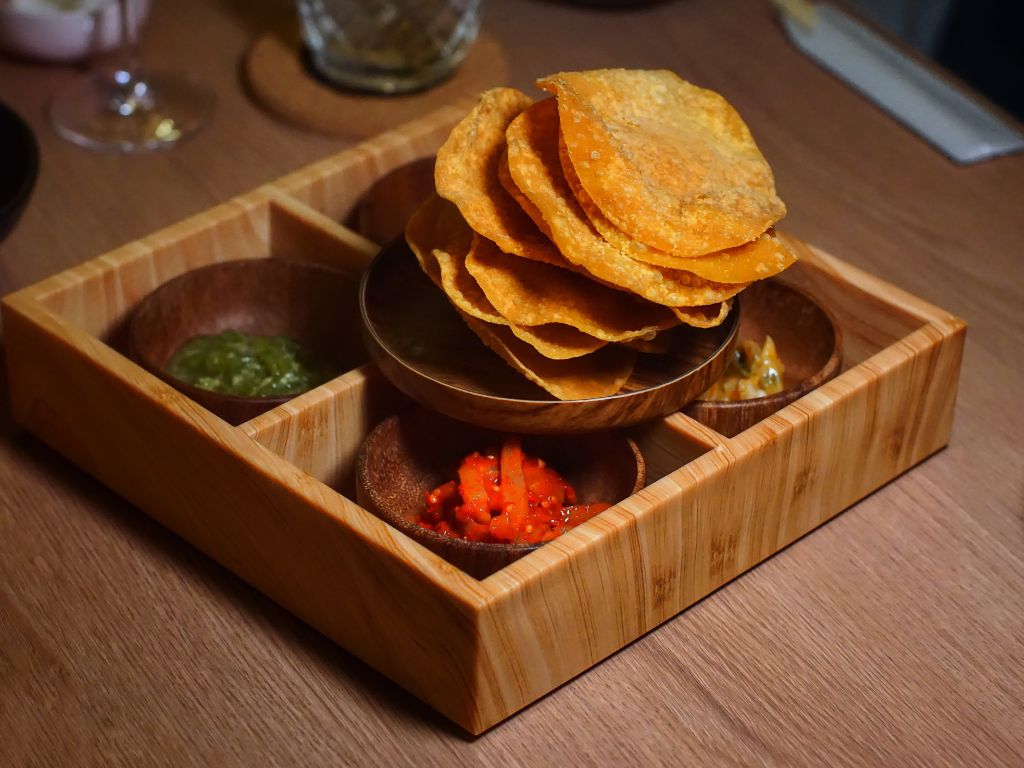 To sweeten the deal, Ume San 100 is also running a special deal through June where customers can get the signature Pagoda dish at 50% off.
Other popular bar bites include the garlic chicken karaage (S$16), made extra addictive with a heap of fried garlic, and The Uni is the Bomb! (S$14 for two pieces) that's essentially a croquette that splits open to release a deluge of creamy uni-flavoured filling.
There are also mains available on Ume San 100's menu in case you find your tummy growling before the drinks arrive.
One crowd favourite was the Angry asari soup ramen (S$16), a clean but hearty indulgence served with a smattering of asari (Manila) clams drenched in a rich asari white miso and pork bone broth.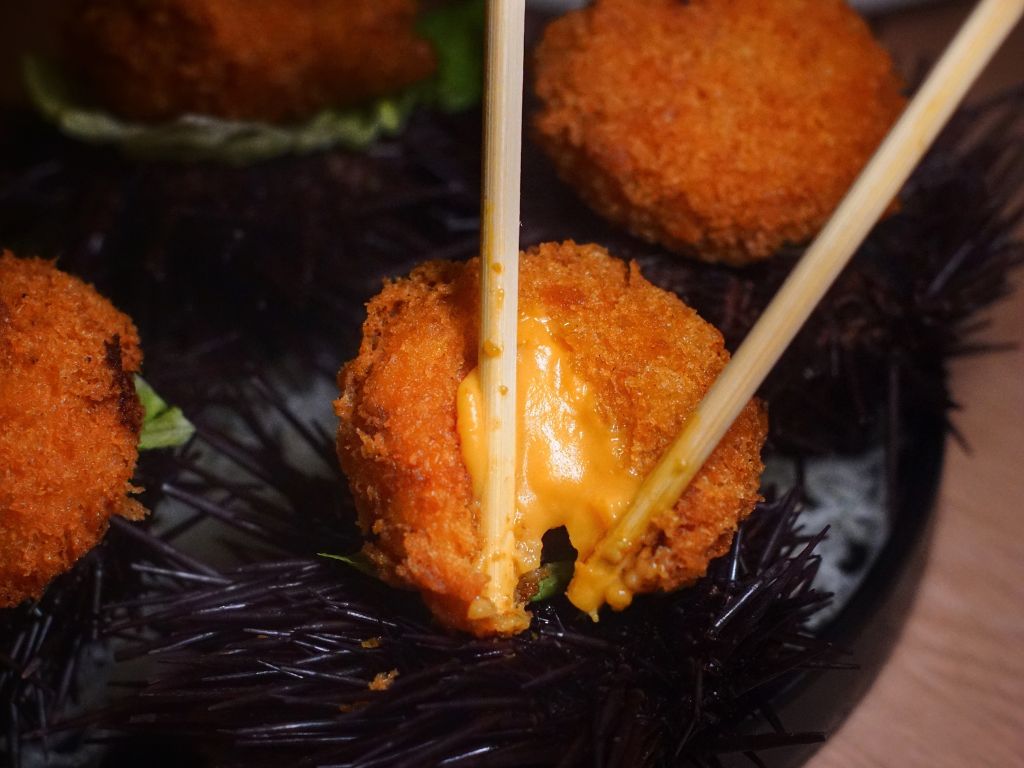 Alternatively, the Wagyu is the New Black chahan (S$22) is a solid option for those who can't live without rice. You just can't beat the simple pleasures of smoky charcoal rice topped with wagyu beef cubes and tobiko (flying fish roe).
Food aside, Ume San 100's strength undoubtedly lies in its esoteric range of tipples. Highball fans, in particular, are in luck — there's a staggering choice of 24 different highball permutations on the menu.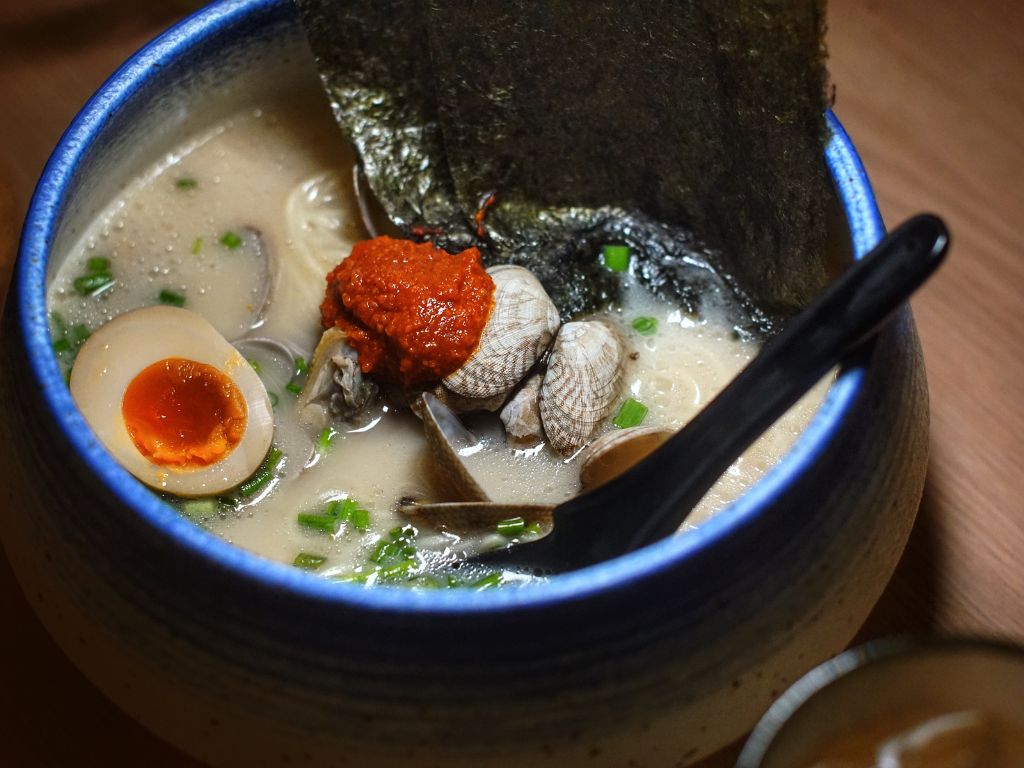 These vary from the timeless Suntory Kakubin highball (from S$14) and classic ume highball (S$14), to more luxe offerings such as the Hakushu highball (S$26) and Yamazaki highball (S$28), which use premium whisky as their base.
However, for those on the hunt for something new, we strongly recommend diving into Ume San 100's umeshu (plum wine) collection.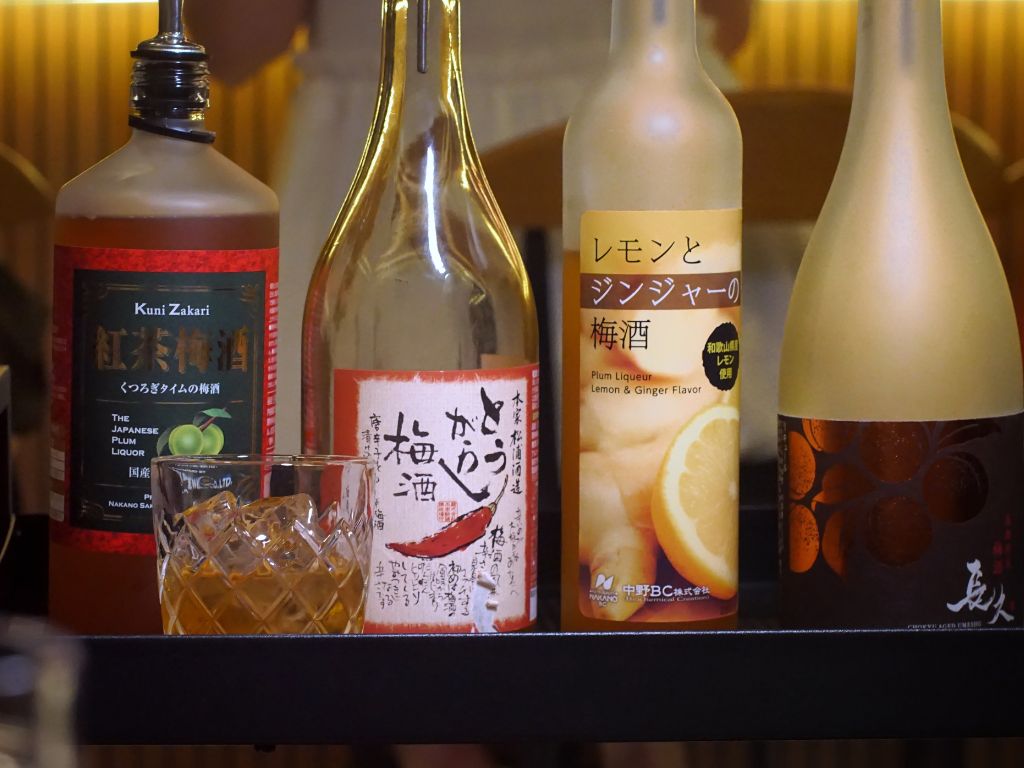 Aptly named the Umeshu Bible, the speciality menu comprises everything from no-frills classic umeshu to dessert variants. Think strawberry milk (S$16 per glass, S$78 for bottle) and matcha latte (S$12 per glass, S$58 for bottle).
Cocktail fans can also access a specially designed menu with a myriad of original concoctions based on the classics. If you're looking to feed your cameras, then the striking blue-hued Sea Garden (S$22) is a must-get.
Fortune Centre, 02-07, 190 Middle Road
Nearest MRT station: Rochor and Bugis
Open: Monday to Sunday (5pm to 11pm)
Fortune Centre, 02-07, 190 Middle Road
Nearest MRT station: Rochor and Bugis
Open: Monday to Sunday (5pm to 11pm)