10 must-try hawker stalls in Tampines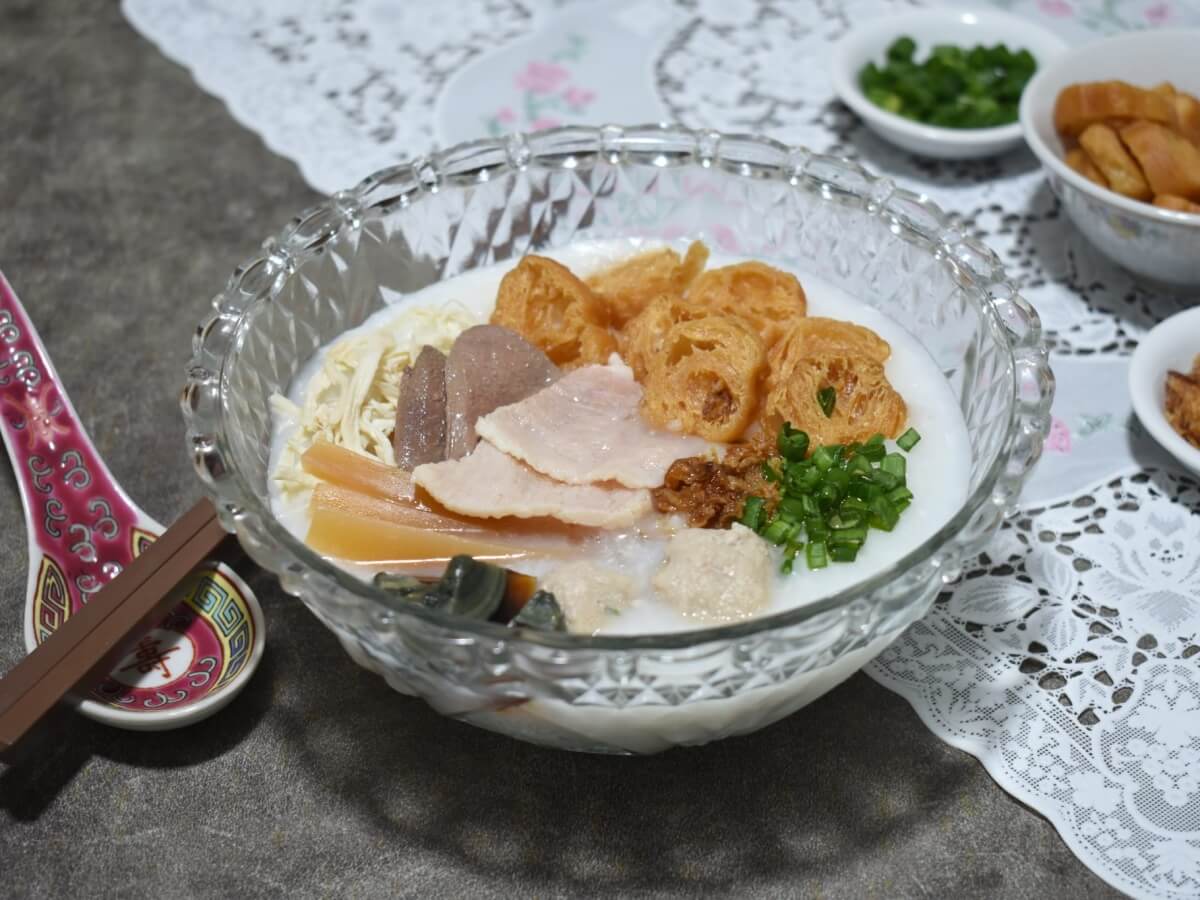 Home to Singapore's largest integrated community and lifestyle hub and three MRT stations, Tampines houses many hidden hawker gems, so much so that its residents hardly have to venture out of the town for good food.
It was a tough pick for our must-tries, but here are 10 stalls we recommend that you visit if you're swinging by this eastern hub.
1. Song Han Carrot Cake
Tampines Round Market and Food Centre, 01-07, 137 Tampines Street 11
Nearest MRT station: Tampines West
Open: Tuesday, Wednesday, and Friday to Sunday (6am to 12pm)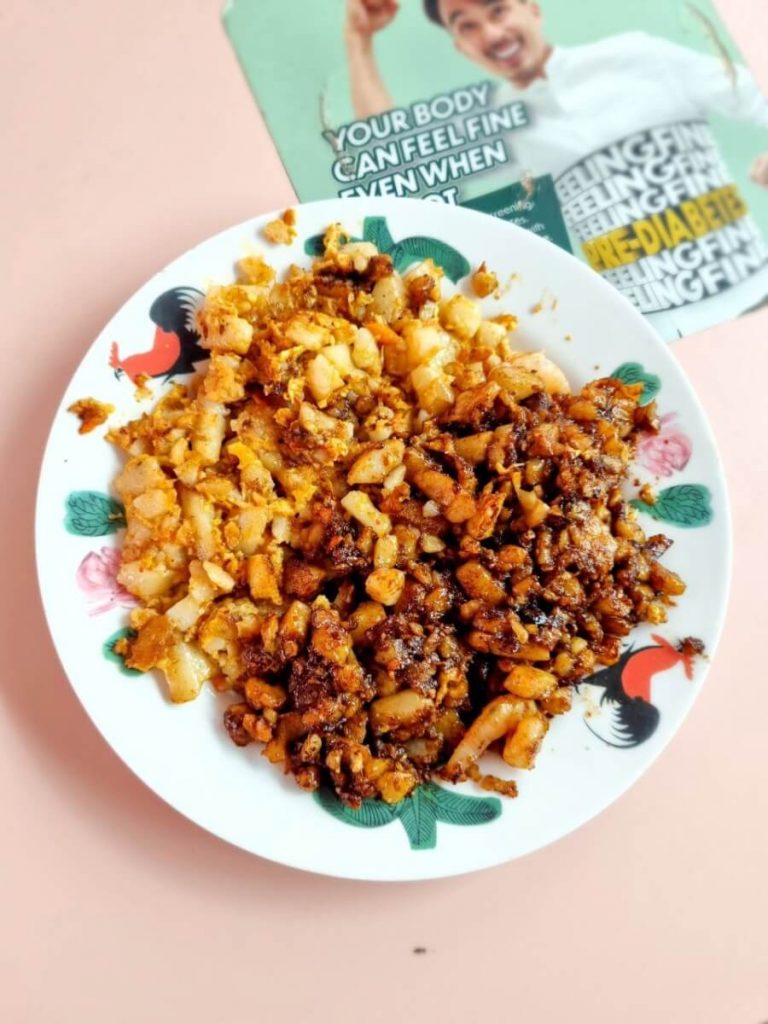 A hot favourite at the famous Tampines Round Market and Food Centre, Song Han Carrot Cake has been attracting consistently long queues for more than two decades. Selling only one item — carrot cake — the store keeps its prices low, despite egg prices going up recently. With S$2 getting you a hearty portion of white or black carrot cake, you can also go for a larger S$4 option, if you're looking for a heartier helping.
Fans of Song Han swear by its soft, moist and flavourful version of this local dish, and its differentiating factor — a good dose of curry powder. I, for one, love my crispy carrot cake, but I'd trade this for a plate of Song Han's black-and-white carrot cake any day.
What to order: Fried black-and-white carrot cake (S$4 or S$5)
2. Nasi Lemak Specialist
Tampines Round Market and Food Centre, 01-14, 137 Tampines Street 11
Nearest MRT station: Tampines West
Open: Tuesday to Sunday (7.15am to 2pm)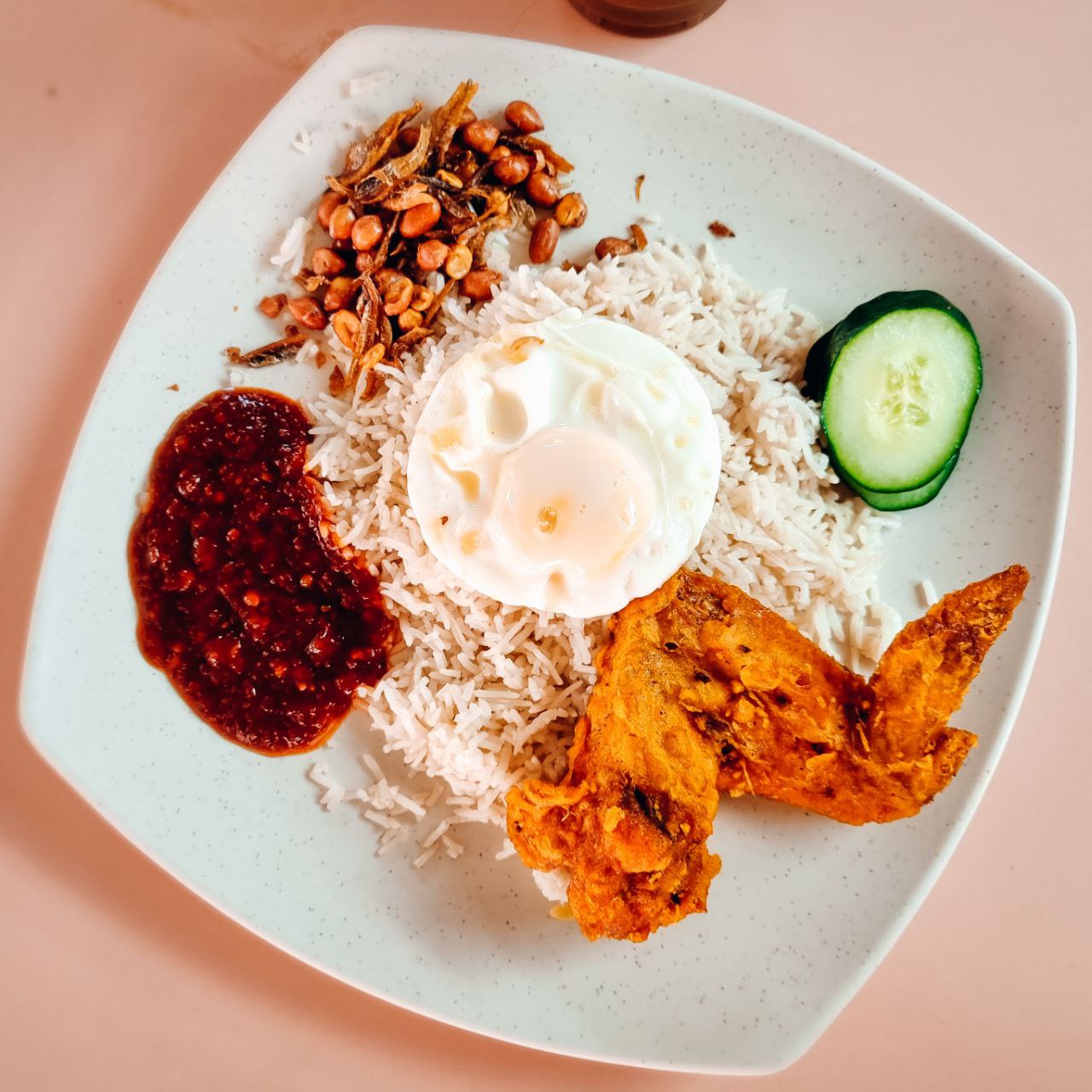 A few stalls away, you'll find yet another queue at Nasi Lemak Specialist, but don't let it deter you — we promise you it's worth the wait. Unlike most other nasi lemak stalls that use Thai jasmine rice, Nasi Lemak Specialist uses basmati rice prepared with freshly squeezed coconut milk. The result is a fragrant, light and fluffy base for you to pile your favourite nasi lemak ingredients on.
The stall has a whole variety for you to choose from, but if you're unsure, opt for its economical set from S$2.50, which has a fried egg, anchovies, peanuts, and chilli. Or go luxe with its quarter-chicken set (S$6), which has all of the above, including a juicy chicken thigh. Its fried chicken is made with a homemade batter that delivers on both flavour and crunch.
What to order: Mega-value set — with chicken wing, otah, fried egg, and begedil (S$5.50), quarter-chicken set (S$6)
3. Botak Cantonese Porridge
The Hawker Centre @ Our Tampines Hub, 01-65, 1 Tampines Walk
Nearest MRT station: Tampines
Open: Monday and Tuesday, and Thursday to Sunday (7am to 10pm)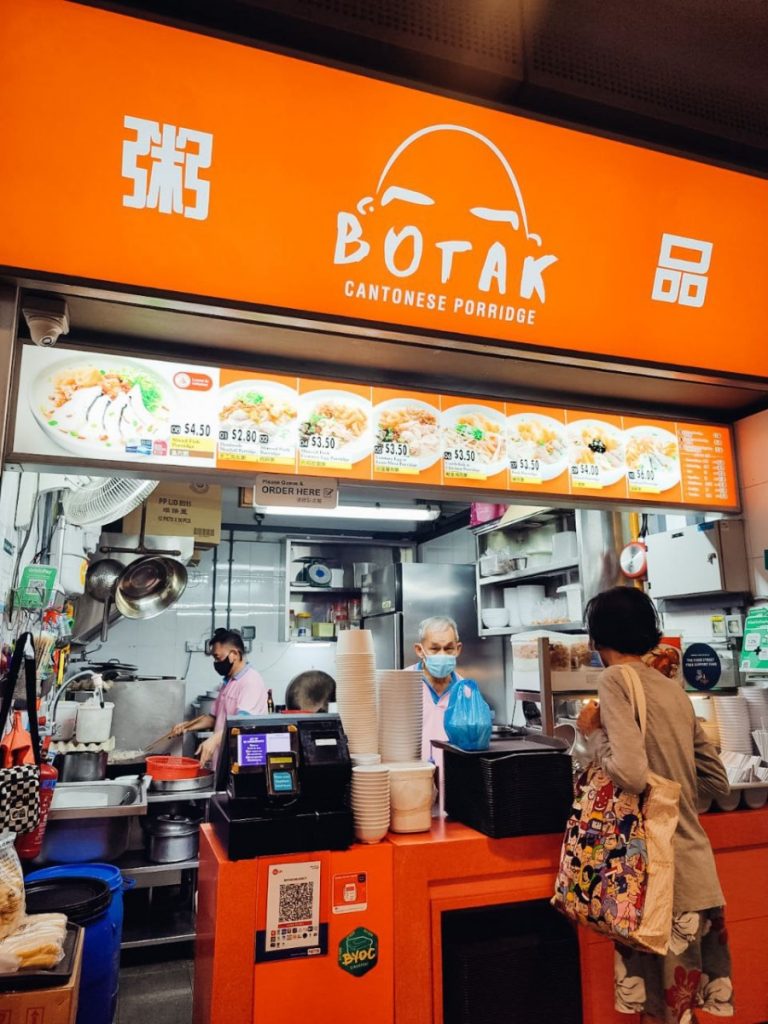 Botak Cantonese Porridge serves up silky, smooth Cantonese porridge that's flavourful, hearty and chock full of ingredients for its price. The stall keeps things simple, with only a small selection of Cantonese porridge topped with different permutations of ingredients.
For the undecided, the signature mixed porridge — which comes with a bit of every ingredient served at the stall — would be a great choice. It also includes the stall's handmade meatballs, made fresh every morning.
Also, I love that Botak Cantonese Porridge deep-fries its thinly sliced youtiao to crispy perfection. If you want more, you can also add an extra portion of youtiao for 80 cents.
What to order: Signature mixed porridge (S$4), homemade meatball porridge (S$2.80)
4. Hom Grill
9008 Tampines Street 93
Nearest MRT station: Tampines
Open: Monday to Friday (8am to 3pm); Saturday (8am to 2pm)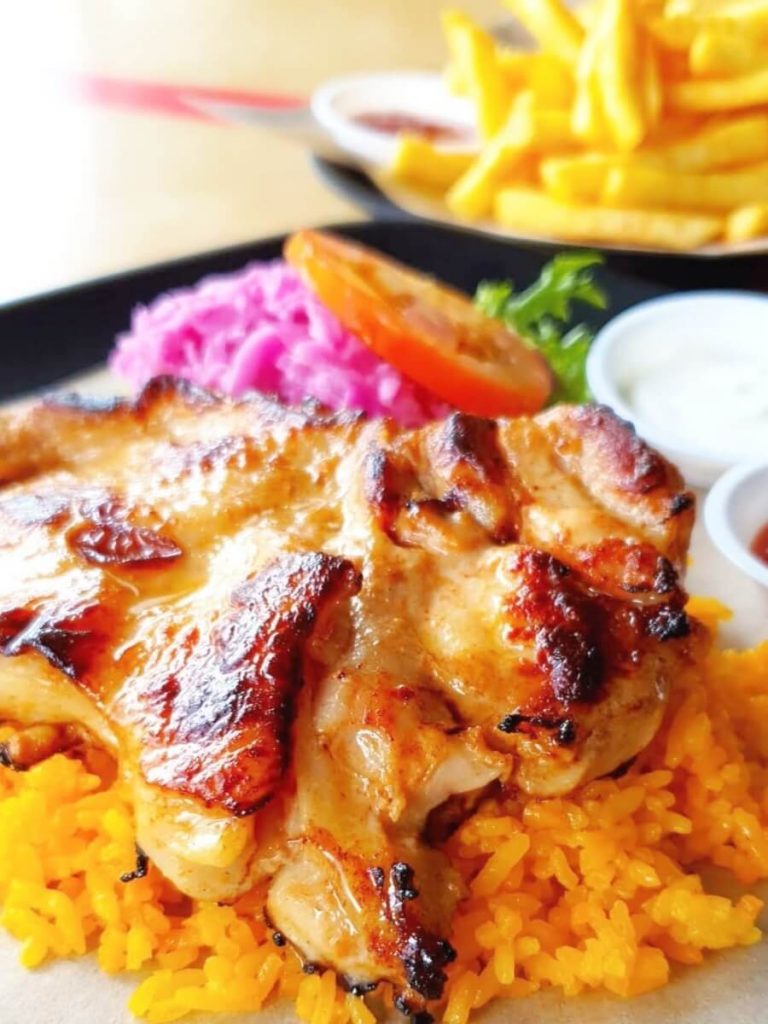 Hom Grill, which stands for Home of the Marvellous, dishes out restaurant-quality Western cuisine. With menu items priced at average hawker prices, the stall is in the industrial estate at Tampines Street 93. Because of the crowd it serves, the place opens only for breakfast and lunch, so head there earlier in the day to avoid missing out.
If there's one thing you should have from its menu, it's the maple chicken chop, which is chargrilled to tender perfection with a slightly crisp skin. The maple seasoning also lends a mild sweetness that complements the savouriness of the protein and spiced butter rice perfectly.
What to order: Maple chicken chop (S$6.20), Hom BBQ beef sandwich toast (S$4.50)
5. Lawa Bintang
9008 Tampines Street 93
Nearest MRT station: Tampines West
Open: Tuesday to Sunday (9am to 2pm)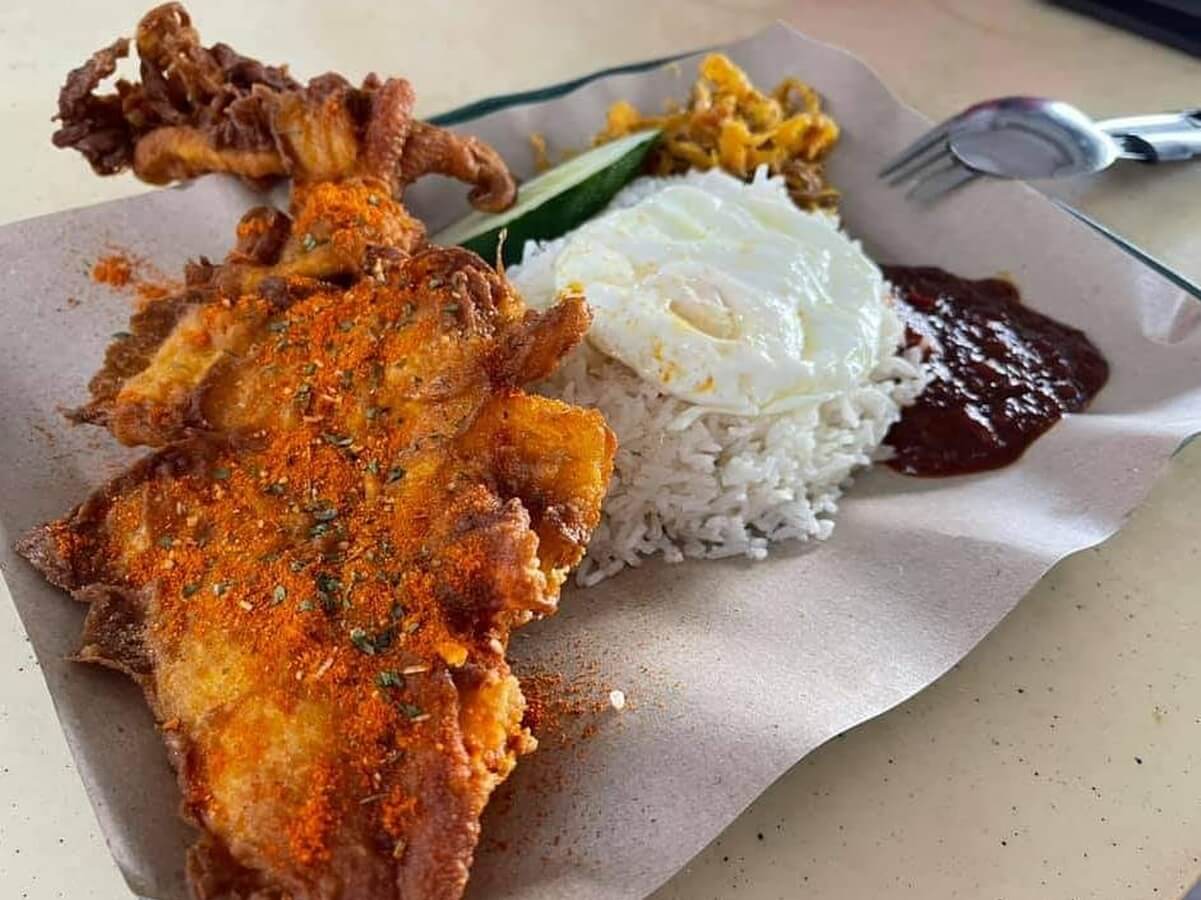 When Lawa Bintang opened in 2017, it drew long queues for the first-of-its-kind lobster nasi lemak, made fresh-to-order and topped with cheese and a touch of chilli powder. It didn't matter that its nasi lemak cost more than five to six times an average plate; the queues didn't care.
Five years on, Lawa Bintang is still standing strong and commands a slightly more manageable queue. Fret not, the lobster nasi lemak is still there if you're travelling all the way to Tampines for this prized treat (and priced the same after five years).
But the fried sotong nasi lemak, at S$9 and with the protein filling up nearly half my plate, is my go-to every single time.
What to order: Fried sotong nasi lemak (S$9), lobster nasi lemak (S$22)
6. Jofa Meepok
824 Tampines Street 81, 01-83
Nearest MRT station: Tampines West
Open: Monday to Sunday (8am to 2.30pm, 5.30pm to 8pm)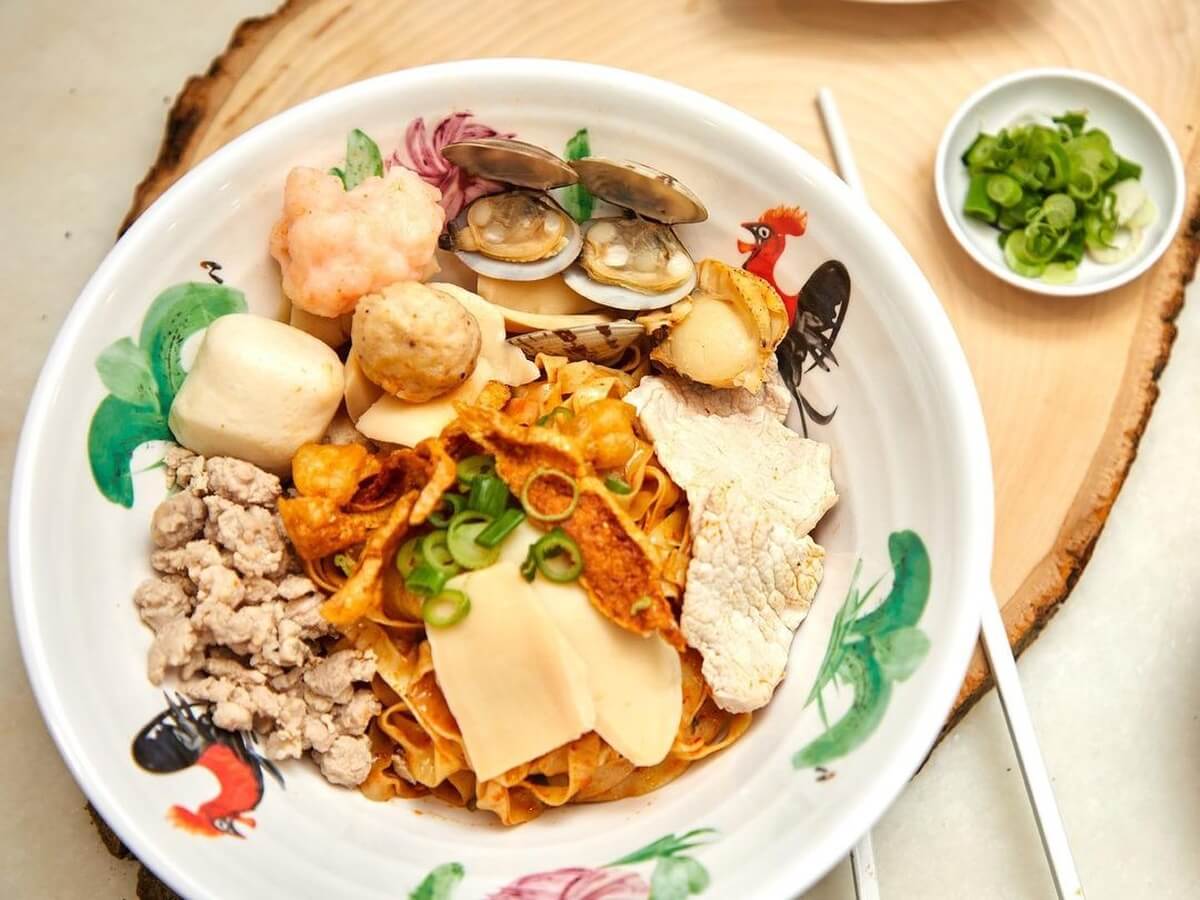 Open for about a year, the young hawkers behind Jofa Meepok — Joel Tan and Fabian Lim — have been making waves with their innovative take on bak chor mee (minced meat noodles). Its signature version is topped with clams, mock abalone, fried fish sticks, and prawn paste balls — on top of the usual minced meat.
The duo may be young (in their mid-20s), but their commitment to their noodle craft shines through the extensive research and development. They conducted recipe testing and held several taste tests before opening Jofa in Tampines, and most recently, their second outlet in Chinatown.
Their sought-after chilli paste is one of the fruits of R&D, and if you'd like to try it but can't take spice, we recommend that you ask for it to be mixed with ketchup in your noodles.
What to order: Signature minced meat noodles (S$6 or S$8), prawn paste soup (S$5.50)
7. Heritage Corner
Chang Cheng Food Court, 02-03 (Stall 7 and 8), 866A Tampines Street 83
Nearest MRT station: Tampines
Open: Tuesday to Sunday (9am to 7pm)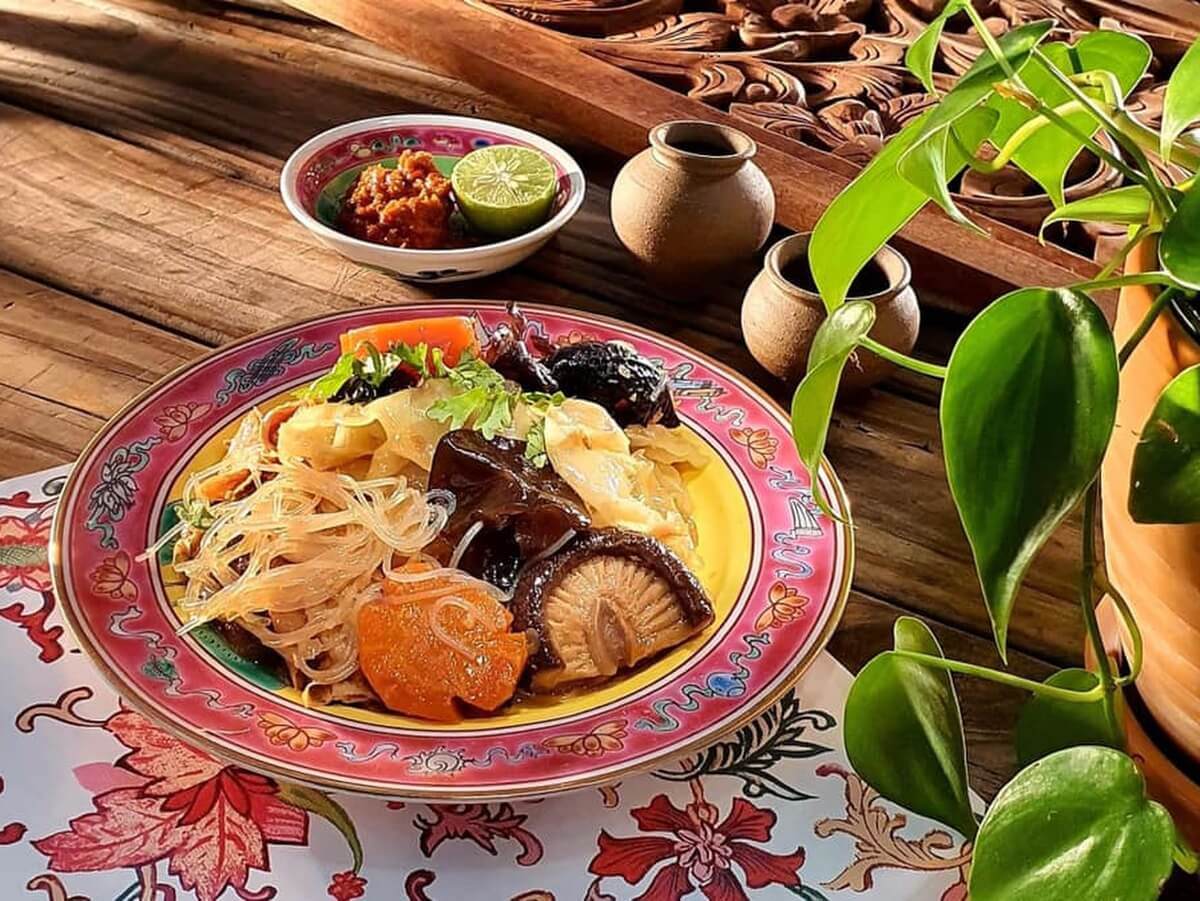 Hidden within Tampines Central Community Complex is this year-old Peranakan hawker stall manned by a fully Peranakan crew who wanted to share their love for this cuisine. The stall opens for breakfast and runs until dinnertime, and serves different dishes, depending on the time of day.
Everything at Heritage Corner is made with heart and generosity — evident in the rich flavours present in every dish, from the nyonya laksa gravy to the simple chap chye (braised vegetables). You'd want to come with a bunch of people because you simply wouldn't be able to enjoy the magnitude of what this place offers if you order just a dish or two.
What to order: Ayam buah keluak — chicken with black nut paste and tamarind (S$4.50), nyonya laksa (S$5.80)
8. Chef Wei HK Cheong Fun
802 Tampines Avenue 4
Nearest MRT: Tampines West
Open: Monday to Sunday (7am to 8pm)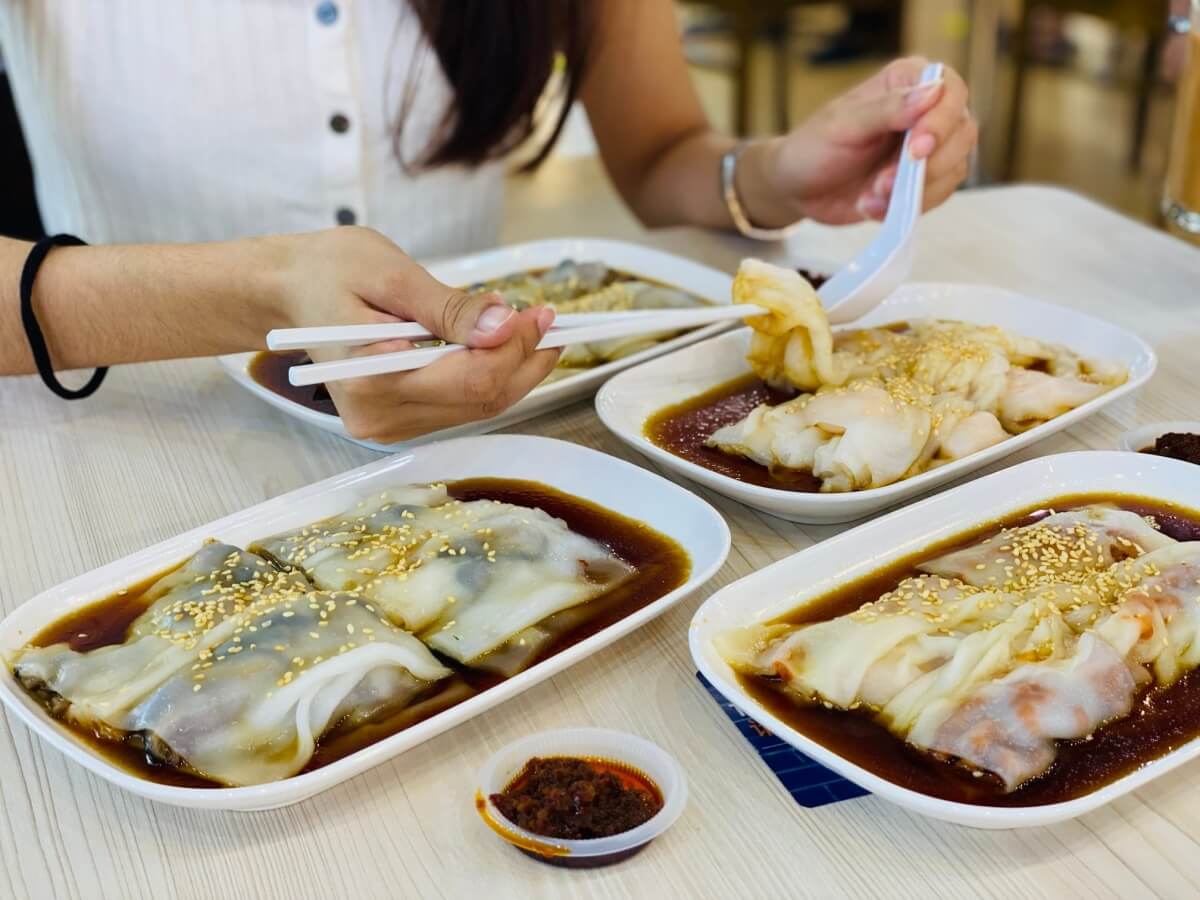 Opened by a former Peach Garden chef with more than a decade of F&B experience, Chef Too Chang Wei serves up silky soft rolls of high-quality handmade chee cheong fun. Choose from a range of flavours — plain, prawn, mushroom, or char siew — and watch as the chefs get to work, skilfully making each roll from scratch.
Regulars swear by how smooth and thin the freshly made rolls are and rave about its power-packed handmade chilli sauce. The stall's popularity has led to Chef Wei opening stores all over the island. Take heart as Tampines now has one to call its own, at 802 Tampines Avenue 4 — a stone's throw from Tampines West MRT station.
What to order: Plain cheong fun (S$3), prawn cheong fun (S$5)
9. Cocokata
Foodcity Coffeeshop, 01-08, 139 Tampines Street 11
Nearest MRT station: Tampines West
Open: Wednesday to Monday (11.30am to 10.30pm)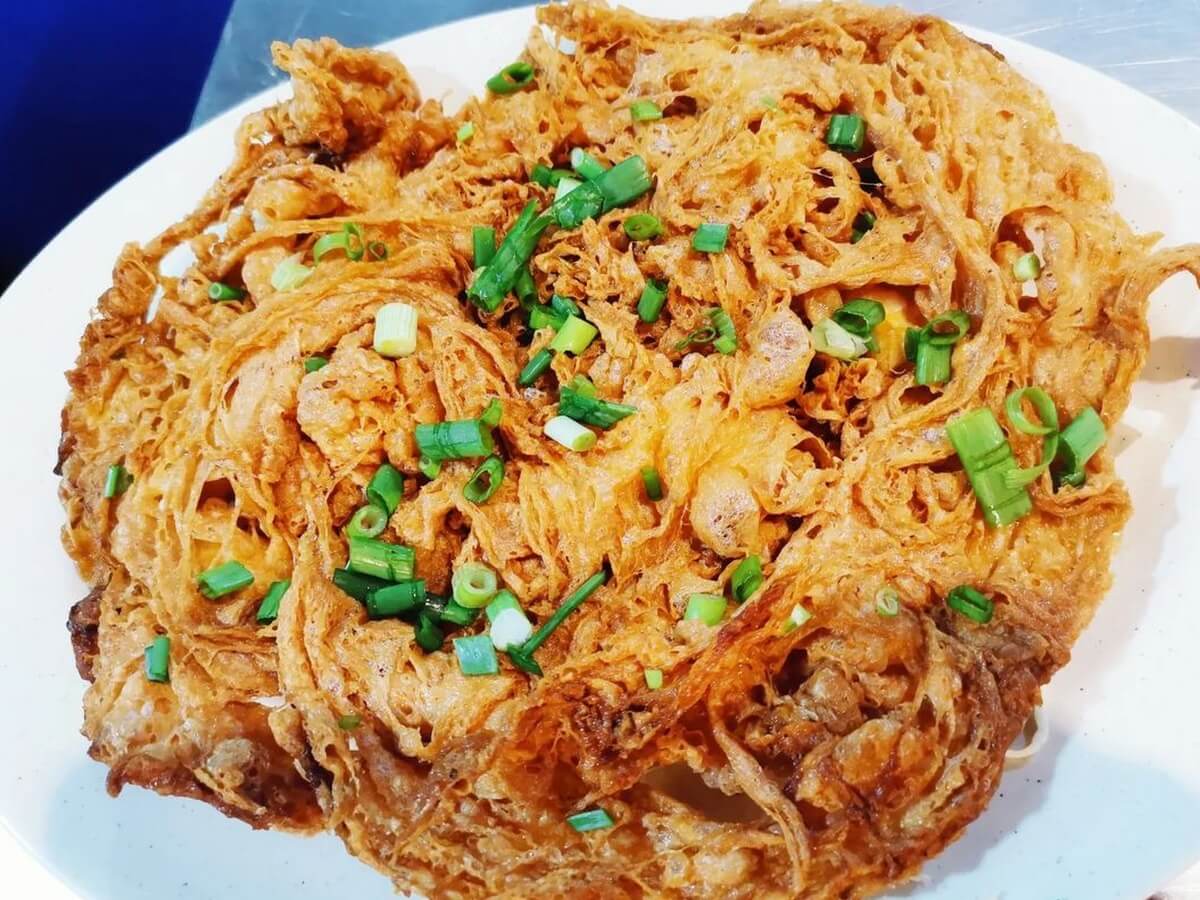 Mookata (Thai-style barbecue) places are a dime a dozen in Singapore, given Singaporeans' love of Thai food. But Cocokata delivers a spin on your regular mookata offering, infusing coconut into its broth, marinated meats and accompanying chilli sauce. The result is a mildly sweet, fragrant broth that complements the greasiness of the barbecued meats perfectly.
If barbecue isn't quite your thing, Cocokata also has a la carte cooked dishes on its menu (yes, also made with coconut). These include its signature coconut sauce sea bass and coconut sauce prawns. If you prefer something sans coconut, don't worry. It also has regular Thai dishes on its menu, such as tom yum fried rice and basil pork.
What to order: Seabass with signature coconut sauce (S$25), prawn omelette (S$8)
10. Warisan Kampung
Kim San Leng Coffeeshop, 01-148, 138 Tampines Street 11
Nearest MRT station: Tampines West
Open: Tuesday to Sunday (12pm to 7pm)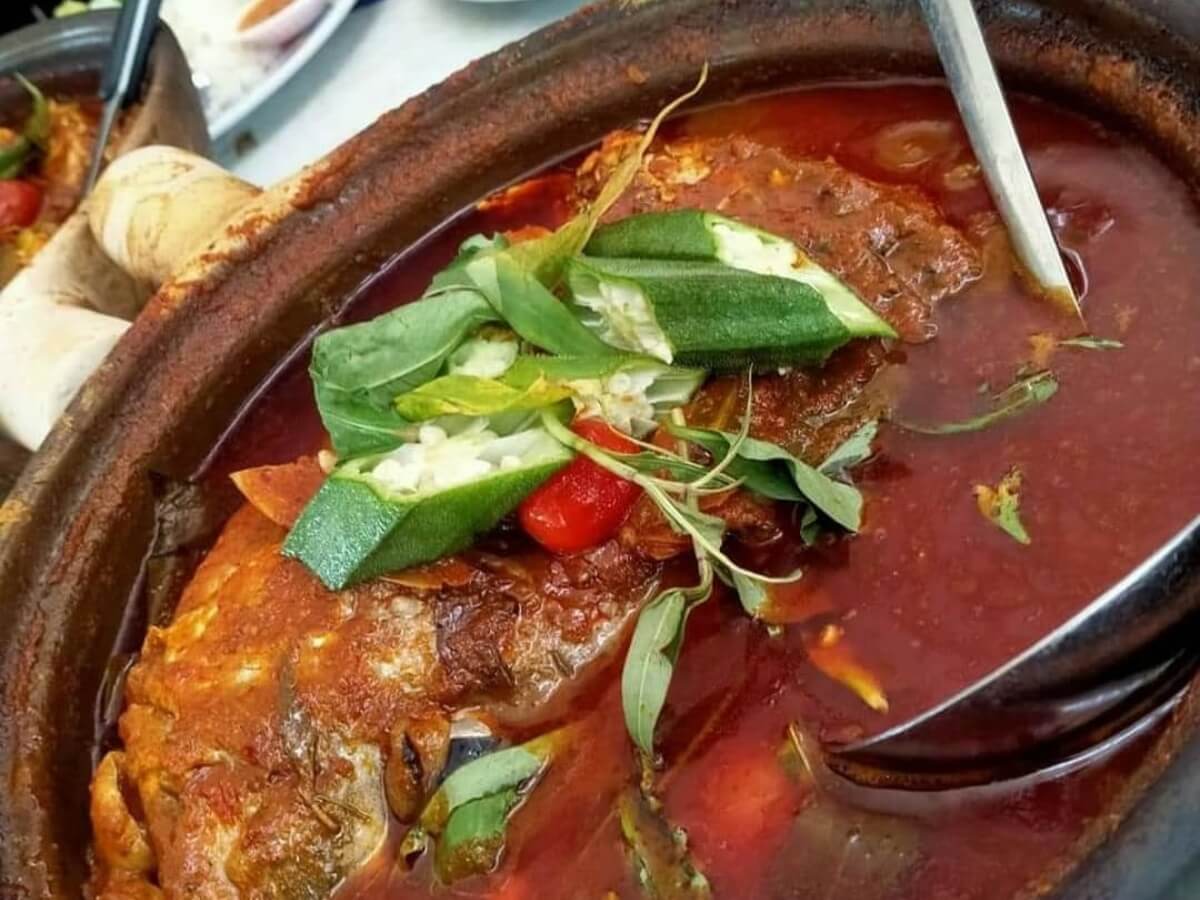 Warisan Kampung is a hawker stall manned by a husband-and-wife team, selling the husband's late grandmother's take on asam pedas (sour and spicy stew), served in a claypot. There's the classic fish (snapper) version, but if you want to switch things up, the stall also offers stingray, beef and chicken options, and you can buy them as part of a set meal for one to three persons.
As everything is made fresh-to-order and the fairly new stall is quite popular, expect a bit of a wait for your food when you head there. You can also text the stall via WhatsApp at least a day ahead to book a slot for dine-in or takeouts, or to pre-order your claypot.
What to order: Asam pedas with snapper (S$10.50 for one person), omelette (S$3.50)
Botak Delicacy, Hom Grill, Jofa Meepok, Lawa Bintang, Chef Wei HK Cheong Fun, Cocokata, and Warisan Kampung are on the GrabFood delivery service. You can also book a ride to these places. 
---