All the Laksa in Singapore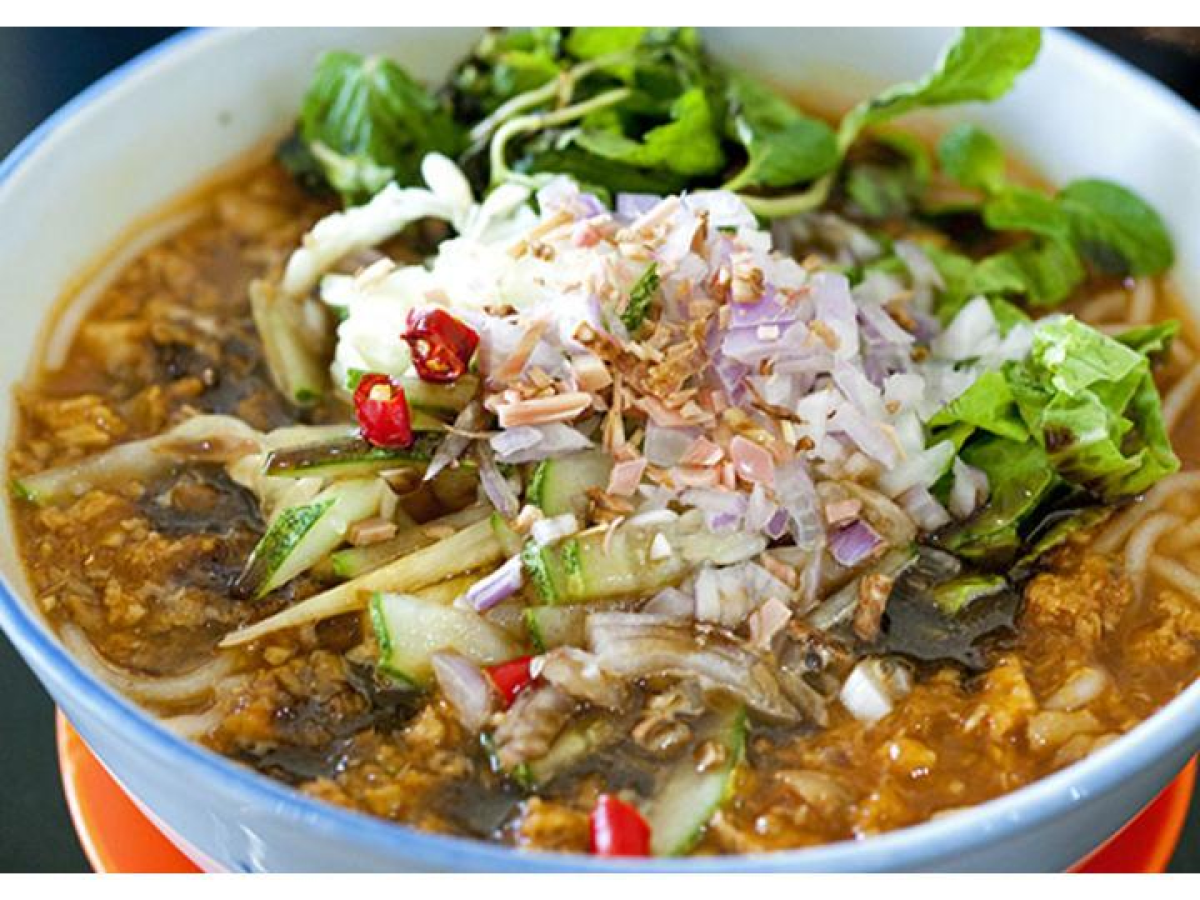 The exact origins of laksa are unclear. From its ingredients, it is most likely a fusion of Chinese and Malay elements originating from the Malay Peninsula. Though laksas do differ, laksas have two main components: white rice vermicelli and a spicy soup broth, and can be broadly categorized into two groups: laksa lemak (coconut milk soup base) and assam laksa (tamarind soup base).
Laksa in Singapore is generally the lemak type, curry-like and served with prawns and cockles. In Penang however, you get a sweet-sour-spicy assam-based noodle soup cooked with fish. The flavours of Penang laksa are most likely an influence from neighbouring Thailand; around the Peninsula in the South, laksa evolves into a curry-like noodle soup.
Each country in the region has its own interpretation of laksa, and we get to savour them all in Singapore: from the local versions (we have two) to Malaysian, Thai and Burmese. Here is a list of where to have them:
SINGAPORE
Laksa
Lemak laksa
Laksa is one of our nation's most iconic dishes and is one of the staples at our hawker centres, food courts, and most coffee shops. Peranakan in origin, the two main components of this lemak-style laksa are thick rice bee hoon and a spicy coconut milk soup base flavored with dried shrimp. Toppings typically include prawn, cockles, taupok (fried beancurd puffs), and sometimes chicken or sliced fishcake. Another vital ingredient is finely julienned daun kesom, popularly known as laksa leaf.
One of our favourite versions is done by Wei Yi Laksa & Prawn Noodle. This stall, located near Commonwealth MRT, makes a broth thatis smooth, pleasantly aromatic, and sufficiently spicy. The fresh and generous toppings include prawns, cockles, chicken, taupok (fried beancurd puffs), and beansprouts. A bowl can be had for as little as $3, which partly explains why the bowls sell out by 1pm almost every day.
Wei Yi Laksa & Prawn Noodle | Address: 48 Tanglin Halt Road, #01-20 Tanglin Halt Market | Tel: 97821012 | Opening hours: Tue-Thu, Sat & Sun 5.30am-1.30pm, or until sold out
Katong Laksa
Soup spoon laksa
Think of this as the offshoot of Singapore laksa. The most distinctive feature of Katong laksa, found at The Original Katong Laksa ($4 per bowl), is cut-up thick bee hoon: short strands that can be easily scooped up with a Chinese soup spoon with the gravy to be slurped up in one mouthful. The gravy is lighter, milder, and creamier than the Singapore laksa; the toppings are simpler too – fishcake strips, prawns, cockles, and finely-julienned laksa leaves.
Formerly known as Janggut laksa, The Original Katong Laksa's present-day operators claim that their founder was the original creator of Katong laksa. The toppings are bite-sized, but the fragrant soup base with gritty bits of tasty dried shrimp packs a lot of flavour.
The Original Katong Laksa | Address: 1 Queensway, #01-59 Queensway Shopping Centre | Tel: 96221045 | Opening hours: Daily 10am-9.15pm
MALAYSIA
Penang assam laksa
Sweet, sour and spicy in a bowl
The laksa is also one of Malaysia's most iconic dishes, though their assam-based version is intensely sweet, sour, and spicy. The gravy is made from a base with mackerel fish, flavoured with tangy tamarind and fiery chillis. The noodles are fat and slightly chewy, resembling Japanese udon noodles.
Another distinctive feature of Penang's laksa is a topping of thick black glob of hae ko (prawn paste) that adds sweetness and umami flavours; juicy pineapple slices, fresh onion, finely julienned torch ginger flower and mint leaves add depth. Though Penang Kitchen's version ($3.80+) is a slightly watered down copy of the originals in Penang, the seductively sweet and tangy flavours are there. The portion and toppings are generous, too.
Penang Kitchen (Tanjong Katong) | Address: 283 Tanjong Katong Road | Tel: 63488595  | Opening hours: Wed-Mon 11.30am-3pm 4pm-9.30pm
Kelantan laksa
Mild mackerel laksa
The little-known Kelantan laksa is a very simple bowl of thick rice beehoon in gravy and topped with julienned cucumber. The main star in this dish is its tasty and chunky gravy, made with boiled and minced mackerel. It is very mild, so it's suitable even for kids.
A bowl made following a family recipe can be had at Laksania ($7.50+) – though they serve different types of laksa and laksa-inspired dishes, the Kelantan-originated owners serve up a family recipe that is tasty and satisfying. Although mild, it has a rich, complex aroma from the various herbs in the spice paste.
Laksania | Address: 23 Serangoon Central, #B1-08 NEX Mall | Tel: 66342645  | Opening hours: Daily 10.30am-10.30pm
Sarawak laksa
Medium-thick coconut broth
Another version of laksa that isn't widely known in Singapore – the Sarawak version is definitely a culinary gem that deserves more recognition.
The aromatic broth is made from a sweet stock of chicken and prawns, enriched with spices and herbs. Lightly thickened with coconut milk, the finished dish is an assembly of curry broth, thin bee hoon, and toppings of chicken, prawn, omelette strips, beansprouts, coriander and fresh lime.
The Sarawak laksa at Red Hornbill is an accurate replica: named after its place of origin (Sarawak is the Hornbill State), Red Hornbill has al dente thin bee hoon, chunky chicken pieces and succulent prawns ($4.50). Their kolo mee is not bad too.
Red Hornbill | Address: Blk 205 Bedok North Street 1, #01-357  | Tel: 9036 7028  | Opening hours: Tue-Sun 11am-2pm, 4pm-8.30pm
THAILAND
Thai laksa
Fermented rice noodles
It's often called Thai laksa to make it more familiar for non-Thais, though Thai natives know it as khanom jeen. "Khanom jeen" actually refers to the soft, thin noodles made from fermented rice dough. Its texture is similar to smooth and light Japanese somen. Typically, the coiled rounds of fresh noodles are served at room temperature, topped with spicy broth or curry and an assortment of vegetables.
There are several types of Thai laksa gravy, and they vary from one province to another: it can be a creamy thin curry, or a clear broth without coconut milk. Ingredients include meat, seafood, and even pig blood cubes. One thing remains constant though: khanom jeen is always served with an assortment of vegetables like fresh beansprouts, shredded cabbage, chopped snake beans, Thai basil, blanched bitter melon, and thinly sliced kiam chye (salted pickled mustard green).
At Phongphan Thai Boat Kwey Teow in Golden Mile Complex (aka 'Little Thailand'), you can get a version ($5) that looks innocently like a mini herb garden over delicate rice noodles steeped in spicy tart broth with boiled chicken feet. The devilishly spicy soup is so numbingly hot it'll cause you to break out in sweat.
Phongphan Thai Boat Kwey Teow | Address: 5001 Beach Road, #01-39 Golden Mile Complex  | Opening hours: Daily 24 hours
MYANMAR
Mohinga
Non-lemak fish laksa
Often hailed as Myanmar's national dish, mohinga could be classified as a non-coconut milk fish laksa. The mildly spicy fish-based broth is light but packed with sweetness from shallots, a tinge of tang from tamarind, a savoury touch from fish sauce, and umami and depth from fresh fish.
The noodles used are thin rice noodles, similar to the Thailand's khanom jeen. Crunchy contrast is added to the soft noodles with chickpea fritters. Inle Myanmar in Peninsula Plaza (also known affectionately as 'Little Myanmar') does a good version ($8). This restaurant is the popular choice to get an introduction to Burmese food in Singapore.
Inle Myanmar Restaurant (Peninsula Plaza) | Address: 111 North Bridge Road, #B1-07 Peninsula Plaza | Tel: 63335438 | Opening hours: Daily 11am to 10pm
---
This archived article appeared in an earlier version of HungryGoWhere and may not be up-to-date. To alert us to outdated information, please contact us here.