Review: Is One Prawn & Co the one hae mee to rule them all?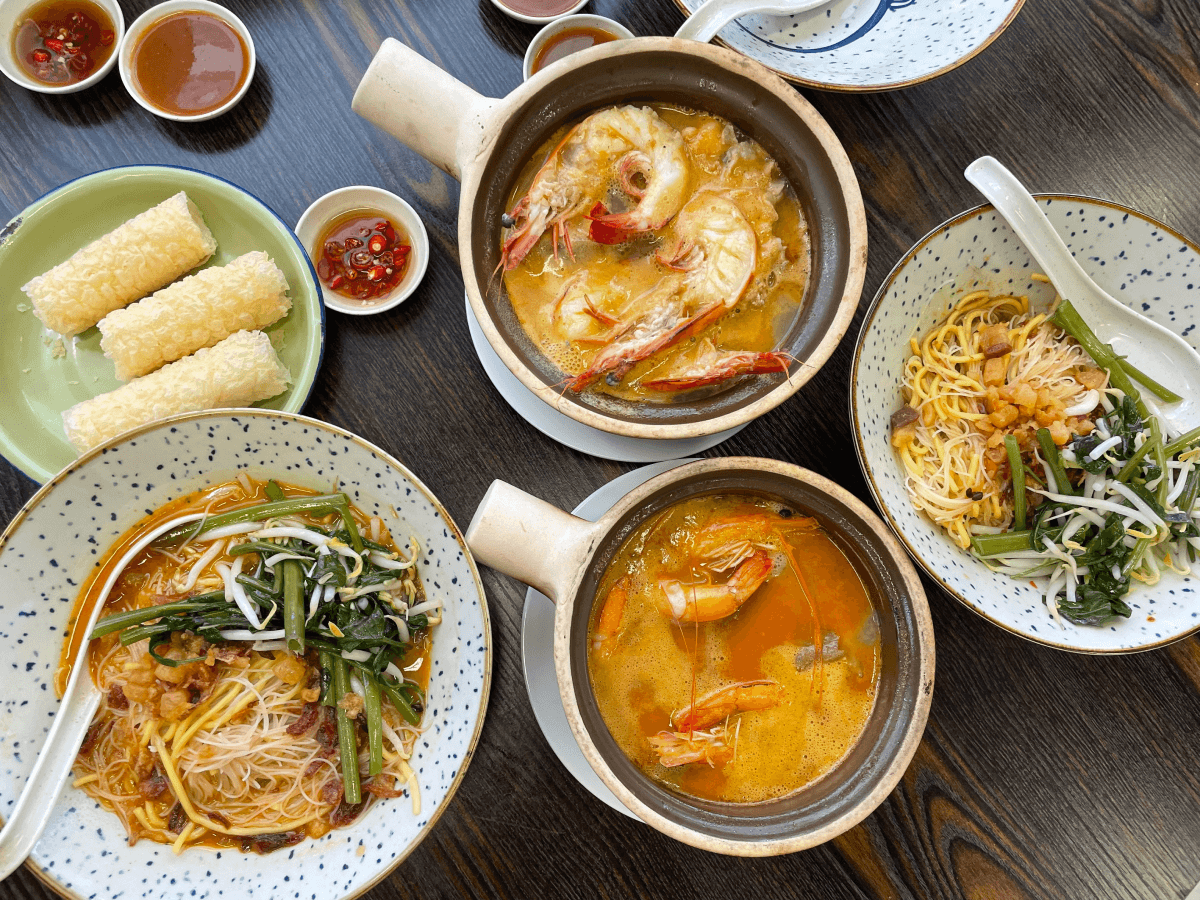 Go to One Prawn & Co for its rich, flavourful prawn broth and ngoh hiang
You'll find a variety of ingredients, both traditional and modern, on the menu
But beware the long waits and pricey signature dishes, though the cheaper menu items are well worth your money
Since its opening in January, One Prawn & Co's bubbling earthenware claypots — teeming with delicious prawn broth — have been a constant feature on my social media feed.
It's said to draw inspiration from Japanese ramen and Penang-style prawn noodles, dishing up umami-laden hae mee with a modern twist to a never-ending stream of Singapore foodies.
I was dying to see if it lived up to the hype, and so, headed there one Saturday afternoon last month with a companion for a taste test.
The backstory
This eatery had its start as a hawker stall named One Prawn Noodle at Golden Mile Food Centre, before closing in late 2021. 
Since then, it has reopened in MacPherson with its own space, a wider range of dishes, and most recently, a nod on this year's Michelin Bib Gourmand list released in July.
At the helm is chef Gwyneth Ang, who cut her teeth at gourmet restaurants such as the one-Michelin-starred Burnt Ends, Forlino and Tong Le Private Dining.
Our verdict
What this place is good for
One Prawn & Co's corner unit is spacious, with plenty of natural light. Powerful ceiling fans whirl overhead, so despite the coffee-shop setting, it's well-ventilated and comfortably cool.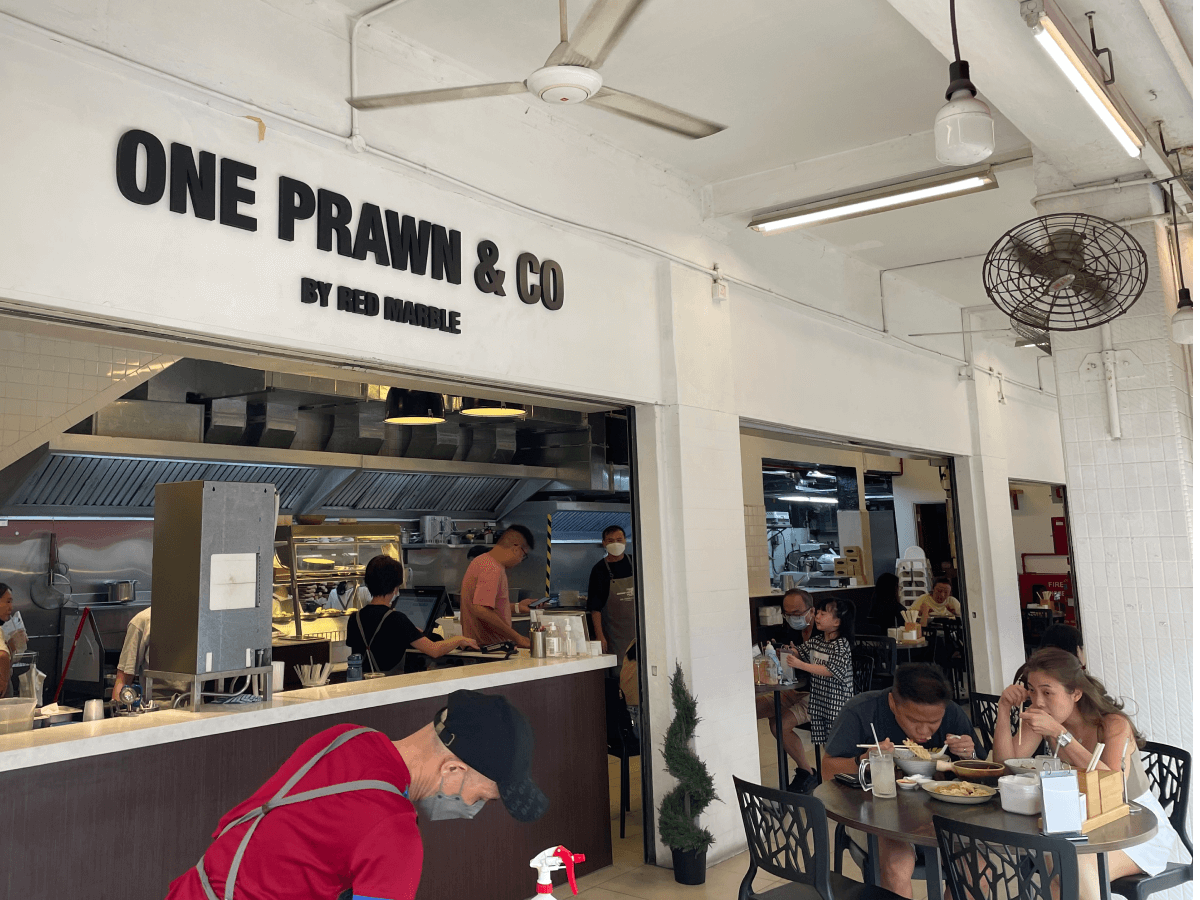 The front-of-house staff minimised waits by taking our food orders while we were in the queue. 
So it was a short 10-minute wait before the claypots, chock-full of premium ingredients and bubbling prawn broth, arrived at our table after we were seated.
We ordered the signature Five Fortune Big Prawns Claypot (S$30) with the works — big prawns, pork ribs, lala (clams), sliced shabu-shabu pork, and tobiko prawn balls — as well as the One Prawn & Co Prawn Noodles (S$14) with small prawns.
Whether you order your noodles dry or soupy, it arrives in its own bowl, separate from the broth and ingredients. 
The eatery eschews the traditional plastic dishes of yesteryear for a modern, Japanese-inspired porcelain bowl. Each noodle dish comes with generous toppings of beansprouts, fried shallots, lard, and some greens.
The broth was a delight. It was sweet, full-bodied and flavourful — so much so that we drained the bowl dry. Even then, it didn't feel cloying, as you might expect after such a rich meal.
You can also dunk a beancurd roll (S$1) into the pot to soak up all that umami goodness.
When it comes to the pork ribs, the best prawn noodle places usually have them so soft they fall off the bone. One Prawn & Co's rendition, by contrast, had a nice bite to it, while remaining fork-tender.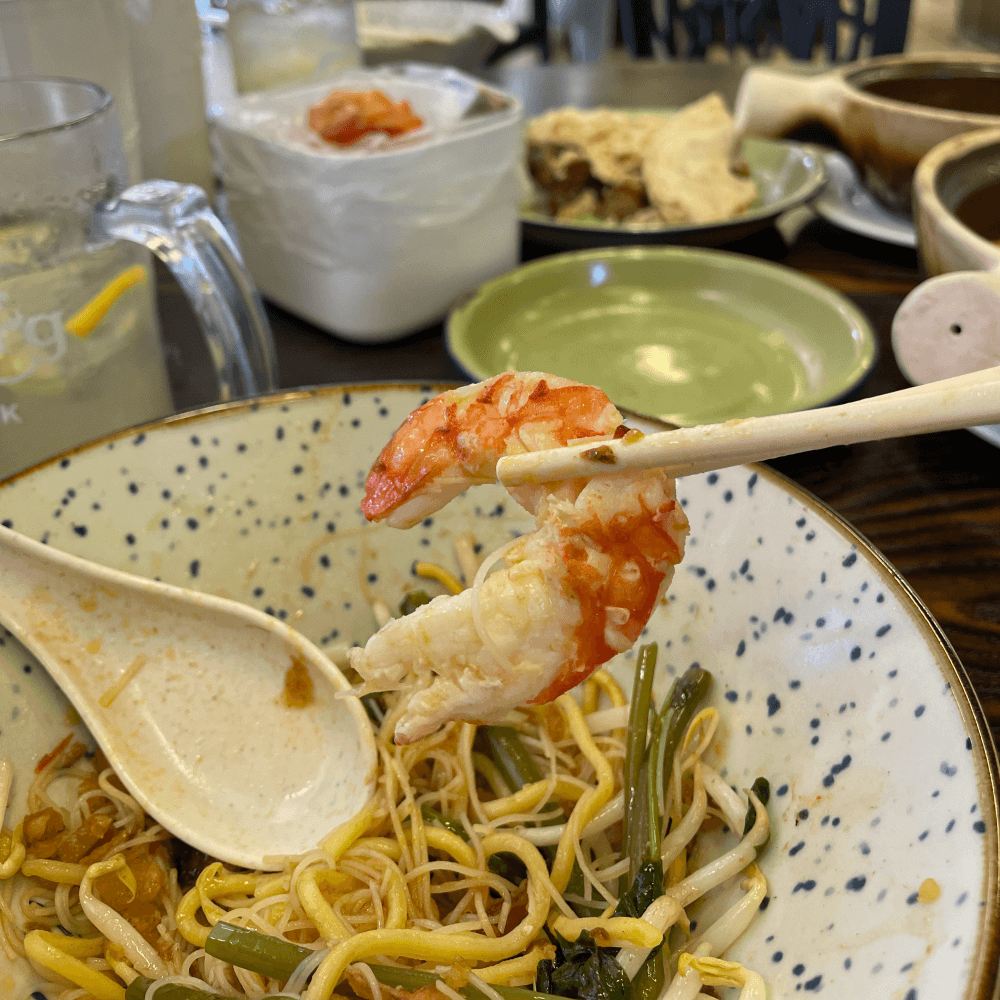 The prawns were served in the usual style — halved lengthwise with the shell, which peeled away easily. The small prawns, in particular, stood out for their incredible freshness and sweetness.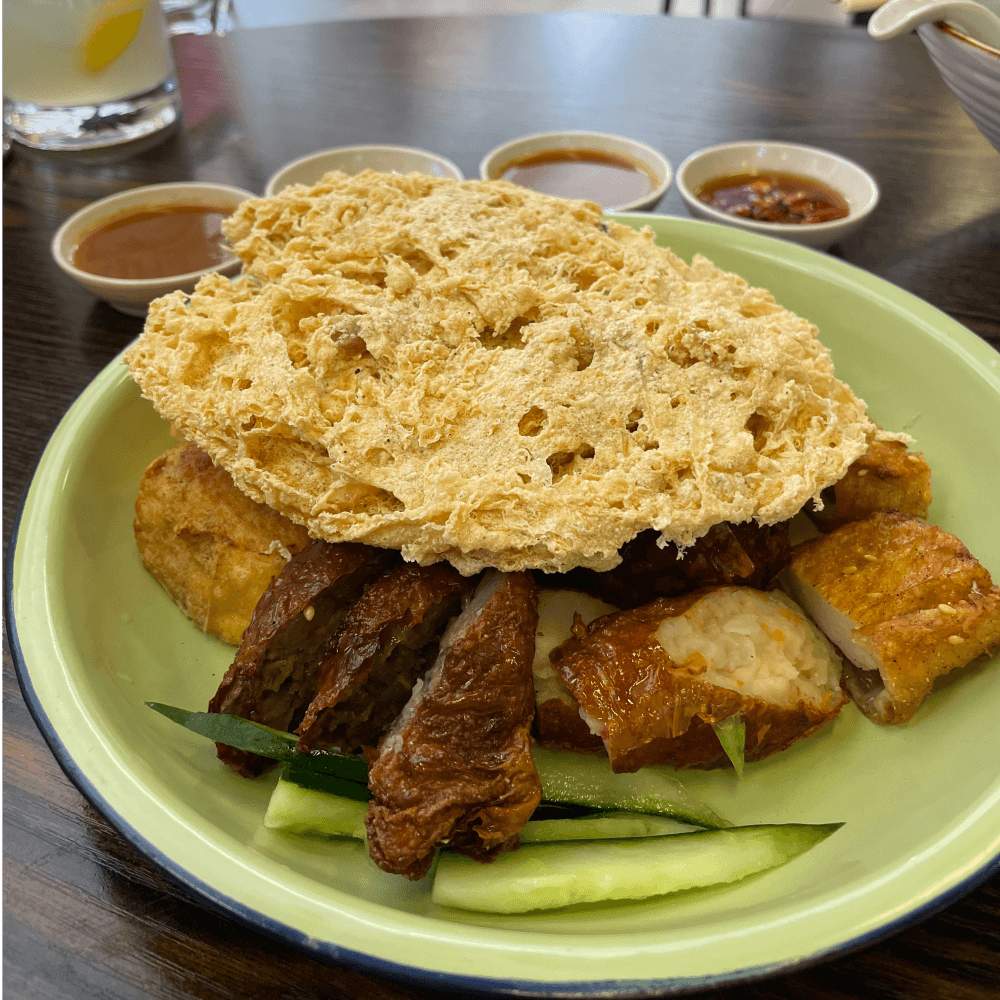 We also loved the ngoh hiang tasting platter (from S$8.50), which arrived fresh from the wok. 
It's an absolute must-have and included the usual suspects of pork ngoh hiang, prawn cracker, fishcake, fried beancurd, in addition to One Prawn & Co's crowd-pleasing sotong youtiao. Be sure to add an extra liver roll (S$2.80).
What it could improve on
I had hoped to beat the inevitable queue by arriving for a late lunch but was nonetheless greeted by a sizeable line of about 10 parties deep. 
There's a small, sheltered waiting area with some seats, but you'd likely have to wait on the pavement under the unforgiving midday sun.
Communication about wait times could certainly be improved. We had no idea how long it would be, and indeed, it was almost an hour before we were ushered to a table.
Food-wise, I felt that the all-in-one Five Fortune Big Prawns Claypot, while heaped with premium ingredients, didn't live up to its promise and hefty price tag of S$30.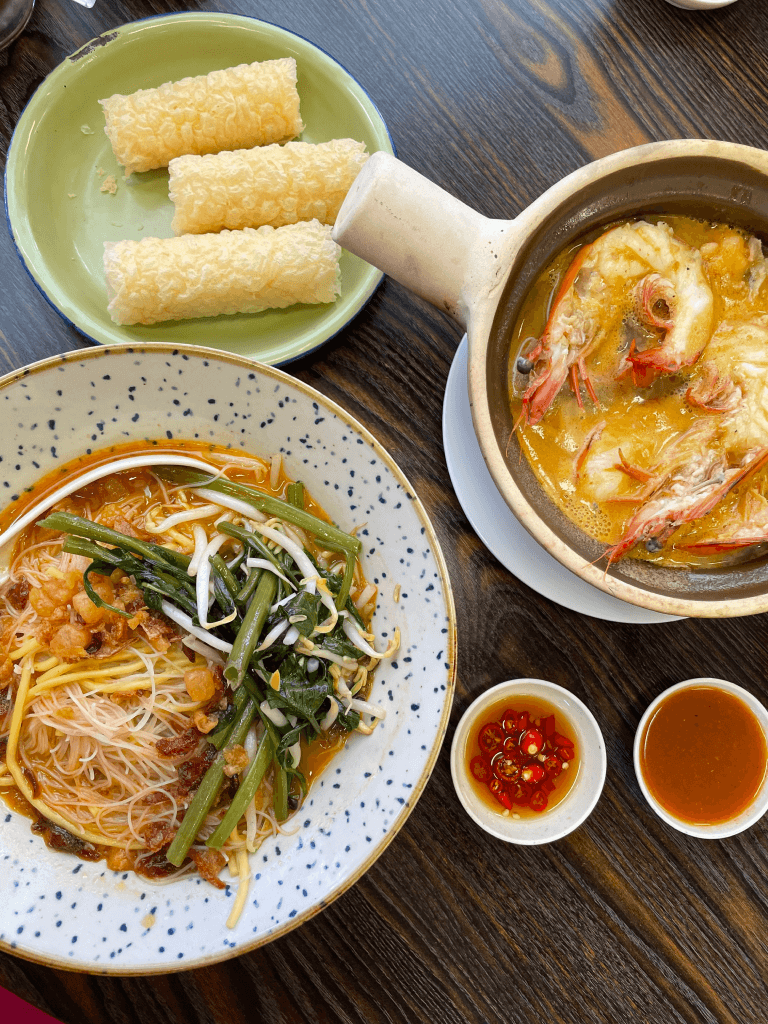 The inclusion of lala, for example, didn't add much to the dish. While well-cooked, the clams' naturally delicate flavour was overpowered by the richness of the broth. 
The big prawns — supposedly the star of the dish — were also lacklustre and lacked flavour, especially when compared with the standout smaller prawns in terms of quality and texture.
Don't get me wrong. The dish was passable, and indeed, better than most out there. Yet, all in all, the variety of ingredients could have been more carefully curated. 
It ended up being quite a pricey meal for a coffee-shop lunch.
Our quick takes
Is it conducive to conversation? Not exactly. While there's more than enough room between tables, you may have to compete with roadside traffic, or the hustle and bustle of the kitchen, depending on where you're seated.
How to get there? Work up an appetite by taking a 10-minute walk from Mattar or Tai Seng MRT stations. Alternatively, bus services 8, 62, 90, and 151 will take you a few steps away from the eatery.
Things to note:
If you're looking to arrive before 3pm, settle in for quite the wait and be prepared for the midday sun while waiting in line. 

The eatery doesn't have many seats or large tables, so it's best to go in small groups of no more than five.

One Prawn & Co doesn't charge the Goods and Services Tax, but it does levy a 10 per cent service charge on your final bill. Menu prices aren't inclusive of this extra charge.
458 MacPherson Road
Opens: Tuesday to Sunday (11am to 5pm)
458 MacPherson Road
Opens: Tuesday to Sunday (11am to 5pm)