9 exotic food in Singapore for the adventurous eater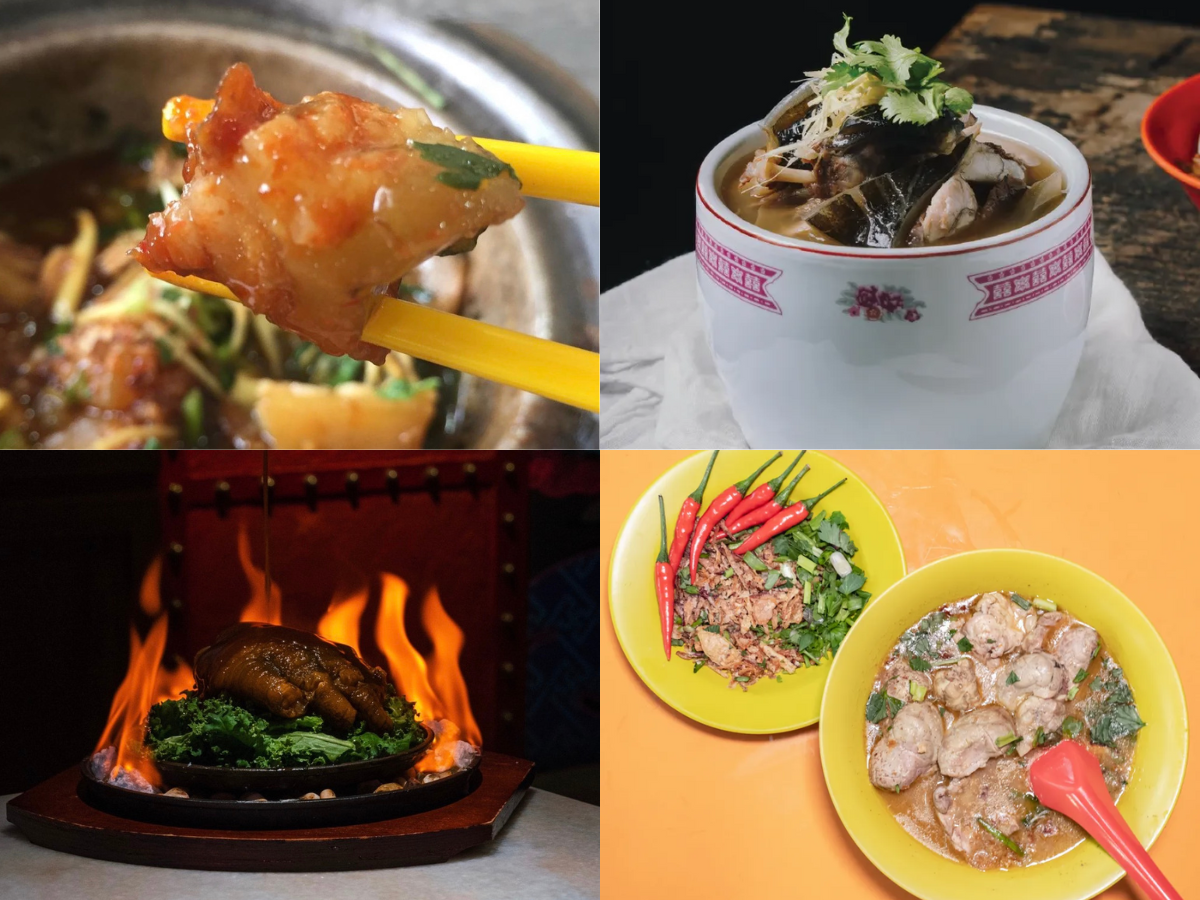 Hands down, Singapore is one of the best countries to visit in the world. Besides boasting a rich multicultural society, our city is also home to a diverse range of cuisines. 
We dare say it's one of the top gastronomic destinations around the world, for our F&B scene is brimming with options ranging from Michelin-starred hawker stalls to excellent fine-dining restaurants. 
But beyond the usual local dishes that we know and love (yes, chilli crab, we're looking at you), did you know that we're also no stranger to a myriad of exotic food in Singapore? Imagine savouring a goat's brain, crocodile foot and deer penis – they're truly every adventurous eater's dream.
While bizarre, they're certainly worth a try. After all, how can you call yourself a true-blue foodie if you've never tried these unique eats in Singapore? 
9 exotic food in Singapore for the adventurous eater
1. Sup otak (goat's brain soup)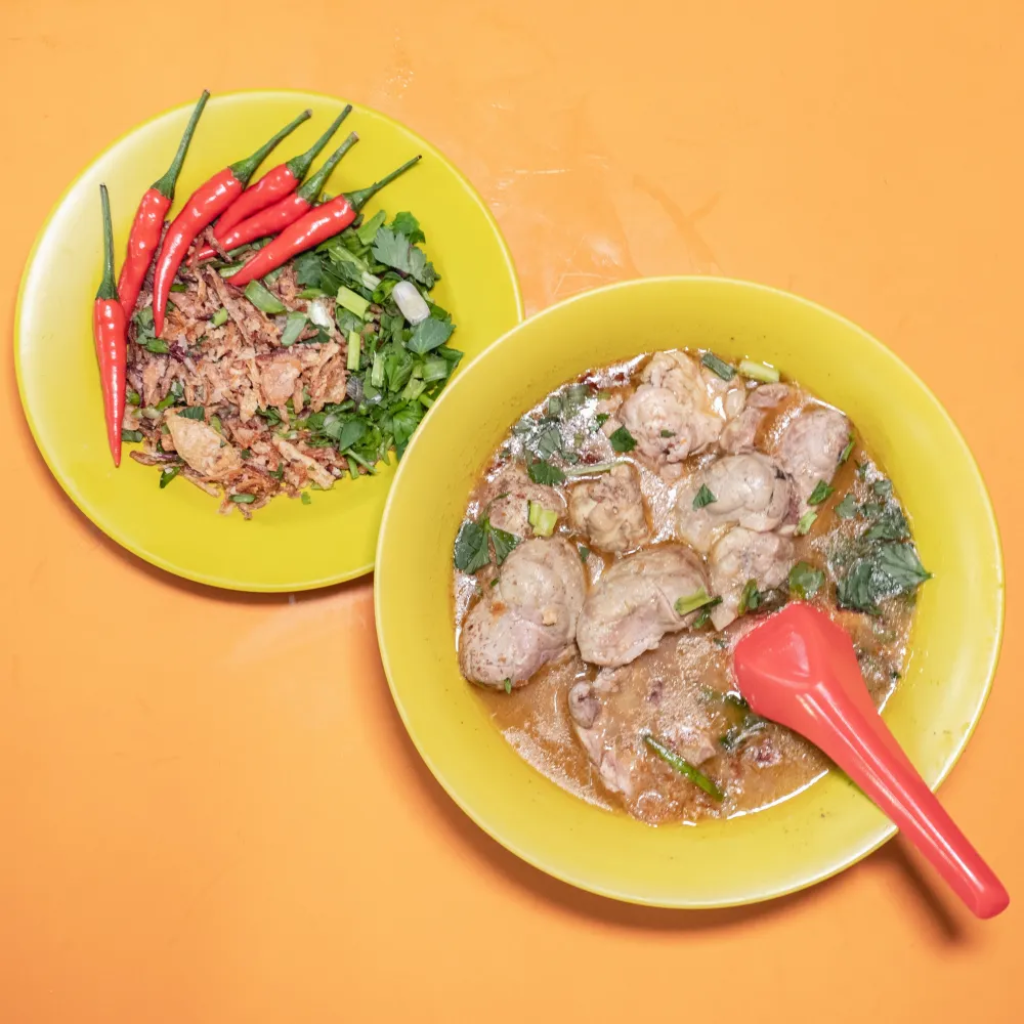 First up on the list of exotic food in Singapore is none other than sup otak. The dish directly translates to goat's brain soup — a hearty stew-like broth that boasts meaty chunks of goat's brain. While it may look intimidating, its taste is quite flavourful, with a texture reminiscent of semi-firm tofu. It's also simmered in a potent soup that's stewed with spices and has a perfect blend of meatiness and oomph. 
Sup otak (S$$8.50 for small, S$16 for medium, S$24 for large) is sold at a dining place in Singapore with an interesting story: Haji M Abdul Rajak Mutton Soup & Sup Kambing. Located at Upper Boon Keng Market and Food Centre, it's a hawker stall touting over seven decades of history. 
The establishment first sold mutton soup at a pushcart back in 1955, before it moved to its current location at the hawker centre in 1975. It has resided there since. Today, it's famed for its soups and unique mutton cuts and innards – goat's brains included.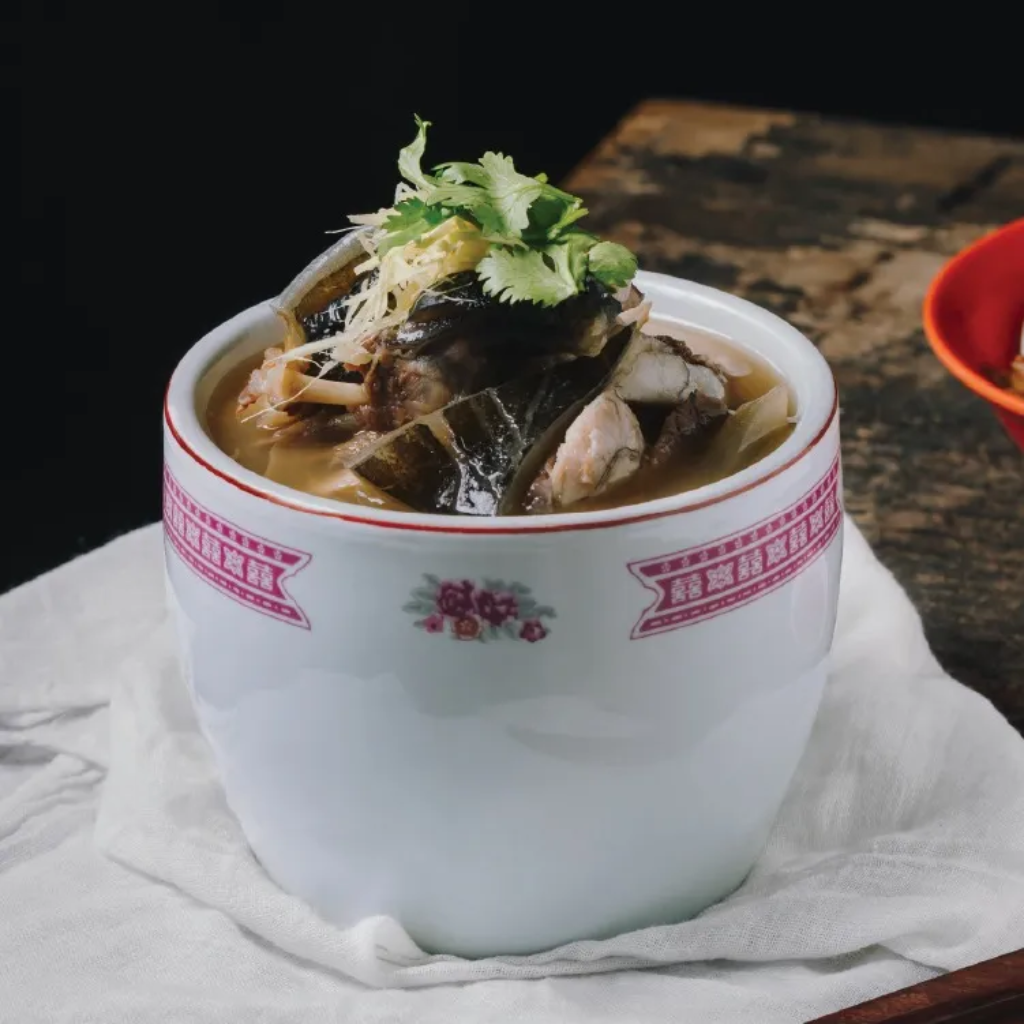 When it comes to exploring unique food in Singapore, turtle soups are a must to include in your itinerary. Tan Ter Seng Herbs Restaurant is a top spot to hit up for the best turtle soups in Singapore, what with its nourishing broths and tender turtle meat. 
This family-run restaurant is one of the last few standing eateries serving turtle soups in Singapore. Founded in 1946 by cook-entrepreuner Tan Ah Sai, he brought the trade of turtle soup to our sunny shores when he migrated from China to Singapore. 
He created his own original recipes, which feature freshwater softshell turtle meat that's simmered in a soup for over twelve hours daily. The result is a rich, herbaceous broth that's chock-full of collagen and heart. 
The restaurant is best known for its claypot turtle soup (from S$31.10), which is prepared with over twenty different herbs and spices. Alternatively, the double-boiled turtle soup (from S$17.90) is another popular item on the menu.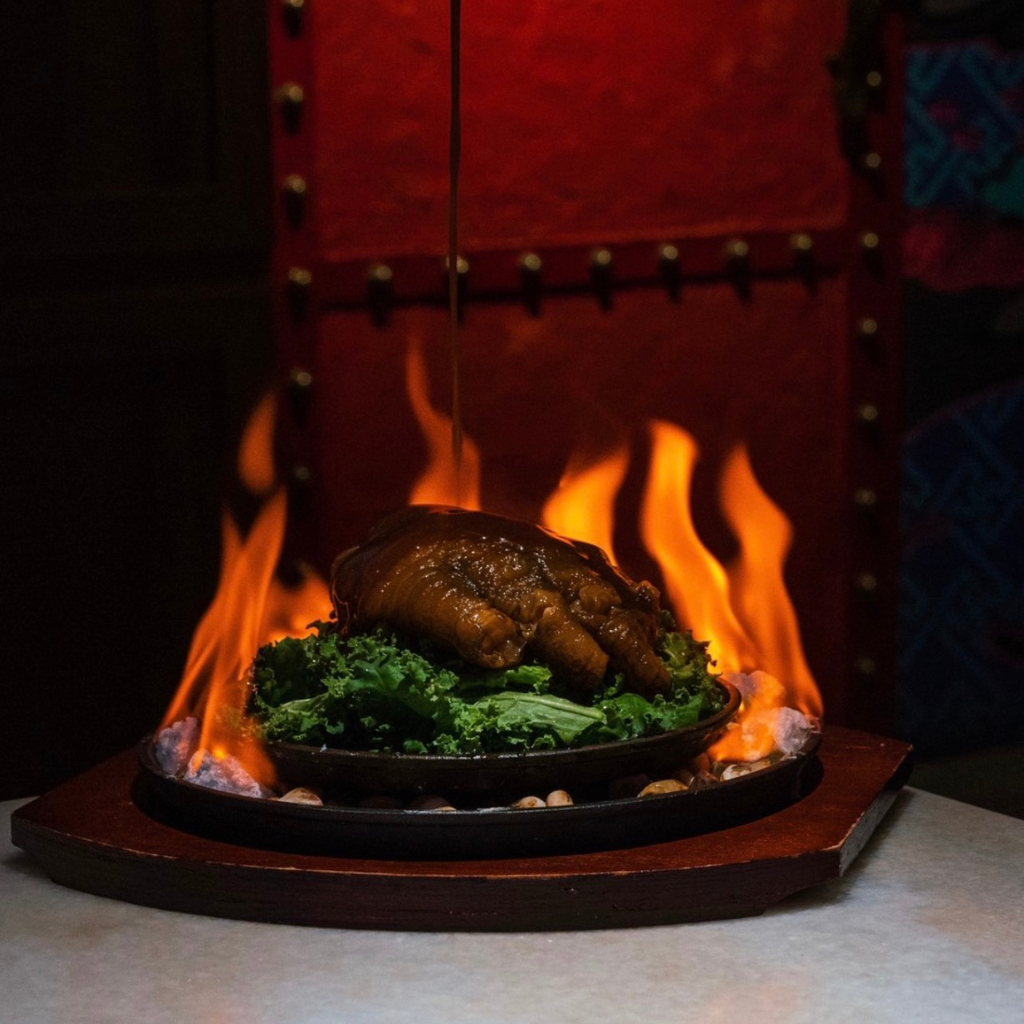 When it comes to exotic food in Singapore, you'd want to check The Dragon Chamber's crocodile foot (S$66) off your bucket list. 
Also named 'The Dragon's Claw', this one-of-a-kind dish is a Singapore-farmed crocodile foot that's braised in a herbal sauce. It's beautifully plated, in which the ginormous paw rests atop a bed of kale and is served in a sizzling pan. It's no wonder it's the star of the menu!
We hear the texture of the dish reminds one of pig's trotters, thanks to its juicy, gelatinous skin. Moreover, not only does crocodile meat taste like chicken, but it also boasts medicinal properties!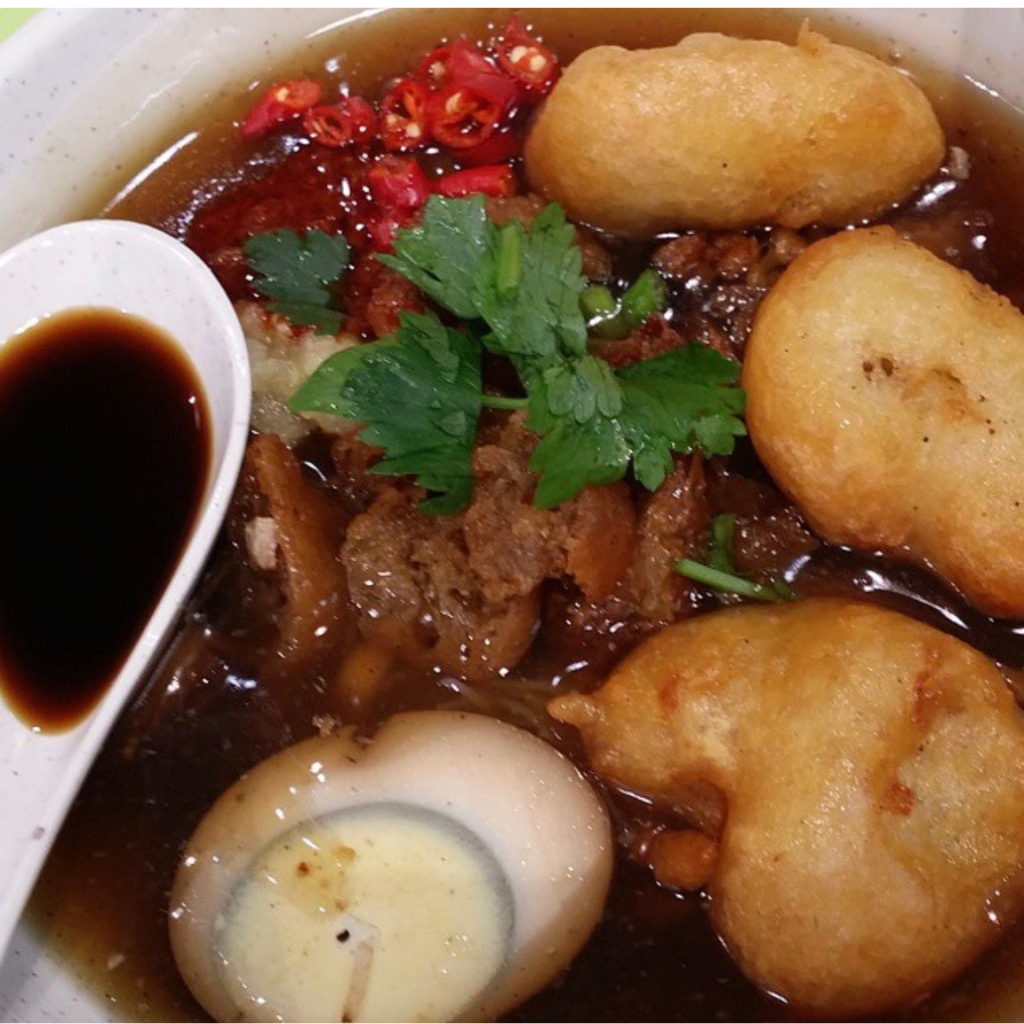 On the hunt for eateries dishing up unique seafood in Singapore? Then, you should make a beeline for Soon Heng Food Delights' fried shark lor mee (S$5). The dish spins a unique twist to the traditional lor mee, incorporating fried shark nuggets instead of the usual fried fish fritters. 
Situated at Tanjong Pagar Plaza Market and Food Centre, the hawker stall is where you can relish tasty shark meat in Singapore. It's helmed by an elderly couple, Madam Chua and Mr Tang, who mentioned in other reports that their dish was inspired by the previous stall owner who sold shark meat fritters. They then decided to use the unusual protein as toppings for their lor mee. 
It's a smart business move, as Soon Heng's fame is largely attributed to this exotic, albeit local, dish. Diners would travel all across the city just to have a taste of its fried shark lor mee!
5. Sup lidah (goat's tongue soup)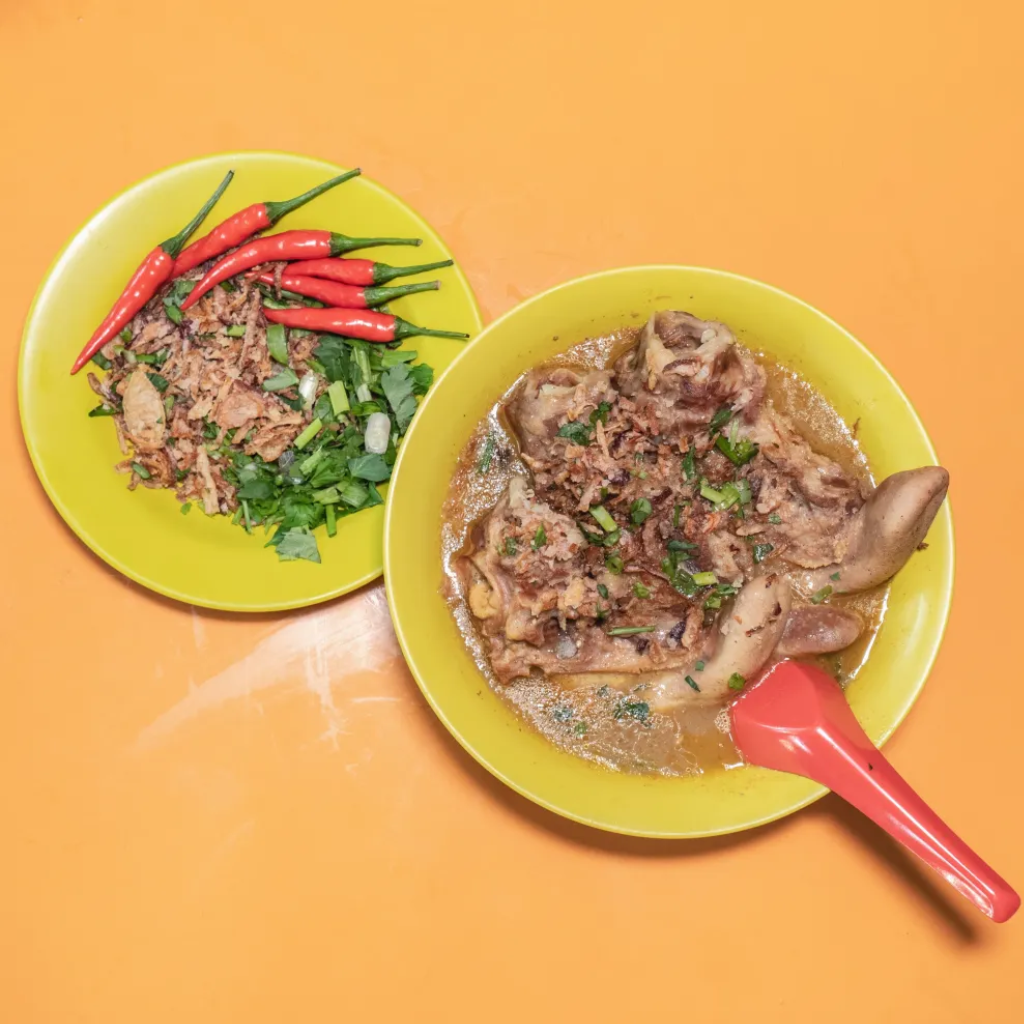 It's not just sup otak at Haji M Abdul Rajak Mutton Soup & Sup Kambing, there are other signature cuts of mutton available, too. Next up on our list of recommended exotic food in Singapore is sup lidah (S$11 for small, S$14 for medium, S$16 for large), also known as goat's tongue soup. 
If goat's brains aren't your thing, sup lidah is a great start for beginners. Served in a piping hot bowl of peppery soup, the dish is packed with tender and succulent slices of goat's tongue. It has a chewy, QQ texture and isn't heavy on the gaminess.
Slurp on the soup with a side of bread (50 cents), and the combination is absolutely delish.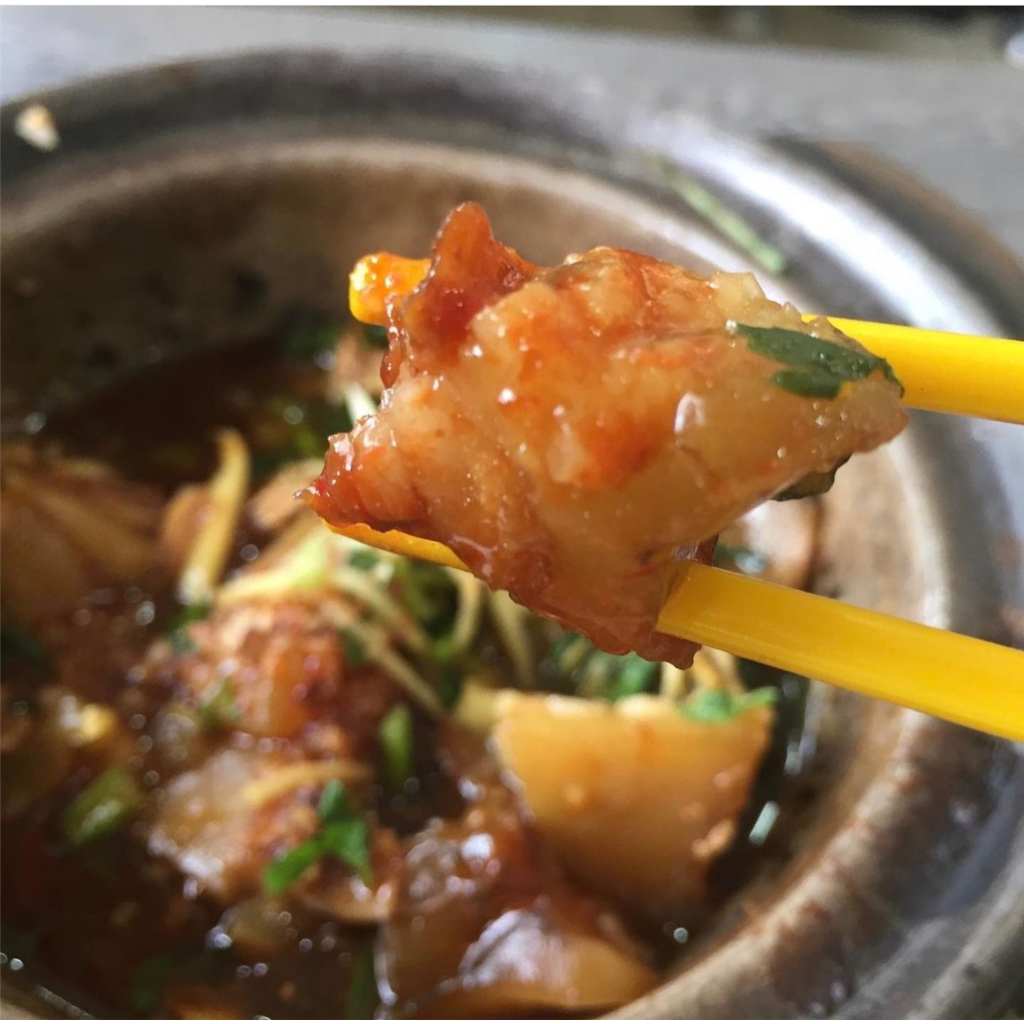 You're missing out if you haven't tried crocodile soups in Singapore. We recommend checking out 大幸运山瑞 Very Lucky Turtle Soup if you're craving unique seafood in Singapore. 
Tucked away on the second floor of Berseh Food Centre, it's a hawker stall that's spearheaded by Uncle Chu, who has been manning the stall for over 40 years.
While the eatery is famed for its signature soft-shelled turtle soup, one dish truly stood out from the crowd — the stewed crocodile tail (S$25 for small, S$30 for medium and S$40 for large). 
Served in a steaming claypot, the soft, melt-in-your-mouth chunks of crocodile meat have been simmered in an aromatic concoction that's brewed with Chinese herbs. This is a go-to order among regulars, and we totally see why.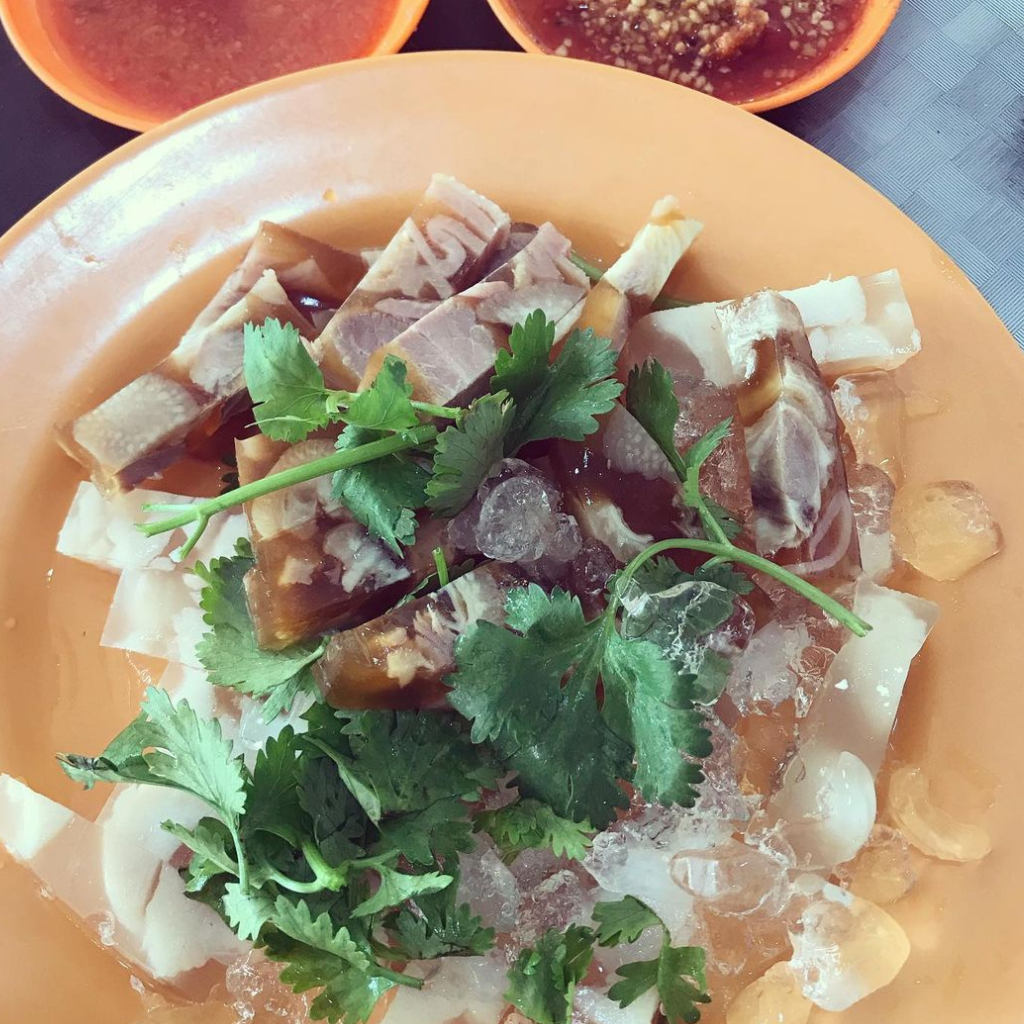 While pig trotter jelly may not be as unique of a dish as compared to other exotic food in Singapore, it's also not all that commonplace. You can find it at 老两 Lao Liang Pig Trotter Jelly & Shark Meat – a reputed hawker stall that has operated for more than five decades.
While it also serves an intriguing shark meat dish that's served cold, it's best known for its pig trotter jelly (S$5 for small, S$8 for medium, S$10 for large). 
For the uninitiated, pig trotter jelly is a Teochew delicacy that's unique to the hawker culture in Singapore. It sees diced meat and collagen-rich skin soaked in an umami-soaked broth that solidifies into a savoury aspic when refrigerated. The jelly-like meat cubes are best enjoyed with a tangy chilli sauce.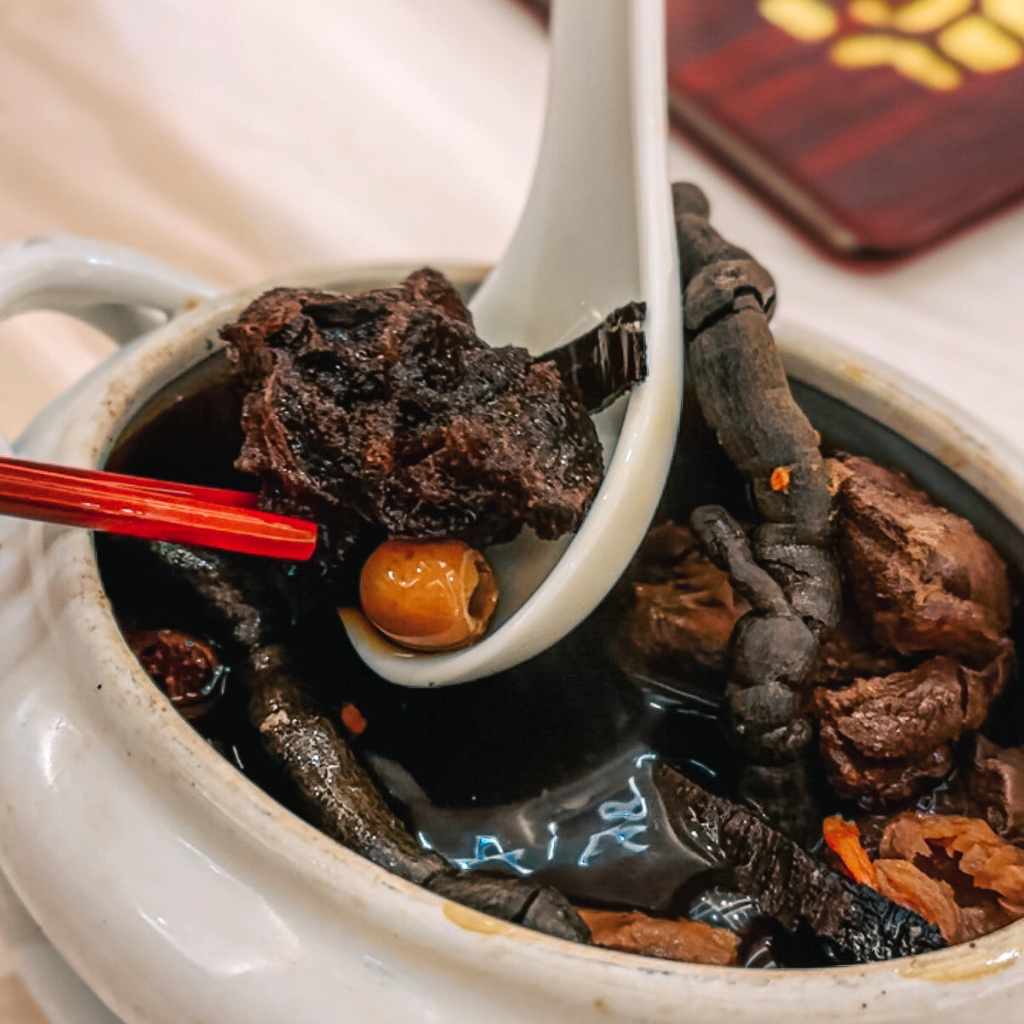 This one's for the adventurous eaters only: Deer penis. You heard us right – deer penis, also known as lu bian, is one of the most unique eats in Singapore. 
The organ is typically used in traditional Chinese medicine for its therapeutic properties, and it is also known to be an aphrodisiac. However, the restaurant recommends that male diners try this dish, as it's said to improve male virility. 
Deer penis (S$35) is sold exclusively at Imperial Restaurant as a preorder item. Fret not, as the dish isn't the least bit intimidating as it sounds. It comes in a fragrant broth that's brewed with slices of deer penis, herbs, a dried seahorse and more.
Note that you'll have to call up the restaurant for reservations a day in advance.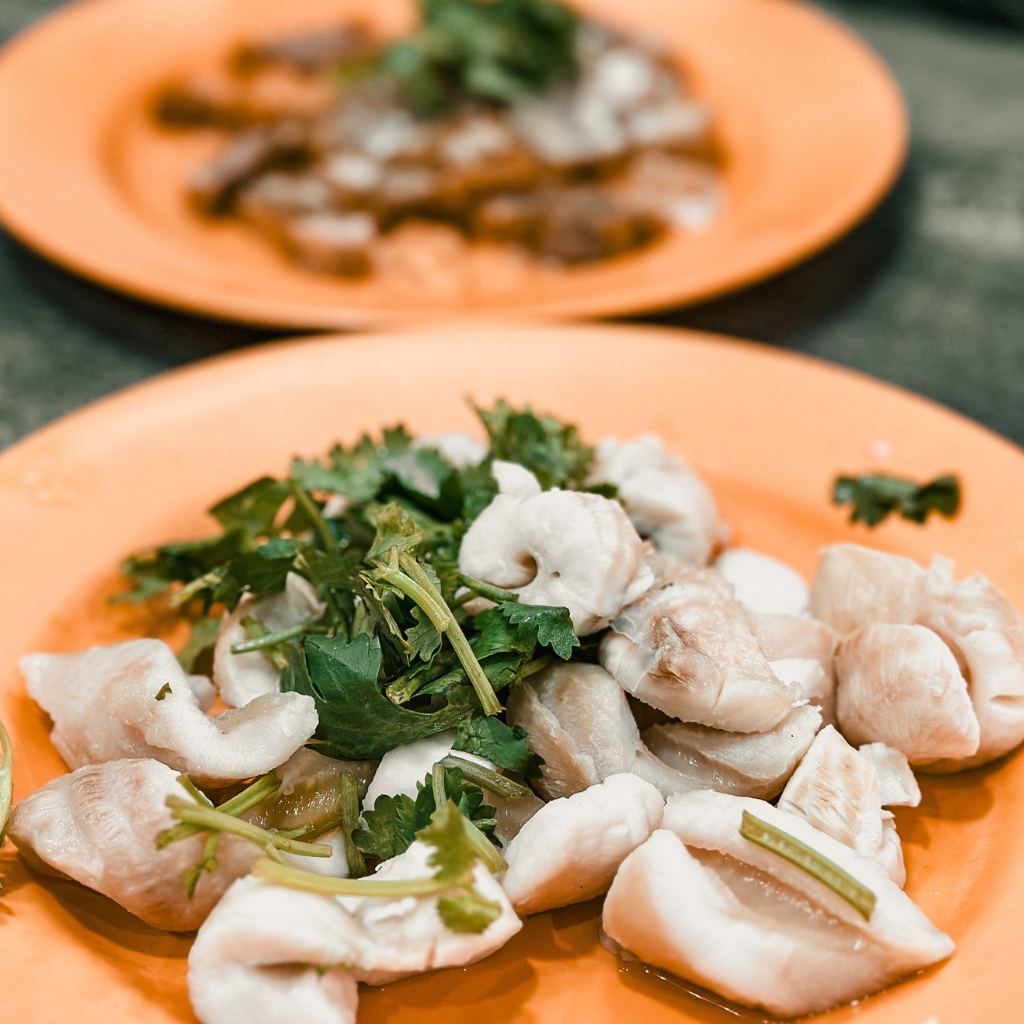 As mentioned, besides pig trotter jelly, diners can also look forward to the shark meat (SS$8 for small, S$10 for medium) that's sold at 老两 Lao Liang Pig Trotter Jelly & Shark Meat. You'll be fooled by its appearance, for it bears an uncanny resemblance to fish slices. 
Upon popping it into your mouth, you'll be surprised by how fresh and tender the shark meat is. The flesh is also slightly rubbery and firm in texture. To best savour the flavours of the meat, do pair it with the homemade plum sauce that accompanies the dish.