Hawker Hustlers: Hipster hawker Ray Yeo of Bei-Ing Dimsum Club on reinventing dim sum and his love for all things Japan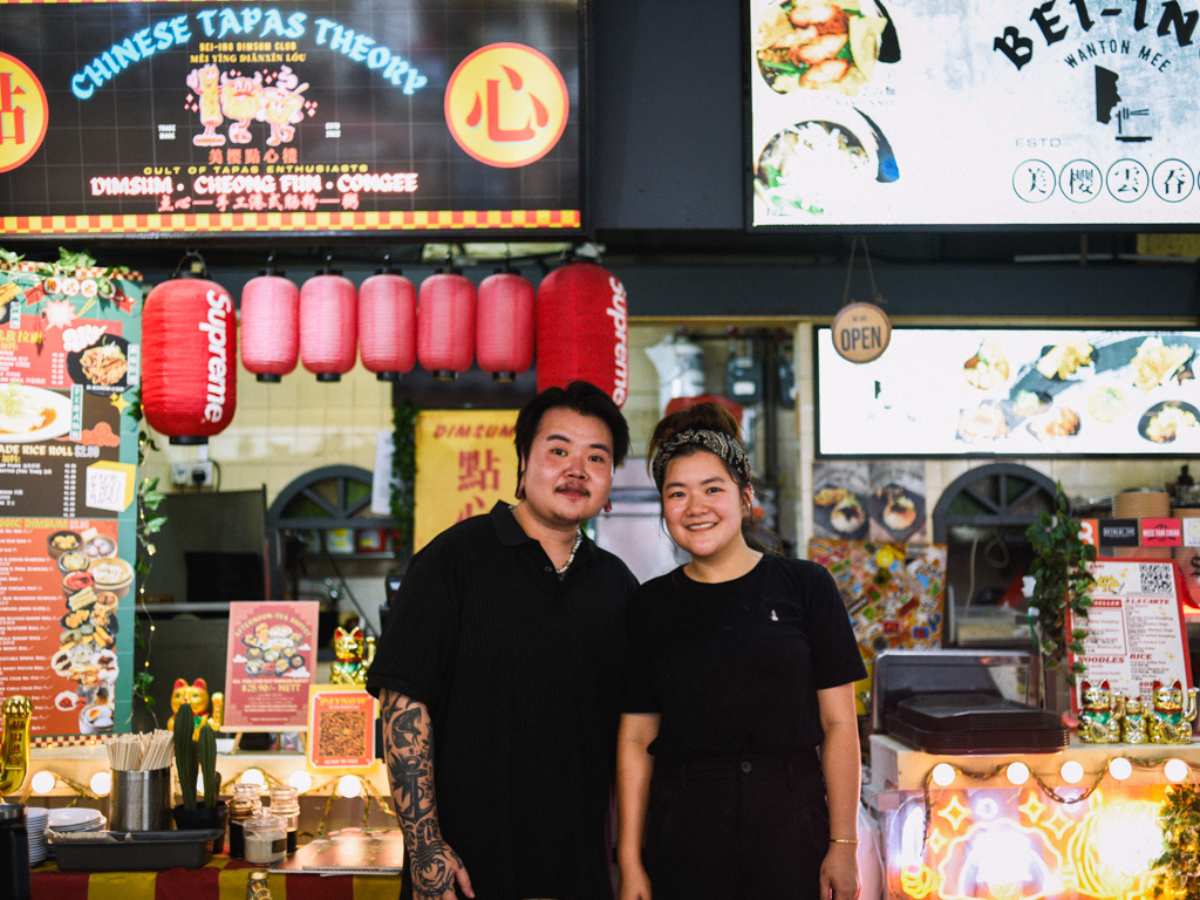 Hawker Hustlers is a HungryGoWhere series spotlighting young and emerging hawkers with compelling stories. Read through all the way for an exclusive GrabFood promo so you can try their food, too.
Ray Yeo is the son of Yeo Oh Song Khoon, the man behind the famous Bei-Ing Wanton Noodle at Roxy Square 
A fan of Japanese culture, Ray incorporates Japanese elements into his dim sum dishes at Bei-Ing Dimsum Club, with unique ingredients such as mentaiko and teriyaki
He refers to his innovative dishes as revolutionised Singapore fusion food
You could say that hawker Ray Yeo, 30, is something of a Japanophile. 
At his vibey hawker stall along East Coast Road, you'll see dozens of maneki-neko (fortune cats), Bearbrick figurines, Japanese paper red lanterns and neon light sign boards that wouldn't look out of place in a modern izakaya.

A frequent traveller to Japan, he enjoys going restaurant-hopping in search of the finest ramen spots and hidden culinary gems, especially the quieter, less touristy places.
Naturally, this love for all things Japanese has translated into the food he serves at Bei-Ing Wanton Noodle and Bei-Ing Dim Sum Club at the Bullion Hawker Bar, a modern coffee shop in the East Coast.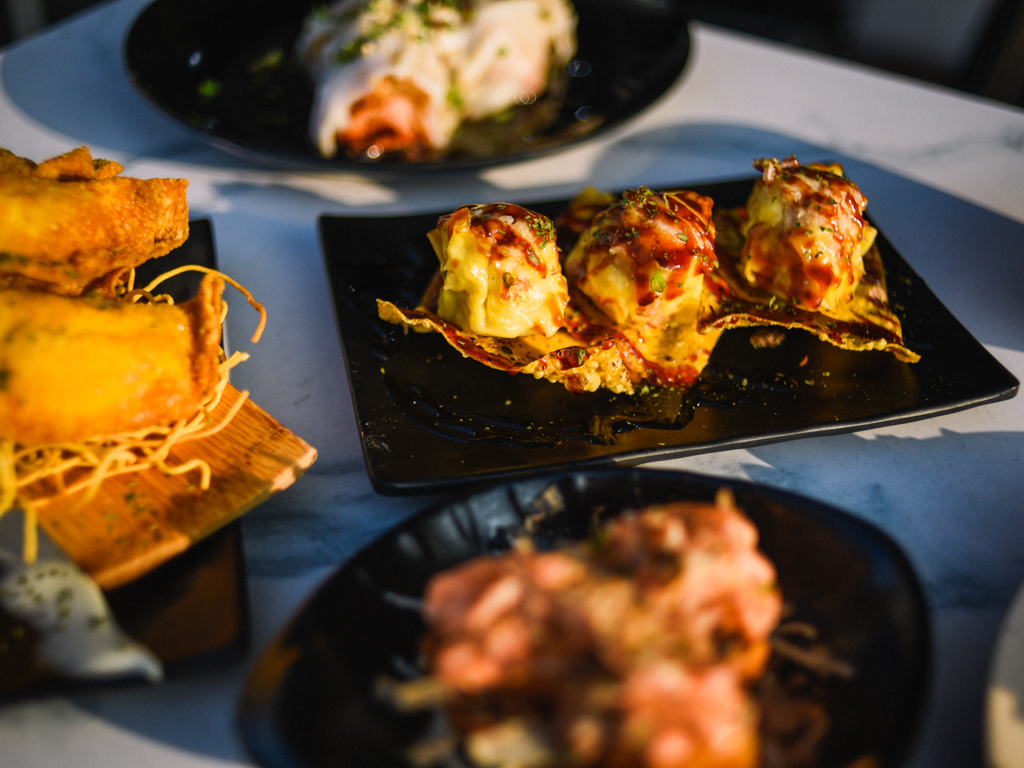 If you're an eastie, you'd probably recognise the name — Yeo's stall is the offshoot of the renowned Bei-Ing Wanton Noodle, a stall that has been operating in the basement kopitiam of Roxy Square 1 since 1984. Run by his parents, the noodle stall often sees crowds thronging to Katong for its famed wonton mee.

If you're a regular patron, you'd probably know that you're more likely to hear it before you see it — Yeo's father calls out order numbers in his now-iconic booming voice, rather than relying on modern buzzers or digital displays.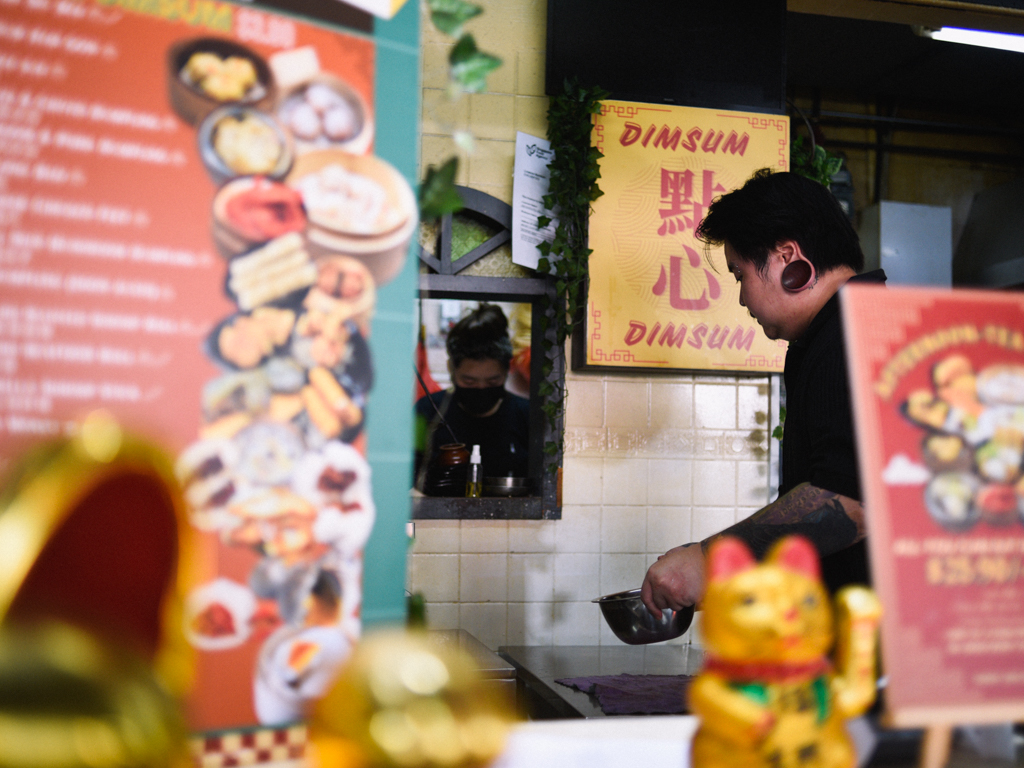 The original wonton noodle stall was founded by Yeo's great-aunt and his father, Yeo Oh Song Khoon, took over after she retired. Based on suggestions from multiple Malaysian tourists, the elder Yeo decided to launch another version with a dark soy sauce-base.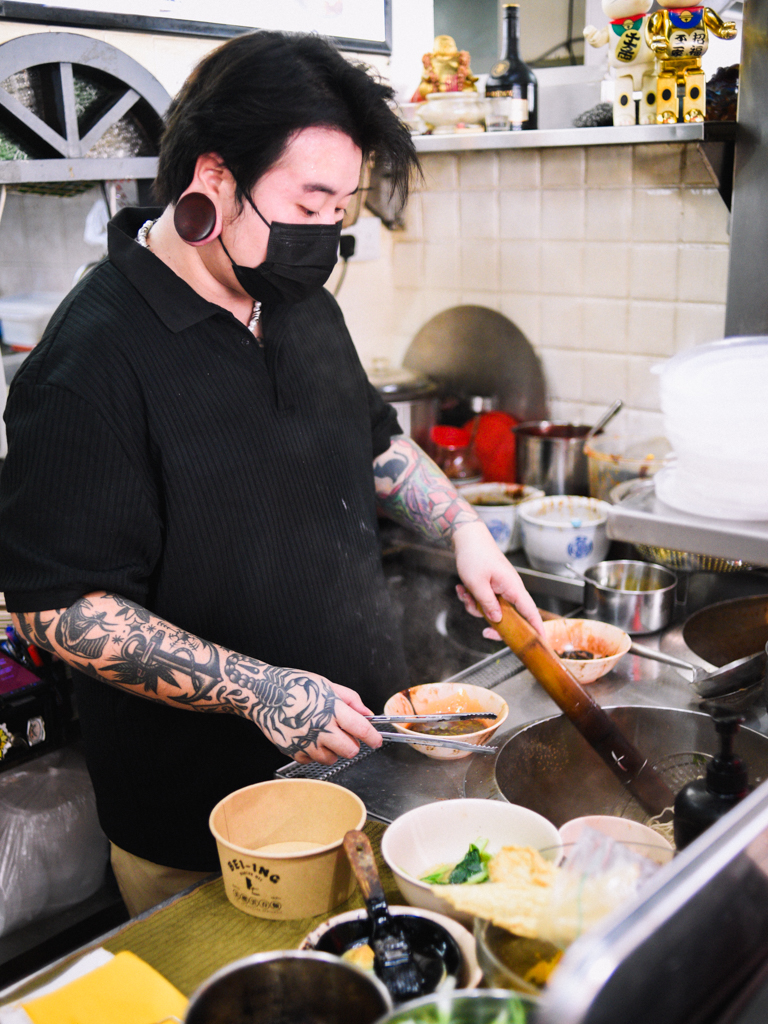 With this new dish, Bei-Ing's noodles gained unprecedented traction. The elder Yeo's wife later came on board to help out with the cooking. With her talent and natural instinct for cooking, business has flourished ever since.
Starting Bei-Ing Dim Sum Club
Ray Yeo started helping out with the family business at age 15. After being so immersed in the F&B scene at a young age, his interest in food and cooking was naturally piqued.
He enrolled in a culinary course at ITE College West and subsequently pursued a diploma in restaurant and culinary operations at Republic Polytechnic.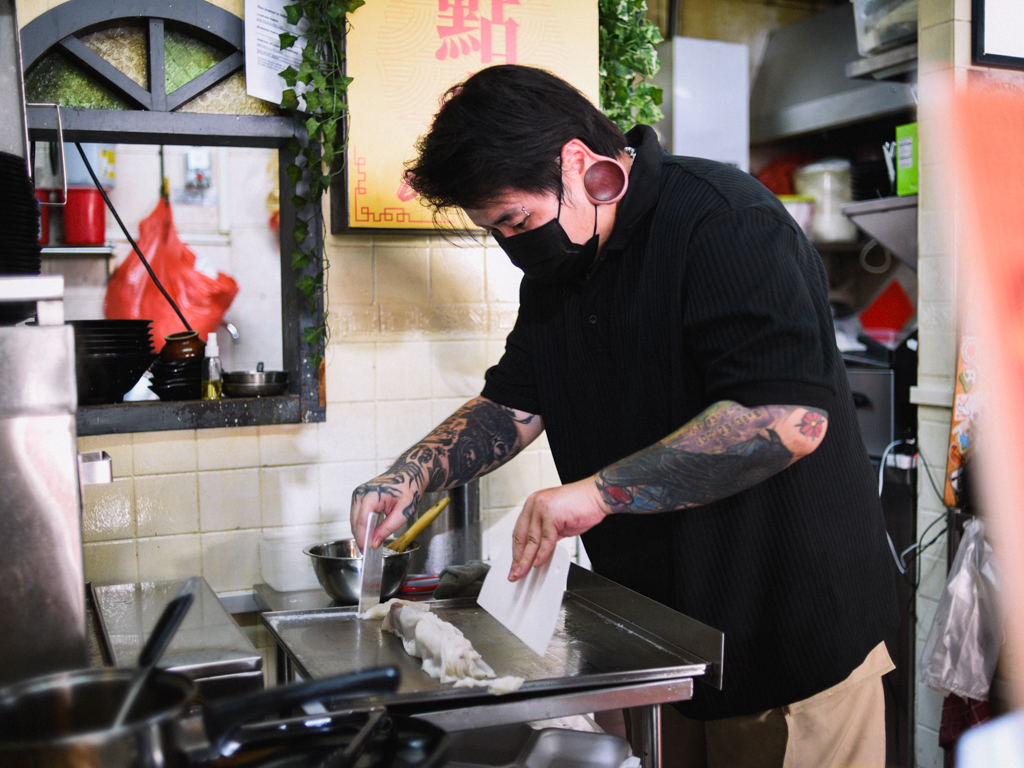 However, he dropped out as he found it difficult to concentrate on theoretical lessons, being more inclined towards practical, hands-on learning. At the age of 21, he joined his family business full-time.

He began working on adapting the menu to cater to modern taste buds.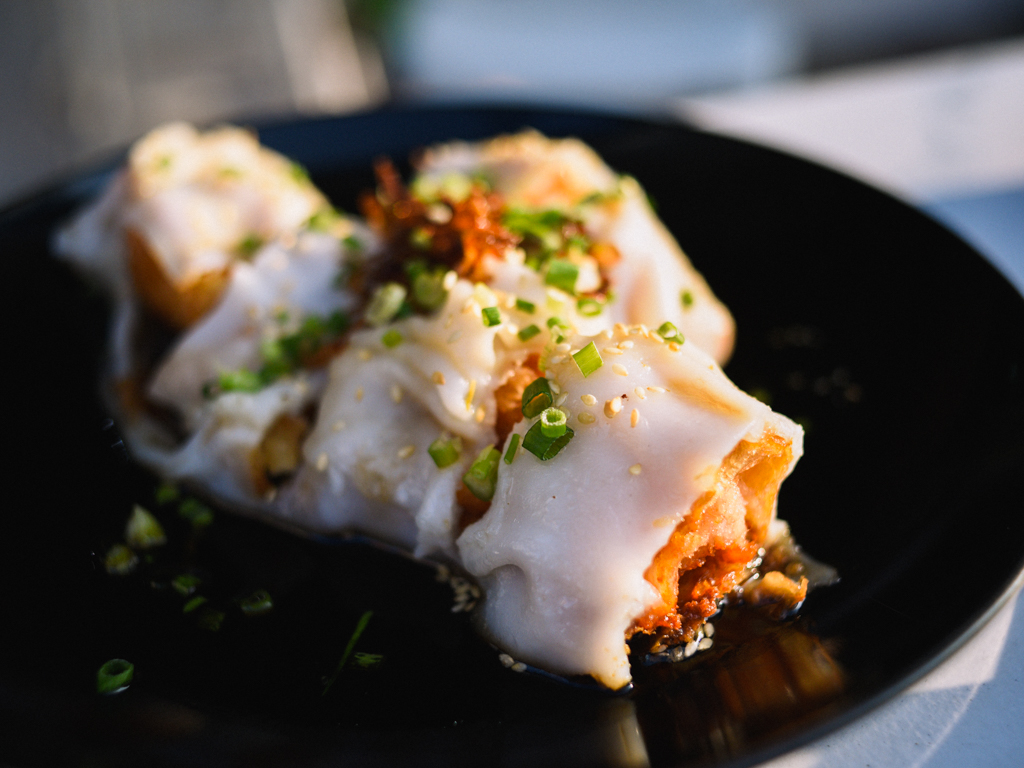 Starting his own business was somewhat of a serendipitous affair, he tells us.
In 2021, Yeo stepped out of his comfort zone to expand Bei-Ing's presence with a new outlet and a more extensive menu — with the help of his close friend Jean Ong, 30, who was his classmate at Republic Polytechnic. 
Ong has had stints at cocktail bar Atlas making pastry and worked at the 24-hour Hello Kitty Cafe at Changi Airport, before she began working part-time at Bei-Ing's Roxy outlet in 2017.
Ong eventually became his business partner.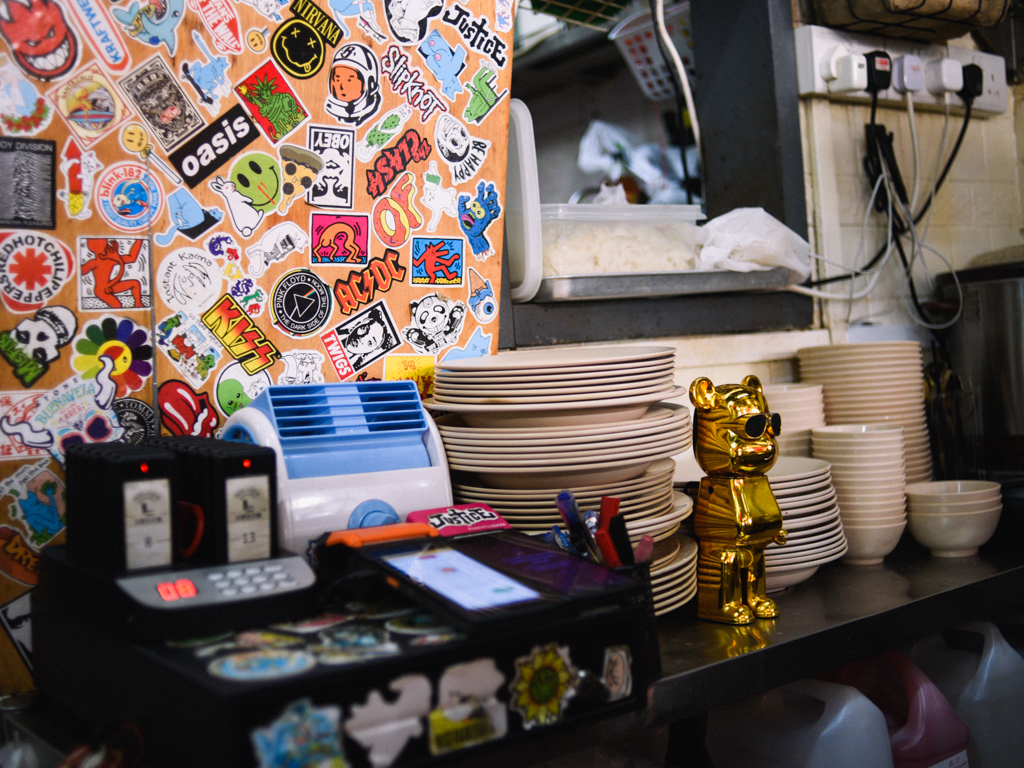 During his search for a suitable stall, Yeo thought of The Bullion hawker bar, which he often frequented for its "cool vibes". Unlike most coffee shops, it has a laid-back atmosphere and is home to other popular stalls such as Bruce Lee Chicken Rice, Geylang 29 Charcoal Fried Hokkien Mee (which has since moved). It serves up craft beer, too.
Yeo casually floated the idea of opening his own stall to the coffee shop owner, and a month later, he was told that one stall was vacant and open for rental.
He jumped at the chance, opening the second branch of Bei-Ing Wanton Noodle in September 2022 — with the support of his parents — but offering other dishes that showcase his unique perspective.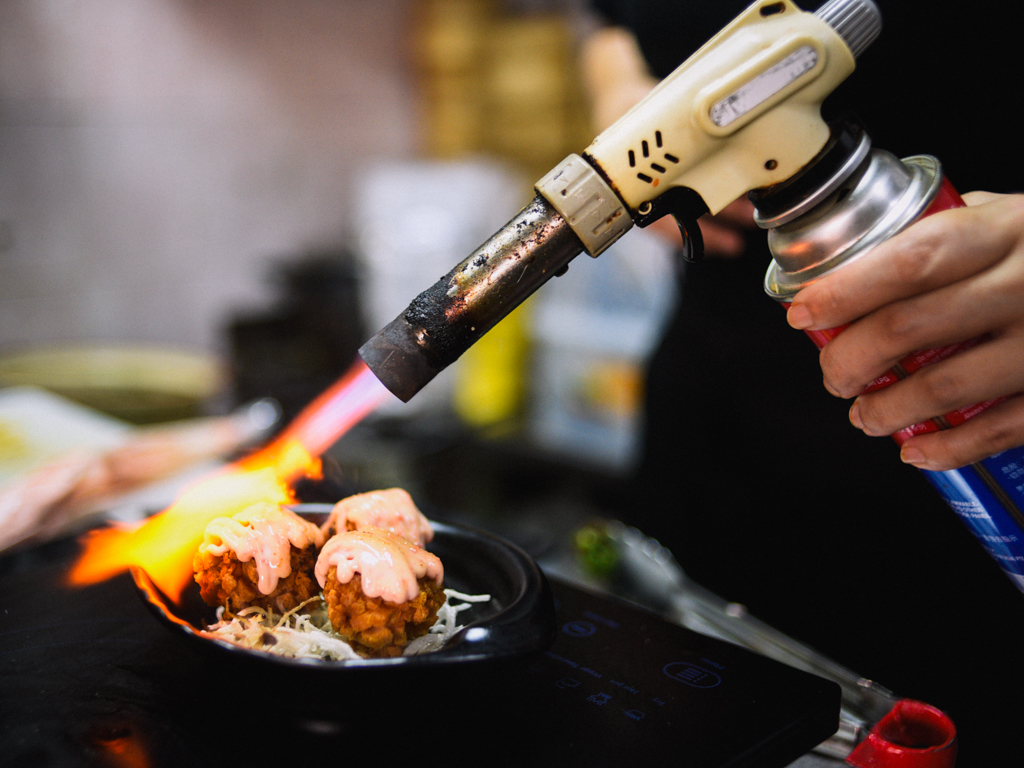 Beyond the signature wonton mee of the original stall, you'll find other exclusive fusion items such as mentaiko chicken katsu (S$8-$10) and mentaiko fried wontons (S$7-$9) — Japanese-style riffs on the family recipe.
Coincidentally in the same month of September, their neighbour ceased operations.  Yeo and Ong decided to take over the space as they felt their current stall was too small. 
They reasoned that it would not be easy to sustain two stalls serving up just wonton mee, and decided to come up with a new concept for the second stall.

"Originally our plan was to do Western cuisine, given Jean's excellent skills in that area. But the heavy workload required and the cost of equipment proved too high for our new startup, we couldn't afford to take that risk… and I didn't want to deviate too far from our wonton mee concept (which is a Chinese cuisine)," explains Yeo.

That was when Yeo had a brainwave to do a dim sum concept, also one of his favourite foods. What more, he could tap on his brother's expertise as a dim sum chef  specialising in fine-dining Asian cuisine in London, allowing him "access to recipes and expert opinions".

Thus, that same month, Bei-Ing Dimsum Club was born, along with a catchy tagline: "Chinese Tapas Theory". Why this line? The stall's dim sum offerings are distinctly modern, blending different culinary influences to produce uniquely fusion morsels of food.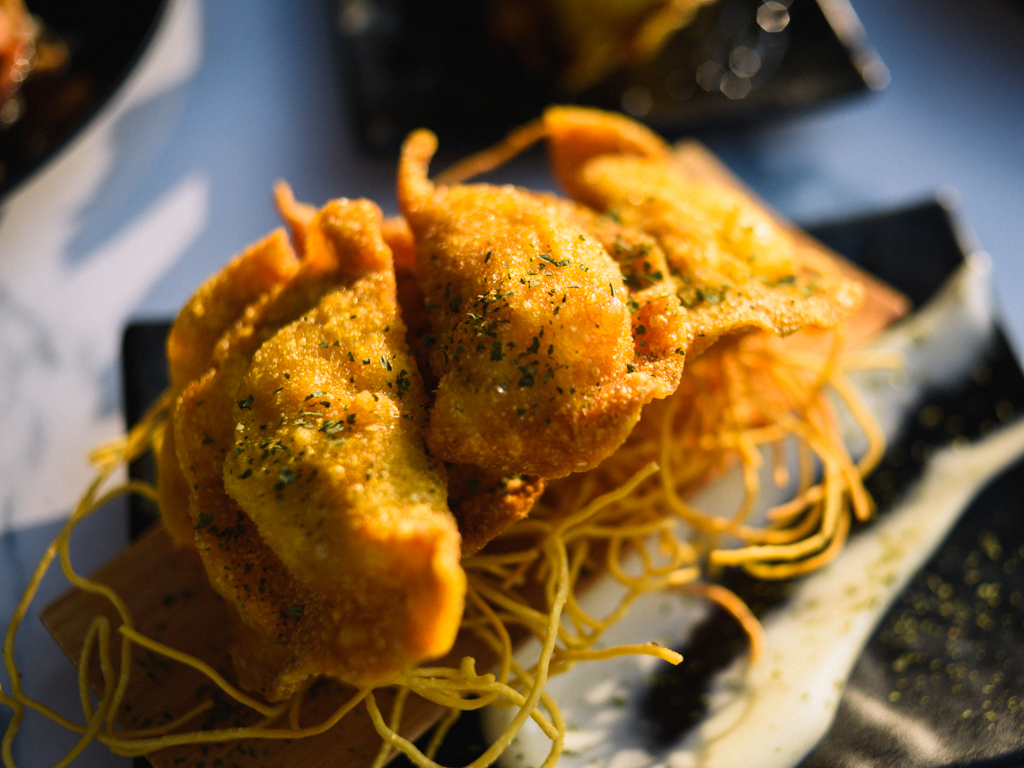 The quality of the food, however, is not compromised, as Yeo hired a Hong Kong chef to assist in their dim sum and congee offerings, as well as the mise en place.
Yeo and Ong also decided to experiment with some innovative flavours to avoid being a run-of-the-mill dim sum spot. They traded tips, improvised and did R&D to see what would work. "We tried to see what's trending… In the past, it used to be salted egg, then mentaiko, and now we think it's mala," says Yeo.
Diners now have more than 20 items to choose from on the menu — most of them one of a kind and can't be found elsewhere.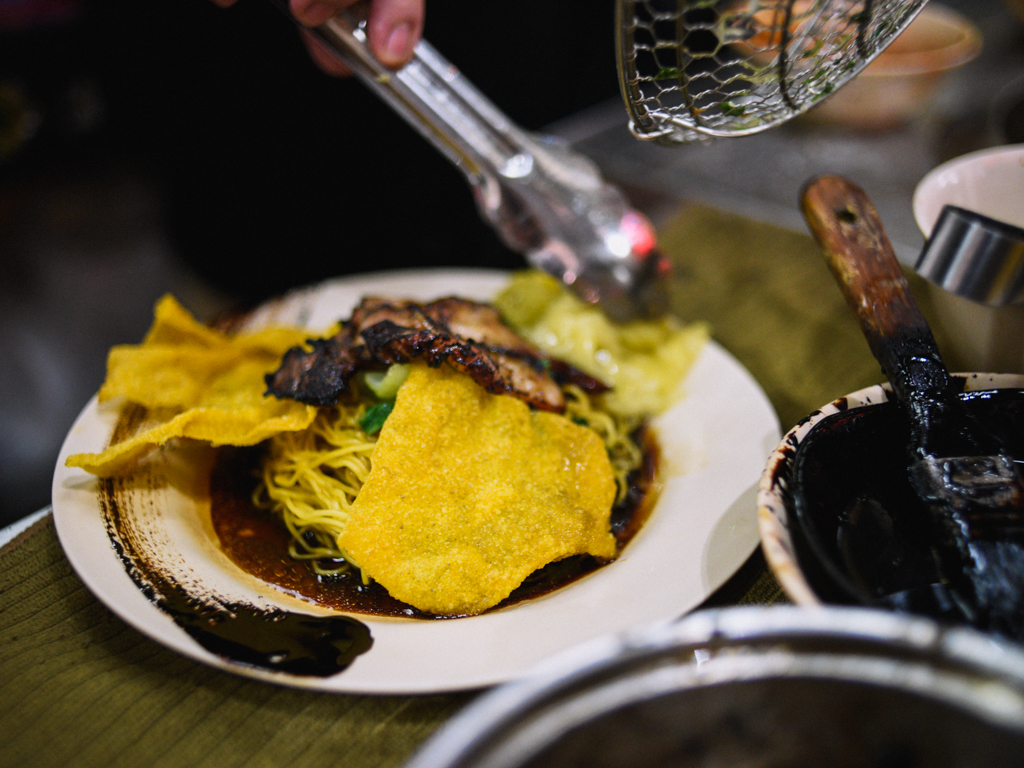 You can rest assured however, that when you're at the stall for wonton noodles, you'd get a plate that's largely similar to the OG at Roxy Square — with just a touch of Yeo's personal flair.
We had the signature wanton mee (S$6 to $8), drenched in dark soya sauce and a dollop of fiery chilli. 
Everything is prepared the same way, but what sets it apart from his family's version is you get the option of either lean or fatty char siew slices (the Roxy outlet only serves lean meat). Each plate also comes with a bold Japanese-inspired stroke of dark soy sauce across the plate.

"I added the brushstroke primarily for its aesthetic appeal and some customers prefer their wanton mee to be darker, enabling them to spread the sauce along the sides for richer flavour," explains Yeo.
For dim sum, we tried the aburi-mentai sotong bomb topped with bonito flakes (S$4.90), teriyaki-glazed siew mai with fried wonton skin and teriyaki sauce (S$4.90), fried shrimp dumpling with truffle mayo and fried mee kia (S$6-$8), and handmade chee cheong fun with specialty you tiao shrimp paste (S$6.40).
You'll find the dishes are plated artistically as a way to enhance the overall dining experience, whether it is in the arrangement of components, or their way of chopping ingredients such as the spring onion (they julienne it instead).
"We also try to achieve the best colour contrast for our dish, such as the amount of reds we have in our char siew, to incorporate with the other ingredients. We also choose unconventional looking plates for the premium dishes to complement and enhance its visual appeal," explains Yeo.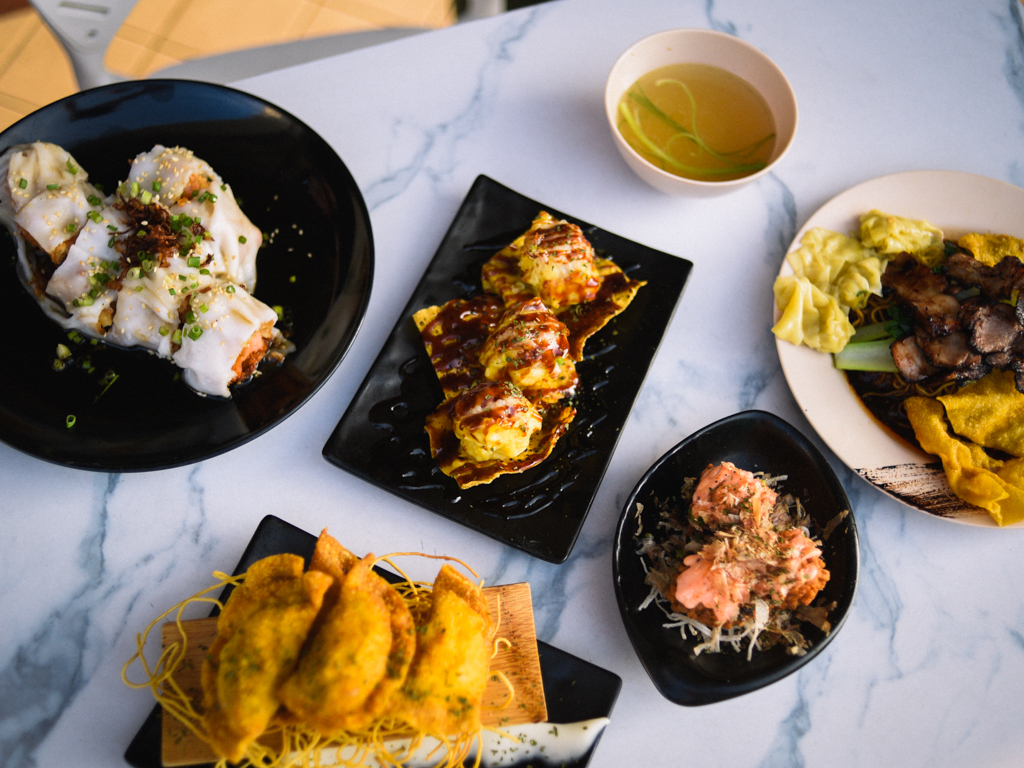 Looking at Yeo, you'd think he would be boisterous — like his father. In person, however, Yeo appears more quiet and earnest, preferring to stay behind the scenes while Ong is a lot chattier. "Normally he cannot really talk," she whispers.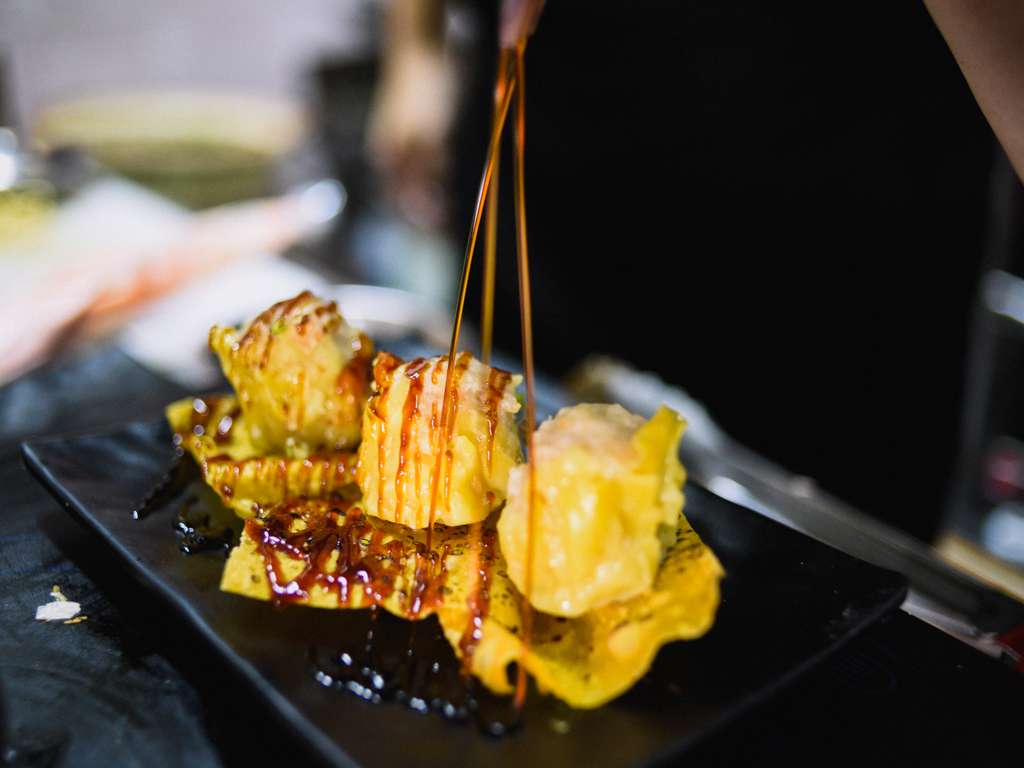 It has been challenging running the business on his own, even without his expanded dim sum repertoire, acknowledges Yeo.

When he was working at the Roxy Square stall, most of the items such as the wonton, chilli and char siew were prepared by his mother, while he focused on cooking the noodles.

"When we started we didn't even know how to make the char siew, so we really learnt on the job. In the first few days after our stall opened, my parents even closed the shop at Roxy Square to come down and help us… They're really wonderful!" says Yeo.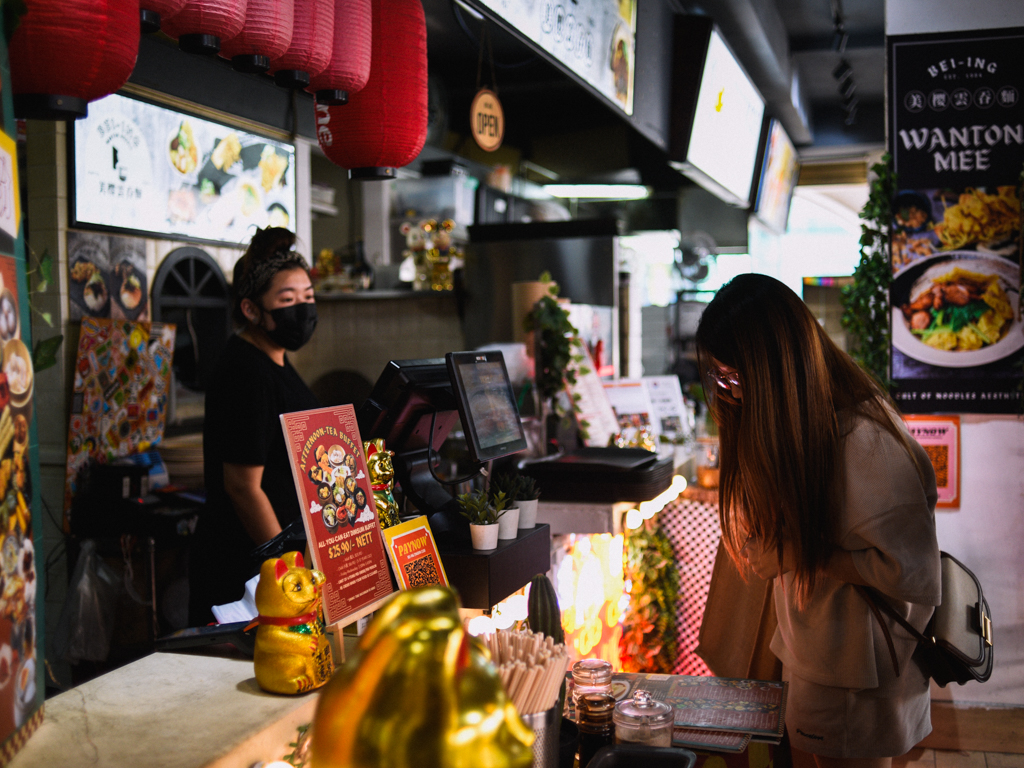 These days, the stall attracts a largely younger crowd and even foreigners as well. It also gets orders via WhatsApp and other delivery platforms. Today, for instance, it received an order for 50 packets of wonton mee — a testament to its popularity.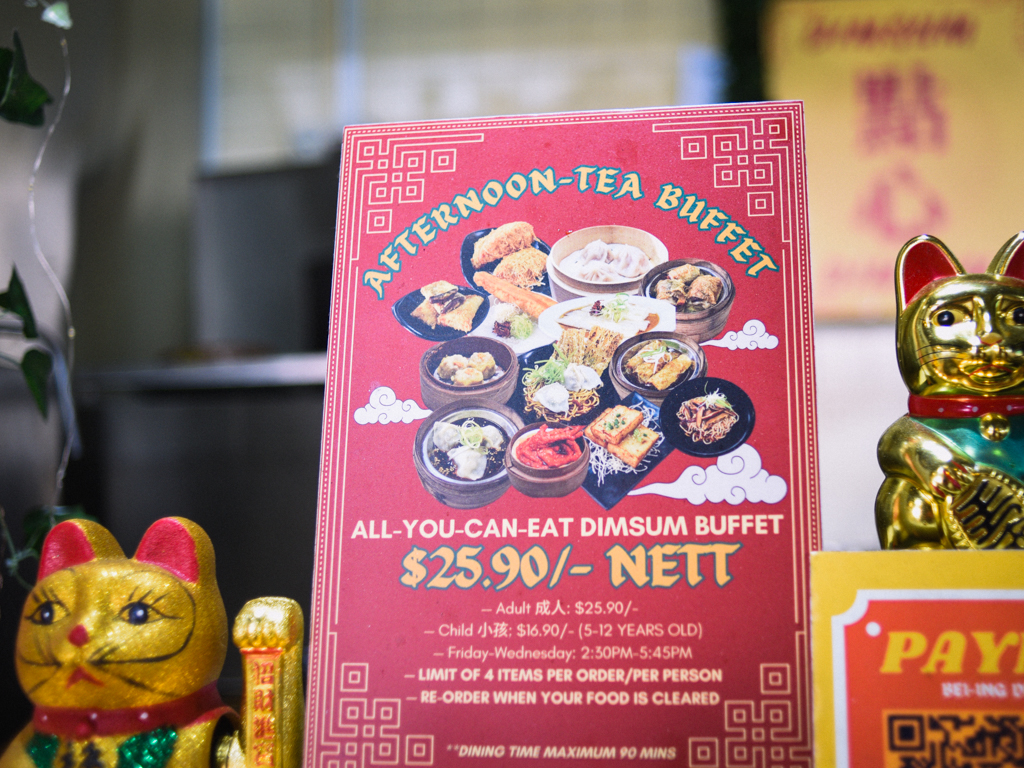 Yeo also started an all-you-can-eat dim sum buffet (S$25.90), which allows customers to dine on some of the stall's signature dishes. However, customers have a limit of four items per order. 
Asked about this restriction, Yeo says a lot of customers would typically over-order and that resulted in a lot of food wastage. The stall doesn't impose charges for food wastage, though, he adds.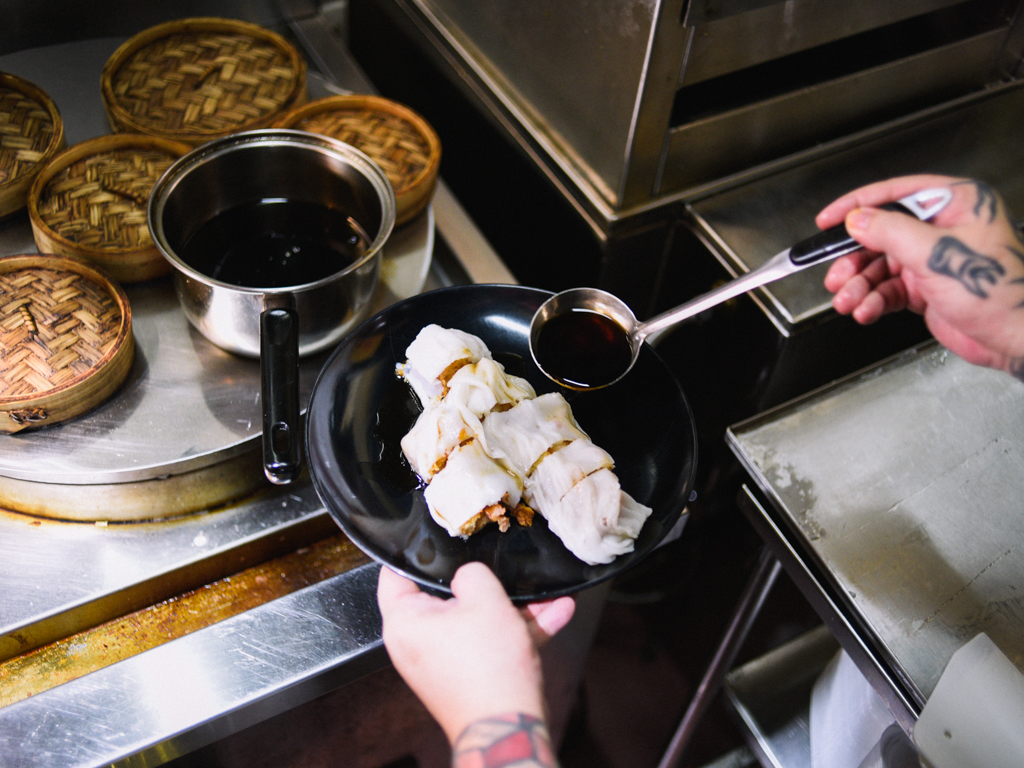 Cooking talent aside, you'll be surprised to find that Yeo is equally proficient with branding and design as well. The main sign board features a hipster dumpling and wonton mee duo, meant to symbolise Yeo and Ong.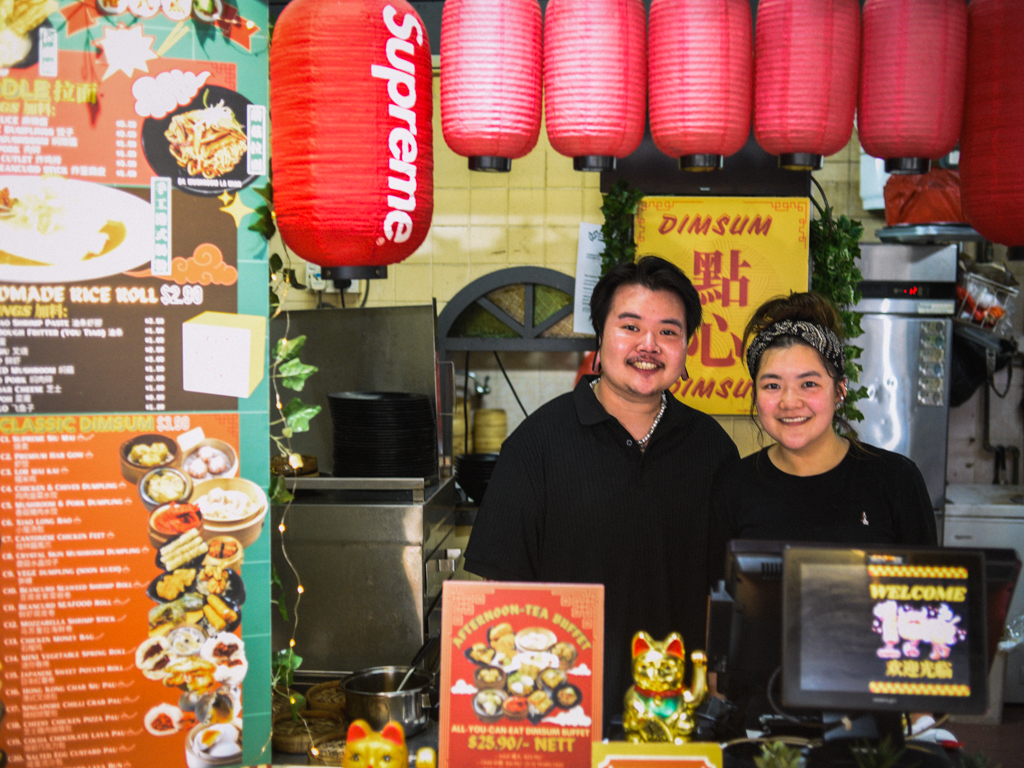 Yeo's dream is to one day be able to open a shophouse and work together with his family, and perhaps earn a Michelin star as well. "I'm already manifesting," he jokes.
 And when he's not at the stall, you can be sure to find him playing with his dog Marshall — well, a Japanese Shiba, of course.
Exclusive GrabFood promo
Good news for our readers who scrolled all the way to the end!
Here's your exclusive GrabFood delivery promo for Bei-Ing Dim Sum Club, valid from November 12 to December 12, 2023:
How it works:
Use the promo code HGWBEIINGDIMSUMCLUB for S$3 off your basket (minimum spend of S$15) when you order from Bei-Ing Dimsum Club 美樱點心楼
Stackable with free Bei-Ing Dim Sum Club delivery (up to S$3 off) with a GrabUnlimited subscription
While redemptions last, capped at one redemption per person.
The Bullion Hawker Bar, 386 East Coast Road
Nearest MRT station: Kembangan
Opens: Monday to Sunday (9am to 8pm)
The Bullion Hawker Bar, 386 East Coast Road
Nearest MRT station: Kembangan
Opens: Monday to Sunday (9am to 8pm)
---