6 easy cocktails you can do in 15 minutes for parties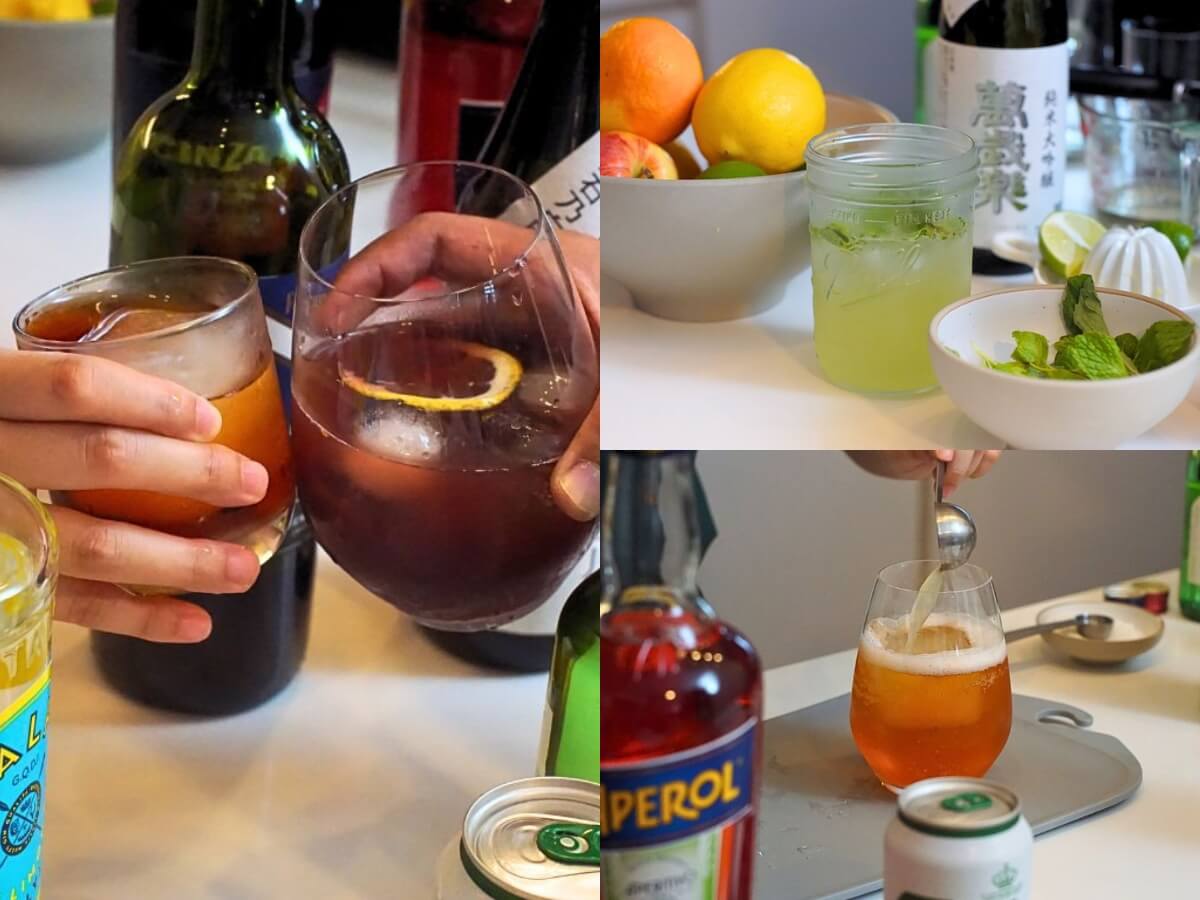 It's that time of the year when the months get a bit fuzzy and pass by a bit too quickly as we gear up for the holiday season. 
If you've got a couple of year-end house parties lined up and you're thinking of whipping up drinks for your pals, now's a good time to start honing those mixing and shaking skills with these ideas for easy cocktails.
We try and test six easy cocktail recipes across different alcohol types — sake, soju, wine, and various hard liquors — so you don't have to.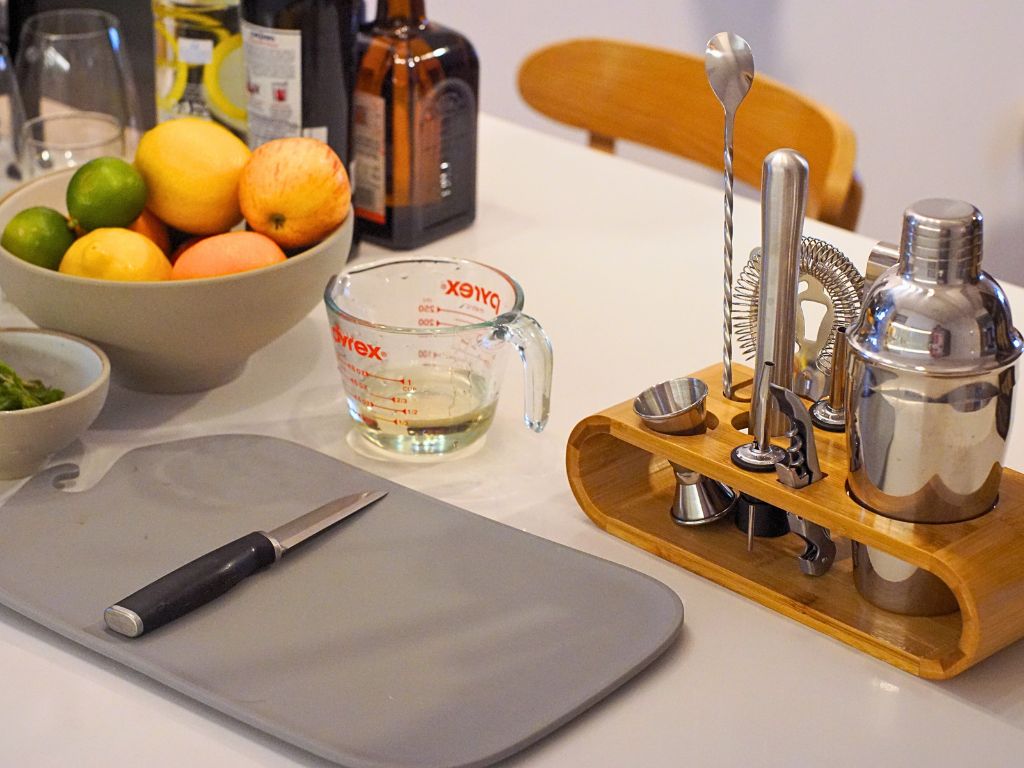 And when we say easy, we mean no-prior-mixing-experience-and-can-do-within-15-minutes type of easy. Inclusive of prep time, of course. 
We've curated these easy cocktails, such that all you really need to do when the party time rolls around is order in your choice of alcohol and ingredients via GrabMart and mix away! 
In fact, GrabMart is running an Alcohol Challenge from now till Dec 31 — join the challenge, order your fill of alcohol on GrabMart and get up to S$20 off your next alcohol order, while stocks last! 
Here are the easy cocktails HungryGoWhere team tried (and tested), in the name of, ahem, work. 
Each of these recipes make one cocktail each. 
Love your sake and want something light and easy to start? Try this sake cocktail recipe from The Mixer. 
You'll need:
Mint leaves

1 teaspoon of granulated sugar

Half a lime, cut into small pieces 

Soda water

3 oz of sake — We used a bottle of

Kobori manzairaku junmai daiginjo hyakumangoku no shiro

(S$69.95 from

Paneco

on GrabMart)

Ice
How to make a sake mojito:
Add six mint leaves, sugar and lime into a cocktail shaker and crush the ingredients.

Add 3 oz (that's 88ml, or two jigger shots) of sake and ice to the shaker, and shake till chilled.

Strain into a glass with ice and top it with soda and mint leaves.

2. Traditional red sangria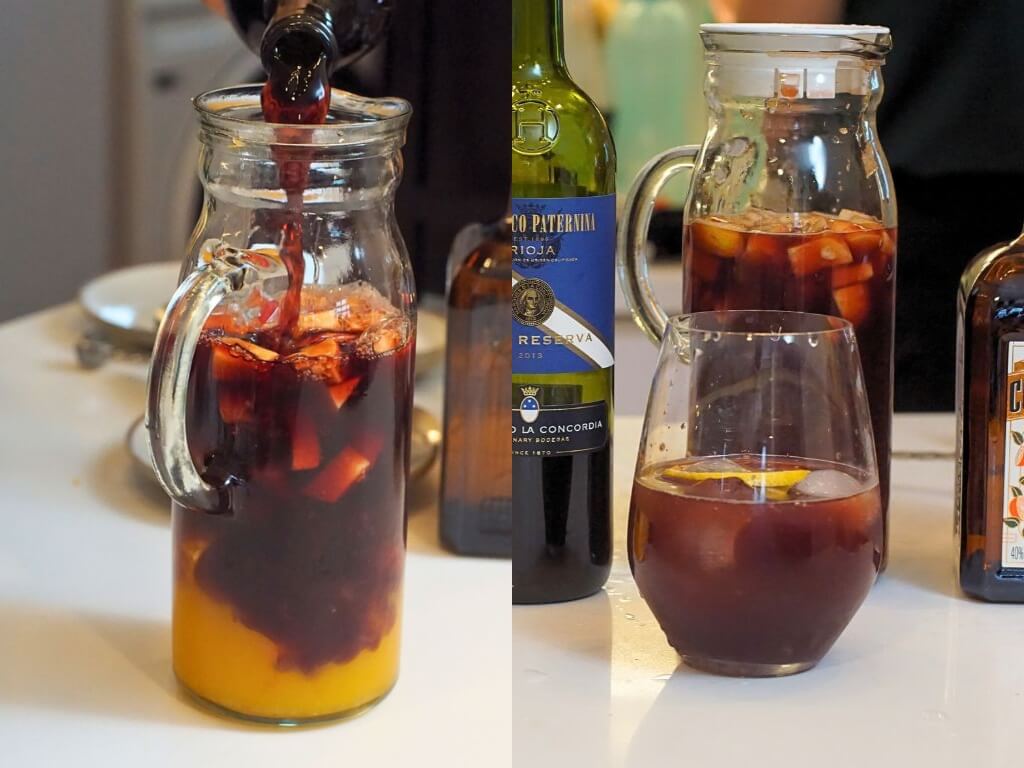 This easy sangria recipe from The Minimalist Baker is one of my favourite easy cocktails and completely idiot-proof. 
Most sangria lovers will tell you that there isn't a fixed formula to a good sangria. You can add anything to your heart's desire, as long as you've got a bit of fruit, sweetness and of course, wine. 
You'll need:
Half of an apple, chopped into small pieces

Half of an orange, chopped into small pieces

3 tablespoons of sugar

180ml of orange juice 

80ml of brandy — we substituted this for

Cointreau

(S$63.95 from Paneco on GrabMart).

A bottle of dry Spanish red wine — we got a bottle of

Federico paternina rioja gran reserva

(S$53 from

Wine Connection

on GrabMart).  

Ice
How to make the red sangria:
Add the apple, orange and sugar into a jug and muddle it with your muddler or a spoon.

Pour in orange juice and brandy and continue to muddle it.

Lastly, add the red wine and ice, then stir to combine it all. 
3. Spaghett, a beer cocktail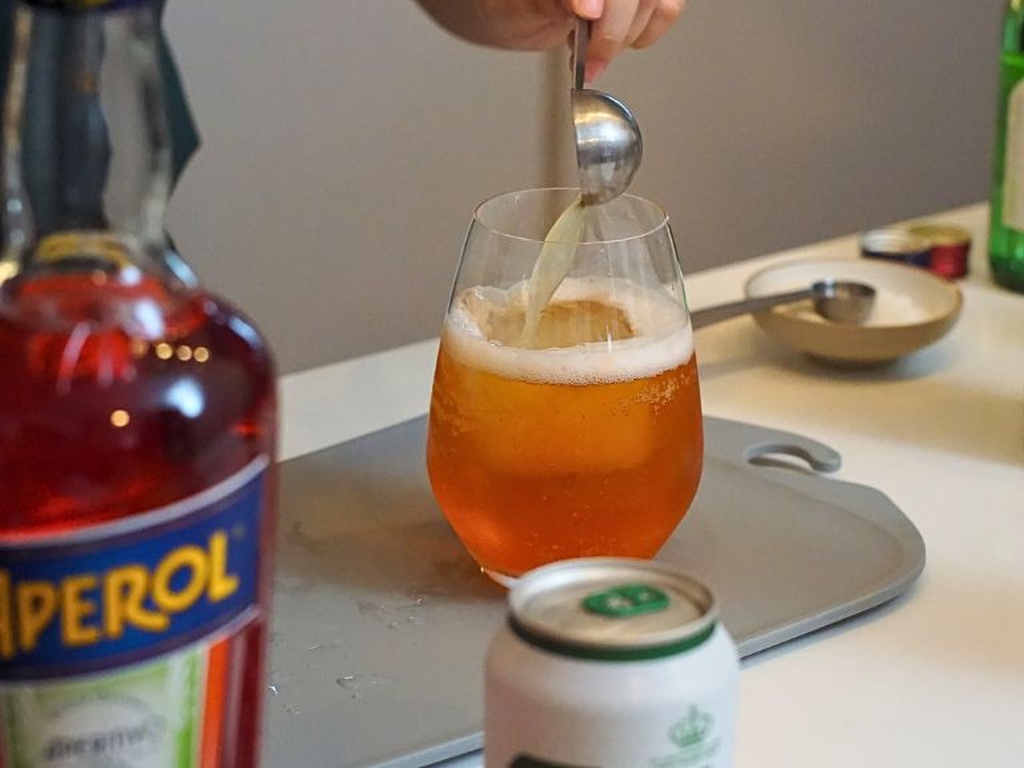 We learnt this one from A Couple Cooks — the Spaghett is a spin on everyone's favourite Aperol Spritz.
We acknowledge that it's a bit of a stretch to call this a cocktail, but it's great for those moments when you want something light and refreshing to knock back. 
You'll need:
A can of light beer such as

Carlsberg smooth draught beer

(S$21.90 from

Carlsberg Beer Store

on GrabMart) 

1.5oz (44ml) of

Aperol bitter

(S$44.50 from Paneco on GrabMart)

1 tablespoon of lemon juice

Ice
How to make a Spaghett:
Pour the can of beer into a tall glass.

Add the Aperol and lemon juice into the glass.

Serve.
4. Gimlet, a gin cocktail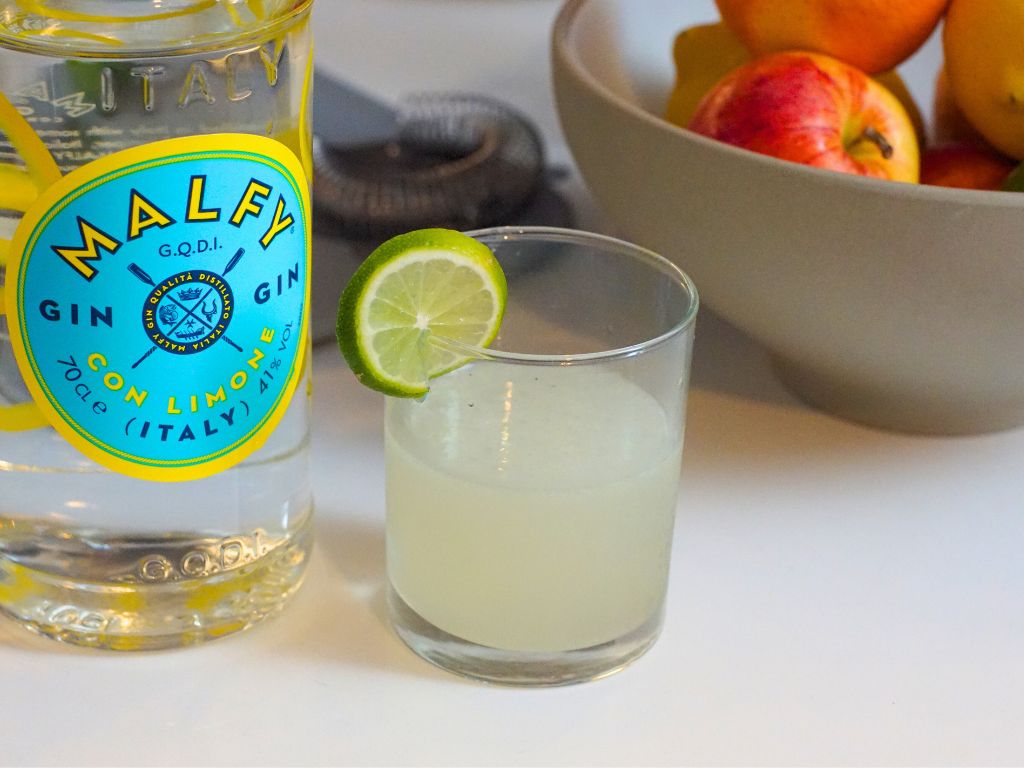 If you only have the space and time for one cocktail for a roomful of guests, then this gin-based cocktail, the gimlet, should be your go-to. 
This gimlet recipe from the Thrillist has just three ingredients and can even be made with your eyes closed. If you're feeling creative, feel free to add other ingredients to jazz up your easy cocktails.
You'll need:
2 oz (60ml) of gin — We used

Malfy gin

(S$89 from

Prime Liquor

on GrabMart). 

1 oz (30ml) freshly squeezed lime juice

1 oz simple syrup 

Ice
How to make a gimlet:
If you don't already have your simple syrup, combine equal parts water and sugar into a pot and bring to a boil to dissolve. Cool it down before use.

Add the gin, lime juice and simple syrup over ice in the shaker.

Shake till c

old and strain into a glass. Garnish with a lime wheel. 
5. Somaekcol, a soju-beer cocktail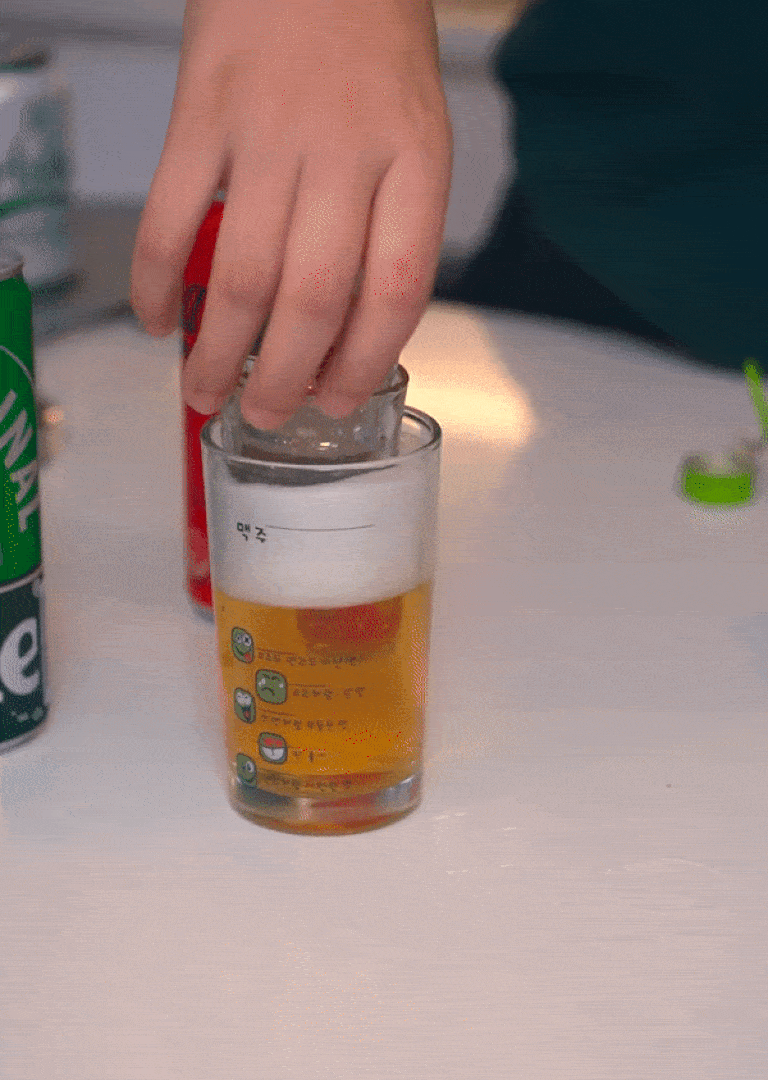 You might have heard of somaek, which combines the Korean spirit soju and beer (maekju in Korean), but have you heard of somaekcol? 
Somaekcol (soju, maekju and cola) is a common Korean concoction also known as gojingamrae, a Korean idiom which literally means the sweet comes after the bitter. You'll figure out why it's so named after trying the drink! 
You'll need:
Soju — You can go for plain or flavoured ones depending on how sweet you'd like it to be. We used

Jinro's green grape soju

(S$11.49 from Paneco on GrabMart) as we liked a sweeter drink.

Beer — You can use a light beer like

Heineken

(S$24.90 for a pack of six from

Drinkies

on GrabMart) in place of Korean beers, or if you want a more fuss-free option, there's

Tiger's soju-infused lager

(S$14.80 for a pack of three from Drinkies). 

Coke 
How to make a somaekcol:
Pour enough coke to fill half a shot glass. 

Stack the second shot glass on top of it and fill it to the brim with soju.

Fill a beer glass three-quarters of the way. 

Drop the shot glasses into the beer glass and begin chugging. You'll first taste the mix of soju and beer. And once the last glass dislodges, you'll taste the sweet finish of the coke. 
6. Aperol negroni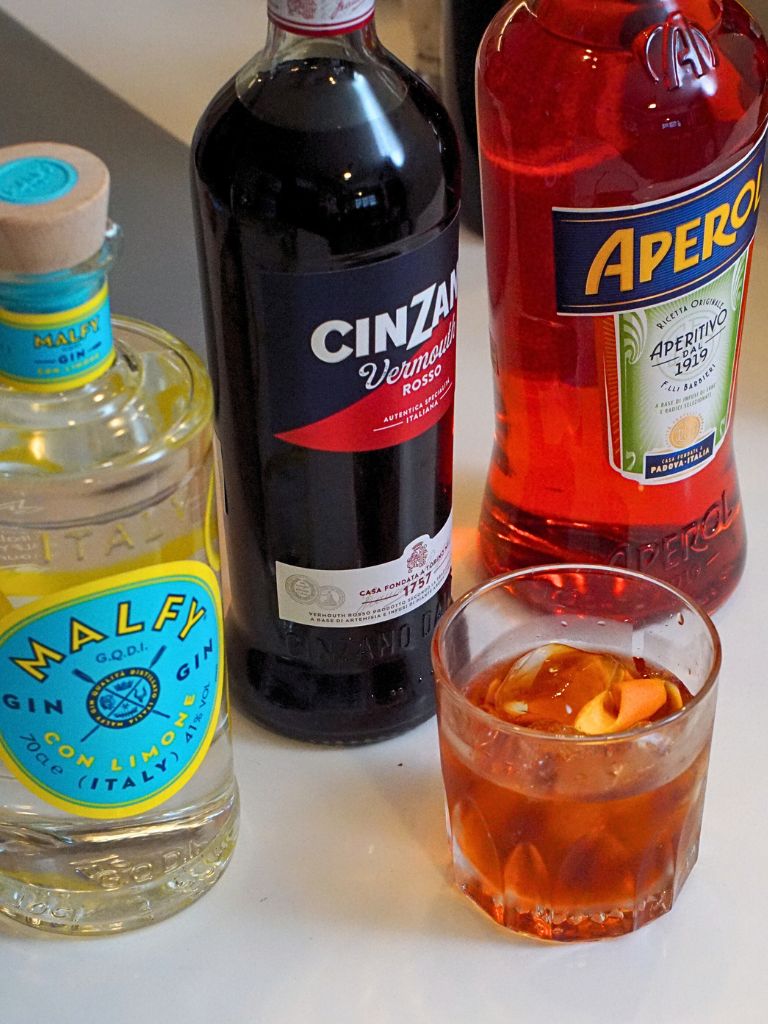 Who doesn't love a good, stiff negroni? But sometimes you just don't have Campari lying around. Give this Aperol negroni from Aubrey's Kitchen a try — it's definitely different but we like this different. 
Plus, did we mention it's only three ingredients (sans the garnish) — just pour, stir and serve. It's really one of the easiest cocktails on this list yet! 
You'll need:
25ml gin —We used

Malfy gin

(S$89 from Prime Liquor on GrabMart). 

25ml of

Aperol bitter

(S$44.50 from Paneco on GrabMart) — You can use Campari (S$58 on Prime Liquor) if you have it. 

25ml

sweet vermouth

(S$42 from

Cellarbration

on GrabMart) 

Orange peel 

Ice
How to make an Aperol negroni:
Add the gin, vermouth and Aperol to a glass with ice. 

Stir and serve. 

Garnish with a twist of orange. 
This article was written in partnership with GrabMart, so that the HungryGoWhere team could have these easy cocktails and our year-end party needs sorted out. 
If you're like us and are too lazy to go all around the island for your liquor needs, you can order from Carlsberg Beer Store, Cellarbration, Drinkies, Paneco, Prime Liquor and Wine Connection, through GrabMart all from the comfort of your own home. 
Join GrabMart's Alcohol Challenge from now till Dec 31, order in your alcohol and get up to S$20 off your next order. 
For more year-end party inspiration or places to head to, check out our latest articles on Tambi, a new Korean-Indian CBD eatery or Sodeng, a Korean duck BBQ spot in town. 
---