Review: Sodeng Korean Restaurant's KBBQ was so good, we're already planning our next visit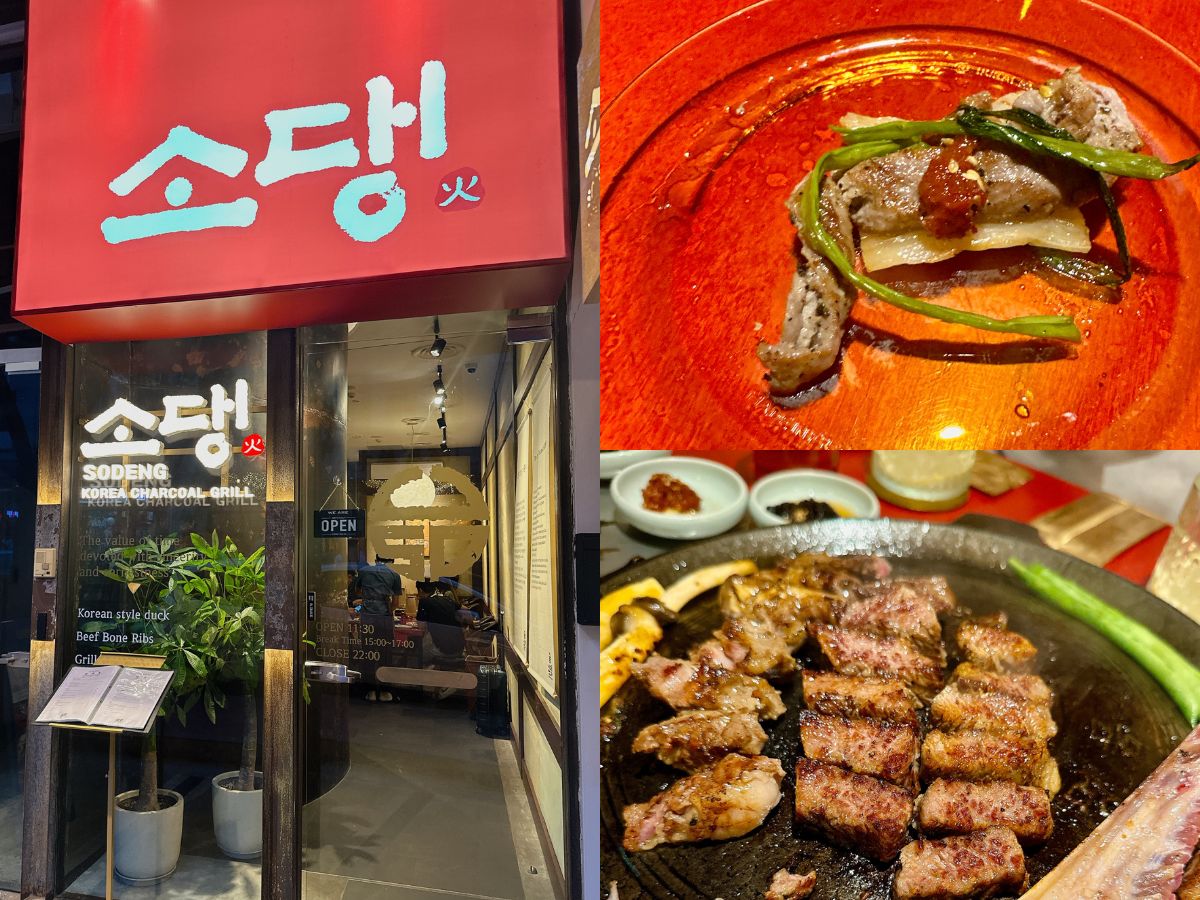 Authentic KBBQ that offers tender, fresh duck served with unique banchan
Giant beef rib marinated for 72 hours was the star of the show
Well-trained staff performing theatrics while serving drinks kept diners entertained
Sodeng Korean Restaurant review
When someone mentions "KBBQ," the scene of a group of friends hanging out and grilling their own marinated beef, pork, or chicken meat comes to mind. 
But, duck? The novelty of experiencing duck prepared in this manner piqued my curiosity to investigate what Sodeng Korean Restaurant is all about.  
The backstory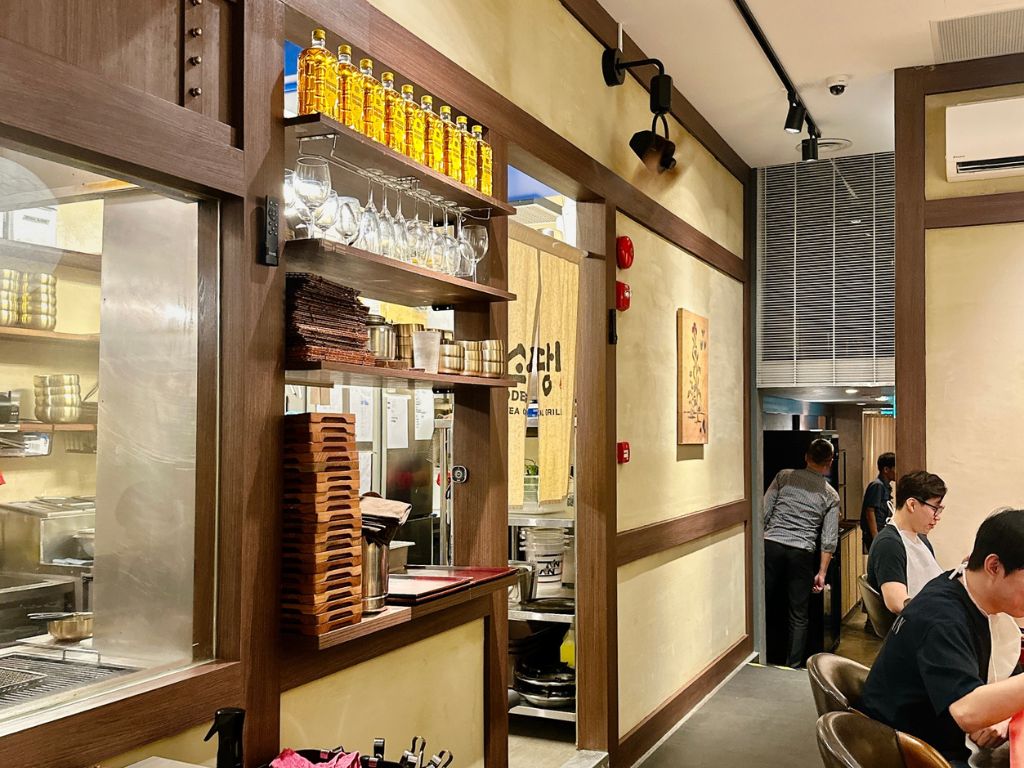 Sodeng opened its doors in June 2023, with a dedication to bring authentic Korean flavours to the overcrowded KBBQ scene. It imports unique banchan (korean side dishes) from an award winning kitchen in Korea. 
As for its unique protein offering, Sodeng sources its tender, fresh duck from Malaysia and serves it on the same day, given its delicate nature. We were told the duck is less fatty in Malaysia, and it has indeed impressed us with its freshness, juiciness, and the complete absence of any gaminess.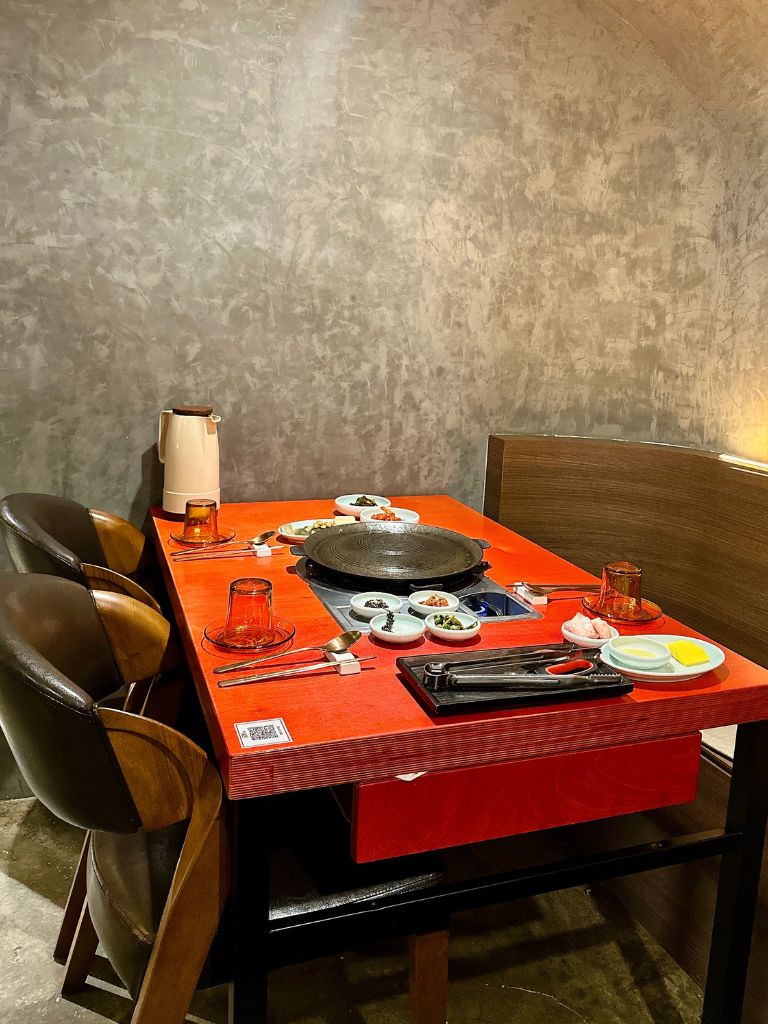 We were seated towards the rear of the restaurant alongside two other groups in a cave-like space that was cosy and snug. The bright red tables provided a vibrant modern ambience to the setting. 
The comfortable atmosphere was further complemented by the well-trained service staff who provided useful pairing recommendations for meats with banchan. Bonus: They also performed theatrics while serving alcohol.
Our verdict
Sodeng Korean Restaurant offers an entertaining, delicious and hassle-free Korean BBQ experience with quality food. We enjoyed every bit of our visit, from the unique duck offerings and the substantial and tender beef ribs, to the dedicated staff who were committed to making sure customers have a good time. 
We were already making plans for our next visit before we even left — we need to share this memorable dining experience in Sodeng with our other makan kakis.  
What it's good for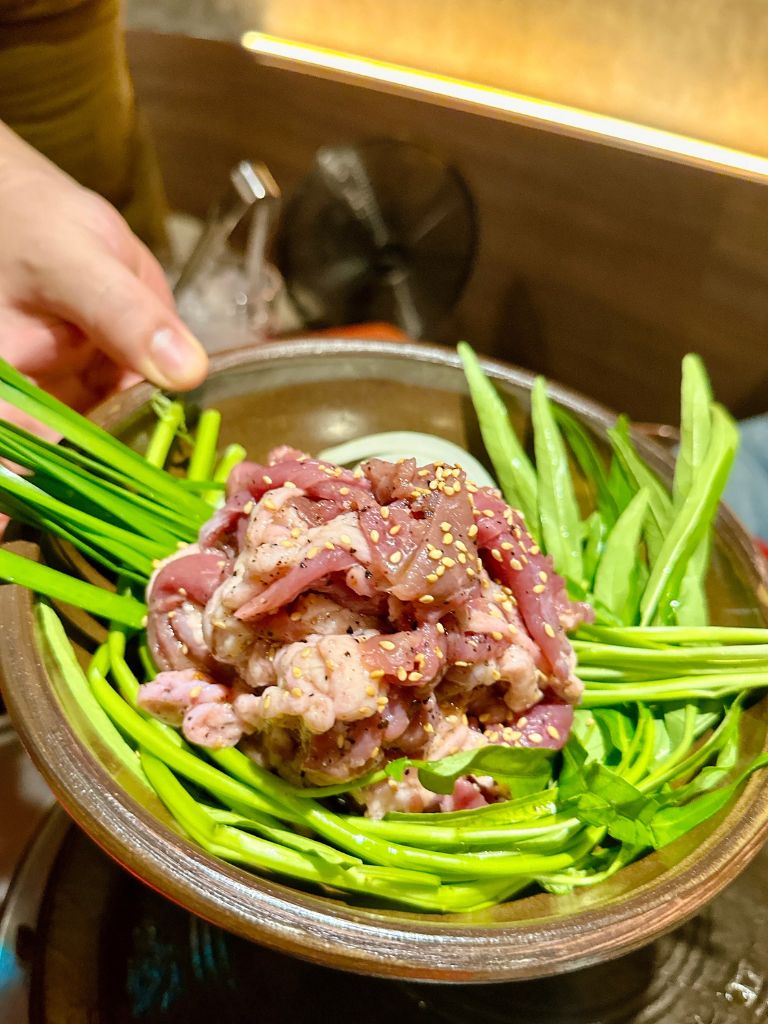 The fresh plain duck (S$35 per person), was served without any seasoning but garnished with chives, onions and Korean water celery, which is like our local kangkong. The waiter recommended that we start with duck paired with its house-salted peppercorns. 
The subdued spiciness and fragrant pepper notes accentuated the freshness of the duck without overpowering its natural sweetness.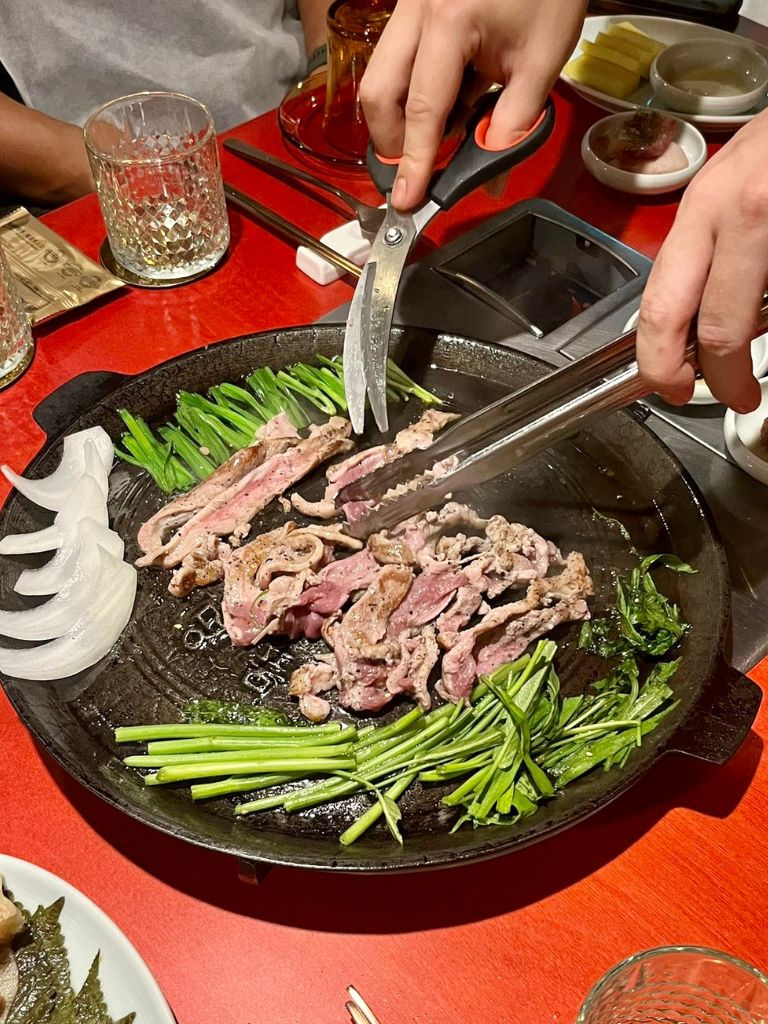 The next recommendation was duck accompanied by white kimchi, Korean herring and squid paste, alongside the familiar kangkong. The red pepper in the herring and squid paste were familiar flavours in Korean cuisine, and the saltiness and umami from the seafood and the clean, tart kimchi was a delightful interplay of flavours.
The third and my personal favourite combination — one that truly won my heart — was the duck with perilla leaf and pickled daikon. It was refreshing and mild, but allowed each individual unique flavour to stand out while forming a cohesive partnership with the robust grilled duck. 
While the duck was already amazing, the standout dish of the night was the woo-dae galbi (S$42 per person), featuring a charcoal-grilled, 72-hour marinated prime rib. Each bite was a melt-in-your-mouth experience, with the perfect balance of beefy richness and caramelisation from the grill. It is a must-try. 
Only 30 servings are available daily, as the beef is marinated with natural ingredients and served at its peak condition at 72 hours. Any unconsumed beef will be thrown out after 96 hours, a testament to Sodeng Korean Restaurant's quality standards, so be sure to secure your reservation in advance. 
The intense marination paid off, as the meat was oh-so-tender, while imparting a pleasant sweet note that was balanced by inherent beefy robustness of the galbi.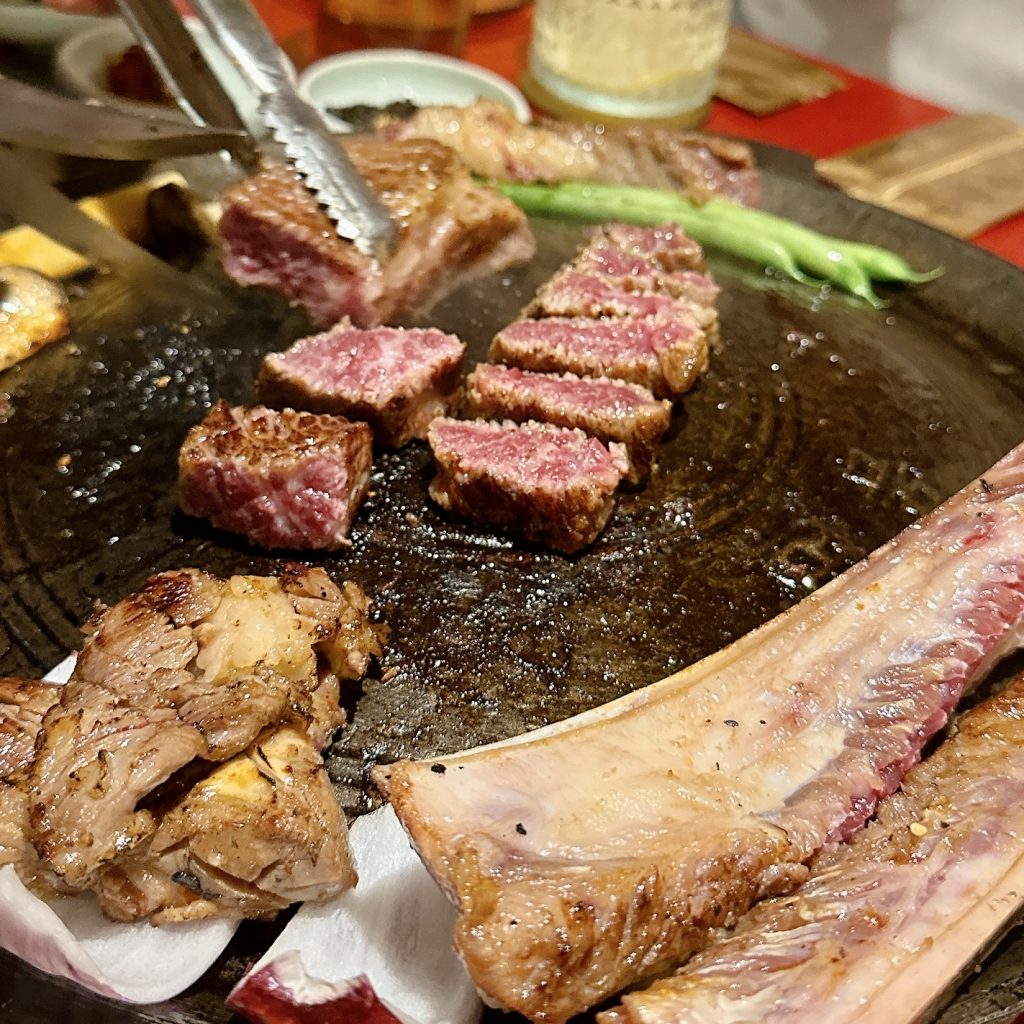 We were once again provided options to pair the meat with, and this time, the suggestion was for us to try it with melted mozzarella cheese and sweet condensed milk. It is a curious interplay of sweet and salty flavours. 
The outcome wasn't unpleasant, although it did slightly obscure the distinctive taste of the beef. Once again, the perilla leaf and daikon pairing was the winning combination for me.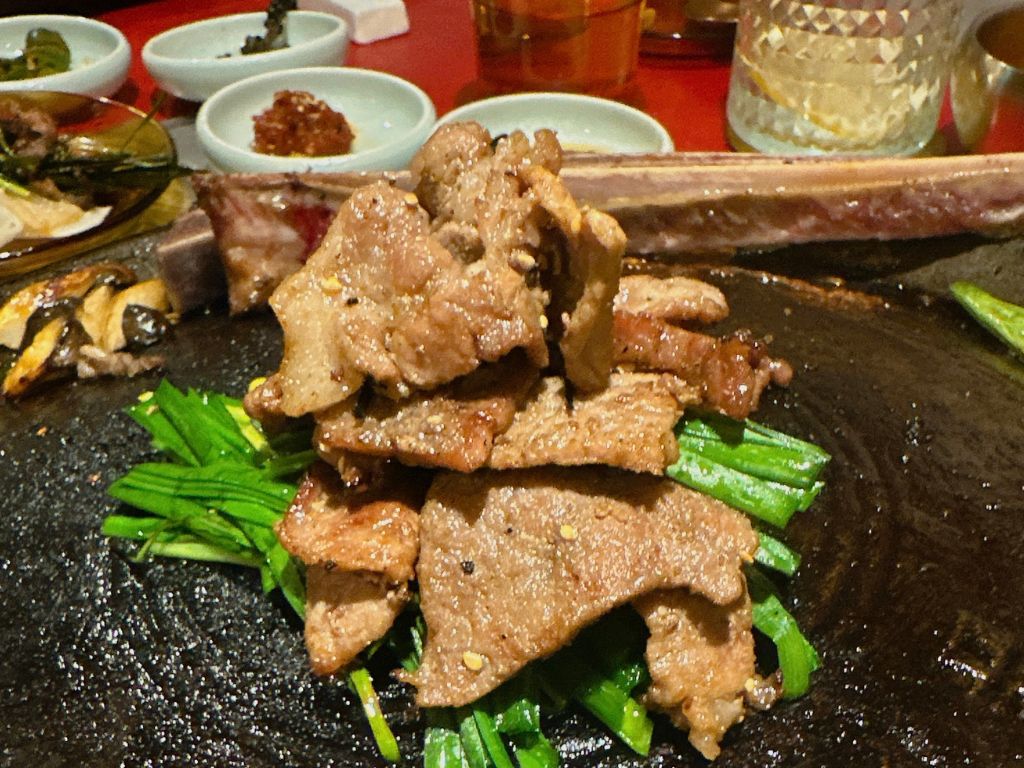 As the name suggests, the charcoal-grilled pork collar (S$27) was fired up on the grill before it's served to us, then given a second round of cooking on the lid. The result is a toothsome meat filled with rich smokiness, also known as wok hey.
Overall, every meat option was unique in its own distinctive profile and did not overshadow one another. If I had to rank, I would place beef in the top spot, followed by duck, and then pork, although I must emphasise that all of them were undeniably delicious.
We loved that the staff did all the grilling for us, relieving us from the hassle of cooking. It also allowed us more time to keep the conversations going, and ensured we got the best flavours from the quality meat.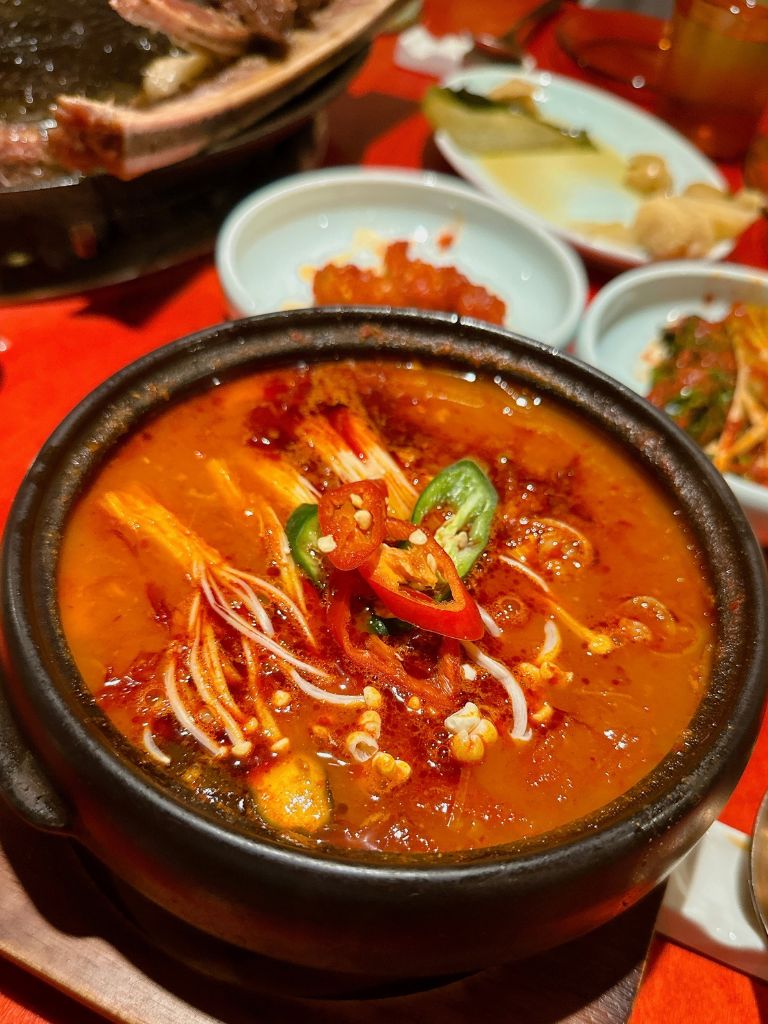 The duck kimchi stew (S$17) was one of the richest soups I have ever tried. Made with homemade duck broth and enhanced by the aged kimchi, it was bursting with flavour and left me craving more.
Concluding any KBBQ experience with bokkeumbap is a common tradition and the pot lid stir-fried rice (S$17) absorbed the flavours of the duck, pork, and beef we ordered, ensuring that nothing goes to waste. 
Any leftover pieces on the lid, together with egg, cheese, green onion, and seaweed, were combined, and made into a cute heart shape — a lovely end to a lovely meal. 
What it could improve on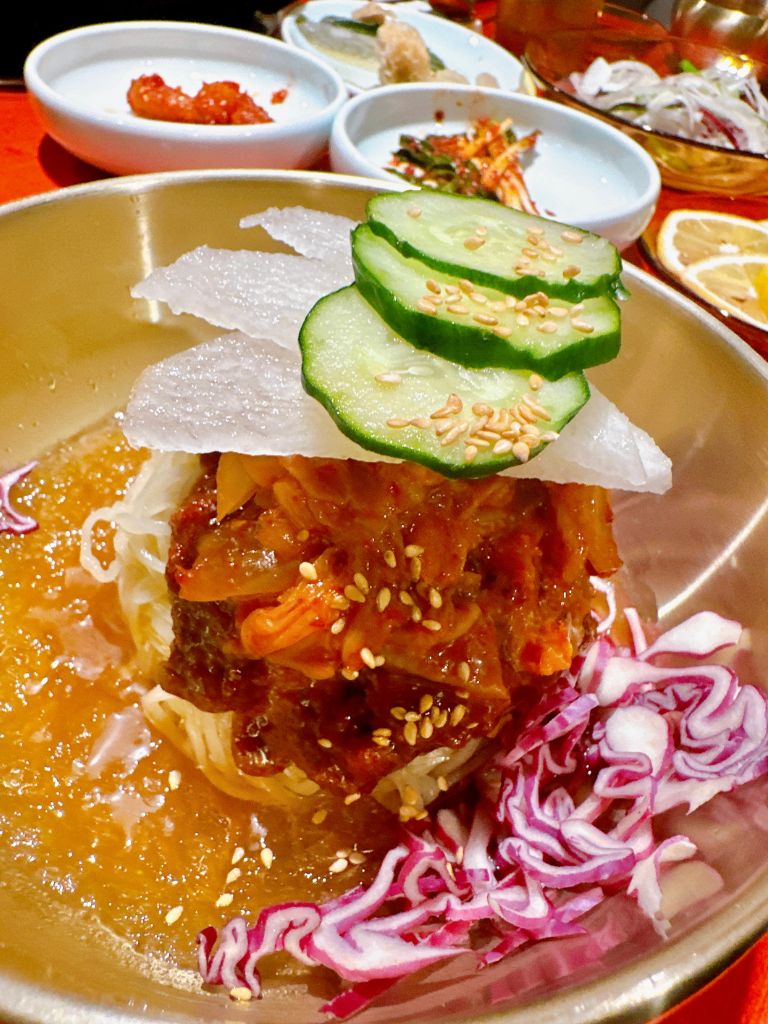 I struggled to find things to nitpick on, but of all the items we had, the spicy kimchi cold noodles (S$17) was the least memorable. It was a refreshing palate cleanser with al dente noodles and a balanced kimchi flavour, but when put alongside all the other dishes that delivered robust flavours, this dish naturally fell by the wayside. 
Also, the pricing is slightly on the higher end, and the duck portions may not be enough for bigger eaters.
Our quick takes
Is it conducive to conversation? Yes.
Is a reservation necessary? Recommended.
How to get there? It is a short walk from Telok Ayer MRT station
HungryGoWhere paid for its meal at this restaurant for this review. Still hungry? Check out our reviews of Nowafter Cafe and Tambi.  
Sodeng Korean Restaurant is on the GrabFood delivery service and offer free delivery (up to S$3 off) with GrabUnlimited.
Do explore the new GrabFood Dine-in service for awesome deals.  
You can book a ride to Sodeng Korean Charcoal Grill Restaurant in Telok Ayer.
175 Telok Ayer Street
Nearest MRT station: Telok Ayer
Opens: Monday to Saturday (11.30am to 3pm, 5pm to 10pm)
175 Telok Ayer Street
Nearest MRT station: Telok Ayer
Opens: Monday to Saturday (11.30am to 3pm, 5pm to 10pm)
---