Review: Middle Eastern izakaya Habibi-san offers plenty of surprises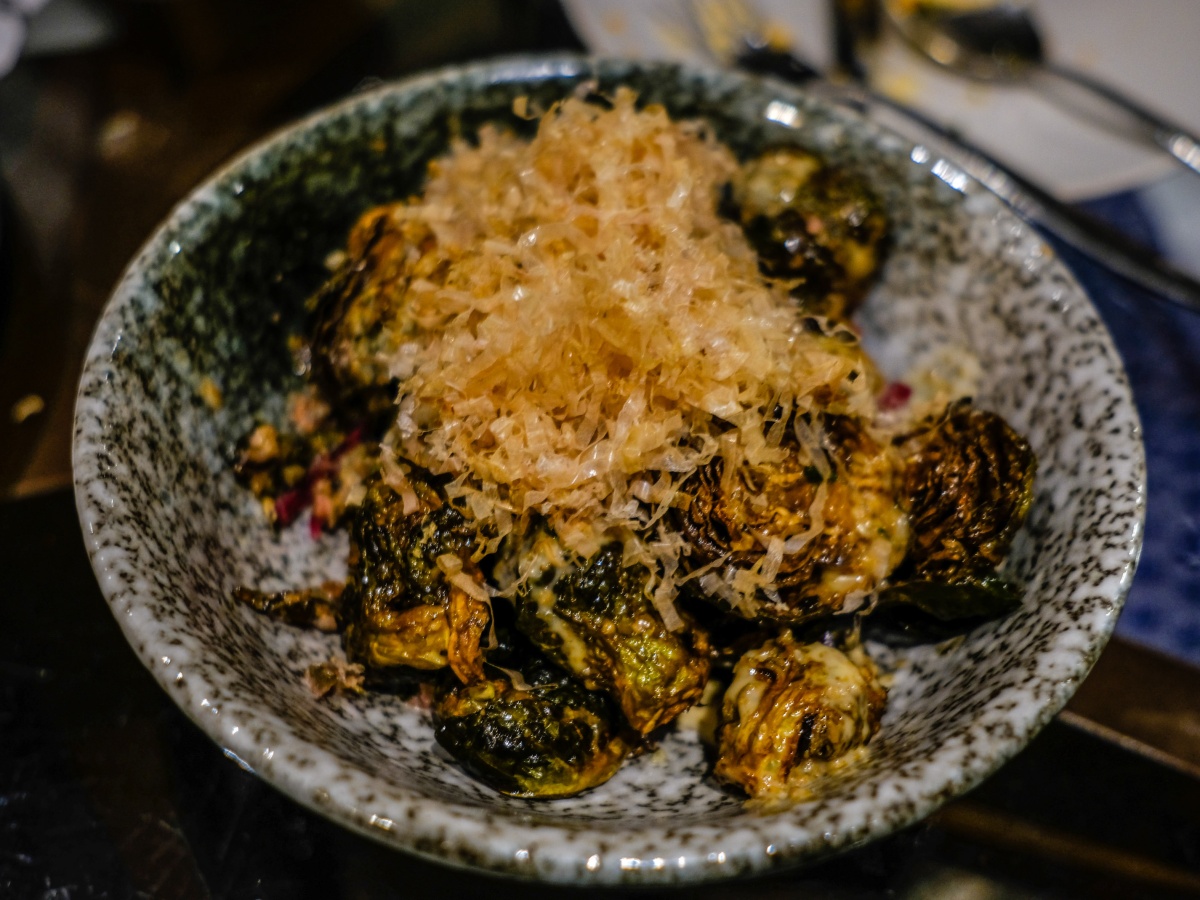 At Middle Eastern-style izakaya Habibi-san, there's no shortage of mindblowing eats and imaginative flavour pairings
Among the standouts are the mentaiko taramasalata and roasted Brussels sprouts 
Its Fremantle octopus and desserts, though, were middling
On first mention, Habibi-san's name rolls off your tongue like an intriguing premise.
We tried picturing what an alternative Middle Eastern-style izakaya gastrobar would serve, but nothing prepared us for the experience, which turned out to be an unexpected foray into the exotic and unknown.
Hunting down the restaurant felt like a little adventure in itself.
Tucked away among the many shophouses of Haji Lane, the entrance is nondescript.
A steep staircase climb up, you'll find yourself among guests lingering around a communal bar area run by bespoke cocktail trailblazer Bar Stories, known for its imaginative custom-made concoctions.
Past a tiny archway, you're thrust into the world of Habibi-san.
At the modern izakaya, the complexity of each dish — lively and bold in its own right — is enough to make the most hardened of food critics sit up and take notice.
You can tell the chefs here mean business.
Yet there's a sense of unbridled joy as they play around with the flavours, subverting expectations and dishing out one delicious surprise after another.
The backstory
In Arabic, Habibi means "darling", while "san" is a Japanese honorific.
Founded in December 2020, Habibi-san is the culinary brainchild of chefs Jonathan Lee and Nadine Tay, who have both clocked time at Middle Eastern-inspired restaurant Artichoke in Bugis.
Tay, named Rising Female Chef of the Year at this year's World Gourmet Awards, has more than a decade of experience at Wild Honey and the now-closed restaurants Cocotte and Wolf.
At Habibi-san, Tay is the head chef in charge of manning the grill, responsible for infusing the dishes with a smoky goodness. But beyond that, there's not much online information surrounding the origins of the restaurant, which adds to the sense of intrigue.
Our verdict
What this place is good for
Cosy and intimate, the dimly lit shophouse was packed to the gills on the Thursday evening we visited.
A Middle Eastern concept wouldn't be complete without the classic pita bread and dip combination.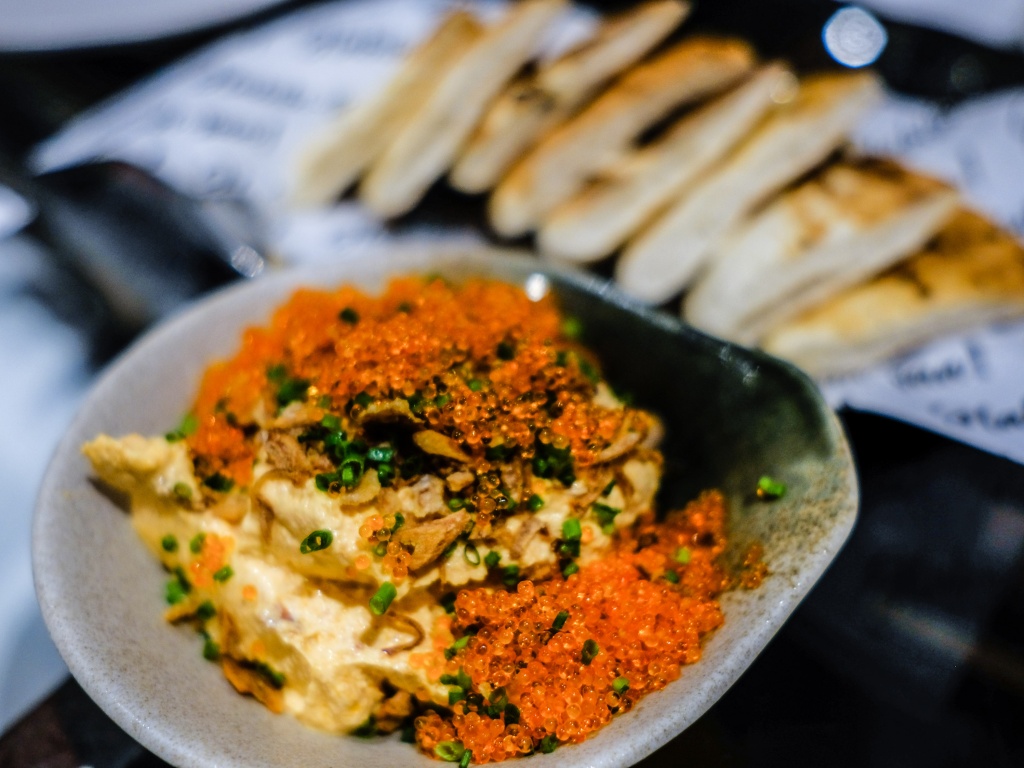 The mentaiko taramasalata (S$13) was marvellously executed — with mentaiko XO sauce being folded into housemade labneh (Greek yogurt) with a hint of a sharp tang, sweet tobiko, crispy shallots, and chives. Slather it all over pillowy-soft pita bread (S$3 per piece) or savour the creamy umami goodness on its own.
Dramatic as it sounds, the biggest regret of the night would have materialised if we skipped out ordering the roasted Brussels sprouts (S$18).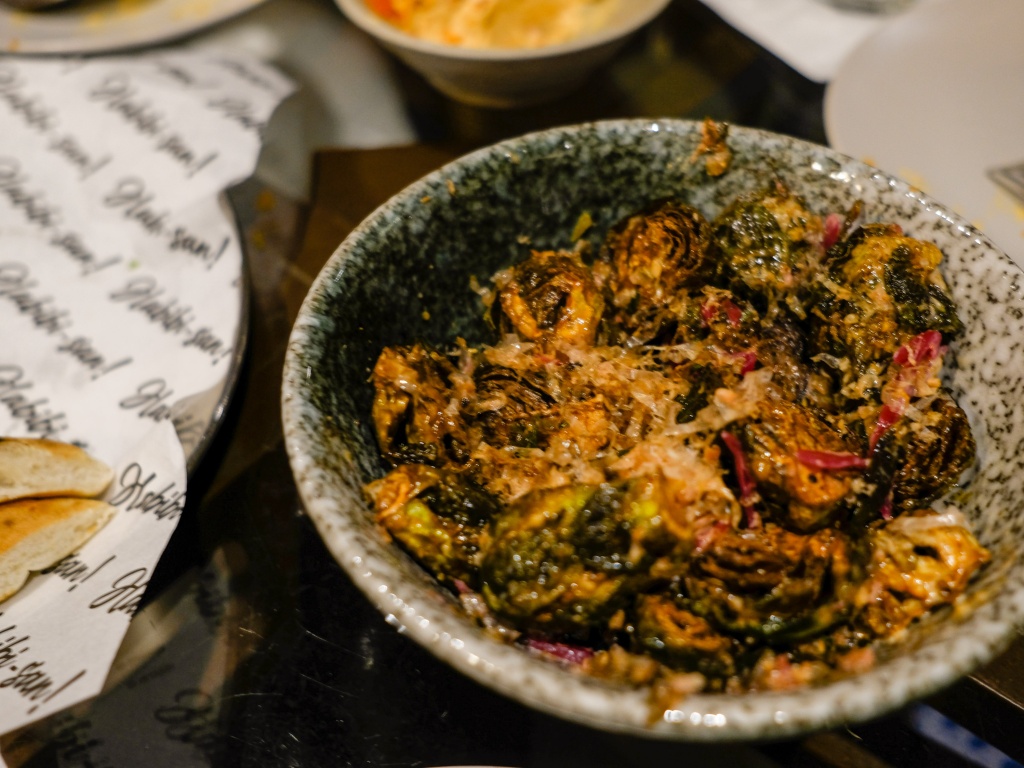 Initially sceptical, it took a fair bit of persuading and prodding by my Brussels-sprout-loving companions to give it a go. Best described as life-changing, the unassuming greens were elevated by the chef's sheer wizardry.
An explosion of smoky sweetness, the vegetables were caramelised to perfection, tossed with Kinno Gomadare (a Japanese sesame dressing), pickled red cabbage and jalapenos. And in a stroke of genius, they were laid atop a bed of crunchy and flavourful bonito flakes. The interplay of flavours and textures was simply addictive.
There's much to rave about the other dishes at Habibi-san as well.
Take the DeRaza Iberico pork collar shogayaki (S$39), cooked over coals to a perfect blush of pink, and elevated by burnt broccoli tabouleh dressed with wafu vinaigrette.
The meat was charred, tender and juicy, with just the right amount of fat.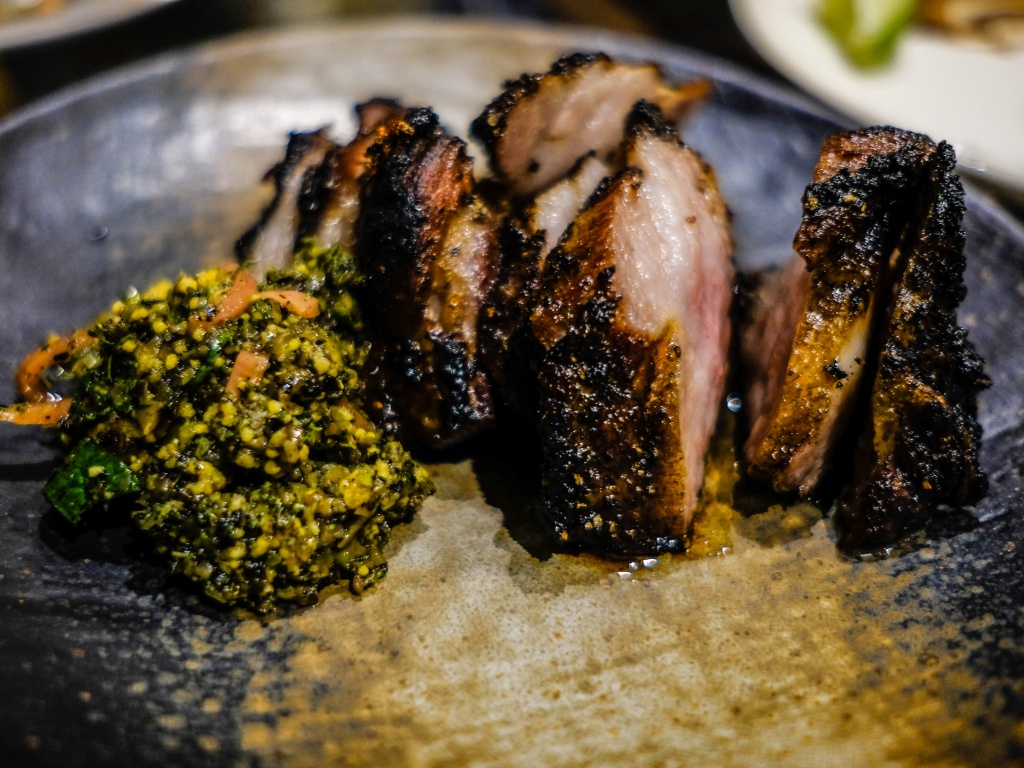 The dishes went beautifully with cocktails from its neighbour Bar Stories.
I requested something refreshing, citrusy and strong, and the waiter presented me with flourish a bespoke cocktail of my desires (S$24) that melded Scotch whisky, absinthe, lime and lemon.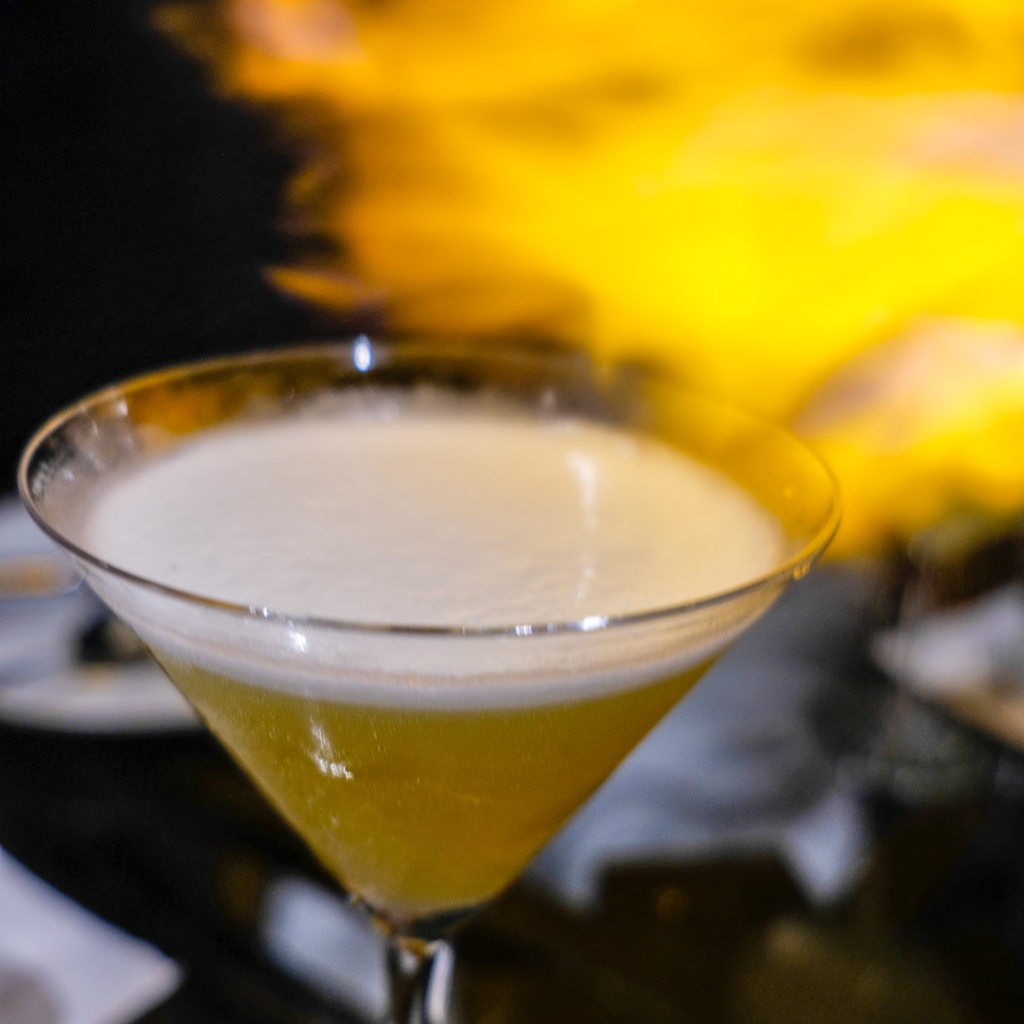 My dining companions had a cocktail (S$23) with dark rum and gin as well as gula melaka, ginger, spiced liquor and cinnamon.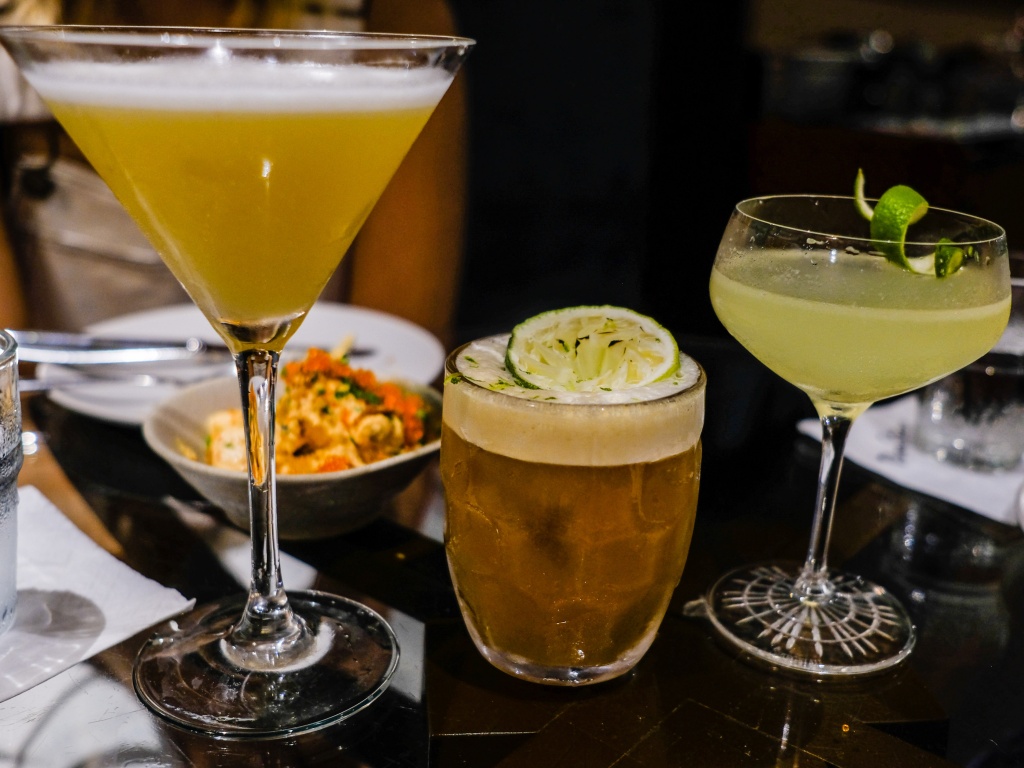 What it could improve on
After all the drama and flair from the previous dishes, the Fremantle octopus (S$25) was sadly underwhelming.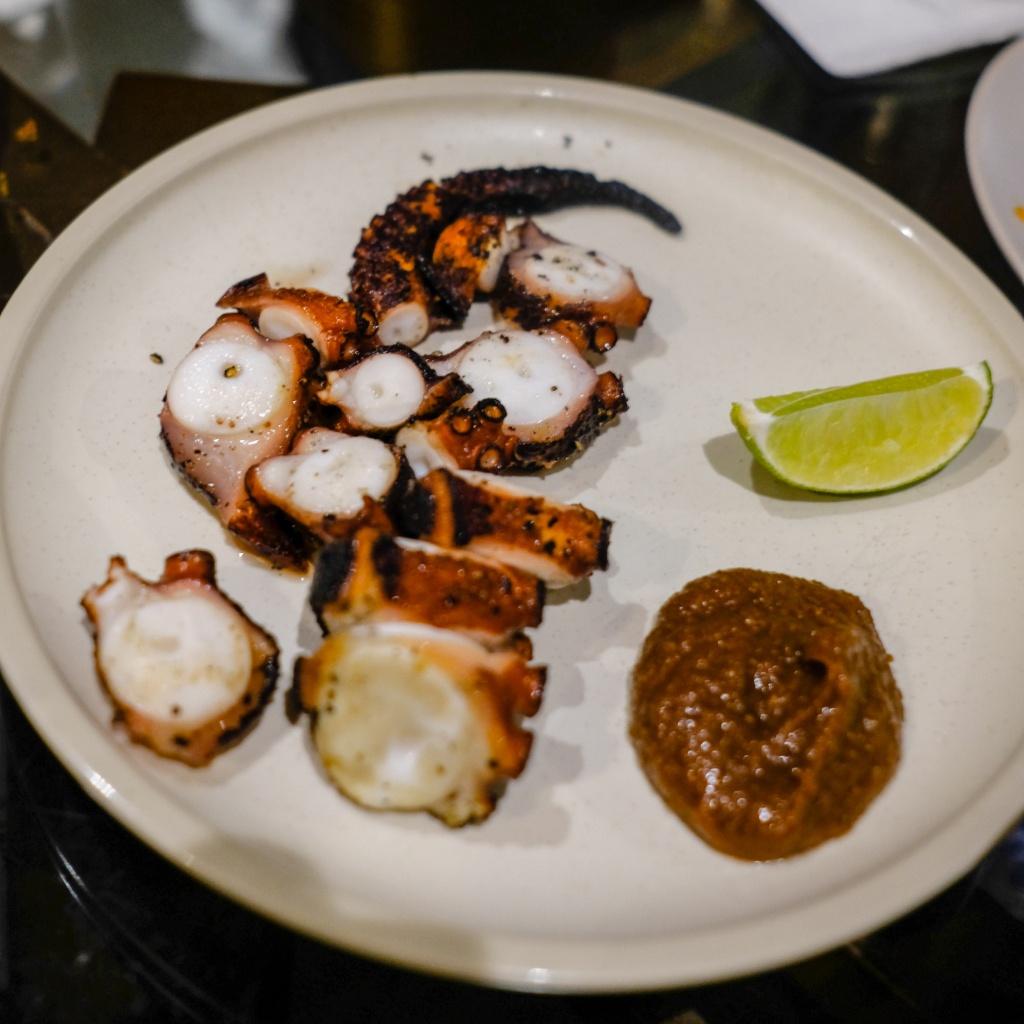 With a single, lonely, chopped-up tendril presented with sauce, the plating was disappointing.
Thankfully, for the taste profile itself, the octopus was decently fresh and chewy, with an accompanying macadamia tahini sauce bursting with nuttiness.
As for desserts, we reckon you can give them a miss.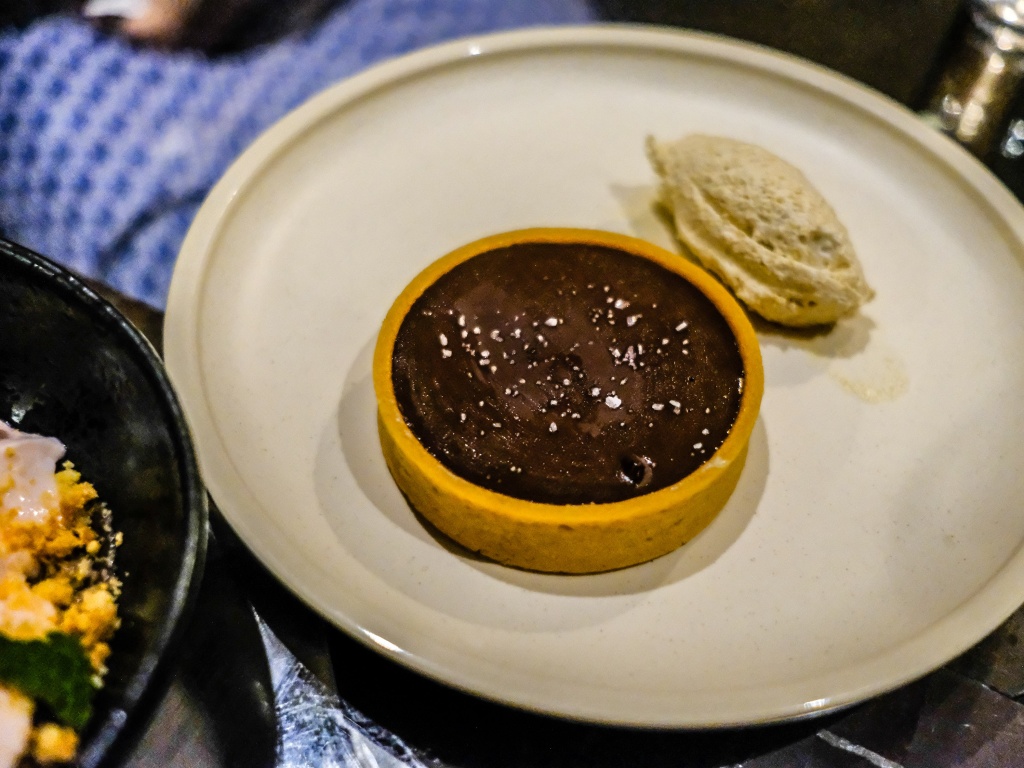 Habibi-san's Nama-style chocolate tart (S$13) was ordinary — almost pedestrian — and tasted like an average chocolate tart you'd find elsewhere. It comes with 70 per cent Guanaja chocolate, dulce de leche (cooked condensed milk), peanuts, and kinako cream with sea salt.
Likewise, the sakura malabi (S$13) — a cherry blossom milk pudding with rhubarb jam and compressed strawberries — was incredibly light but forgettable.
And just like that, two hours whizzed by.
With grudging reluctance, my companions and I gave up our seats for the next round of diners arriving at 9pm. We gazed longingly at one group of diners still merrily tucking into omakase (S$68 per guest, or S$100 per guest for a more premium option) at a long table by the windows. Perhaps next time.
We're all fired up for our next visit.
Quick takes
Is it conducive to conversation? It's hard to talk above the din.
Is a reservation necessary? It can get incredibly packed, so make a reservation here.
How to get there? It's a short walk from Bugis MRT station.
HungryGoWhere paid for its meal at this restaurant for this review. 


Book a ride to Habibi-san.
55 Haji Lane
Open: Tuesday to Sunday (5.30pm to 10.30pm)
55 Haji Lane
Open: Tuesday to Sunday (5.30pm to 10.30pm)
---