Hawker Hustlers: Ah Lim Chicken Rice on breathing new life into a classic dish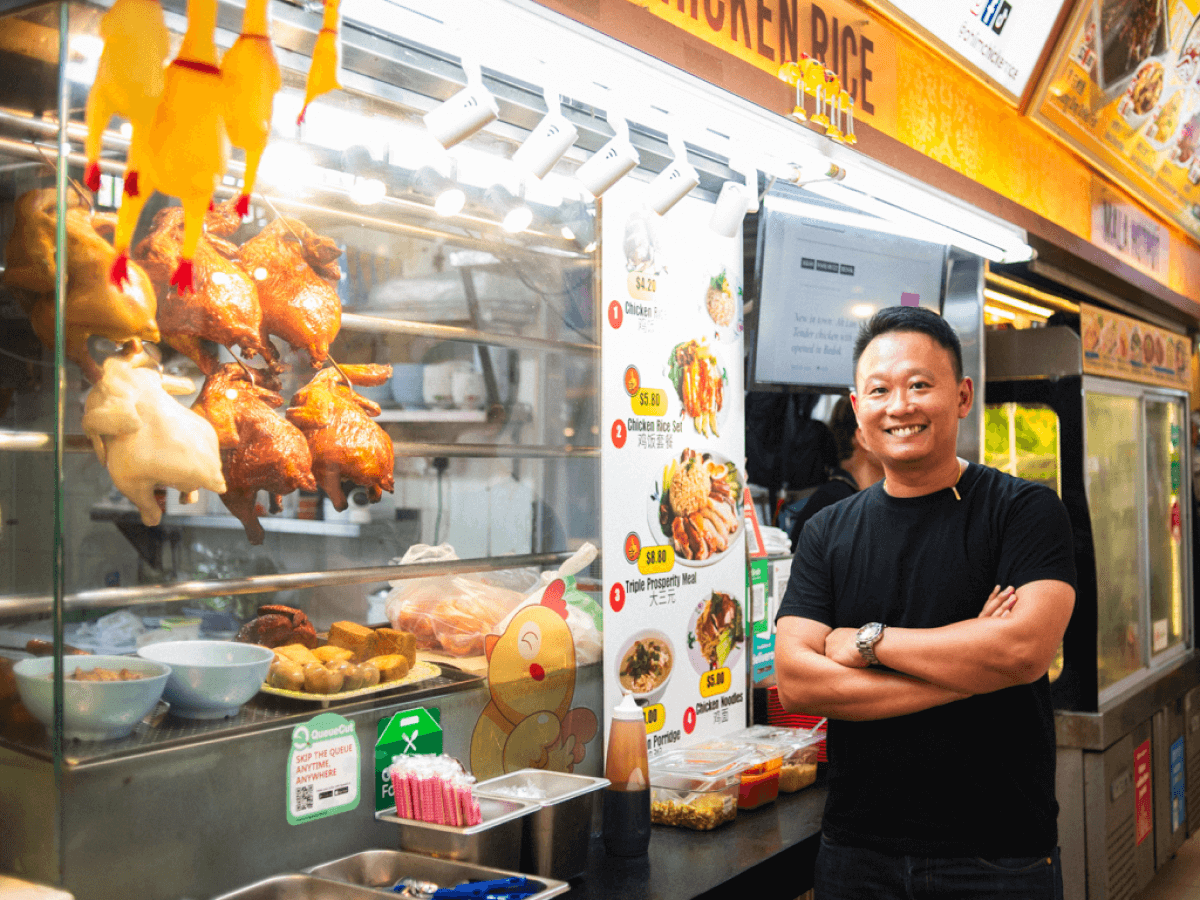 Hawker Hustlers is a HungryGoWhere series spotlighting young and emerging hawkers with compelling stories. Read through all the way for an exclusive GrabFood promo so you can try their food, too.
For the Lims, chicken rice has always been part of the family heritage
In May this year, the brothers founded Ah Lim Chicken Rice in Bedok, creating premium dishes and innovative chicken rice dishes that you can't find anywhere else
Through their story, they hope to inspire more young hawkers to step up and carry on the hawker tradition
Picture this: Your chicken rice is served in the form of cutesy onigiri (along with cheery smiles and sporting Elvis Presley-like hair), or in inventive variations such as squid ink chicken rice or rojak fried chicken rice.

One might never imagine the humble chicken rice dish could be cooked any other way. But a chat with the young hawkers at Ah Lim Chicken Rice might open your mind to the possibilities of this iconic dish.
Founded by three brothers in May, Ah Lim Chicken Rice operates out of your ordinary coffeeshop in Bedok North Street 1, next to the popular So Lemak.
The Lims have a deep and personal connection to the chicken rice dish.
Since childhood, the boys grew up enjoying the chicken rice cooked by their mother. They also have family connections to Wee Nam Kee Chicken Rice, one of Singapore's most famous chicken rice chains. 
The brothers were so passionate about sharing the family recipe that they set out to create their own version of the dish, from the composition of the spice blend in their rice to the addition of monk fruit to their soy sauce chicken.
There weren't any plans to go commercial then — they just wanted to improve their home cooking.
But it was only during the Covid-19 lockdowns that they came up with the idea to start the stall, taking the time to R&D and fine-tune their plans.

In May this year, the stall was born, marking the brothers' first business venture together.

The brothers harness their individual strengths to help elevate the business.

Eldest brother Kelvin Lim, 40, runs an egg wholesaling and takeaway packaging business on the side. With his wealth of contacts in the food distribution business — hawkers, restaurants, caterers and the like — he naturally handles operations and delivery. He strikes us as the strong and silent type.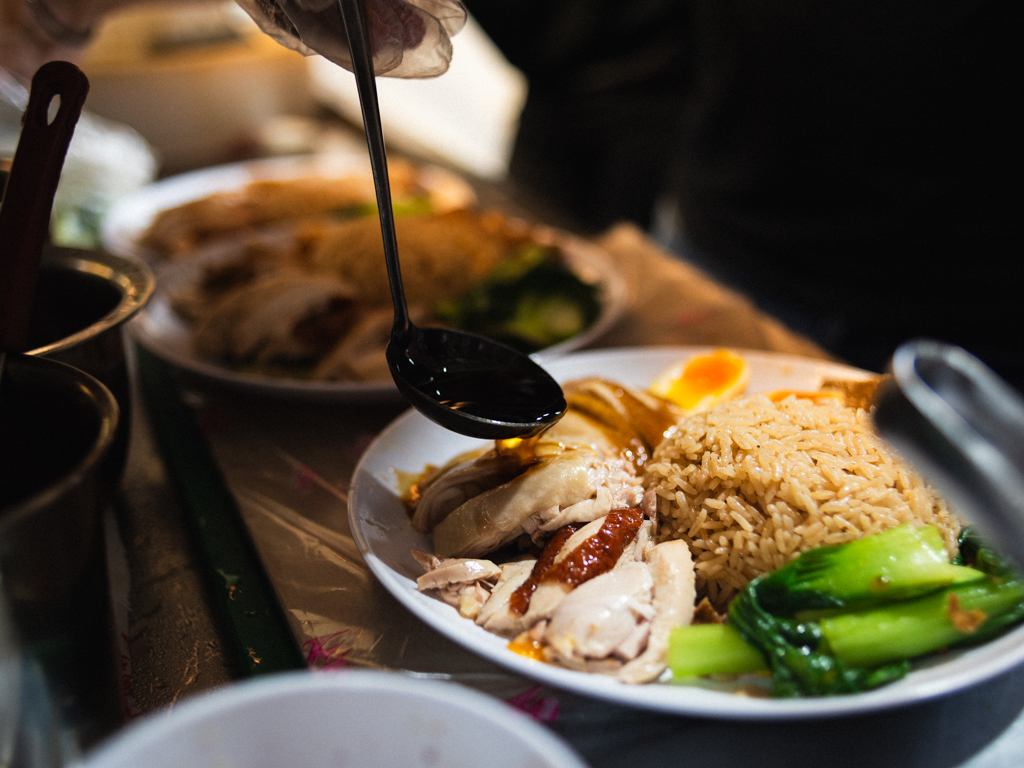 In contrast, the second brother, Melvin Lim, 37, is chirpy and affable. He hails from a business management background at Singapore Management University and is in charge of marketing. A passionate foodie and home cook, he loves to wax lyrical about the craft behind cooking.  
The youngest, Alvin Lim, 32, did stints at the family business, Wee Nam Kee, as well as Michelin-starred restaurant Labyrinth. He is a graduate from the Culinary Institute of America and plays a pivotal role in terms of menu design and quality management.
"Being young and versatile, we like to create fusion food… People these days want to try what's new and trendy," explains Kelvin.
Chicken rice, artisanal-style
Upon our arrival at the stall, we're greeted by a spread of beautifully plated chicken rice dishes, complete with the sauces carefully arranged on a black stone slate — more like what you'd see in a fine dining restaurant rather than a hawker stall in the middle of the heartlands.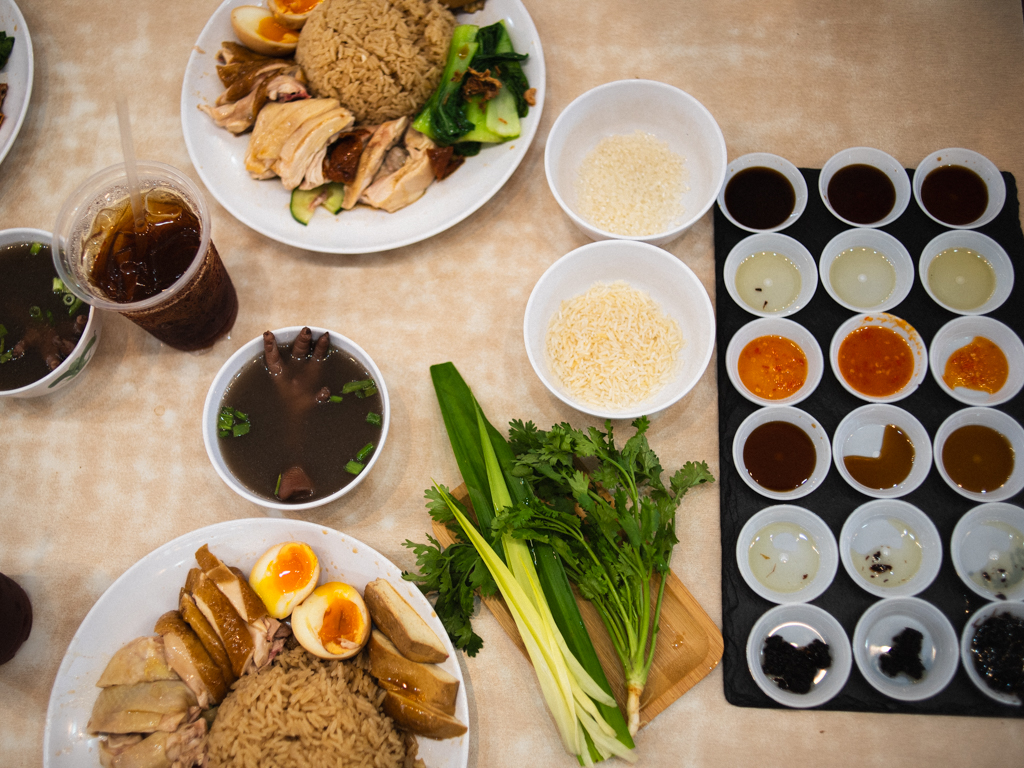 We're treated to the Triple Prosperity meal (S$8.80), comprising generous mounds of rice paired with all three types of chicken (steamed, soy and roasted), a ramen egg, vegetables, braised tau kwa (beancurd) and a bowl of soup.
Lunch reminds us of a wine tasting and appreciation session. As we dig in, the trio walks us through each ingredient.
Melvin lights up as he enthusiastically shares about their craft behind the quintessential national icon.
"The soul of chicken rice lies in our aromatic fragrant rice… Delivering good rice is not by chance. It is a massive effort to understand (that) and source for good ingredients," he explains.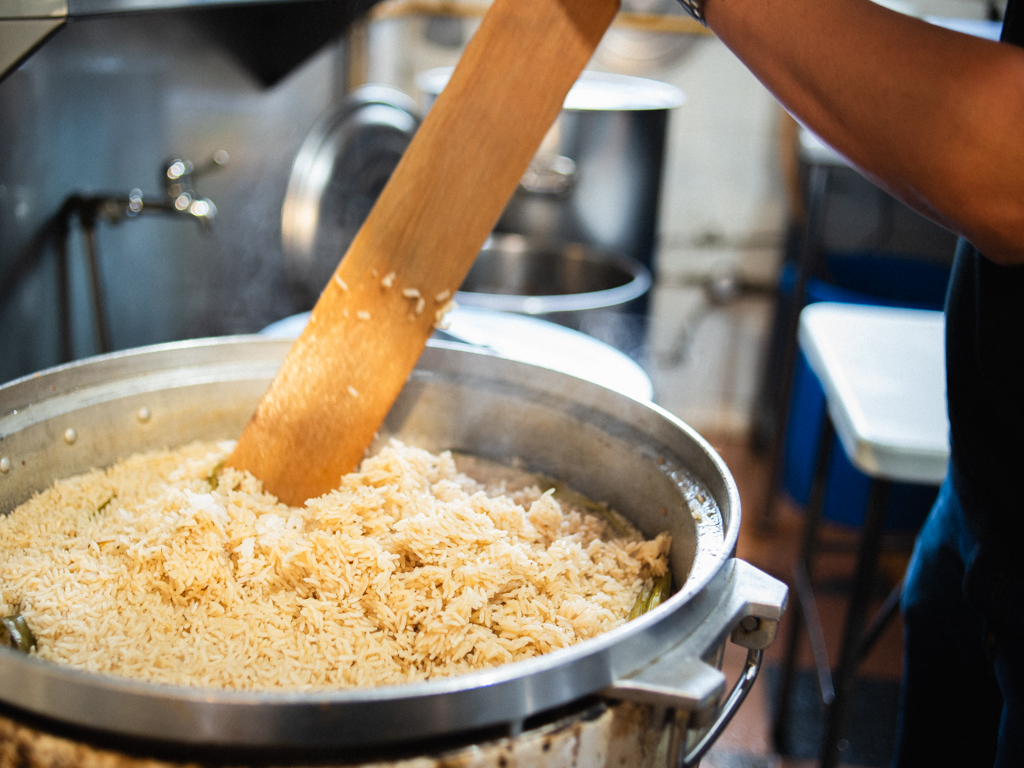 At first glance, the rust-coloured rice already looks different from most versions.

Ah Lim uses Thai hom mali rice that has aged for more than a year. As compared to new grains, aged rice is more dehydrated and can absorb more liquid. When cooked, more flavour will be locked into each grain.

According to the brothers, its low amylose content also results in fluffy and well-seasoned grains. The rice is then delicately cooked over a slow fire in a complex and secret spice-blend recipe, consisting of a blend of more than 10 ingredients, which gives the grains a nicely caramelised rust colour.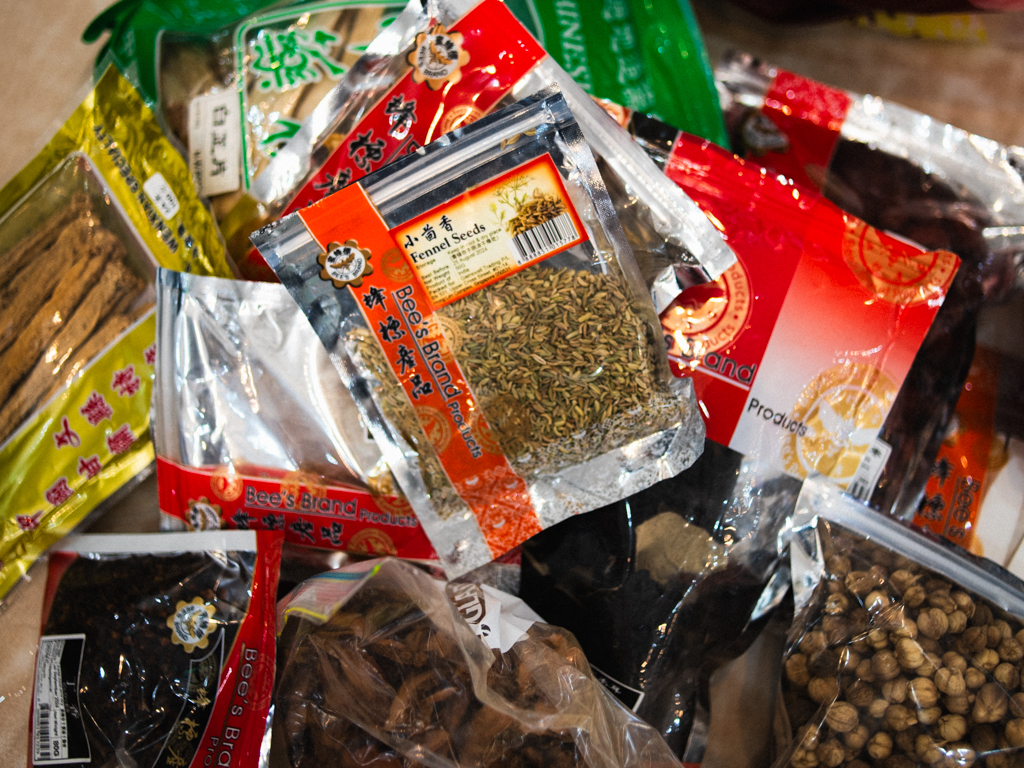 As for the chicken, it's delicately poached in a rich chicken broth to deliver the most intense natural flavours. The stall uses whole chickens that are heavier and weigh 1.8 to 2kg, which make them more expensively priced than the usual chicken sold at the market. 
A homemade fragrant oil is glazed over the chicken to give it an additional texture and shine.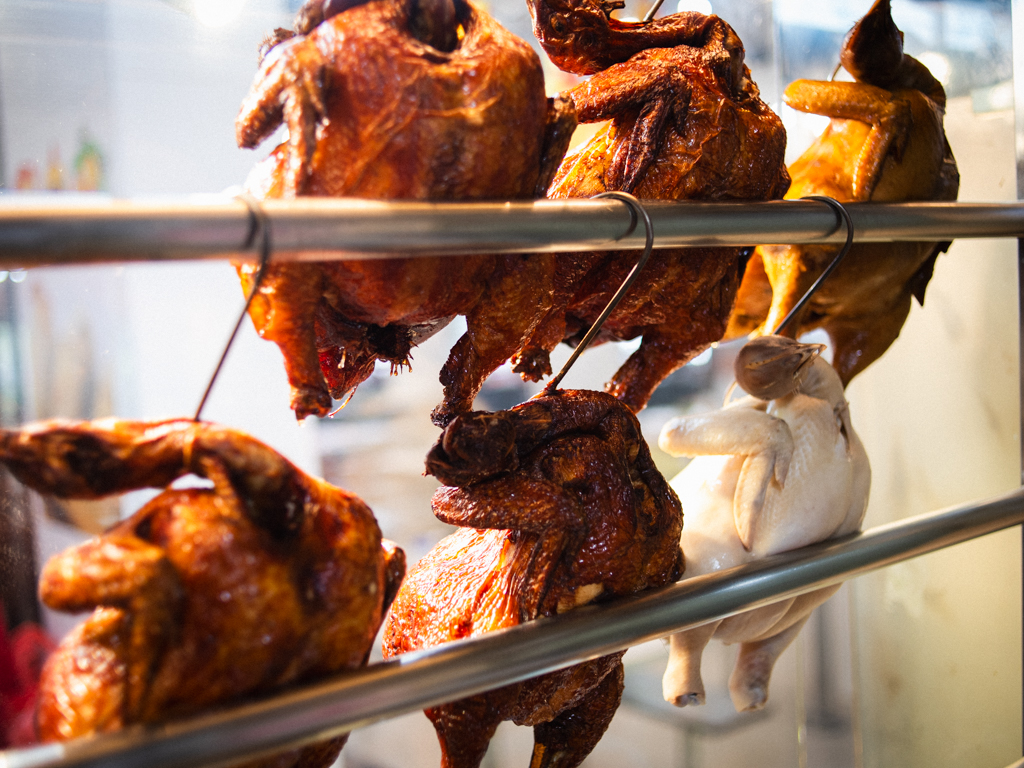 We move on to the accompanying sauces, tasting each one at a time.

There's the classic garlic chilli sauce, as well as a soy sauce that's been infused with pandan and coriander — a "match made in heaven", jokes Melvin.

Adding another burst of colour to the plate is its fragrant ginger sauce. Here, the brothers use fresh old ginger paste. While some prefer young ginger, which is generally sweeter, the Lims prefer using old ginger, which delivers a spicier note with a stronger aroma.

To achieve the deep orange colour of their egg yolk, they source the eggs from chickens that have been raised on carrot feed.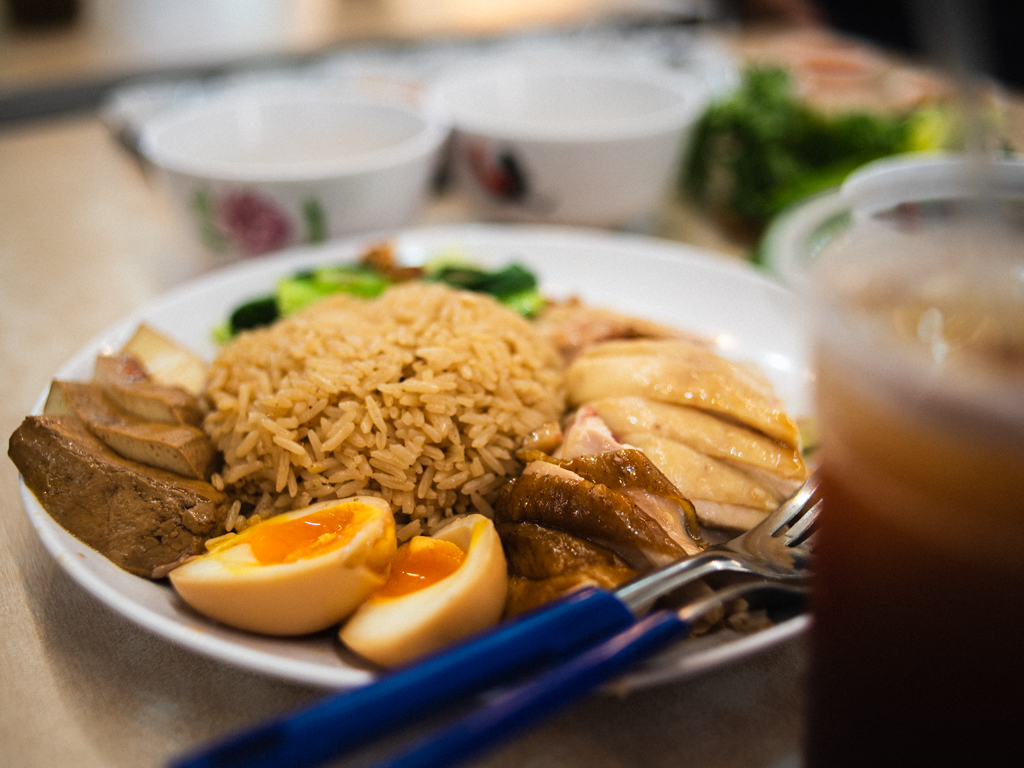 We've never experienced chicken rice in such an artisanal fashion.

But by taking a step back and savouring each component, we find ourselves developing a renewed appreciation for this simple dish. 

We're also reminded of the likes of other innovative hawkers such as Ben Tham and Gwern Khoo of award-winning A Noodle Story. They came up with a Singapore-created dish that showcases the best of Japanese ramen and Hong Kong wonton noodles.

For the team, it's a delicate balancing act between premium fare and affordability.
Given the older demographics of the area, people tend to prefer to stick to tried-and-tested recipes and are "extremely sensitive to price", explains Kelvin.

"We do struggle to present a boutique type of chicken rice experience at a coffee shop," adds Melvin.

"Sometimes we're a bit torn on whether to cut the quality of our ingredients and sell it at cheaper prices. But we want to slowly educate people that despite the hefty price tags, we believe you deserve nothing short of a good chicken rice experience," he says.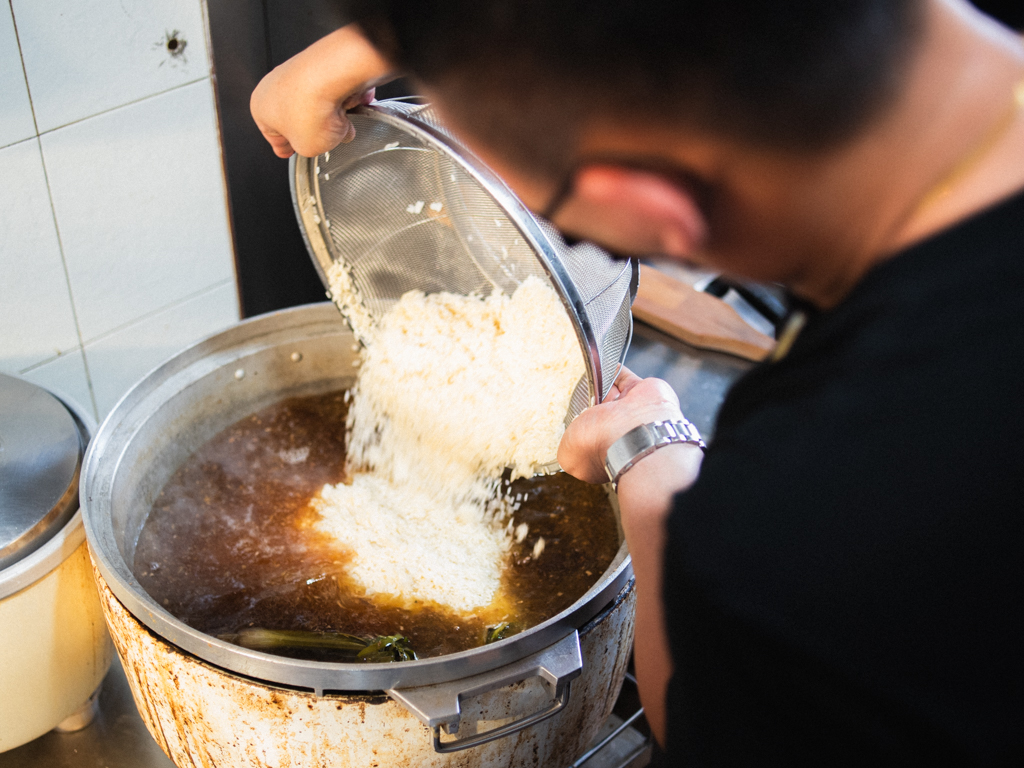 If you're not feeling in the mood for something so hearty, you can opt for the stall's individual chicken rice (S$4.20), with its bestselling steamed chicken or roasted chicken meat, which is not too shabby either.

The team also introduced chicken porridge (S$3) and noodle options such as chicken noodles (S$5).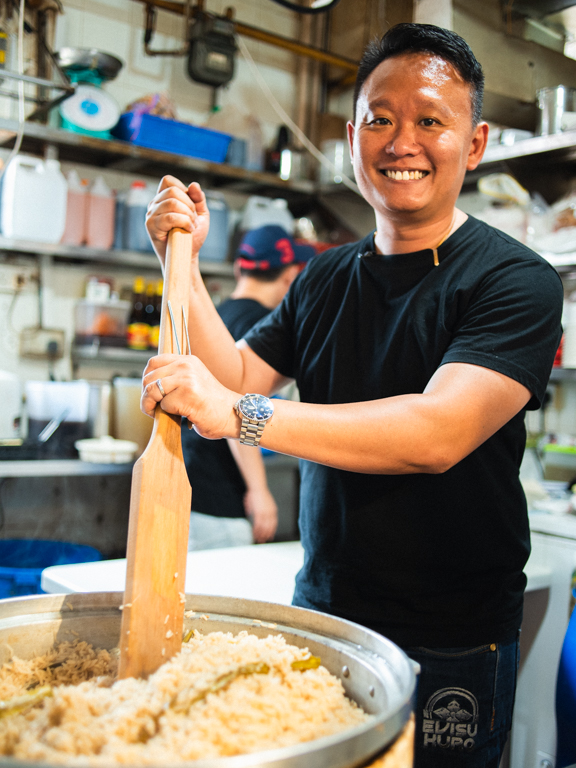 Dreaming big
Chicken rice was invented by Hainanese chefs who immigrated to Singapore in the late 19th century. Over the years, local influences have caused chicken rice to evolve into the dish it is today.

Eating the poached chicken by itself can be a little plain, so the Lims were keen to experiment and take the dish further.

That was how the idea for squid ink chicken rice came about, thanks to a collaboration with their friend, a seafood distributor. By "adding the ocean into the chicken rice", the black juice provides a briny and salty taste that is balanced by the aromatic fragrant rice, they say.

They also tried making a rojak fried chicken rice, with a tangy rojak sauce that balances out the oiliness of the chicken rice and a cream biscuit crumb for their fried chicken cutlet.

But perhaps the most appealing option to the masses would be the chicken onigiri (three pieces for S$10). Each piece is painstakingly made by hand, with Japanese pearl rice grains.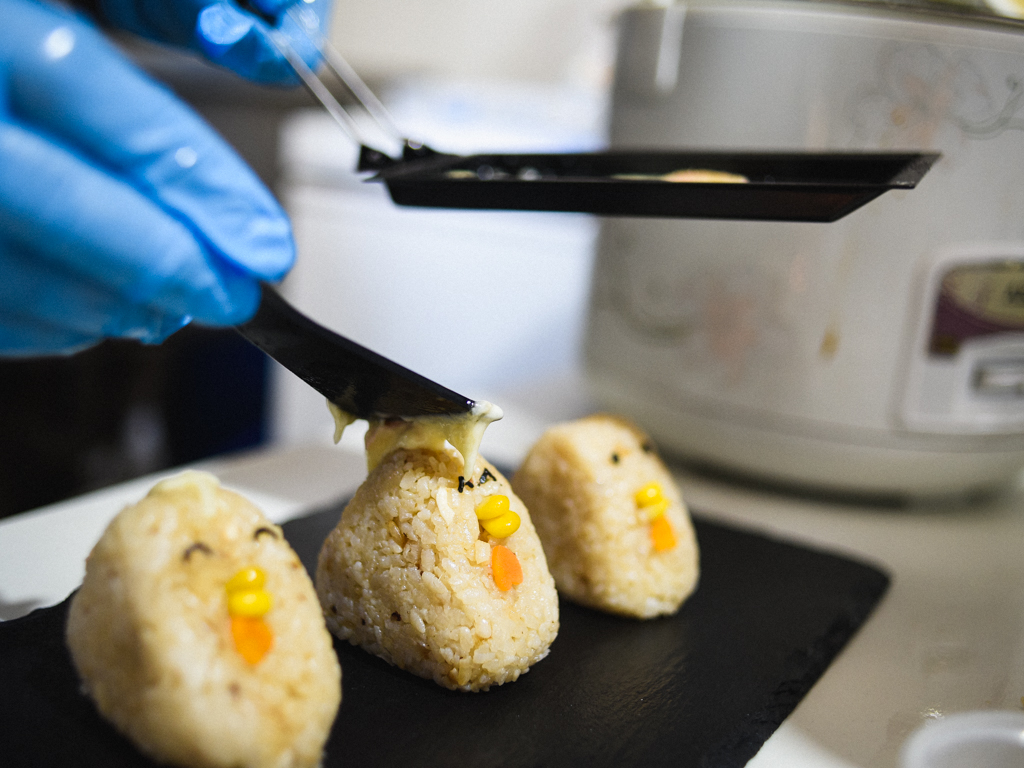 And they have adorable names, too: Pearly (steamed chicken), Blaze (roasted chicken) and Toffee (soy sauce).

At present, the onigiri is only available for pre-orders on Saturdays for dine-in or takeaway. There is also a specially curated party box, which contains 12 onigiris.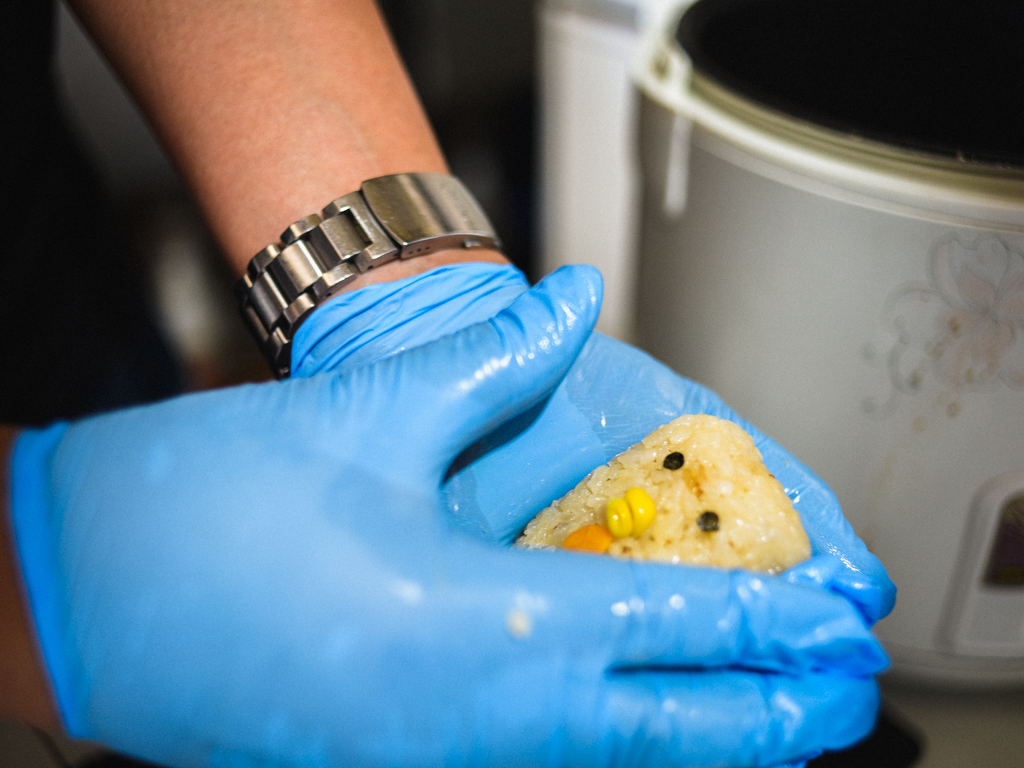 Even before assembling, there is plenty of prep work to be done. The corn and rice has to be cooked, and all the seaweed, cucumber slices and eggs have to be sliced by hand. 
You can't assemble it immediately either — there has to be a sweet spot after the rice has slightly cooled and you can assemble the beak and hair. 
For our team, they have prepared a special onigiri version with torched raclette cheese and mentaiko sauce.
"It's very tedious and laborious. If we do onigiris on a weekday, my staff will kill me!" jokes Melvin.  As they plan to hire more workers, it might be possible to sell the onigiris on weekdays, too.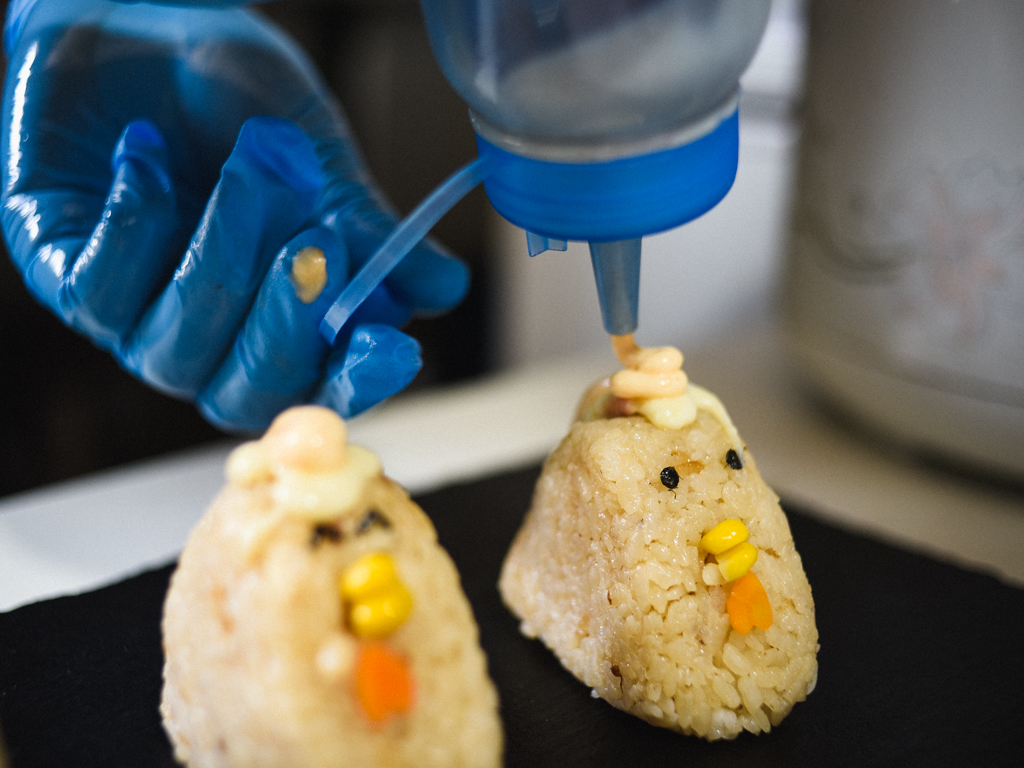 As with most hawker businesses, challenges abound. The brothers contend with everything from high rental prices and stiff competition from other popular chicken rice stalls in the Bedok area, to rising food prices and the long hours of being a hawker.

However, Melvin says they plan to open more stores once they've streamlined their processes. They hope to use this store to glean experience on how to improve their operations, shop design, menu offerings, taste of food, selection of suppliers, and more.

Of late, they are observing a growing appreciation and desire to support younger hawkers. Riding on this, they hope to partner with tour agencies or the tourism board to roll out a chicken rice food tasting experience in the future.
The earnestness and passion of the Lim brothers left so much of an impression that I returned with my family that very weekend to support their stall and ordered a hearty meal.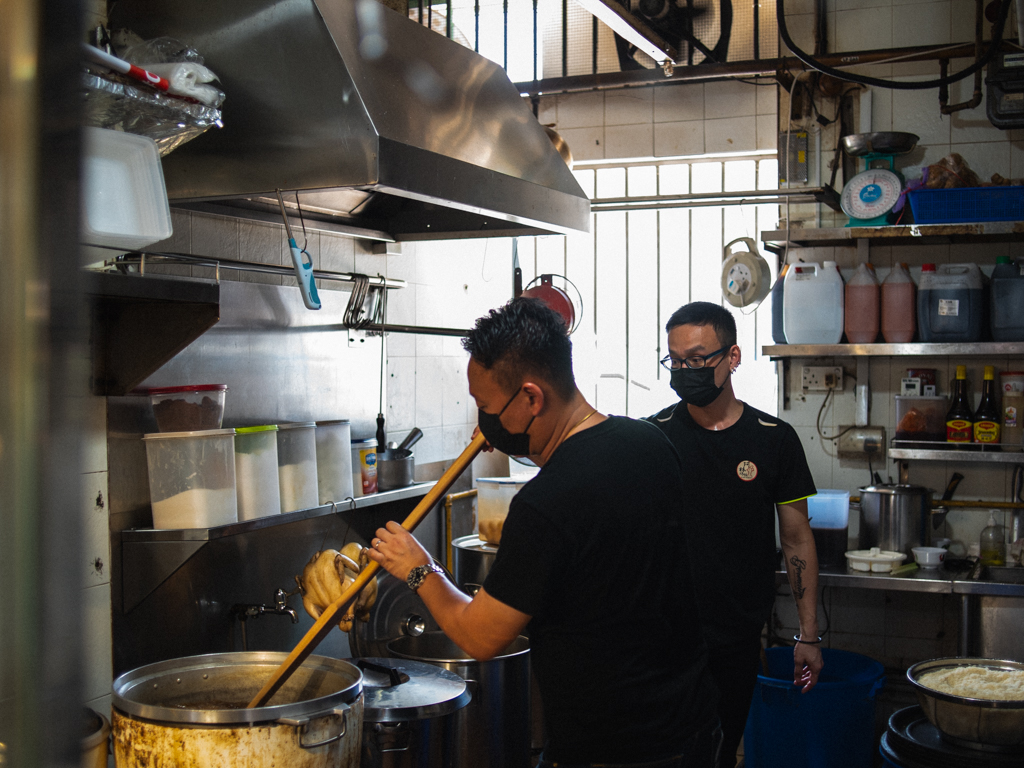 On what keeps them going, it boils down to their sense of pride and ownership over the local culture.
Says Kelvin: "We can always cook for ourselves at home. But we love hawker culture and we believe it needs to be reinvigorated. Through our (story), we hope that there will be more success stories of young hawkers who are willing to come out and take a risk."
Exclusive GrabFood promo
Good news for our readers who scrolled all the way to the end! Here's your exclusive GrabFood delivery promo for Ah Lim Chicken Rice, valid from October 8 to November 8, 2023:  
How it works: 
Use the promo code HGWAHLIMCHICKENRICE for S$3

off your basket

(minimum spending of S$15)

when you order from

Ah Lim Chicken Rice – Bedok North

Stackable with free Ah Lim Chicken Rice delivery (up to S$3 off) with a GrabUnlimited subscription

While redemptions last, capped at one redemption per person.
Block 217 Bedok North Street 1 #01-77
Nearest MRT station: Bedok
Open:  Tuesday to Sunday (10.45am to 8.15pm)
Block 217 Bedok North Street 1 #01-77
Nearest MRT station: Bedok
Open:  Tuesday to Sunday (10.45am to 8.15pm)
---