So Lemak: 25-year-old chef sells nasi lemak with har cheong wings at Bedok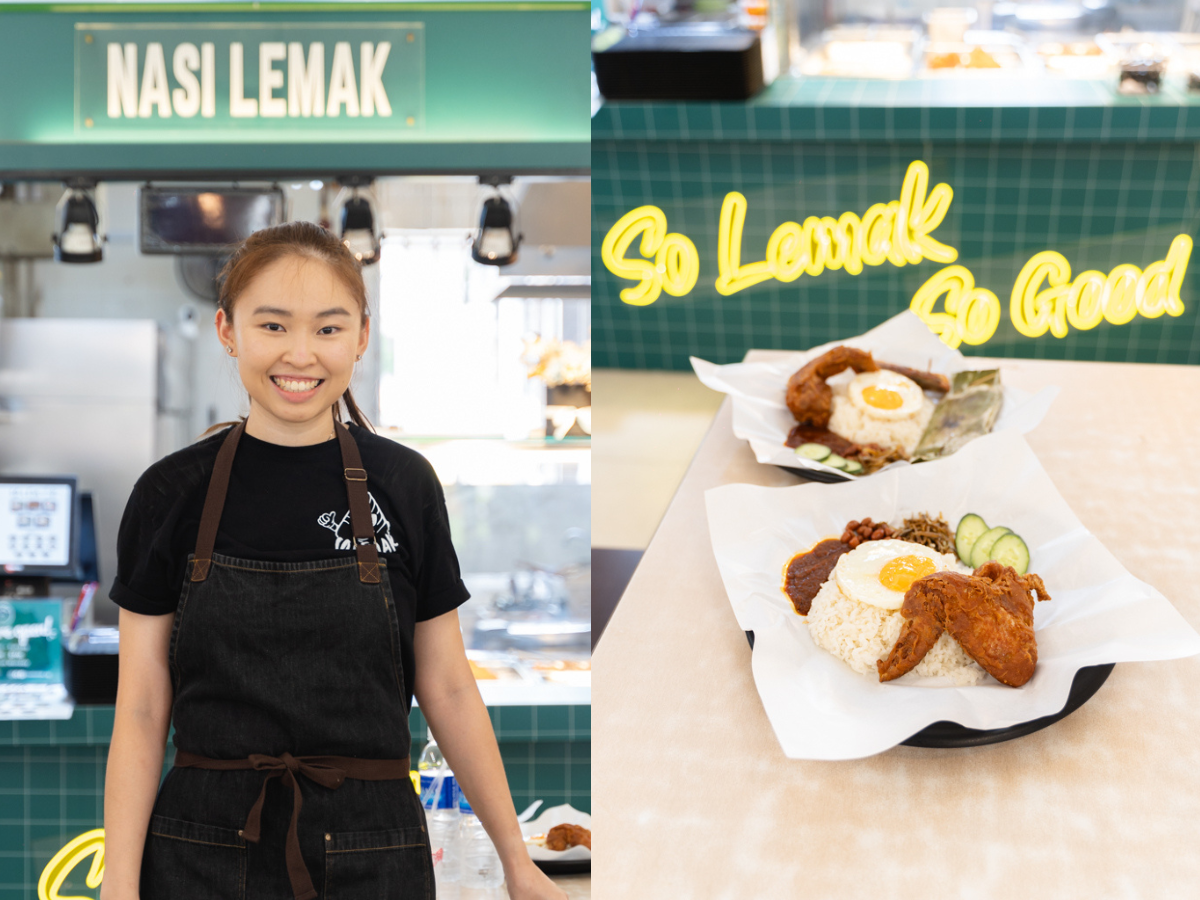 25-year-old Shanice Lim started So Lemak after working in various local establishments — including Michelin-starred Restaurant Zen — and running her own home-based business.
The hawker stall sells nasi lemak with a twist — coconut rice paired with prawn paste wings (har cheong gai).
"Females shouldn't be in the kitchen," a senior male chef told Shanice Lim, owner of So Lemak, when she worked as a part-time kitchen helper in a hotel. She was 17 years old then.
It's a good thing Lim, who is now 25, didn't take those words to heart.
The plucky young chef subsequently went on to culinary school, worked in reputable establishments, ran a home-based business, and has now opened her own physical hawker stall. 
So Lemak, located at Food Loft at Bedok North Street 1, is a nasi lemak hawker stall that pairs coconut rice with har cheong gai (prawn-paste chicken wings). 
Most nasi lemak stalls, both Chinese and Malay, sell the dish with deep-fried chicken wings. Har cheong variations made with prawn-paste marinade — which are more aligned with Chinese cuisine — are few and far between, for now. 
Lim didn't always set out to be a hawker from the get-go but arrived at it after a couple of twists and turns. 
How So Lemak began
When the circuit breaker hit in 2020, Lim had just graduated from The Culinary Institute of America and planned to intern at a Michelin-starred restaurant in New York. However, the pandemic derailed those plans.
Instead of letting it get her down, Lim took it upon herself to start home-based business Two Hands Two Woks, which combined her love for cooking for others, culinary skills and her late grandmother's recipes. 
The items she sold included fish-head curry, har cheong gai and ngoh hiang (five-spiced pork rolls).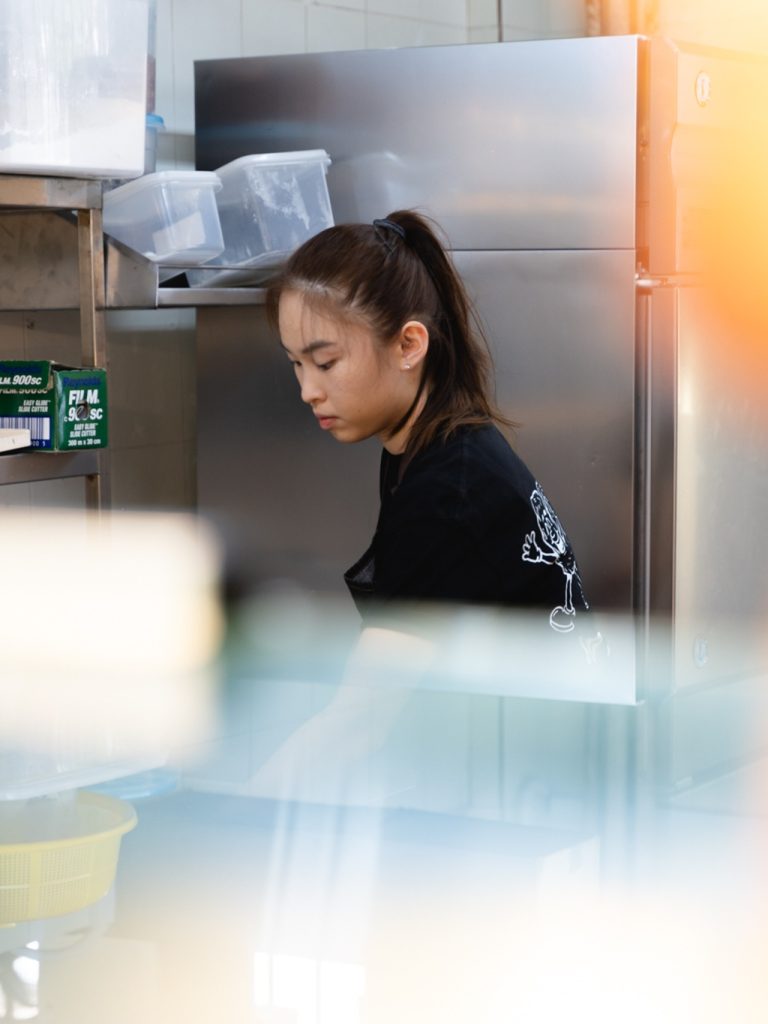 But something didn't sit right with Lim.
"I enjoyed my experience working at a Michelin-starred restaurant and that motivated me to try further different experiences through shorter-term gigs, " Lim said.
She added: "As I went through these experiences, together with what I learnt from my late grandmother, I realised that I wanted to continue pursuing my passion and interest in the local food scene, particularly in hawker food."
Knowing she wanted to be closer to her customers and cooking dishes from the heart, Lim started thinking about her next steps after leaving Restaurant Zen in January this year.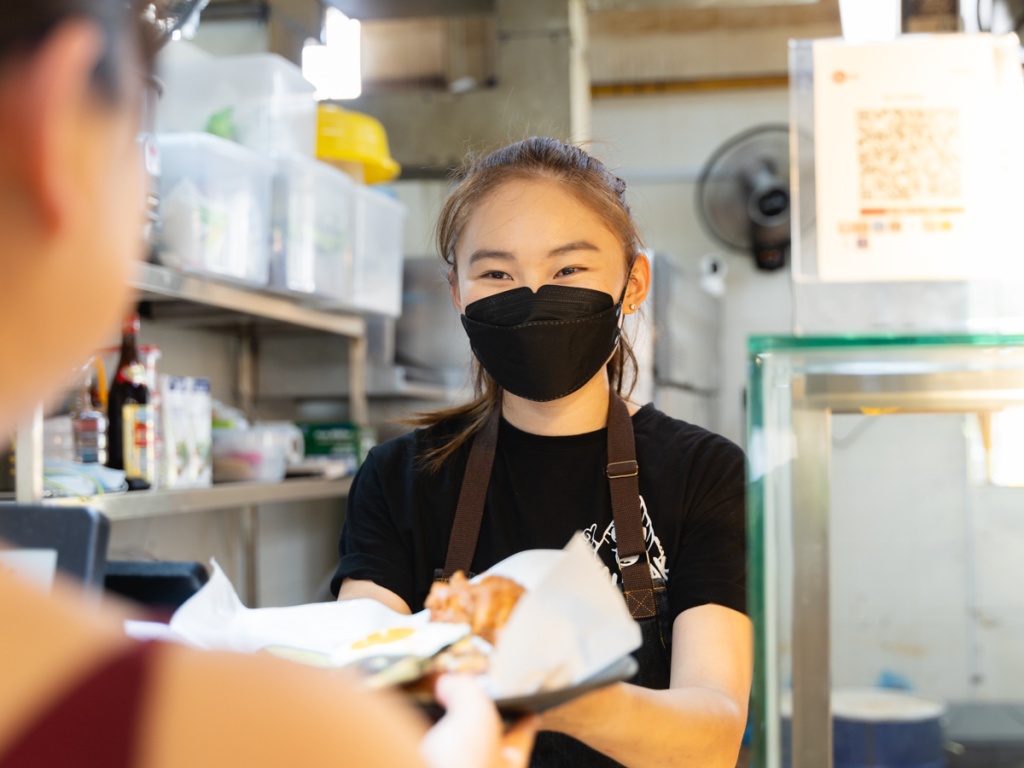 Thanks to her experience with Two Hands Two Woks, Lim knew prawn-paste wings were a popular dish. But she also knew that selling the dish on its own would put her into a very competitive environment, especially with other more established names out there. 
After much thought and extensive R&D on her end, as well as help and advice from her seniors and fellow chefs, she settled on pairing prawn-paste wings with nasi lemak. 
Within half a year, So Lemak was born. It began operations on May 28. 
"Nasi lemak is a very versatile dish and very Singaporean. I can introduce and play with different dishes and components," says Lim.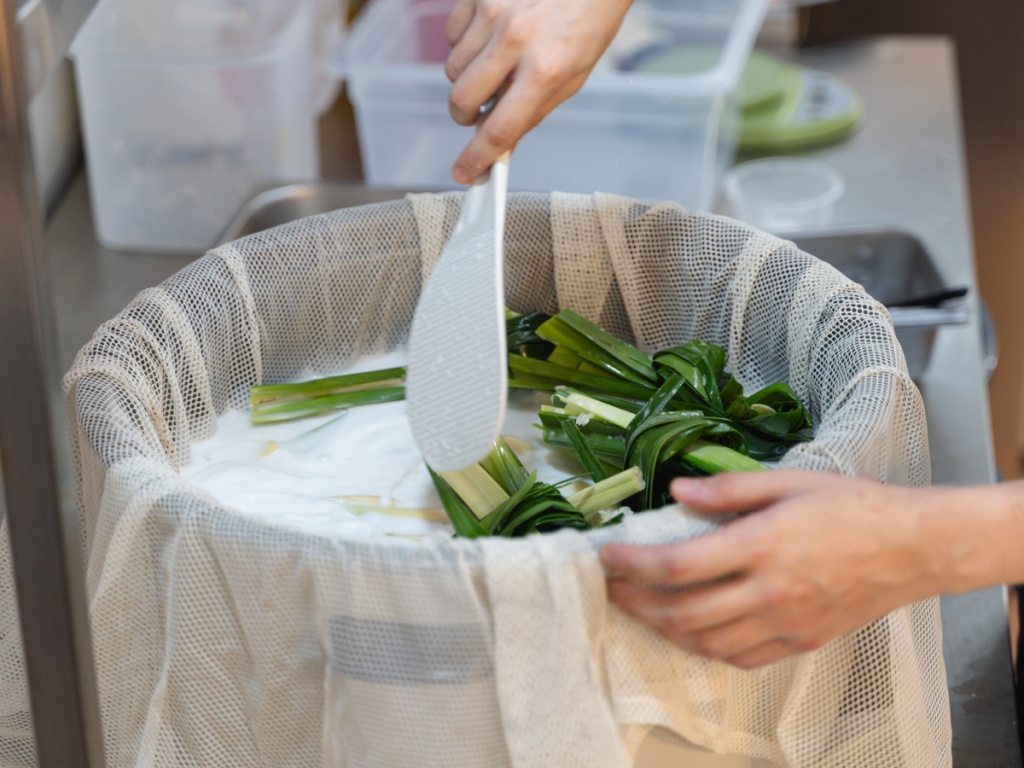 So Lemak's menu 
On first look, So Lemak stands out against its neighbours at the same coffee shop, with its minimalist forest-green aesthetic paired with a quirky logo and neon signage.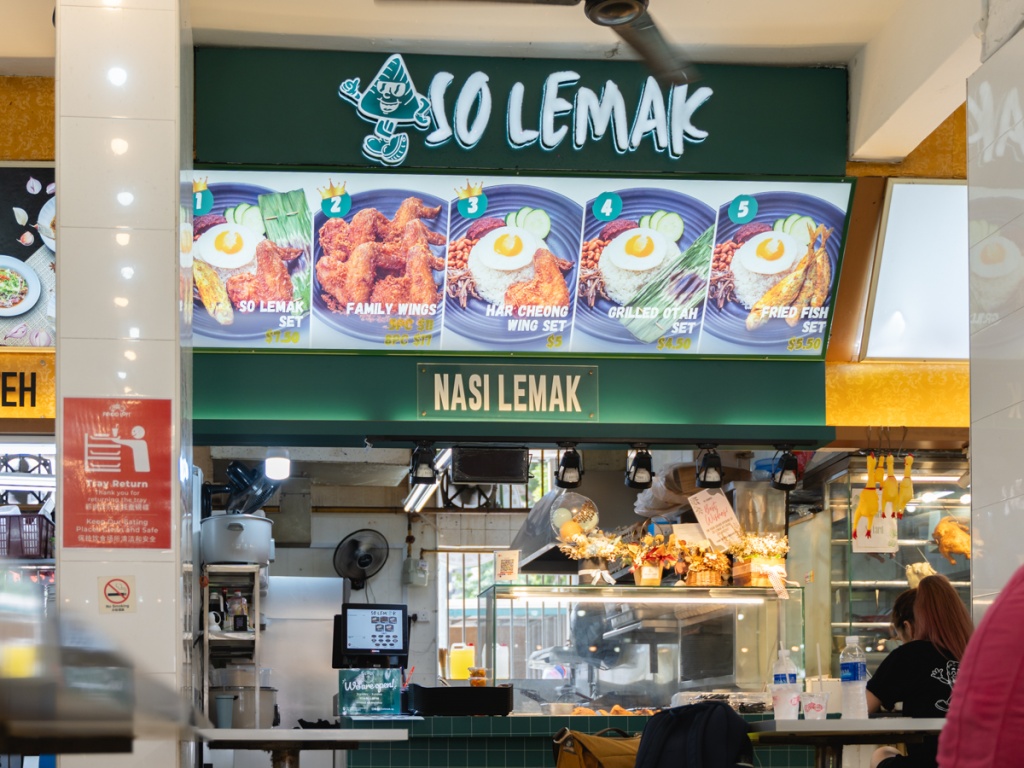 Go closer and you'll notice that Lim keeps So Lemak's menu small and simple. It presents a stark contrast for those of us used to the usual plethora of ingredients at a typical nasi lemak stall.
It's clear the focus of So Lemak is on its prawn-paste wings, for now at least. Lim says they will look into having more seafood and sambal-based dishes eventually. 
You can buy the har cheong wings on their own (S$2.20 for one, 5 pieces for S$11) or opt to have them as part of a set.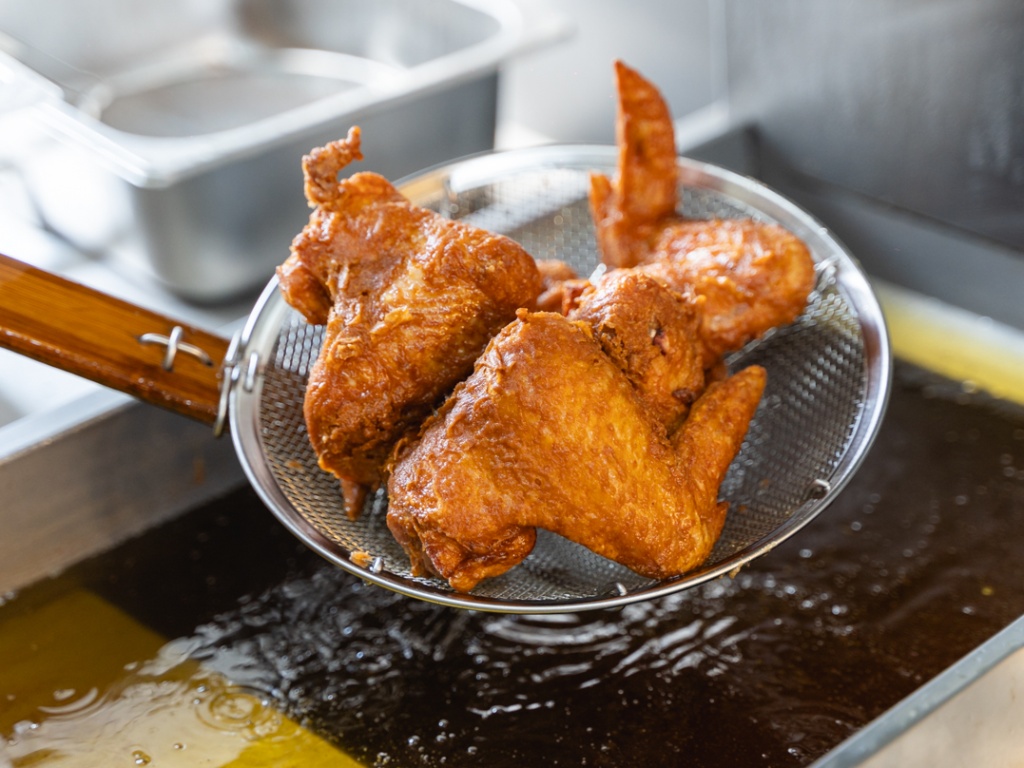 If you're making your way down to So Lemak for the first time, we'd recommend trying the So Lemak set (S$7.50) with its signature prawn paste wings, grilled otah, fried kuning fish, as well as the usual sides of egg, sambal, peanuts, and anchovies.
So Lemak's coconut rice, which we understand took Lim a while to perfect, was fragrant yet not overly lemak (rich). 
It might be tempting to douse your rice and chicken in sambal as you dig in, but try the chicken on its own first to fully savour the umami from the prawn-paste marinade. The sizable wings have the right amount of crunch and juiciness without being too oily. 
Spice fans should note that its homemade sambal veers on the savoury side and isn't too spicy. 
But fret not because So Lemak's grilled otah (S$2 per piece), which it gets from a local supplier, packs a fiery kick and so does its homemade achar (pickled vegetables, S$1.50).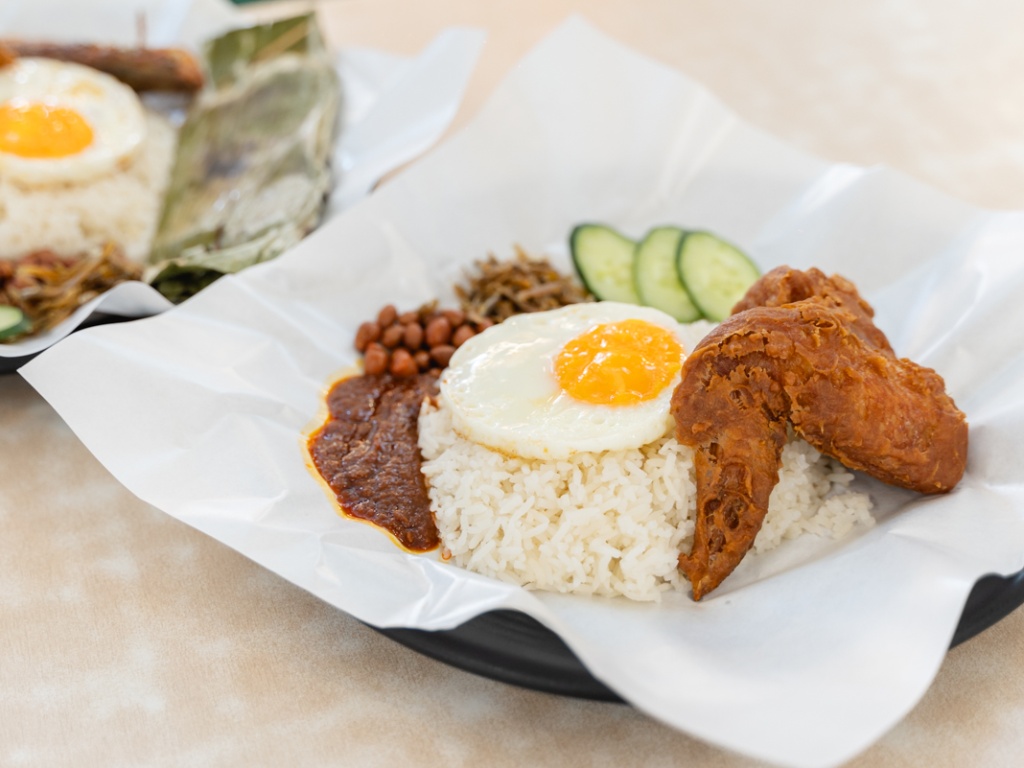 If an all-inclusive set is too filling, there are also smaller sets starting from S$4.80 for a grilled otah set. If you must have its wings, its har cheong wing set goes for S$5. 
Reception to the new stall has been healthy — Lim says there are days that So Lemak sells out its signature prawn-paste wings before its usual 8pm closing time. 
So if that's on the agenda for you, do swing by for a late breakfast or lunch to avoid the disappointment of not having these crispy umami wings.
For more east side eats, try Cat in the Hat's bakes or the pig organ soup at Koh Brother's new Tampines outlet. 
So Lemak is on the GrabFood delivery service and offers free delivery (up to S$3 off) with GrabUnlimited. Alternatively, book a ride down to So Lemak via Grab. 
Food Loft, 01-77, 217 Bedok North Street 1
Open: Tuesdays to Sunday (10am to 8pm)
Food Loft, 01-77, 217 Bedok North Street 1
Open: Tuesdays to Sunday (10am to 8pm)
---