Cat in the Hat: Nurse-turned-hawker baker churns out gorgeous patisserie bakes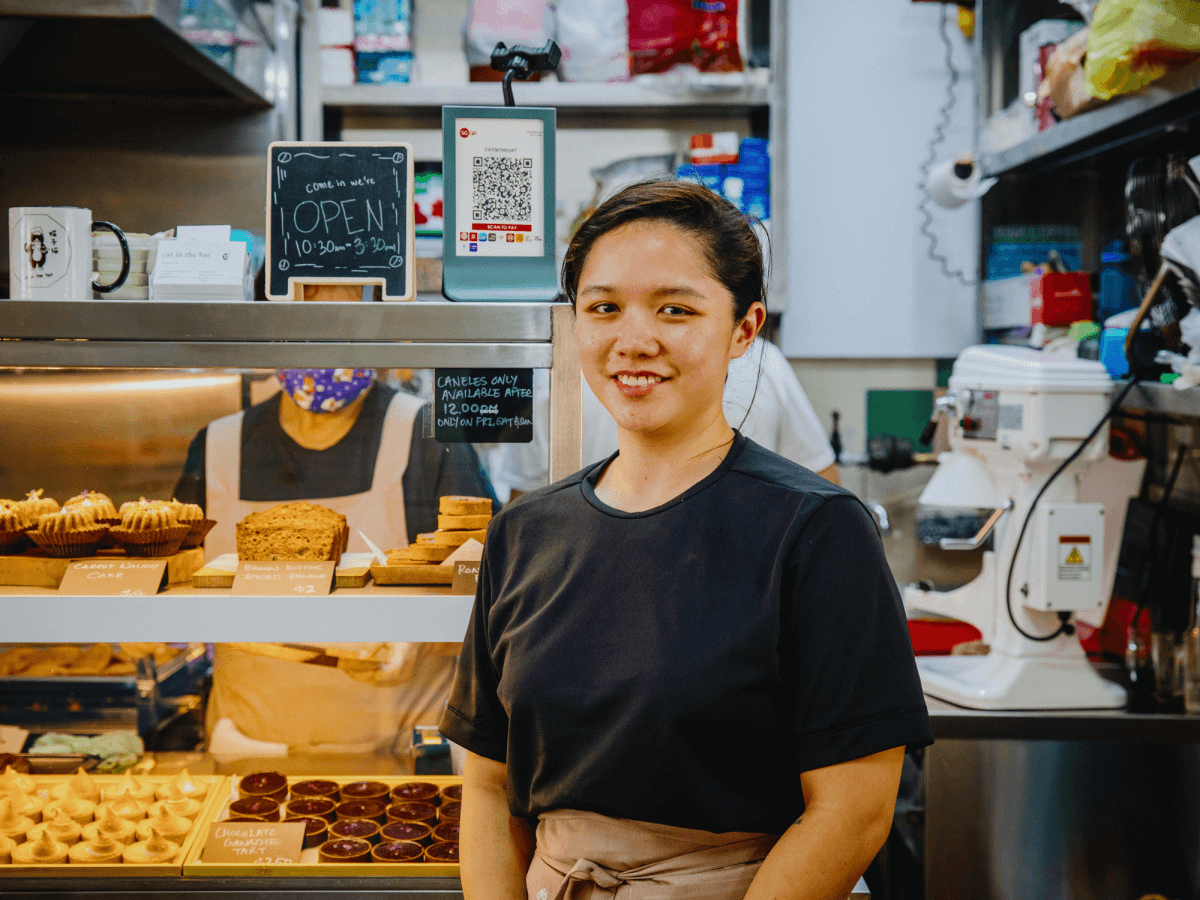 Cat in the Hat Bakes opened in March 2023 and quickly became a viral sensation on TikTok
Instead of your usual hawker muffins and cakes, you'll find upmarket pastries such as caneles, financiers and meringue tarts, made fresh daily
Ellis Ng, a 34-year-old former nurse, runs the stall with her mum and took it up under NEA's Incubation Stall Programme
It's 10am at the Golden Mile Food Centre and a small stall exudes a warm, inviting glow from its half-raised shutters.
There's a delicious smell of butter and fresh bakes in the air.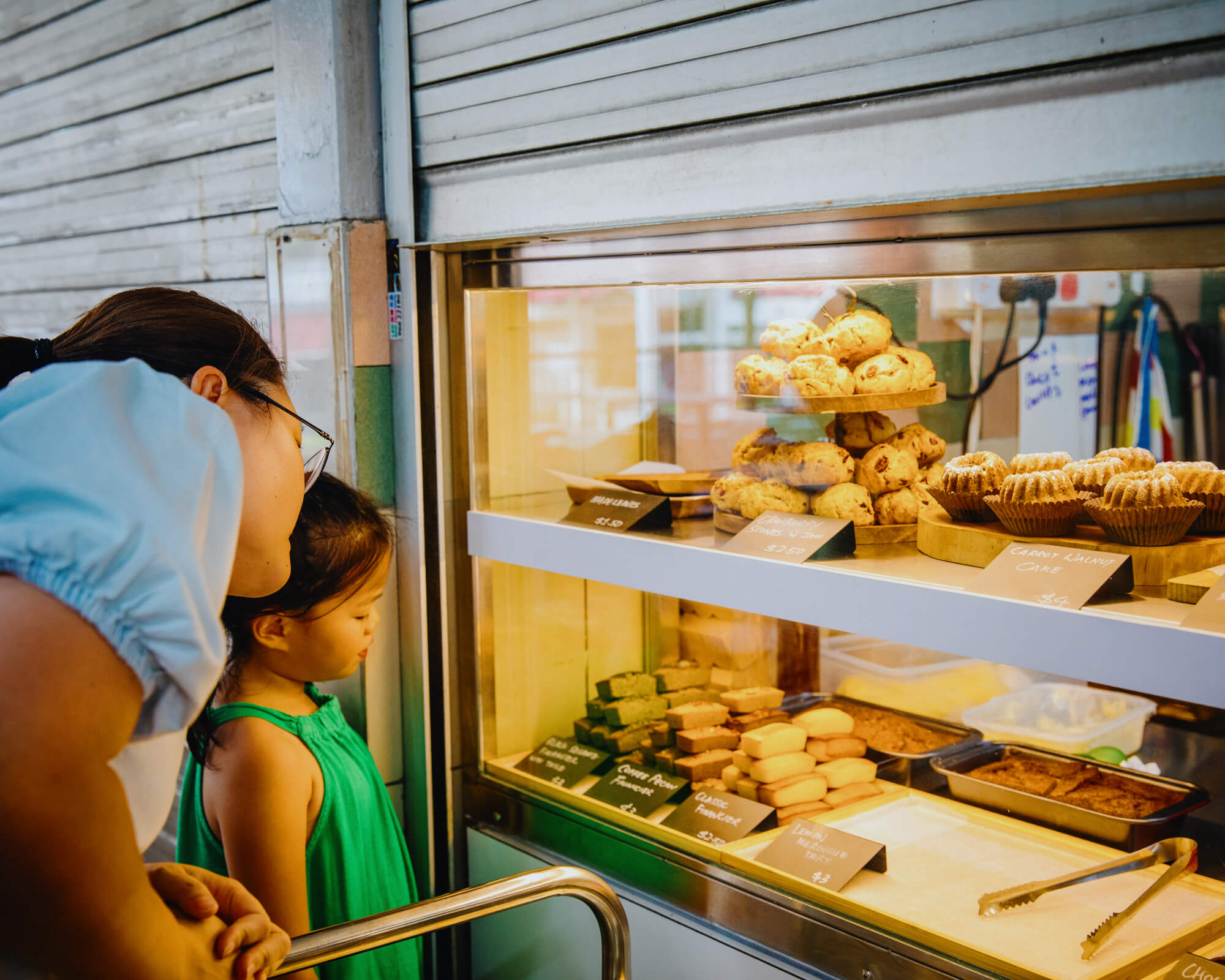 Many stop by to take a peek and enquire about the pretty bakes in its glass display — still half-filled but slowly growing in quantity.
But they have to wait. 
As the clock strikes half-past 10, Ellis Ng, 34, and her mother lift the shutters and push them all the way home.
Cat in the Hat is open for business.
The display case at this small hawker bakery, a viral sensation on TikTok since it opened in mid-March, shows off a myriad of upmarket bakes — scones, meringue tarts, financiers and more.
On the weekend, if you're lucky, you might get your hands on some caneles, too.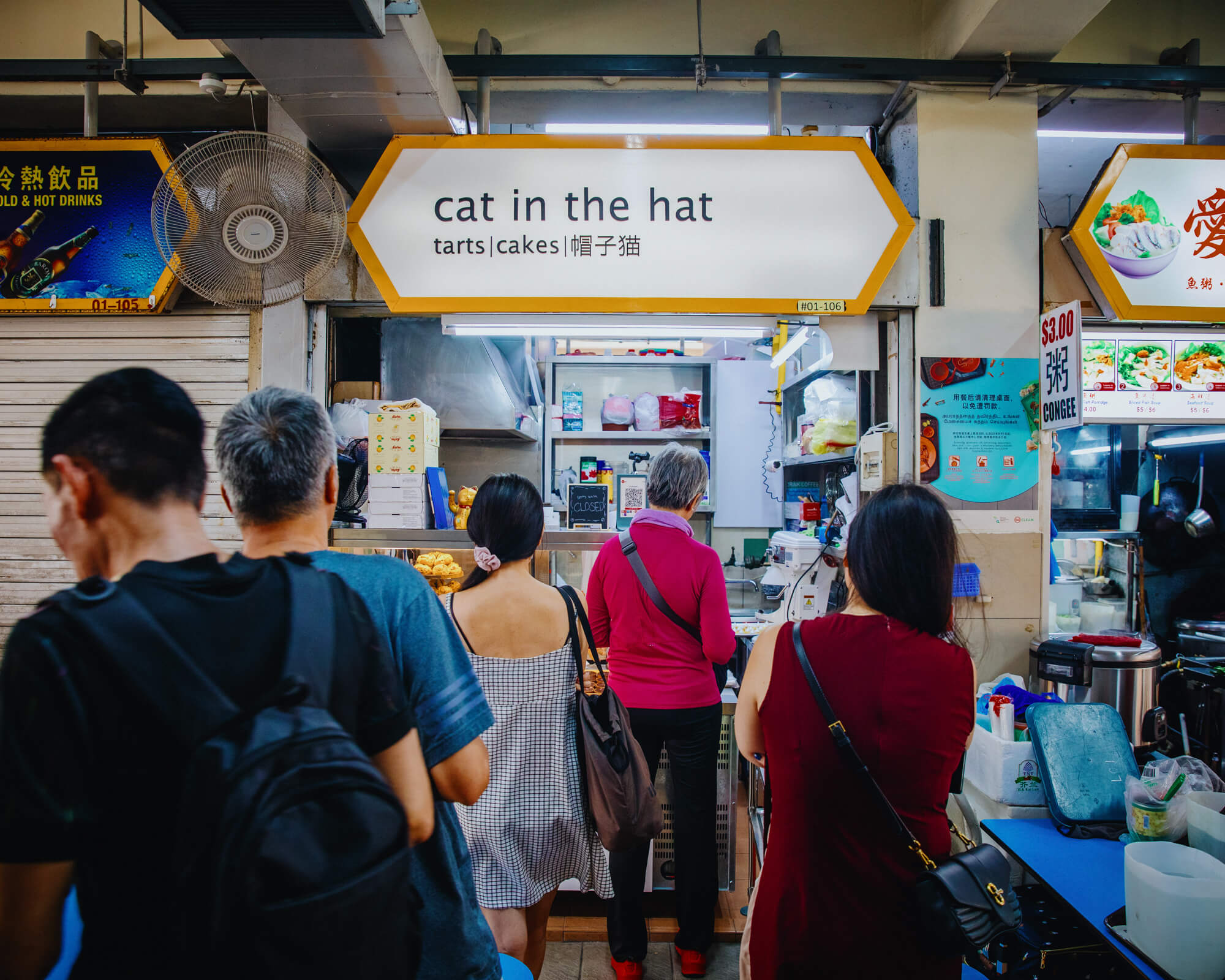 Be warned — the Cat in the Hat's desserts sell out fast, especially on weekends. After lunch, these treats are all but gone, and the shutters back down for the day.
How it began
Ng started her career as a nurse at the Singapore General Hospital before making a career switch after five years, in 2012.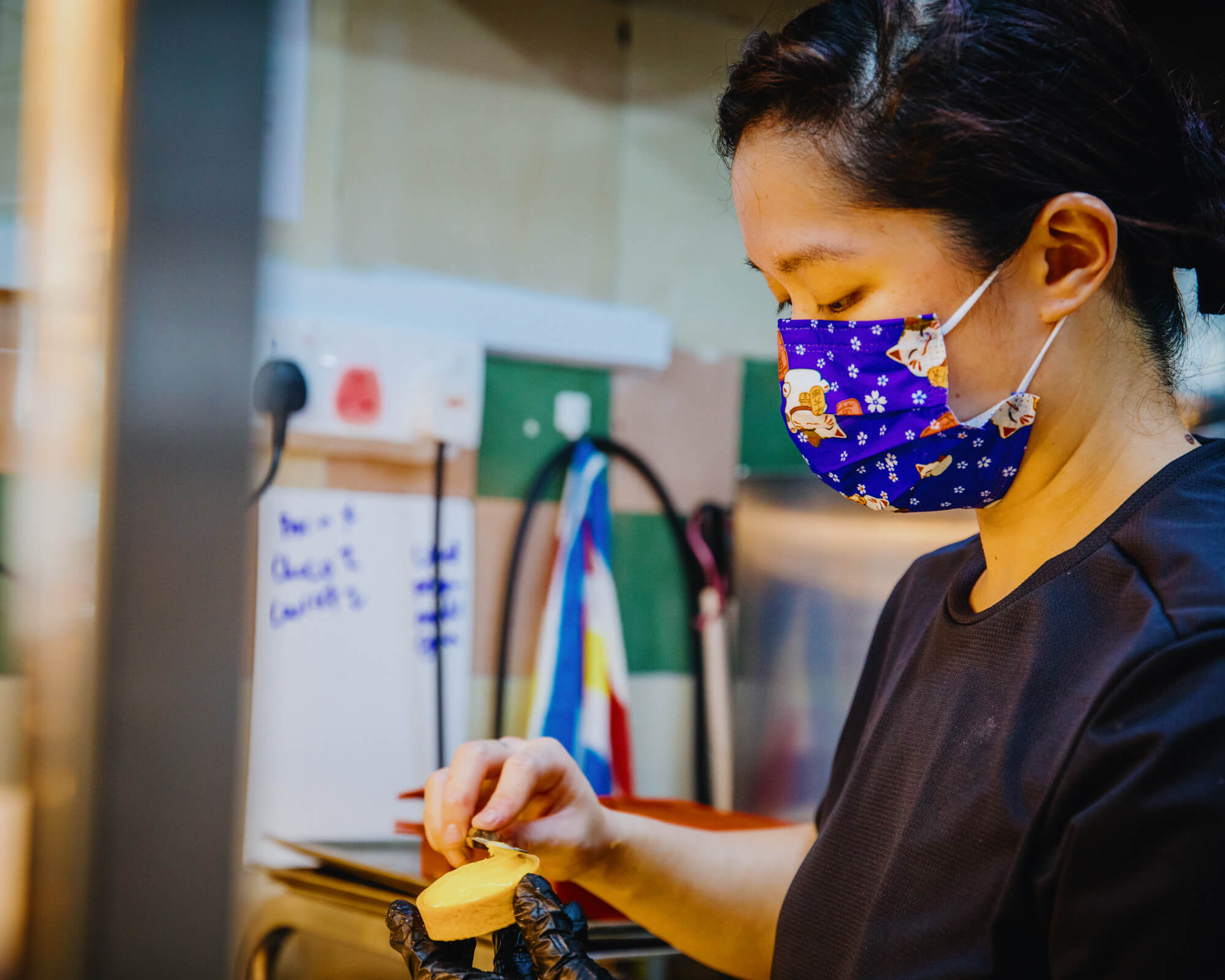 She cut her teeth in the kitchens of hotels such as Shangri-La, Pan Pacific and the former Mandarin Orchard before leaving the industry last year.
"I thought I would just give (F&B work) a shot, and it turns out it kind of suits me. I like the environment and being in the kitchen," she recalls.
She then joined the National Environment Agency's Incubation Stall Programme, which gives aspiring hawkers an opportunity to run incubation stalls and start a business.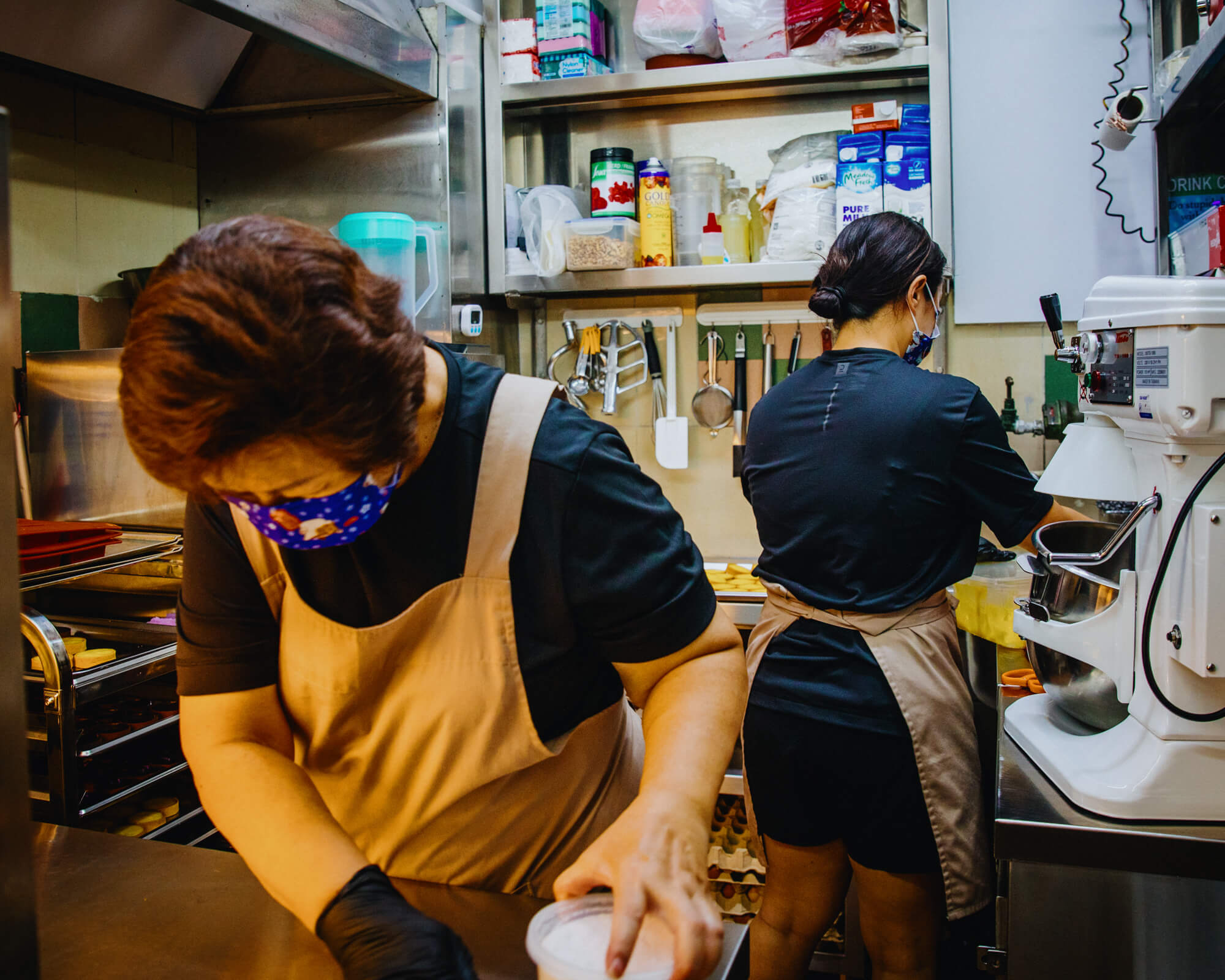 "I saw the programme and thought 'why not?' They subsidised the equipment upfront — they provided everything that you see here (in the stall), except the oven and the mixer. And they have rental subsidies, too, which I think is quite a good deal."
The agency even helped her to get the stall, she says.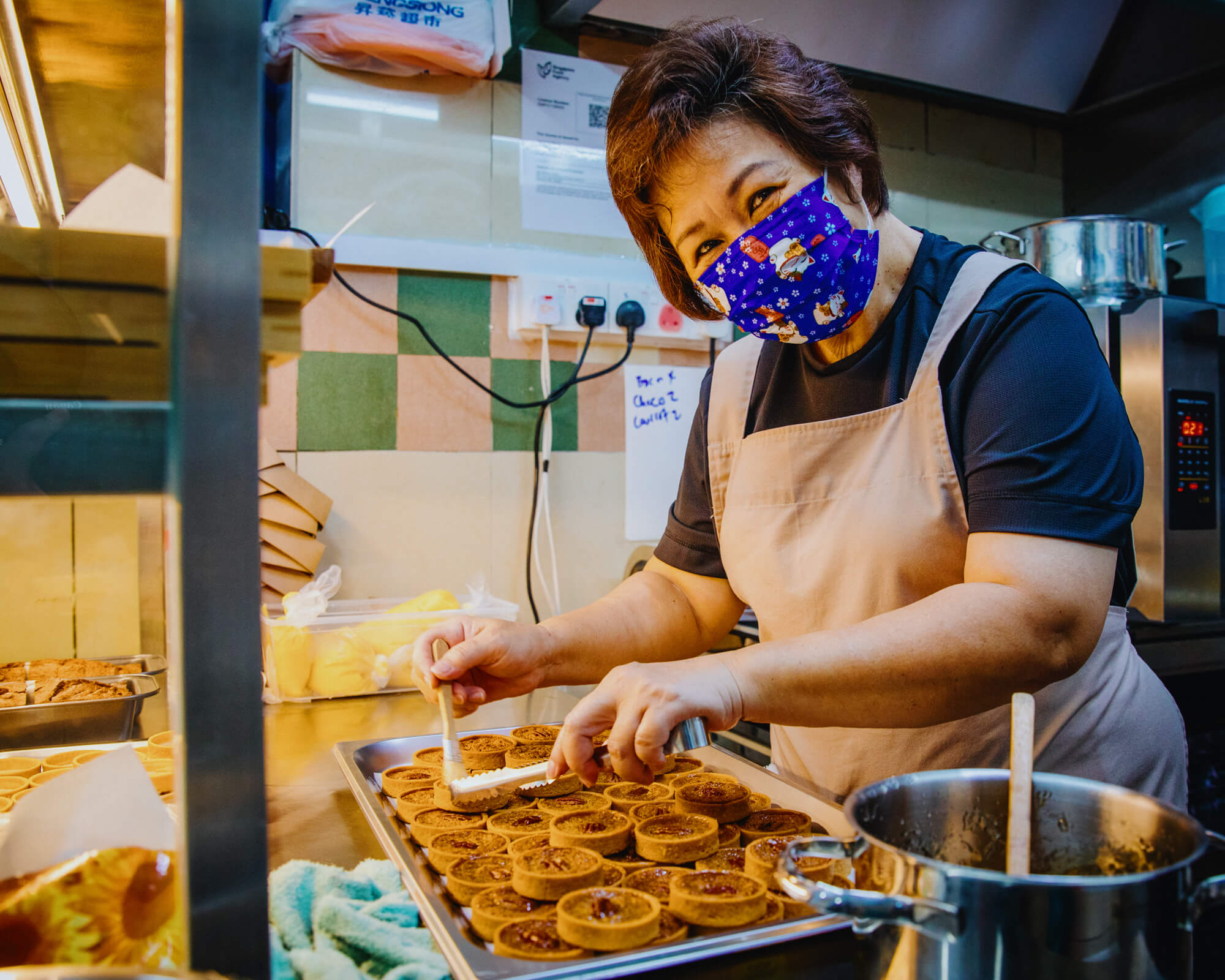 Ng roped in her mother, Selley Tan, 65.
"She came out of retirement — she was bored at home," Ng says. "She does the front-of-house, miscellaneous things, the finishing touches."
Which is why customers are greeted by a cheery aunty dishing up fresh bakes and boxing treats.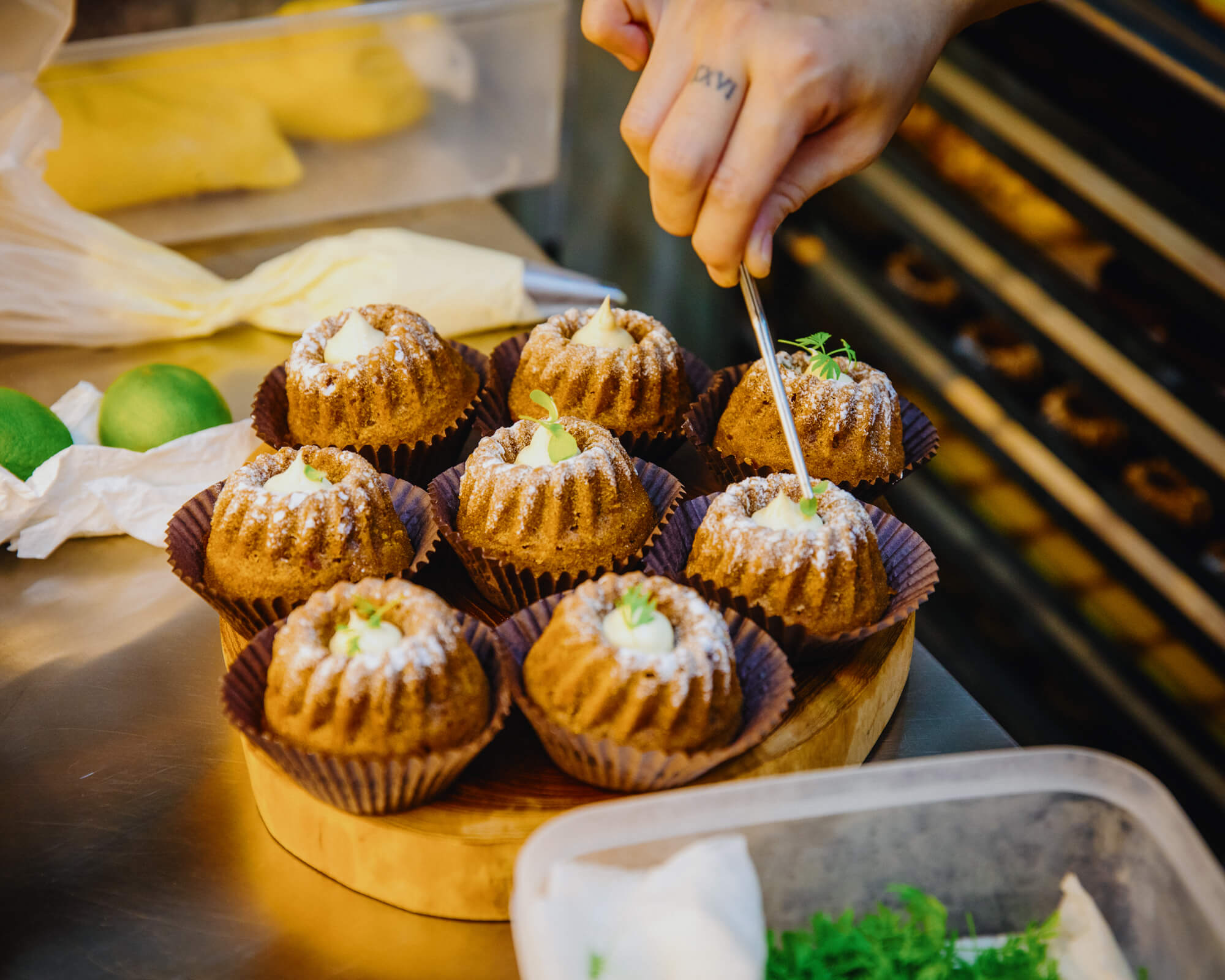 What makes Ng's bakes stand out? "They're baked fresh every day, so they're not kept overnight or anything. I would suggest you consume everything on the day itself," she says.
Each day, she rolls out nine types of bakes — and a tenth on weekends, the caneles.
Ng draws on her culinary experience, putting out tried-and-true flavour combinations that Singaporeans love. Most recently, she served a special carrot bundt cake for Easter.
But the stall has a "production limit", she says, laughing. "I'm the only one who's doing the baking."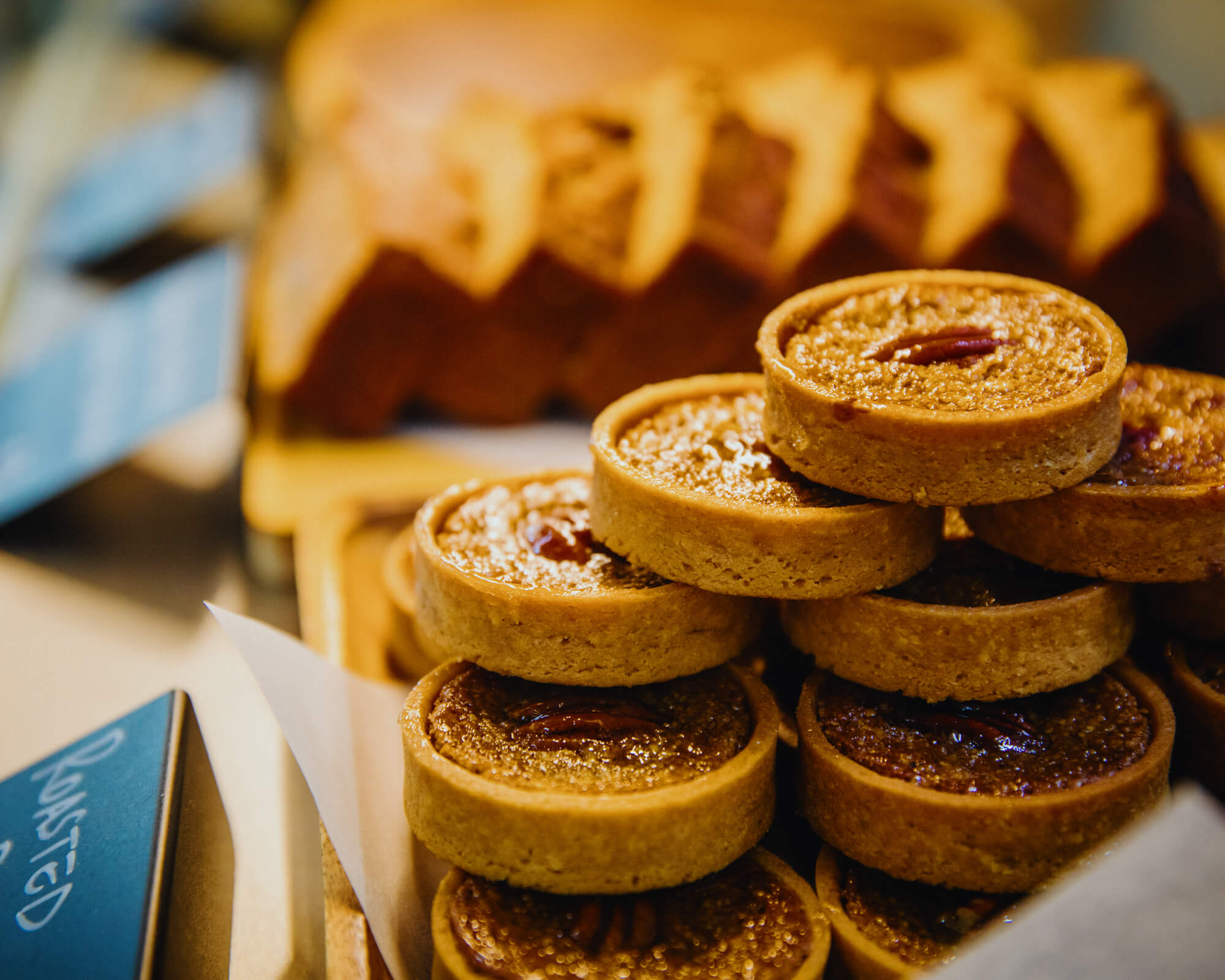 "Singaporeans like tarts, so we just decided to venture out to do tarts, and sell it at an affordable price."
Her favourites? The lemon meringue (S$3), chocolate ganache (S$2.50) and roasted pecan tarts (S$2.80).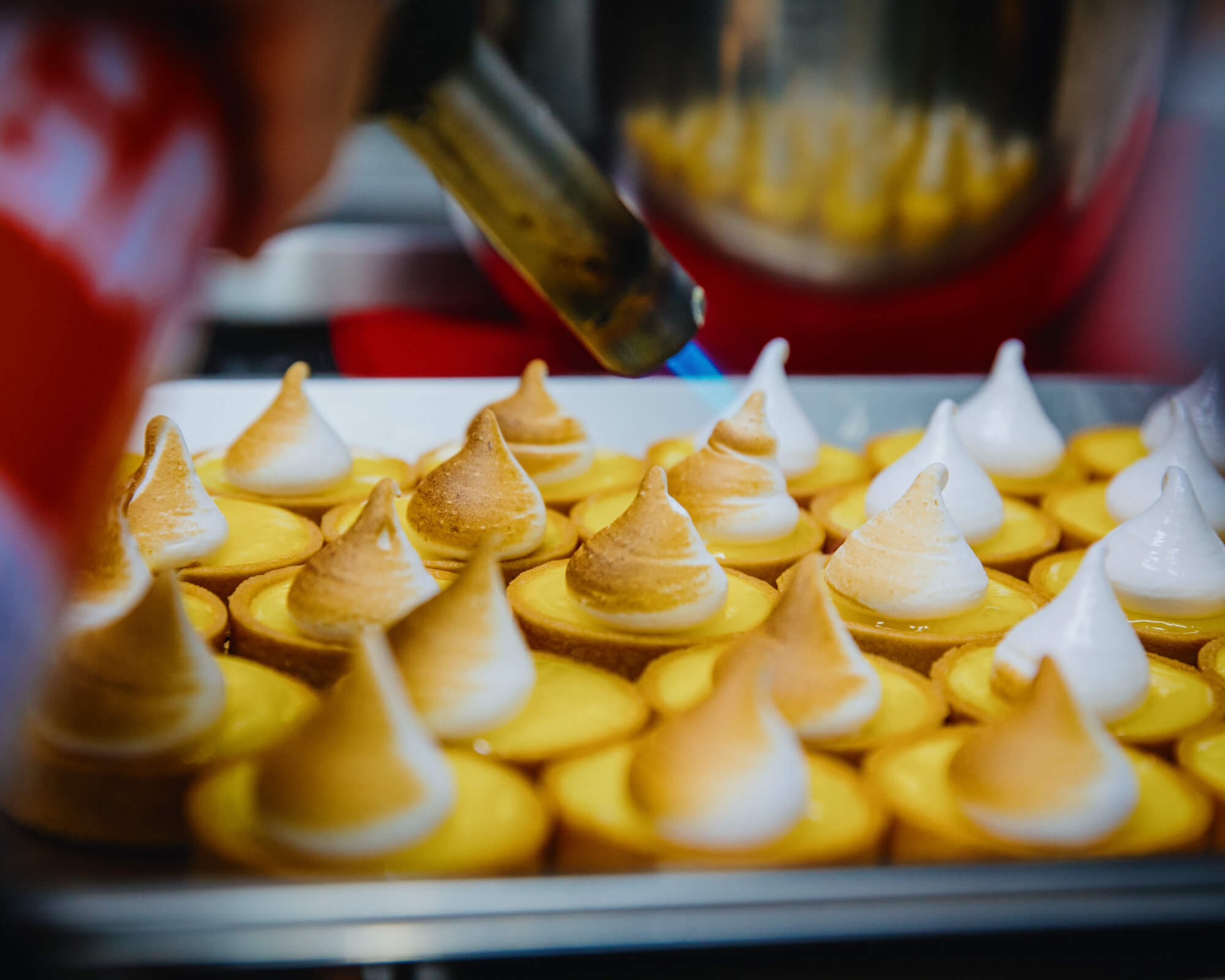 "I know most cafes sell (lemon meringue tarts) for S$8, S$9, but my tarts are smaller.
"I wanted to keep them bite-sized, so you don't get too jelak (sick of eating), and then you don't feel like eating anymore. I think this size is reasonable — two, three bites."
Thus far, Cat in the Hat counts among its customers younger patrons who hear about it via social media and word of mouth, as well as older folk who are curious about the queue and its offerings.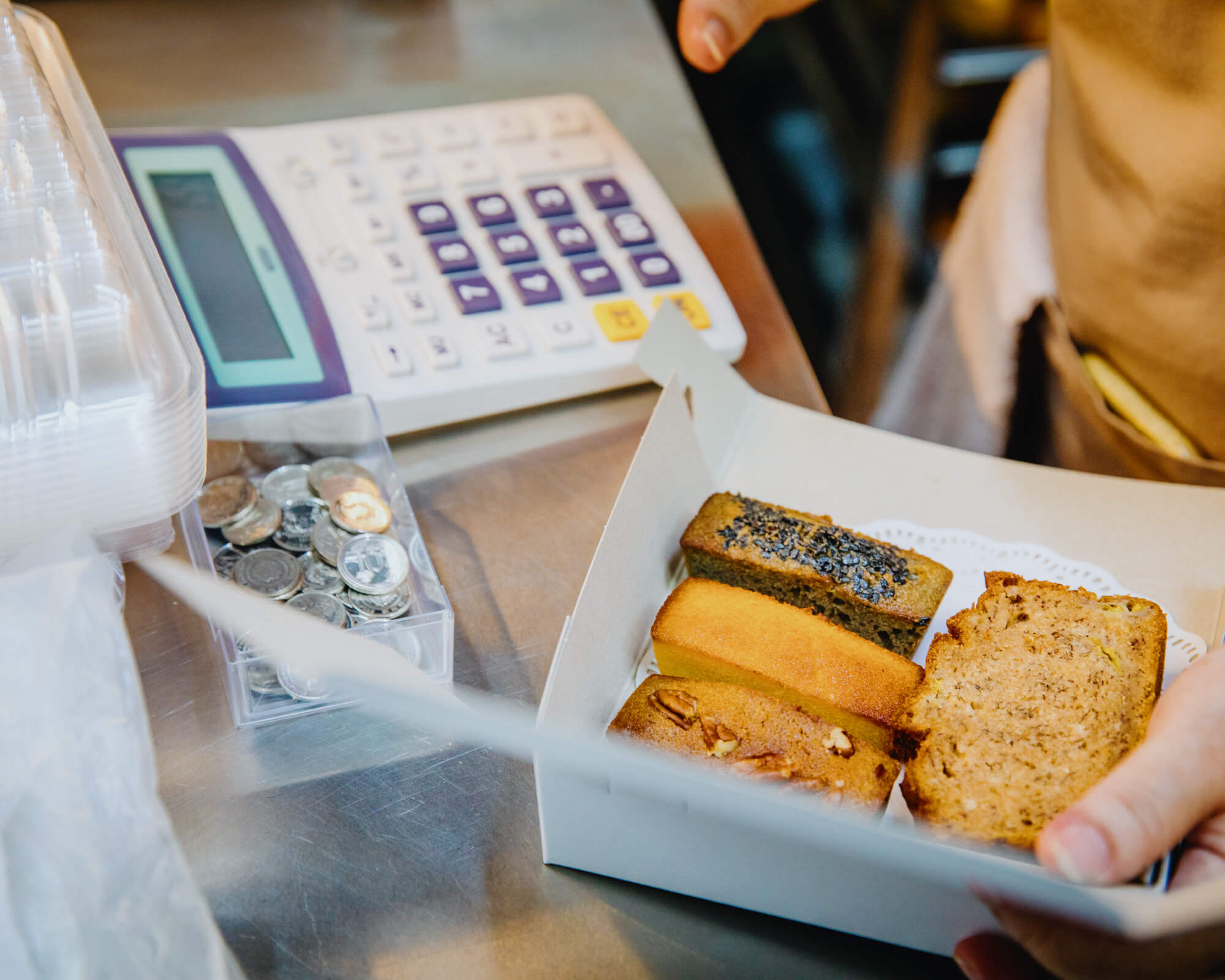 "We get the normal reviews (for our bakes) — some people say it's not sour enough, some say it's too sweet, some say it's too expensive, others too cheap. This is very subjective," she says. "You can't please everyone."
Despite Cat in the Hat's popularity, don't pin your hopes on Ng extending its operating hours.
"It's the nature of the hawker centre," she says. 
The Golden Mile Food Centre sees more of a lunch crowd, which disappears after the office-goers have had their fill. "It's not exactly a morning market — maybe a lunch and brunch crowd. The crowd dies out around 2, 2.30pm."
But that means that Ng has work-life balance — working out in the gym and doing R&D for a new menu after hours. 
"The hours are not long — six to seven hours (a day), at most," she adds.
Golden Mile Food Centre, 01-106, 505 Beach Road
Nearest MRT station: Nicoll Highway
Opens: Tuesdays to Sundays (10.30am to 2.30pm, or until sold out)
Golden Mile Food Centre, 01-106, 505 Beach Road
Nearest MRT station: Nicoll Highway
Opens: Tuesdays to Sundays (10.30am to 2.30pm, or until sold out)
---