Where to get the viral circular croissants in Singapore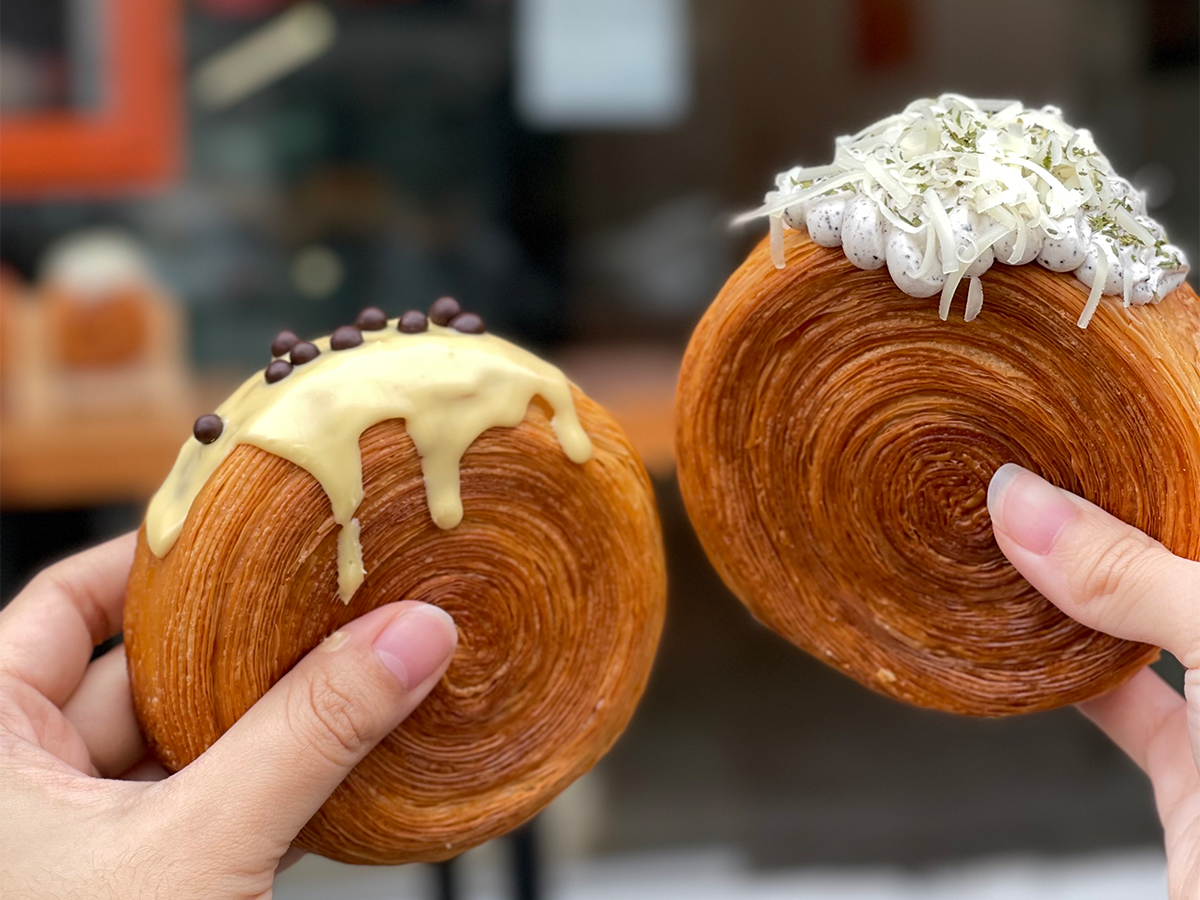 Of late, croissants have claimed their spot as one of the hottest foods in Singapore. They first appeared in various shapes resembling muffins, cubes and even donuts. Now, they're coming to us as cream-filled, circular croissants drizzled to aesthetic perfection. 
These circular croissants premiered at Lafayette Cafe and Bakery in New York City in April. They quickly made waves across Instagram and TikTok for their extravagant appearance, and garnered so much hype that each customer was limited to buying just one. 
Thankfully, we won't have to fly to the Big Apple to get a taste of these beauties. 
Over the past fortnight, bakeries across Singapore have been launching their own renditions of the viral TikTok food trend. Singaporeans, for their part, have been making a beeline for these shops to check out the hype. The few bakeries that have them are selling out within hours of opening their doors. 
Getting your hands on these may not be as hard as you think, however, with more bakeries boarding the bandwagon. The latest one to do so is the popular Keong Saik Bakery, which released a teaser on the launch of its round croissants, Crolls, happening on Wednesday (Sept 21).
What's the difference? 
In terms of texture, little separates the circular croissants from its traditional counterparts. 
It's got a flaky and crispy exterior, and a honeycomb-like interior. The main difference lies in the taste. 
Circular croissants are flavour-bombs bursting with cream filling, so don't expect the typical buttery taste found in regular croissants.
Where to get them
1. La Levain 
23 Hamilton Road
Open: Tuesday to Sunday (8am to 6pm)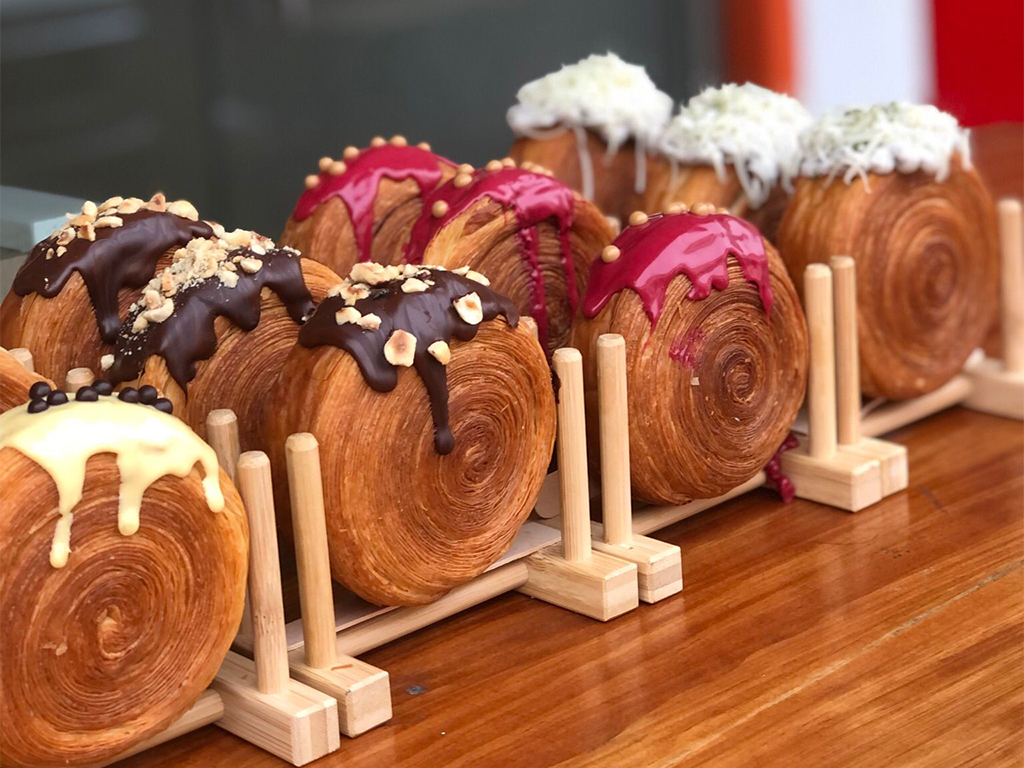 Dubbed La Lebombz, the circular croissants from La Levain were sold out within an hour of their launch on Sept 19. There are six flavours on its menu, with an equal number of sweet and savoury options.
If you have a sweet tooth, there are the Nutella, Passionfruit and Mango, and Raspberry Lebombz (from S$6.20 onwards)
On the savoury side, it sells Truffle Cream Cheese, Parma Ham and Cheese, and Mushroom Camembert Cheese Lebombz (from S$7.20).
If you didn't manage to get your hands on these, fret not. La Levain plans to increase the quantity to meet customer demand. The team says new flavours are also in the works in the coming weeks, so keep your eyes on its Instagram page for the latest updates. 
Place a pre-order on the La Levain website to secure your pastry.
2. Yeast Side 
lyf Farrer Park Singapore, 01-06, 2 Perumal Road 
Open: Wednesday to Sunday (9am to 11pm)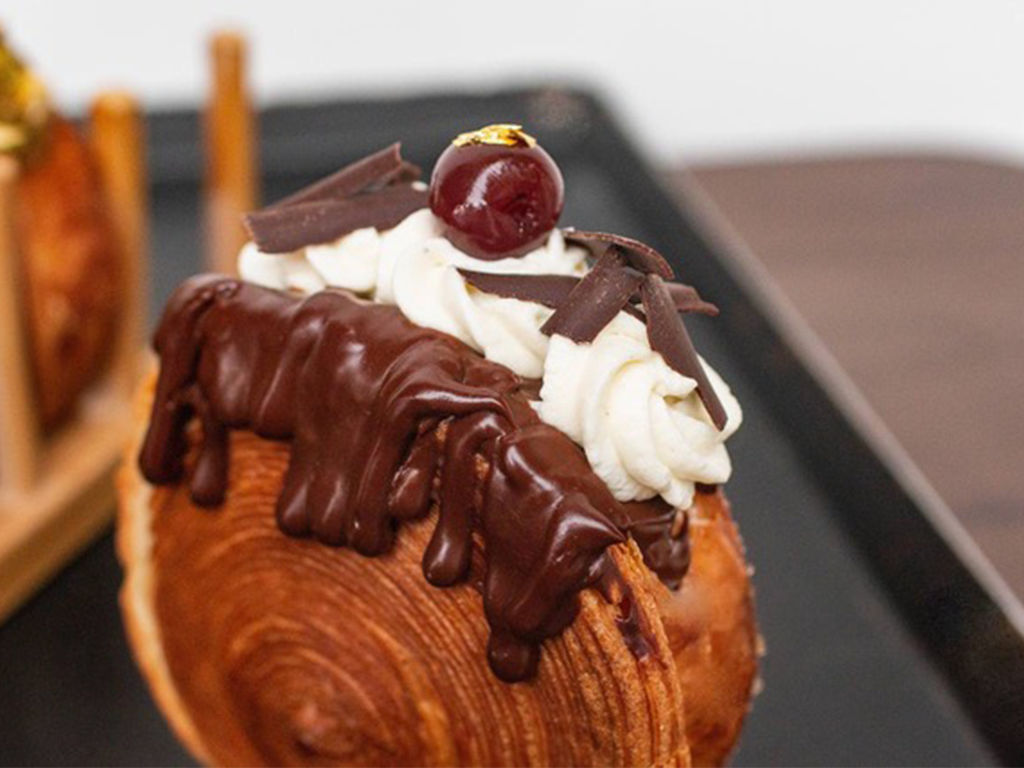 Yeast Side is a cafe-bar that recently opened its second store at Farrer Park. Its circular croissants, known as Swirls, are available only at this store.
Of the four bakeries that sell circular croissants, Yeast Side has the smallest variety, with just three flavours: Almond Swirl, Black Forest Swirl and Vanilla Pistachio Swirl (S$10 each). 
The bakery turns out 20 Swirls in each flavour per day.
Yeast Side is also working on a pre-order link to prevent wasted trips down to its Farrer Park store. Keep a lookout on its Instagram bio for updates.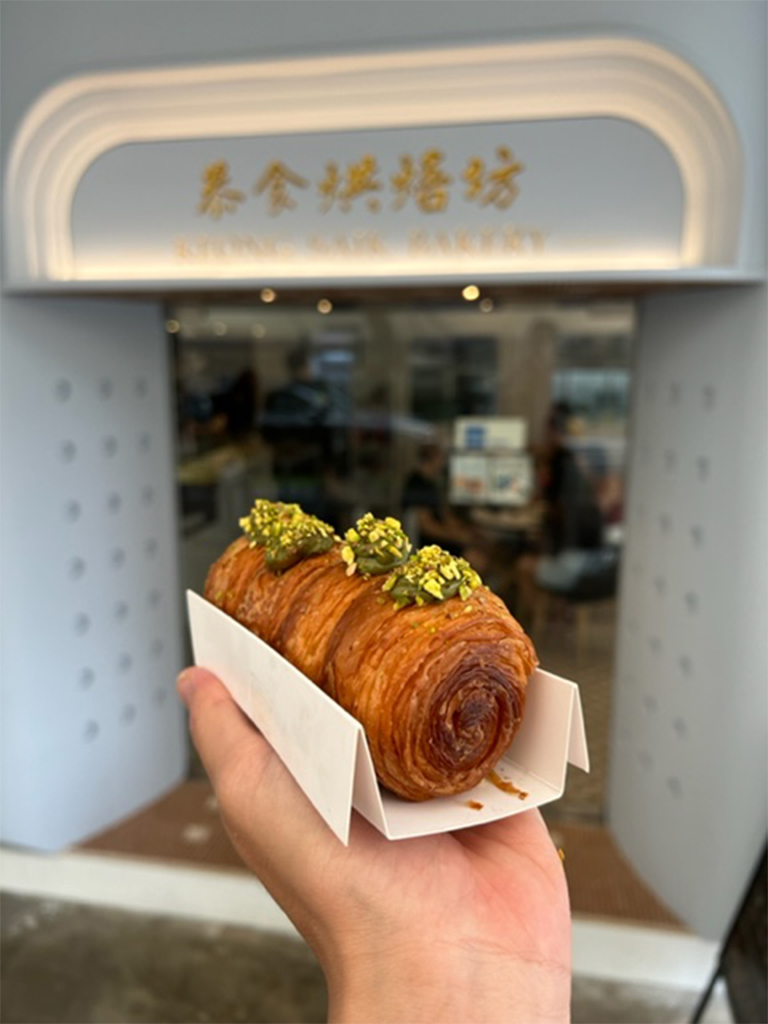 After two months of R&D to get the perfect ASMR crunch, Keong Saik Bakery will be launching its Crolls on Sept 21. It'll have four flavours ready for the launch: Pistachio Praline, Cacio e Pepe, Genmaicha, and Milo. 
Unlike the other bakeries, its Crolls are sold in smaller, bite-sized pieces. It was inspired by a Saudi Arabian bakery, Over Jar, which had a similar pastry on sale. 
You'll have to buy them in sets of four (S$14), but you can pick different flavours — an upside, since you can easily try all four. Keong Saik Bakery is planning to make pre-orders available. 
If your heart is truly set on having just one flavour, you can opt to dine at its stores and order a single Croll (S$3.90 each). These won't be available for pre-order, so make sure you go early, as the bakery's making just 10 to 12 Crolls per flavour in a day. 
The bakery says it will "see the response in the coming weeks and months" before deciding if the Crolls will be a permanent fixture on its menu.
4. Swish Rolls 
Cluny Court, 01-02B, 501 Bukit Timah Road 
Open: Daily (9.30am to 6pm)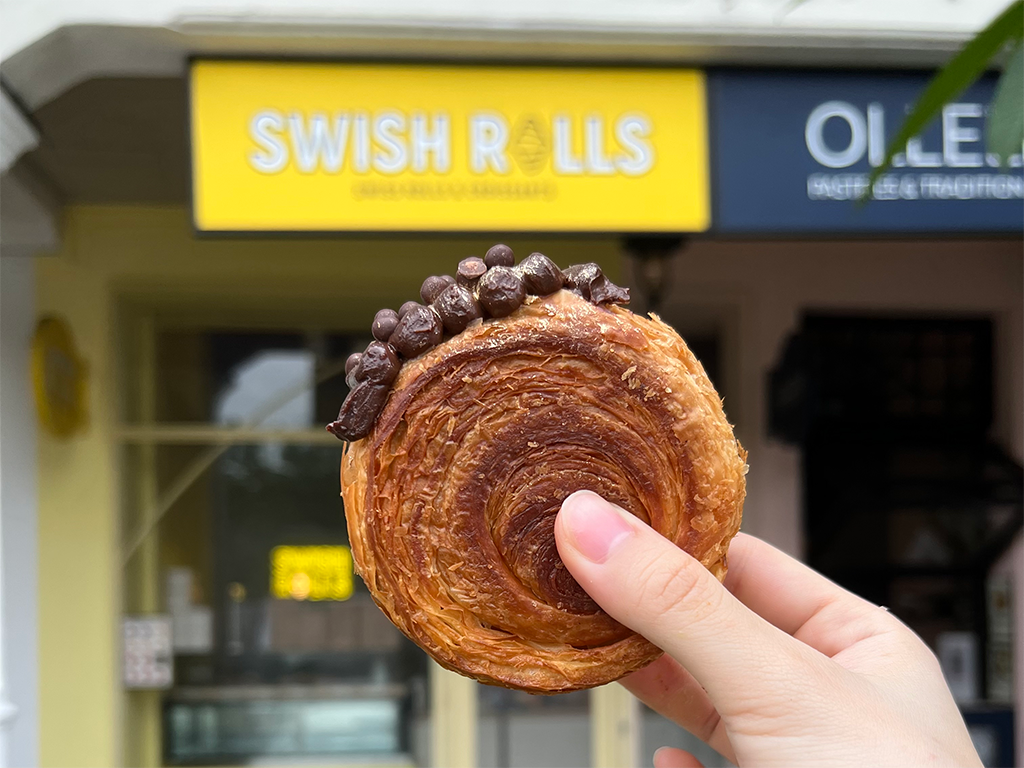 Swish Rolls was the first bakery to announce the launch of the circular croissants named Croons on Sept 9. There are five flavours on the menu: Crackly Sea Salt Butter, Loaded Pistachio, Super Summer Berries, Deep Dark Varlhona Chocolate, and Ham n' Cheez (from S$3 onwards). 
HungryGoWhere tried the Loaded Pistachio, Deep Dark Varlhona Chocolate and Crackly Sea Salt Butter while we were there. We enjoyed the richness of the Deep Dark Varlhona Chocolate Croon and found the nutty sweetness of the Loaded Pistachio delightful. The Crackly Sea Salt Butter Croon was forgettable, though, and we'd have enjoyed a regular croissant more.  
Swish Rolls bakes its Croons in two batches: 9.30am and 1pm. Each customer is limited to buying six, so be sure to head there early to snag yours. When we arrived at 2pm on Monday to collect our pre-ordered Croons, they were already sold out and unavailable for walk-in purchases. 
Alternatively, you can pre-order the Croons on the Swish Rolls website to avoid disappointment (and queues). But note that pre-orders have to be made six business days in advance.  
The bakery says it has sold more than 3,000 Croons so far and produces about 400 a day.
Azhar Aziz contributed reporting. 
La Levain, Yeast Side and Keong Saik Bakery are on the GrabFood delivery service. You can also book a ride to all places mentioned in this list.
---