Hawker Hustlers: Young husband-and-wife hawkers at Nakin Thai on generation gaps, TikTok & working together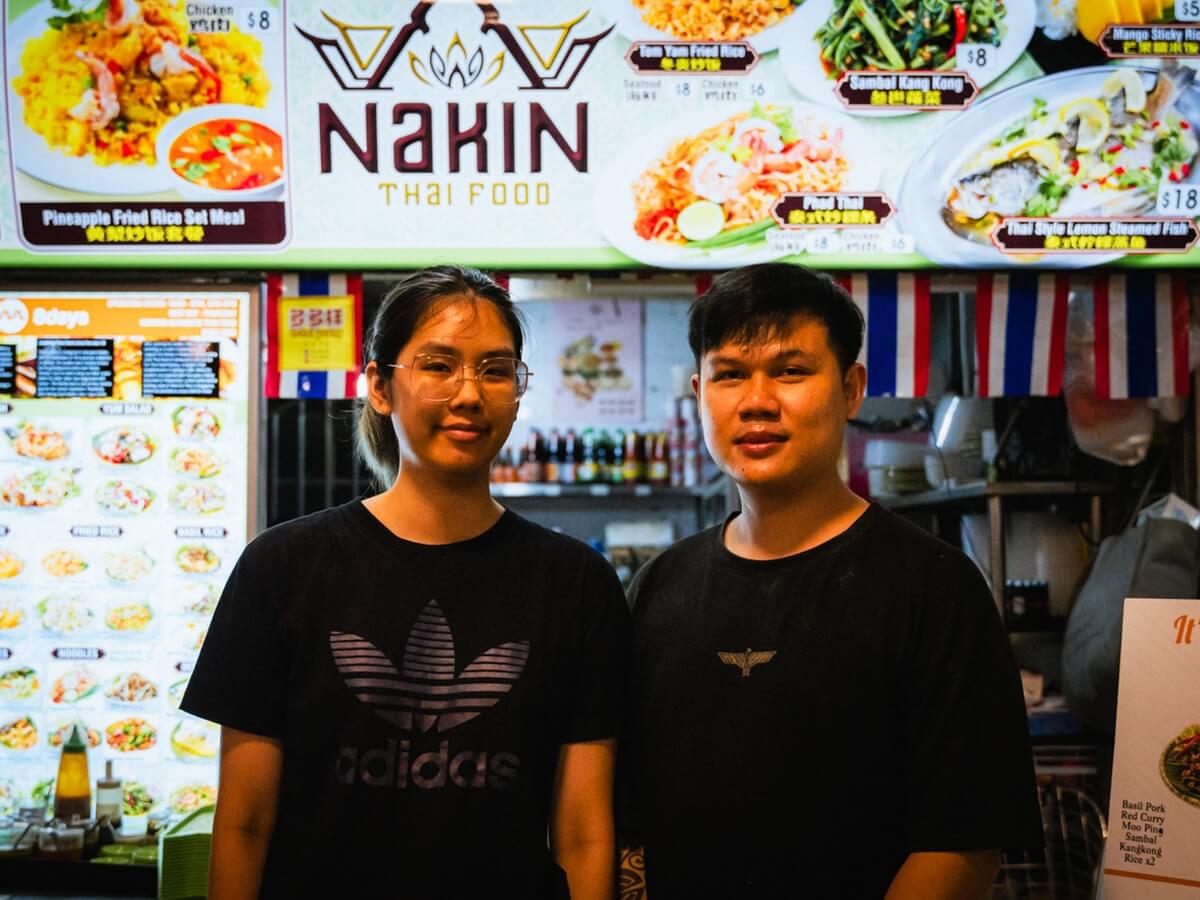 Hawker Hustlers is a HungryGoWhere series spotlighting young and emerging hawkers with compelling stories. Read through all the way for an exclusive GrabFood promo so you can try their food, too.
A whirlwind romance led to Amita Eng and Palmy Rapeepat Chanontree starting Nakin Thai at a Clementi coffeeshop 
Expect an extensive menu of delicious and affordable restaurant-quality Thai dishes, thanks to Chanontree's years of experience as a restaurant chef 
Despite their differences, the duo have persevered through the odds
22-year-old Amita Eng of Nakin Thai isn't your typical hawker. Bubbly and refreshingly unfiltered, she self-deprecatingly describes herself as a "Gen Z with a short attention span." 
In contrast, Palmy Rapeepat Chanontree, her reticent 29-year-old Thai husband, behaves like an ultimate "boomer" (despite his age) — he's someone who trawls social media for investing and house-cleaning tips.
"You know the TikTok trend, where the guy is thinking about the stock prices and where to invest next, while the girl's head is just filled with TikTok songs and dances? That describes our dynamics exactly… Sometimes it feels like there's a big generation gap between us," Eng quips.

Despite their differences, the unlikely pair have somehow made it work, even starting their own hawker business in Clementi, which serves delicious and affordable restaurant-quality Thai dishes.

Called Nakin Thai, the stall opened in February this year. The dishes are cooked by Chanontree, a former restaurant chef who has been specialising in Thai cuisine for the last 11 years.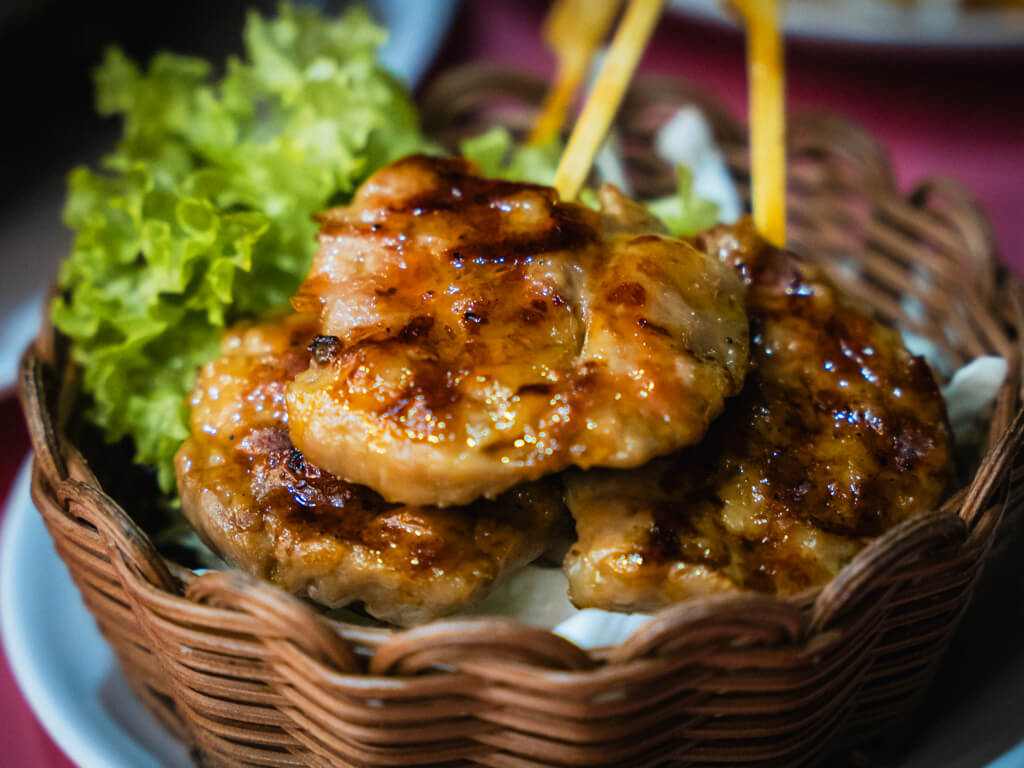 The backstory
Even before we meet Eng, her youthful energy shines through. For one, she peppers her texts with emojis and stickers.
On the day of the interview, we catch our first glimpse of Eng squatting down inside the stall, busily applying make-up. She's nervous and wants to make sure she's presentable for the camera.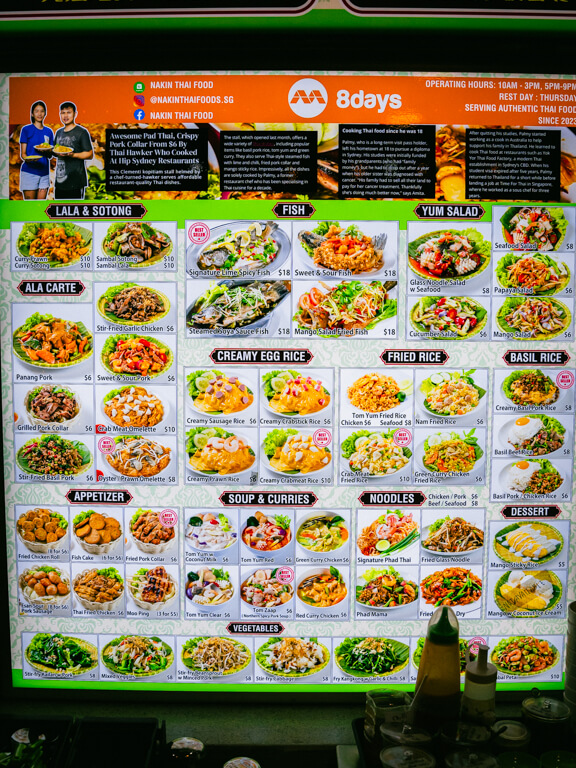 But Eng quickly warms up. Born half-Thai (her father is Singaporean-Chinese and her mother is Thai), she had been studying tourism at the Institute of Technical Education when she decided she was better off gaining experience in the real world. She decided to drop out in 2020.

That year, Eng took up a part-time job as a waitress at casual halal Thai food chain Time For Thai's now-defunct Simpang Bedok outlet. That's when she noticed head chef Chanontree.

Hailing from Udon Thani, a city in northeast Thailand, Chanontree left his hometown at the age of 18 to pursue his studies in Sydney. But he was forced to drop out after a year when his older sister was diagnosed with cancer. 
After quitting his studies, Chanontree began working as a cook in Australia to help support his family back home in Thailand. He learned to cook Thai food at restaurants in Sydney's central business district. Later, Chanontree landed a job at Time For Thai in Singapore, where he worked as a sous chef for three years. His sister is still undergoing treatment.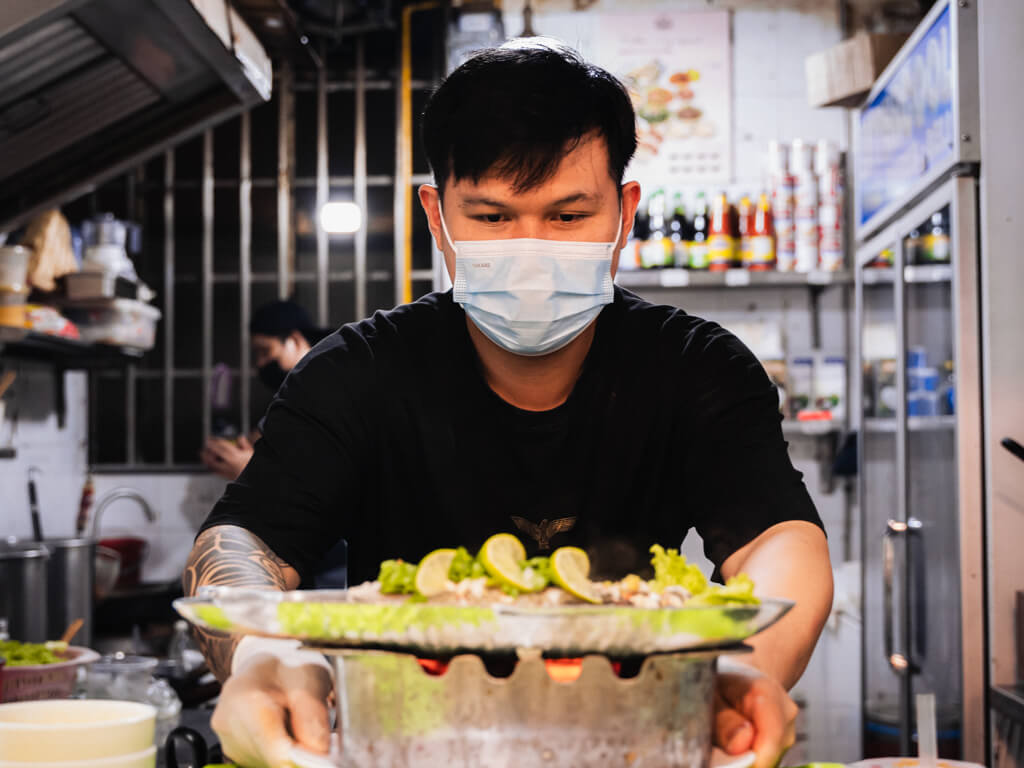 "I thought he was very handsome," she says with a cheeky grin. Thus, a whirlwind romance began. Within three months, Chanontree asked her if she was free to ROM — Singapore-speak for formally tying the knot.

"It didn't even feel like a proposal! Actually, I never got asked before, so I just said: 'Okay.'
But it was only when I was halfway through the paperwork, then it really hit me that I'm actually marrying another person," recalls Eng.

But being a happy-go-lucky person, she decided to go ahead with it. 
"I thought: 'Get married, then get married lor.'"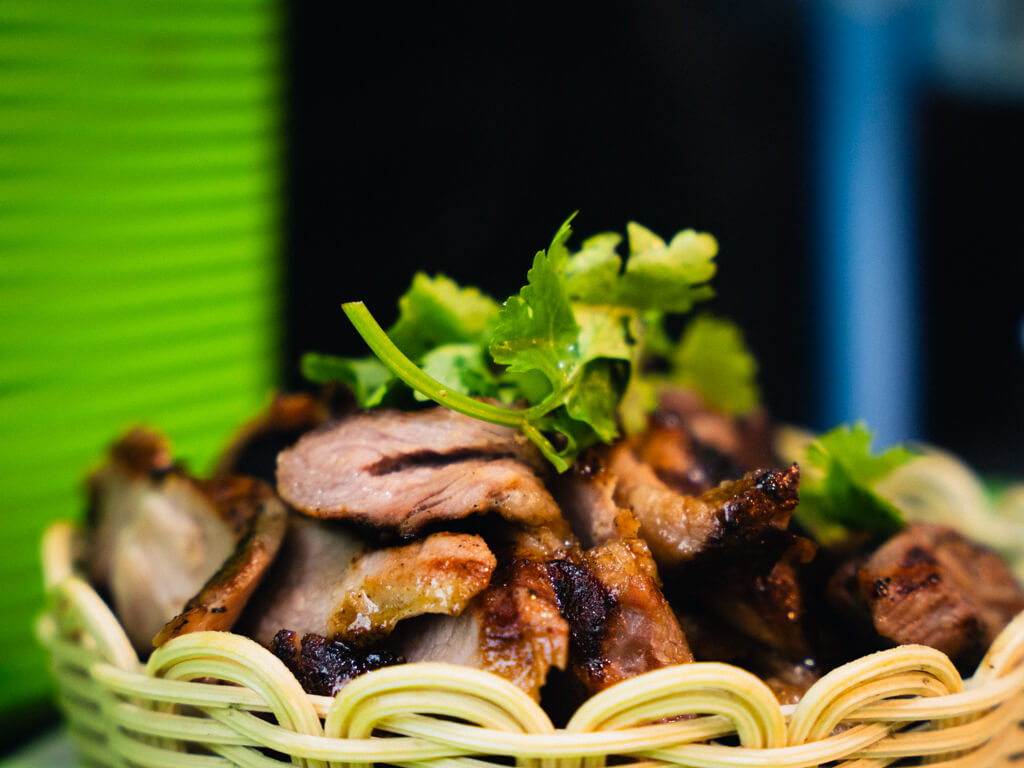 Eng jokingly adds that she married Chanontree for his surname, as she found it charming. She explains: "Chanon sounds like chanom, which is milk tea…. So his surname sounds like milk tea tree."
How Nakin Thai began

During the course of their relationship, Chanontree always looked for Thai food options in Singapore — the spicier the better. That's when the couple began mulling over the idea of opening a Thai food stall.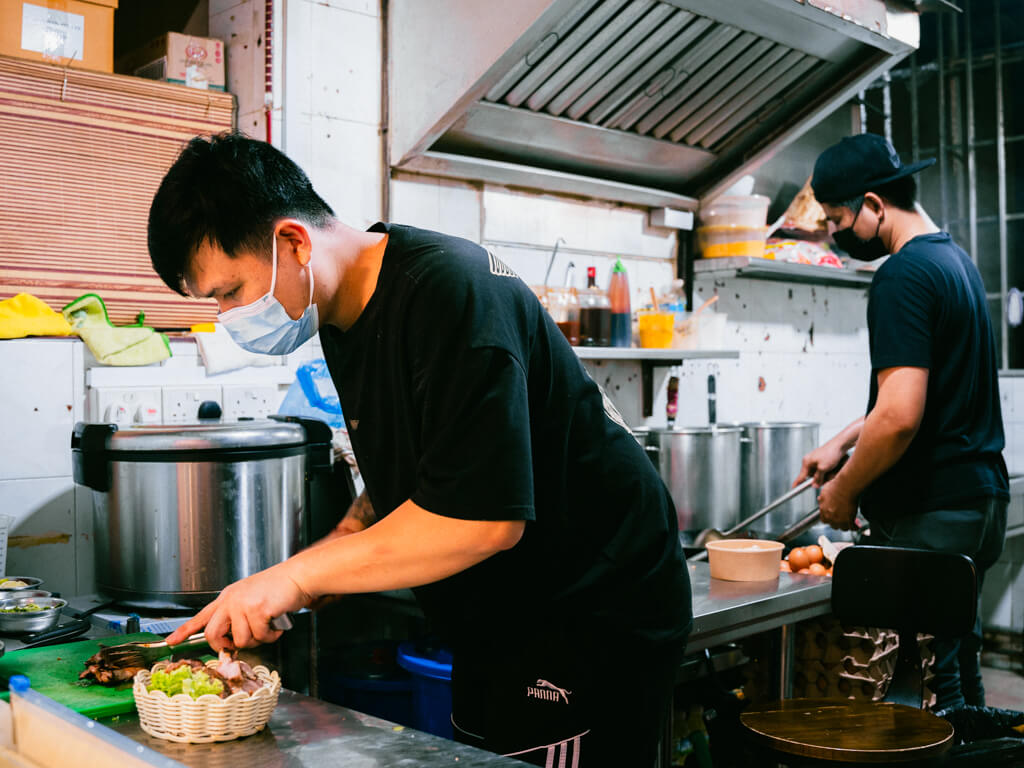 They decided to name the stall Nakin. In Thai, it means "looks yummy" and it is also the name of a mythical creature that is worshipped in the region where Chanontree is from.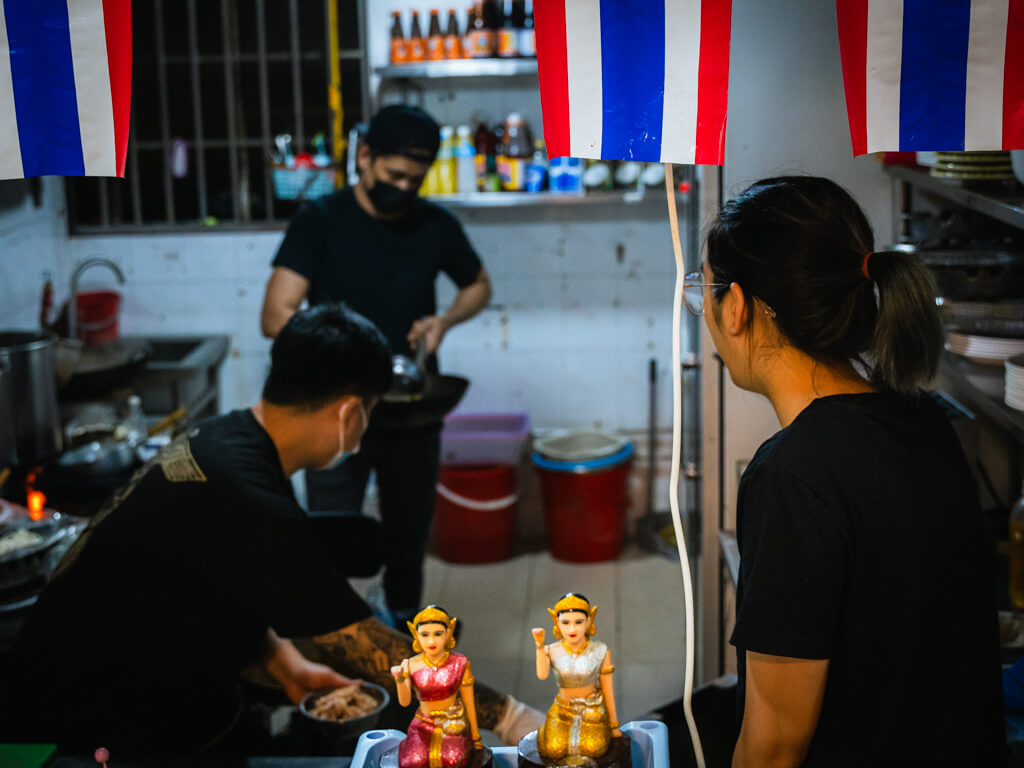 To prepare herself for the role, Eng took on various F&B and retail jobs such as waiting tables and cashiering. 
To save on costs, they sourced second-hand items, tapped on Chanontree's networks and staff discounts from her father who works at a stainless steel company, and eventually spent less than S$10,000 on equipment.
The stall opened with great fanfare. On opening day, the coffee shop was packed with office crowds from the neighbouring vicinity and curious customers, as well as her father who invited his entire office.

"Everything was a mess," recalls Eng.
As time went by, the couple managed to iron out the kinks to come up with a system that works.

Starting one's own business is very different from working at a part-time job, acknowledges Eng.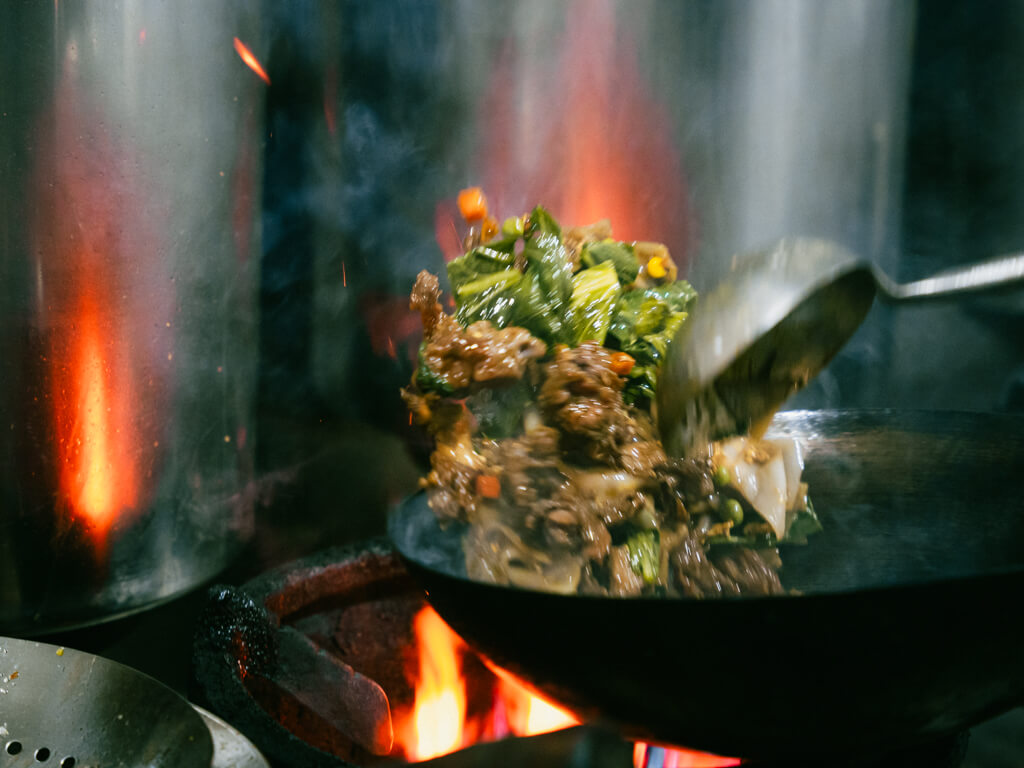 She had to learn how to run operations smoothly and navigate her way around challenges, even when she was out of her element. This includes handling situations such as a pipe breakage or gas leaks, and how to avoid being overcharged by contractors.

The most challenging aspect is the lack of work-life balance as a hawker. The pair are at the coffee shop from 9am to 9pm.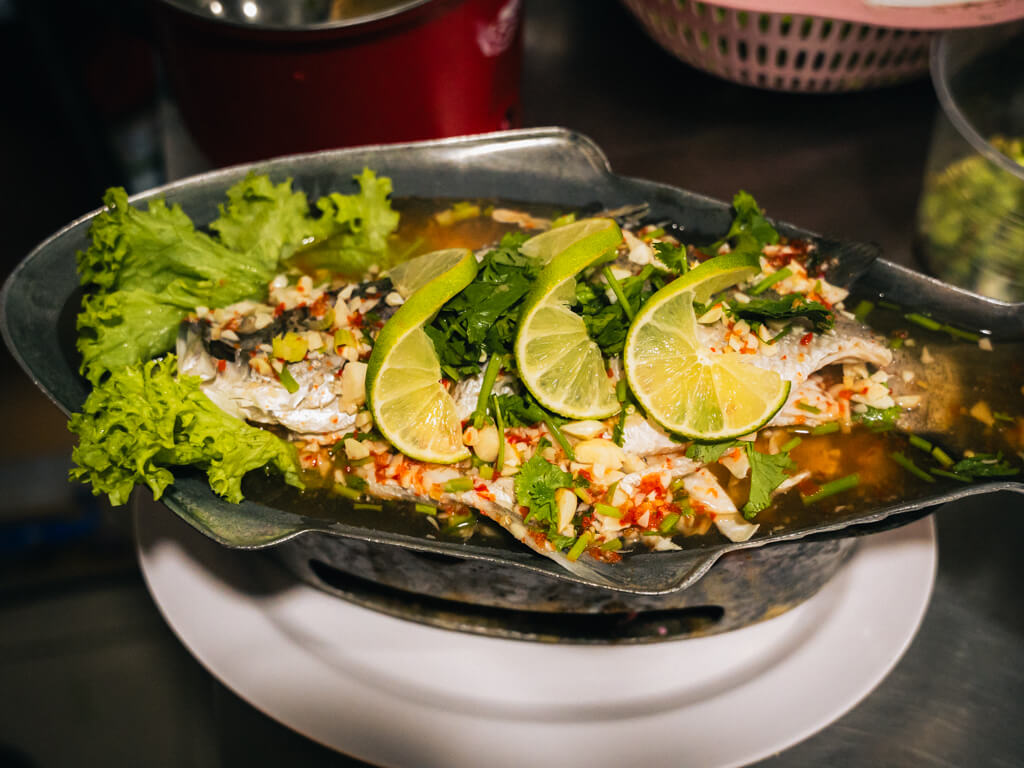 Chanontree is in charge of cooking, while Eng handles front-of-house and cashiering. Even after they've returned home, she's busy editing photos, drafting up social media posts and thinking up promotions to attract new customers.

In such a high-stress environment, it naturally stirs up conflict between the two. 
Eng has to bear the brunt of dealing with demanding customers, as well as contend with her husband's perfectionist tendencies. 
Says Eng, "He's the worst person to work with! He's so strict about everything, even if the moo ping is a little burnt… To him, it's about having standards."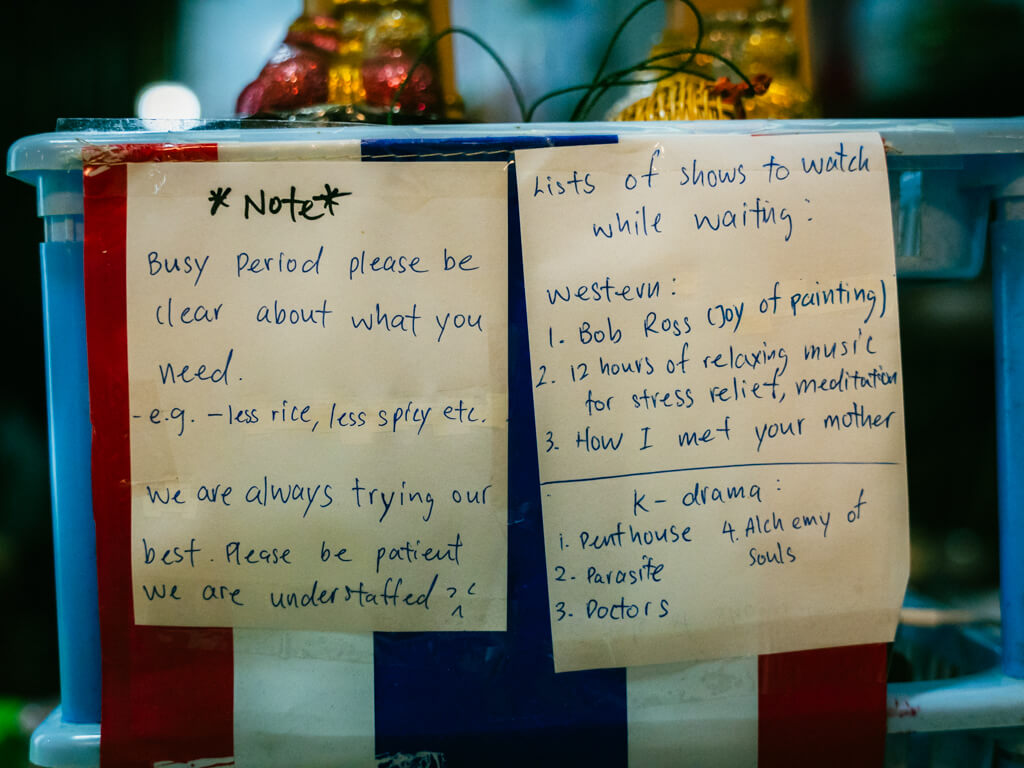 Still, it's this dedication to food that keeps customers coming back.

Eng recalls an incident where a customer disputed the amount of cashback he should have received via a third-party payment app. Annoyed, he declared that he would boycott the stall. A few days later, she spotted him with his family dining discreetly in a corner.
Trying the food at Nakin Thai's menu
We had the pleasure of trying Chanontree's dishes, too, such as the signature lime spicy fish (S$18), creamy crab meat rice (S$10), fragrant basil pork rice (S$6), and moo ping (S$5 for three sticks).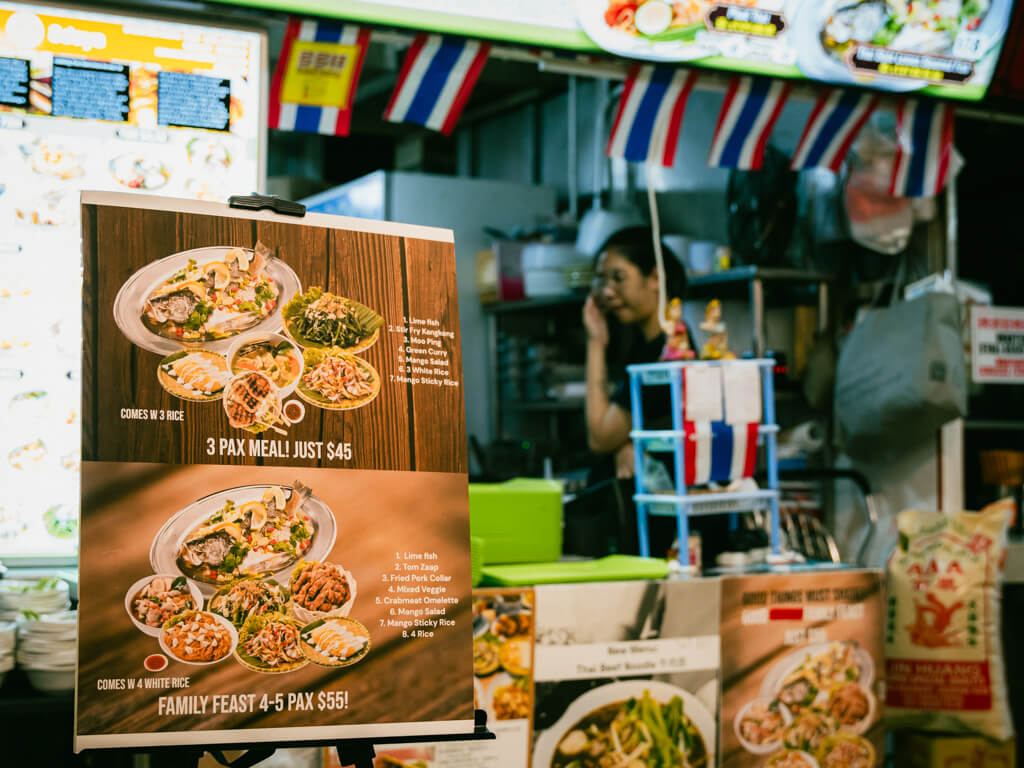 Customers can tuck into a great lunch deal (an S$18 set for two to three persons) comprising a spread of basil pork, red curry, moo ping, sambal kangkong or sweet and sour pork, tom yum coconut, fried chicken roll and stir-fried bean sprouts with rice.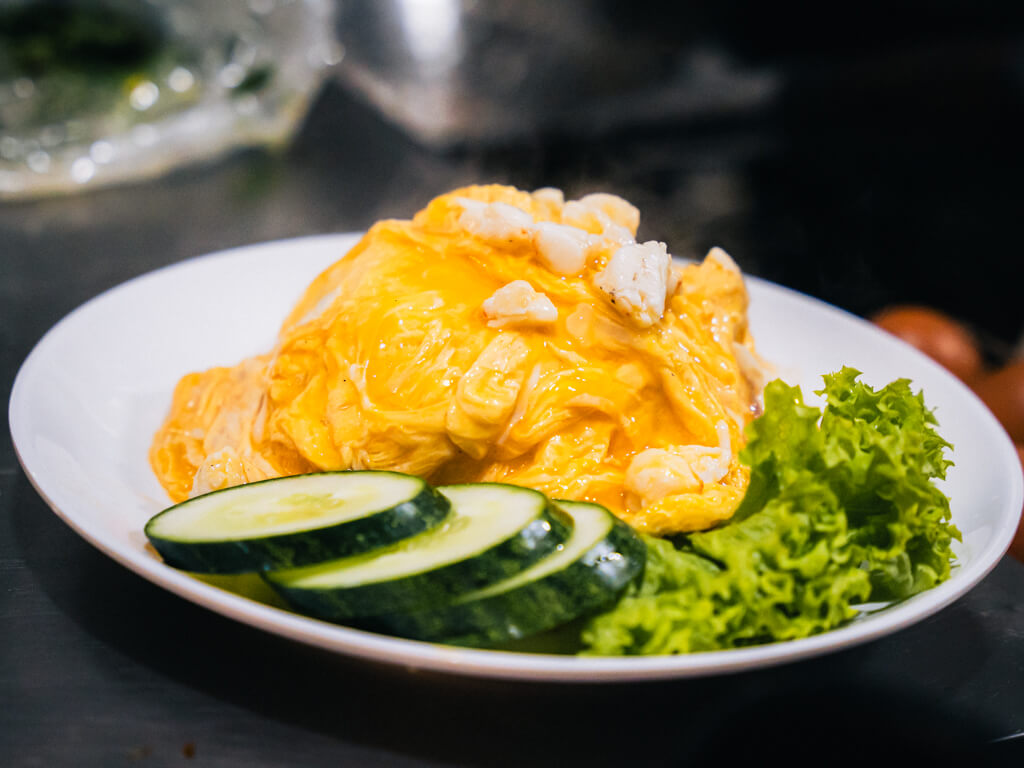 With close to 7,000 followers on TikTok, one might expect that Eng would use it to drum up more publicity about the stall. 
She does this, and more. Using memes, filters and behind the scenes videos, she uses it to publicise in her work. There's even a self-deprecating post about her not knowing "not to do marketing but im a gen z so im relying on this stupid trend (sic)." to promote Nakin.
Her feed is also peppered with humorous observations, her "glow-ups", and goofy antics where she annoys her husband.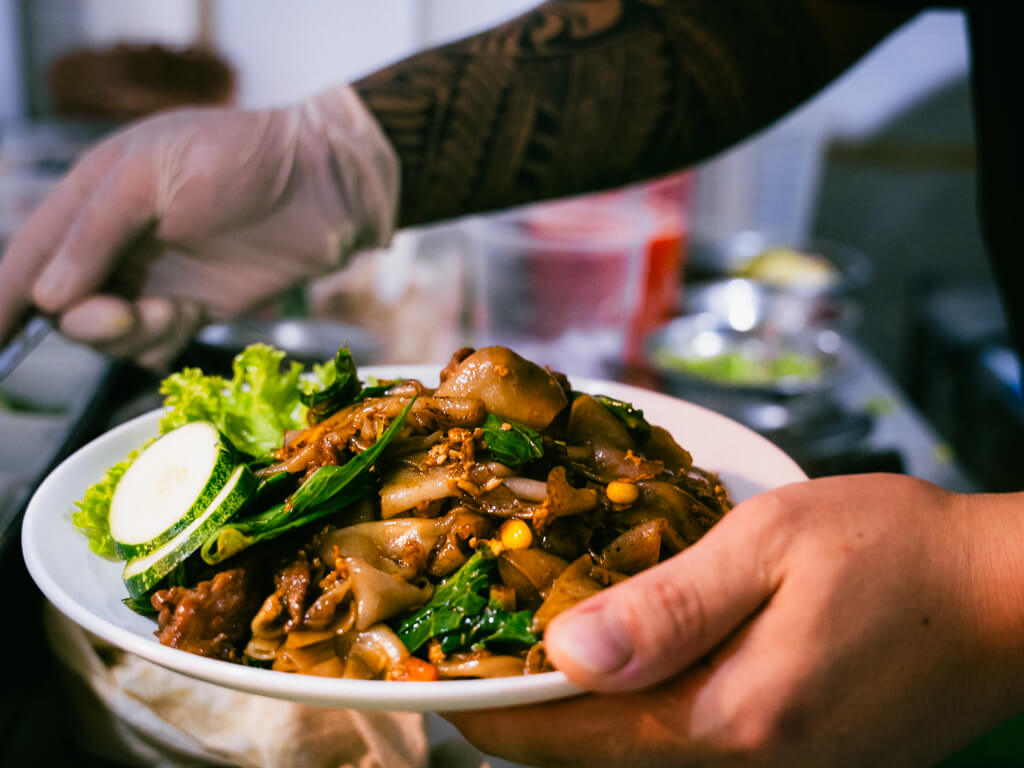 The posts where her personality shines through resonate best with her followers, though — a video about a faux pas she made in a Jo Malone retail store net her a million views on the platform.
"But I don't have the energy or social battery to entertain all these thoughts (of social media)… If not, I would be a TikTok influencer right now, living the good life," she says ruefully.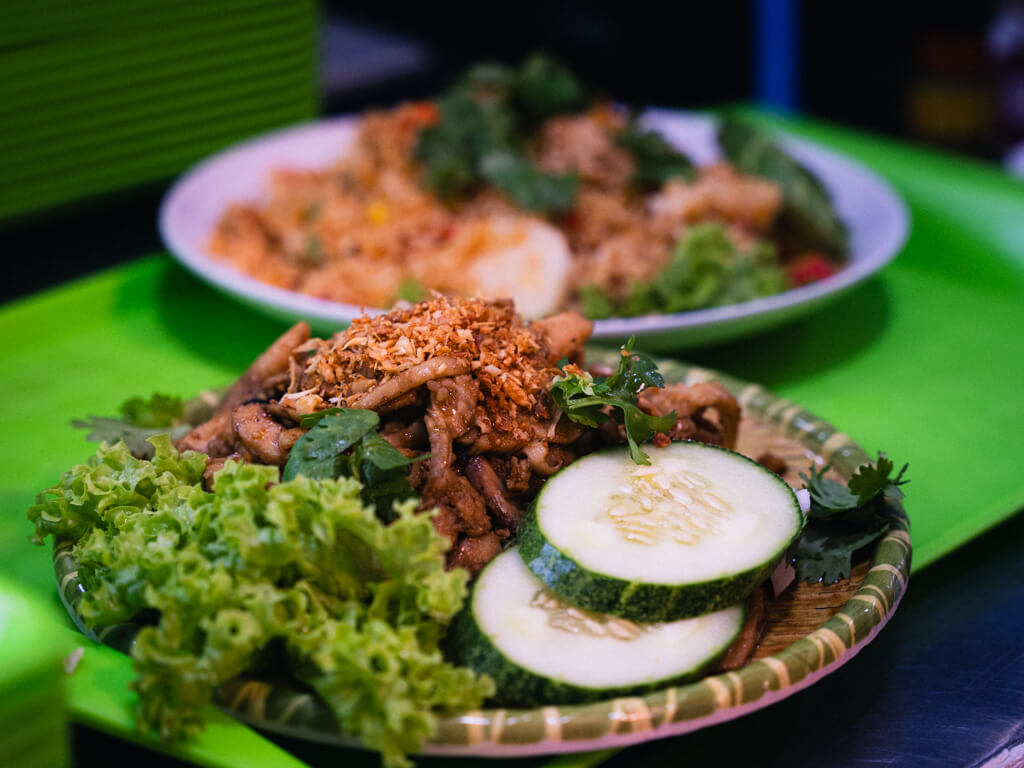 Watching Eng and Chanontree banter, I ask what they like about each other. 
For Chanontree, he appreciates Eng's maturity as she's had to learn to grow up from a young age. 
As for Eng, she likes his street smarts. He's much better at people relations, such as handling conflict and managing customers, and often he's the one who would coach her on what to say, she says. 
 "He looks very nice and innocent, but he's actually the mastermind," she says with a laugh.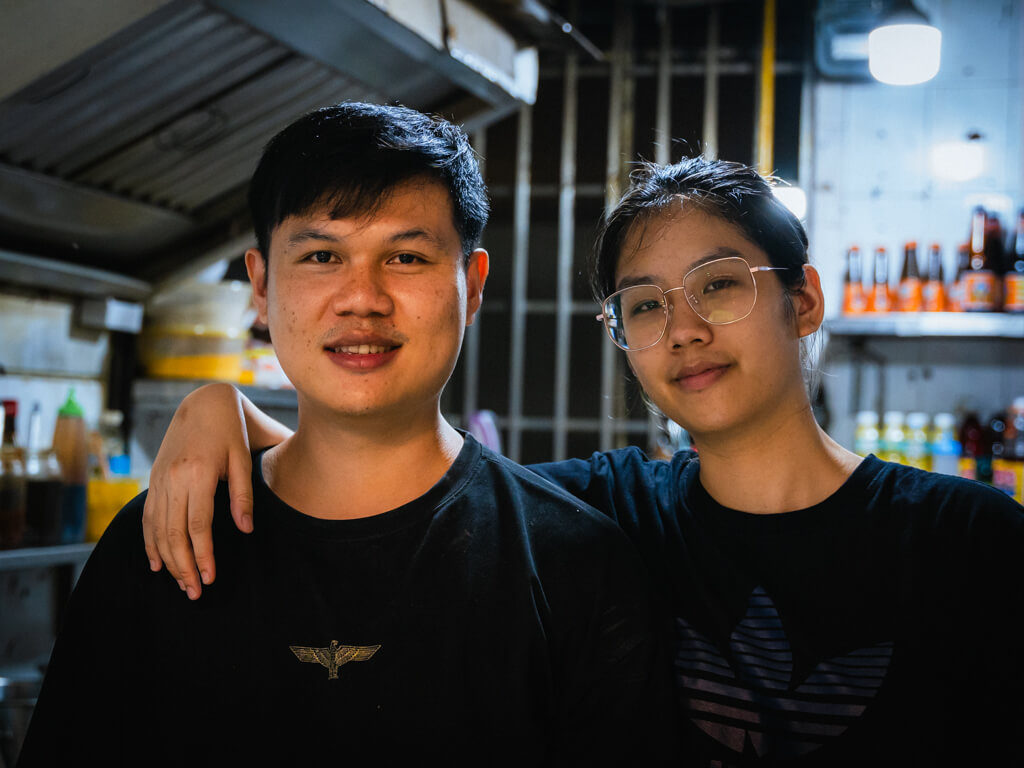 It's clear the pair's relationship is going strong, despite work tensions and personality differences. After all, despite making a pact to get some time away from each other on their days of rest, they invariably find themselves drawn to each other. They end up spending the day together, relaxing or shopping.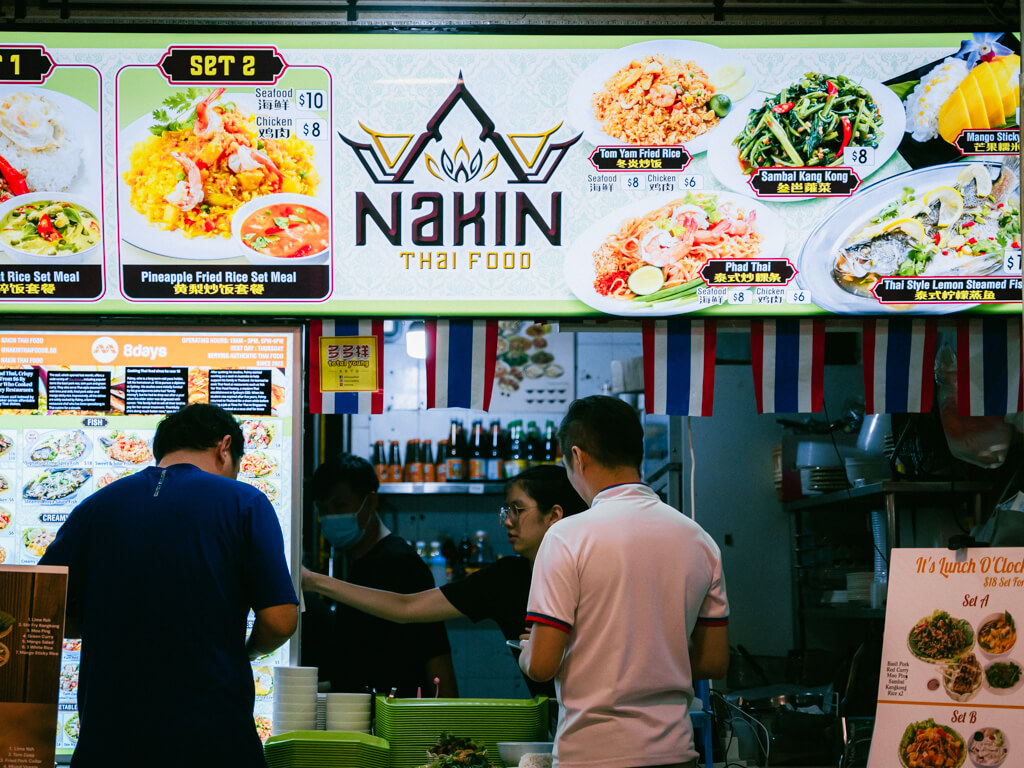 Asked about their plans for the business, Eng says: "For now, we are just going with the flow. We want to see the business grow and hopefully, be able to run a restaurant that everyone knows by name."
Exclusive GrabFood Promo
Good news for our readers who scrolled all the way to the end! Here's your exclusive GrabFood delivery promo for Nakin Thai, valid from September 10 to October 10, 2023: 
How it works:
Use the promo code HGWNAKINTHAI for S$4 off your basket (minimum spending of S$20) when you order from Nakin Thai Food – Clementi West Street 2
Stackable with free Nakin Thai delivery (up to S$3 off) with a GrabUnlimited subscription
While redemptions last, capped at one redemption per person.
Zheng Wei Coffee Shop, 01-150, Block 722 Clementi West Street 2
Nearest MRT station: Dover
Opens: Tuesdays, Wednesdays and Fridays to Sundays (10am to 3pm, 5pm to 9pm)
Zheng Wei Coffee Shop, 01-150, Block 722 Clementi West Street 2
Nearest MRT station: Dover
Opens: Tuesdays, Wednesdays and Fridays to Sundays (10am to 3pm, 5pm to 9pm)
---