Derek Cheong: MasterChef winner-turned-hawker owner serves Indian-style pizzas at Pasir Ris
25-year-old Derek Cheong's culinary career spans various restaurants including Michelin-starred Mirazur 
He also runs his own food consultancy and private dining business
The MasterChef-winner-turned-hawker owner now runs GoPizza at Pasir Ris Hawker Centre, which serves Indian cuisine-inspired pizzas 
The young chef believes in innovating new dishes that encapsulate local flavours
"Hey, are you Derek from MasterChef?"
That was how Derek Cheong met the CEO of GoPizza.
It's no surprise that heavyweights in the F&B industry are familiar with the spirited 25-year-old – he was crowned the winner of the television programme MasterChef Singapore's second season back in 2021.
He impressed both the audience and judges with his mastery of Asian flavours, and is now a sought-after private dining chef.
Two years after Cheong's victory, the regional CEO of GoPizza, Kelvin Sia, recognised him outside a pizza restaurant one day. The two struck up a conversation and Sia pitched becoming a franchisee for the famous Korean pizza chain. 
It was a decision Cheong didn't take lightly. After all, he always saw himself as a fine dining chef. But armed with a desire to liven up local hawker culture, he took a leap of faith and went the unconventional route of setting up his own pizza store at Pasir Ris Hawker Centre.
This collaboration marks his first foray into the hawker scene — and a successful one at that. Today, Cheong dishes up novel Indian-style pizzas that encapsulate his love for the cuisine and its complex flavours.
How Cheong's culinary journey began
Besides being a master baker at GoPizza, Cheong has worn many hats in his culinary career.
His parents were hawkers who sold rojak and satay at hawker centres. Having grown up around food, it was inevitable that he, too, developed a love for cooking when he was 18. He started off following recipes from YouTube and cookbooks published by professional chefs. 
After famously taking the crown during the televised cooking competition, the former engineering student from Nanyang Technological University took a leave of absence of two years, then eventually decided to leave school to pursue his culinary career full-time.
While most might find it a rash decision, it was a choice he never regretted. 
He landed a commis chef gig at French establishment Mirazur's three-month residency in Singapore.
Mirazur is a three-Michelin-starred restaurant and was ranked first on the World's 50 Best Restaurants list in 2019.
"What I learnt there — regarding the operation and business aspects — were incorporated into my private dining business, as well as knowledge and techniques of ingredients," he says. 
Not only did his stint give him insight into the ins-and-outs of a professional kitchen, it also allowed him to experiment with a repertoire of ingredients and cooking techniques.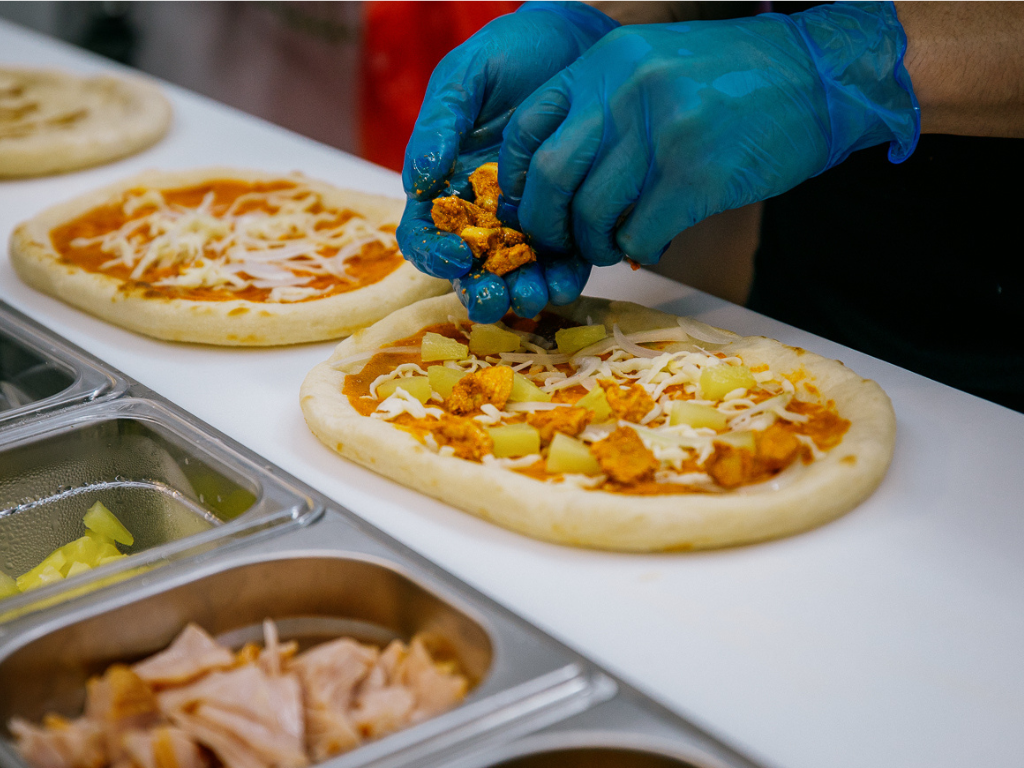 He also founded a private dining and food consultancy concept, Flavourium, where he could explore his interests and more flavours through his dishes.
"As an artist, I always love to create and innovate new stuff. I do get sick of cooking the same thing over and over again," Cheong adds. He calls himself a "see-mood" chef — a trait that helps him hone his craft, push the boundaries of his cooking and dish up new unique recipes. 
Under the Flavourium brand, he hosts tasting menus inspired by international cuisines at his home in Pasir Ris. With only three sessions a week from Friday to Sunday, the place is usually fully booked out two months in advance and sees eight to 10 diners at a time.
Inspiration behind the Indian-style pizzas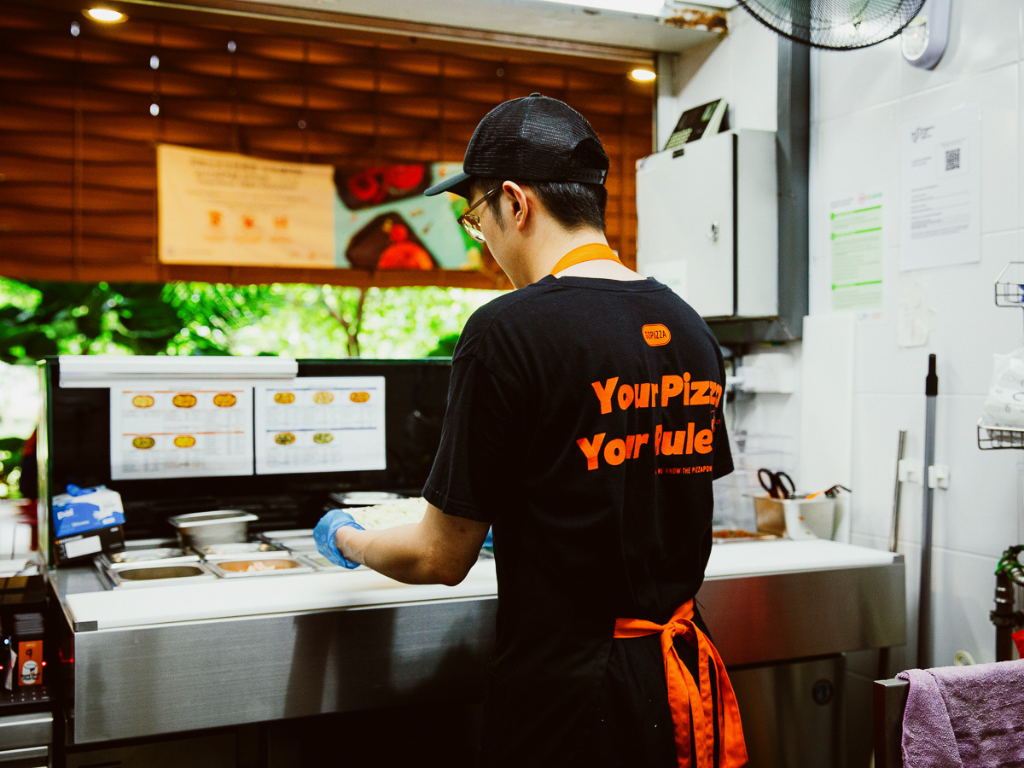 Despite his experience in cuisines of all types, Cheong wanted to introduce Indian-style pizzas to the GoPizza store in Pasir Ris. It's the only branch in Singapore that focuses on pizzas inspired by Indian cuisine. 
"My philosophy in food is that it has to be umami-driven," he explains. He also doesn't see any other chef making such pizza recipes.
"There's a story behind every dish in India," he muses. "I really enjoy the complexity of flavours in Indian cuisine."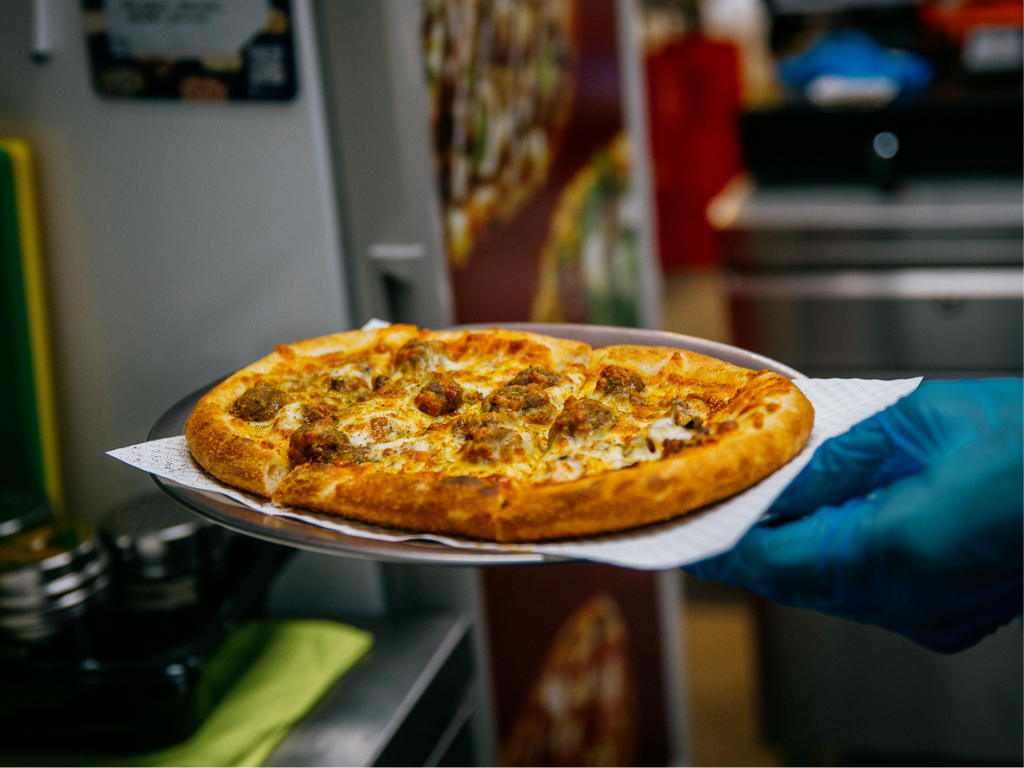 The reception so far has taken Cheong by surprise. 
"We see an increased number of Indian customers that come and watch a Chinese guy make pizza," he jokes. "It's quite heartwarming and they introduced [the store to] all their family and friends." His customers have also commented that his dishes are authentic to Indian cuisine.
The reception from the public has been wonderful and the residents who pop by Cheong's hawker stall are incredibly supportive. This motivates him to create better, bolder dishes, where he can let his creativity take flight.
Certain days are busier than others and his parents occasionally help out at the stall to manage the crowd. 
Says Cheong: "(It's) not like a nine-to-five job. You can't take off on your birthday because (as a hawker) you're celebrating someone else's birthday."
Must-order dishes at Cheong's GoPizza stall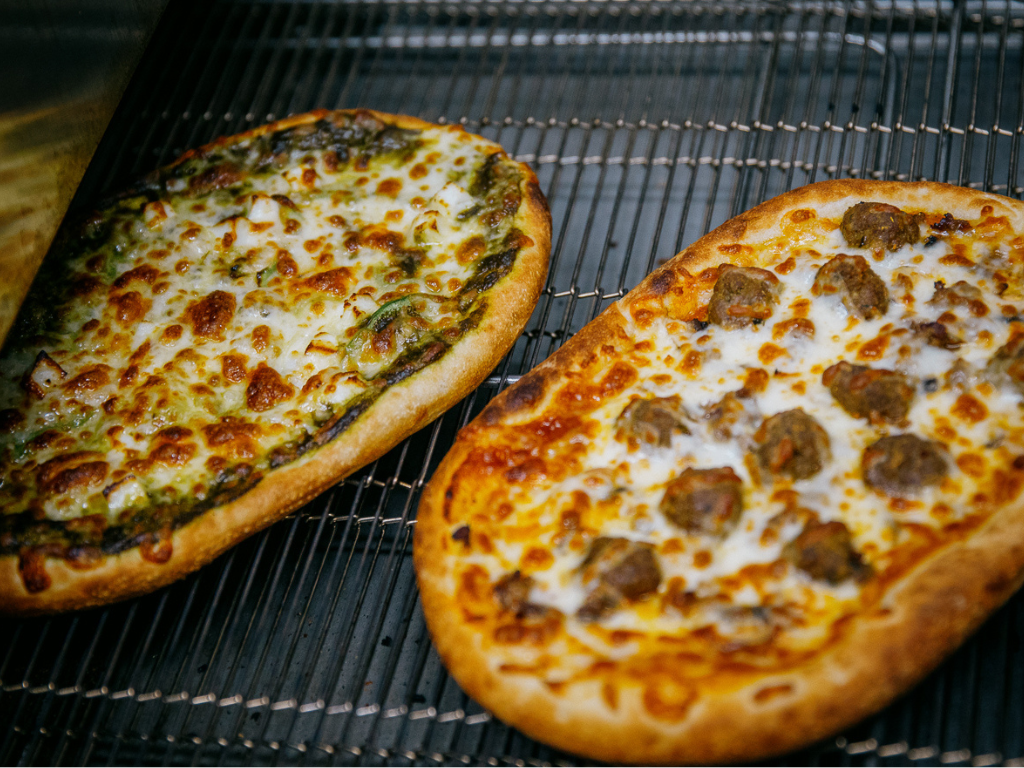 We were excited to try Cheong's unique, fusion dishes, which epitomise classic Indian dishes that we know and love, but in pizza form. 
All the pizzas are made from scratch and baked in-house. 
The Chef's Specials series (all priced at S$10.90) are Cheong's top recommendations from the GoPizza repertoire — and of course, includes his own Indian-style creations. These come in a plethora of flavours, such as mushroom masala, palak paneer (spinach cottage cheese curry), butter chicken and more.
For those who prefer simpler flavours, there are also classic options to choose from, such as the  Hawaiian (S$8.90) and Four Cheese Maniac (S$12.90). 
Though they may not be the stars of the show, the side dishes also make for the perfect accompaniment to the pizzas. Think Madras curry wings (from S$8.90), Chicken 65 (from S$8.90) and mushroom pakora (fritters, S$7.90), all of which are Cheong's creations.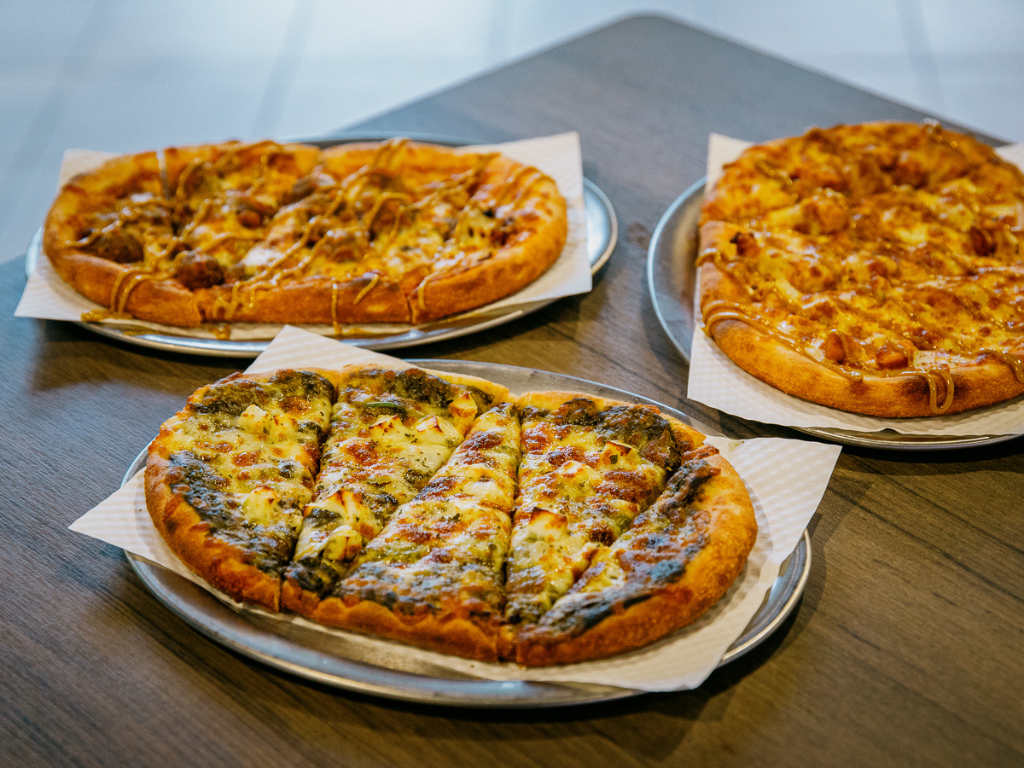 We loved the butter chicken pizza, which was rich, creamy and chock-full of butter chicken cubes.
Composed of GoPizza's signature pizza dough base and a new topping-and-gravy combination by Cheong, the pizza reminds us of biting into a pillowy naan dipped in a savoury butter chicken curry — so delicious. 
The palak paneer pizza is another decadent dish that you can't sleep on. It's aromatic, herbaceous and oh-so-addictive. You can't help but reach for a second slice.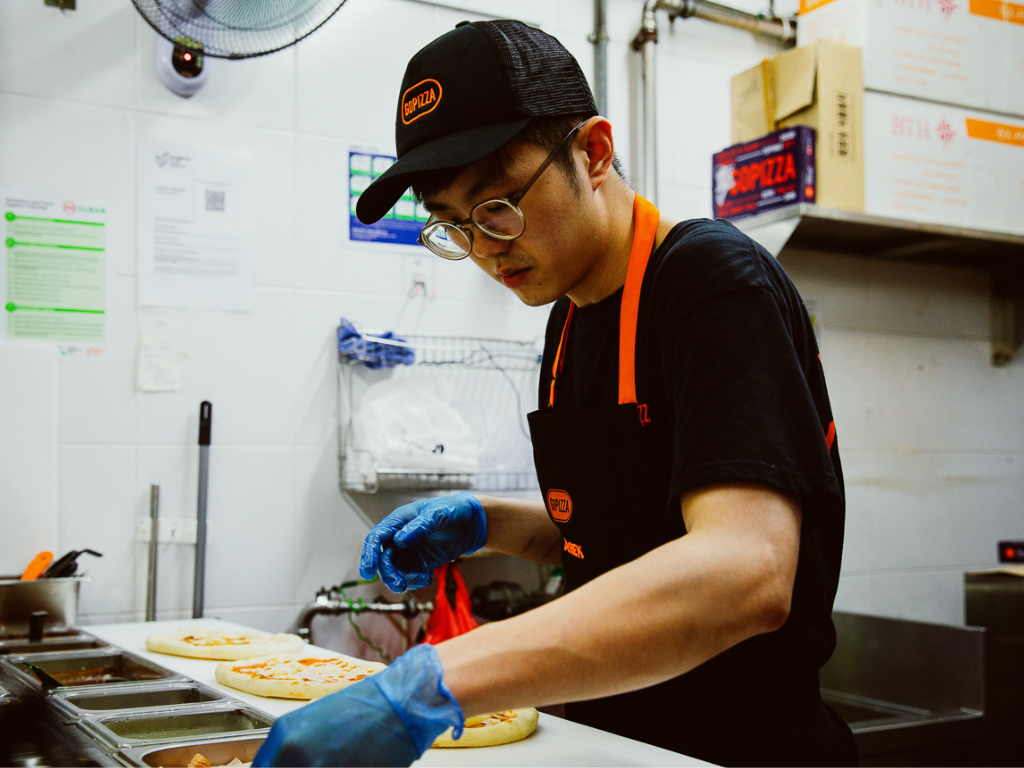 Despite the challenges of working at a hawker stall, Cheong is all about the constant pursuit of culinary excellence. He has plans to expand the menu and include seasonal specials in the future. 
He also dreams of helming his own Michelin-starred restaurant, where he can focus on other cuisines that he's passionate about, such as Indian and African. 
For now, besides his work on GoPizza, he's focusing on his food consultancy and private dining business.
Cheong is still churning up new dishes on the sidelines, such as a specially designed menu for the new Surrey Hills Grocer Cafe at Raffles City, and a recent four-hands dinner series with Law Jia-Jun from Province in May.
If there's one thing he wishes to convey to aspiring chefs, it's for them to consistently expand their knowledge of different techniques and ingredients. 
According to Cheong, "You've got to have an undying thirst for knowledge to always learn new things and develop your palate."
Pasir Ris Hawker Centre, 01-19, 110 Pasir Ris Central
Nearest MRT station: Pasir Ris
Open: Monday to Sunday (11am to 8pm)
Pasir Ris Hawker Centre, 01-19, 110 Pasir Ris Central
Nearest MRT station: Pasir Ris
Open: Monday to Sunday (11am to 8pm)
---