Review: Surrey Hills Deli's gourmet sandwiches & pastas are a quick, tasty fix for CBD warriors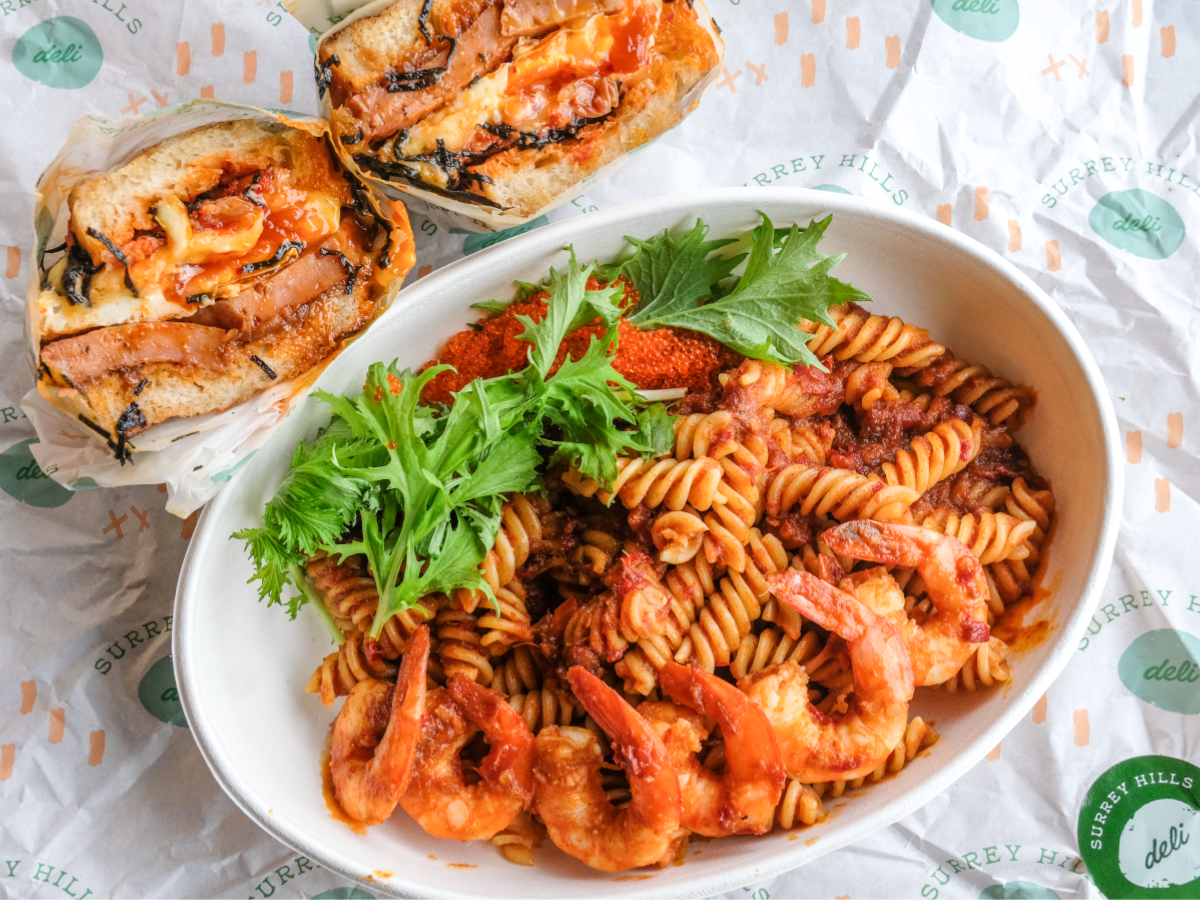 The brand-new sanger joint at the Bank of China Building comes from the team behind Surrey Hills Grocer 
It features eight Australian-style sandwiches and a variety of pastas whipped up at a moment's notice 
We loved the gochujang-and-luncheon-meat sandwich, and another with truffle and black forest ham
For us Singaporeans, a sandwich may be something we eat in the mornings — perhaps with peanut butter and jelly, egg mayo, or maybe a slice of cheese. 
But, in Australia, the sanger — a term that emerged in the 60s — is pretty much a staple of Australian cuisine, coming in all shapes and sizes. There are chicken schnitzel sangers, veggie sangers, and even double banger sangers for the heartiest eaters.
I adore my bread and meat, so it's a good thing that the folks at Surrey Hills Grocer — a somewhat new cafe and Australian specialty grocer with stores in Orchard and Jurong — decided to open a sanger joint in the middle of Raffles Place.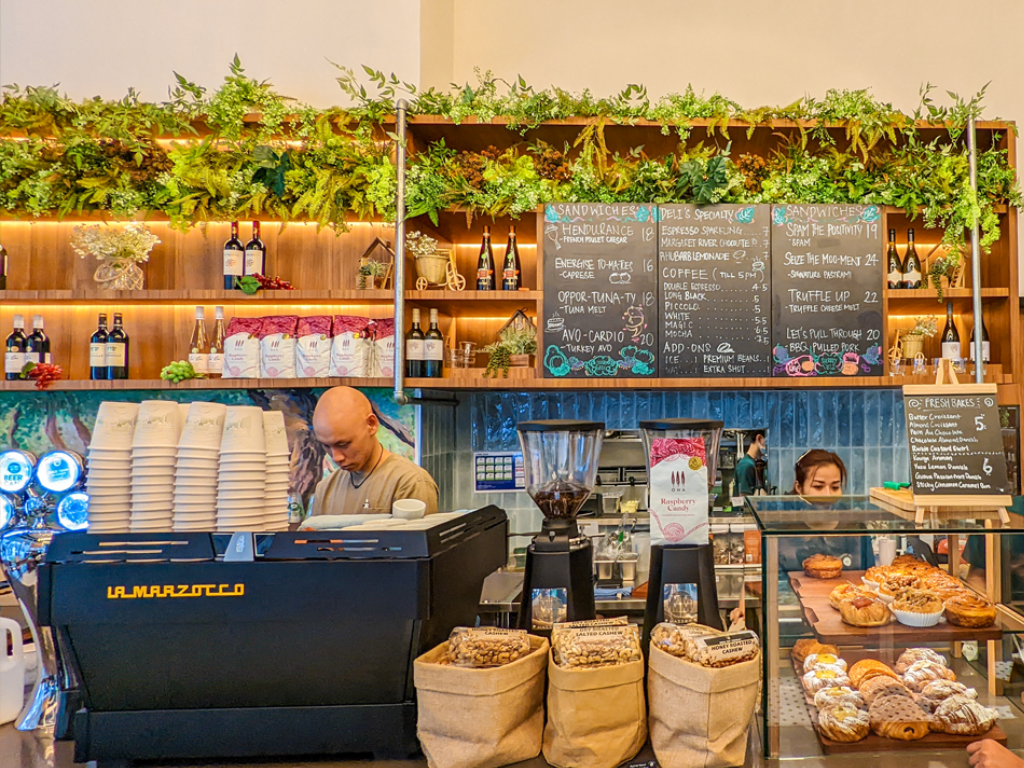 The Surrey Hills brand, founded by ex-banker Pang Gek Teng, is all about bringing a touch of the Australian countryside to Singapore. Pang opened the first Jurong outlet in January 2022 and the Orchard store in November 2022.
While its grocer concept focuses on brunch fare and imported products from Down Under, this new concept is more about providing CBD hustlers with a respite, with eight fully loaded sandwiches featured in the lineup. 
It's worth noting that the recipes are created by chef-consultant Pang Kok Keong, who started Supercurry several months back.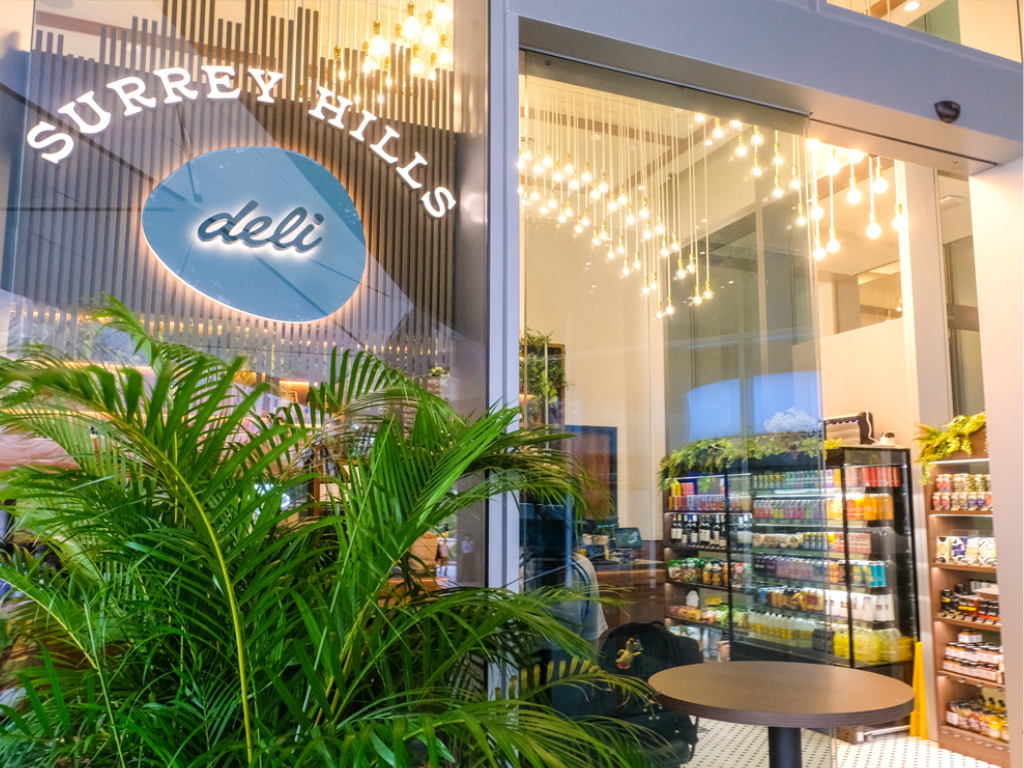 It's clear that Surrey Hills Deli is set up to be a hotspot for those eyeing a quick and convenient lunch in Raffles Place — be they office workers, yogis and fitness buffs, or anyone looking for fantastic sandwiches and pastas. 
The prices here aren't exactly budget-friendly. Paying upwards of 17 dollarydoos for a sandwich seems a bit much, but the level of cooking, quality ingredients used and the generous portions make up for that. And, okay, we're in the CBD after all.
There are eight made-to-order sangers (from S$16 to S$24, and mostly cheekily named) here. 
Some are more common: Tuna salad with aged cheese, and another with avocado, brie and cranberry jam — y'know, healthy-ish stuff that's good for gym rats. 
But I can guess what those taste like, so I go for the specials.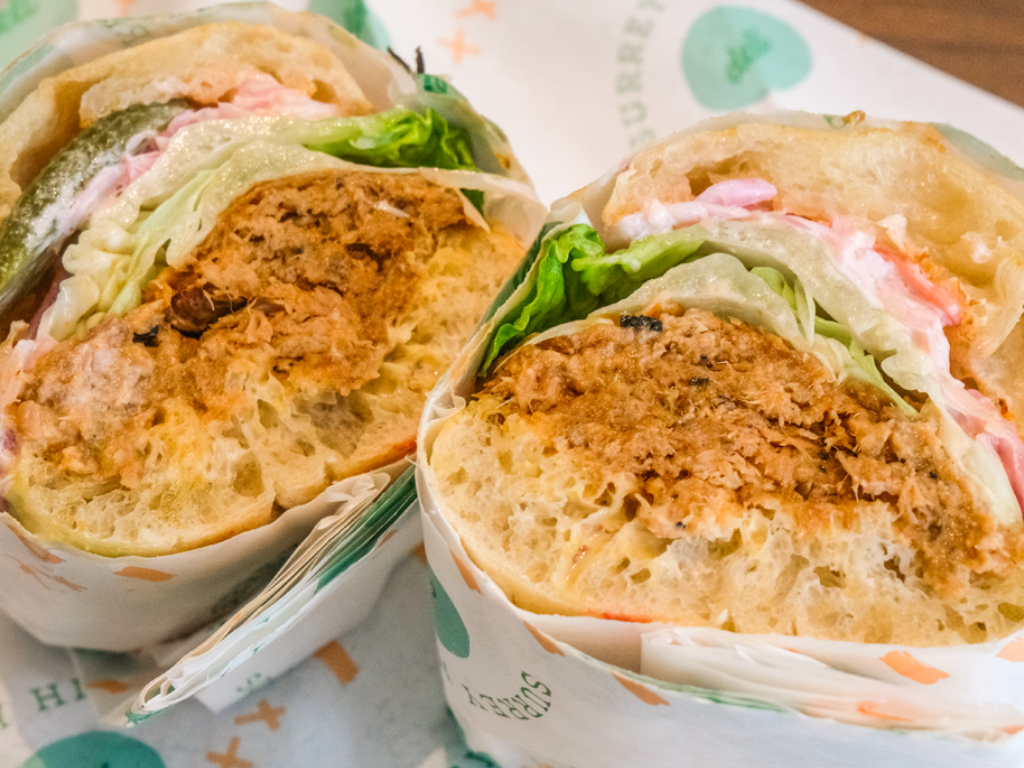 There's a robust ciabatta (what's interesting is that different flavours come with different types of bread) called Let's Pull Through (S$20). This probably refers to the pulled pork shoulder that's been cooked for 36 hours, elevated with green mango slaw and mustard mayo. 
The brilliantly seasoned pork is tender and juicy, and expertly shredded, with a fine amount of tang and bite from the gherkins and unripe mangoes. It's utterly delicious.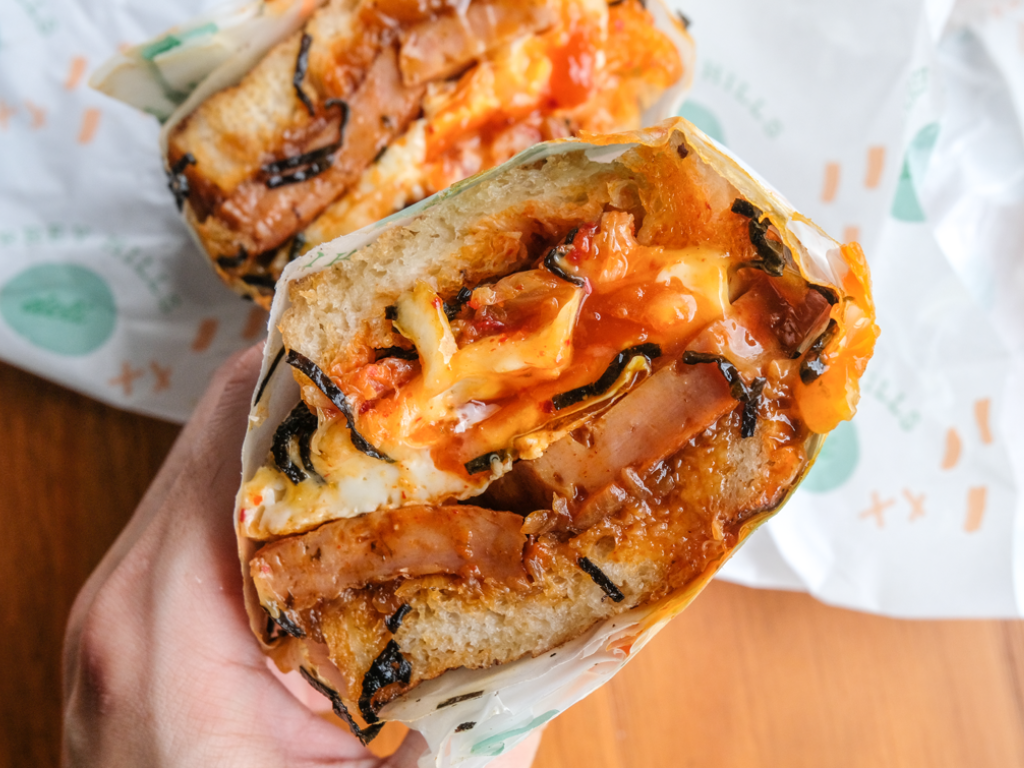 You know how they say the best burgers are messy as heck? Spam the Positivity (S$19) is like that, thanks to the spicy gochujang glaze and tangy kimchi that put a Korean spin on the classic spam-and-crispy-fried-egg combo. 
Caramelised onions, some aged cheddar, seaweed flakes, and the crisp yet soft texture of a good sourdough help bring it all together. Maybe don't eat this at your office desk?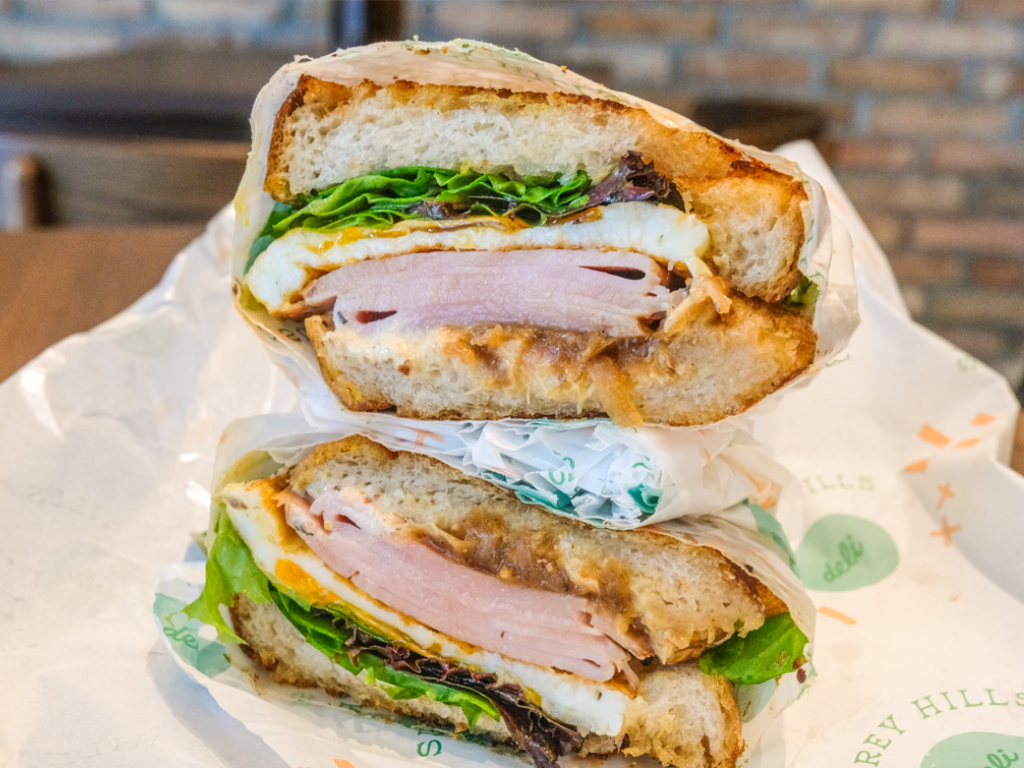 Truffle lover or not, you'll love the decadent Truffle Up (S$22) that stacks black truffle mayo and a heap of smoky black forest ham on sourdough. 
The bread is also smeared with grainy and mildly spicy Pommery mustard, triple cheese bechamel sauce, and caramelised onions. All these lend an earthy savouriness to the already-rich dry-cured ham. Yummy.
Surrey Hills is known for a chilli crab spaghetti. But here, it's done up with al dente fusilli and prawns, which I feel better hold the sauce — a tasty housemade rempah that's impressively spicy. The Chilli Prawn (S$24) ups the seafood factor with tobiko, and a bunch of mizuna adds a sweet and peppery kick.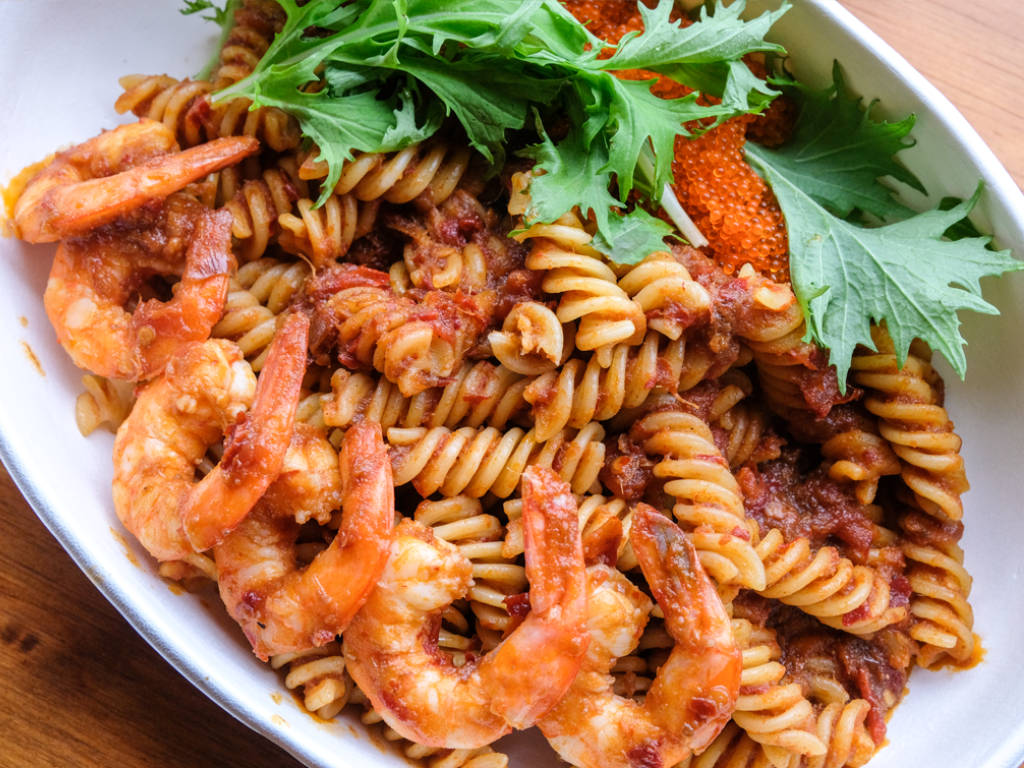 Even the coffee is from Down Under, sort of — the beans are roasted by specialty Aussie roasters Ona Coffee. 
A long black starts from S$5, while white coffee starts from S$5.50. If you haven't tried a Magic (a Melburnian creation of a double ristretto with steamed milk), I highly recommend you do so here.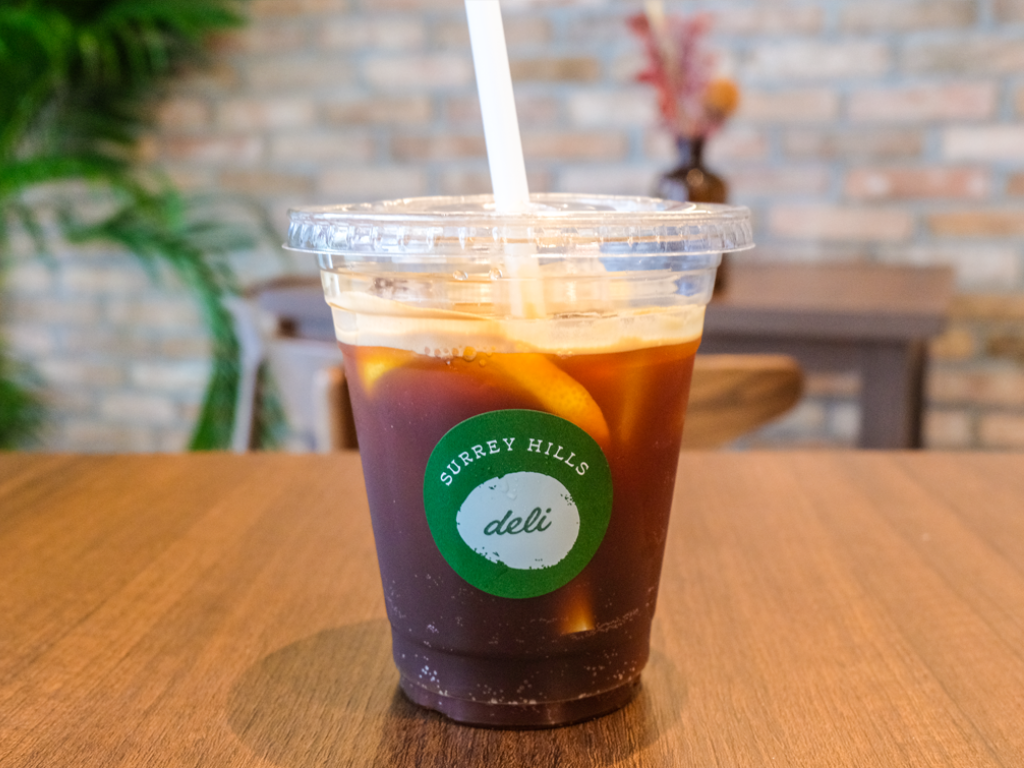 I'm one for more experimental drinks, so I try the special creations. 
The espresso sparkling (S$7) is an iced long black infused with sparkling water. There's a gentle coffee profile (primarily fruit and toffee) that's balanced out with mild fizz — light, refreshing and sensible for our weather. 
There's a reason Australia is known for having some of the best-tasting brews.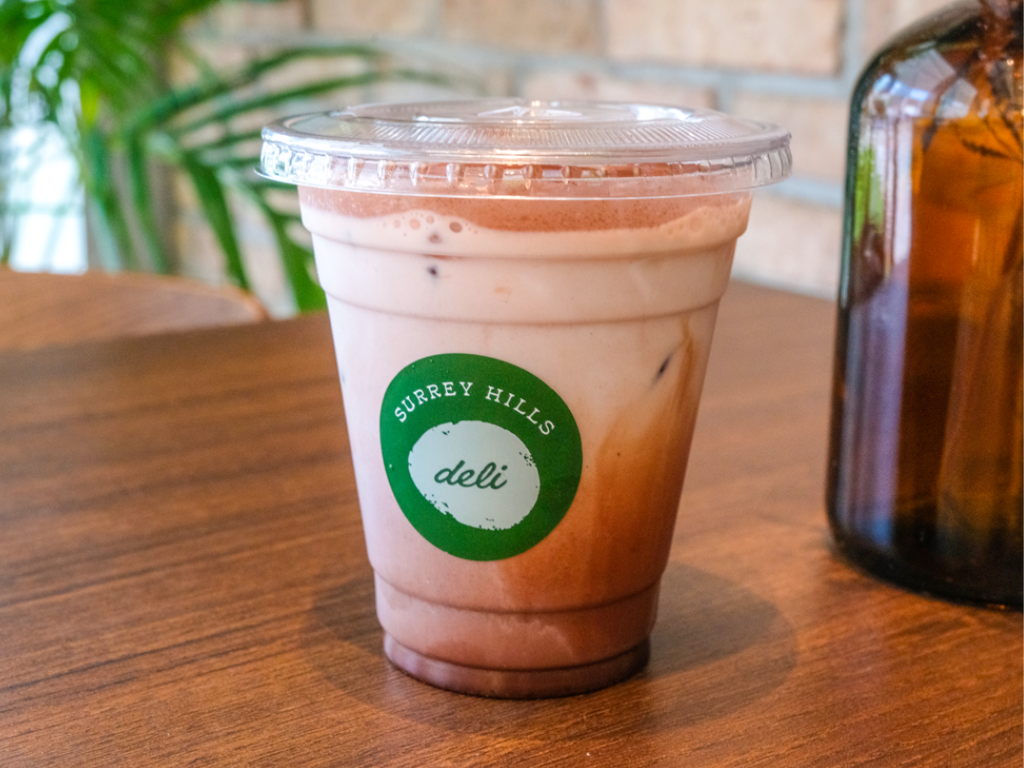 There's a creamy cocoa drink made with chocolate from Margaret River (S$7, +S$1 for ice), a region in Western Australia known for wines and artisanal produce. 
It's what I imagined a swig from Willy Wonka's chocolate river would taste like — rich, nutty and immensely chocolatey. Should I be proud to say that I finished this in minutes?
There's nothing to complain about when it comes to the food and drinks here, which are top notch. 
The presentation is good — as pretty as sandwiches can get — and even the service and speed were flawless during my afternoon visit. 
I can imagine longer-than-average waits during lunch hour, where there's a higher chance of things going wrong. For one thing, there's no number system, and instead, the staff call out names one by one at the top of their lungs. What if there are eight Bens waiting for their food? 
That said, it's really a non-problem, so all that's left to do is make your way down for some banging sangers.
Is it conducive to conversation? Only if you head there during non-peak hours. Otherwise, expect a bustling crowd inside the deli.
Is a reservation necessary? No reservations needed.
How to get there? Head to the first floor of the Bank of China Building — a two-minute walk from Exit H of Raffles Place MRT station.
Take note:
Looking for something stronger? The cafe pulls Australian craft beer on tap after 5pm, along with bar snacks such as triple truffle fries.
The Bank of China Building, 01-02, 6 Battery Road
Open: Monday to Friday (8am to 10pm), Saturday (9am to 5pm)
The Bank of China Building, 01-02, 6 Battery Road
Open: Monday to Friday (8am to 10pm), Saturday (9am to 5pm)
---