Review: Supercurry dishes up heaping plates of curry rice in Telok Ayer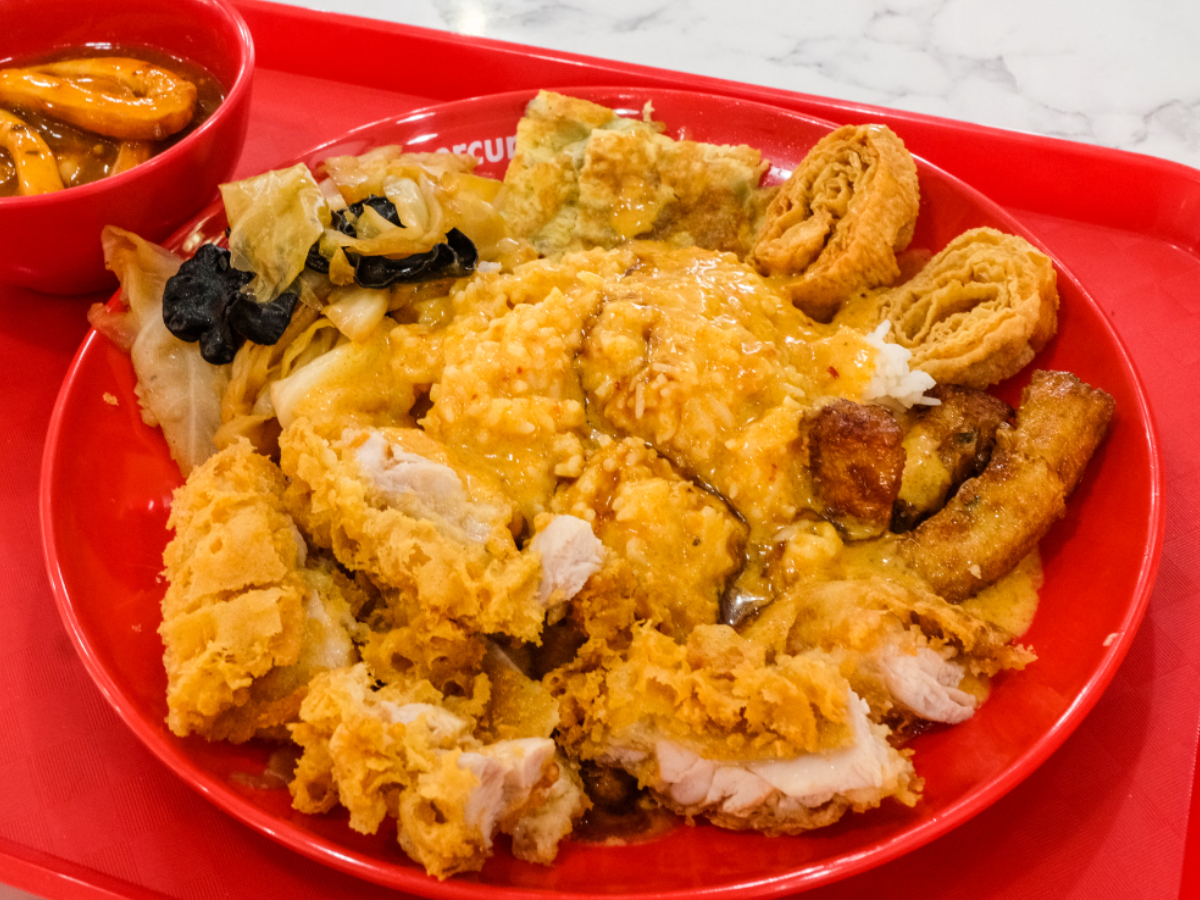 Supercurry is a new coffee-shop stall in Telok Ayer by a chef who used to run French-inspired patisserie Antoinette and later Pang's Hakka Noodles
It serves Singapore-style curry rice sets, with add-on sides such as sotong and tempeh, fried chicken skin and prawn cake
Portions here are extra large — perfect for those with a big appetite
There's Hainanese curry, and then there's Singapore curry. At least, that's the angle that the owner of Supercurry, chef Pang Kok Keong, is trying to sell — with a side of red-hot hype. 
When you step into the small coffee shop at the junction of Boon Tat Street and Telok Ayer Street, your eyes will be drawn to the bright-red sign in the middle of the unit. 
The logo bears uncanny similarities to that hypebeast brand Supreme, and some dishes on the LED-lit menu even sport a "Hype" label. 
Someone clearly loves his streetwear, it seems.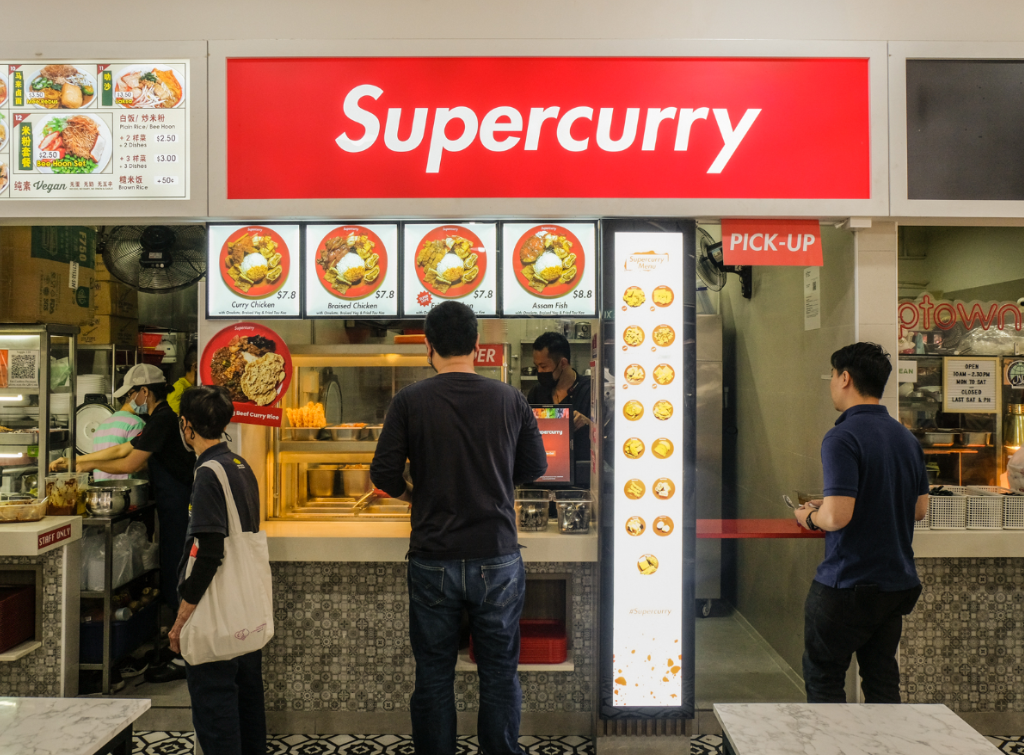 The backstory
Supercurry is in the same coffee shop that houses other popular stalls, such as Uptown Nasi Lemak, Mrs Hen and Ikan Story. 
Pang, who opened the stall in August, is no stranger to the F&B scene, having run the now-defunct French patisserie Antoinette, which closed in 2020, and Pang's Hakka Noodles, also temporarily closed while he searches for a new location.
While Pang himself doesn't run the day-to-day operations (he cooks at the nearby Sichuan restaurant Basdban), he's hired a veteran zi char chef with some 30 years of experience to helm the kitchen.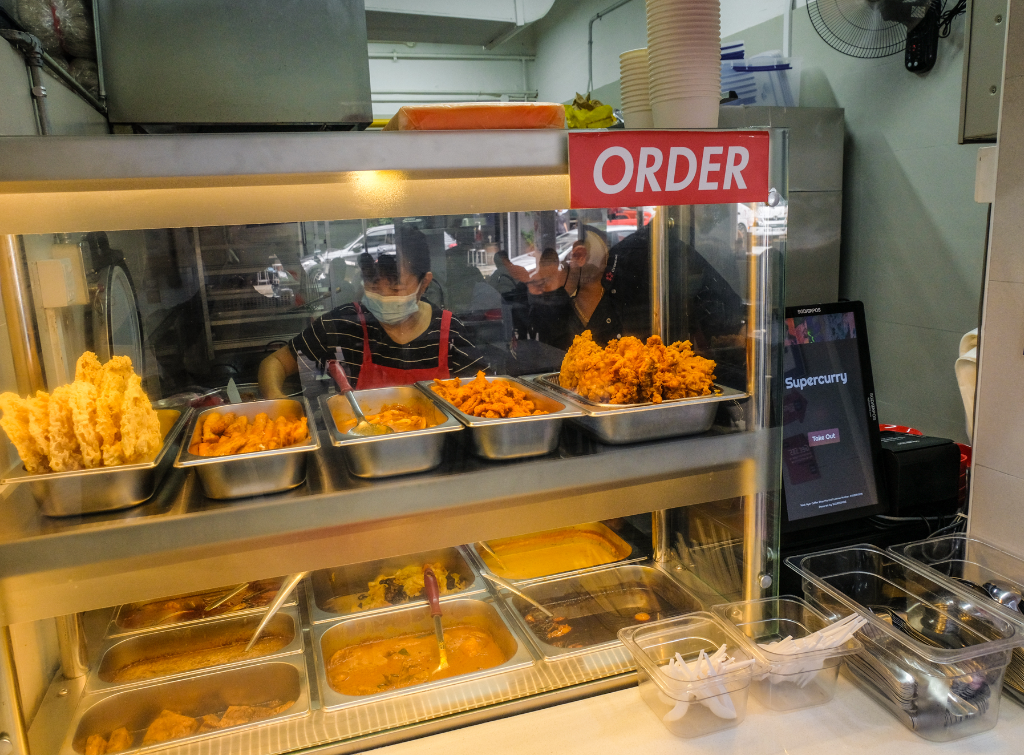 Our verdict

If you're looking for a classic Hainanese curry rice, you won't find one here (Pang happens to be Hakka). 
What Supercurry offers are pre-selected sets with a variety of side dishes. Oh, and deliciously creamy curry, punchy chilli sauce and generous portions. 
At present, there are five base sets to choose from, but word on the street is that the team's planning to release new options such as braised beef cheeks, which I can't wait to try.  
While I don't see myself travelling to Telok Ayer just for Supercurry, I wouldn't mind dropping by whenever I'm in the area.
Sets start from S$7.80, while sides range anywhere between 80 cents and S$3.50. 
It's not exactly cheap for curry rice, but it somehow makes sense for a coffee shop where nasi lemak starts from S$6.80 and a zhng-ed-up bowl of Indomie from S$7.50. We're in Telok Ayer after all. 
What it's good for
Let's start with the curry. 
If you frequent places such as Beach Road Scissors Cut Curry Rice or Loo's Hainanese Curry Rice, you'll find the curry here thicker, but milder in appearance and taste. It's not as salty, sweet or oily, but still full of coconut and chicken flavour. Lemak!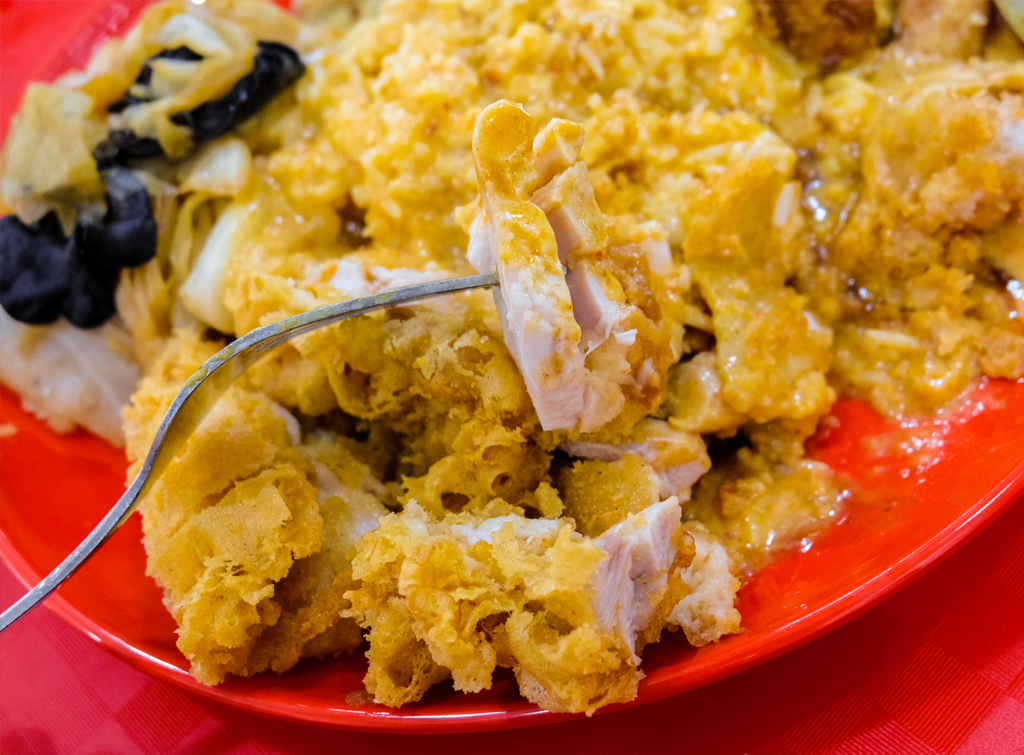 The quintessential fried chicken set (S$7.80) is a must-try. 
This heaping plate of cutlet-fried chicken came with a tasty shredded onion omelette, cabbage and black fungus chap chye braised till soft, as well as addictive pieces of fried tau kee that are reminiscent of ling ling juan — that dried beancurd roll you find in hotpot places — only crispier and more savoury.
Then there's the chicken, which is huge, by the way. Flawlessly fried without being too oily, the tender leg meat with extraordinarily airy and crispy skin resembles a good beer-battered fish and chips. This is a Muslim-friendly coffee shop, so I can only imagine some other culinary wizardry was employed.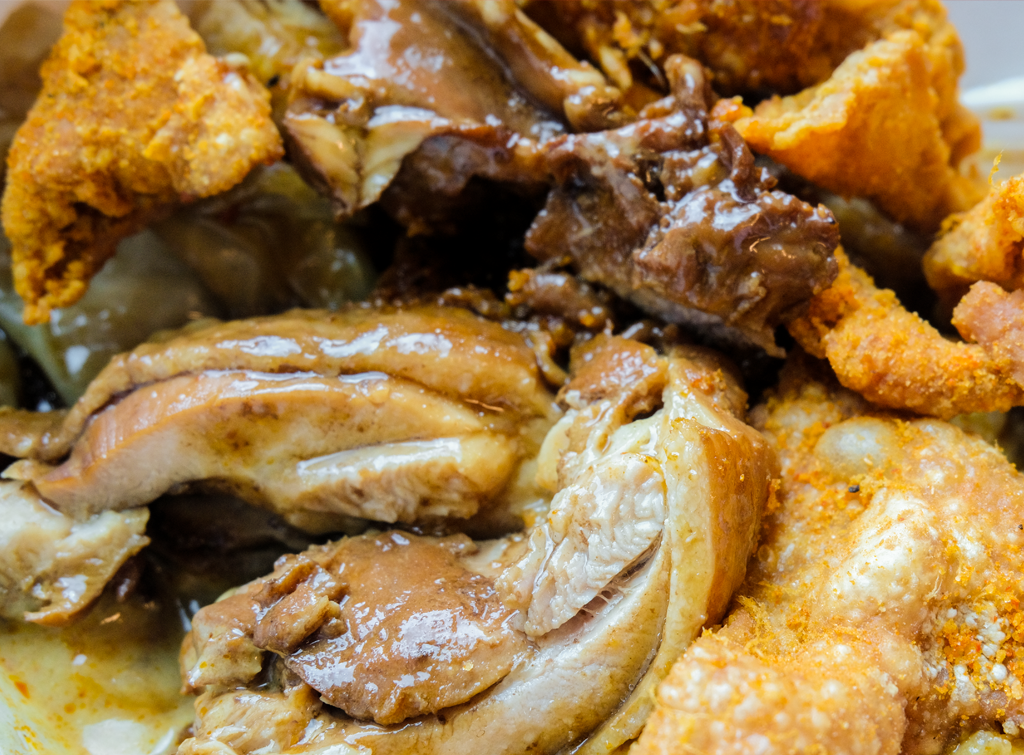 The braised soy sauce chicken set (S$7.80) comes just as tasty and even more tender, with a moreish, mildly sweet gravy and the same sides as above. 
I usually must have fried chicken every time I eat curry rice, but the sweet braised chicken mixed with the curry is quite tasty, and I imagine it's a better option for the health-conscious peeps.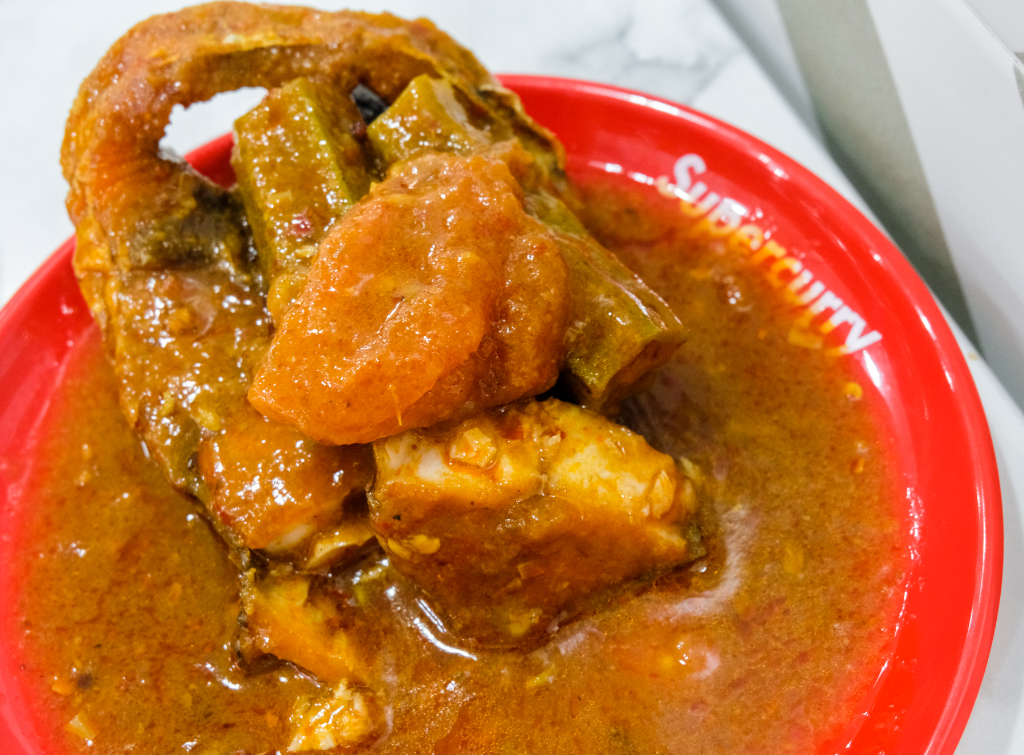 But it's the sides that make Supercurry truly special. 
You can get a hefty slice of assam fish for S$3.50, which is a steal compared with some cai png stalls. The meat is fairly soft and flaky, and the tamarind sauce tangy and spicy enough to stand up to your curry.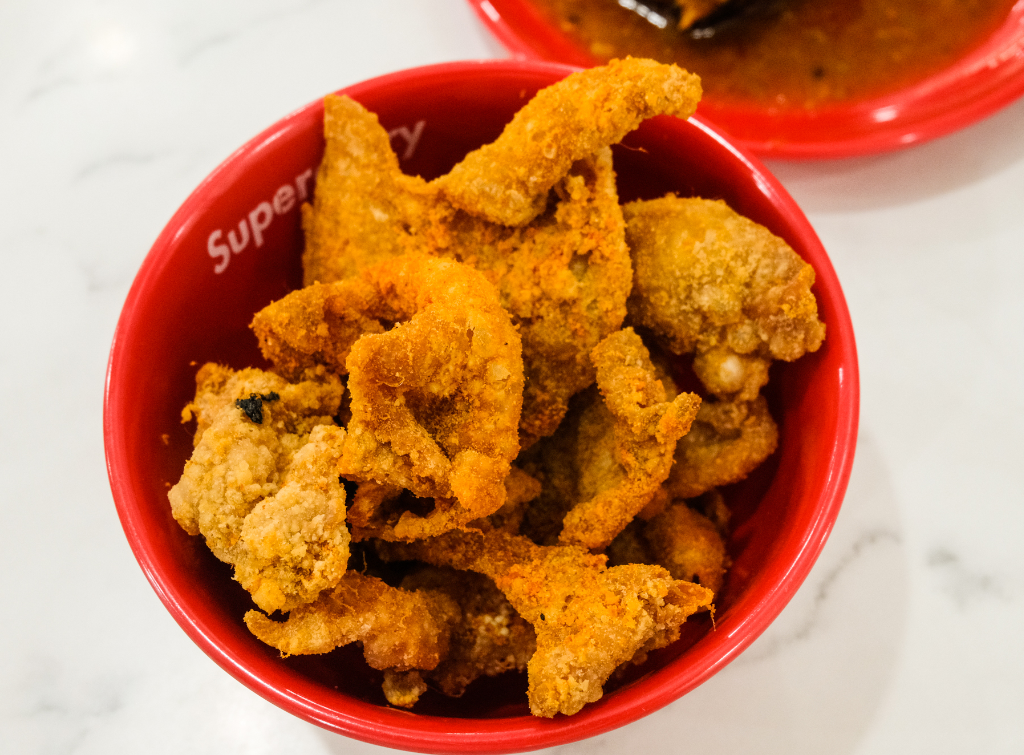 There's a crazy-addictive bowl of fried chicken skin (S$1.50) — large pieces fried to a crackling finish, and dusted with salt and curry powder — that we finished in a flash.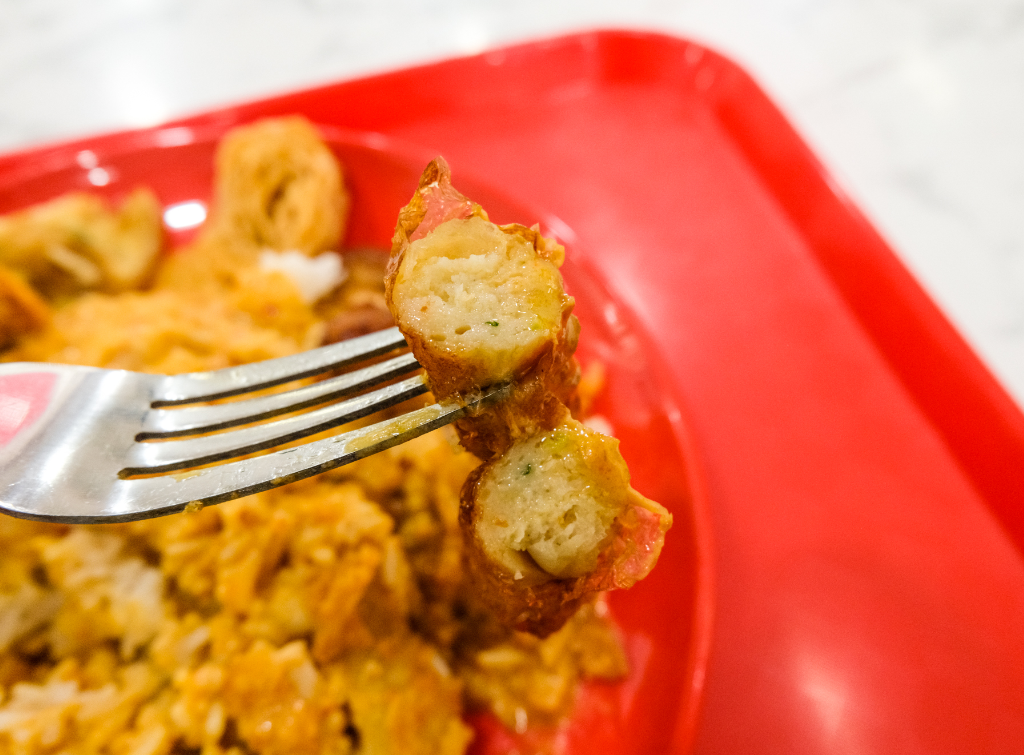 Or thin pieces of chicken ngoh hiang (S$1.20 for two) that are small but full of meaty, umami goodness, and bear hints of fennel and cloves.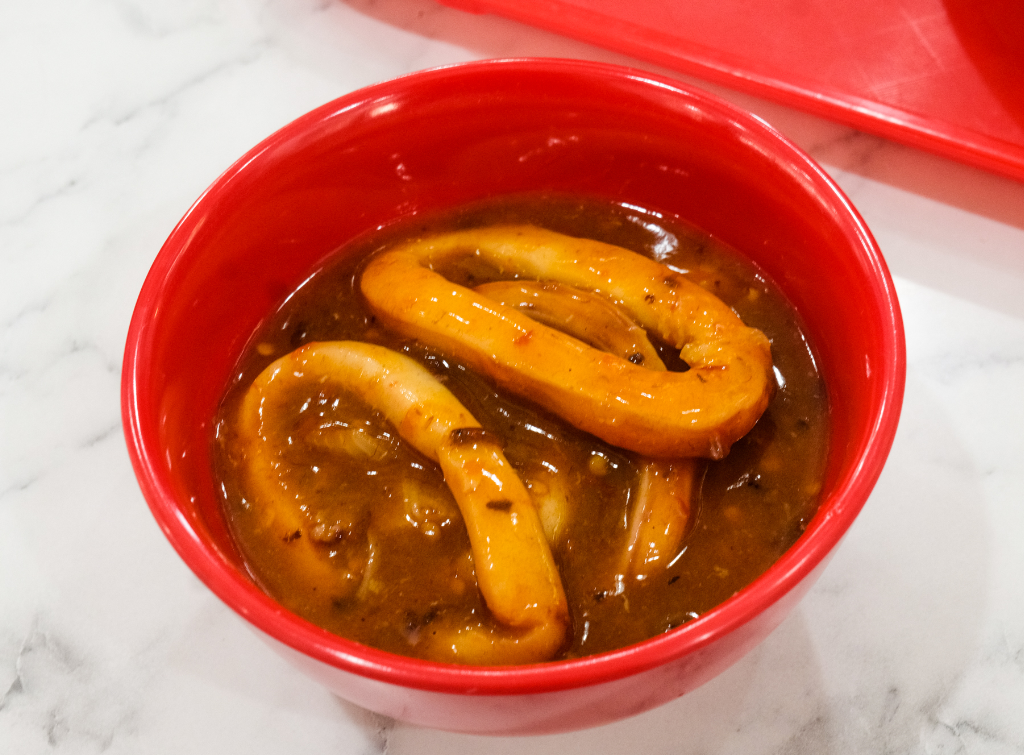 Another popular side is the sotong & tempeh (S$2.50), which turned out to be a lot spicier than expected. I got six large squid rings in a bowl, with a bit of leek and small pieces of tempeh hidden inside the sauce.
You might sweat a bit if your spice tolerance is anywhere beneath mala zhong la (medium spiciness), but underneath all that heat is a pretty tasty dish.
What it could improve on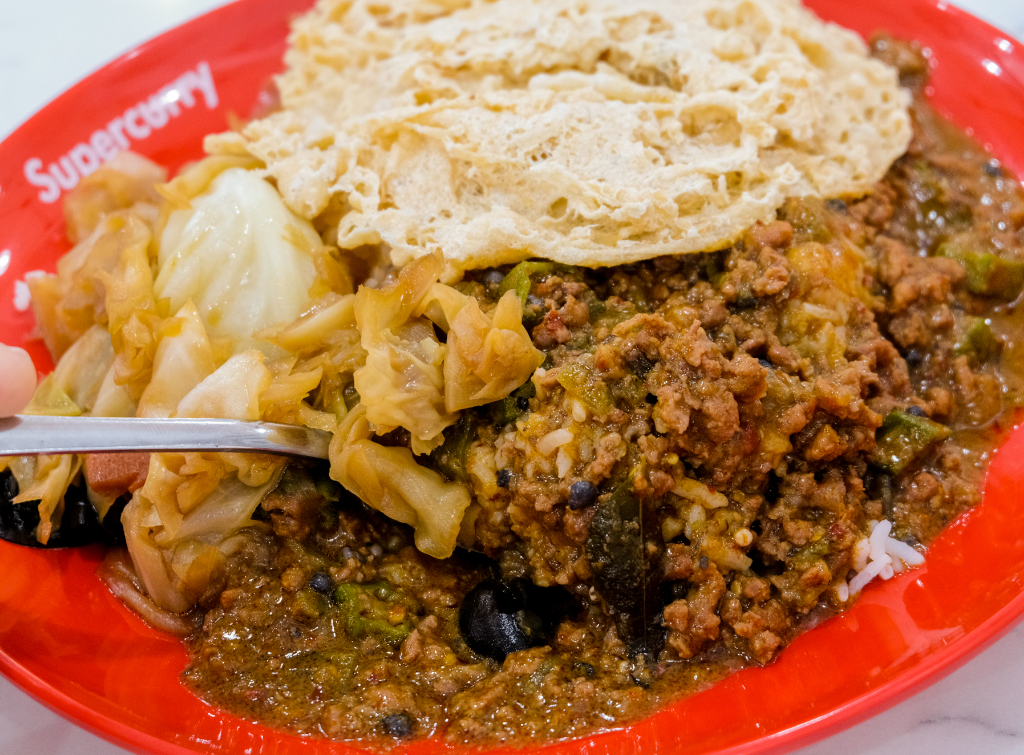 The auntie manning the stall recommended the new crackling beef curry set (S$7.80).
It comes with a heap of beef curry loaded with chopped chilli and okra (ladies' fingers), braised cabbage, and a disc-shaped prawn cracker fritter — the kind you'd get at the wu xiang xia bing stalls. 
While crispy, the cracker lacked nearly any sort of flavour I had hoped for, as did the beef curry, which I felt could do with a lot more beefiness. 
The result is a somewhat-bland plate. As a saving grace, the beef itself was a good blend of fatty and lean meat, and nicely minced.
For now, though, the chicken options are still my pick at Supercurry. That, and the large variety of promising sides to choose from.
Our quick takes 
Is it conducive to conversation? As good as a coffee shop can get.
Is a reservation necessary? Chope a seat with a tissue packet or your business card… probably.
How to get there? Supercurry is inside a small coffee shop at the junction of Boon Tat Street and Telok Ayer Street — a few minutes from Telok Ayer MRT station.
Things to note: 
Don't head there too late on weekdays. Some bestsellers such as fried chicken skin and assam fish were sold out by 2pm on our first visit.

Help yourself to the free punchy chilli sauce from a container at the front.
HungryGoWhere paid for its meal at this stall for this review.
Supercurry is on the GrabFood delivery service. You can also book a ride there. 
121 Telok Ayer Street
Open: Monday to Saturday (10.30am to 4pm)
121 Telok Ayer Street
Open: Monday to Saturday (10.30am to 4pm)
---