Beach Road Scissors Cut Curry Rice's new mall outlet is pricier, but still good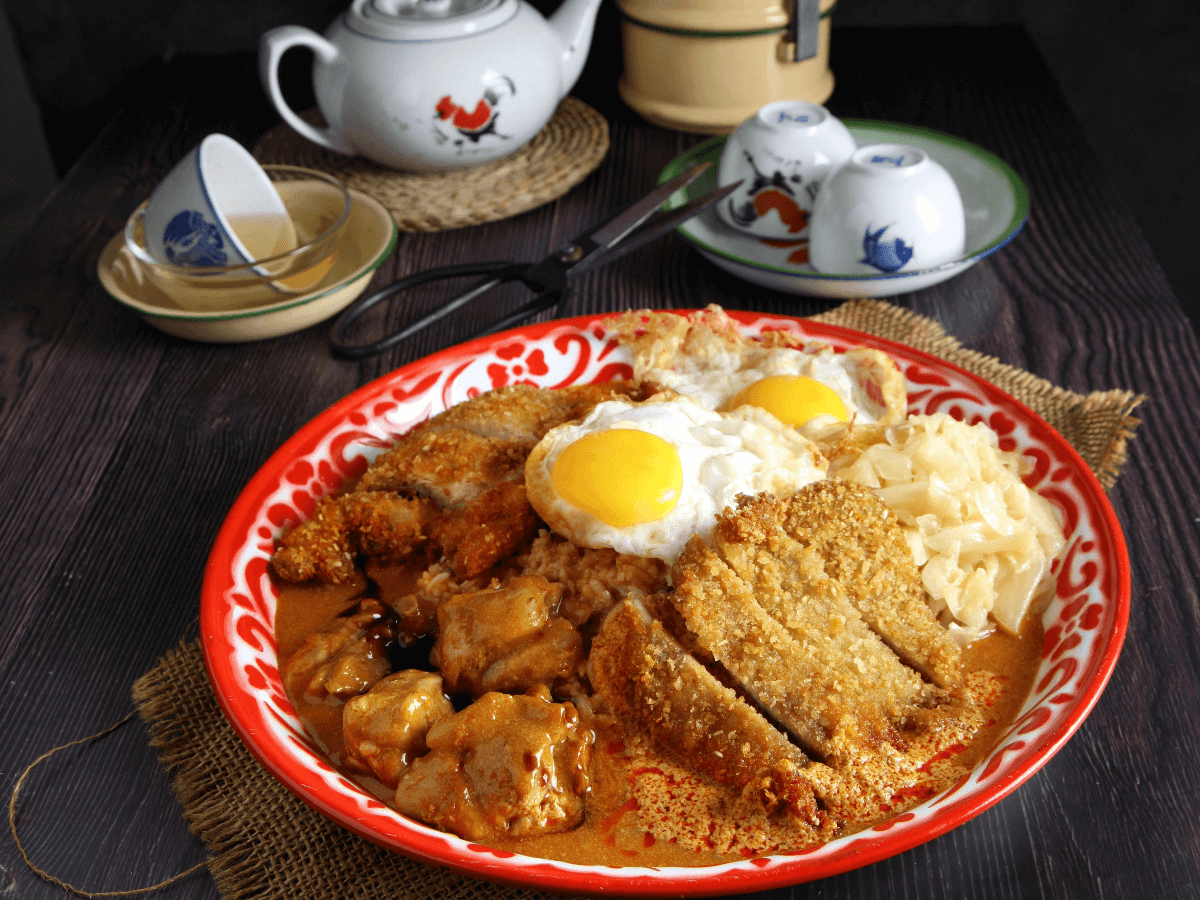 Beach Road Scissors Cut Curry Rice has long been a household name, serving up flavourful plates of curry rice that cater to night owls looking to satisfy their rumbling bellies.
The atmosphere in its original Jalan Besar outlet can be described as no-frills and unpretentious, and the food presentation is fuss-free, almost messy. Ingredients are piled onto plates of rice, cut with a pair of scissors (hence its name), and then drenched generously with its two-sauce recipe.
On Oct 13, the heritage brand opened a new outlet in VivoCity — its third location in Singapore (it has one in Upper Thomson and one within Hawkers' Street at Ion Orchard mall) and its first-ever standalone mall outlet.
The new location is markedly different from its original. It boasts a comfortable, clean and air-conditioned environment, albeit with a nostalgic design — think retro signboard and vintage wall tiles — in keeping with its history.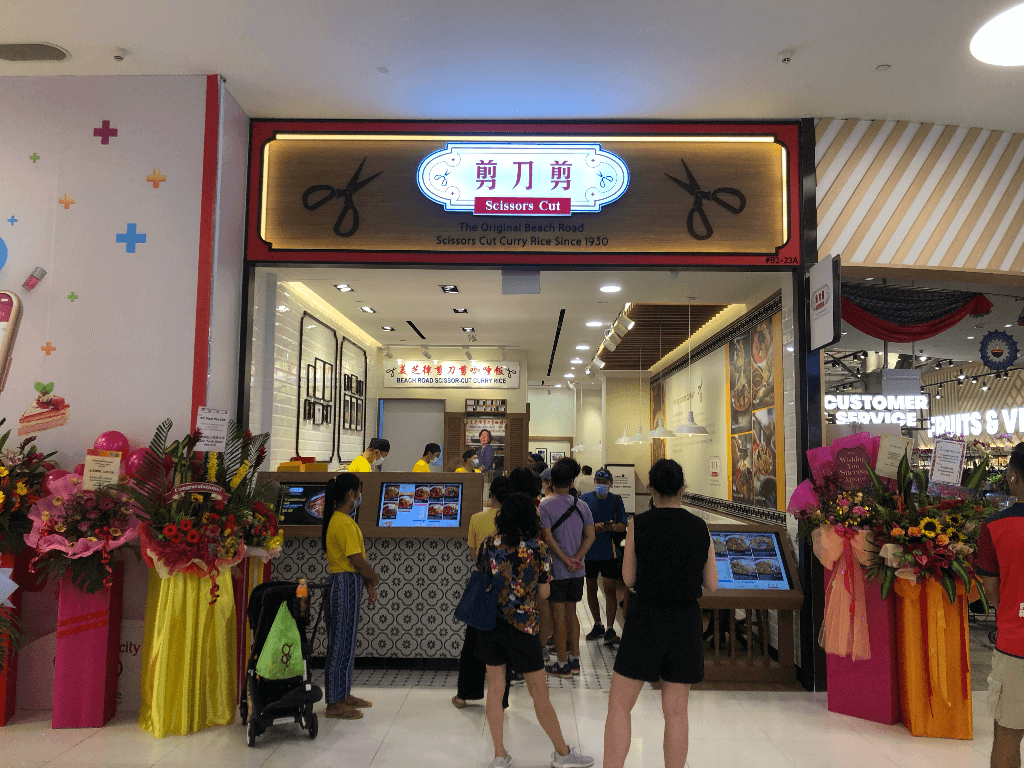 The family-run business was established in 1930, beginning as a humble food stall at the now-defunct Clyde Terrace Market serving modest meals of rice, curry and chap chye (mixed vegetables) at affordable prices. It has since gained a following and established itself as a go-to supper spot.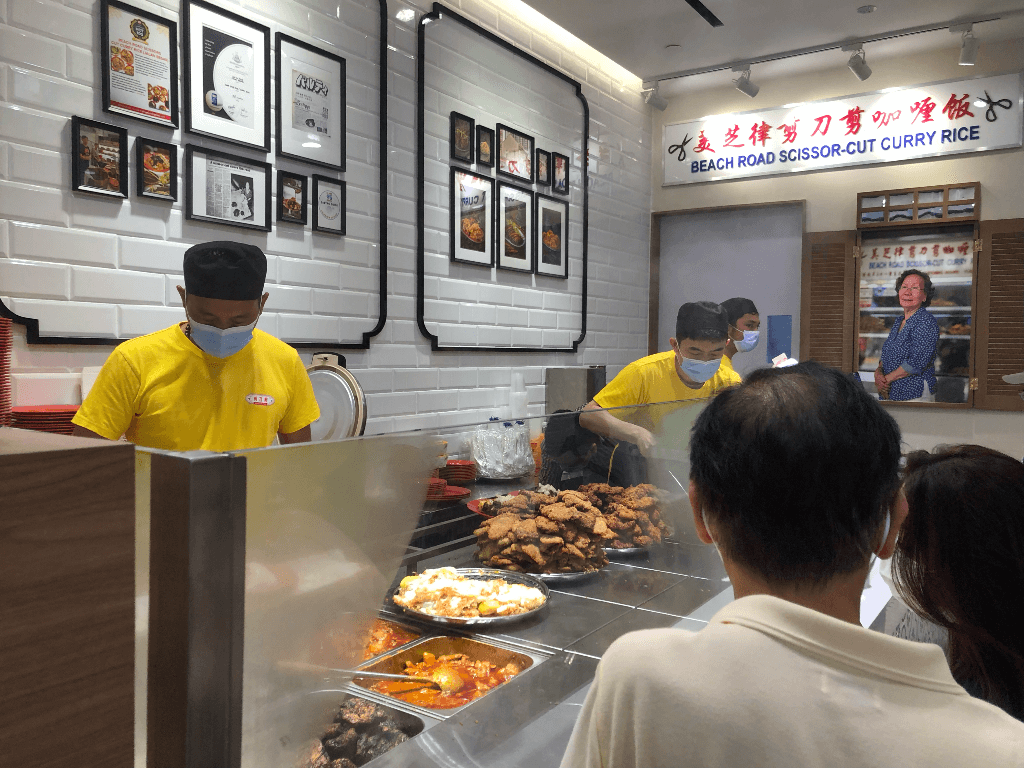 Unlike the outlet at Ion Orchard, which offers a limited selection of dishes, the VivoCity one serves up the full range, displayed behind its typical glass casing. The ingredients are similarly doused in its two-sauce mix — comprising its original fried braised pork sauce and curry sauce.
Benjamin Goh, the fourth-generation owner of Beach Road Scissors Cut Curry Rice, told HungryGoWhere he took over the reins because of his love for curry rice and family heritage.
While he acknowledged that prices at the VivoCity outlet are slightly higher compared with the others owing to increasing costs for rental, utilities and manpower, he said the brand's intent was to provide an opportunity for customers to enjoy their food in comfort.
He also hopes this outlet would expose the younger generation, as well as tourists, to the taste of authentic scissors cut curry rice.
Quality, he added, will not be compromised, and there will be some outlet-exclusive items, such as its sharing platter (S$16.80) meant for two, featuring all its signature dishes — pork chop, chicken chop, braised pork belly, curry chicken, cabbage, eggs and rice.
Other special features include a more visual menu, comprising photos of set dishes for easy ordering, and a soup of the day (S$4.50) that was reintroduced here after it was previously discontinued at other outlets due to Covid-19 regulations.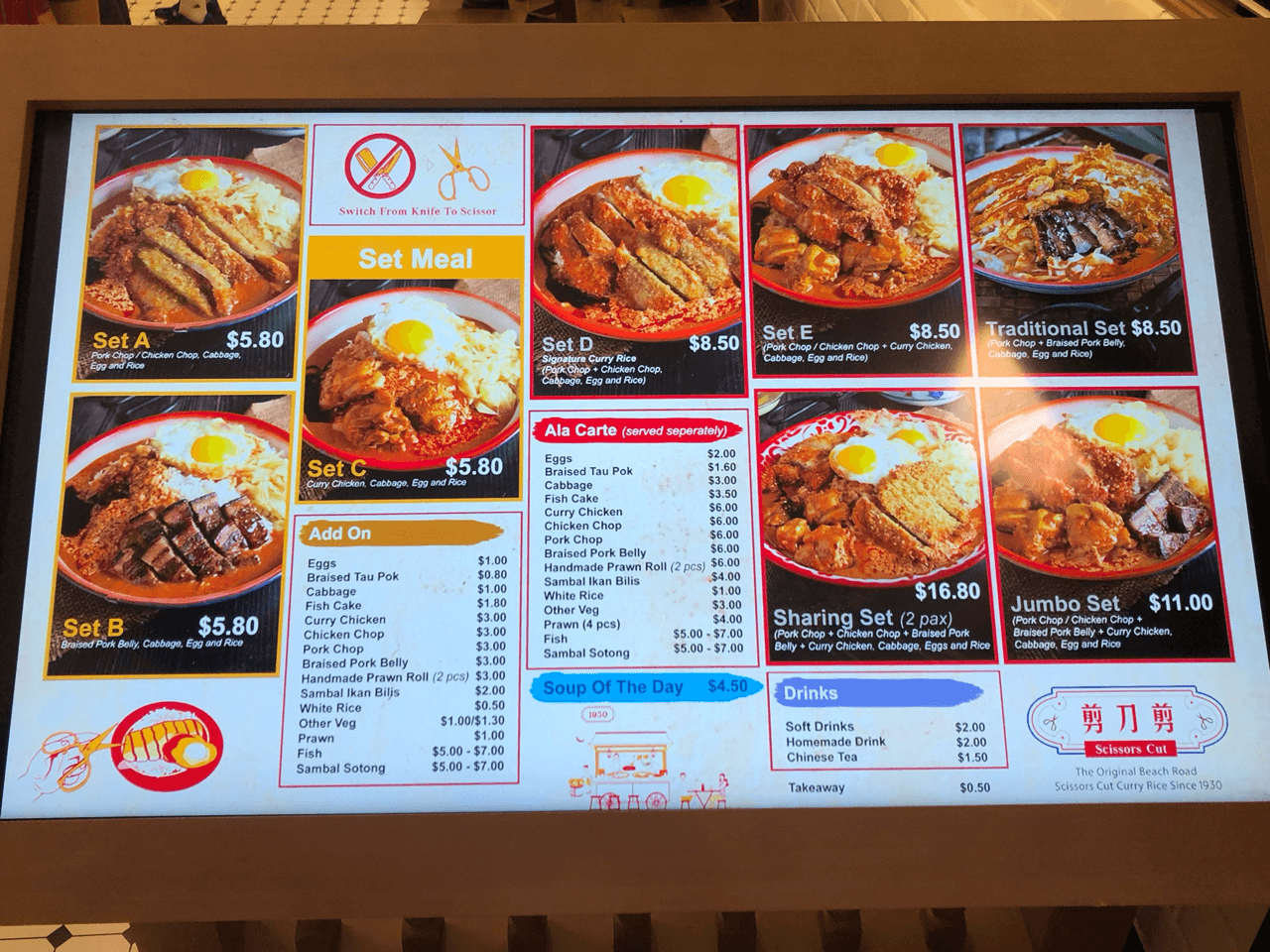 To ensure consistency, its main curry paste and the spices of its fried braised sauce are prepared in the Thomson and Jalan Besar outlets.
They are refrigerated and delivered twice weekly to Beach Road Scissors Cut Curry Rice's VivoCity outlet to ensure freshness. The cooks will then add coconut milk and other ingredients to produce the signature two-sauce mix. They will also prepare the other dishes on-site.
HungryGoWhere tried Set D, which came with pork chop, chicken chop, cabbage, egg and rice (S$8.50), as well as the soup of the day (winter melon soup).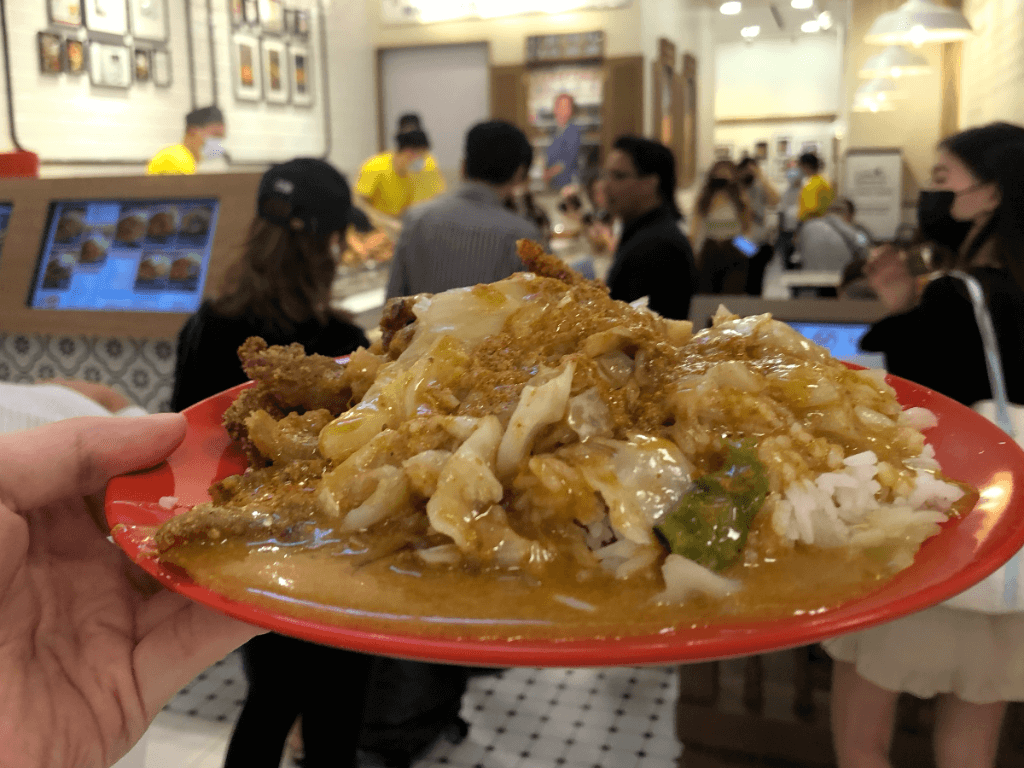 We found the gravy fragrant, and not too spicy or salty. The generous coating of it over our rice and other ingredients made every mouthful rich and flavoursome.
The chicken chop was thick and juicy, while the pork chop was thin and tender. Both of them were skilfully fried to perfection, sporting a crispy breaded crust. We loved the soft and subtly seasoned chap chye that gave a different texture and helped to cleanse the palate with every bite.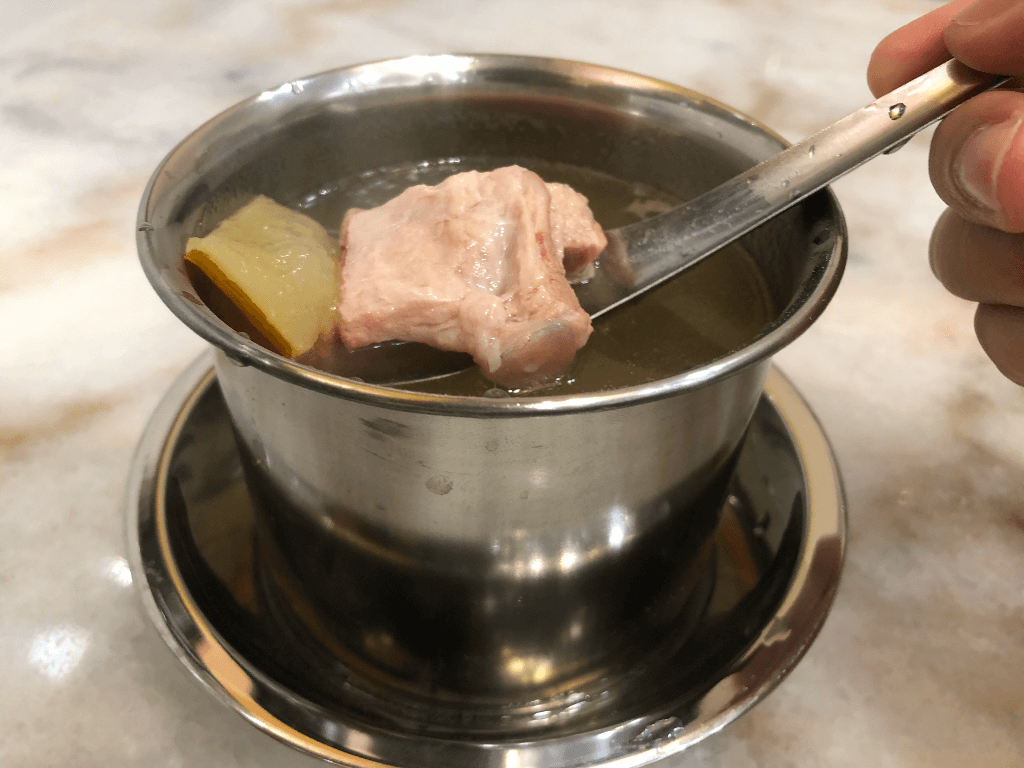 The winter melon soup was a good companion to the rich curry rice. With melt-in-your-mouth winter melon pieces, pork-rib flesh that slid off the bone, and a clear yet umami broth, this was an unexpected winner.
Beach Road Scissors Cut Curry Rice is on GrabFood. You can also book a ride to the new VivoCity outlet or its other stores.
Beach Road Scissors Cut Curry Rice
VivoCity, B2-23A, 1 HarbourFront Walk
Nearest MRT station: HarbourFront
Open: Monday to Sunday (10am to 10pm)
VivoCity, B2-23A, 1 HarbourFront Walk
Nearest MRT station: HarbourFront
Open: Monday to Sunday (10am to 10pm)