10 affordable hotpot places you should visit in Singapore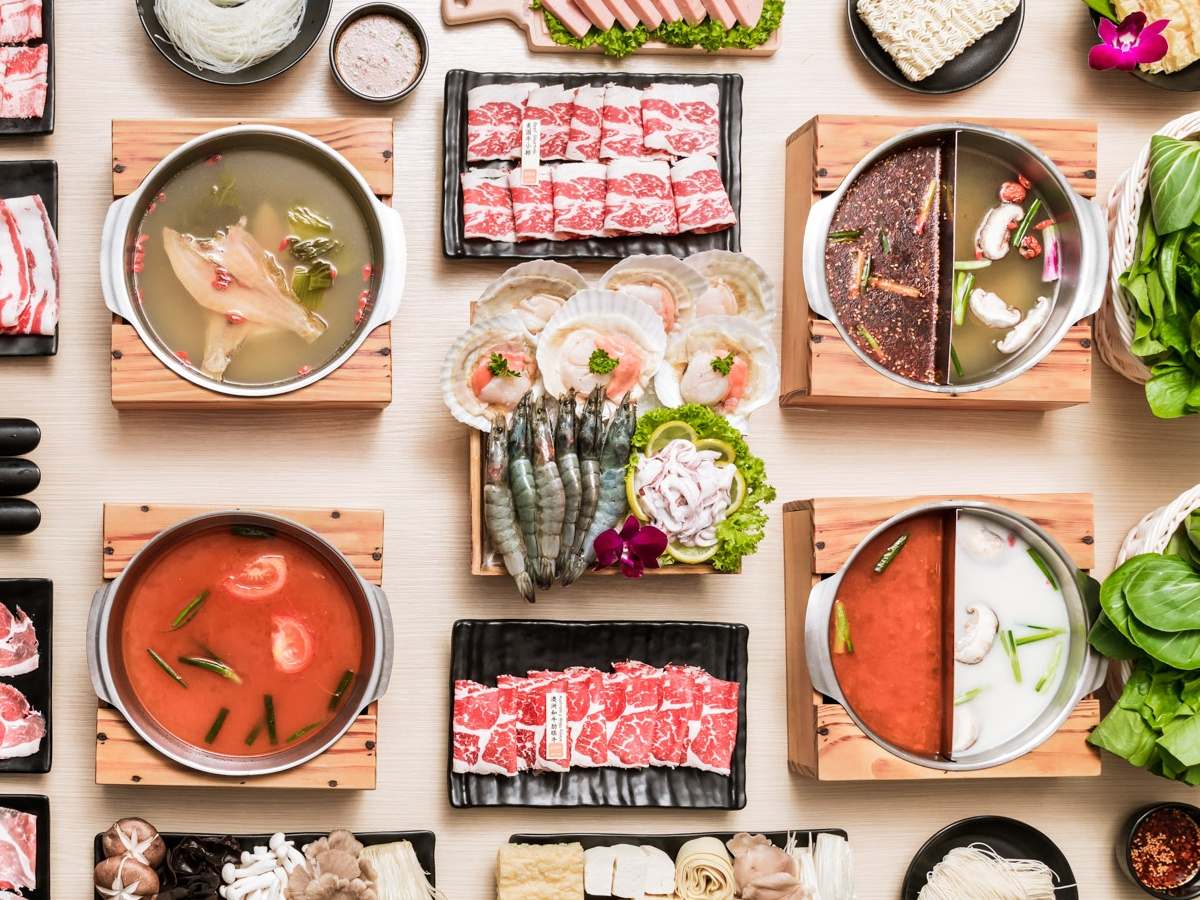 Hotpot, steamboat, shabu shabu, and whatever else you call it, have expanded far beyond reunion dinners and Chinese New Year gatherings. It has claimed its rightful place as a crowd favourite in Singapore.
Yet meals at well-known hotpot chains could set you back by S$50 to S$60 a person. 
Here are 10 places to satisfy your hotpot cravings while being easy on your pocket. 
1. Guo Fu Hotpot Steamboat
Cross Street Exchange, 01-31/32/33, 20 Cross Street
Nearest MRT station: Chinatown
Open: Monday to Sunday (11.30am to 10pm)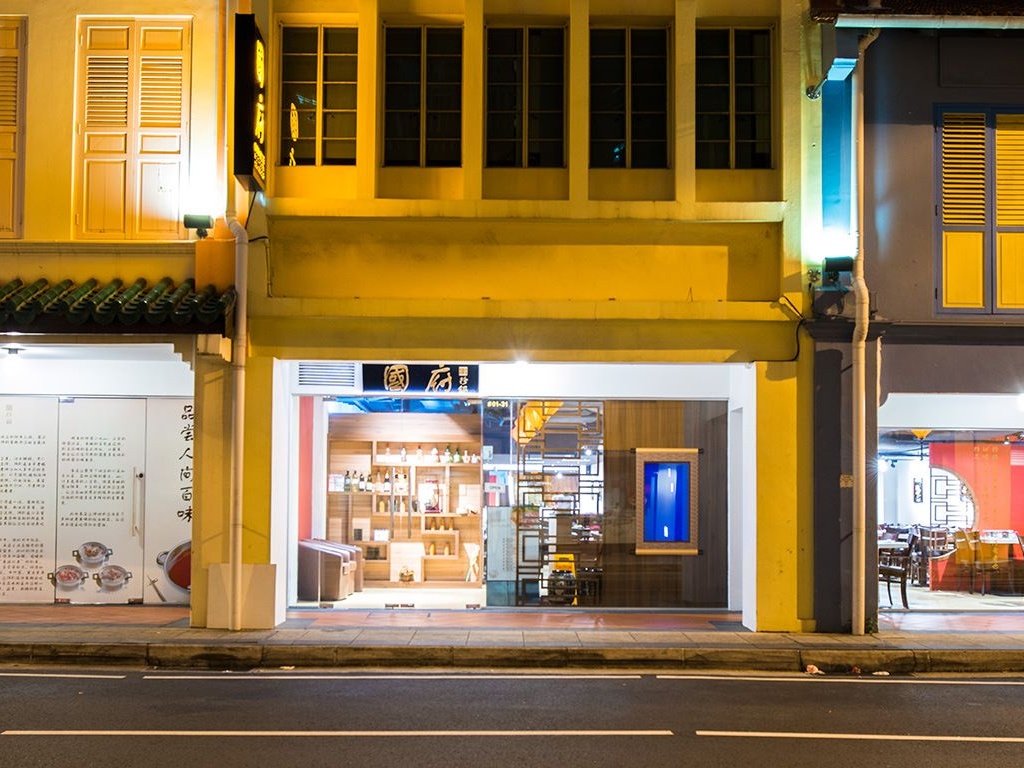 Hailed as one of the best steamboat restaurants in Singapore, Guo Fu Hotpot Steamboat has heavy northeast China influences. 
The restaurant stands out with its marbled cuts of beef slices, the option to have your personal hotpot for the germaphobes and free-flow xiao long bao (soup dumplings). Its slices of premium beef are best enjoyed when they're cooked quickly and given a five-second rinse in the soup. 
Choose between set meals (starting from S$15.90), a la carte, or a la carte buffet (starting from S$27.90). 
What to order: Sliced special beef, pumpkin porridge with orange dessert 
2. City Hot Pot 
Guoco Tower, B1-05, 7 Wallich Street
Nearest MRT station: Tanjong Pagar
Open: Monday to Sunday (11.30am to 3pm, 5pm to 10pm)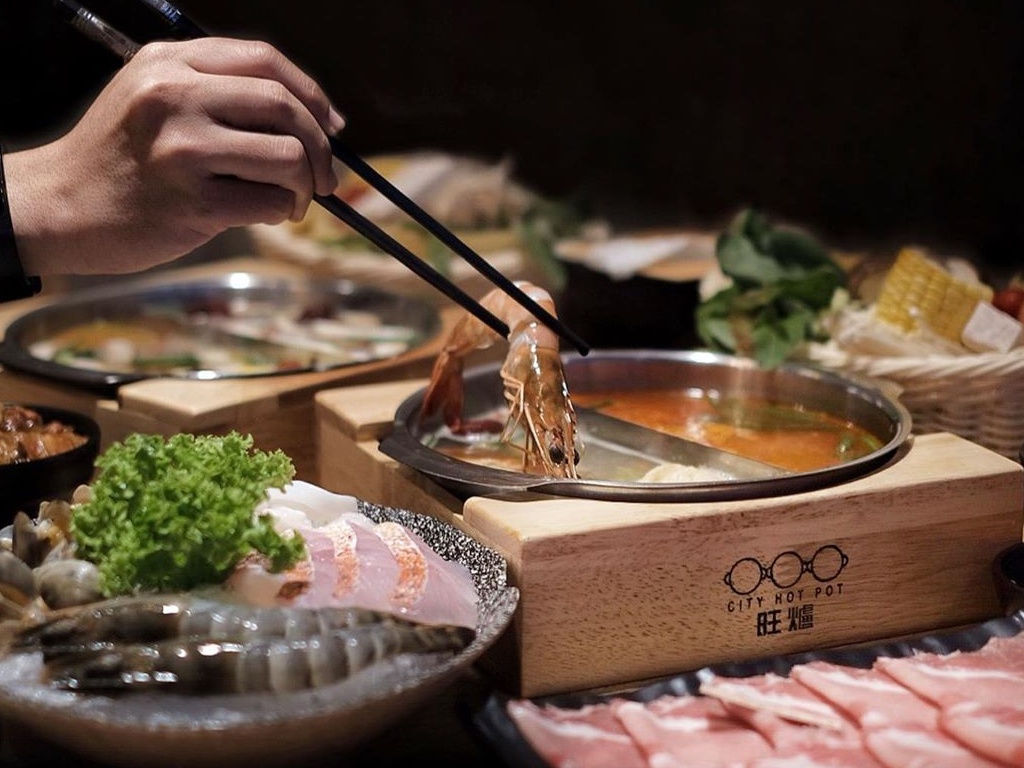 The experts in solo dining, City Hot Pot was born in the heart of our bustling city — the central business district. Its very first outlet at One Raffles Place looks down on the streets below and is decorated with greenery.
You'll get to choose from 14 soup bases, including familiar flavours such as bak kut teh, fish soup with milk, and laksa. Be sure to also make a beeline for the condiments counter where you can mix your own sauces. 
Order a la carte or choose from one of the eight sets that cater to a myriad of group sizes. Set meals are priced from S$20.99 per person and can go up to S$209.99 for six diners.
What to order: Fish soup with milk (S$5.99), fish maw fish soup (S$8.99), herbal chicken soup (S$7.99)
3. Shi Li Fang Hot Pot
Orchard Central, 07-10/11, 181 Orchard Road
Nearest MRT station: Somerset
Open: Monday to Sunday (11am to 10pm)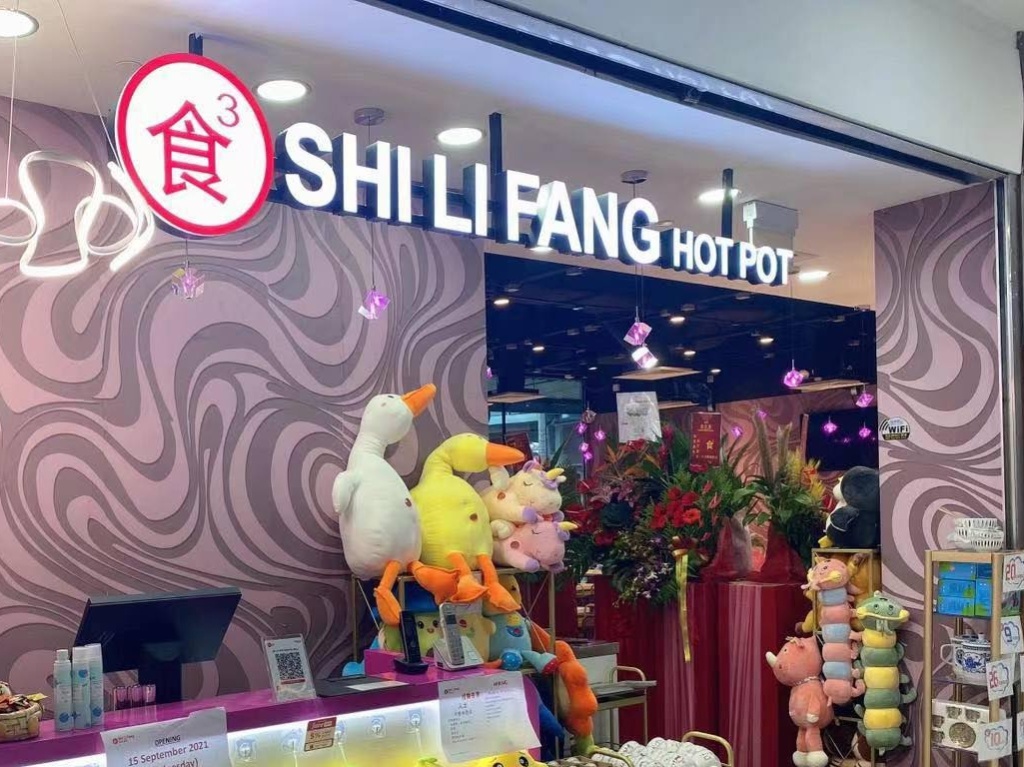 You'll be hard-pressed to find a more affordable hotpot restaurant than Shi Li Fang, with steamboat sets costing less than S$10. 
A weekday set meal at this Taiwanese chain will set you back a mere S$8.80 and weekly value set meals start from S$9.90. 
Instantly recognisable for its cluttered storefront packed with soft toys and other small items, the cutesy eatery is generous with its promotions that sometimes include a gift. 
What to order: Tasty mushroom soup (S$5.30), ravishing tomato soup (S$5.30)
4. Ting Yuan Hotpot 
22 Liang Seah Street
Nearest MRT station: Bugis
Open: Monday to Sunday (11am to 1am)
Touting soup bases made in-house that are free from chemical additives, Ting Yuan Hotpot has been in the game for 20 years as one of the pioneers on Liang Seah Street. 
Its authentic Sichuan mala soup is said to deliver that tingly and numbing heat. Most go for its buffet, where you pick from a spread of seafood and meat for S$22.80 to S$25.80.
The eatery also serves cooked dishes such as grilled fish and marinated chicken feet. A crowd favourite is the spicy diced chicken, which may require some waiting time during peak periods. 
What to order: Authentic Sichuan mala soup; prawn paste — smashed prawns (S$8)
5. Dookki
Suntec City East Wing, B1-107, 3 Temasek Boulevard
Nearest MRT station: Promenade
Open: Sunday to Thursday (11.30am to 10pm); Friday to Saturday (11.30am to 10.30pm)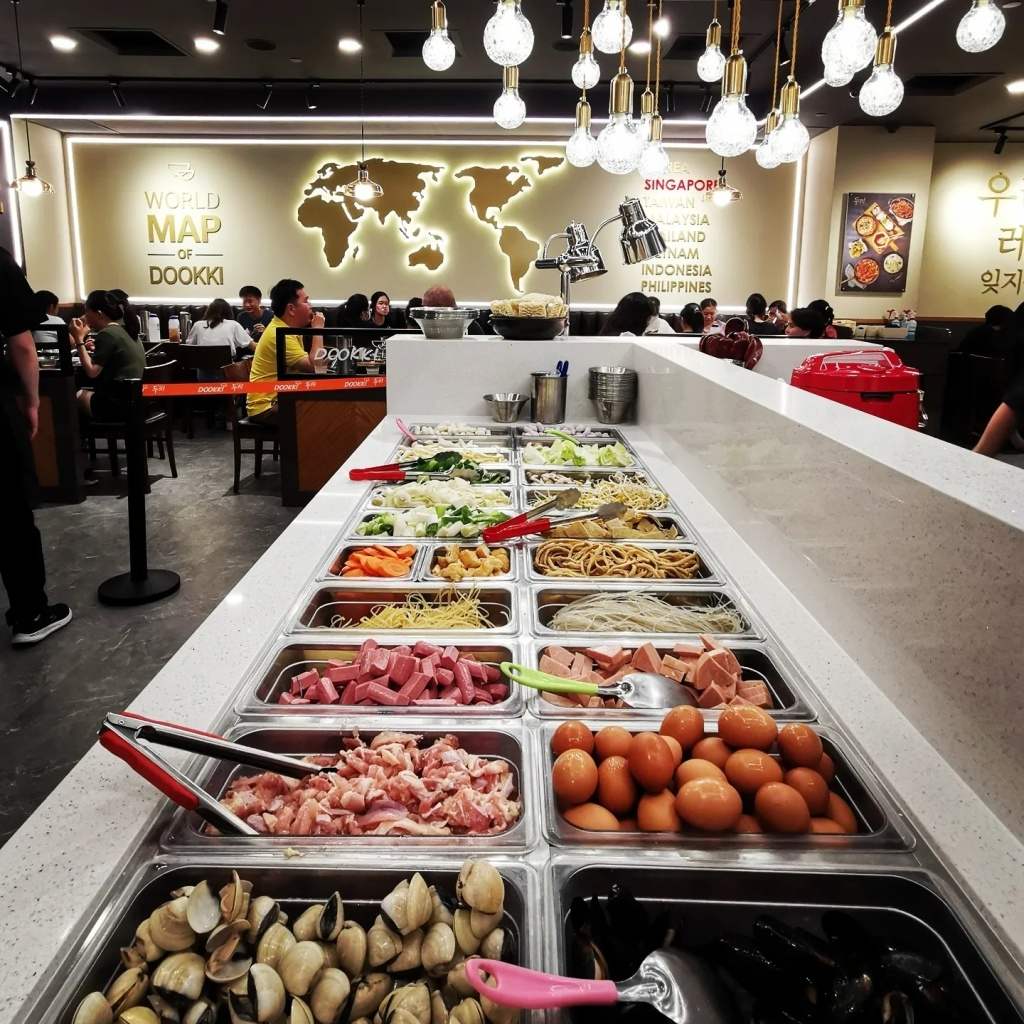 Dookki, the romanisation of a Korean word that means two meals, is a Korean-style buffet that goes for S$20.80+ for adults and S$15.80+ for students — for 90 minutes. 
One for the K-pop fans, the restaurant offers more than six types of tteokbokki (rice cake), in addition to a smorgasbord of fresh ingredients, fried food, fish cake, and noodles. 
And what's Korean fare without cheese? The cheese ring, a metal plate shaped like a donut, fits around the circumference of the hotpot and keeps a moat of melted mozzarella cheese warm. 
How you want to eat that gooey cheese is up to you, but it's recommended that you mix it in with some of the rice, which is given to mop up any hotpot sauce or soup that's left over.
What to order: Sweet potato tteokbokki; fish cake; double cheese ring (extra S$9.80)
6. GoroGoro Steamboat and Korean Buffet 
The Centrepoint, 03-43, 176 Orchard Road
Nearest MRT station: Somerset
Open: Monday to Thursday (11.30am to 3.30pm, 5.30pm to 10pm); Friday to Sunday (11.30am to 3.30pm, 5.30pm to 10.30pm)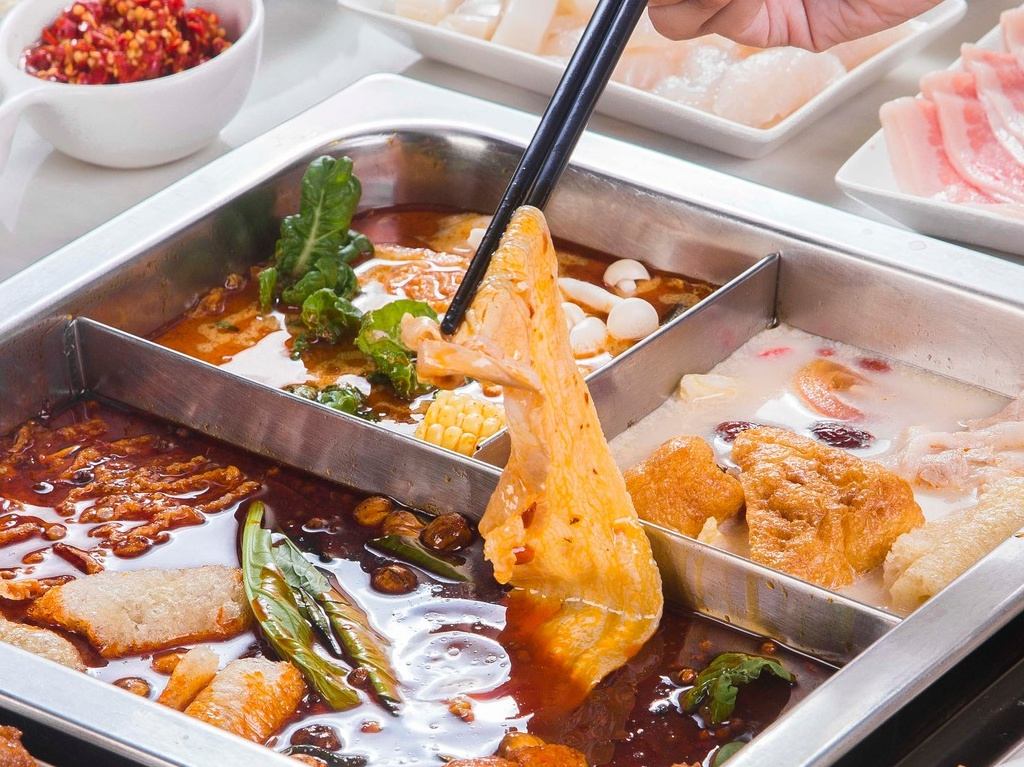 Although a steamboat and Korean BBQ joint, GoroGoro is not a name derived from the Korean language. It's a cheeky play on the sound a hungry stomach might make or the sound of soup boiling.
There are seven types of soup to cook your meat, seafood and vegetables in, such as pepper bak kut teh, ginseng, beauty collagen and mala. Do note that the menu differs for lunch and dinner; seafood is offered only during dinner.
The Korean slant comes as side dishes, which are included in the buffet for S$17.90 and upwards, with the likes of tteokbokki, Korean pancake, japchae (stir-fried glass noodles and vegetables), and Korean chicken wings. 
What to order: Korean chicken wings, sweet potato 
7. Pot Addiction Korean BBQ and Hotpot
West Mall, 01-38, 1 Bukit Batok Central Link
Nearest MRT station: Bukit Batok
Open: Sunday to Friday (11.30am to 10pm); Saturday (11.30am to 10.30pm)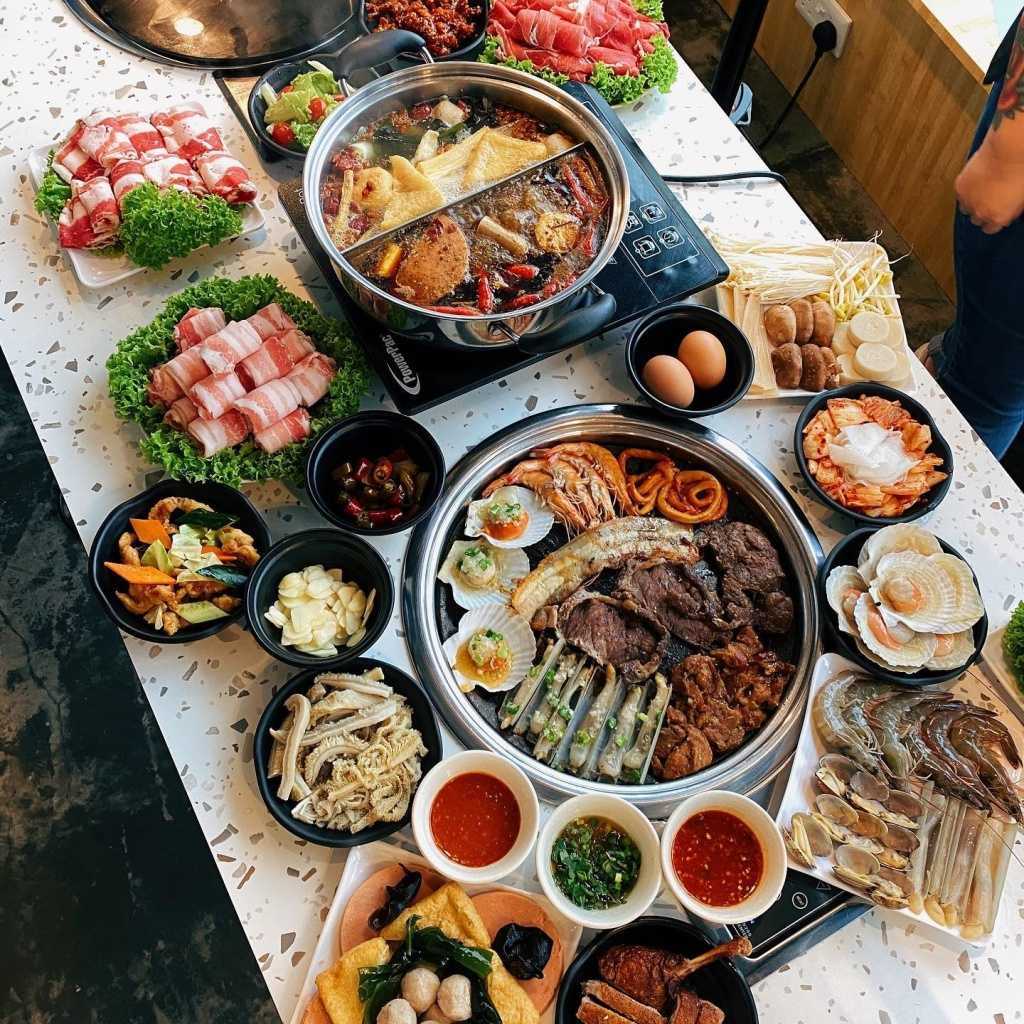 Offering a separate griddle with a hotpot, Pot Addiction is where you can truly get the best of both worlds. 
This means you'll get twice as many options to cook 16 types of meat as well as a pick from seven hotpot soup bases. The buffet starts at S$18.90 for lunch, with an extra cost of S$12 for the griddle for 90 minutes of gorging.
We also appreciate that the eatery has got waste prevention measures in place — every 100g of food that's unfinished will incur a S$20+ fee. 
What to order: Tonkotsu soup base, premium steak 
8. Suki-Ya
Heartland Mall Kovan, Level 2, Block 205 Hougang Street 21
Nearest MRT station: Kovan
Open: Monday to Sunday (11.30am to 10pm)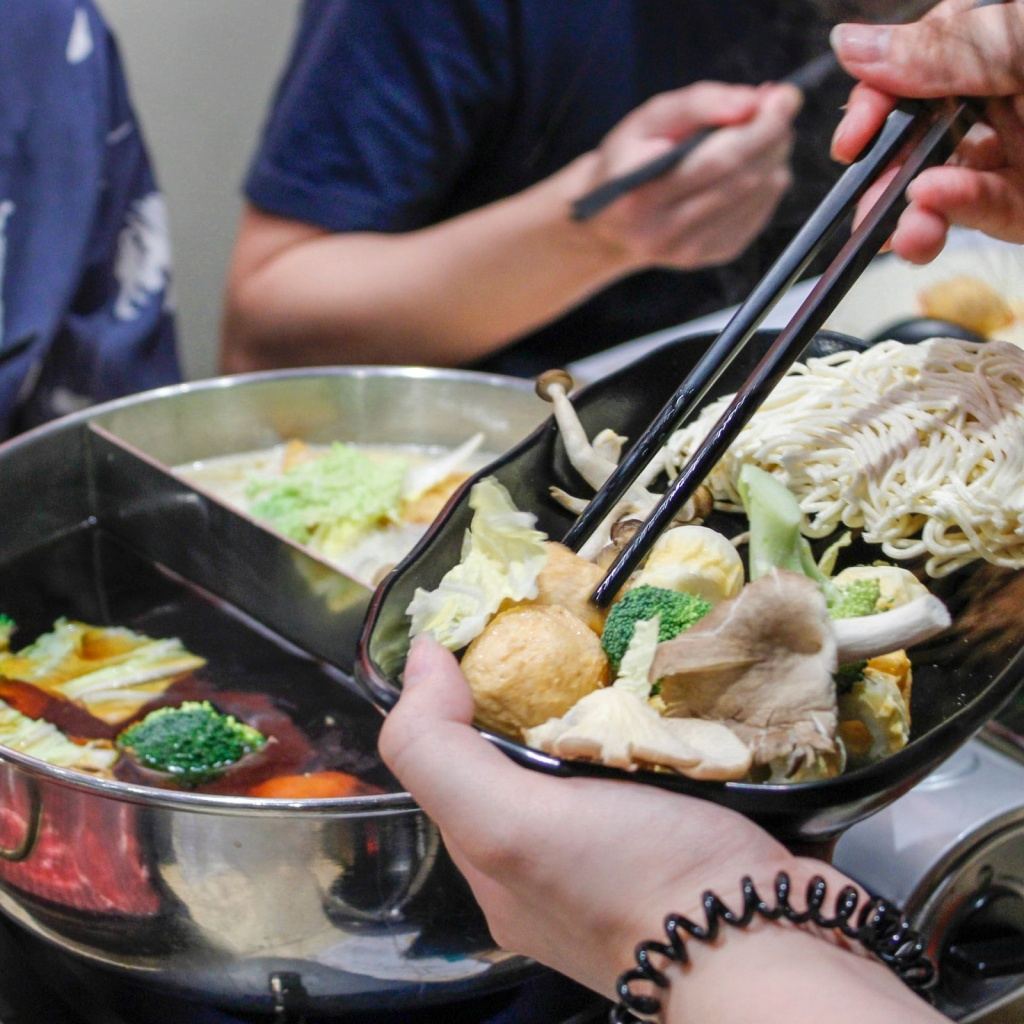 Suki-Ya, meaning "house of hotpot" in Japanese, is a decidedly healthier steamboat option. 
Along with sukiyaki (broth made with bonito stock, sugar and soy sauce) and shabu shabu (kelp and kombu stock), the eatery offers four other soup options such as tomato, fresh soy miso, kimuchi (kimchi and spicy miso broth) and butaniku (pork broth).
As with a typical shabu shabu, you'll get dipping sauces of ponzu or a spicy peanut sauce and a pasteurised egg to coat your freshly cooked meat.
Its lunch buffet starts from S$19.90, with which you can get an unlimited quantity of thinly sliced beef and pork, chicken and chicken meatballs for 80 minutes. 
What to order: Sukiyaki soup base, thinly sliced beef
9. Shabu Sai
Orchard Central, 08-09/10/11, 181 Orchard Road
Nearest MRT station: Somerset
Open: Monday to Sunday (11.30am to 10pm)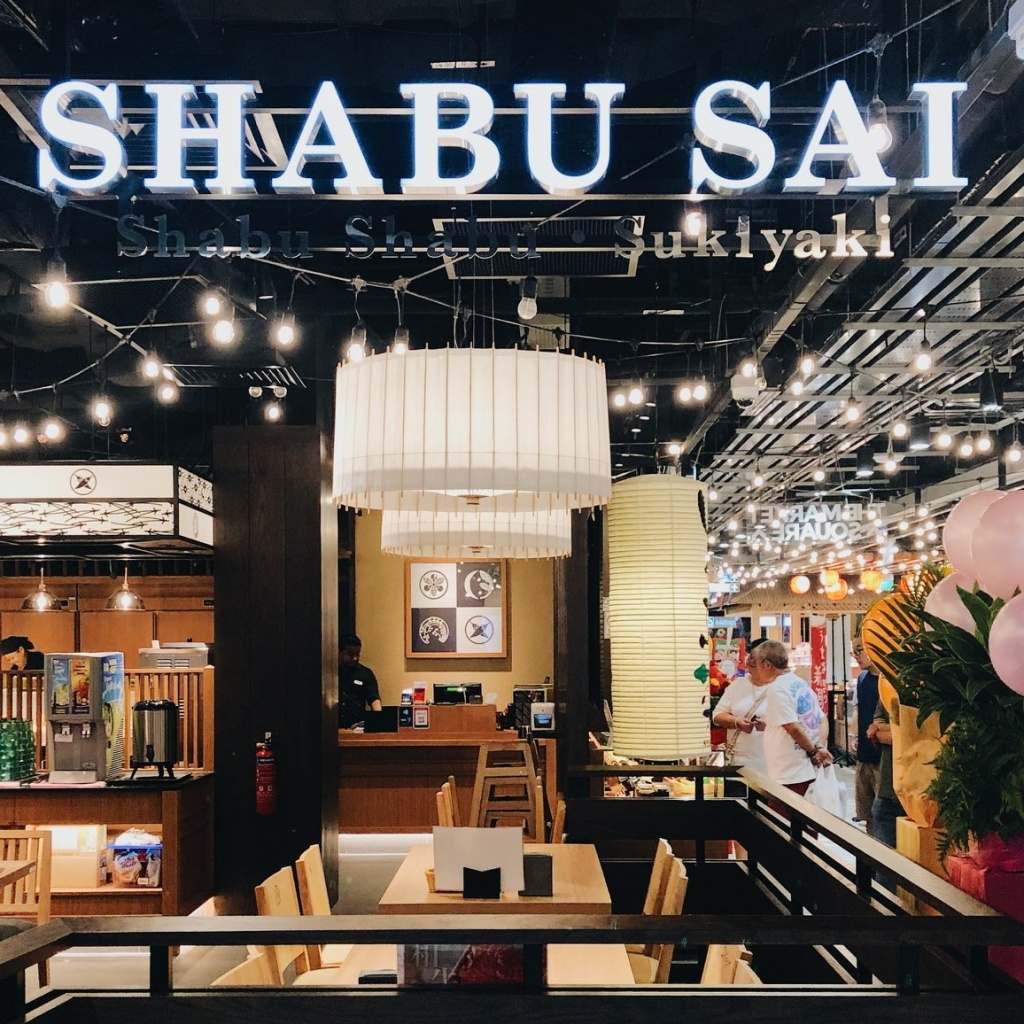 Another shabu shabu buffet restaurant is Shabu Sai, where lunch starts from S$16.99 with unlimited pork collar, pork belly and chicken, along with two soup bases. Beef comes with the add-on of S$2. 
The kitchen team here keeps things interesting by coming up with different soup bases that you might not find elsewhere. It recently launched a golden curry soup and lotus root shiitake soup.
What to order: Curry soup base, sukiyaki soup base, spicy soup base, pork collar
10. King's Laksa Steamboat 
17 Teck Chye Terrace
Nearest MRT station: Serangoon
Open: Wednesday to Monday (12pm to 11pm)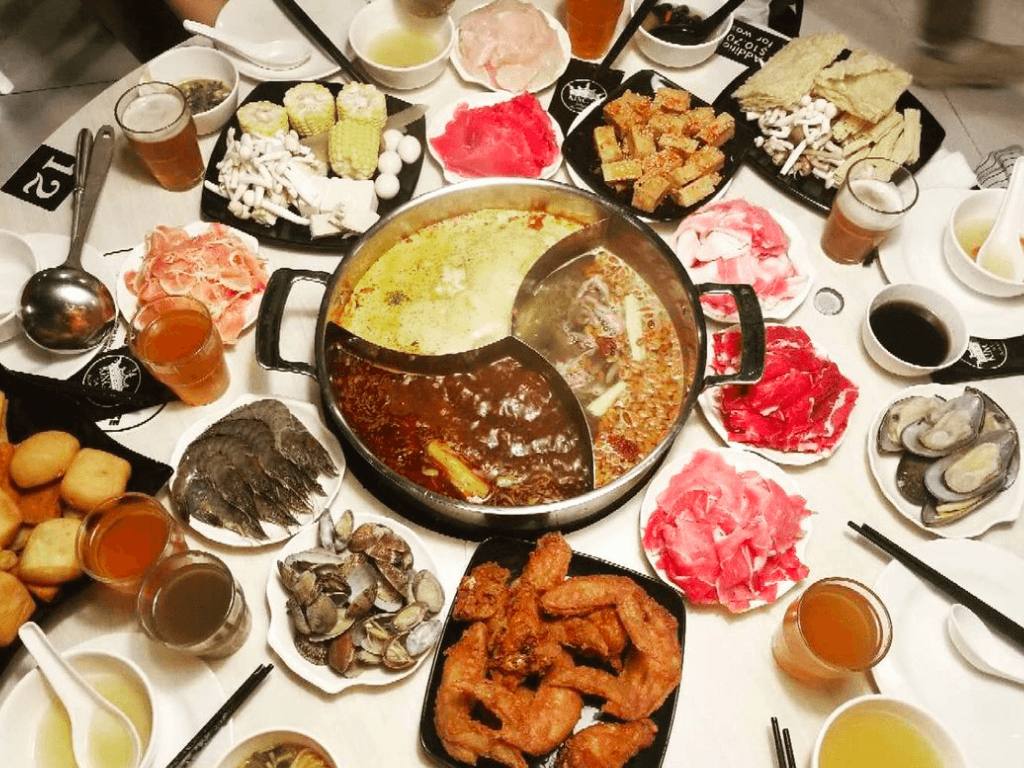 For an experience that feels more personal, head to the laksa steamboat institution that is King's Laksa Steamboat. Run by a husband-and-wife team, you'll get not only an authentic laksa soup base, but a rotating selection of fresh ingredients. 
Taking up to eight hours to prepare, the laksa soup is best paired with a milder soup base (you get to choose two soup bases). Our recommendation: Get the fried mantou to mop up the laksa soup on your plate or dunk it in the hotpot. 
With finger food such as mini ngoh hiang and prawn paste chicken alongside the typical steamboat fare, the starting price of S$24.80 for this steamboat buffet is definitely justified. 
What to order: Signature laksa broth, fried mantou, prawn paste chicken
City Hot Pot, Shi Li Fang, Ting Yuan Hotpot, Dookki, GoroGoro Steamboat and Korean Buffet, Pot Addiction, Suki-Ya, and Shabu Sai are on the GrabFood delivery service. You can also book a ride to these places.