10 wallet-friendly eateries in the CBD with meals under S$10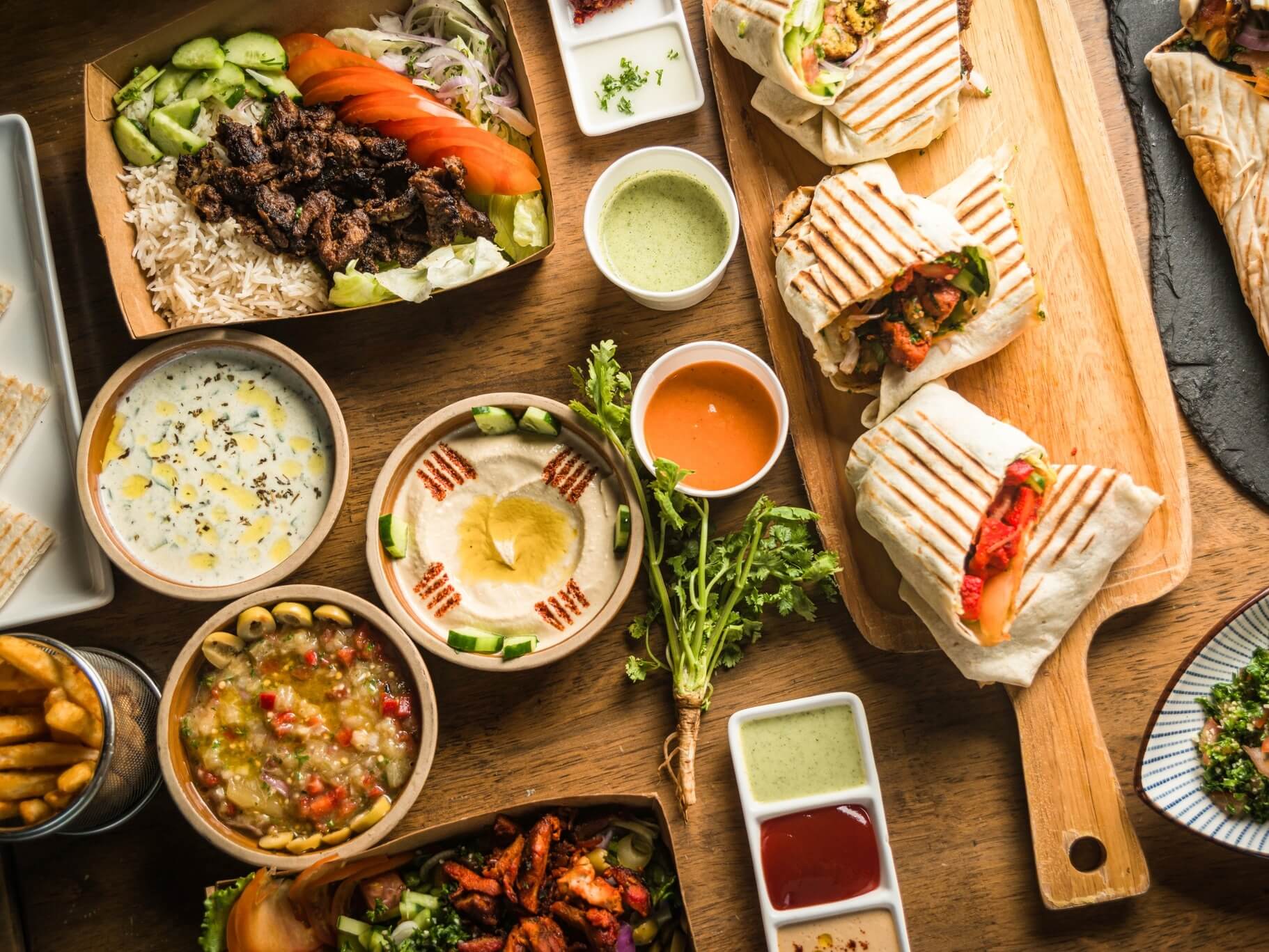 As Covid-19 restrictions have been eased and more people are heading back to their offices in the CBD, the hunt for a satisfying, affordable lunch begins once again. But with projected levels of inflation expected to rise as high as 3.5 per cent due to disruptions in the global food supply chain, our meals are inevitably becoming more expensive.
Here's a list of 10 eateries — from hawker stalls to restaurants — that will be kind to your wallet, offering meals in the CBD for S$10 or less.
1. San Pin Pao Fan
China Square Food Centre, 01-18, 51 Telok Ayer Street
Nearest MRT station: Telok Ayer
Open: Monday to Friday (10.30am to 7pm)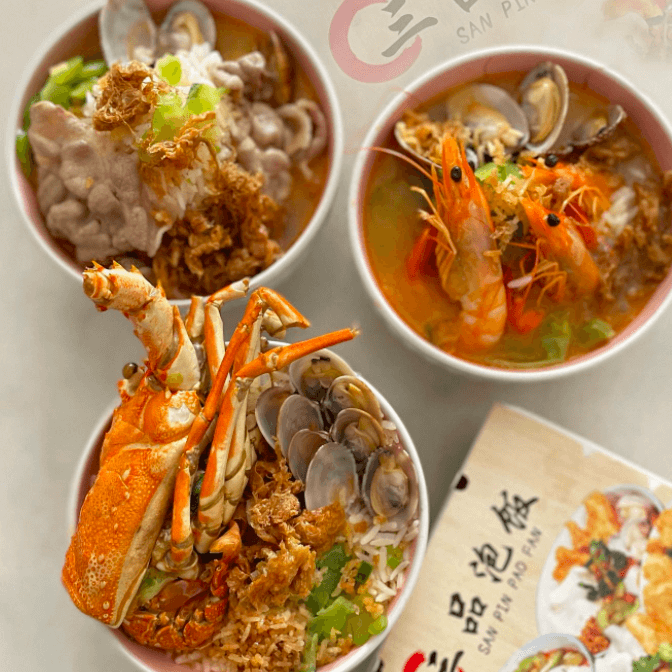 Piloted by a former Jumbo Seafood chef, San Pin Pao Fan offers high-quality seafood submerged in an aromatic and delightfully tasty seafood broth with white rice.
The mixed seafood pao fan option includes prawns (deshelled), clams, fried fish, sliced fish and bitter gourd, making its mixed seafood pao fan a bang for your buck at only S$7.
What to order: Mixed pao fan (S$7), Iberico sliced pork pao fan (S$7)
2. Yu Kee Duck Rice
Amoy Street Food Centre, 01-32, 7 Maxwell Road
Nearest MRT stations: Tanjong Pagar and Telok Ayer
Open: Monday to Sunday (9am to 6.30pm)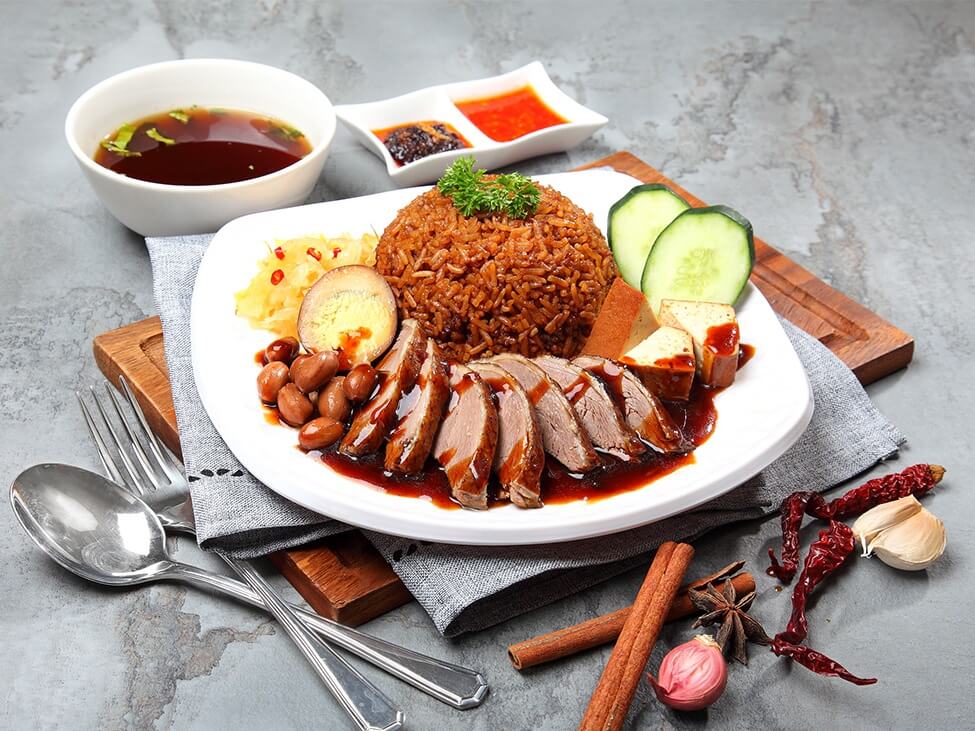 Yu Kee Duck Rice is an established braised duck rice chain that's been around since 1961. It grew its operations from a small pushcart in Nee Soon to having many branches all over the island.
Apart from its signature braised duck rice, it offers noodles and porridge, along with roasted chicken char siew or pork belly to go with your meals. One reason for its continued success and popularity is its consistency in providing good-quality braised duck rice, making it a reliable and affordable lunchtime option for anyone.
What to order: Teochew braised set (S$7)
3. Ah Ter Teochew Fishball Noodles
Amoy Street Food Centre, 01-14, 7 Maxwell Road
Nearest MRT stations: Tanjong Pagar and Telok Ayer
Open: Monday to Friday (7am to 8pm); Sunday (7am to 3pm)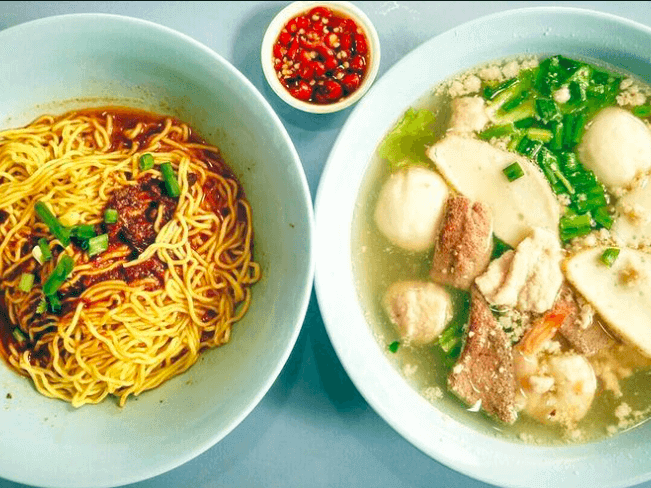 Up next is another well-known hawker stall that has built its reputation as a must-have at Amoy Street Food Centre — even being a recommended eatery in the Singapore Michelin Guide recommendations.
Ah Ter's dish closely resembles bak chor mee (minced meat noodles), with a variety of ingredients such as prawn, pig liver, minced meat, handmade fishball, and pork slices. While its prices have increased on account of inflation, it still has cheaper options such as its S$4 and S$6 bowls of noodles. Hungrier patrons can consider getting the S$8 and S$10 portions.
What to order: Dry/soup fishball noodles (S$6)
4. Dumpling Darlings
44 Amoy Street
Nearest MRT station: Telok Ayer
Open: Tuesday to Thursday, and Sunday (11am to 3pm, 5.30pm to 10.30pm); Friday and Saturday (11am to 3pm, 5.30pm to 11.30pm)
Dumpling Darlings has broken the traditional boundaries of pork-filled dumplings with its unique combination of flavours and ingredients. Some of its creations include curry dumplings filled with plant-based meat and dessert dumplings using vanilla ice cream, cream cheese and poached pears.
Its handmade noodles are available at less than S$10, and if you're dining with colleagues, there's an option to split a dumpling platter (S$22) that comes with a variety of its special dumplings.
What to order: Braised pork noodles (S$8), fried pierogi — dumplings with savoury fillings such as smoked bacon (S$8), smoked duck dumplings (S$8), momo curry dumplings (S$10)
5. Bami Express
1 Tanjong Pagar Plaza, 02-02
Nearest MRT station: Tanjong Pagar
Open: Monday to Saturday (7.30am to 5pm)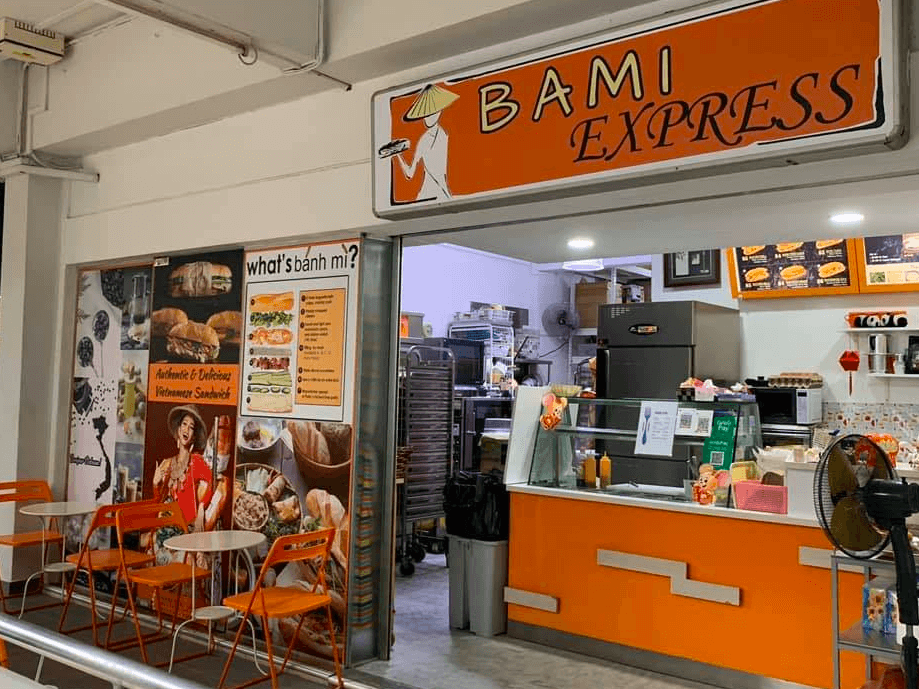 Behind Bami Express, which started in 2015, is a husband and wife team who made it their mission to provide authentic and affordable banh mi. Banh mi is a Vietnamese baguette sandwich that typically consists of meat, mixed vegetables, chillies, and mayonnaise.
Bami Express offers different types of banh mi with fillings such as pork belly, barbecued chicken and smoked duck to complement its freshly made baguettes. It also offers a vegetarian option.
You also have the option of adding a dollar to your banh mi order for a cup of coffee or sugarcane juice.
What to order: Bami sai gon (S$5), bami barbecued chicken (S$5)
6. Sukhothai Boat Noodles
Orchid Hotel, 01-07, 1 Tras Link
Nearest MRT station: Tanjong Pagar
Open: Monday to Sunday (12pm to 10pm)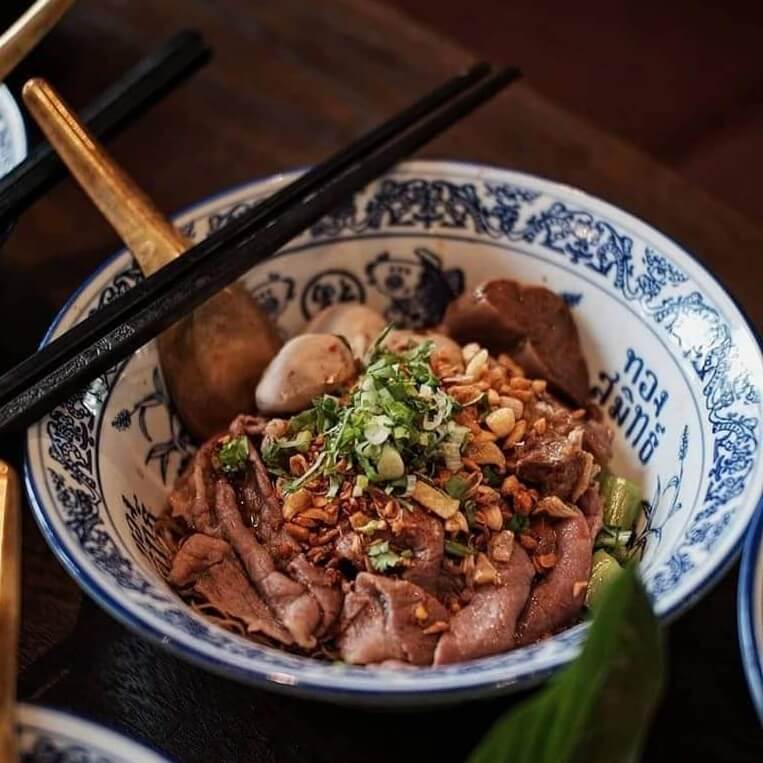 Sukhothai Boat Noodles has received many positive reviews from its customers — loyal patrons and new diners alike. Many have praised its flavourful and aromatic broth, and how authentic its mango sticky rice is.
Furthermore, you can also choose from a range of noodle types such as egg noodles, rice vermicelli and even sweet potato vermicelli.
What to order: Boat noodles with beef (S$9)
7. Uptown Nasi Lemak
121 Telok Ayer Street, 01-01
Nearest MRT station: Telok Ayer
Open: Monday to Friday (10am to 2.30pm); Saturday (10am to 2pm, except the last Saturday of the month)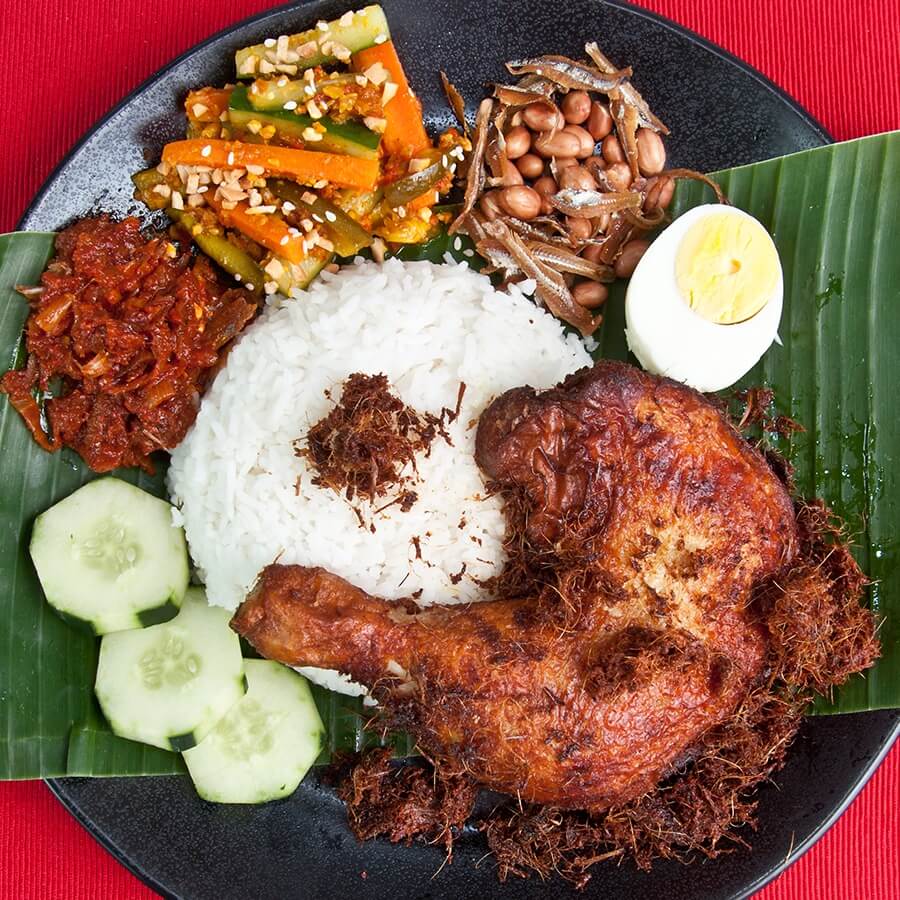 Helmed by two chefs who grew up in Malaysia, Uptown Nasi Lemak was born out of their love for nasi lemak, which is a classic local favourite in Malaysia and Singapore.
This nasi lemak eatery always attracts a long queue during lunchtime, which is unsurprising given that its fragrant coconut-flavoured rice and well-seasoned spicy fried chicken leg make a blissful food union. Many customers vouch for its homemade sweet and spicy sambal that adds depth to an already delightful nasi lemak.
What to order: Nasi lemak with ayam goreng berempah — spicy fried chicken (S$6.50), nasi lemak with rendang beef (S$9.30)
8. Olive's
Shenton House, 02-12, 3 Shenton Way
Nearest MRT station: Downtown
Open: Monday to Friday (7.30am to 4pm)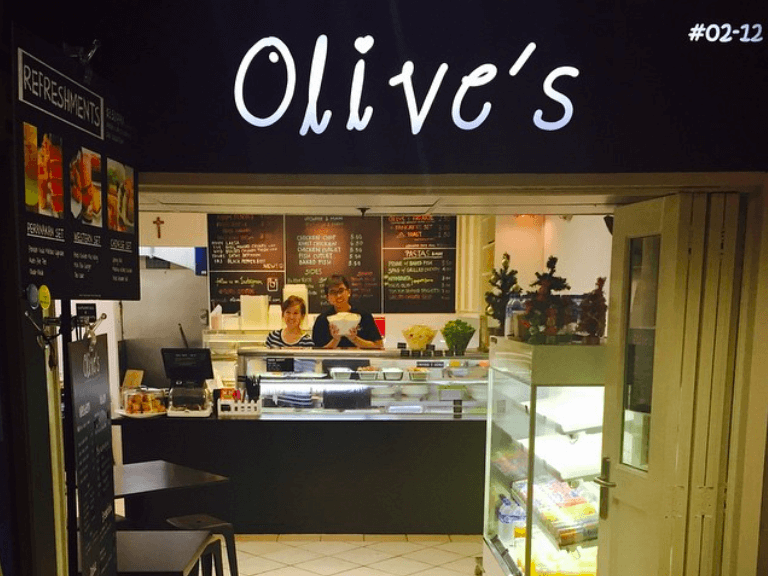 A combination of cheap, generous portions, good service and good food is not easily found when eating out. Well, Olive's does that — providing good-quality Western fare at affordable prices, served by friendly staff. It's no surprise that it has many loyal customers who keep going back for its food.
Some customer favourites include the classic chicken chop and baked fish, which come with two free sides and a sauce to accompany the protein.
What to order: Chicken chop (S$5), baked fish (S$5.50)
9. Mad Bros SG
6 Tanjong Pagar Plaza, 02-03
Nearest MRT station: Tanjong Pagar
Open: Monday to Friday (10am to 3pm)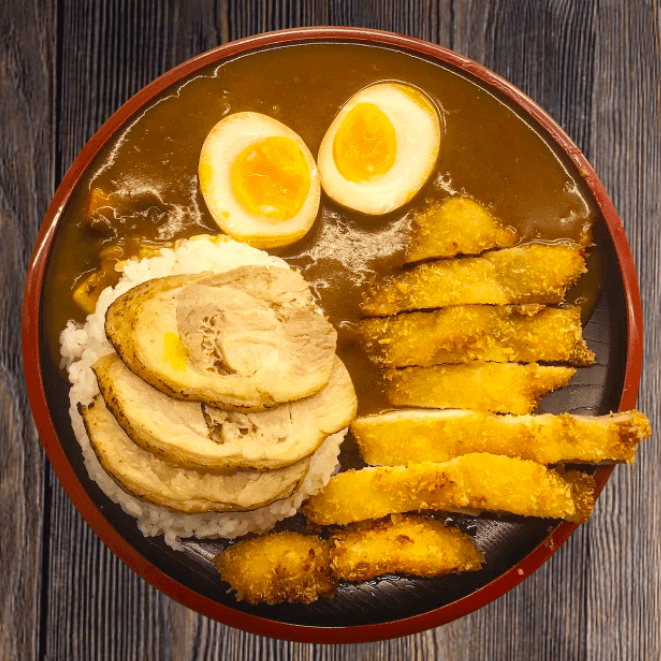 Selling halal ramen in the CBD at affordable prices, Mad Bros SG is ensuring no one is missing out when it comes to trying out its Japanese food. Its ramen broth is creamy, tasty and satisfying, to say the least. Some customers even say that it has one of the best shoyu (soy sauce) ramens in Singapore.
Customers can also customise their ramen by adding chicken char siew, eggs and other ingredients.
What to order: Chicken cutlet curry rice (S$7.90), shoyu ramen (S$6.90)
10. Kebabs Faktory
Shenton House, 01-06, 1 Shenton Way
Nearest MRT station: Downtown
Open: Monday to Friday (10am to 10pm); Sunday (10am to 10pm)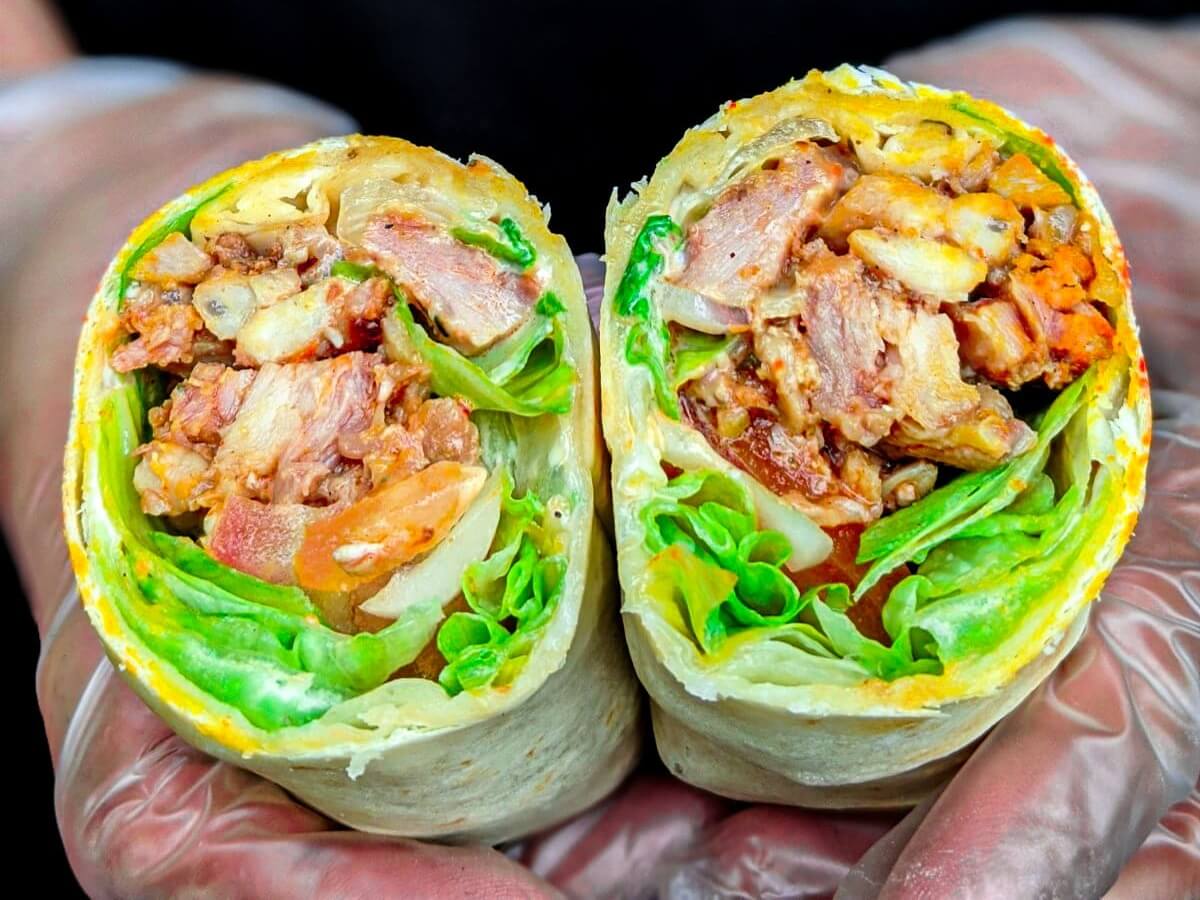 With many outlets around the island and one located at Shenton House, Kebabs Faktory prides itself on using fresh ingredients in its kebabs that are prepared daily. The fresh vegetables, generous amounts of meat and recent halal certification (since November 2021) have helped the business grow a steady following.
A common consensus seems to be that Kebabs Faktory provides tasty food at affordable prices, in addition to offering healthier alternatives such as salads and plant-based proteins.
What to order: Mini burrito and fries meal (S$8.90), falafel kebab roll (S$9.90)
All the places on this list are on the GrabFood delivery service. You can also book a ride to these places.