From Scratch: How local kopi's made and the best places to get one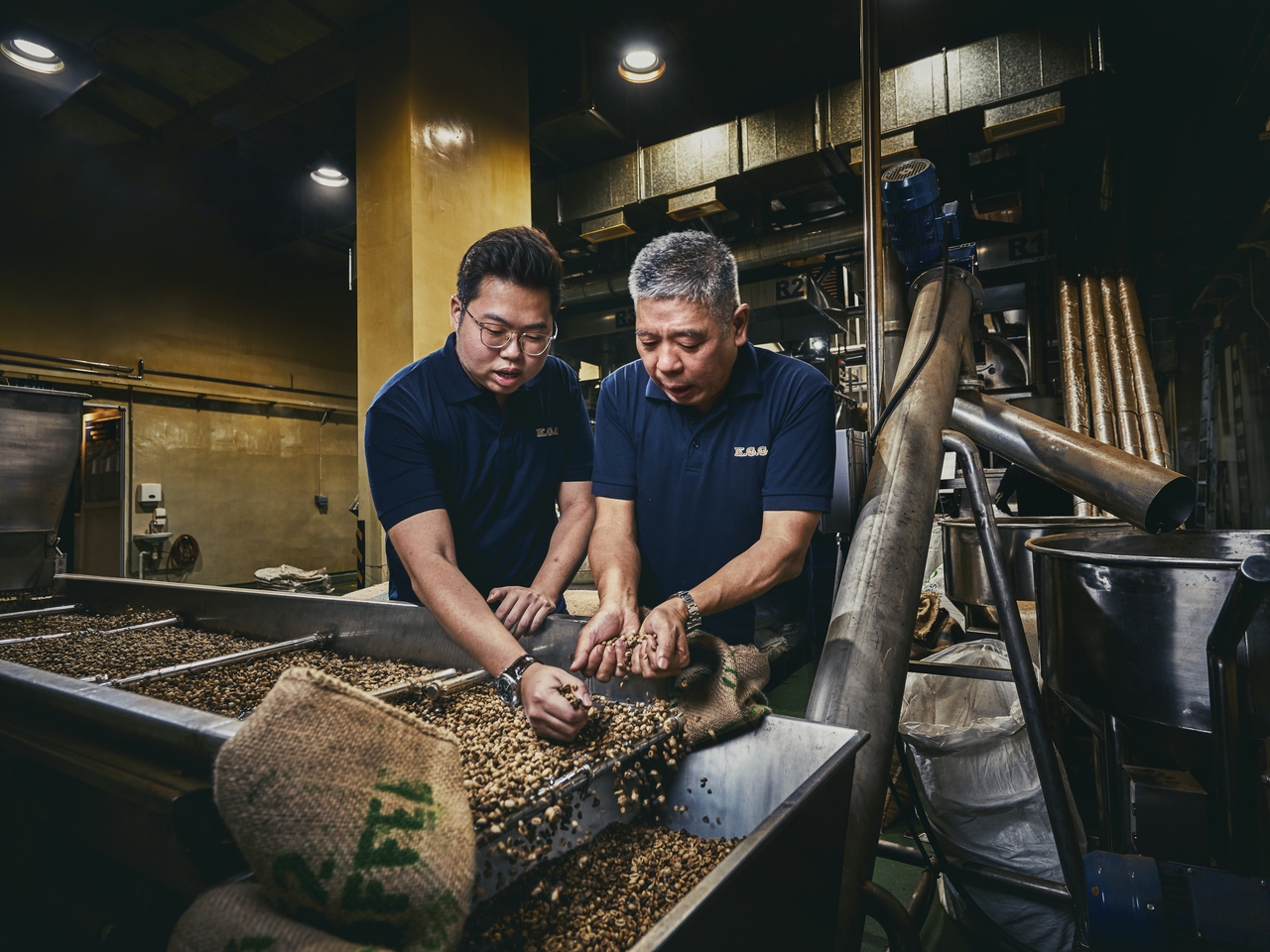 What sets local kopi apart from other brews is its distinctively thick, rich and nutty character
The secret is in the roasting, where beans are roasted with caramelised sugar and margarine or butter
Kim Guan Guan, one of Singapore's last traditional coffee roasters, is fighting to preserve kopi's rich heritage
From Scratch is a series exploring the origins of foods that are popular in Singapore and the work that goes into making them.
For some years now, Singapore has seen no lack of new cafes sprouting up. Think minimalist industrial aesthetics, gourmet coffee beans and baristas whipping up fancy cups of joe — all in air-conditioned comfort.
But what about the origins of the humble local kopi (Malay for coffee), typically found at your neighbourhood kopitiam or coffee shop?
Kim Guan Guan Coffee Trading, founded more than three decades ago, is among the last of its kind fighting to preserve the vanishing craft of traditionally roasted Singapore kopi.
Founder Jason Soon, 55, started out importing and selling raw coffee beans. Ironically, he didn't even like coffee to begin with.
He later took over a factory space where he honed his kopi-making skills.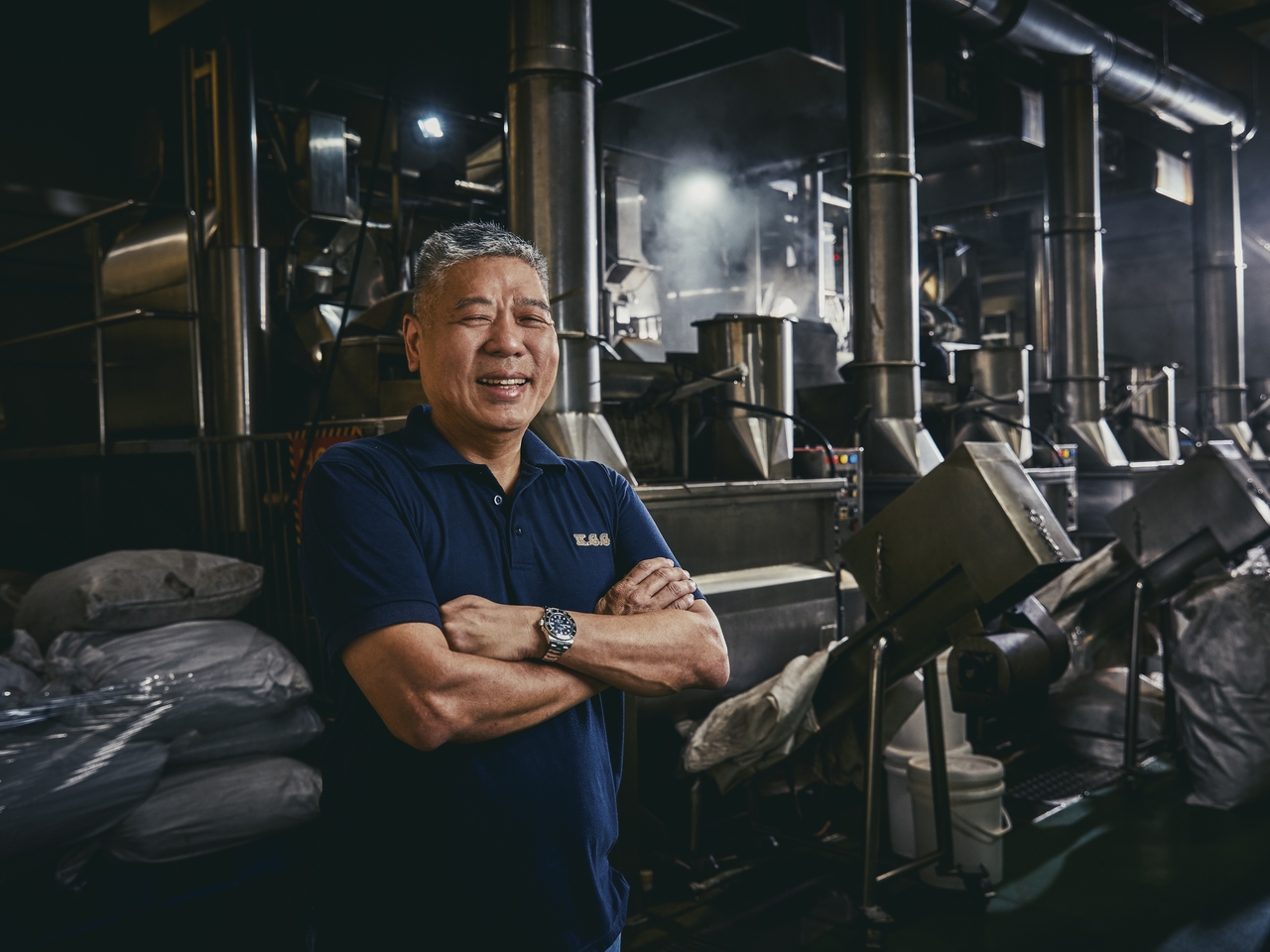 The winning formula
The history of Singapore kopi dates back to the 19th century, says Soon. When the British came to Singapore, they had a habit of drinking coffee and brought in imported Arabica beans.
The locals who had a taste were hooked. For coolies toiling under the sun, the coffee was an instant pick-me-up.
But Arabica beans were way too costly.
So they thought: Why not use cheaper robusta beans, grown in Indonesia, as a substitute?
Robusta beans have around twice the caffeine content, more bitterness and less acidity than Arabica beans. They experimented with cooking the beans with barley and corn, before finding the golden combination of sugar and margarine.
The result? A distinctively thick, rich and nutty brew with a dominant roast flavour, packing a punch with every sip.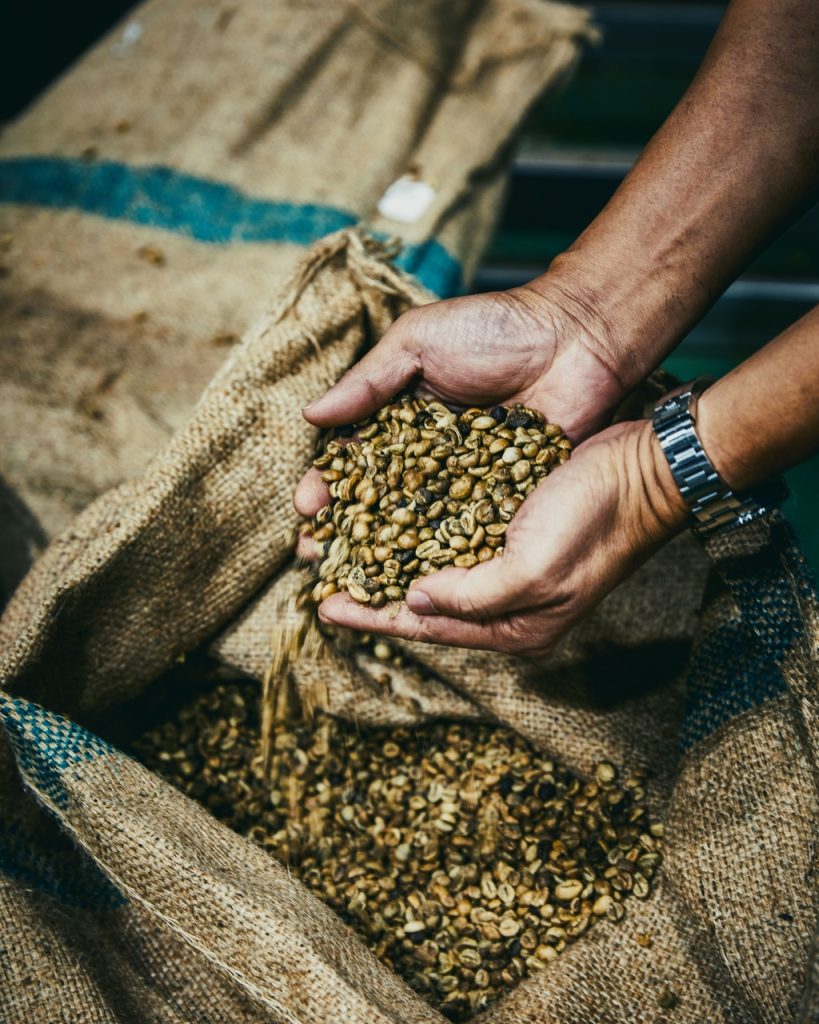 Since then, it's been an intrinsic part of the Singapore story.
Fast-forward to the present day and the country's coffee scene is thriving.
For 27 years, Kim Guan Guan had been located in the ageing Defu Industrial Park in Hougang, within a row of brick-red one-storey factories.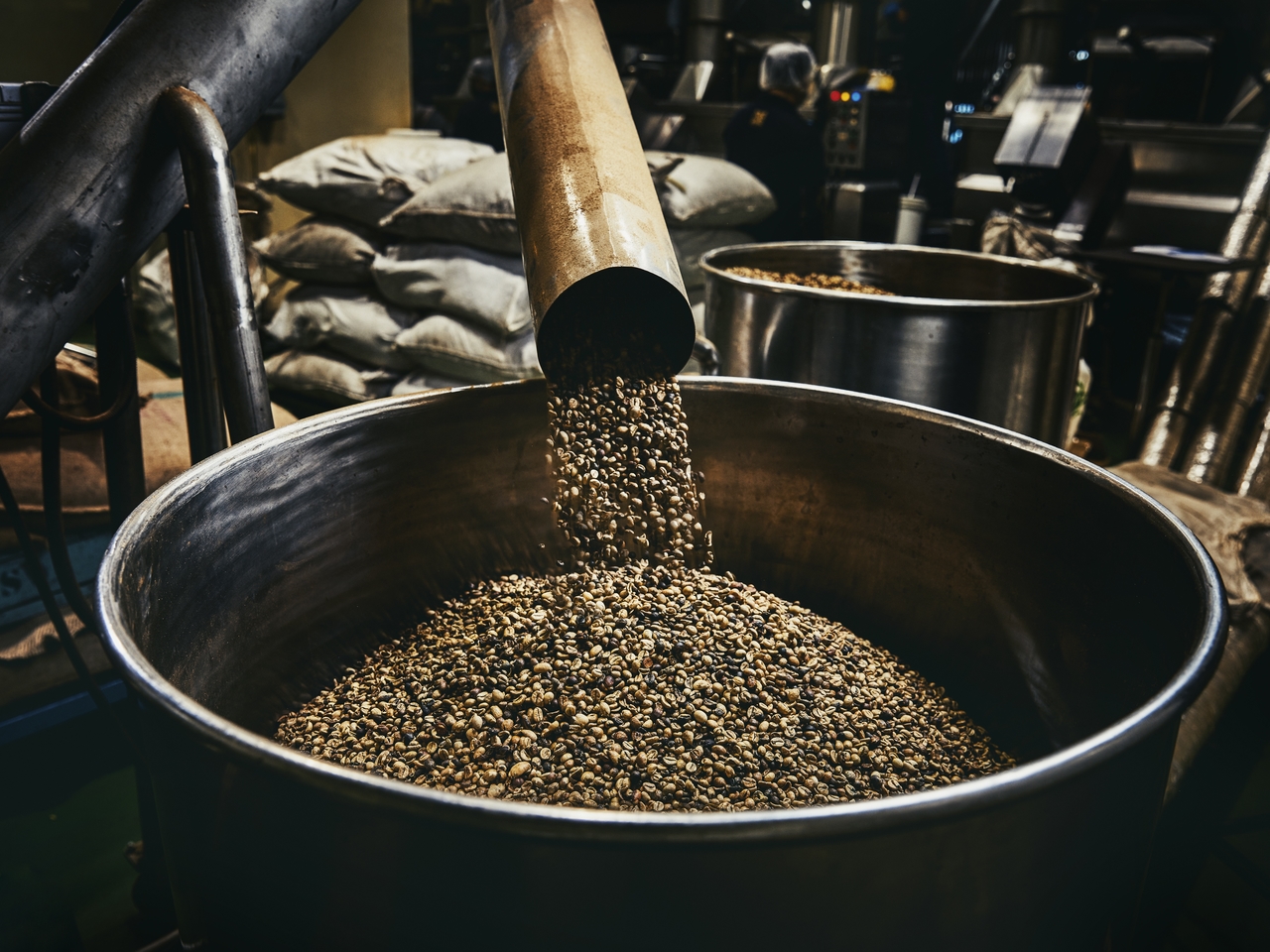 Workers slogged away in a hot and smoky environment, with thick clouds of smoke perennially billowing out of the premises. Operations there were largely manual.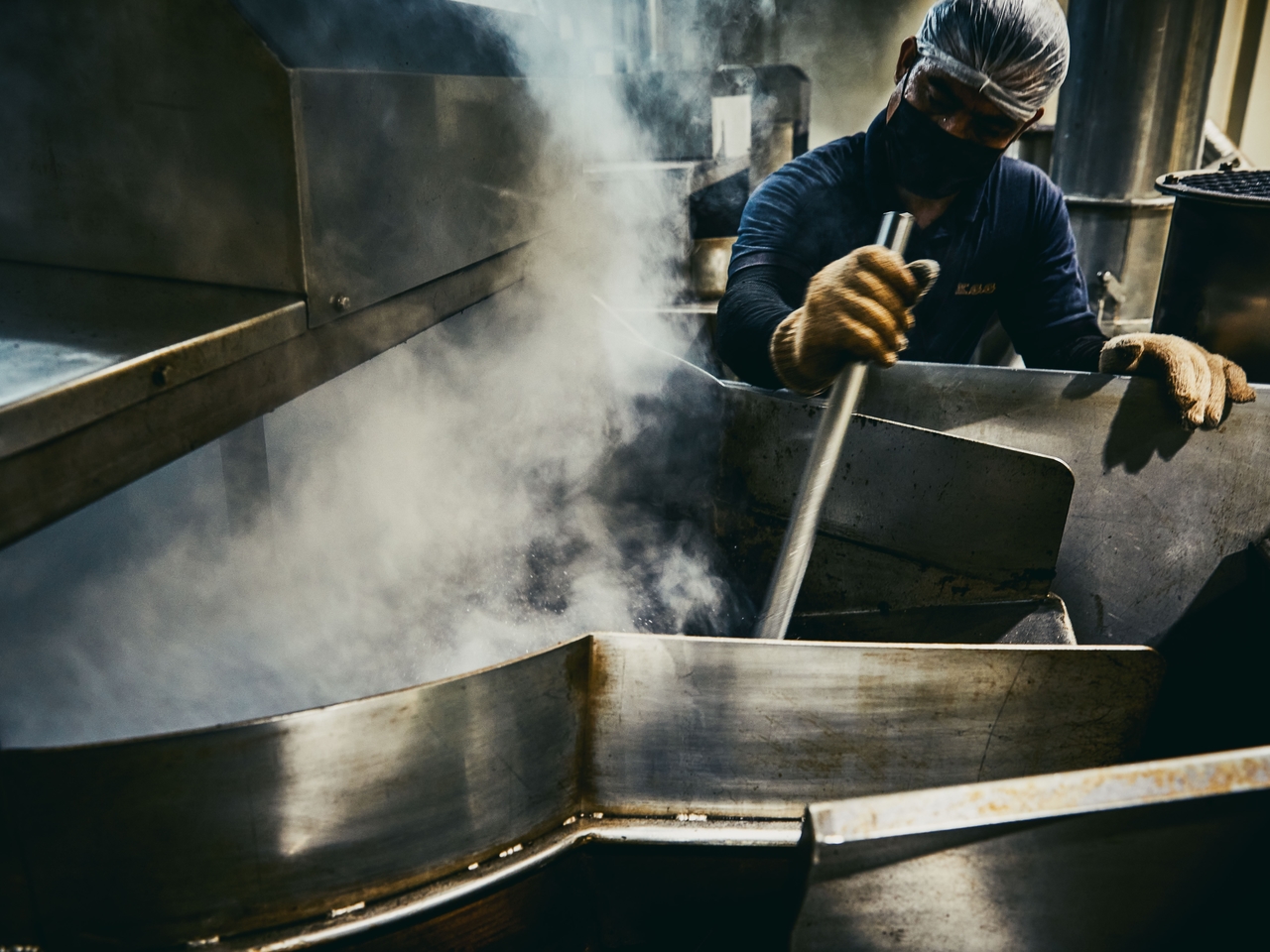 Modernising an art form
Roasters would listen out for a crackling pop sound, which indicates that the beans were roasted.
Then they would pour the mountain of beans into a vat of melted sugar. This was followed by tossing the blended beans with margarine. The roasters then shovelled metal rods to break the beans apart and store them.
It was a laborious trade, says Soon.
Fearing that kopi roasting might become a thing of the past, he made it his mission to sustain this disappearing art. He knew that the firm needed to innovate urgently to improve its workflow and yet maintain traditional tastes.
Late last year, Kim Guan Guan moved into its brand-new premises at JTC Bedok Food City.
Now, it uses state-of-the-art, tailor-made machines equipped with digital controls, so that workers can accurately manage the temperature at the push of a button.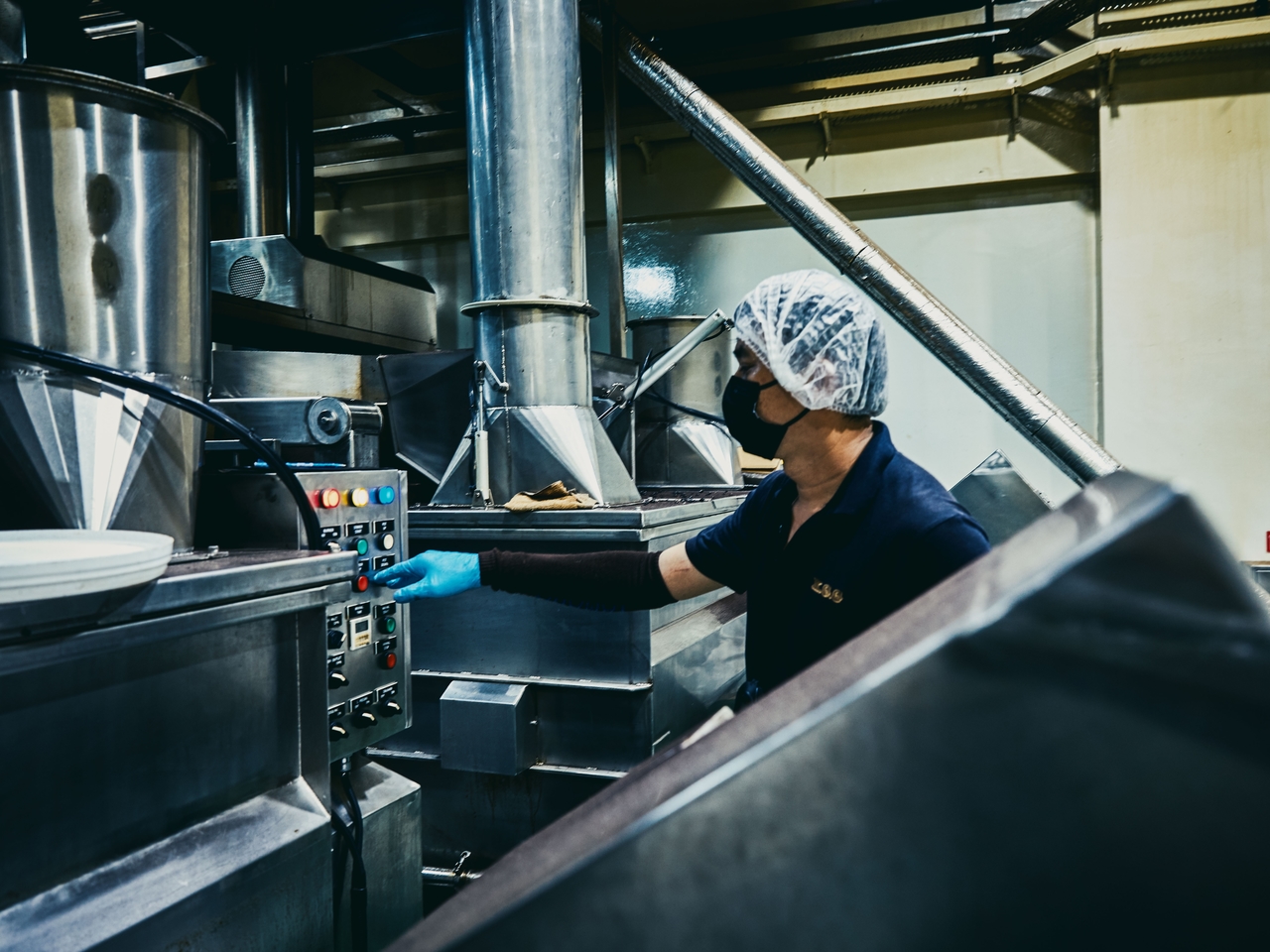 After installing conveyor belts, the company needs just one worker per roast, down from the usual three. The smoke is sucked away through funnels, which makes the environment more comfortable.
When it comes to brewing the kopi, a lot of the know-how has been lost, Soon laments.
Every week, he makes it a point to visit various kopitiams and cafes to teach the staff there the art of brewing Singapore kopi.
Soon says that when knowledge is passed down, many coffee-shop staff simply follow the steps they were taught without truly understanding the process, or take shortcuts to speed up the process.
For instance, they might estimate how much hot water to put in, or let the coffee powder sit for a very short time in the hot water, resulting in a less consistent brew.
Nigel Soon, Soon's 25-year-old son who is learning the ropes, says Kim Guan Guan attracts people in their mid-20s to 40s.
Jason Soon and his team are setting their sights on partnering with Singapore hotel chains and enlarging the company's presence in places such as Hong Kong, South Korea and the Philippines.
He's confident that Singapore kopi will prevail.
Drinking kopi not only helps Singaporeans feel connected to their heritage and brings a sense of comfort and nostalgia. It also allows tourists to experience authentic Singapore culture, says Jason Soon.
Being exposed to coffee and having to do quality checks daily, he came to love the brews and now gets his daily fix of five to eight cups a day.
"Coffee is an essential part of Singapore culture. It's how we bring friends and our neighbours together. As manufacturers, if we don't work hard at preserving it, who will?"
The process
Step 1: Sorting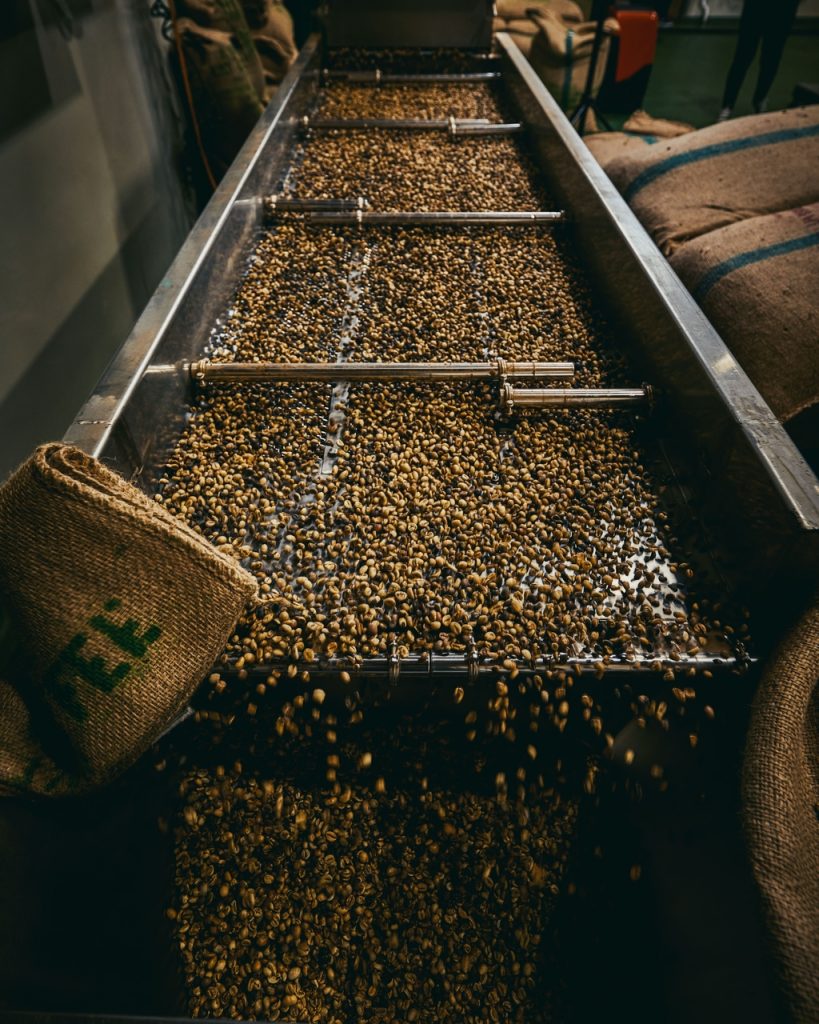 Raw robusta beans, sourced from Indonesia, are stored in a cool environment inside the warehouse for a few months.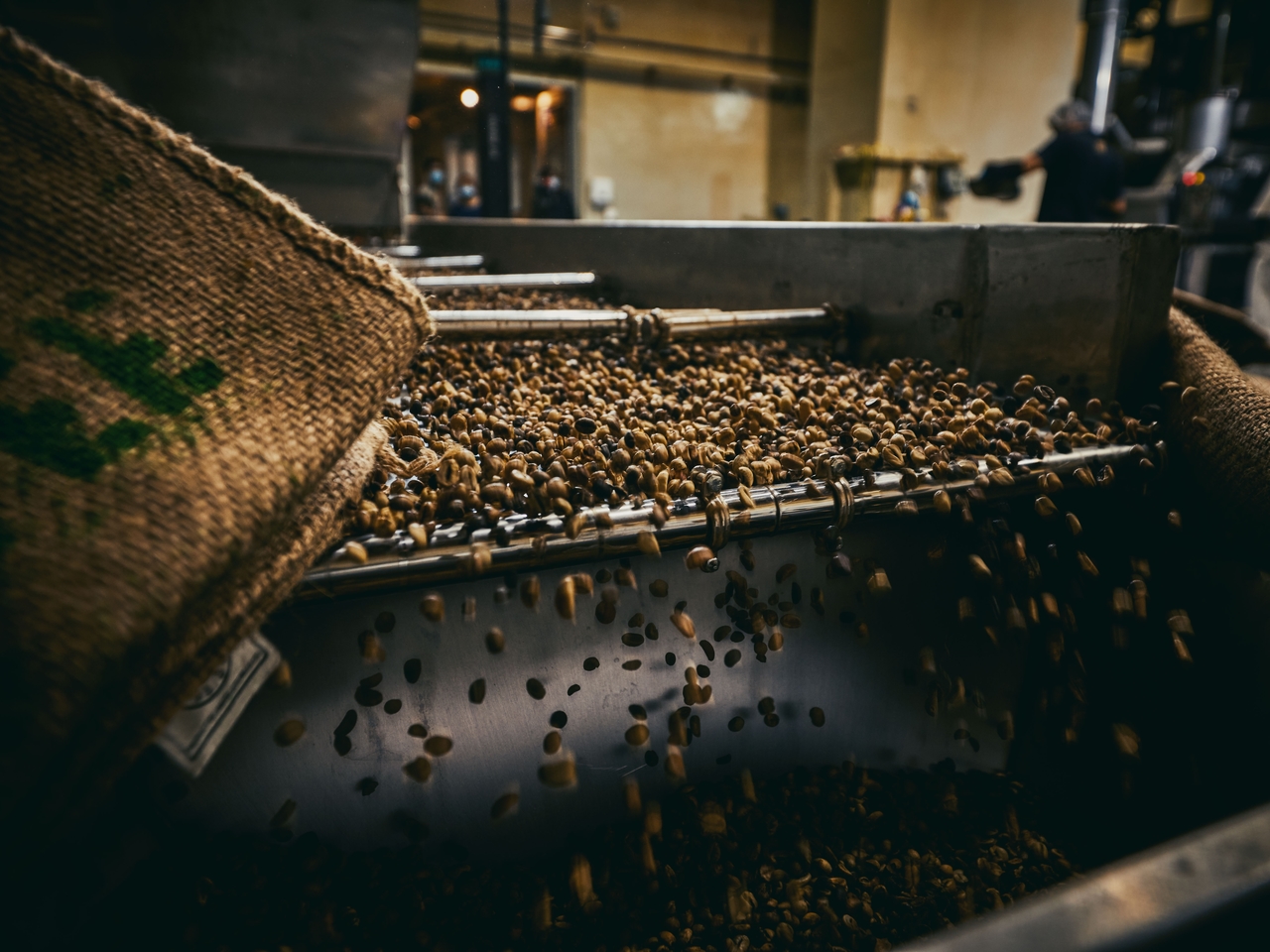 Once ready, they are placed in a machine that tosses and turns to sieve the coffee beans until all the dust and dirt are shaken off.
Step 2: Roasting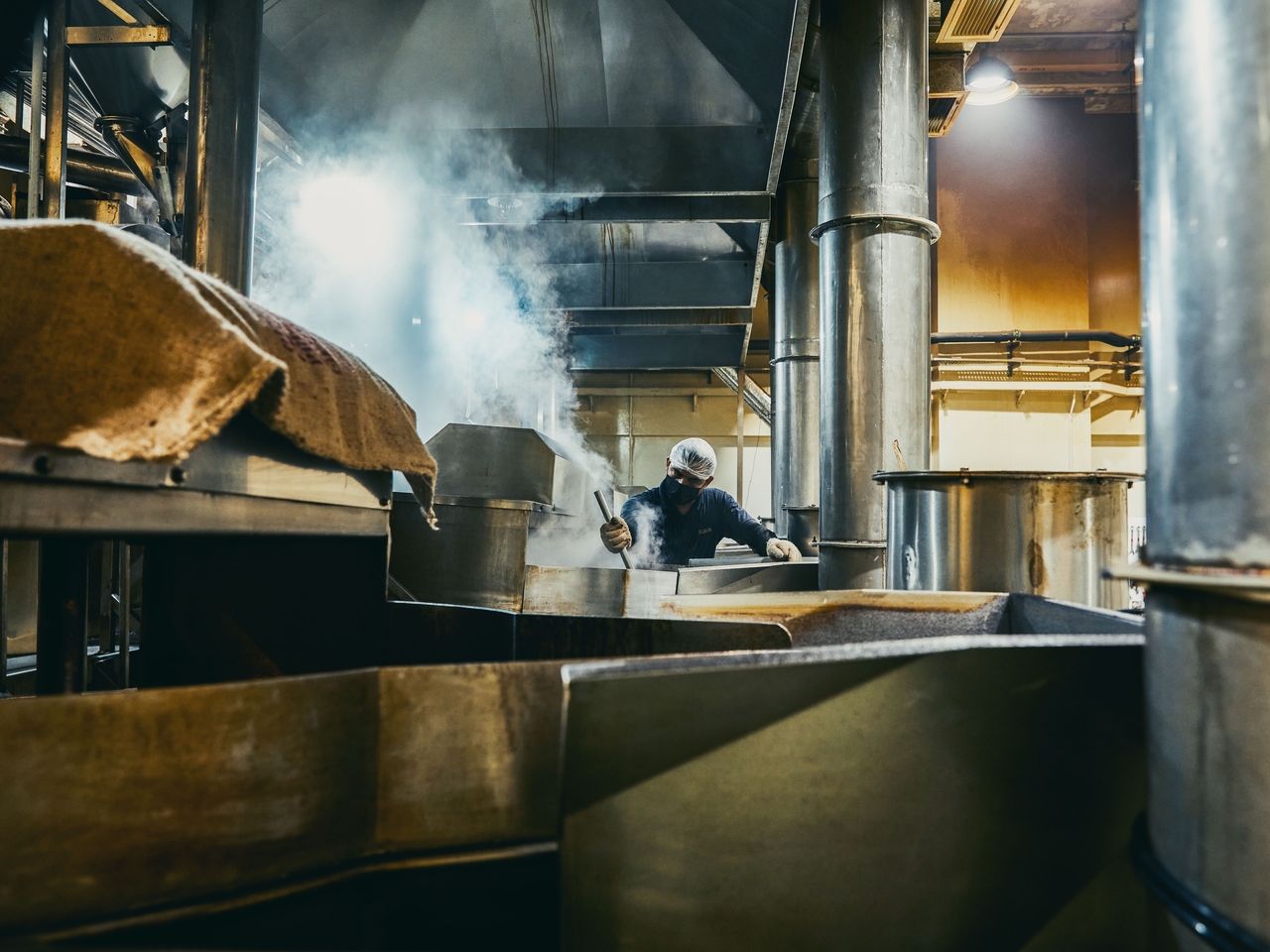 This is the most crucial part of the process, which involves roasting, caramelising and cooling. One batch of coffee takes between 50 minutes and an hour to roast.
First, the beans are cooked in a drum at about 240°C. At the same time, sugar is melted at 150°C or so, before it caramelises and coats the beans. Precision is key; either the sugar or coffee might get burnt if there's even the slightest miscalculation in timing. It could also affect the taste profile of the coffee.
It takes about seven minutes for the beans to cool and the funnels help expel the smoke.
Once the beans are cooled, the workers store them in gunny sacks quickly.
Three tonnes of coffee are produced each day.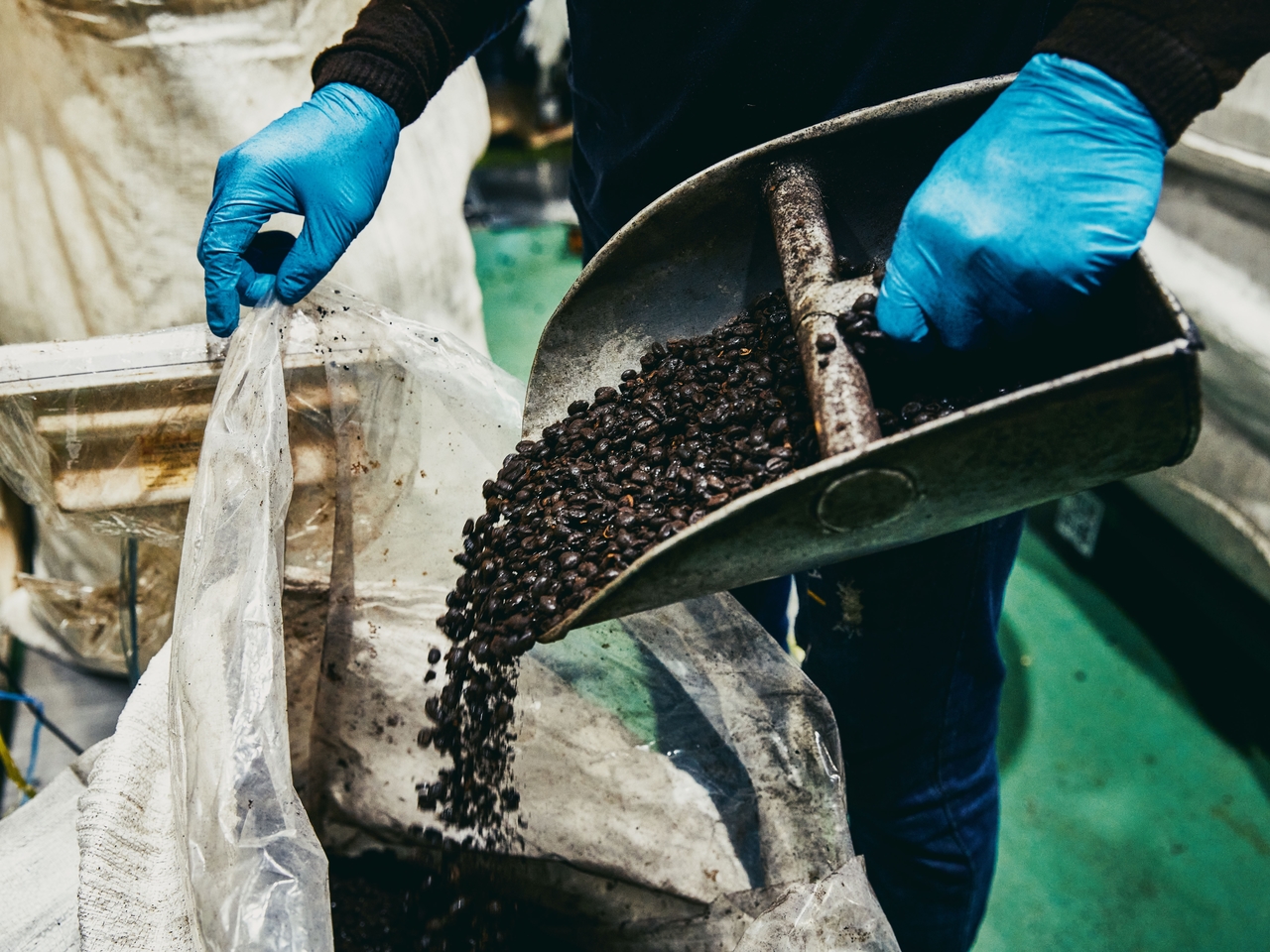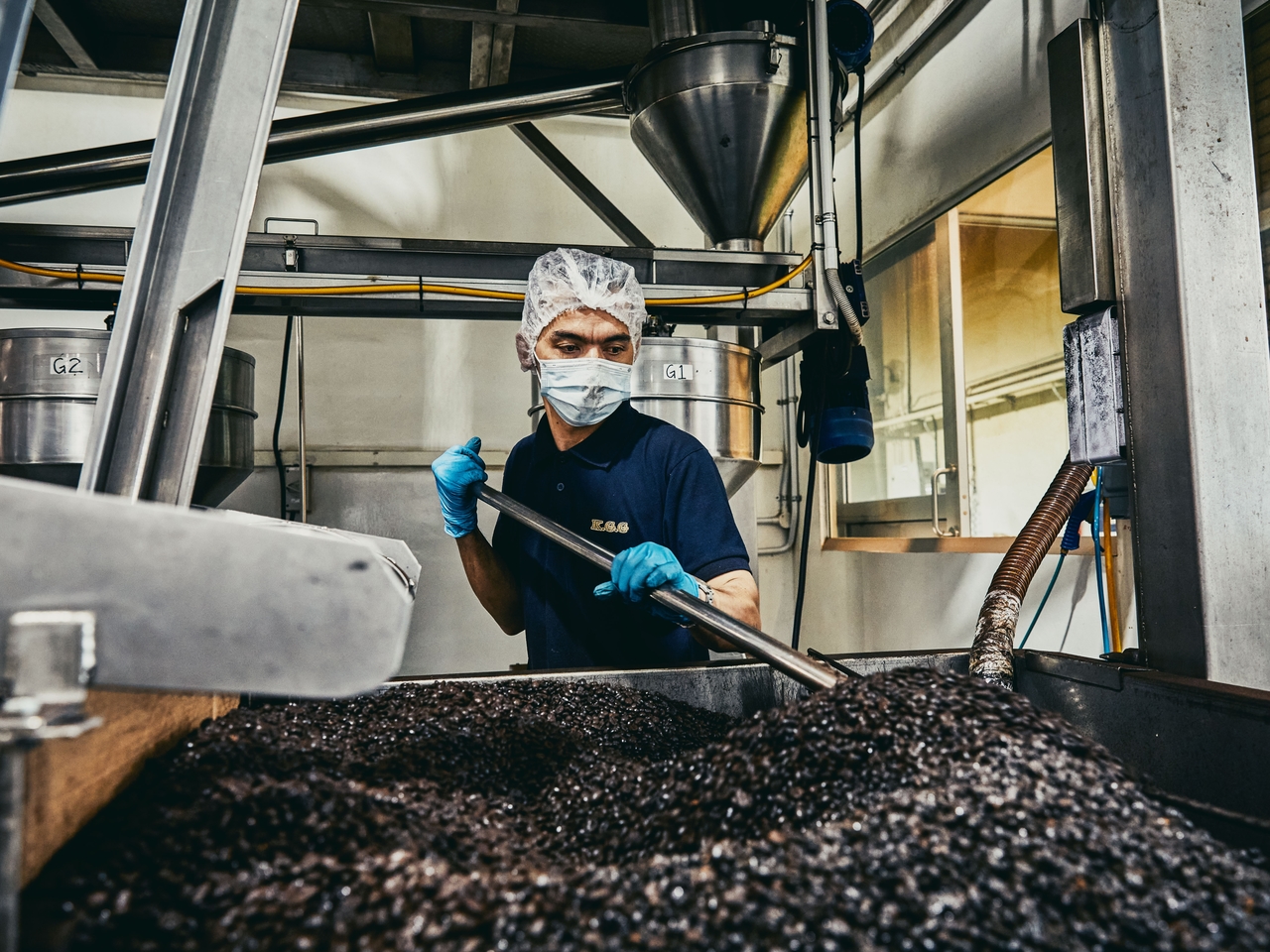 The beans are ground, packed and shipped to more than 1,000 clients. These include kopitiams, cafes, supermarkets and high-end hotels.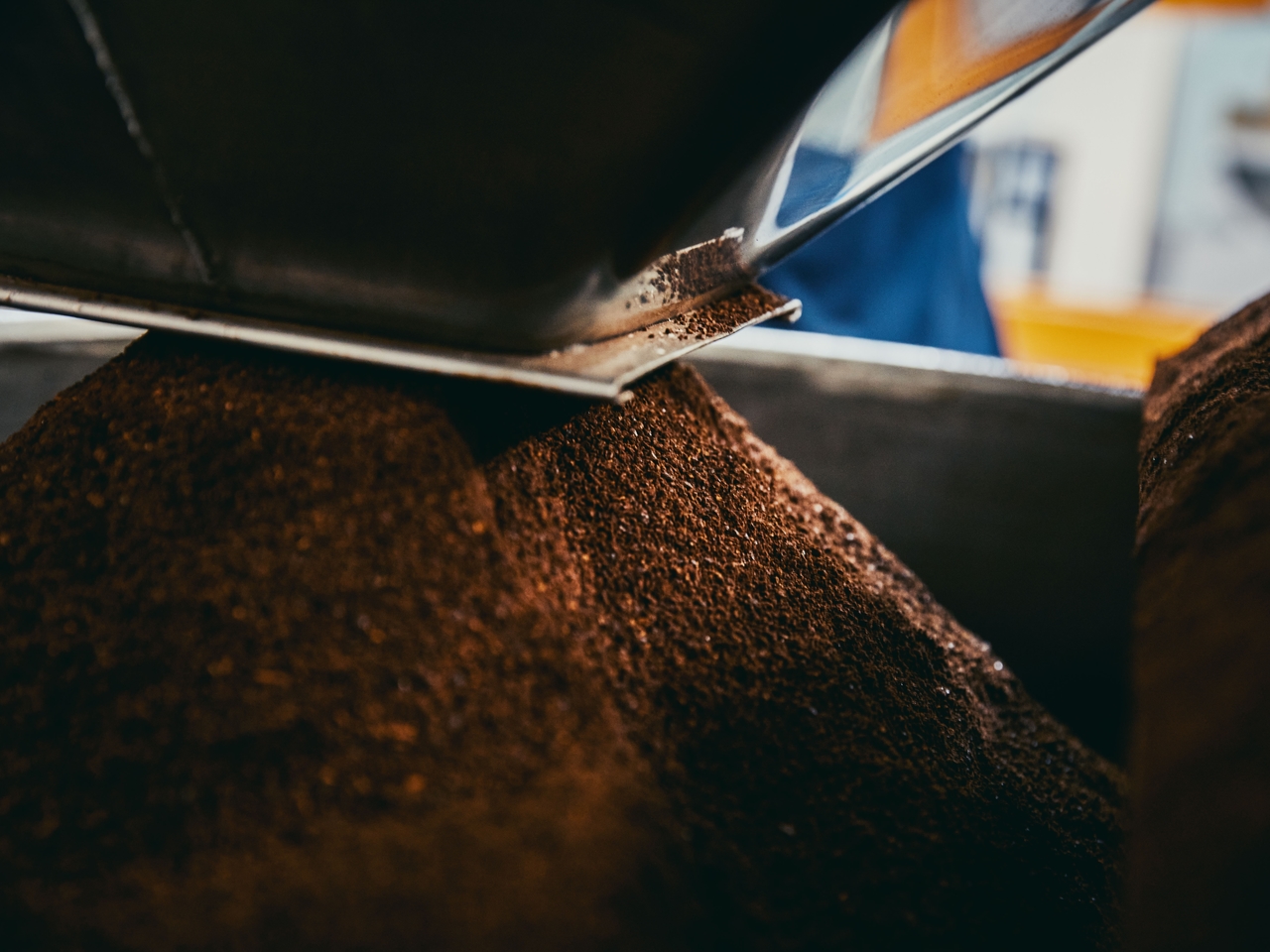 Some of its clients are casual dining business Fei Siong Group, soya bean product retailer Mr Bean Singapore, bakery chain Polar Puffs & Cakes, and The Wok People, which manages cafeterias at locations such as department store Takashimaya and Gleneagles Hospital.
Step 4: Brewing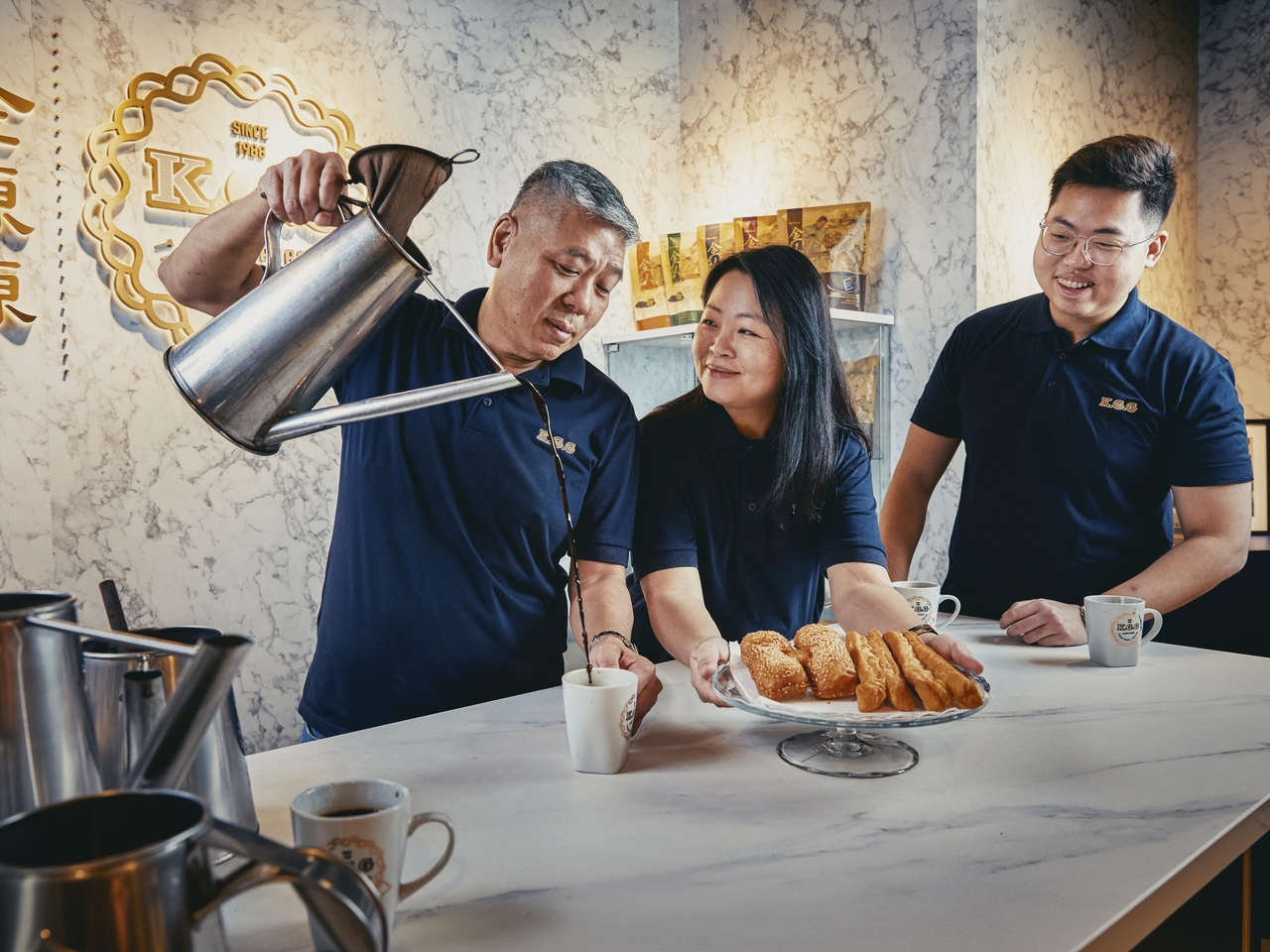 The coffee is brewed with a flannel sock as a filter, and poured from long-necked kettles to create a thick cuppa. It can be drunk black, or with sugar and evaporated milk.
Where else you can find local kopi
Specialty kopi shops
1. Coffee Break
Hong Lim Food Centre, 02-41, 531A Upper Cross Street
Open: Monday to Friday (7.30am to 2.30pm)
Located at Amoy Street Food Centre and Hong Lim Food Centre, Coffee Break remains rooted in the tradition of hawking traditional kopi, while offering new concoctions with a twist.
2. YY Kafei Dian
37 Beach Road, 01-01
Open: Tuesday to Friday (7.30am to 7pm); Saturday and Sunday (8am to 7pm)
YY Kafei Dian, an old-school Hainanese coffee shop, is outfitted with a chicken rice stall, a zi char stall and a drink stall.  Enjoy a hot cup of traditional kopi with its popular kaya toast and sugar donuts on the side.
3. Heap Seng Leong 
10 North Bridge Road, 01-5109
Open: Daily (5am to 4pm)
With almost five decades of history, Heap Seng Leong is one of Singapore's hidden gems. Manned by a father-son duo in their 80s and 50s, the coffee shop serves traditional Nanyang coffee with socks and long-throat kettles.
Kopi retailers
1. Fresh Cafe Distributors
170 Stirling Rd, 01-1133
Open: Monday to Friday (9am to 4.30pm)
A subsidiary of Tiong Hoe Gim Kee Trading (with links to the well-loved Tiong Hoe Specialty Coffee), Fresh Cafe Distributors is the go-to source for quality traditional Singapore kopi.
2. Ho Tit Coffee Powder Factory
402 Upper Paya Lebar Road
Open: Monday to Saturday (10am to 7.30pm)
At Ho Tit Coffee Factory, heritage is its middle name. This long-running coffee roaster and supplier operates from its original site in Paya Lebar to this day, complete with old-school interiors. It offers strong-bodied traditional coffee.
3.  Kwang Huat Coffee
In business since 1974, Kwang Huat Coffee keeps the legacy alive with its traditional Nanyang kopi.
Charmian Lee contributed reporting. 
Kim Guan Guan Coffee Trading is on GrabMart, and Coffee Break is on the GrabFood delivery service. You can also book a ride to these places.
Kim Guan Guan Coffee Trading
JTC Bedok Food City, 05-28/29/30, 1550 Bedok North Avenue 4
Open: Monday to Friday (9am to 5pm); Saturday (9am to 11.30am)
JTC Bedok Food City, 05-28/29/30, 1550 Bedok North Avenue 4
Open: Monday to Friday (9am to 5pm); Saturday (9am to 11.30am)
---