Review: New cafe Supernova shoots for the stars with progressive brunch picks in Tanjong Katong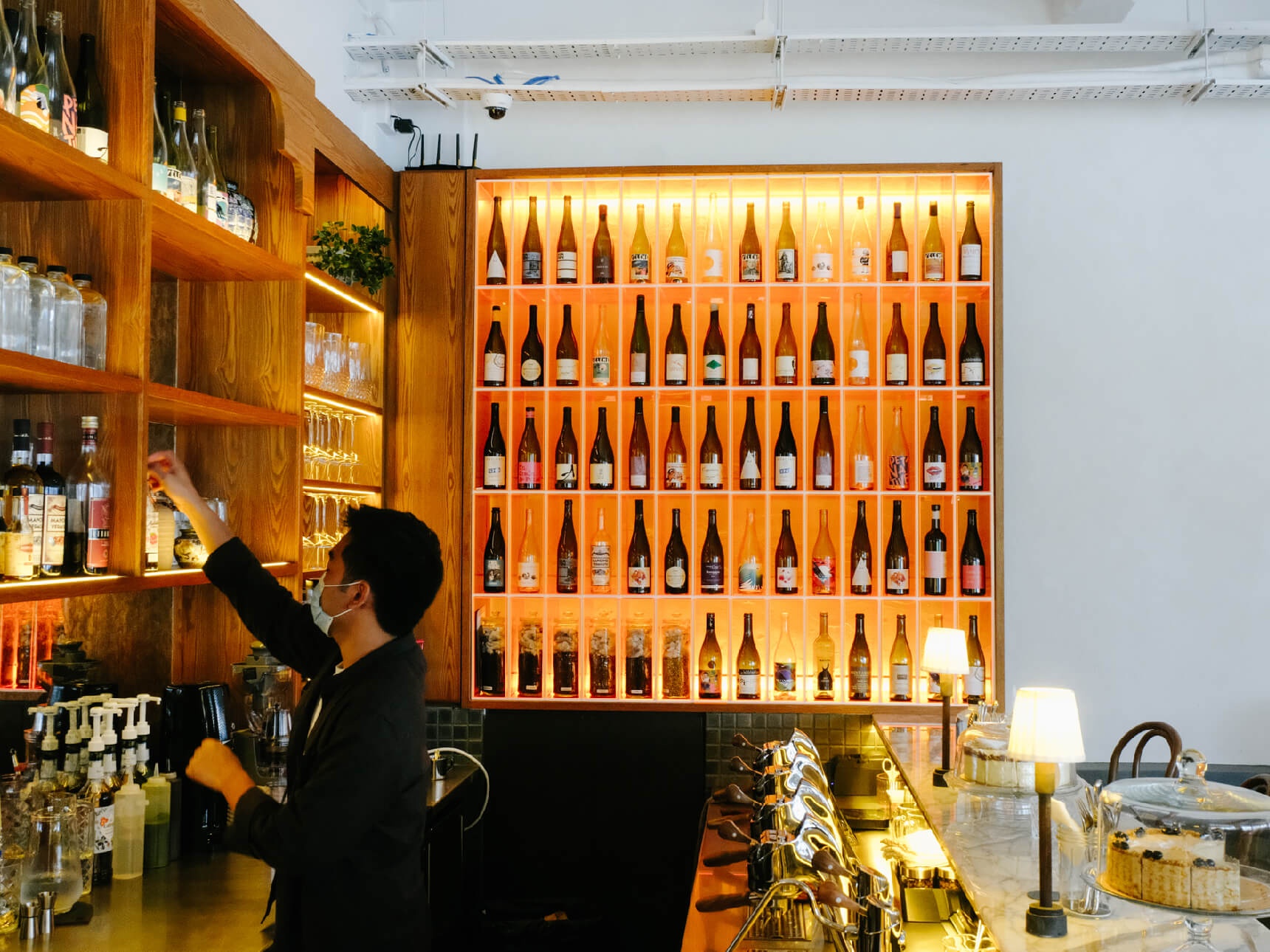 Supernova was started by the team behind Instagram-famous cafes Atlas Coffeehouse and Neptune
It functions as a cafe by day before morphing into a wine bar in the evening
We were impressed by its fried chicken French toast, steak hash and expressive coffees
That said, its eggs in meurette could do with a richer sauce
Supernova is one of those cafes where you already know you're in for a good time from your first step inside. 
It might be the smell of pies and tarts wafting out from the refrigerated dessert display next to its entrance, or the orange back-lit shelf decked out in wines. 
Then there's the charming decor that greets you — wooden counters topped with marblish stone, cosy banquette seating and old-fashioned chandeliers that somehow don't look out of place.
Combine that with solid food, genuine hospitality and "Kiss Me" from rock band Sixpence None The Richer streaming from the speakers, and you've a winning formula.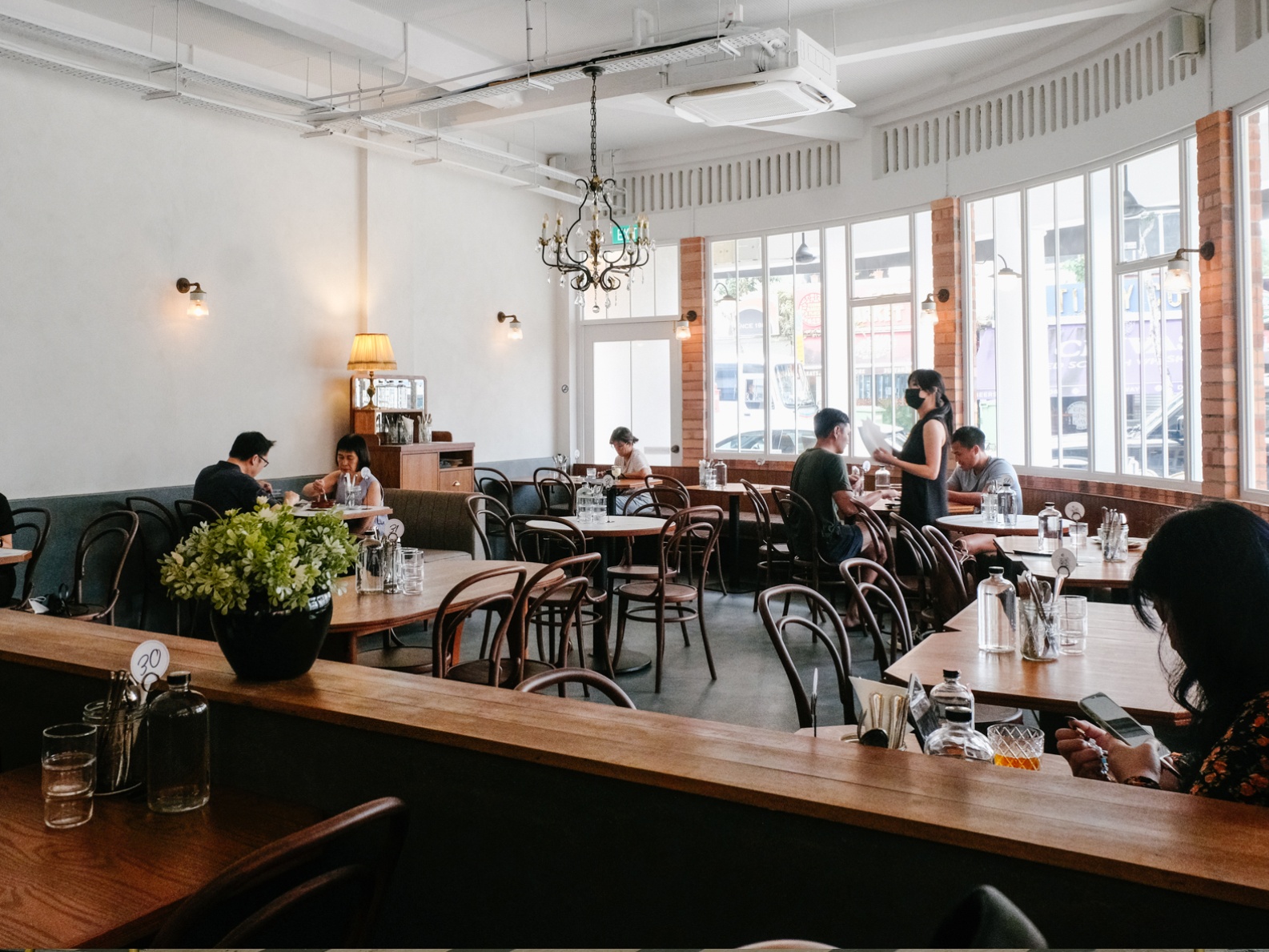 Before we go on, here's the backstory.
This months-old spot is by the team behind Instagram-famous cafes such as Atlas Coffeehouse and Neptune, making this its sixth concept in Singapore. Incidentally, Neptune opened just last year a short distance away, along East Coast Road.
While the group is known for recycling dishes across its outlets, we were pleased to find that this one is a bit of a steer away from its previous ventures — functioning as a cafe by day before morphing into a wine bar in the evening, complete with progressive sharing plates (crispy okonomiyaki, anyone?).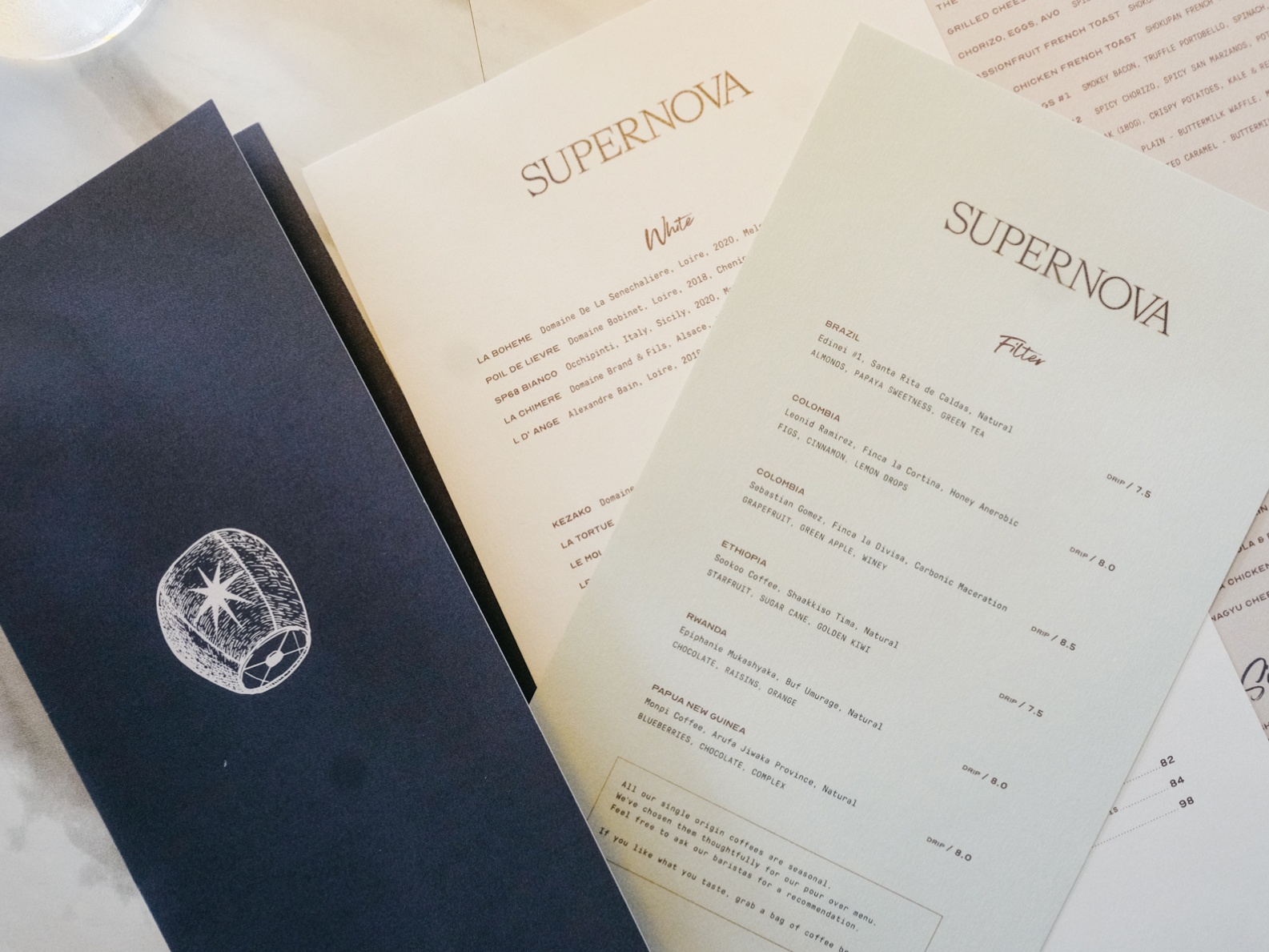 Our verdict
A meal at Supernova will feel like a substantial event, not just because the food is filling, but because the prices are a tad higher than what we're used to from the group's other cafes.
Yet it's the kind of place that's so easy to return to — figuratively, of course, since the queues can get rather long on weekends. Otherwise, it's a fantastic addition to the Tanjong Katong stretch that we can totally get behind.
What it's good for 
Its brunch favourites include the fried chicken French toast (S$24.50), which we hear is the most-ordered dish to date. Think a thick, fluffy shokupan (Japanese milk bread) French toast with a crunchy layer of caramelised sugar, topped with a crispy piece of battered chicken leg and garlic butter.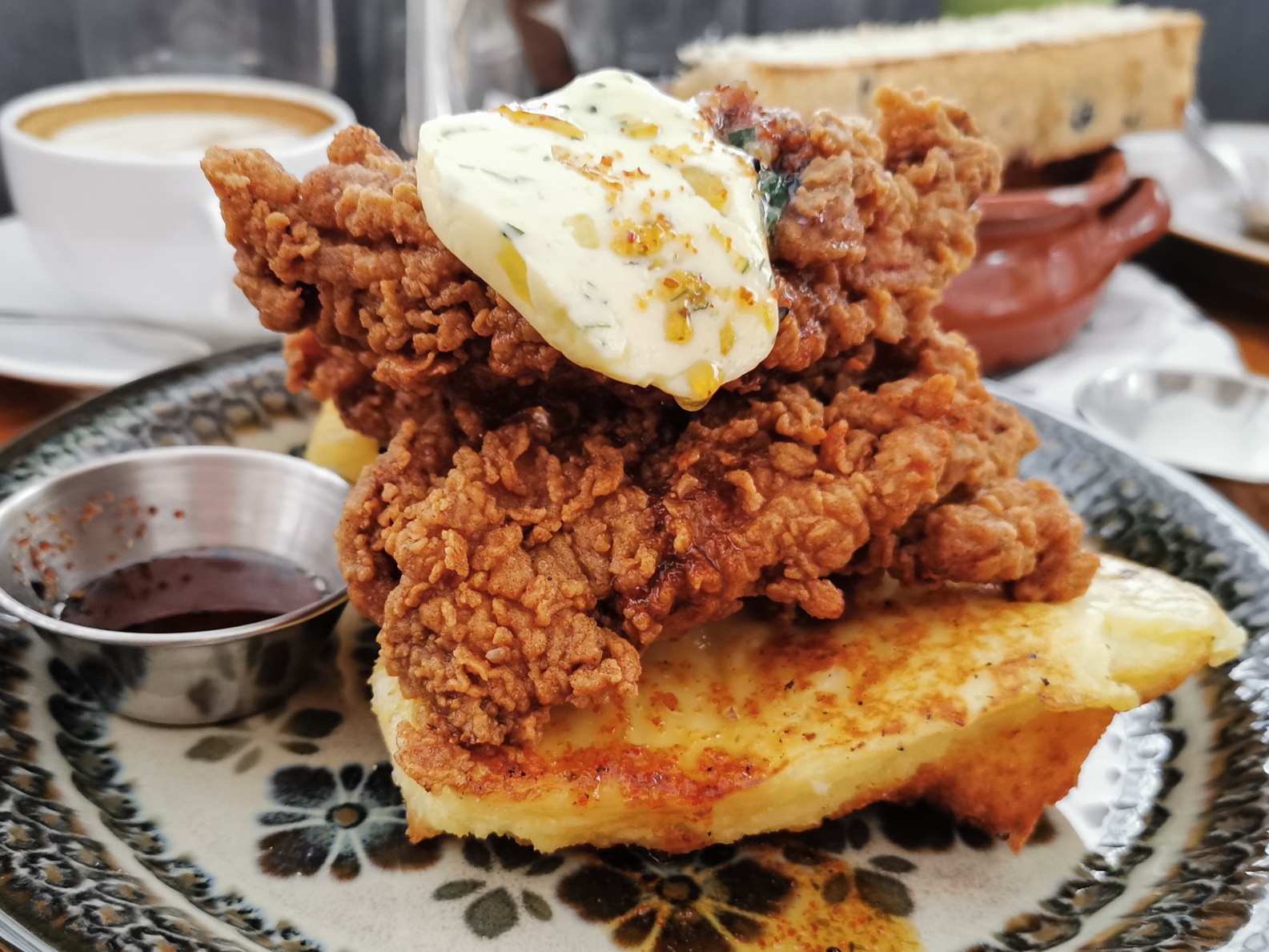 The whole shebang tasted more like Korean honey garlic chicken than we expected. 
Not that we're complaining — it was delicious. As was the steak hash (S$26) — a pretty plate of sirloin with crispy potatoes ladled with herbaceous green sauce and two sunny side ups. The steak was well-cooked and the potatoes were crispy, but we wished the cubes were cut the same size for a more consistent bite.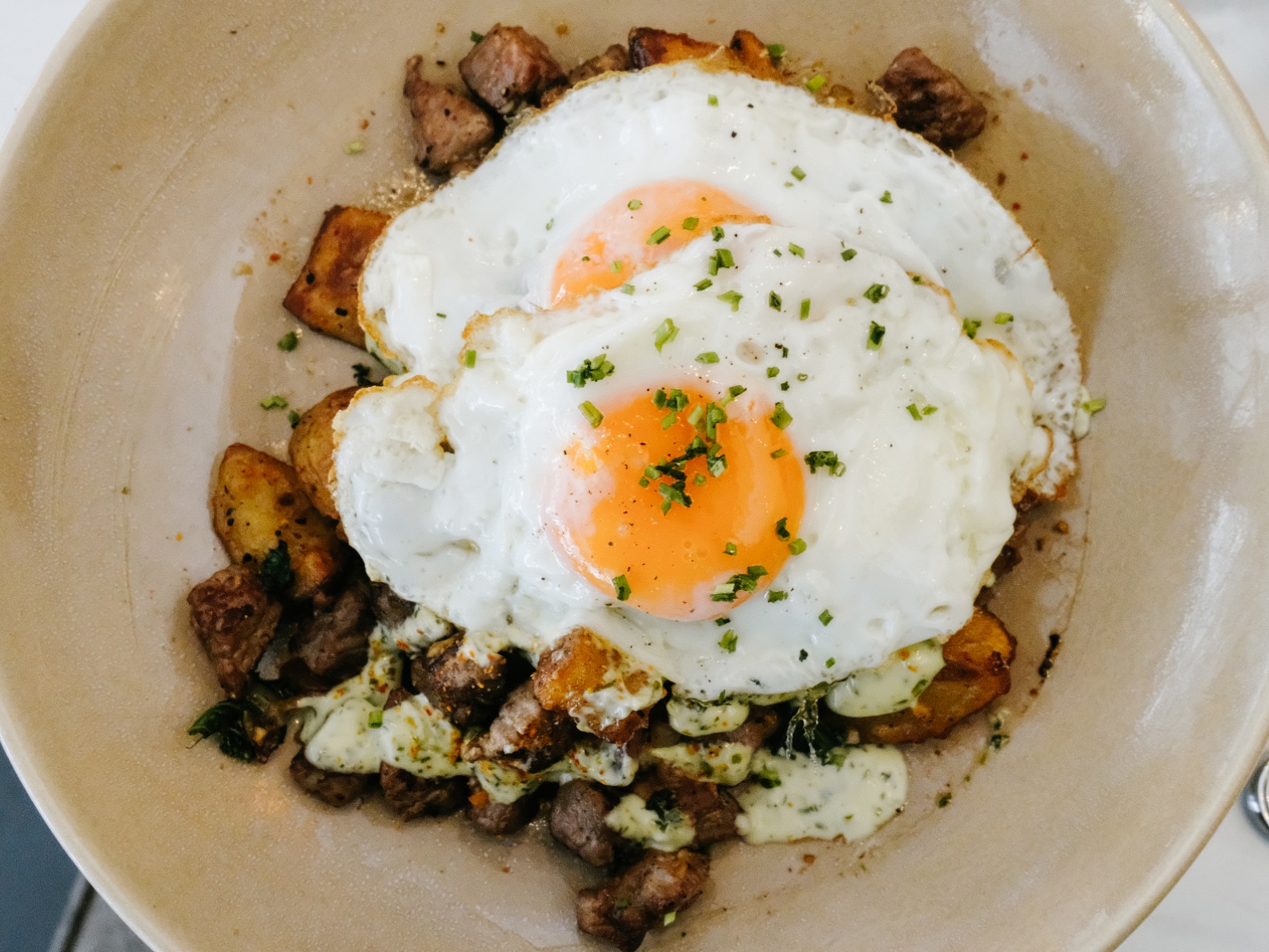 And boy, these folks have got their coffee down pat. 
Plump for filter, with six seasonal single origins that rotate from time to time. 
If you opt for an espresso-based drink, you can choose between two blends: Mr Cuddles (bold, comforting and nutty) and Mr Brightside (juicier and more acidic). 
We went with Mr Brightside for a magic (S$5.60) — milk poured over a double ristretto — and were floored by how expressive the beans were.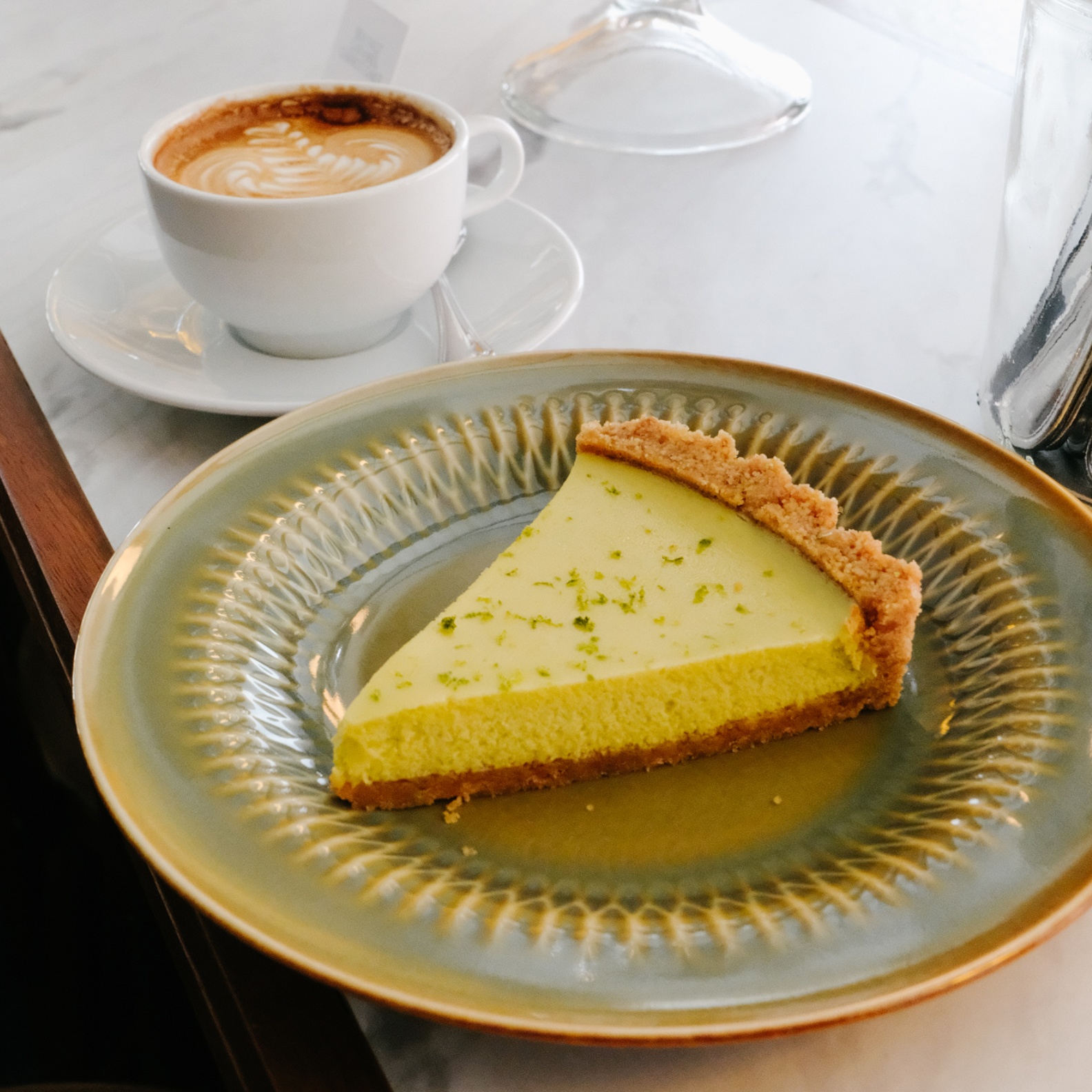 If you like tea, there are some decent options, too. 
The photogenic iced tea with milkstache foam (S$8) showcases a pleasant jasmine oolong that's faintly sweet and smoky. The slightly salty foam dissolves into the tea for a spectacular visual effect. Stir it in for a richer mouthfeel or drink it from the top down — it's your choice. 
We hear their cold brew teas are also delicious.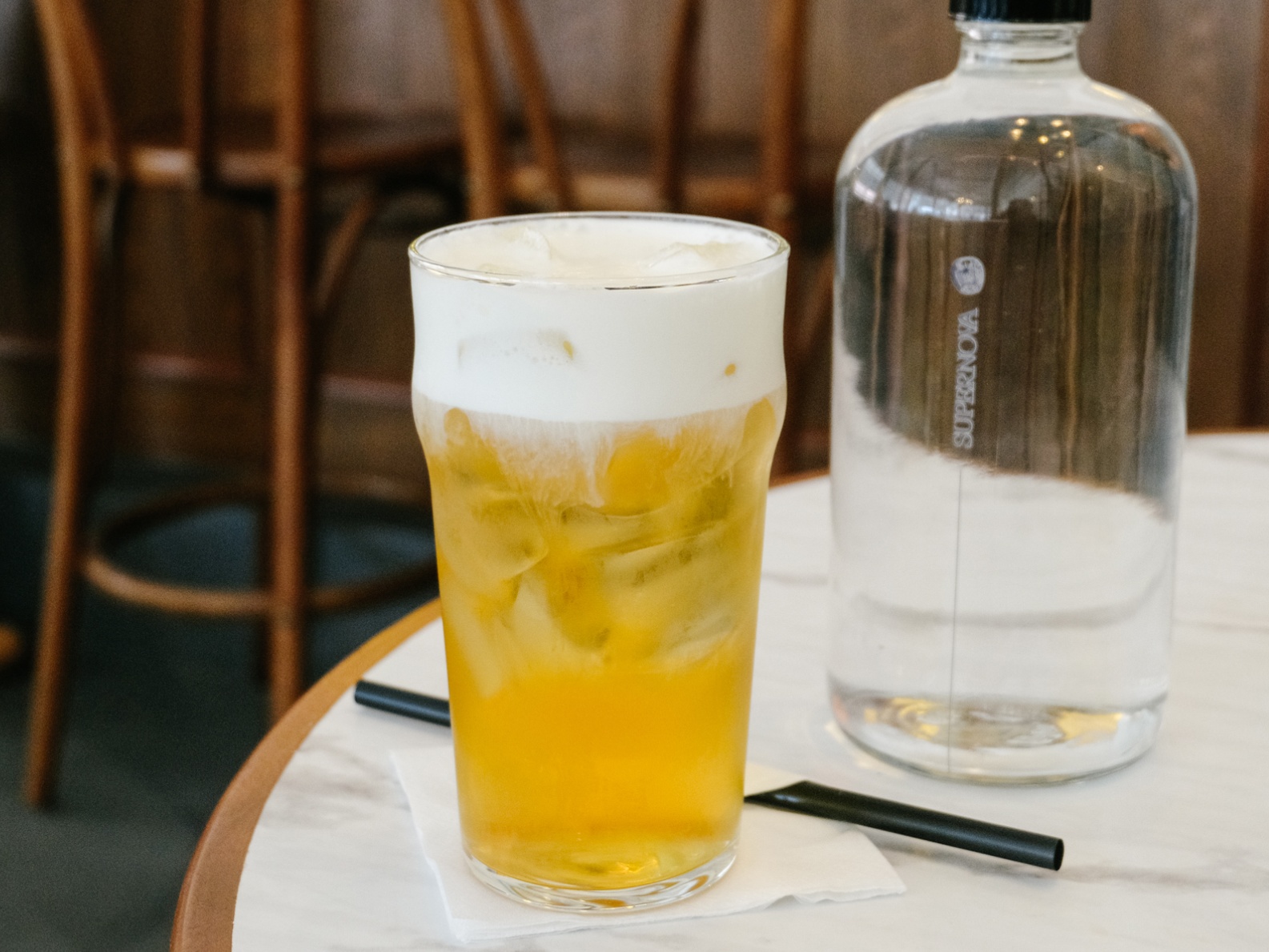 Booze-wise, there's a selection of whites and reds by the glass. But we say go funkier with the team's excellent curation of orange wines — whether it's the Austrian skin-contact Meinklang Graupert Grauburgunder 2020 (S$88 a bottle) or cheekily named Obi Wine (S$84 a bottle) from wine producer Domaine Geschickt in the French region of Alsace. 
Supernova opens till 10pm most nights, making it an ideal spot for post-work dinner and drinks.
Remember the desserts we mentioned before? These are not formally on the menu, so you'll have to trudge your way to the front to see the day's bakes. 
Dig your fork into the voluptuously stacked pistachio honey mascarpone cake (S$9.10), a slightly dense layered cake with honey mascarpone buttercream flecked with ground pistachios. 
Or the s'mores brownie pie (S$8), adorned with torched marshmallow meringue, bittersweet chocolate with a hint of salt, and a tight crumble base. We preferred this one, but then again, this reviewer has a bias for good chocolate.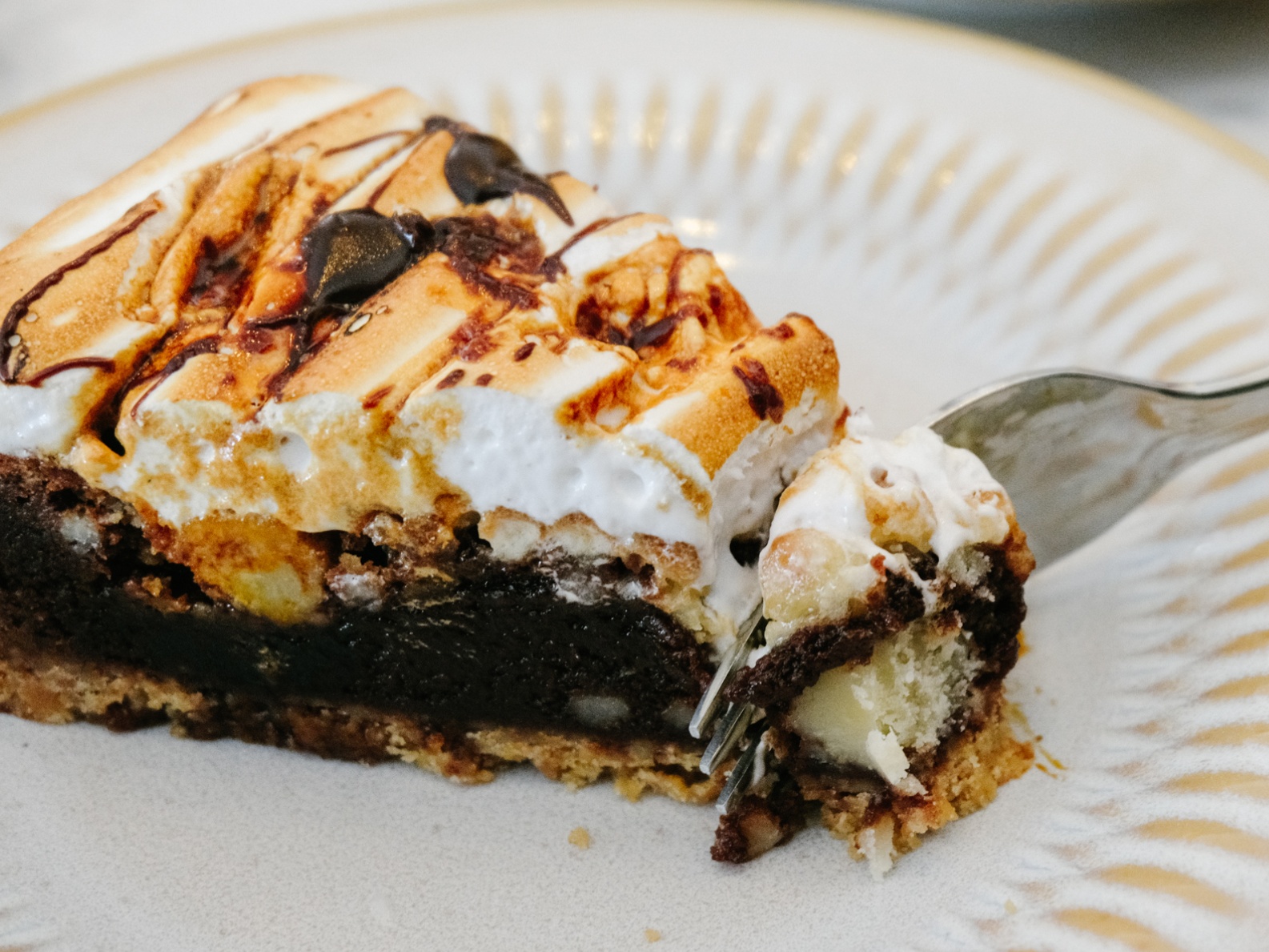 What it could improve on
From the afternoon menu come the eggs in meurette (S$24), a classic Burgundian dish featuring poached eggs, red wine sauce and lardons (fatty bacon) that you'd be hard-pressed to find in many French restaurants here, let alone a trendy cafe.
Supernova's rendition isn't half bad — if only the sauce was a little richer in dimension, rather than slightly sour.
Our quick takes 
Is it conducive to conversation? For now, Supernova is bustling with activity at almost all hours of the day, so you might want to take your heart-to-heart talks elsewhere.
Is a reservation necessary? Seats here fill up quickly and the restaurant does not take bookings for the time being. You know what you gotta do.
How to get there? It's situated towards the tail-end of Tanjong Katong Road, not far from East Coast Road. Take a bus down from Dakota or Paya Lebar MRT stations.
Things to note: 
Its brunch menu runs from 8am to 5pm, lunch from 11am, and its dinner menu from 5pm to 10pm.
It's a touch pricier than the Atlas group's other concepts. Expect to spend around S$80 for two mains, coffees and desserts.
Supernova closes at 10pm on most days, making it great for nighttime revelry.
It's pet-friendly. Outdoor seats are available along the road.
HungryGoWhere paid for its meal at this cafe for this review.
Supernova is on the GrabFood delivery service. You can also book a ride there.
266 Tanjong Katong Road
Open: Tuesday to Saturday (8am to 10pm); Sunday (8am to 7pm)
266 Tanjong Katong Road
Open: Tuesday to Saturday (8am to 10pm); Sunday (8am to 7pm)