Review: Qwang's tasty Vietnamese salad bowls & avocado mousse ice cream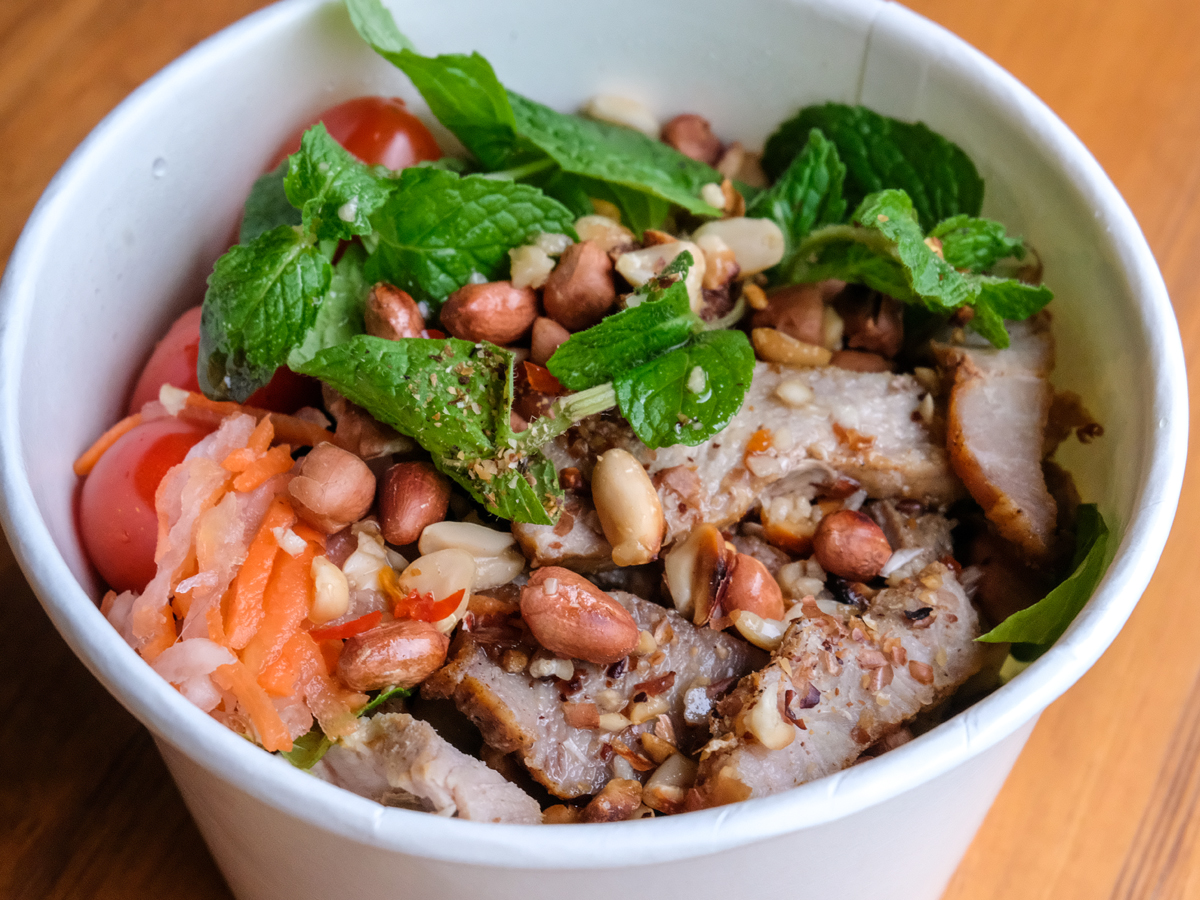 This unassuming joint in Kovan has a small but tasty menu of Vietnamese salad bowls, banh mi
Less sugar and salt doesn't mean the food's less tasty, and you won't find MSG or oil here
Special mention goes to the avocado mousse ice cream — a rare find in Singapore
We all have our weaknesses when it comes to food. For some, it's bubble milk tea with 100% sugar, or Chicken McNuggets and fries doused in curry sauce. Mine's the French bread and pickled vegetables of a banh mi sandwich.
It's timely, too, as there's been quite a number of small Vietnamese eateries sprouting up across the island in the past two years, many of which are concentrated in Joo Chiat and Paya Lebar.
But there are outliers, and recently, I found myself in Kovan outside a nondescript white building. Inside is Qwang, a small shop specialising in bun thit nuong, the classic Vietnamese rice-noodle salad dish, and yes, banh mi. 
The restaurant itself — if you can call it that — is the size of three, maybe four, tiny cars. But it's all about the food, right?
The backstory
Qwang, which recently celebrated its first anniversary, is a quick-serve concept that caters to healthy eaters with less sugar and salt, and virtually no MSG or oil. 
Its website says the recipes originated from Vietnamese master cooks, and while we've no way of verifying that, the food speaks for itself.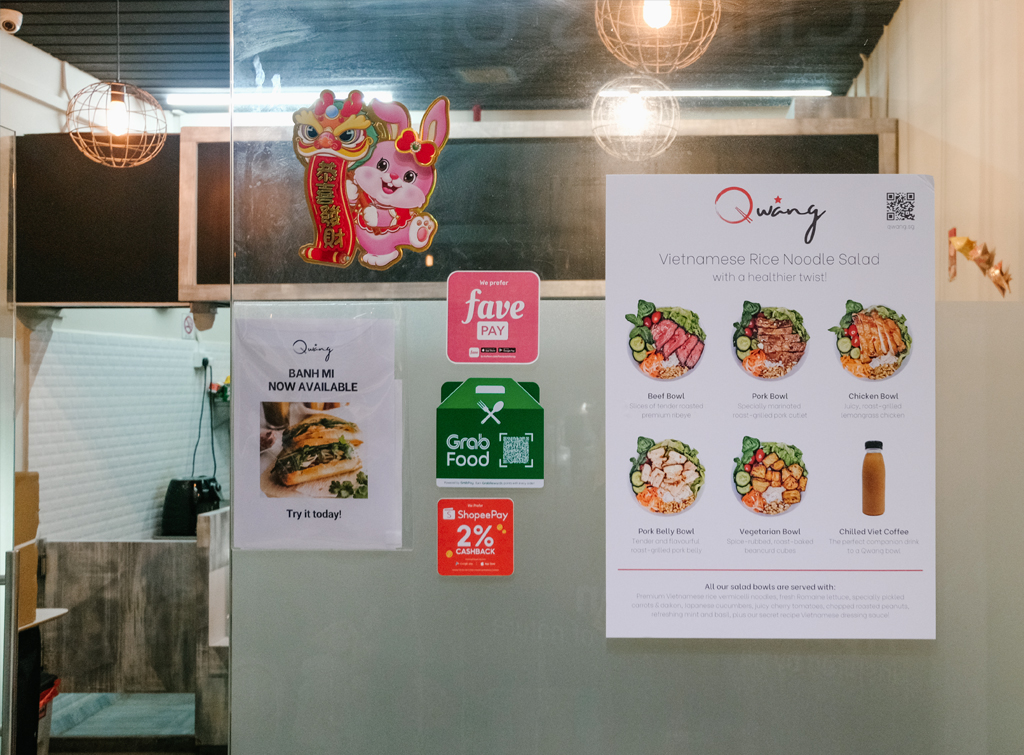 If you're looking for a deliciously healthy option for lunch or dinner, Qwang's bowls and sandwiches — a hearty mix of fresh greens and marinated proteins — will fill you up without inflicting a food coma. It retains authentic Vietnamese tastes and flavours, and serves excellent Vietnamese coffee to spruce up your afternoon. 
Do note that this place is hardly suitable for groups — there are just eight stools and three wooden tables. I'd consider it more of a delivery and takeaway spot. 
Unless you live nearby, I'd suggest grabbing its bowls off food delivery platforms such as GrabFood.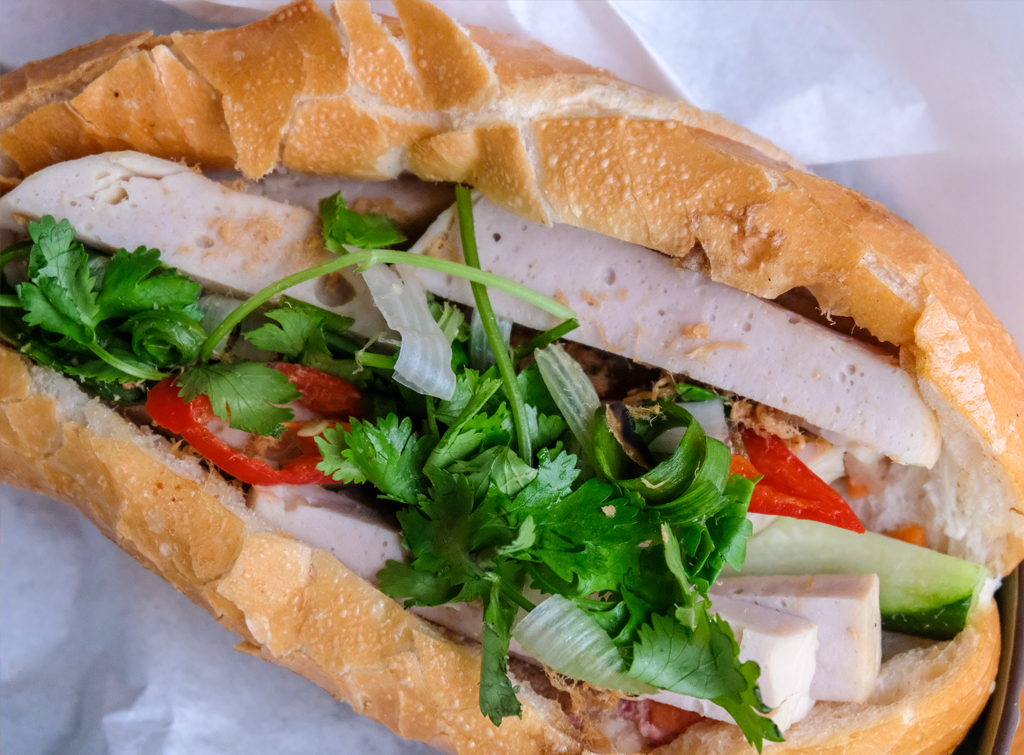 There are no ovens in sight, so the baguettes for Qwang's banh mi were most likely made elsewhere. Thankfully, the bread's mostly airy and crispy with soft insides, with barely a hint of staleness (my visit was late in the afternoon).
The banh mi classic (S$9.50) is stacked full of pate and butter spread, Vietnamese pork ham (cha lua), pork floss, pickled carrots and daikon, and enough chilli to make you sweat. It's the ham that does it for me with its meaty juiciness.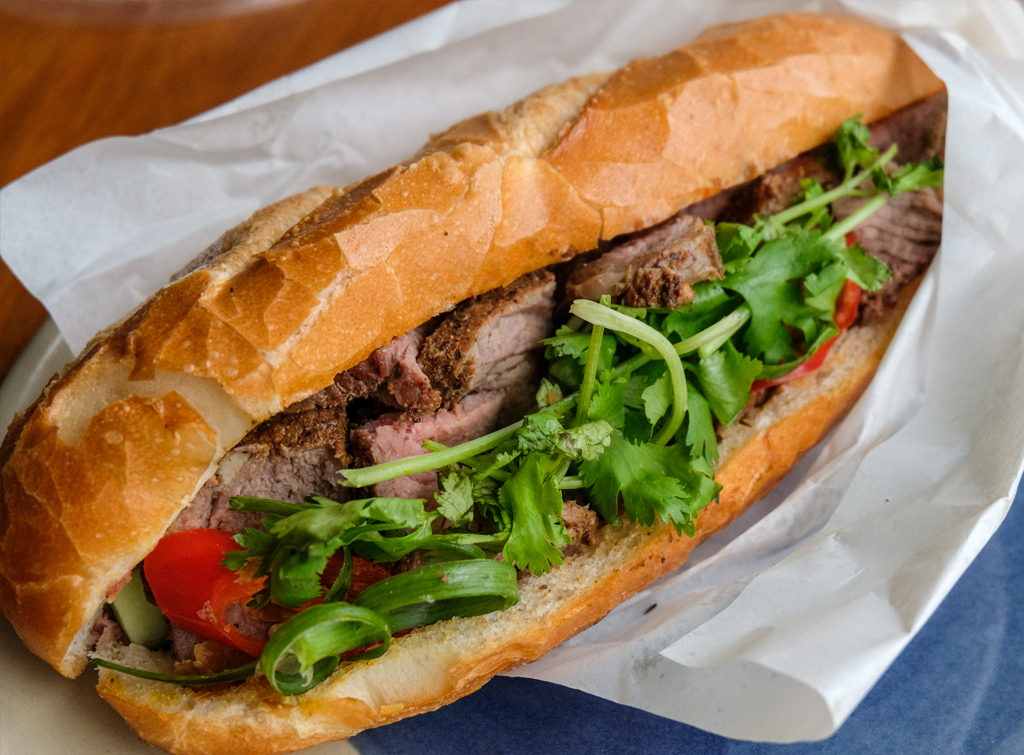 In the case of the banh mi beef ribeye (S$13), the premium beef ribeye — sliced fairly thinly — is roasted perfectly with a flavourful tenderness and a touch of five spice. There's a heap of coriander and fresh chilli inside, just the way I like mine.
One thing to know is that the meats here — the pork, beef ribeye, pork belly and chicken — are mostly the same for both the banh mi and salad bowls. So it depends on whether you're itching for bread or noodles that day.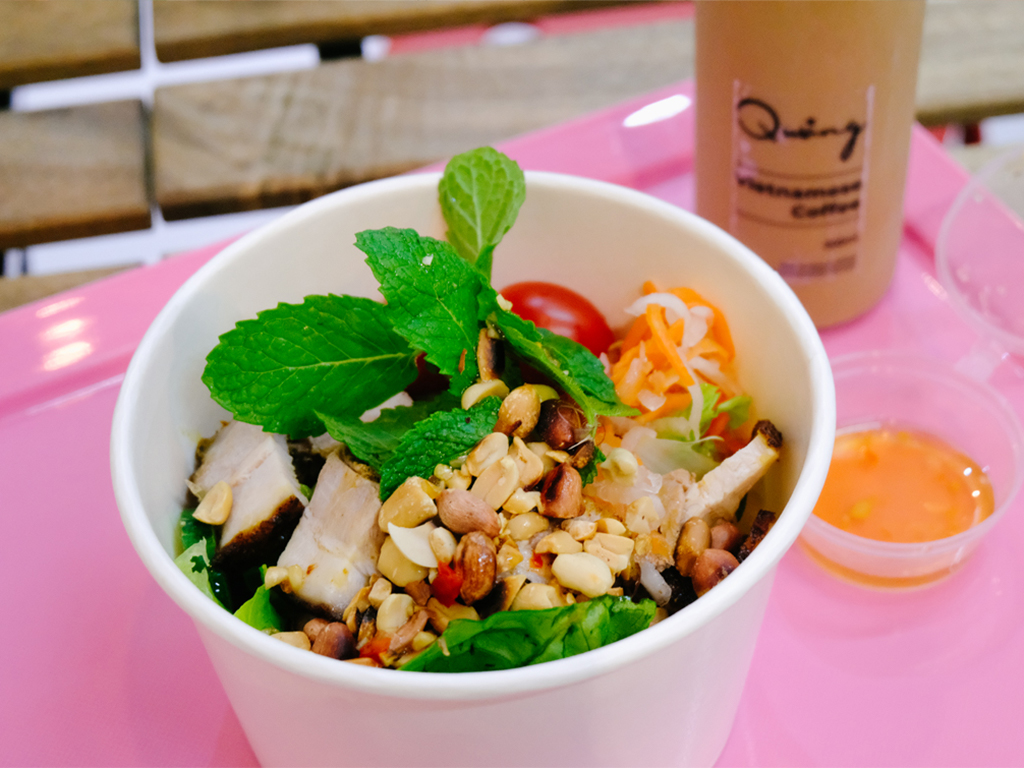 Qwang's bun thit nuong is based on the southern Vietnamese style, where the fresh vegetables and garnishing — romaine lettuce, pickled carrots and daikon, Japanese cucumbers, cherry tomatoes, mint and basil leaves, and crushed peanuts — are laid on top of rice vermicelli like a regular salad.
There's also a special sauce, served in another container, that tastes like liquid gold. This nuoc cham is funky, sweet and acidic at the same time, thanks to a trio of fish sauce, vinegar and sugar. Pour this in and give everything a good mix. 
The pork belly bowl (S$10.80) is mostly faultless, coming with a generous portion of chunky and fatty pork belly. It's tender and nice to chew on, and there's a certain smokiness from the marinade that melds harmoniously with the other ingredients.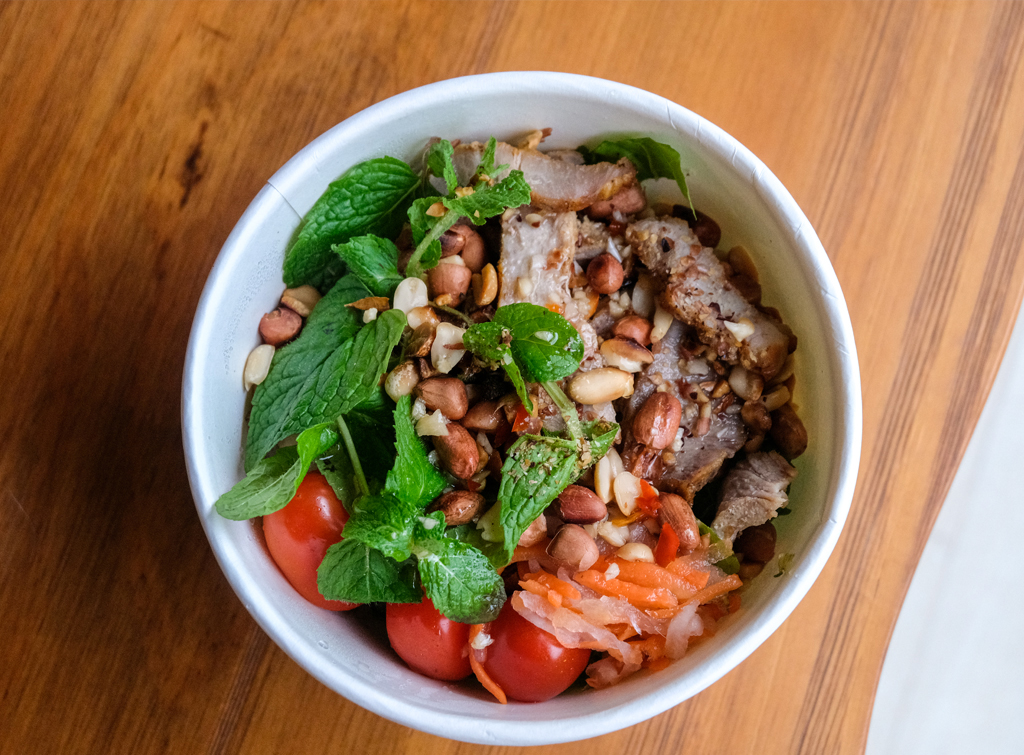 Since a vegetarian option was out for the day (the staff tells us the main protein is tofu seasoned with a dry spice rub), we opted for the regular pork bowl (S$10.80). 
What's interesting is that it's not merely less fatty than the pork belly version, but vibrates with a more savoury umami flavour — not a bad choice if you want something really clean.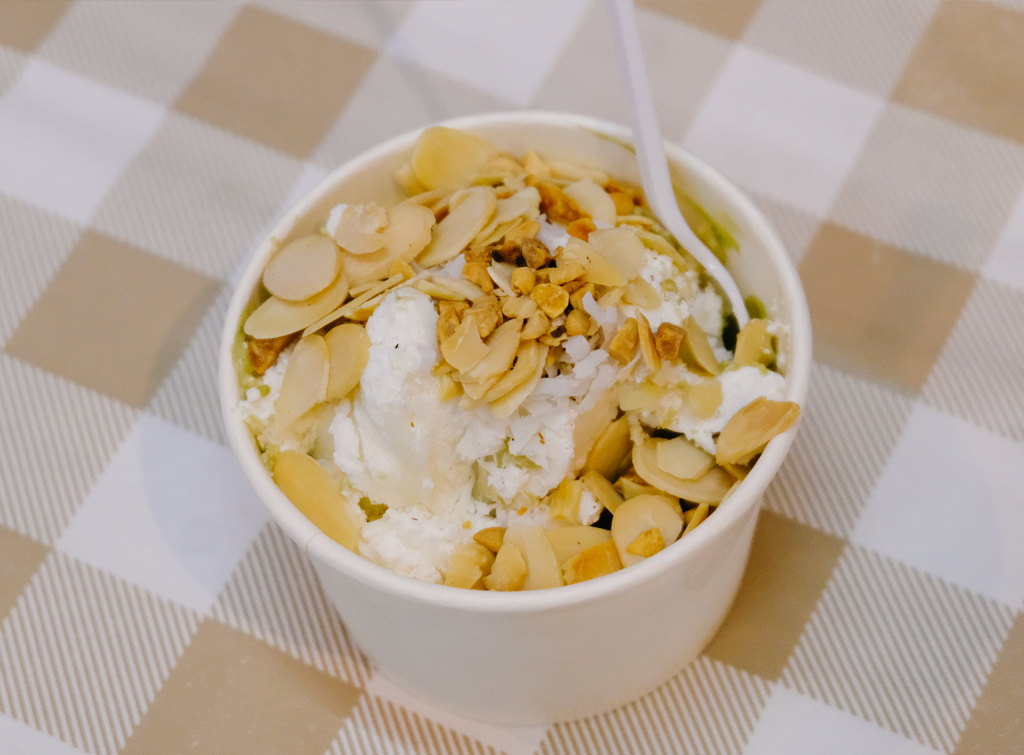 Vietnamese coffee (S$4.60) — pre-brewed into bottles and chilled — is the only drink served here. 
If you've drunk Vietnamese coffee, you'll remember the rich and dark flavour profile, with strong chocolate and caramel notes (the fragrant coffee's made with robusta beans rather than the typical Arabica ones). It's also somewhat sweet, presumably from condensed milk. The bottle went down very quickly.
Don't miss the opportunity to try the avocado mousse ice cream (S$6.80) — a rare find even at Singapore's more established Vietnamese joints. Also known as kem bo, it's a popular street dessert from Da Nang that starts with dark green avocado mousse at the bottom of the bowl, with coconut ice cream, desiccated coconut, almond flakes, and chopped peanuts on top. 
It's a beautiful dance between the decadently creamy mousse and denser, milky ice cream. Try to get a bit of everything in one spoonful.
What it could improve on
It could just be that I'm not exactly a healthy eater, but I can't help but notice the lack of sauce (think sriracha) and oil — perhaps olive or sesame — that could take the banh mi here to another level. 
Perhaps that's the price to pay for something that feeds both your body and soul at once.
Our quick takes
Is it conducive to conversation? Yes, but I can't imagine it's the kind of place you'd want to stay at for long.
Is a reservation necessary? No reservation needed!
How to get there? A 13-minute walk from Serangoon MRT station should get your appetite started. Otherwise, there are several buses from both Serangoon and Kovan MRT stops.
Take note: 
If you like the salad sauce, you can add 50 cents for another container — totally worth it.
HungryGoWhere paid for its meal at this eatery for this review. Still hungry? Read our reviews of the French-inspired Alkove Bistro and Hong Kong cart-noodle restaurant Little Cart Noodle House. 
Space @ Kovan, 01-51, 9 Yio Chu Kang Road 
Open: Thursday to Tuesday (10am to 9pm)
Space @ Kovan, 01-51, 9 Yio Chu Kang Road 
Open: Thursday to Tuesday (10am to 9pm)