Review: Chinatown's new Little Cart Noodle House has a 63-year legacy from HK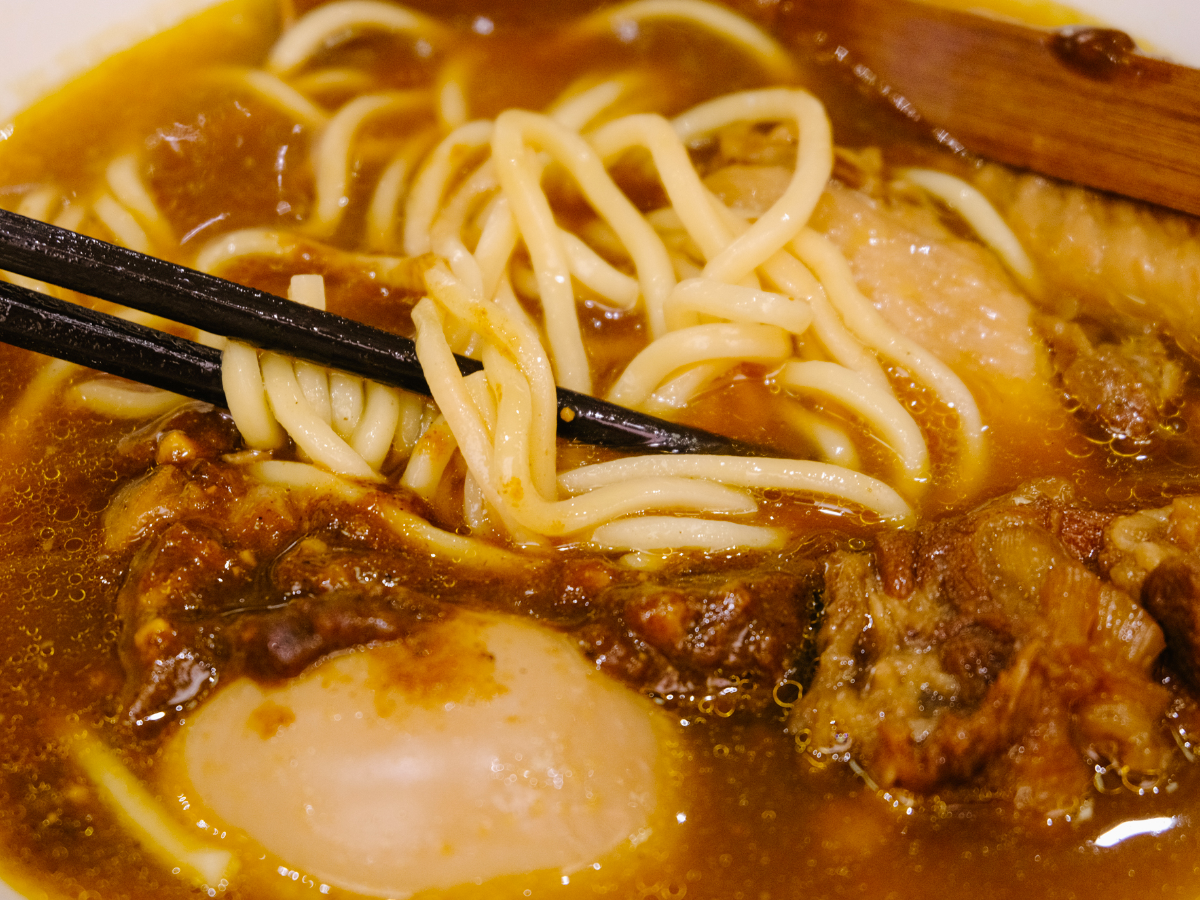 Hong Kong-based Little Cart Noodle House opened its first Singapore store at Far East Square in December 2022
Choose from various types of noodles and 28 cooked toppings 
Popular choices include beef brisket, beef tripe, curry Fuzhou balls, and beancurd skin roll
Each time I visit Hong Kong, a trip to eat cart noodles is a must. Yes, there's milk tea, dim sum, and incredible roast meat to be found in the city, but a comforting bowl of cart noodles? That's an increasingly rare find even in Hong Kong, since the government crackdown on street food in recent years. 
The remaining cart-noodle hawkers have since moved to small eateries: Foodies flock from afar to Wing Kee in Causeway Bay — known for its greasy meat broth and famous pig's-blood curds — or to Yat Sing in Prince Edward for its milder, clearer radish soup.
Having returned from Hong Kong just this month made this visit to Little Cart Noodle House especially exciting. I'd been craving Cantonese flavours the entire week. 
Sure, I could be sorely disappointed, but do you know how difficult it is to find cart noodles here?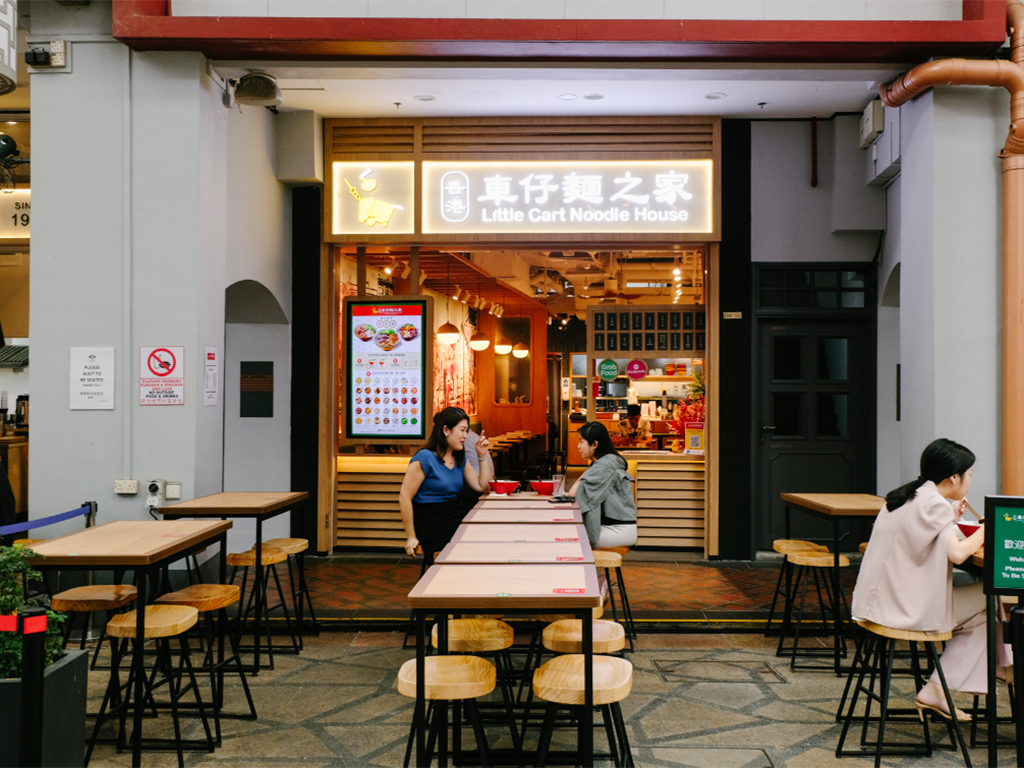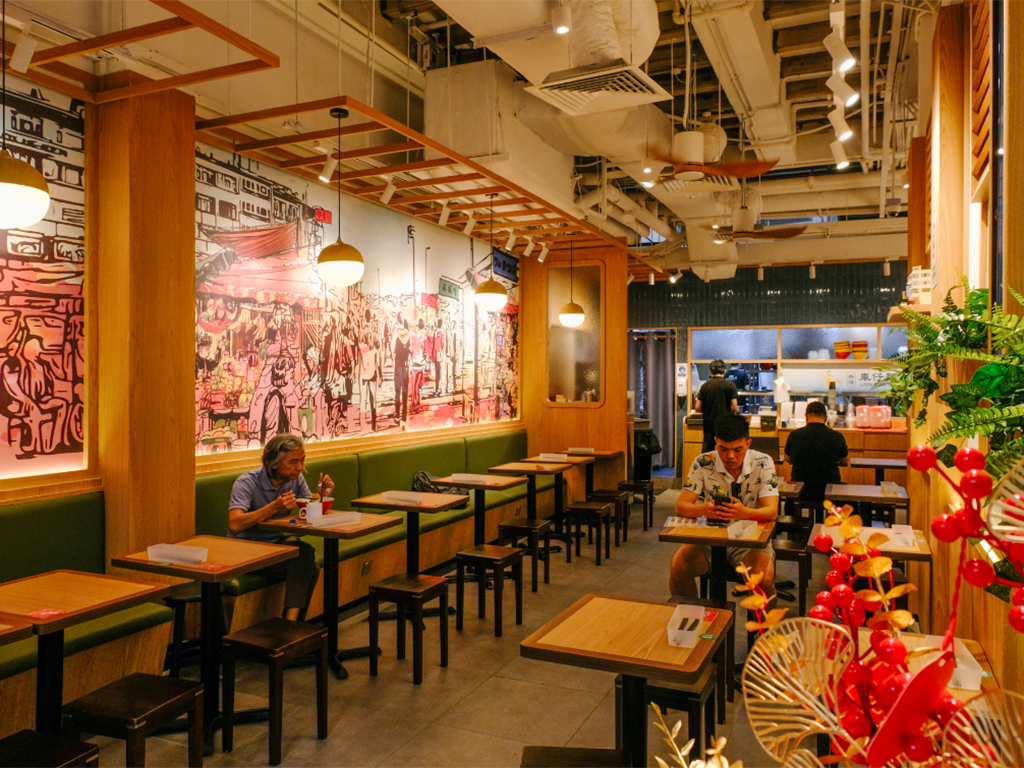 Little Cart Noodle House is a famous cart-noodle brand that's been operating in the neon city since 1960 — the original being a tiny unit in Wan Chai where hungry diners had to stand as they slurp up lunch. 
Thankfully, its sparkling new venture at Far East Square in Singapore is a lot more comfortable.
Our verdict
While I've never dined at its big brother, the food at Little Cart Noodle House is comparable to some of the better ones I've tried in Hong Kong. The 28 toppings available are not out of the ordinary, and I presume the restaurant serves a lot more — it's not uncommon to see over 40 items at some shops — at its original store.
You can go for classics such as marinated chicken wings and beef balls. But there are also innards and more exotic toppings such as beef tripe and pork skin, in keeping with the spirit of Hong Kong cart noodles.
Plus, prices are fairly reasonable for a restaurant in the CBD — an average bowl with four toppings will set you back around S$13 — and the portions are quite decent.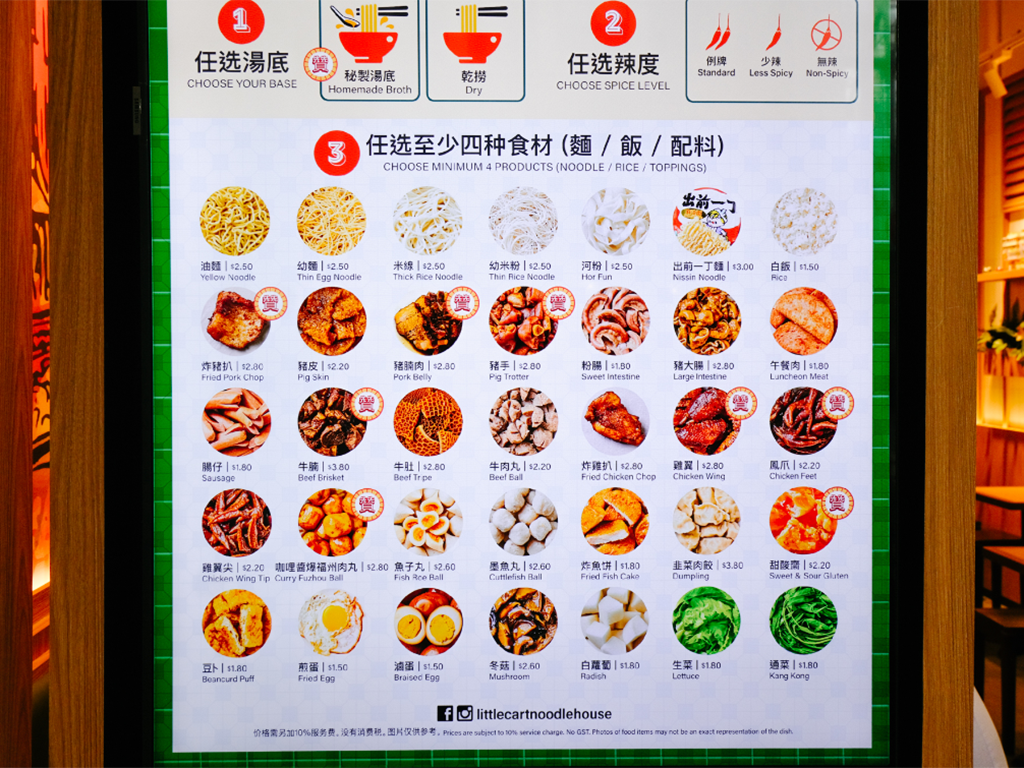 What it's good for
Choose from dry or soup versions with a wide selection of noodles (from S$2.50): Yellow noodles, thin egg noodles, thick or thin rice noodles, hor fun, or Nissin instant noodles. I suppose one could order rice, but have some decency — we're at a noodle house!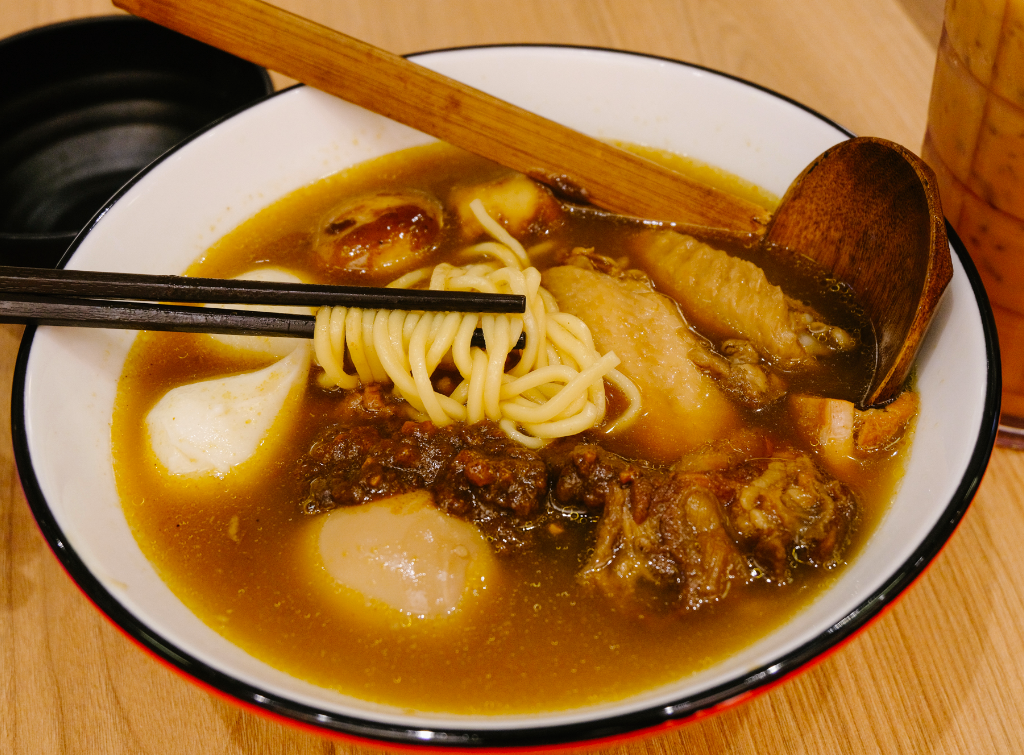 For our first bowl, we went for thick yellow noodles in soup. The broth is somewhat mellower and less greasy than expected, but it's what lets the flavourful stock shine through, with a hint of sweetness from boiled radishes.
What's interesting is that you can also select your preferred level of spice. Its slightly tangy chilli packs a mean punch, so you'll want to mix it in a little at a time.
The beef brisket (S$3.80) at Little Cart Noodle House is absolutely delicious, soft from being boiled for what must be hours until almost gelatinous. There are some chicken midwings (S$2.80), lightly marinated and very tender, though I wish they came with the wing tips — it turns out they're sold separately as another topping.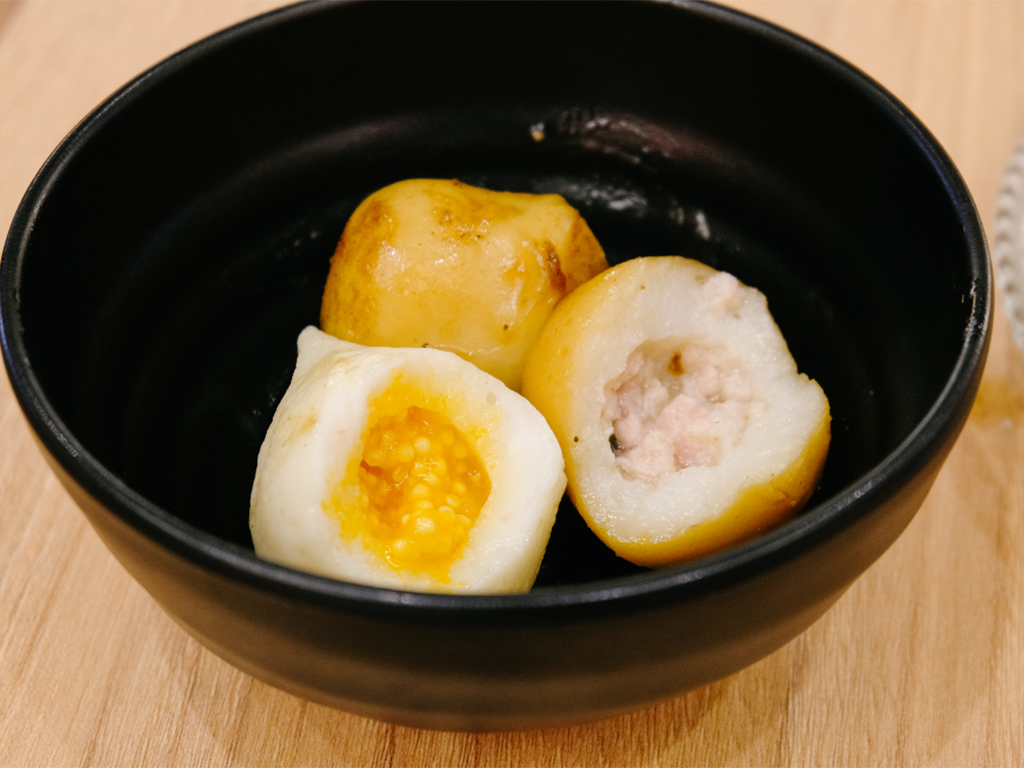 Have you tried Hong Kong curry? Rather than the coconutty slop Singaporeans are used to, the version here tastes a lot closer to the umami-rich Japanese curry, albeit less sweet. This makes the curry Fuzhou balls (S$2.80) one of my favourite toppings at Little Cart Noodle House, along with some fish roe balls (S$2.60). 
I also got a braised egg (S$1.50), because can noodle soup truly be complete without one? The one here is rather savoury with hints of cinnamon and star anise.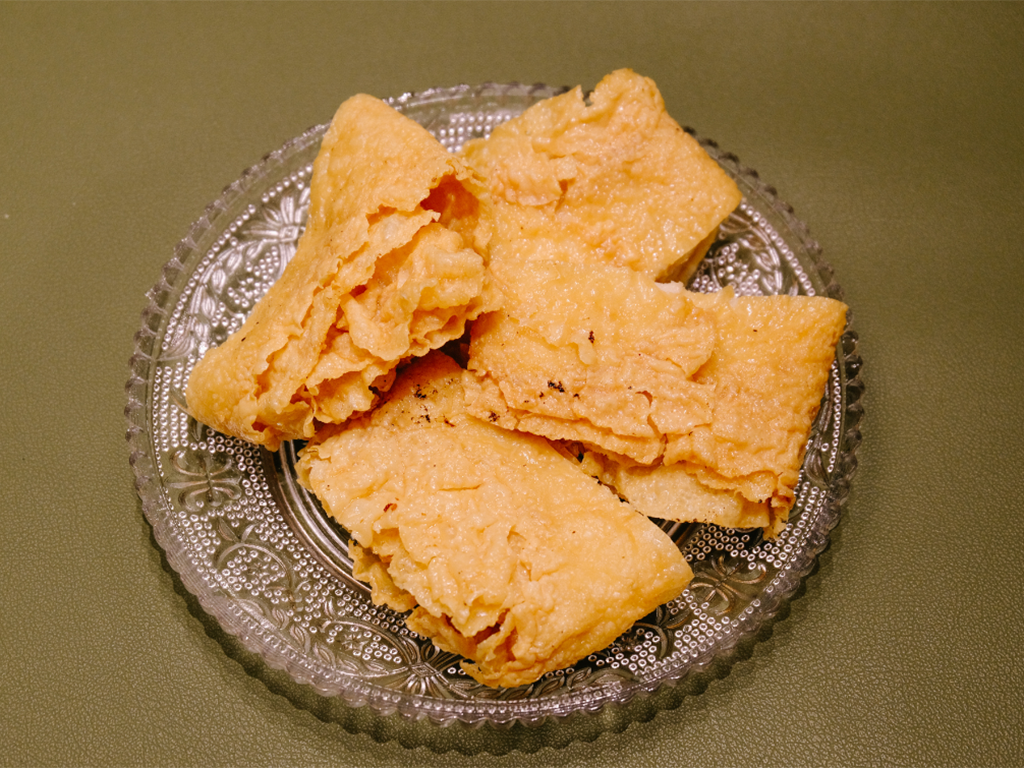 You can complete your cart-noodle order with a la carte dishes such as curry squid and fried shishamo, but we opted for the beancurd skin roll (S$5.80), featuring fishcake that's first cooked in a superior broth before being fried till crispy. I couldn't get enough of this.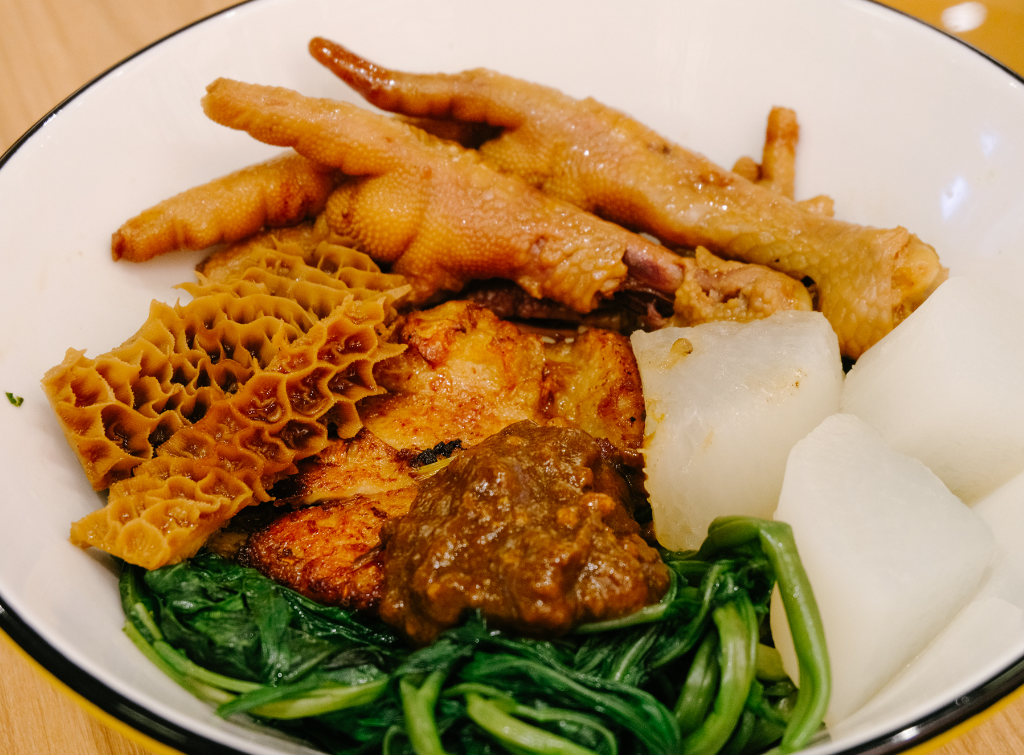 We also tried the dry version, with thin egg noodles akin to the ones used in wanton mee. There's something about Hong Kong noodles that's just a bit springier and lighter. 
For toppings, Little Cart Noodle House has a tasty fried pork chop (S$2.80) that's a bit on the leaner side but still quite juicy. If you like beef tripe (S$2.80), the store does a good one that's slightly chewy and free of any organ flavour. Oh, and that large and meaty chicken feet (S$2.20) — dig in for all that collagen goodness.
Vegetables are usually an afterthought when it comes to cart noodles, but if you're looking for some healthy eating, you won't go wrong with the boiled radishes (S$1.80) and kang kong (S$1.80), cooked in the same hearty broth served with the noodles.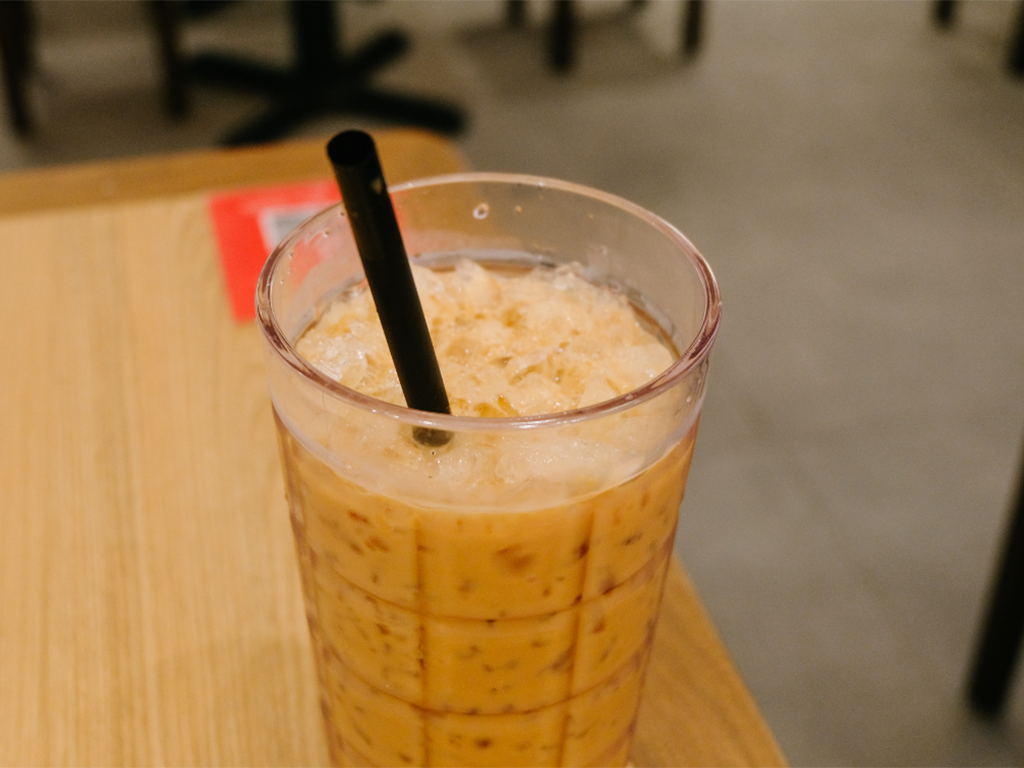 Speaking of the soup, it's not so salty or stodgy that you'll have to drink lots of water, though I still got an iced milk tea (S$3.80). It's frothy and mildly sweet — the way I like it.
What it could improve on
This might be the first review I've done where I've nothing to complain about. If I had to nitpick, it'd be the chicken feet looking scarily fresh like it's just been chopped off. But that's just a "me problem", isn't it?
With a steady queue seen outside during lunch hours, it seems the store's doing well — for good reason. It's had more than 60 years to perfect its recipe after all.
Our quick takes
Is it conducive to conversation? The restaurant can get very loud during lunchtime.
Is a reservation necessary? In true Hong Kong fashion, you'll have to wait for a seat.
How to get there? The shop is a three-minute walk from Exit B of Telok Ayer MRT station.
Take note: 
There's a minimum order of four toppings, including noodles or rice. 
HungryGoWhere paid for its meal at this restaurant for this review. Still hungry? Read our reviews of Korean-Japanese eatery Cafe Gui and Mexican restaurant Tres Sombreros. 
Little Cart Noodle House is on the GrabFood delivery service. Or book a ride there. 
Far East Square, 01-01, 134 Amoy Street
Open: Monday (9.30am to 4pm), Tuesday to Saturday (9.30am to 7pm)
Far East Square, 01-01, 134 Amoy Street
Open: Monday (9.30am to 4pm), Tuesday to Saturday (9.30am to 7pm)