Review: Alkove Bistro at Kovan does casual French fare culinary justice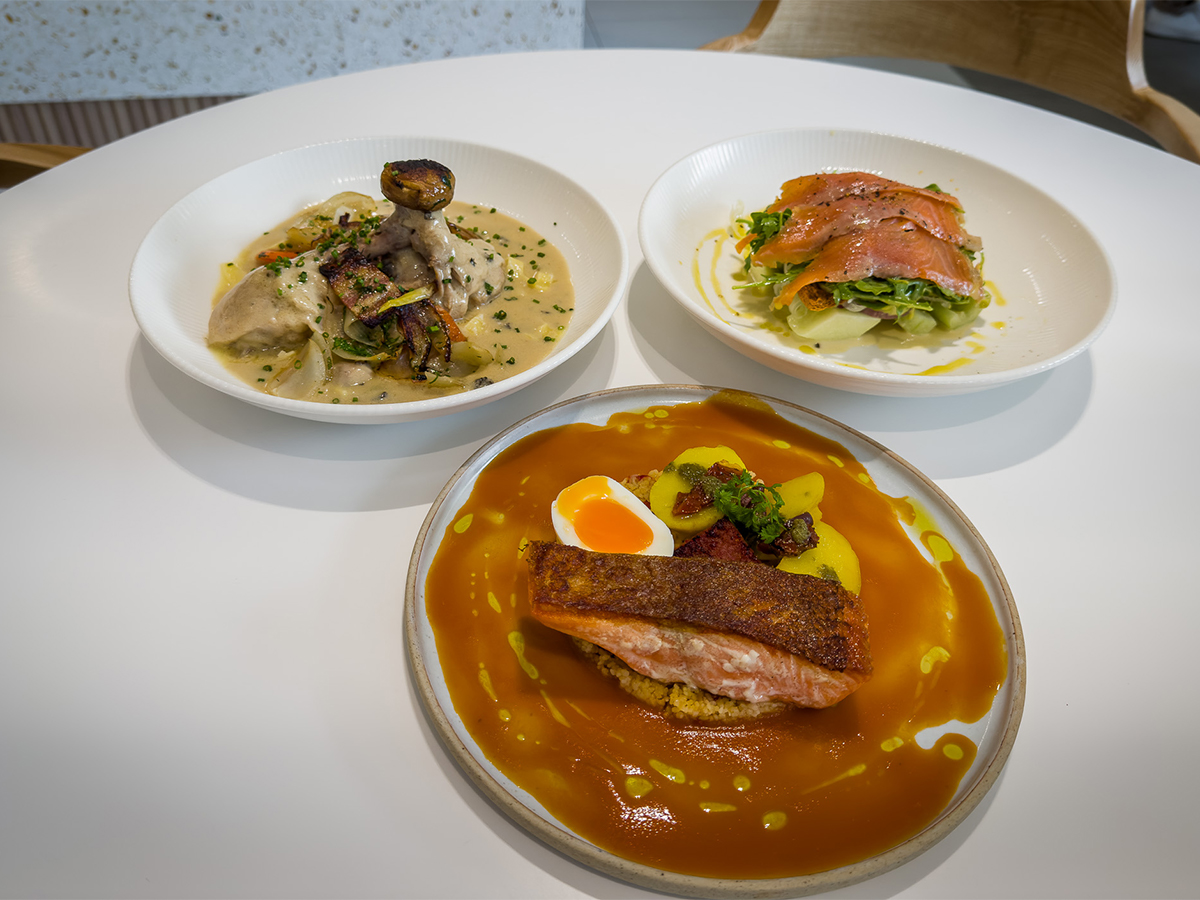 Alkove Bistro is Michelin-starred chef Haikal Johari's inaugural foray into casual French dining
Diners can expect French fare at wallet-friendly prices
The menu is impressively extensive — there's definitely something for everyone
Alkove Bistro is Kovan's latest and greatest, joining the likes of stalwarts Ng Kuan Chilli Pan Mee and the Breakfast Club, both mere metres from the restaurant. Lola's Cafe and Fatcat ice-cream parlour are also nearby. 
The French-inspired Alkove has set up shop on the ground floor of Simon Plaza, a low-rise walk-up apartment complex built in 1990, and is roughly a 10-minute walk from Kovan MRT station.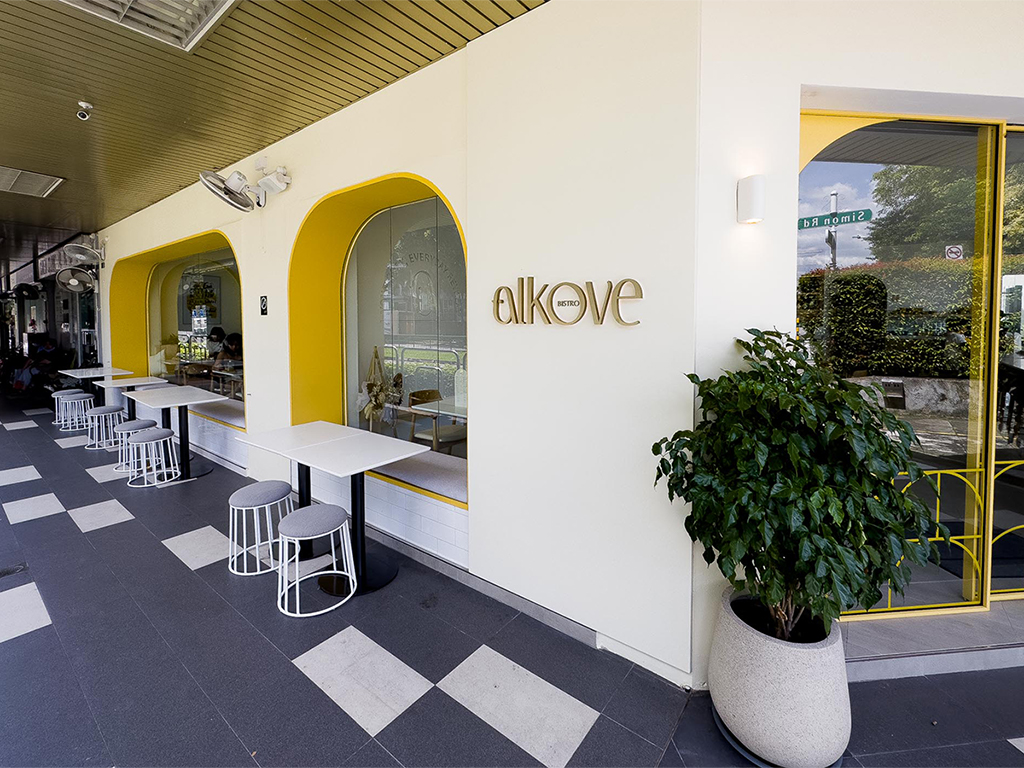 Alkove is the brainchild of chef Haikal Johari of one-Michelin-starred Alma by Juan Amador fame. In 2015, Haikal met with a motorcycle accident that left him paralysed and needing a wheelchair to get around. 
Here at Alkove, he combines his experience staging at French restaurants Joel Robuchon and Les Amis to create a French-inspired menu for the masses. And if you're the type who loves to be spoilt for choice, then Alkove Bistro will satisfy your need for options.  
There's a bakery section chock-full of bread, pastries, croissants and cakes. Mains come by way of entrees, sandwiches, salads and brunch options, while the more modest dessert section boasts plated desserts and bite-sized sweets.
Our verdict 
What this place is good for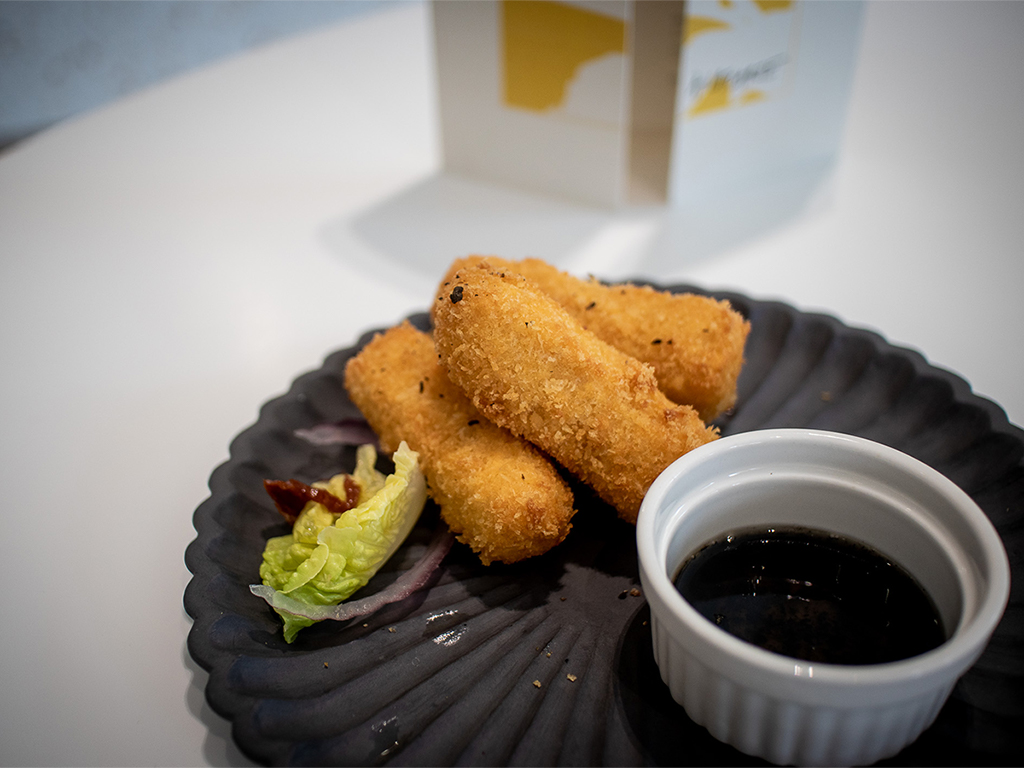 I reckon what Haikal needs to do at Alkove is take complex and nuanced French fare and transform it into something accessible, approachable and easy to eat. 
What better example of this than with the Fromage Cromesquis (S$9.50), a cheese-stick adjacent served with a honey truffle sauce that's equal parts fragrant and sweet.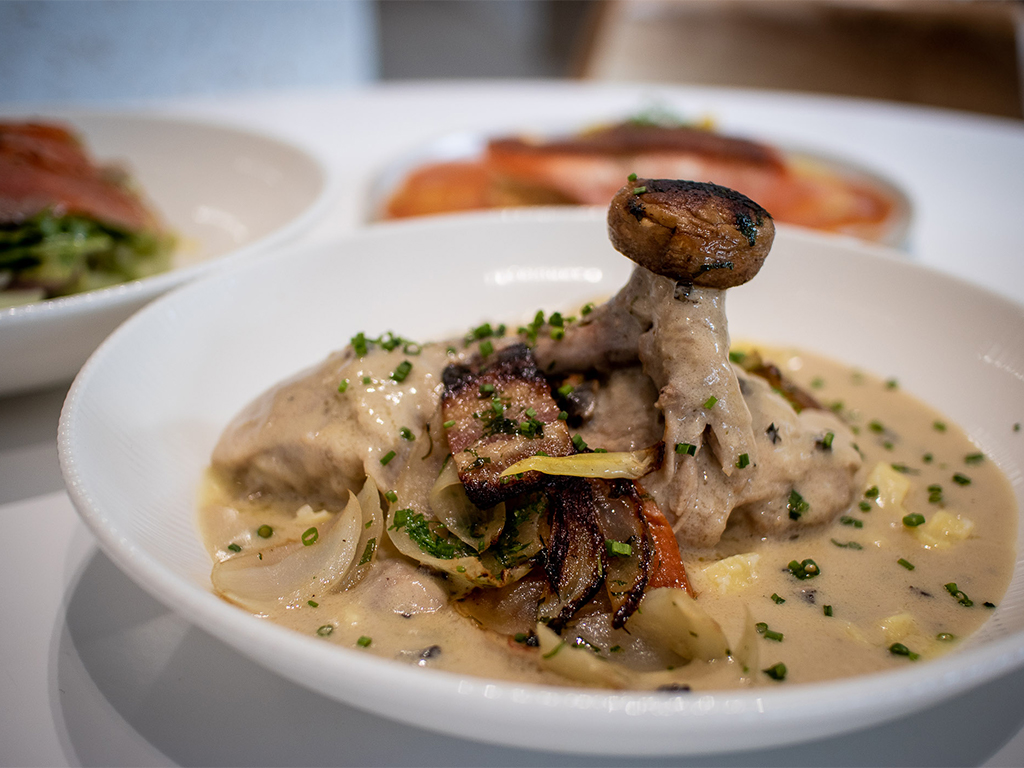 Or the Chicken Vin Blanc (S$27.90) that features some of the silkiest and delicately al dente pasta I've had in a long while. 
This sits in a cream sauce that's the epitome of refrain — cream-based dishes sometimes tend to be cloying. But not here. The sauce boasts layers of flavour notes — slightly sweet, a little herbaceous, and all umami. That the chicken is fall-off-the-bone tender is but the icing on the cake.
I liked the Valrhona Terrine (S$14.50), too, which surprised my dining partner, who knows chocolate desserts are such a cop-out for me. 
But if your chocolate terrine sits on a pool of spiced cardamom cream and is sprinkled with a dash of coarse sea salt, you'd best believe I'd inhale it with nary a hesitation. Texture and surprising flavour combinations — that's how you navigate a chocolate dessert. 
What it could improve on
While I understand the sentiments behind the maple smoked salmon (S$16.50) at Alkove, I'd have preferred a touch less dressing, such that it doesn't pervade and soak too readily into the greens.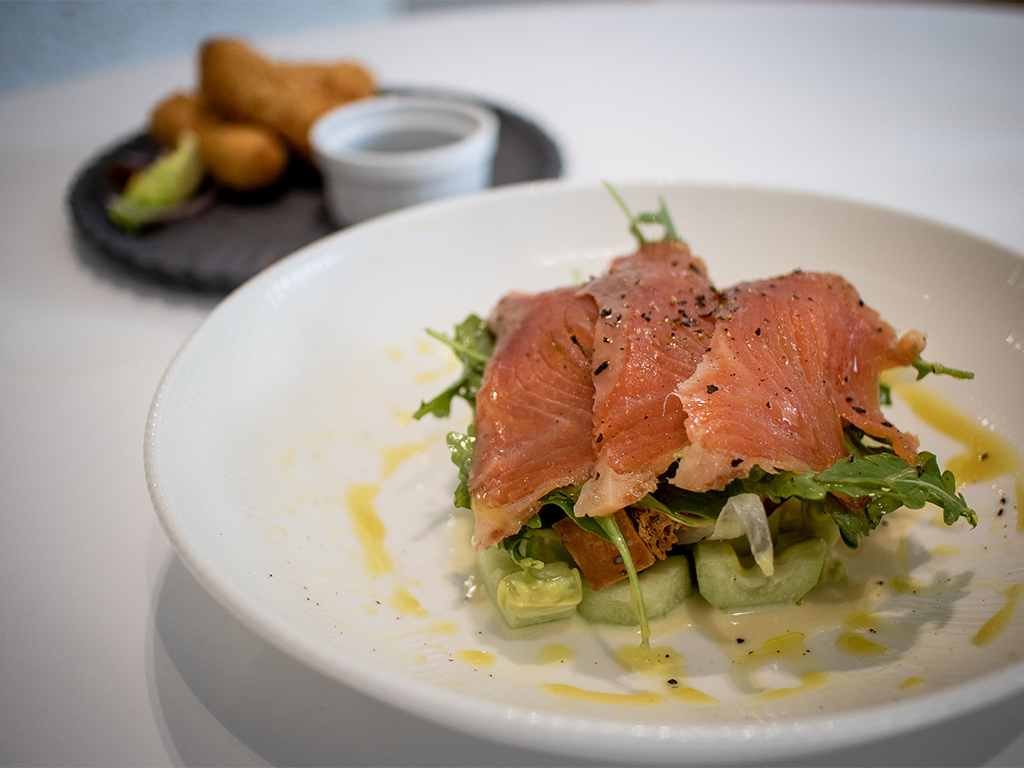 I'd also have liked it if the red onions weren't tossed with the dressing — the astringency of the allium could have contrasted poetically with the creaminess of the maple dressing. Thank goodness for the green-apple cubes that lend a slight brightness to the plate. 
But I was thoroughly disappointed with the ocean trout (S$26.90). This is a classic case of not judging a food item by its plate because the presentation is dramatic. I suppose that makes sense, though, given how it has to overcompensate for the dish's blandness.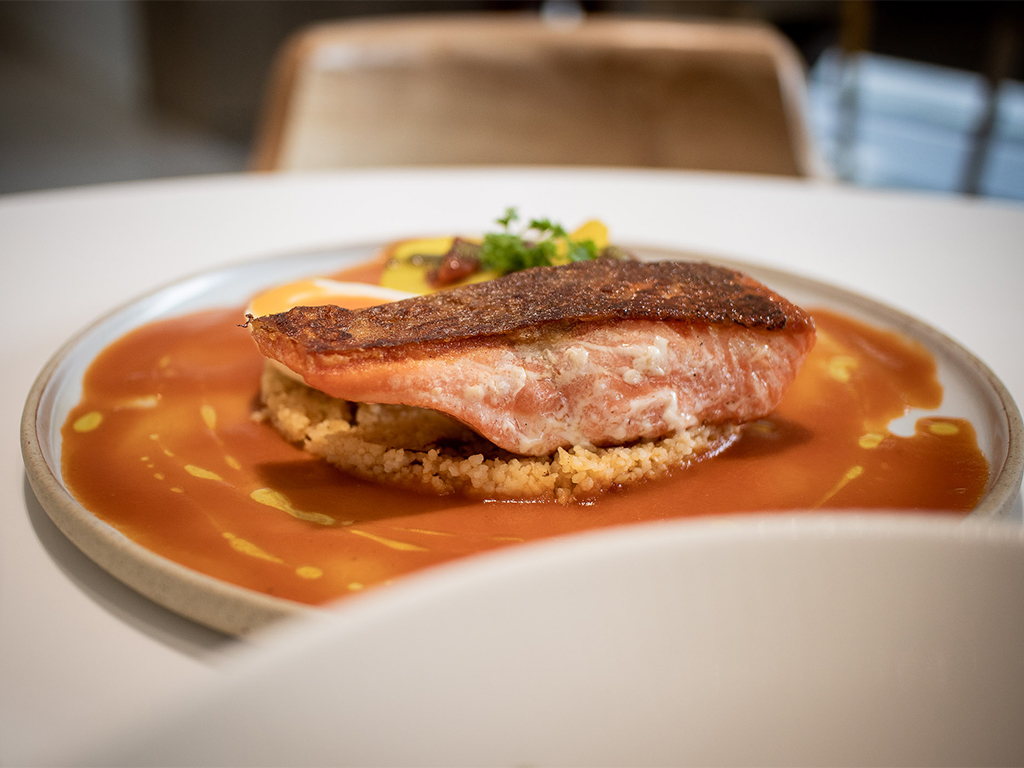 The error here is probably in thinking trout has the same flavour profile as its similar-looking cousin — salmon. It doesn't. Without a more forward play on seasoning, this trout unfortunately reminded me of the time I had Covid, and lost all sense of taste and smell. 
It's a shame since every ingredient here — olives, anchovies, boiled eggs, potatoes, couscous, and tomato — is brimming with possibilities and begging to be seasoned. This was a disappointment through and through.
Our quick takes
Is it conducive to conversation? Yes. The tables here are well-spaced and the music isn't intrusive.
Is a reservation necessary? No. Alkove Bistro accepts only walk-ins.
How to get there? It's roughly a 10-minute walk from Exit A of Kovan MRT station.
HungryGoWhere paid for its meal at this cafe for this review. Still hungry? Read our reviews of Hong Kong eatery Little Cart Noodle House or dessert omakase restaurant Catkin by Huishan. 
Alkove Bistro is on the GrabFood delivery service. You can also book a ride there.
Simon Plaza, 01-10, 2 Kovan Road
Opens: Wednesday to Monday (8am to 6pm)
Simon Plaza, 01-10, 2 Kovan Road
Opens: Wednesday to Monday (8am to 6pm)