5 eating places to feed your wanderlust in Singapore's west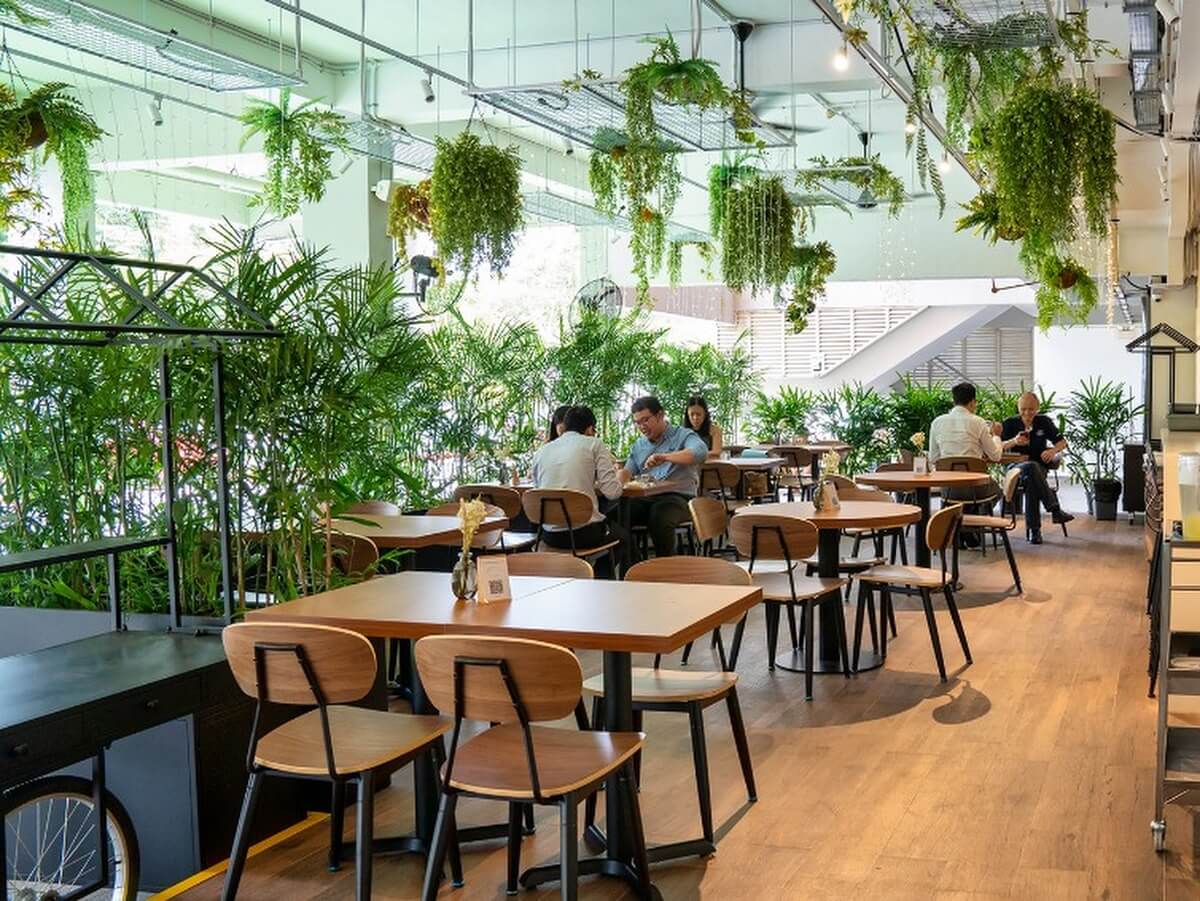 This is the fifth instalment of a five-part series on places that feed your wanderlust in Singapore. Here, we check out eateries in Singapore's west.
Long gone are the days when the west end of the island was a sleepy residential area with nary a good coffee house. There are now plenty of cafes and restaurants that you can visit without having to leave the area.
It will take a lot more now to drag your westie friends for a meal in town at the weekend — or you might be persuaded to venture to the west end.
1. Surrey Hills Grocer
D'Arena Country Club, 01-01, 511 Upper Jurong Road
Nearest MRT station: Joo Koon
Open: Tuesday to Sunday (10am to 8pm)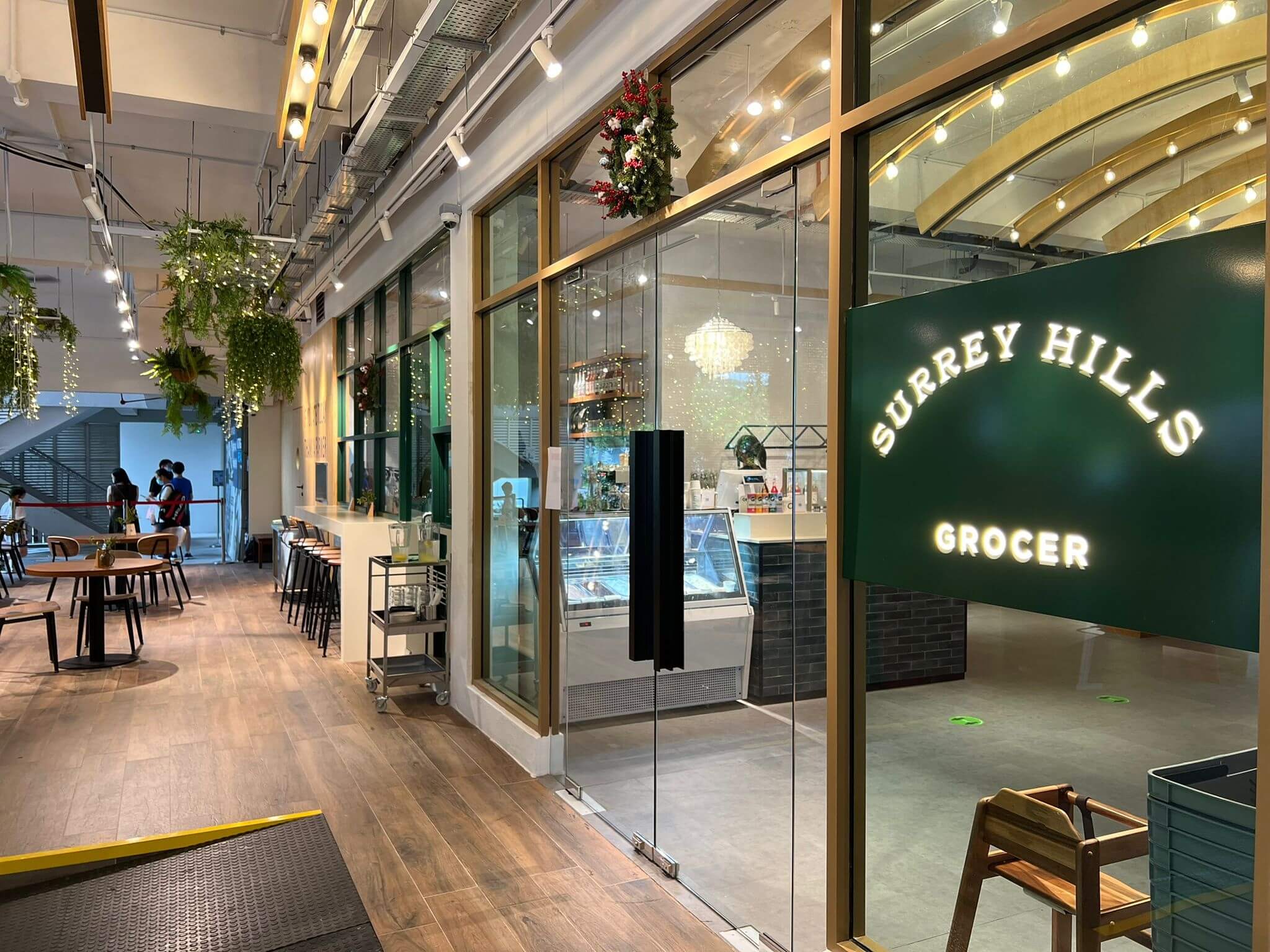 Inspired by the autumn forest scenery at the quaint Surrey Hills town in Melbourne, Australia and freshly baked goods from the inner-city suburb of Surry Hills in Sydney, this specialty grocer aspires to bring a slice of slow living to Singapore. And it delivers on that promise.
The sprawling place is a gourmet marketplace, pet-friendly cafe, artisanal bakery, florist bar and pop-up farmers' market rolled into one.
Urging customers to reflect on the farmers' hard work, the bistro offers classic iterations of brunch grub such as the Avo — smashed avocado with whipped ricotta cheese and spiced almond dukkah (an Egyptian condiment) atop sourdough bread.
What to order: Avo (S$19), crayfish benny — eggs benedict with a crayfish slant (S$24), proud Mary coffee (S$5 onwards)
2. iO Italian Osteria
HillV2, 02-01, 4 Hillview Rise
Nearest MRT station: Hillview
Open: Monday to Friday (11.30am to 10pm), weekend (10am to 10pm)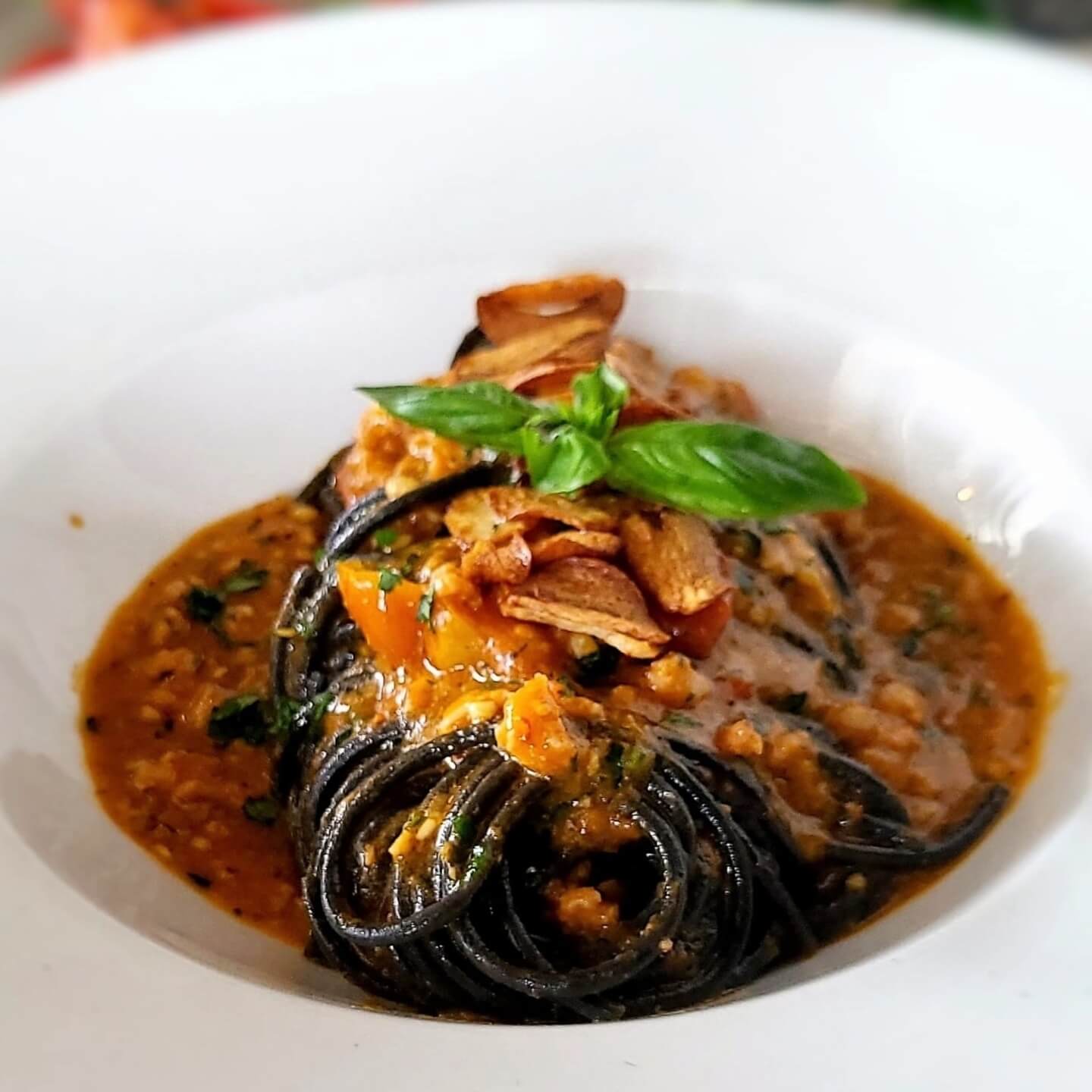 If you could choose one date-night spot in the west, it would be iO Italian Osteria. With the restaurant adorned with a selection of fine antique pieces and beautiful copper and wood furniture, it conjures up the simple and rustic setting of a traditional Italian tavern — one that is intimate, casual and elegant enough to impress.
Expect in-house baked breads and pizza, comforting pasta and various other hearty Italian favourites. You can't go wrong with the porchetta, a crispy baked pork belly with wild fennel. Don't forget to end with the ubiquitous Italian dessert — pistachio tiramisu. House-pour wines will be served to you from draught barrels in carafes replicating an actual osteria experience.
What to order: Porchetta — fatty and boneless pork, baked pork belly and wild fennel (from S$9), pistachio tiramisu (S$14)
3. Ela
HomeTeamNS Bukit Batok, 01-07, 2 Bukit Batok West Avenue 7
Nearest MRT station: Bukit Gombak
Open: Monday to Sunday (12pm to 10pm)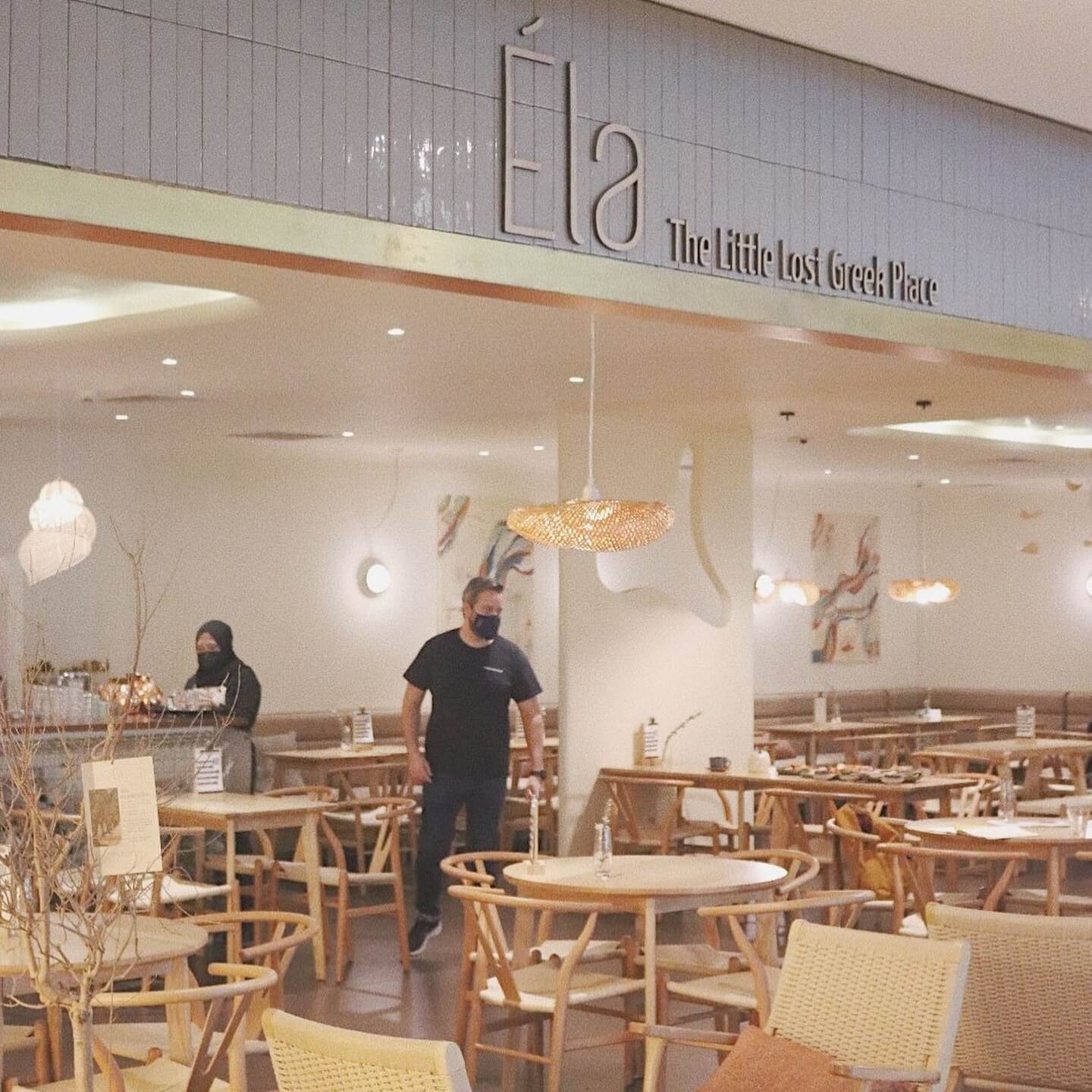 A Greek restaurant hidden away in the HomeTeamNS Bukit Batok clubhouse? Sounds unlikely indeed.
We're happy to report that westies no longer have to traipse down to central Singapore for their Greek fix.
A new concept by the Black Hole Group (also behind the popular Tipo Pasta Bar), it offers affordably priced Mediterranean cuisine.
It's a must to start the meal with dips and warm pita. Opt for the dip party platter that includes melitzanosalata (roasted eggplant), taramasalata (cod roe), tirokafteri (spicy cheese) and the tangy tzatziki (cucumber yoghurt).
An indisputable crowd favourite is the grilled octopus, served with skordalia (garlic and potato) dip, and generously drizzled with lemon and olive oil.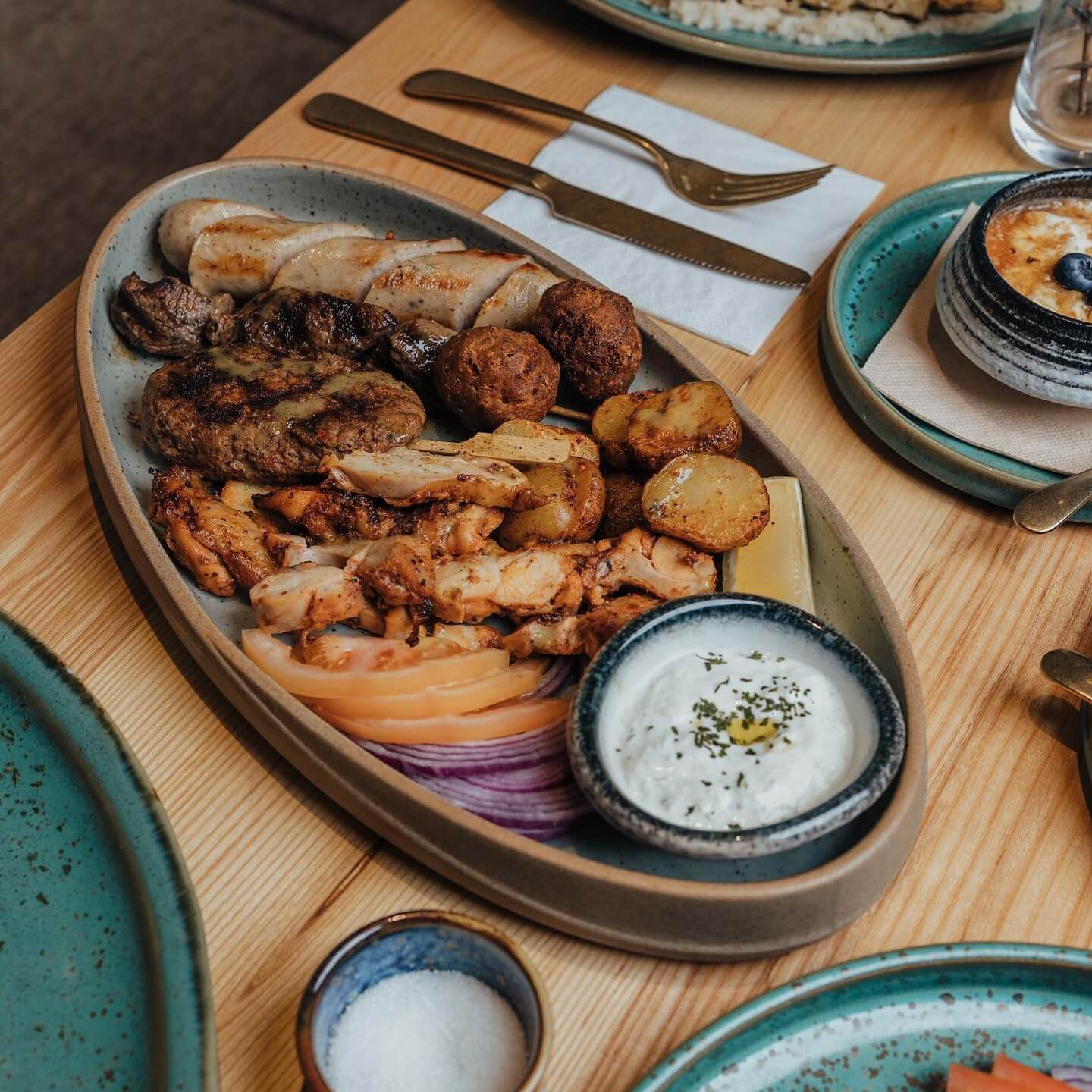 Gorge on some baklava, a layered pastry dessert made of filo pastry filled with walnuts, and sweetened with cinnamon and Greek syrup — guaranteed to spike your sugar levels but make your stomach happy.
What to order: Dip party platter (S$18.90), htapodi — octopus (S$26.90)
4. Daehwa Vegetarian
Galaxis, 01-35, 1 Fusionopolis Place
Nearest MRT station: One-North
Open: Tuesday to Friday (11am to 8.30pm), Saturday and Sunday (12pm to 8.30pm)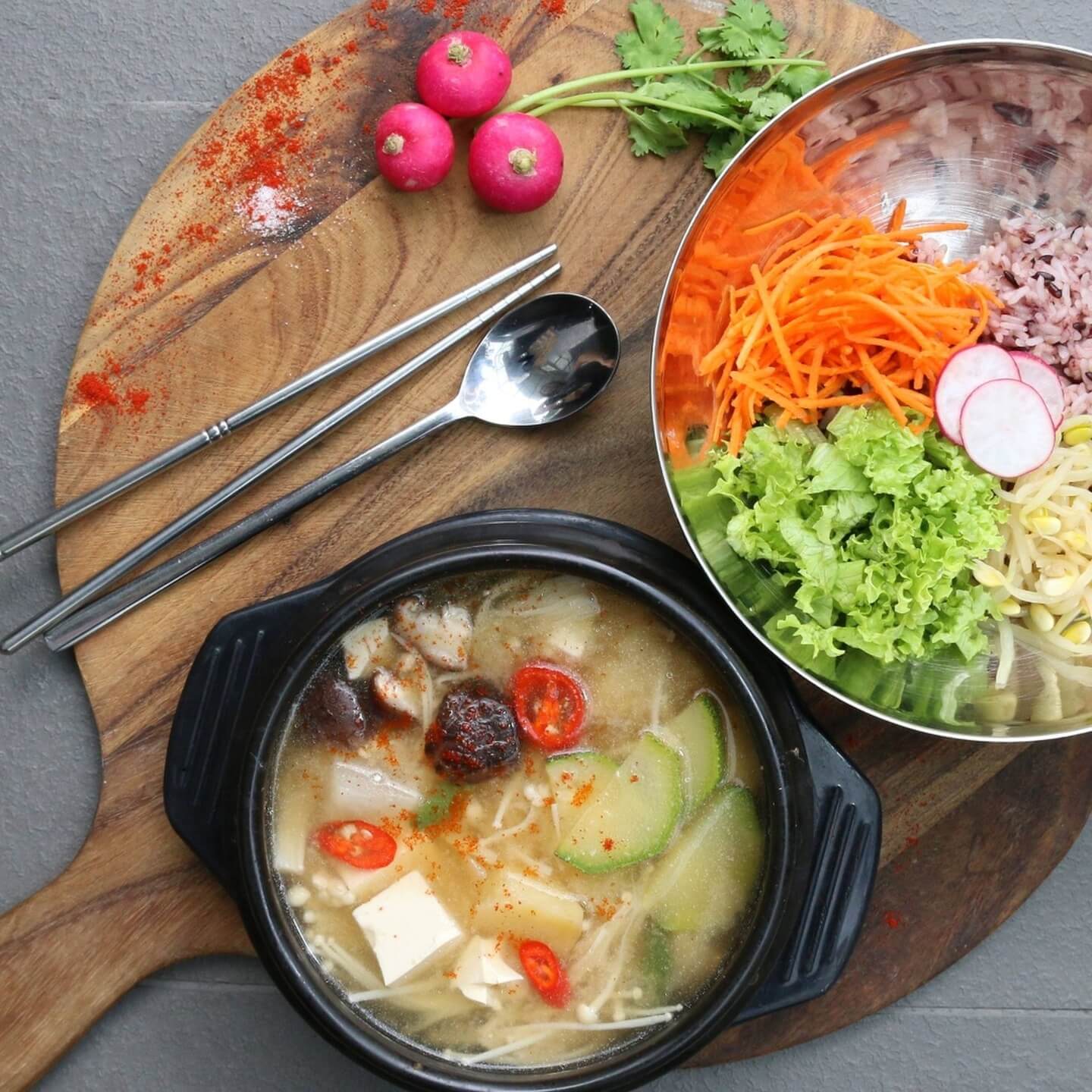 Amid the plethora of meat-heavy Korean restaurants, Daehwa Vegetarian restaurant is probably an outlier in its championing of vegetarian dishes.
Join its meatless revolution with stews such as the soondubu jjigae that's made with tofu, kimchi and mushrooms. The fried tangsuyuk, a sweet-and-sour crispy mushroom dish, also makes a good midday snack.
Come here often enough and it could have you swearing off meat altogether. The sister restaurant of The Boneless Kitchen in Tai Seng, the social enterprise also hires people with disabilities as service crew.
What to order: Soondubu jjigae (S$15), tangsuyuk (S$14)
5. Poison Ivy Bistro
Bollywood Veggies, 100 Neo Tiew Road
Nearest MRT station: Yew Tee
Open: Wednesday to Friday (9am to 3pm); Saturday and Sunday (7am to 6pm)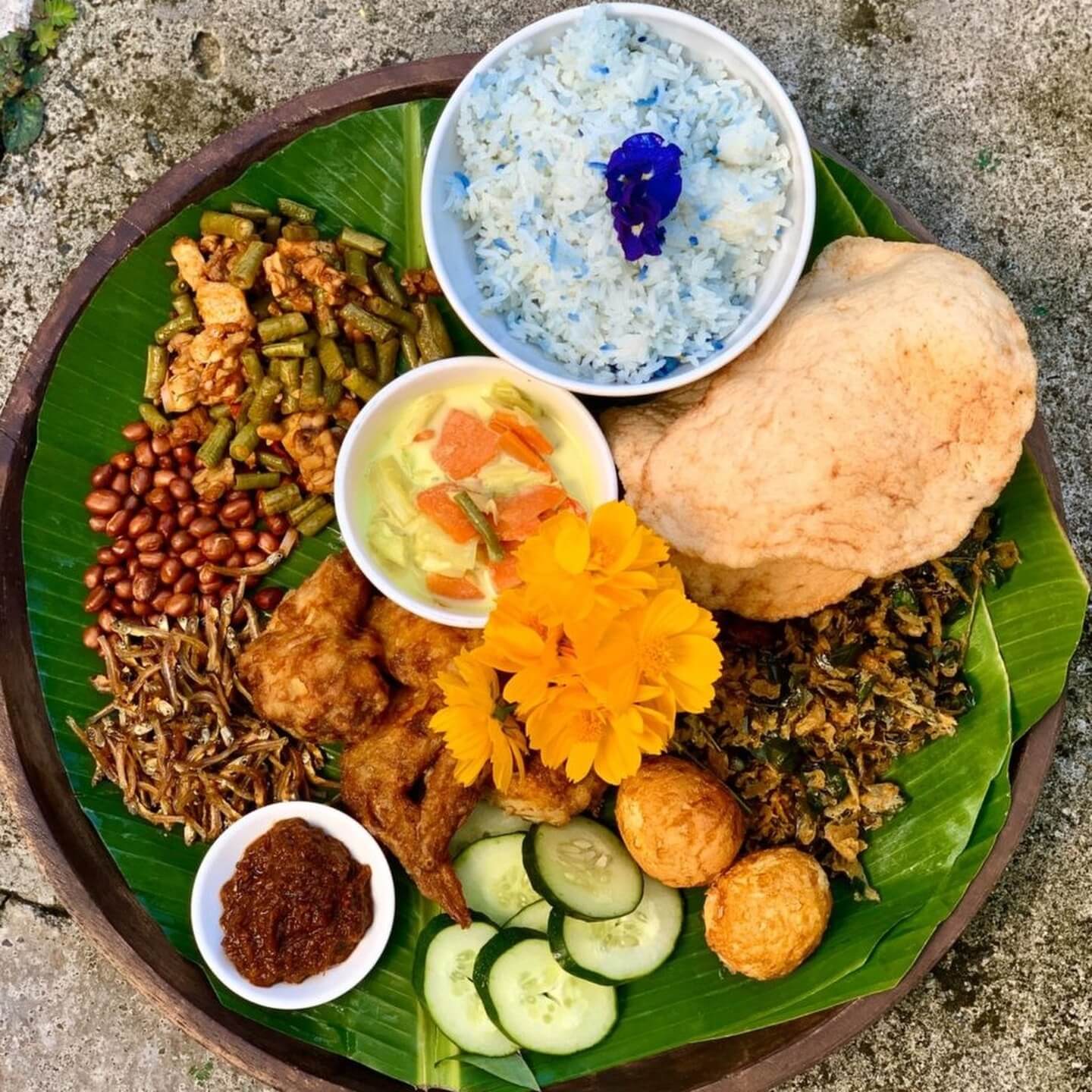 We promise that it's worth the drive through the countryside to dine at Poison Ivy Bistro, founded by feisty farm entrepreneur Ivy Singh-Lim. The rustic and lively eatery is housed within Bollywood Veggies, a lush 10-acre farm that grows everything from bananas to papayas.
Expect wholesome meals with fresh farm-to-table produce at this sanctuary, which has a seasonal a la carte menu so that there's always something new to look forward to.
Snack on the one-of-a-kind moringa tempura, where moringa tree leaves are coated with chickpea flour and fried to crispy perfection.
Other must-tries are the decadent nasi lemak platter with its distinctive blue pea rice, Warrior's chicken curry with rice or prata, and the warm banana cake.
What to order: Nasi lemak platter (S$12), moringa tempura (S$4)
Ela and Daehwa Vegetarian are on the GrabFood delivery service. You can also book a ride to these places.
---