12 halal bakeries in Singapore with delectable bakes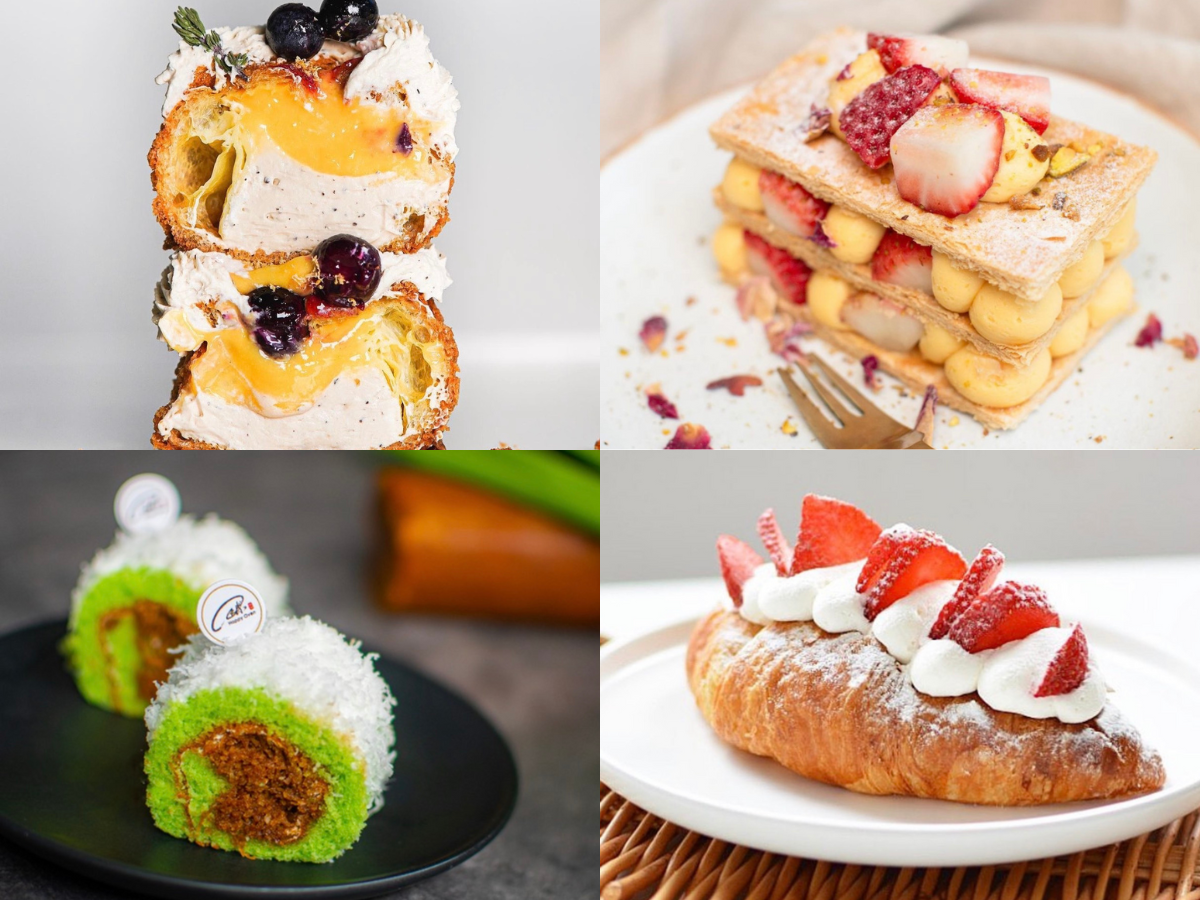 As sweet tooths, there's nothing we love more than sinking our teeth into decadent pastries that ooze luscious fillings with every bite. And fortunately for us, we have a deluge of esteemed patisseries and halal bakeries in Singapore to satiate our dessert cravings all day, err day. 
From bigger names such as Konditori Artisan Bakery and Mother Dough to hidden gems the likes of Julie Bakes and Happy Oven, there's no shortage of Muslim-friendly bakeries offering some of the best artisanal pastries in town, from croissants to bombolinis.
Don't forget to bookmark this page, as we've compiled a list of the top halal bakeries in Singapore boasting delectable, 'gram-worthy bakes. 
1. Mother Dough
3 Jalan Kledek
Open: Wednesday to Sunday (10am to 5pm)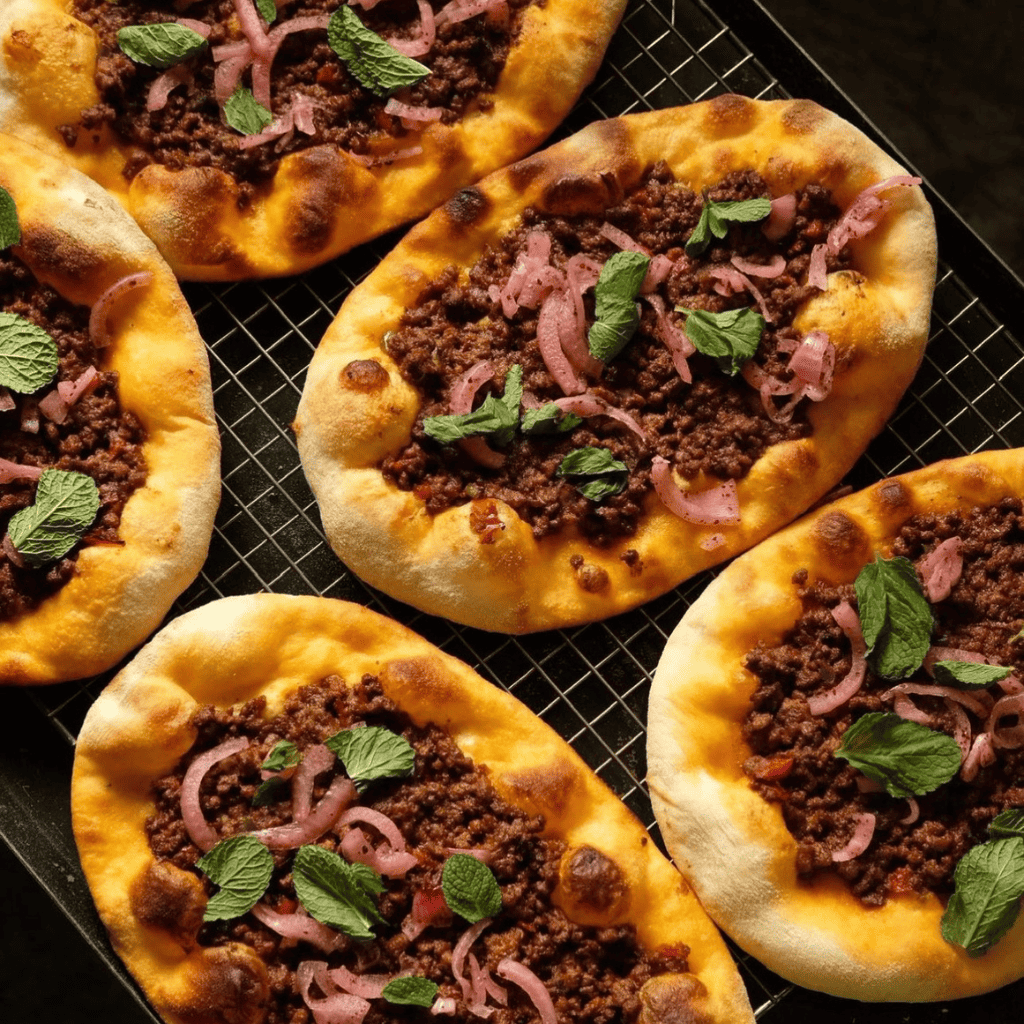 Why visit? Foodies will undoubtedly know of Mother Dough – this Muslim-owned bakery is reputed for its handcrafted artisanal bakes. 
Anyone strolling past this quaint bakery will be greeted by the aroma of freshly baked pastries. Enter its premise, and its delectable bakes on display will catch your eye, what with a plethora of mouthwatering halal pastries to choose from.
Mother Dough is founded by chef Naadhira Ismail, who left her career in fashion and public relations to pursue culinary school in New York. After years of studying baking and pastry-making, she returned to Singapore to kickstart her own bakery business in 2017. 
Today, she's a master at her craft, and Mother Dough is touted as one of the best joints in town serving quality bread. 
Price range: $
Crowd favourites: The bakery operates on a rotational menu that changes every month. Look forward to the lahmacun (S$10) that's served with spiced beef, pickled sumac onions, mint leaves and a side of lemon wedge. The almond croissant (S$6), a mainstay on the menu that contains luscious almond cream in its centre, is another item you can't miss.
2. The French American Bakery
49 Haji Lane
Open: Monday to Sunday (11am to 7pm)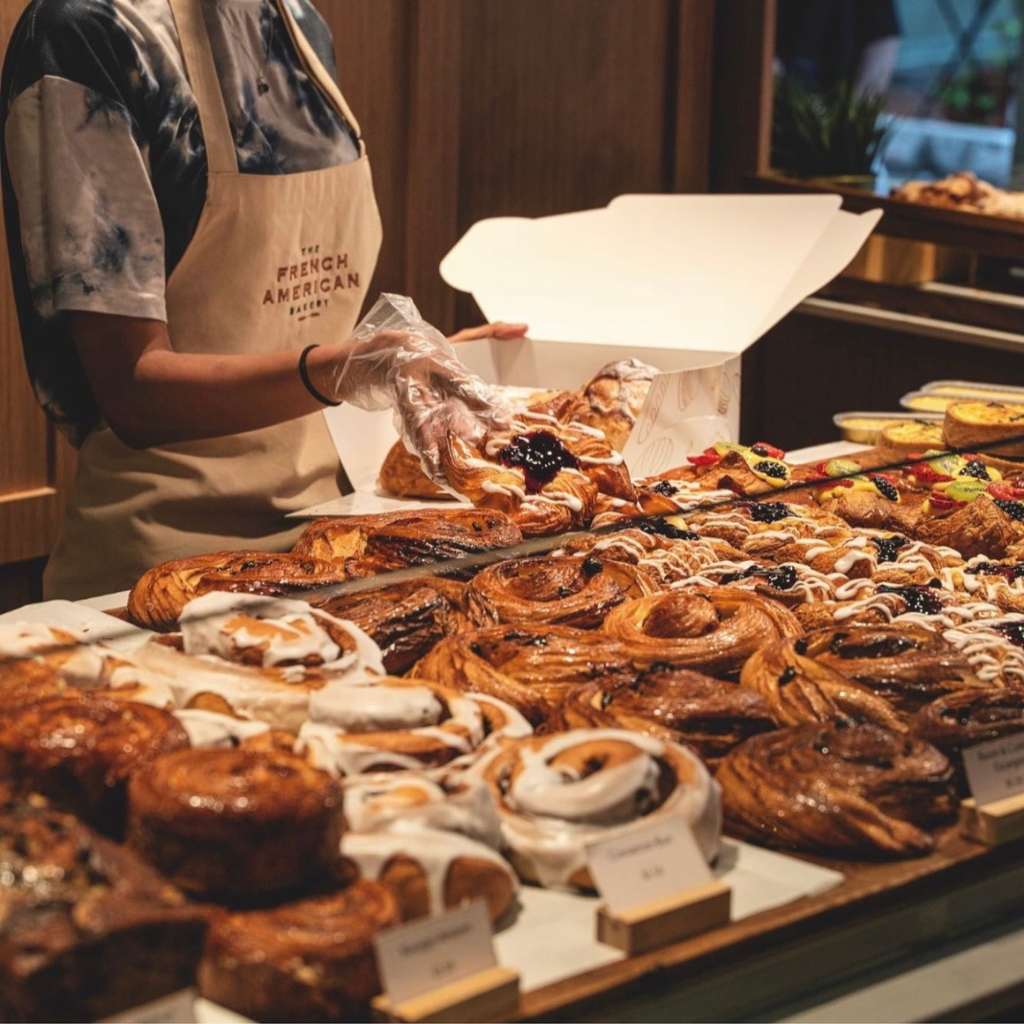 Why visit? Haji Lane is home to an enclave of popular halal bakeries in Singapore, The French American Bakery included. 
This cosy space is best recognised for its drool-worthy (and gigantic) collection of French and American-style bakes, all of which are baked fresh daily. And yes, it's also the creator of the hot chocolate with torched marshmallow fluff (S$8) beverage that went viral online. 
This takeaway shop has an extensive selection of buttery treats that's every diner's guilty pleasure. Think croissants, Danish pastries and the like.
Price range: $
Crowd favourites: When you're there, try the creme brulee (S$6.80), a creamy custard pudding with a savoury, caramelised layer. The cinnamon bun (S$5.60) is another hit at The French American Bakery, thanks to its fluffy swirls laced with a butter and cream cheese spread.
3. Fluff Bakery
795 North Bridge Road
Open: Monday to Saturday (11.30am to 7pm), Sunday (11am to 6pm)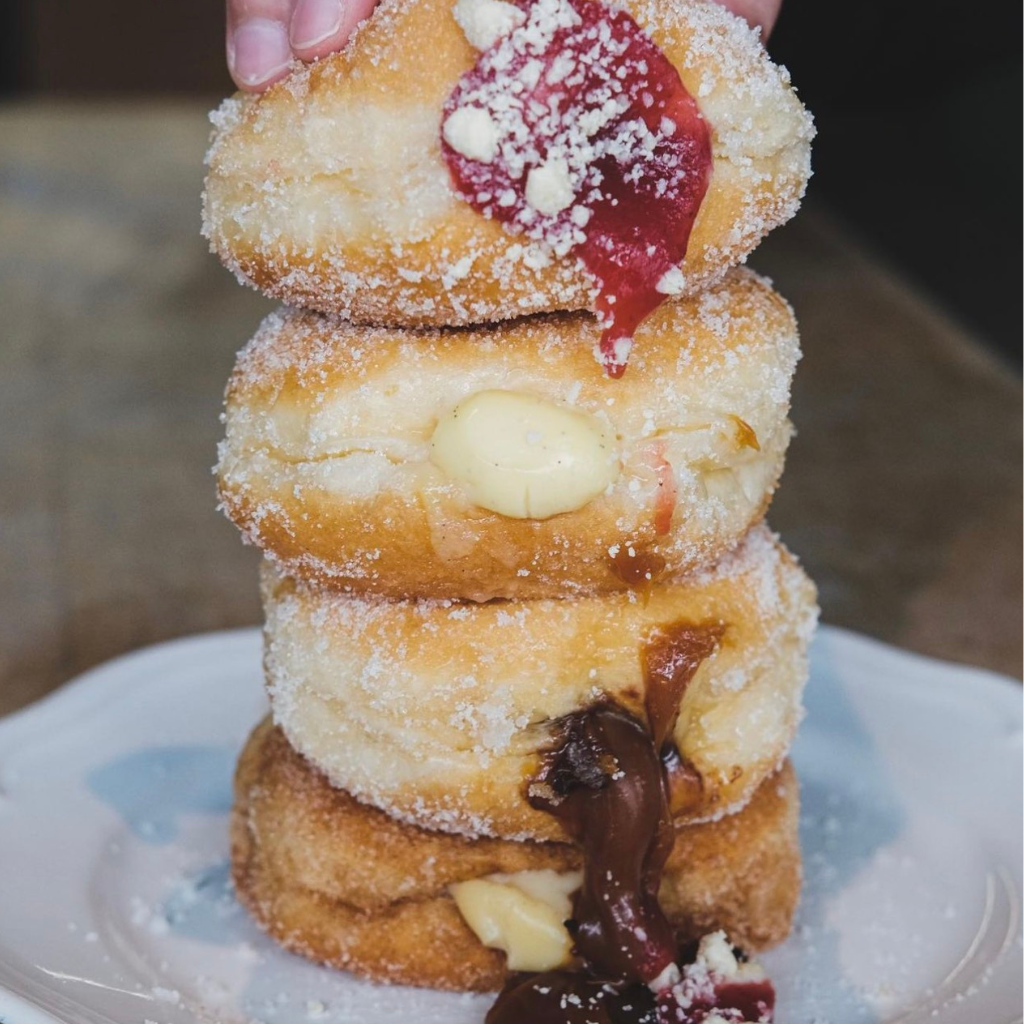 Why visit? Donut lovers, you must check out Fluff Bakery. Nestled along North Bridge Road, this halal-certified bakery boasts a host of tantalising sweets and baked treats. With its storefront and interior decked in vivid hues of white and Tiffany blue, the cafe makes for a wonderful photo spot, too. 
If you're looking for a pastry fix, this is the place to make a beeline for. Be it halal cupcakes, galettes, tarts and the like, Fluff Bakery has them all. 
The donuts are the star of the show here, though, for they're chock-full of hearty fillings, such as D24 durian, vanilla bean and New York cheesecake. Flavours rotate every month, so you're in for a pleasant surprise each time you pop by. 
Price range: $
Crowd favourites: Our favourite has got to be the 54% dark chocolate donut (S$4.50). It's a pillowy, sugar-coated lil' thing that's filled with creamy dark chocolate custard. For those who prefer traditional flavours, the sugar donut (S$2.80) and cinnamon sugar donut (S$2.80) are also up for grabs.
4. Julie Bakes
28 Bussorah Street
Open: Tuesday to Sunday (12pm to 7.30pm)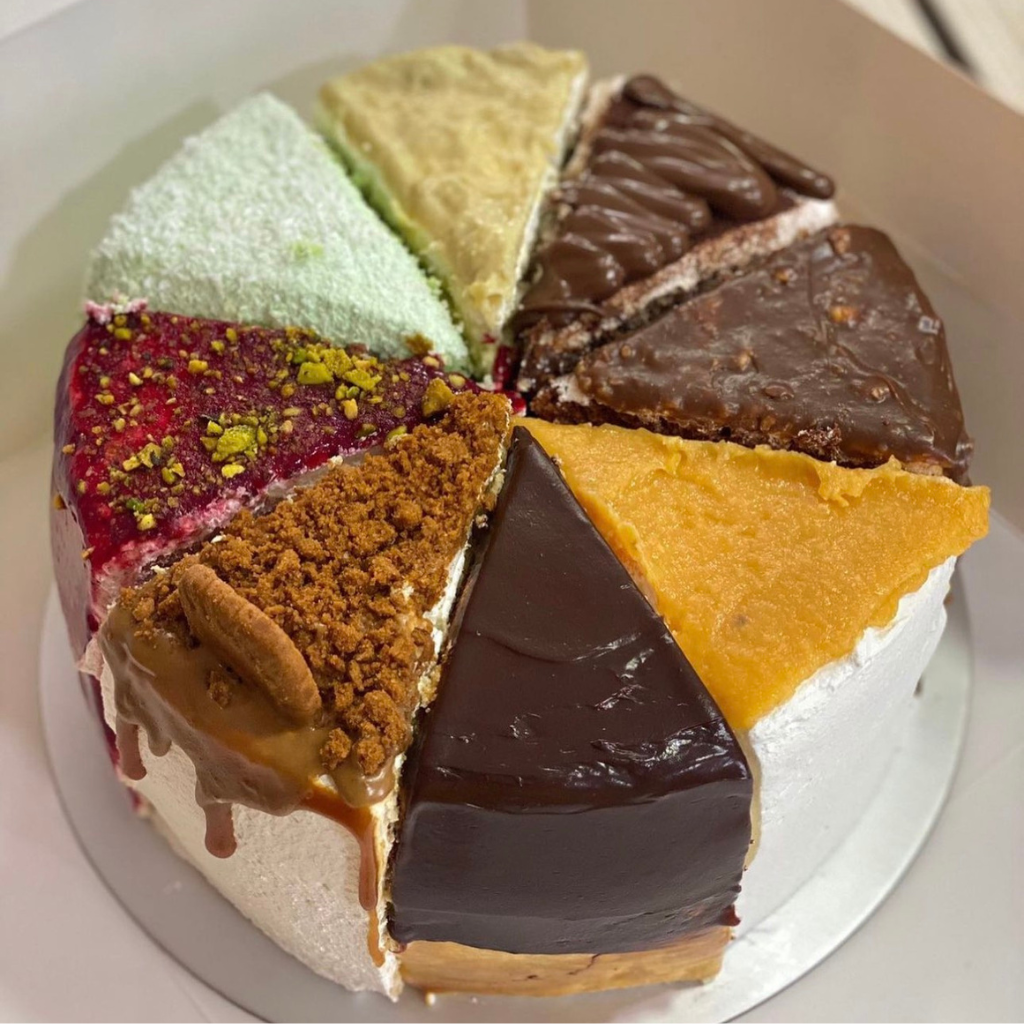 Why visit? Located a stone's throw from Rochor MRT station is none other than Julie Bakes, a hidden gem in Singapore with cakes inspired by traditional flavours. Think badak berendam (S$8.60) — glutinous rice balls in coconut milk — and putu piring (S$9.20), among others. 
Should you prefer modern creations, the bakery also serves unique flavours such as cookie dough (S$9.20), Milo Nutella (S$9.20) and Rocher (S$9.2o). Note that certain flavours are rotational, so you may want to drop the outlet a call before heading down. 
It's not just cakes at Julie Bakes; the bakery also has other halal pastries up for grabs, which include scones and cupcakes.
Price range: $
Crowd favourite: If there's one flavour we'd recommend, it's the onde-onde cake (S$8.60). With its aromatic pandan fragrance, rich gula melaka layers and a smattering of coconut flakes, it's no wonder the cake is a bestseller at Julie Bakes.
5. Lynn's Cakes
11 Eng Kong Terrace
Open: Tuesday to Sunday (11am to 6pm)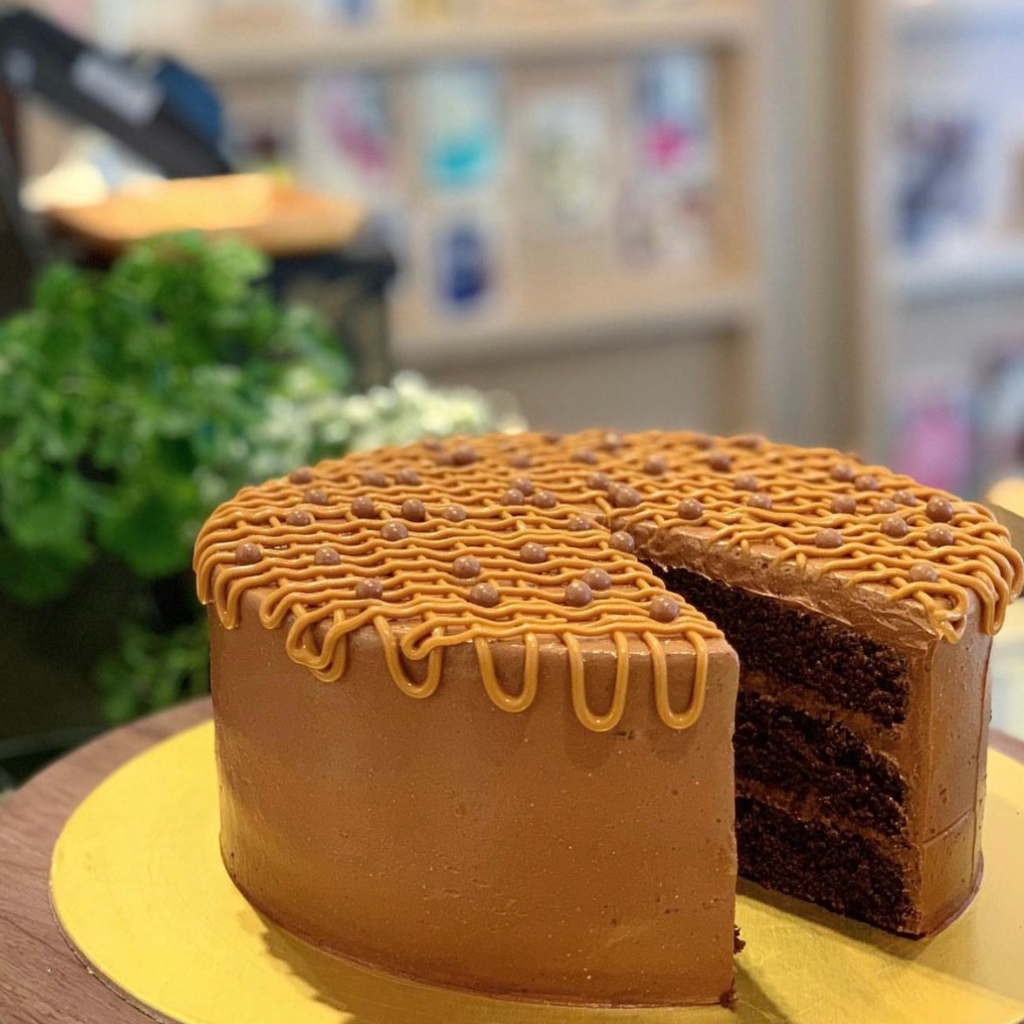 Why visit? One of the halal bakeries in Singapore that you should check out is Lynn's Cakes, a popular halal cake shop in the west that's known for its customised cakes and sweet treats. 
Spearheading the bakery is chef Lynn, who started her baking journey in 2009 making cupcakes for her daughter's class parties. She went on to larger cakes and in 2013, opened her cafe with her husband offering a slew of gorgeous handcrafted cakes.
Look forward to a wide variety of cake flavours, such as the crowd-favourite Rainbow Beauty (S$8) — a stunning six-layered rainbow cake — and salted caramel (S$8). You can also pair your dessert with its artisanal brews. 
Price range: $
Crowd favourites: Don't sleep on the carrot cake (S$8) and triple chocolate speculoos (S$8). The latter is a must-have for chocolate lovers, for it features a luscious chocolate cake slathered in chocolate buttercream and drizzled with a velvety biscuit spread.
6. Konditori Artisan Bakery
33 Bussorah Street
Open: Monday to Sunday (10am to 7.30pm)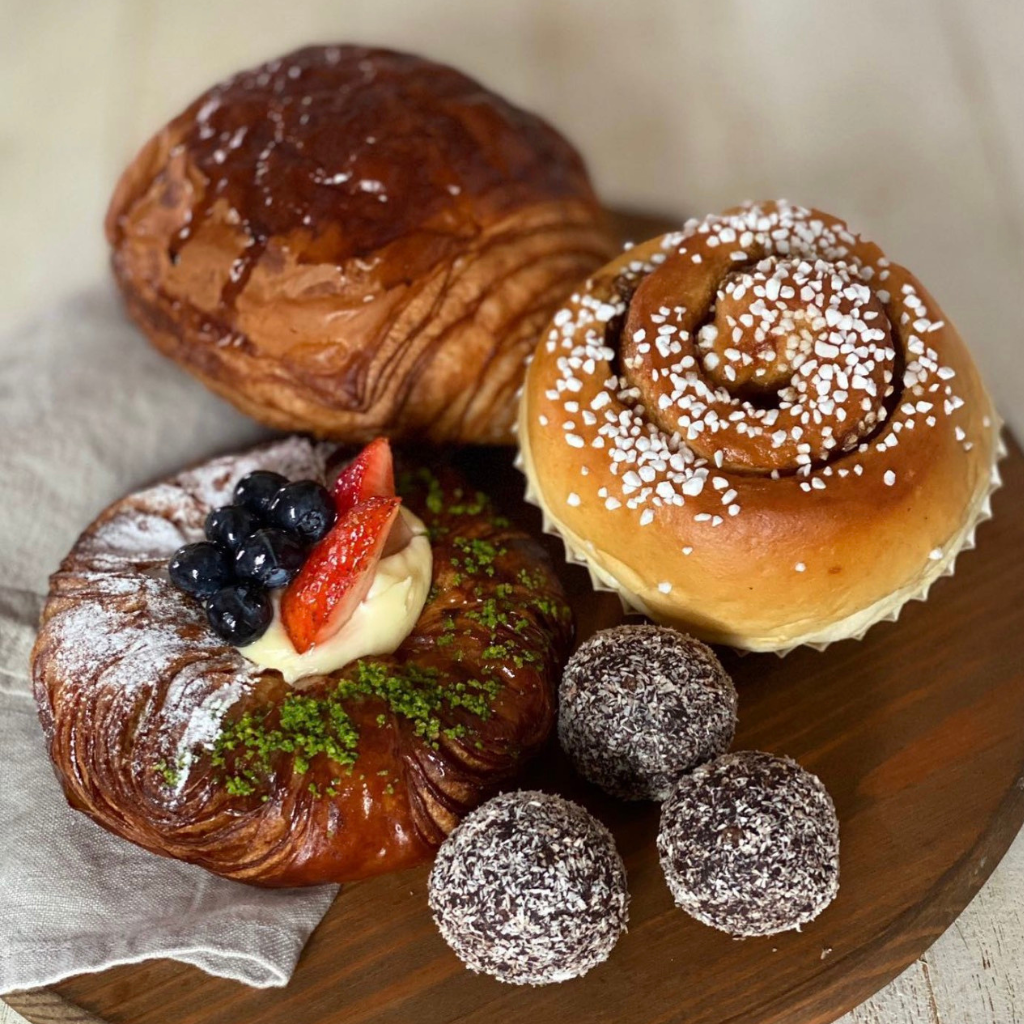 Why visit? Ask any foodie, and they'll tell you that Konditori Artisan Bakery is one of the best halal bakeries in Singapore. It's the sister concept of Fika Swedish Cafe and Bistro, a halal-certified restaurant specialising in traditional Swedish fare. 
Despite being on the pricier end, the mouthwatering goodies at the European-style bakery are meticulously prepared by hand daily, which makes them worth every penny. 
Look forward to a myriad of colourful halal pastries, both sweet and savoury, at the bakery. There's also a 'monthly special' pastry available each month, with the tangy berry and almond crumble (S$6.20) taking the spotlight in August.
Price range: $
Crowd favourite: The strawberry cream cheese danish (S$5.93) has been a bestseller since the bakery opened its doors in 2016. It's a wonderfully flaky pastry topped with cream cheese and fresh berries — so delicious! 
7. Boms & Buns
East Village, 01-59, 430 Upper Changi Road
Open: Monday to Sunday (12pm to 8pm)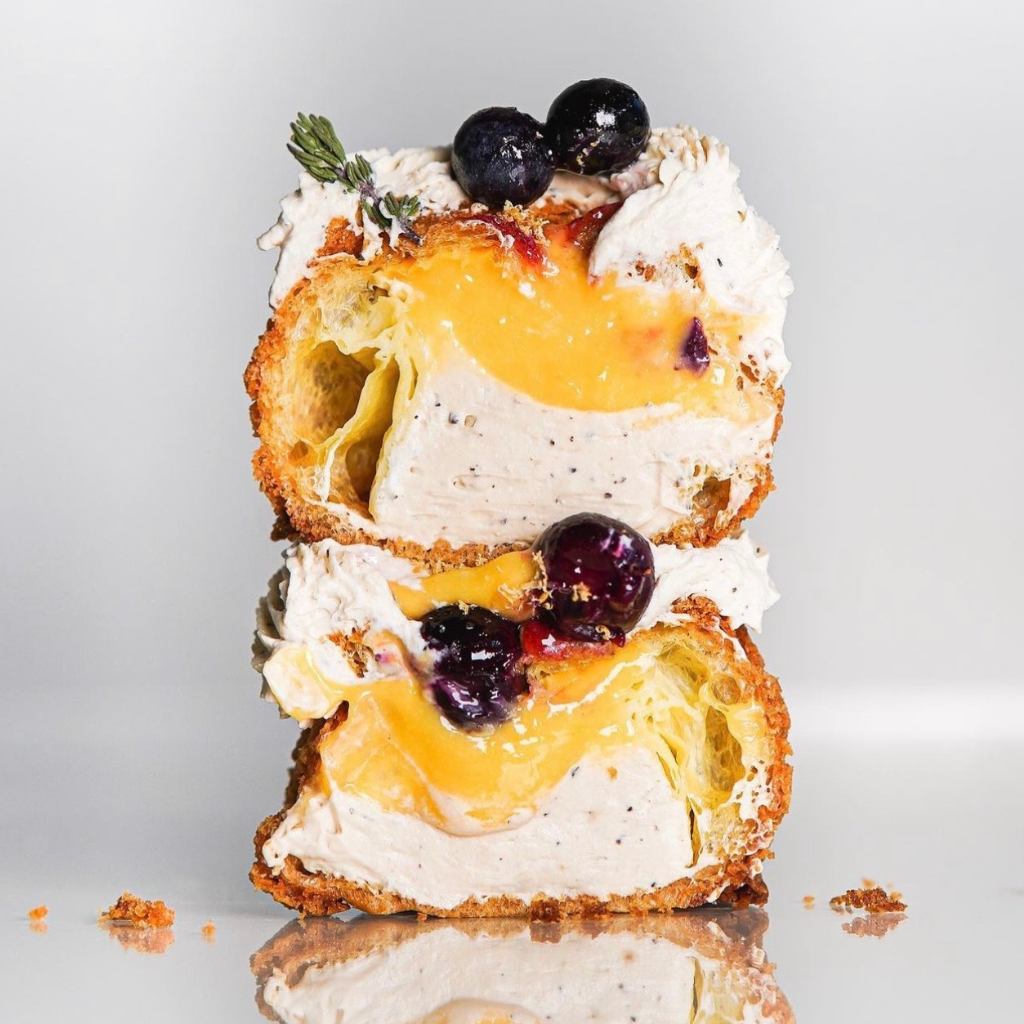 Why visit? Craving drool-worthy halal pastries besides the usual suspects such as croissants and cakes? Then, you'll love Boms & Buns, a Muslim-owned bakery in the east boasting 'gram-worthy choux puffs (also known as boms) and hot buns.
The bakery is opened by local celebrity couple Syarif Sleeq and Malaque Mahdaly, who are also the brains behind popular churros joint Chulop!. Here, expect freshly baked cinnamon rolls and choux puffs, both of which come with a plethora of flavours and fillings.
The pastries are made from scratch daily, using tried and tested recipes that bring out the best textures and flavours in each treat.
Note that the dessert parlour isn't a Muis-certified halal manufacturer, but the ingredients used are halal-certified. 
Price range: $
Crowd favourites: The earl grey blueberry lemon choux pastry (S$5) is a tasty creation that features rich earl grey whipped custard and zesty lemon curd. It's adorned with stewed blueberries. The cinnamon bun (S$5) is also a buttery favourite that's filled with cinnamon brown sugar, then topped with cream cheese and lemon zest.
8. All Things Delicious
34 Arab Street, 01-01
Open: Monday to Sunday (8am to 7pm)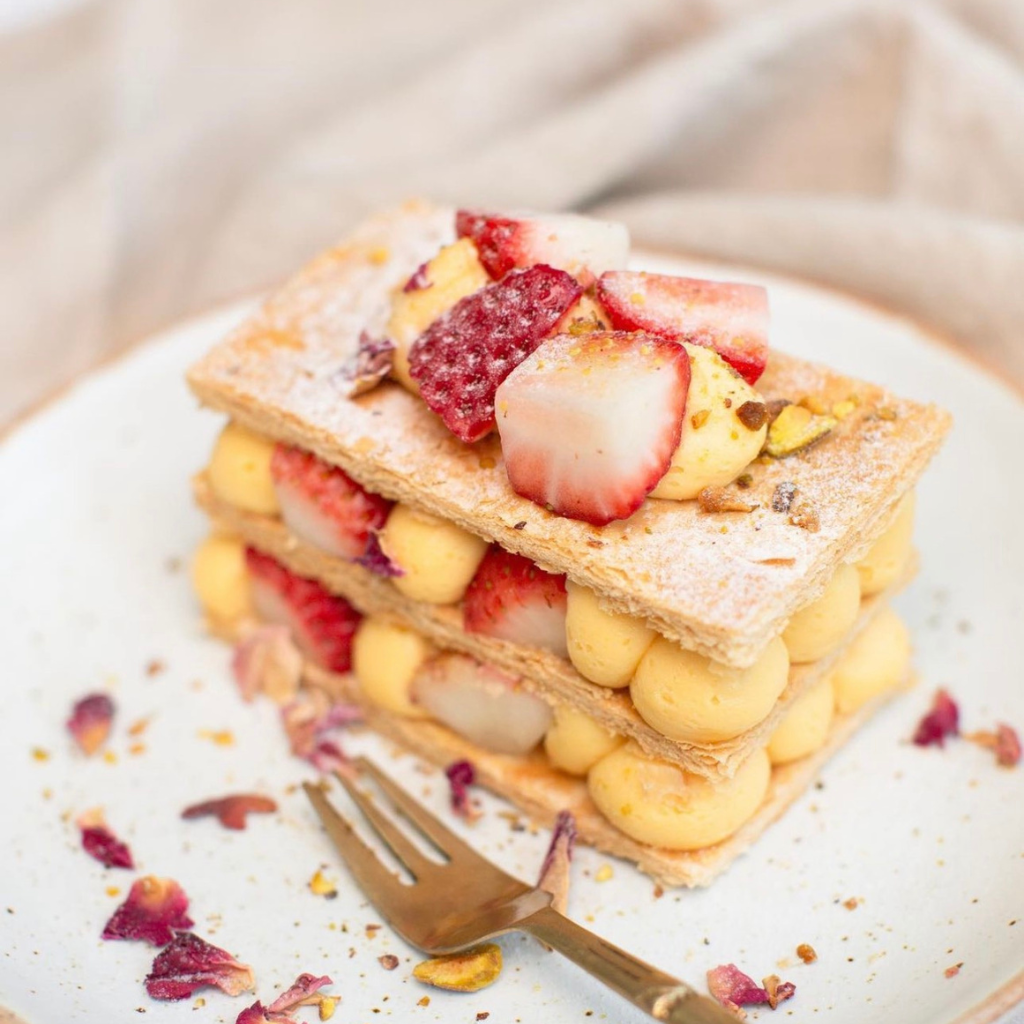 Why visit? As its namesake suggests, look forward to All Things Delicious at this esteemed halal-certified joint that's located in the heart of Kampong Glam. 
Established in 2013, founder and chef Dewi Imelda Wadhwa — better known as Mel — first launched the brand as an online store. She then opened her first brick-and-mortar bakery six months later when the brand skyrocketed in popularity. 
Today, All Things Delicious is the go-to destination among diners for wholesome meals and indulgent desserts. It has even attracted various high-profile clientele, such as celebrities Lucy Liu and Cristiano Ronaldo. 
Price range: $$
Crowd favourites: The 1001 Arabian Nights (S$14.90) mille-feuille is our pick. It sees crisp puff pastry layers comprising cardamom creme and an apricot-honey compote that's infused with saffron. Alternatively, the Black & White (S$13.90) is a classic pulut hitam cake with coconut sorbet and sesame brittle.
9. Pita Bakery
29 Bali Lane
Open: Monday to Thursday (9am to 9pm), Friday to Sunday (9am to 9.30pm)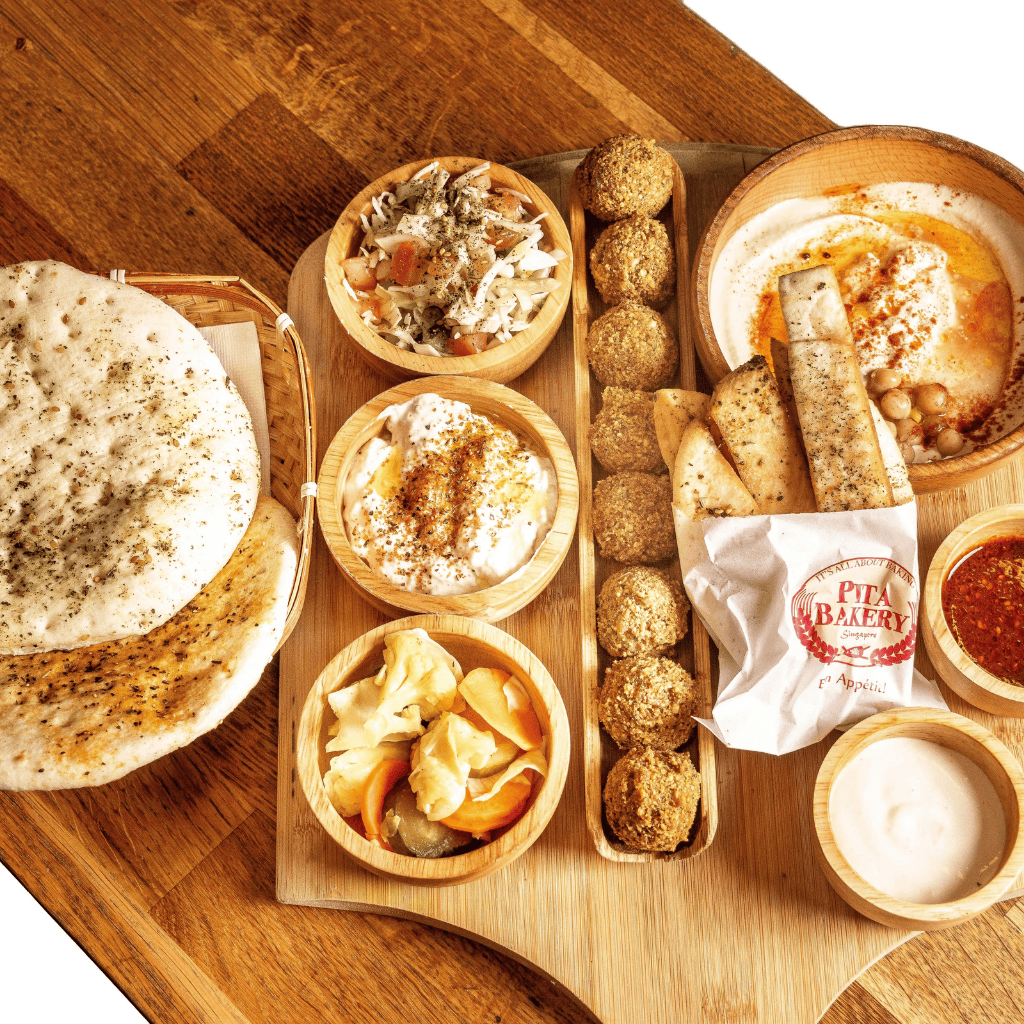 Why visit? For authentic Mediterranean fare, pop by Pita Bakery along Bali Lane. Specialising in Middle Eastern cuisine, it's a hole-in-the-wall bakery known for its flatbreads that's made from scratch daily.
The owner, Mr Yuri, is committed to delivering traditional dishes that taste exactly like home. The recipe used for the loaves of bread has also been passed down through the generations for decades and is a family trade secret.
The establishment offers a wide range of dishes, such as pita sandwiches, falafel and dips. What we like best about Pita Bakery is, not only is it halal-certified, the ingredients used in its food are also vegan-friendly and kosher. 
Price range: $
Crowd favourites: Pita Bakery's famous pita bread is what keeps the customers coming back. It's a fluffy cloud of goodness that comes in a host of flavours, such as garlic (one for S$3), cajun (one for S$3) and sesame (one for S$3). Dip those pitas in a slew of spreads, such as hummus and babaganoush.
10. Wonders Bakery
111 Arab Street
Open: Sunday to Thursday (12pm to 7pm), Friday and Saturday (12pm to 9pm)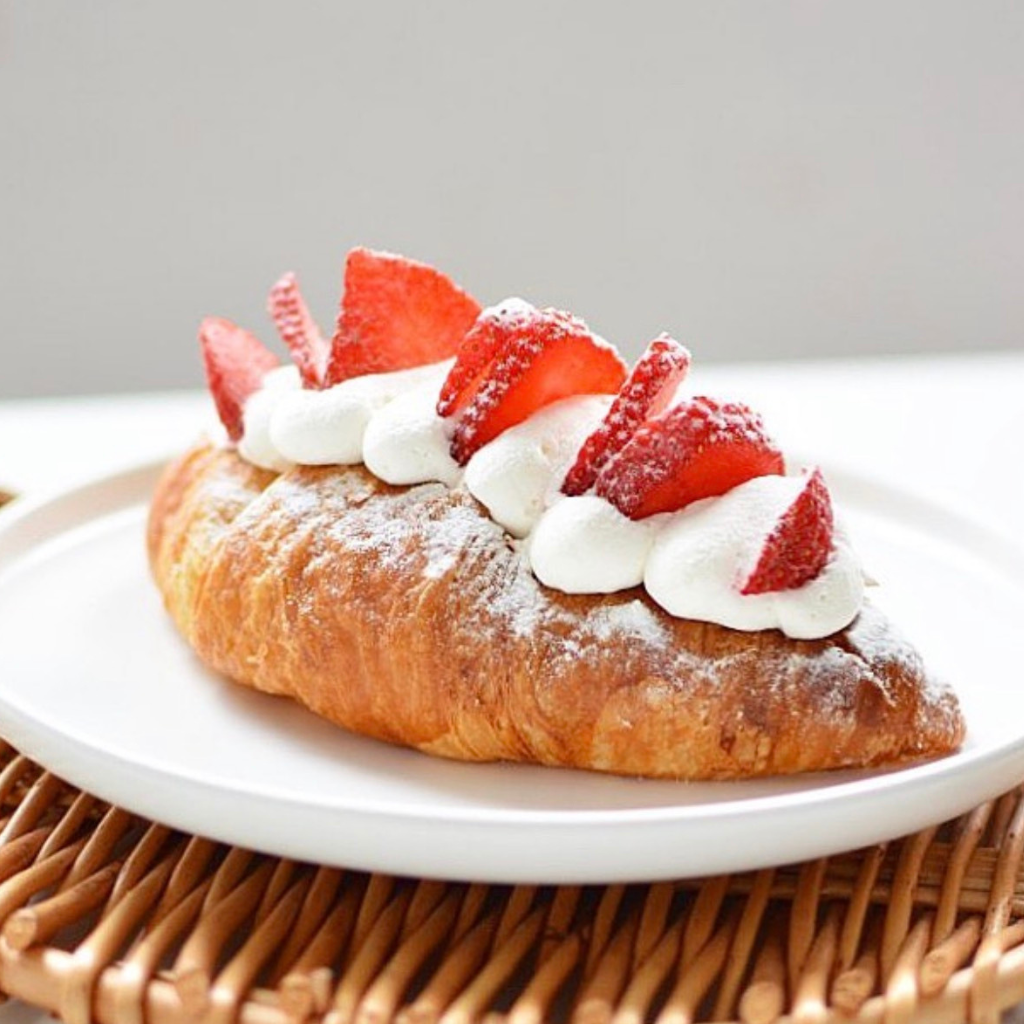 Why visit? If you're searching for halal cake shops in Singapore, check out Wonders Bakery on Arab Street. 
It's a Muslim-owned parlour specialising in luscious pastries such as croffles, tarts, croissants and more. They come in a variety of flavours and fillings, and they're all too yummy to resist. 
If you're looking to celebrate a momentous occasion with a baked treat, the bakery also does customised cakes that look and taste incredible.
Price range: $
Crowd favourites: The strawberry shortcake croissant (S$7.50) looks absolutely delish, thanks to its generous spread of cream that's topped with strawberry slices. If you're getting its cupcakes (two for S$8, four for S$16, six for S$24), we'd go for the speculoos and chocolate Nutella.
11. Happy Oven
40 Beo Crescent, 01-08
Open: Monday to Sunday (5am to 7pm)
678 Hougang Avenue 8, 01-505
Open: Monday to Sunday (5am to 3pm)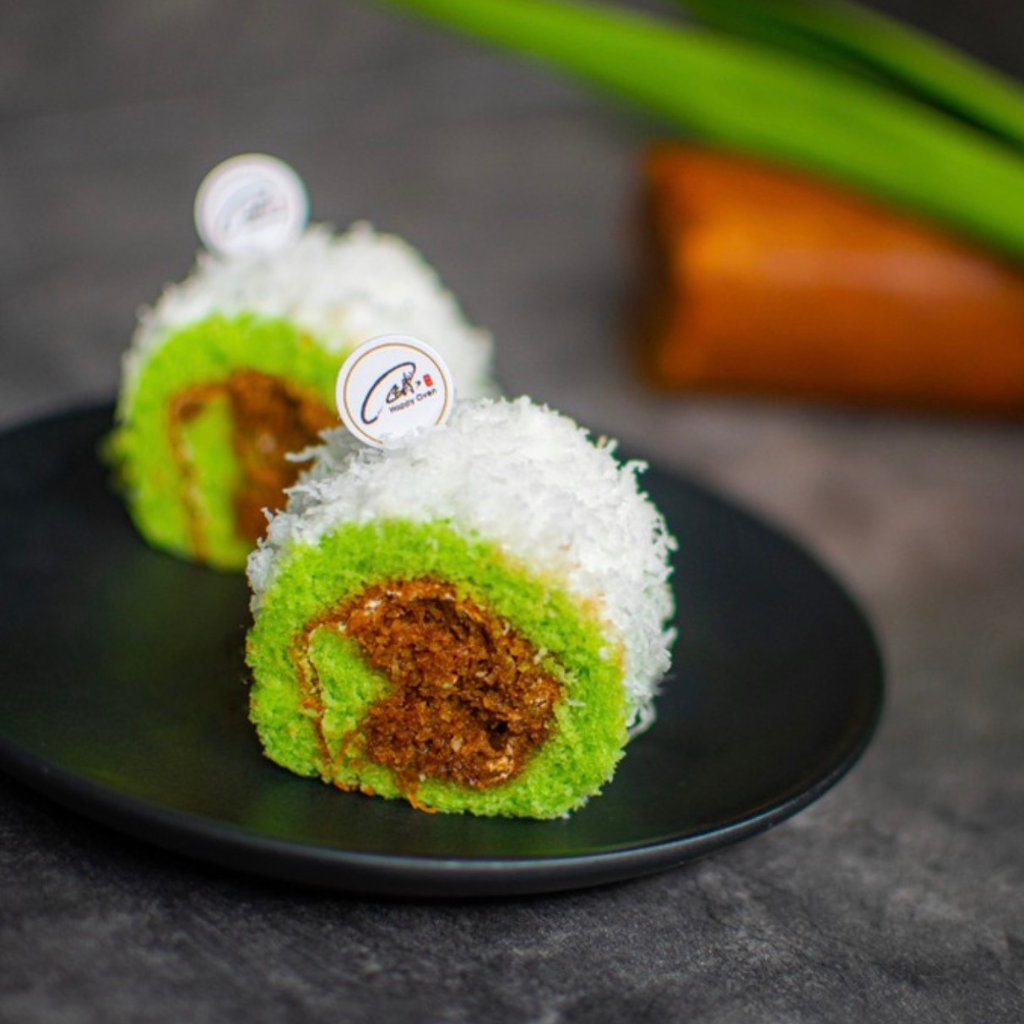 Why visit? For old-school halal bakeries in Singapore, Happy Oven is a must to visit. Nestled in the heart of Tiong Bahru, it's a halal cake shop that's known for its affordable traditional goodies that are made from scratch. Some treats even cost merely a dollar!
Established in 2009, founder Mr Tay is dedicated to producing handcrafted pastries using only natural ingredients. This is to preserve its authentic flavours and taste, and also the reason why customers prefer Happy Oven's bakes over other bakeries in the area. 
Some pastries you can look forward to are fruit tarts (S$1.40), chocolate rolls (S$1) and red velvet cupcakes (S$1.40). The bakery also serves whole cakes, if you prefer. 
Price range: $
Crowd favourites: A star item that you must try is the signature ondeh-ondeh cake (S$1.40). It features a moist, melt-in-your-mouth sponge that oozes gula melaka with every bite. The pandan kaya cake (S$1.40) also sees a fluffy pandan sponge cake comprising a sweet kaya filling.
12. Fitri Creations Halal Bakery
Kinex, B1-34/35, 11 Tanjong Katong Road
Open: Monday to Friday (11am to 9pm), Saturday and Sunday (12.30pm to 9pm)
Sun Natura, 01-02, 361 Sembawang Crescent
Open: Monday to Sunday (9.30am to 10.30pm)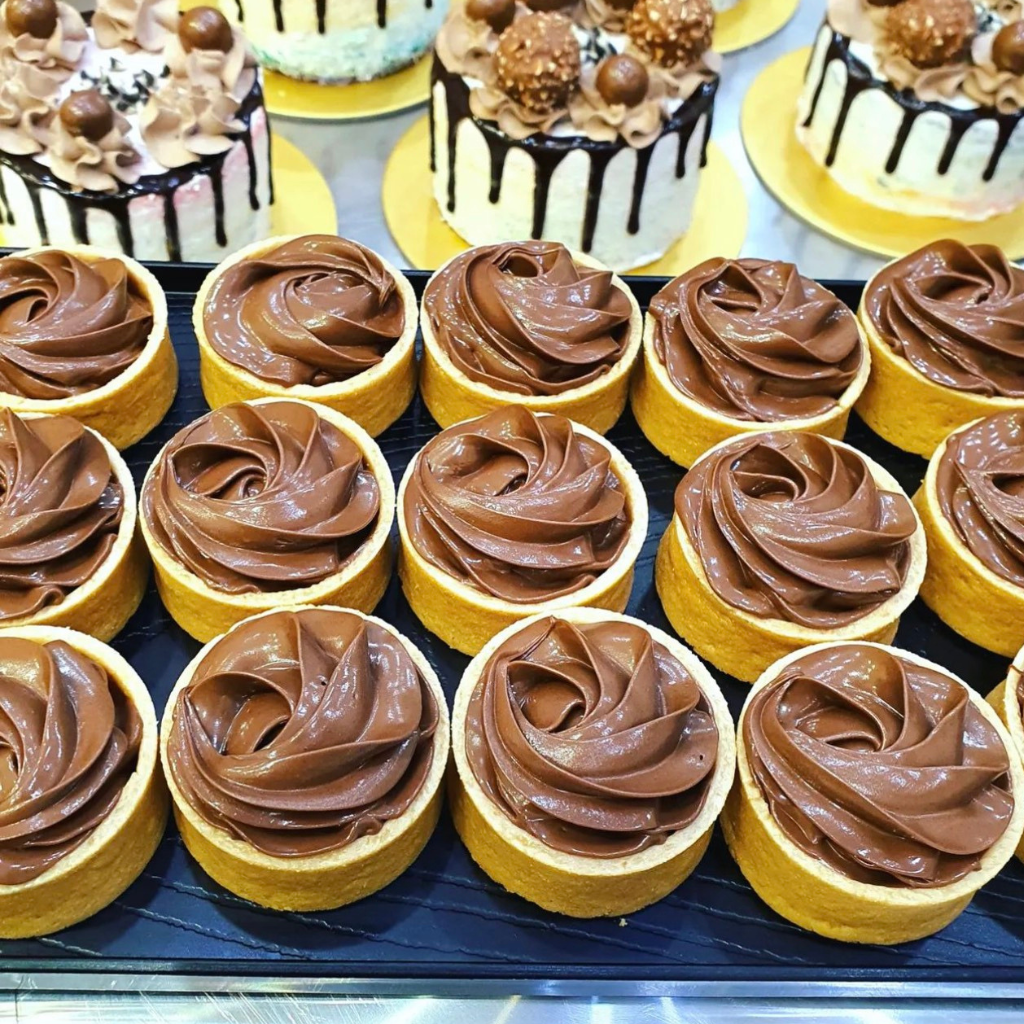 Why visit? Last on our list of the best halal bakeries in Singapore is none other than Fitri Creations Halal Bakery. 
This place is every sweet tooth's haven, for it sells a multitude of handcrafted baked treats: Jar cakes, donuts (also referred to as boms), cupcakes and more. For its quality and portion, each dessert is also super value-for-money. 
Its Sembawang outlet is quite the hidden gem, for it's located under an HDB block. If you prefer somewhere more central, Fitri Creations Halal Bakery's second outpost is situated at Kinex Mall in the east. 
Both outlets do draw queues during peak hours, so we recommend heading down early to get your hands on the popular bakes before they sell out.
Price range: $
 Crowd favourites: If you're a chocolate lover like we are, opt for the Nutella donut bom (S$3.50) or Kinder Bueno donut bom (S$3.50). The ondeh-ondeh cake-in-a-jar (S$4.90) is also an interesting creation that's worth savouring, should you enjoy more classic flavours.