Review: Sembarang Nasi Lemak & Padang reminds me so much of Mum's cooking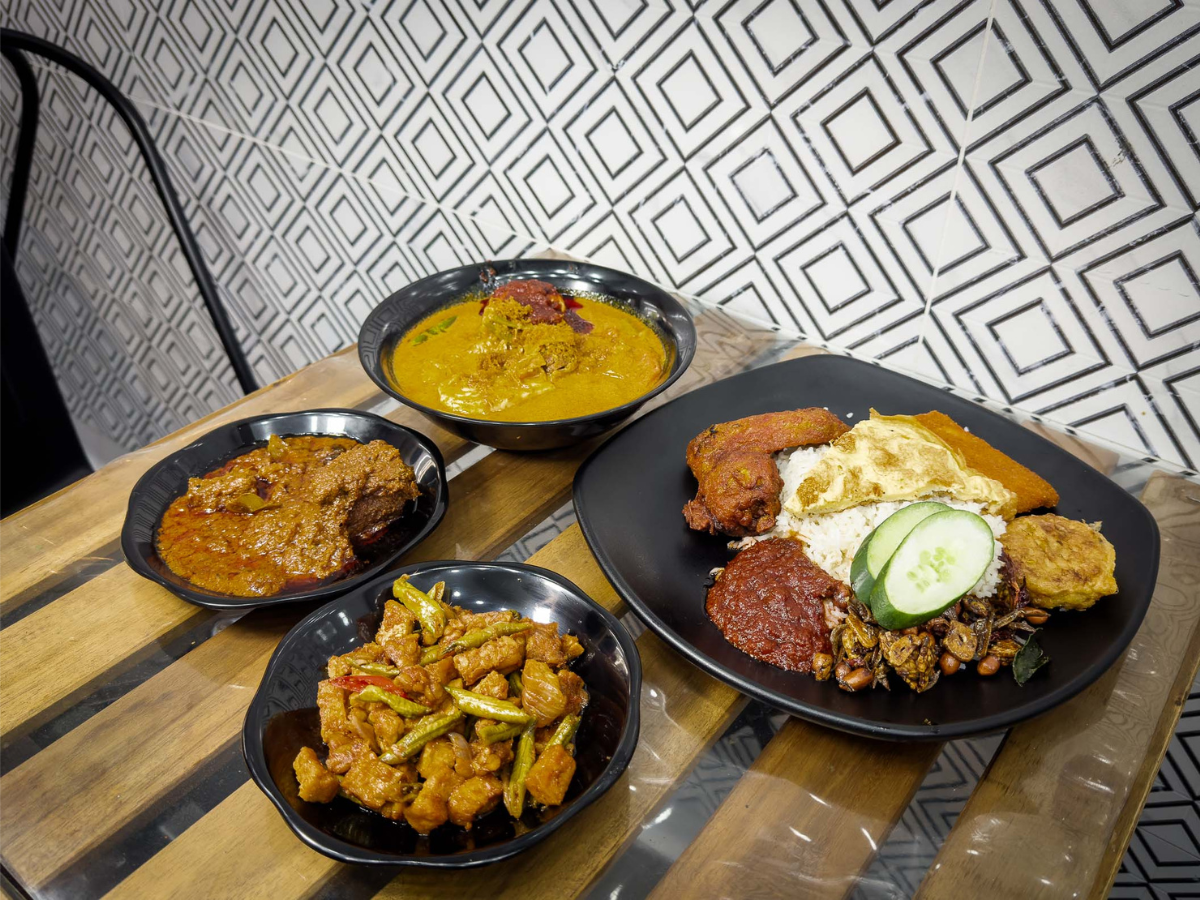 Sembarang Nasi Lemak takes over the unit once occupied by Maison Sucree
It serves seven variations of nasi lemak cooked with santan and ghee
It's authentic and familiar, bringing this close to the flavours of home-cooked food
Get the kueh lopes even if you're stuffed, for it's a dessert that's seldom found in Singapore these days
As a food critic, I avoid reviewing food that I'm intimately familiar with. The list is not exhaustive, but right at the top is anything my mum made for me growing up, whether it's during festivities or something to fill me up after school.
It makes reviewing a place like Sembarang Nasi Lemak & Padang daunting. Not for me, mind you, but for the eatery. The standards I've set are high and unachievable. 
It comes as a pleasant surprise that Sembarang meets my exacting standards. "This tastes so close to how my mum would cook it," I admit as my dining partner and I sampled each dish. 
"This one also. It's so strange that this sambal goreng is made how my mum would."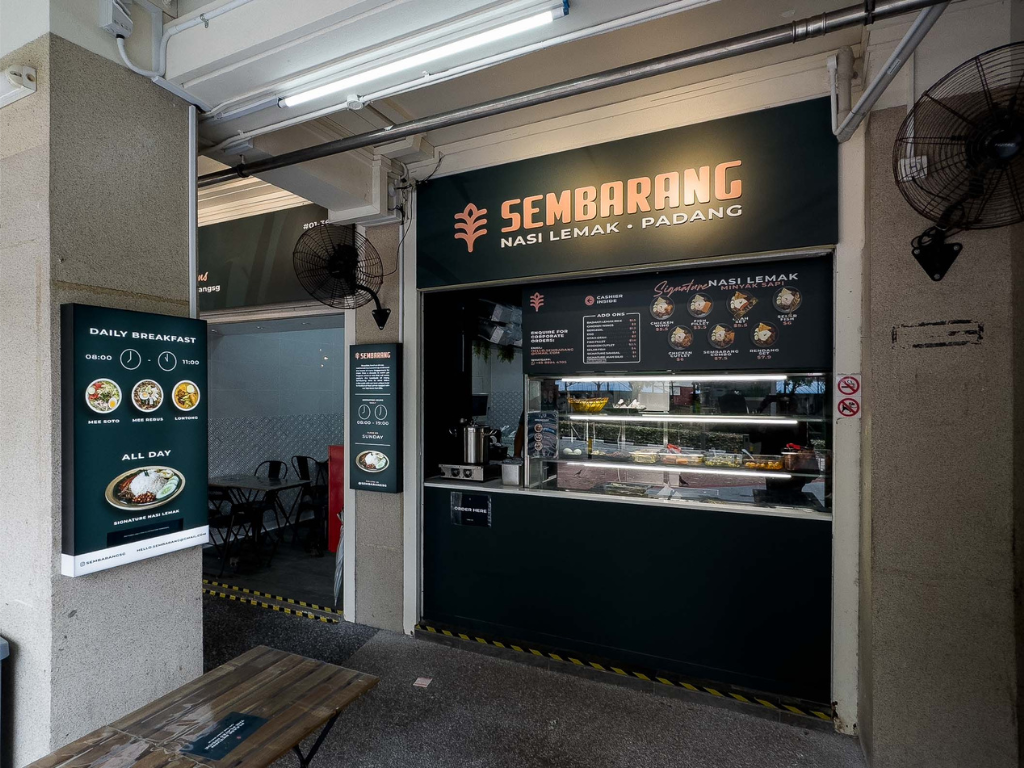 Sembarang Nasi Lemak & Padang opened in October 2022 in the neighbourhood of Bukit Merah off Leng Kee Road, at the void deck of 63B Lengkok Bahru. 
The nasi lemak-nasi padang joint is the brainchild of the folks from the LS&Co Group. Other dining concepts under the group include Ashes Burnnit in Singapore and New York City as well as the recently shuttered Maison Sucree. 
In an interview with HungryGoWhere, owner Lee Syafiq said that he studied new trends in the market, especially among the younger generation and millennials. This led him to conclude that "a good majority of them love a good plate of nasi lemak at any time of the day, be it breakfast, lunch or dinner".
Sembarang Nasi Lemak & Padang was thus born.
What it's good for
The star of the establishment is, without doubt, the Nasi Lemak Sembarang Combo Set (S$7.50), which comes with fried chicken wing, an omelette, fish fillet, begedil, cucumbers, sambal tumis, and a smattering of ikan bilis. 
Swap the omelette for a sunny side up, and this becomes the Nasi Lemak Royale set at Crave.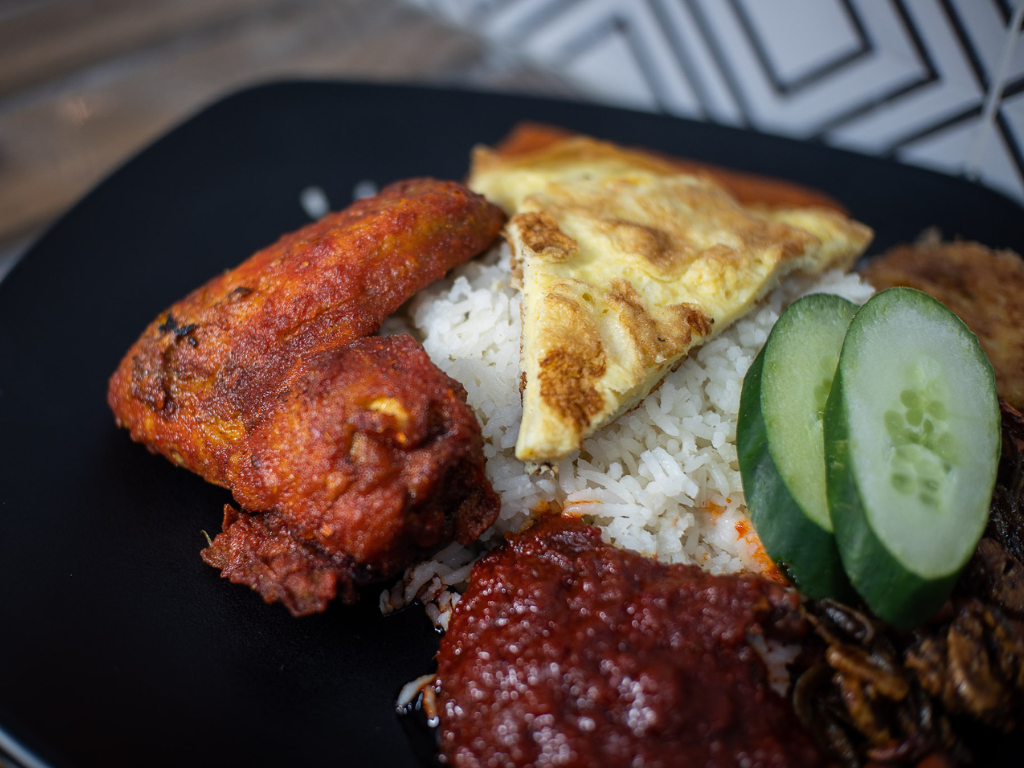 One glaring thing sets the Sembarang iteration apart, though. Here, the usual fried ikan bilis is given a glow-up with the inclusion of finely sliced garlic slices, dried chilli and curry leaves — it was specially crafted by a family member from Indonesia, Lee had told us.
Also of note is the basmati rice, which has a tinge of aromatic spice beyond the usual santan. The addition of ghee to the santan emulsion elevates the flavour even further.
The accompanying sambal is just like how my mum would make it — equal parts sweet and spicy with a hint of heat that results in a great mouthfeel with every bite. 
I also loved the chicken wing, which reminded me of how my mum made hers on lazy Sunday afternoons. 
Inside, the meat is incredibly juicy and flavourful. Outside, it's earth-shatteringly crispy, and packed with spices, herbs and ground turmeric. I could inhale five in one sitting, I'm sure. 
Aside from nasi lemak, Sembarang also serves a classic repertoire of Malay breakfast dishes, available until 11am.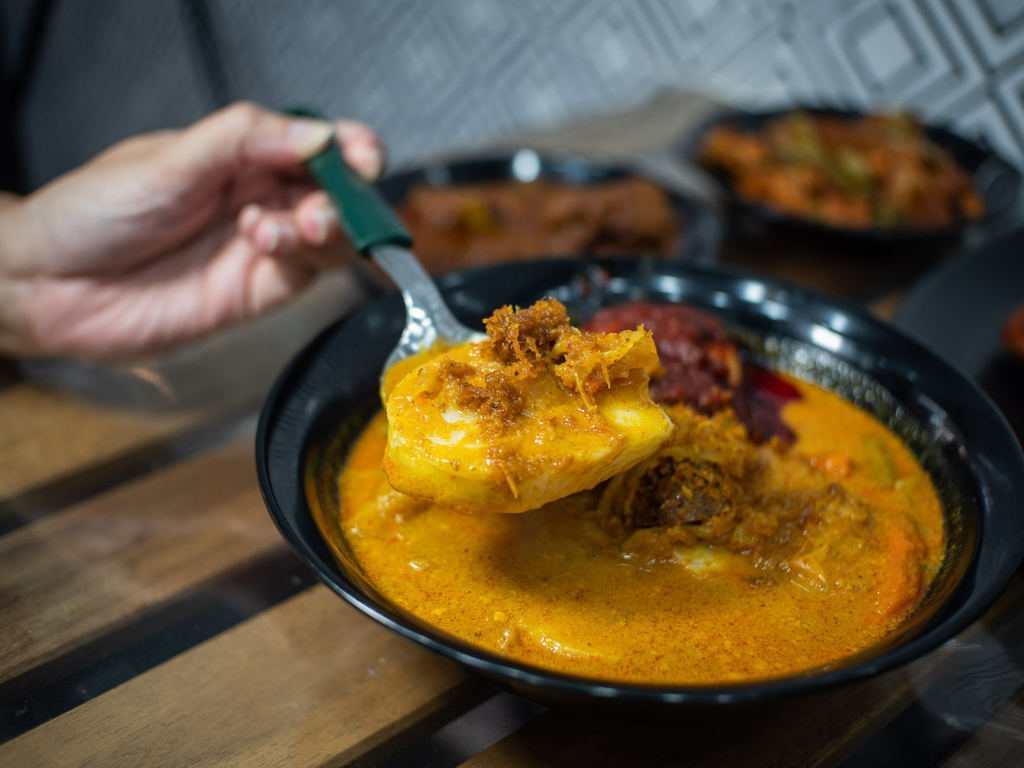 The lontong (S$4.50) doesn't shy away from being bold and flavour-forward with the inclusion of aromatics. Coconut milk is used liberally here to a great, creamy effect, especially since most healthy iterations — and there are plenty — tend to water down the gravy until it becomes almost soup-like in texture. 
The rice cakes within are also tender and give way easily to the bite — less stellar versions tend to be brittle.
I also got a la carte servings of the sambal goreng (S$2.50) and beef rendang (S$3.50) just to get a taste of what the Padang side offers. Both are close to how my mum would prepare hers.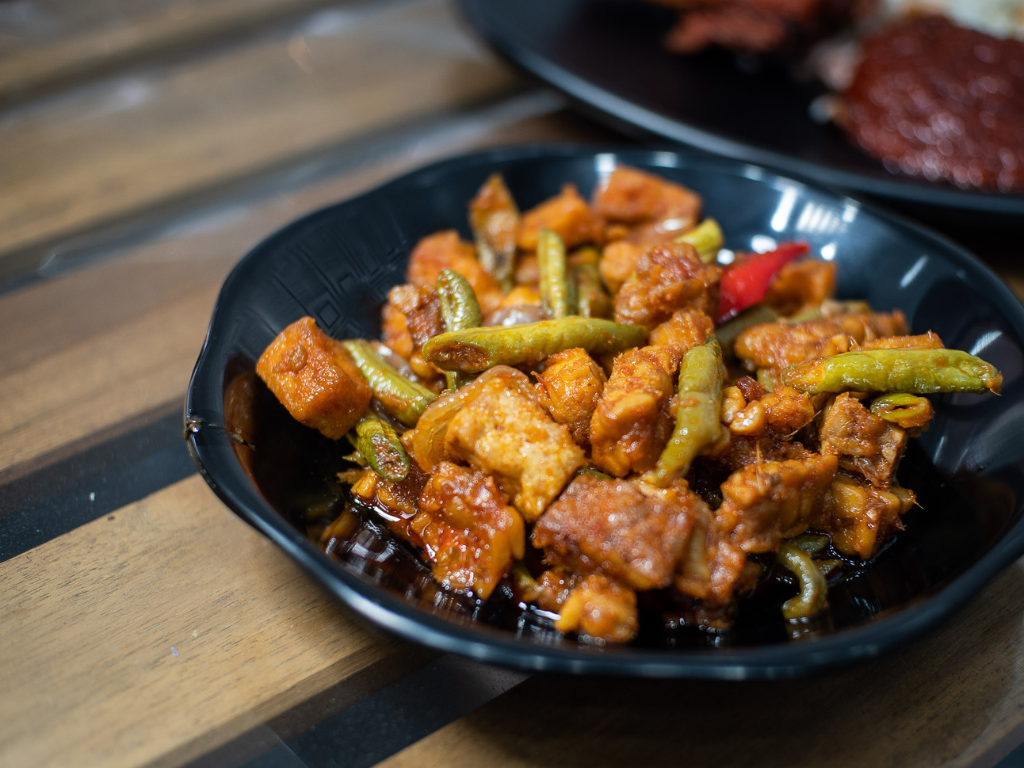 Unlike other sambal goreng versions I've had before, this one is sweeter and less spicy, with a slight saltiness that I found pretty enticing. They say a little salt makes everything better, and I suppose this applies to traditional food, too. 
It's also not cloyingly oily like some are wont to be — a testament to how thorough the cook has been over the stove ensuring the "pecah minyak" (literally translated to "oil splitting") is well and truly homogenised.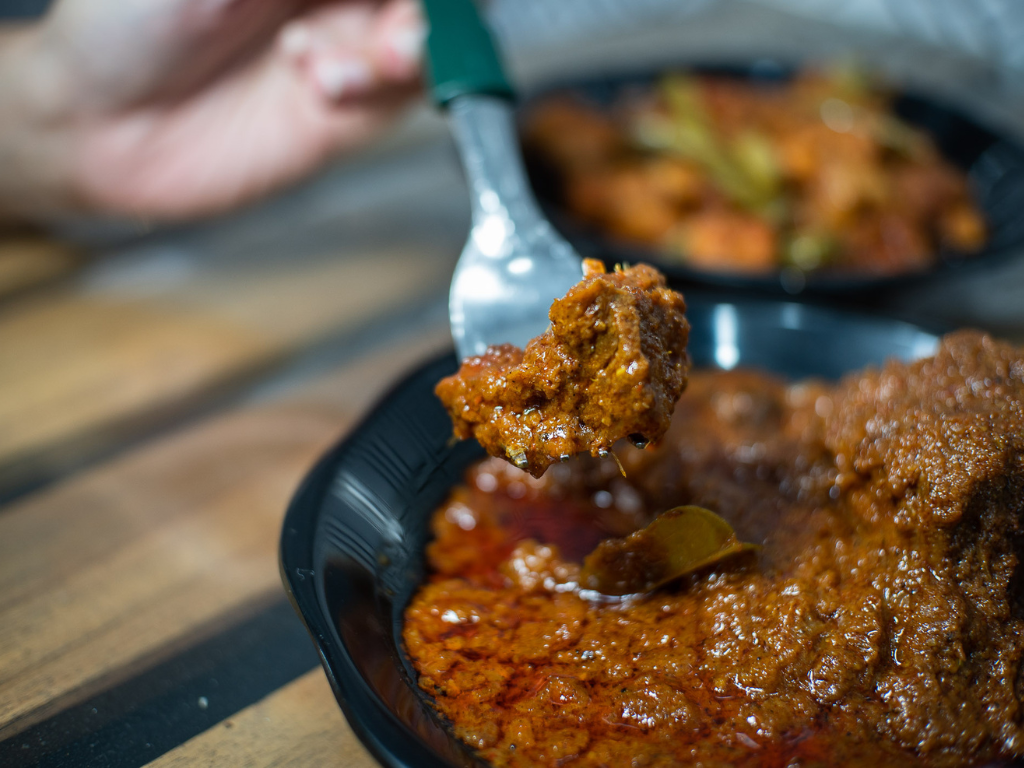 The beef rendang is fork-tender, evidenced by how my dining partner tore the whole chunk apart with just a spoon in hand. It's also chock-full of nutty sweetness.
Lunch ended with a classic kueh lopes (S$2), which I'm surprised anyone still made. The breakfast favourite is made by tightly wrapping glutinous rice in banana leaves, steaming it, and then serving it in a generous pool of gula melaka sauce.
Less stellar versions tend to be tougher and dried out. Yet, as you can imagine, the one at Sembarang passes with flying colours. She's an overachiever, this one, and I'm not complaining.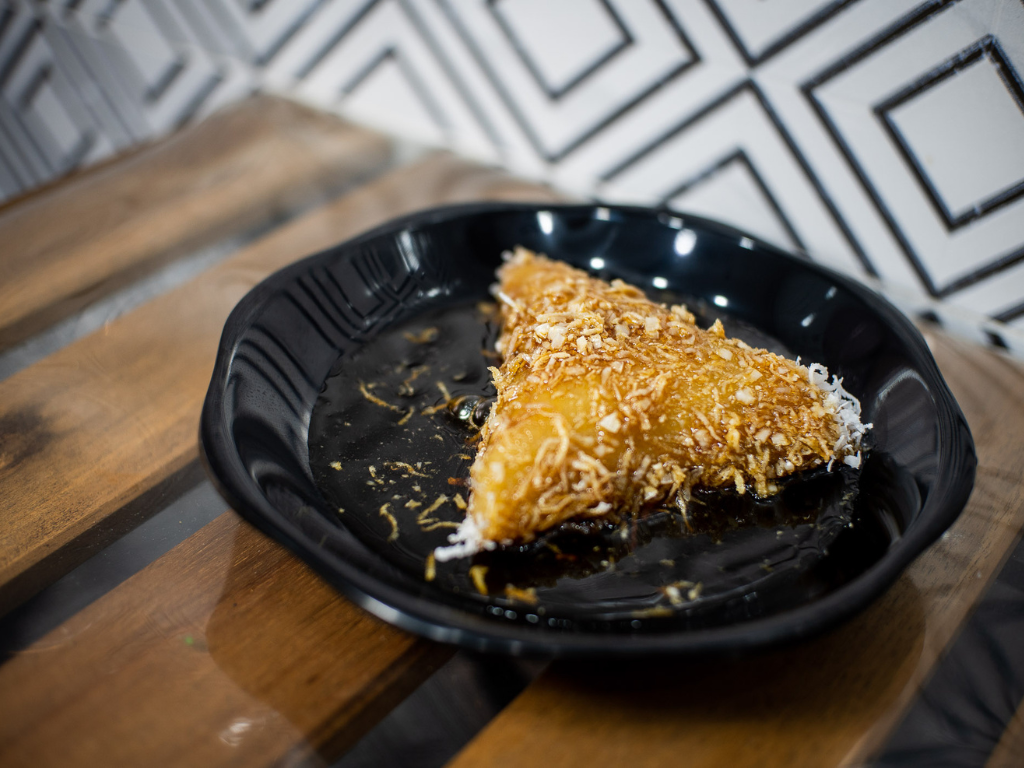 What it could improve on
Food-wise, nothing.
Fittings-wise, the ceiling fans should be replaced. The one we sat under emitted a shrill shriek throughout lunch.
Our quick takes 
Is it conducive to conversation? At lunchtime, office workers from nearby descend on the premises, bringing with them convivial conversations. Post-lunch is more conducive to a tete-a-tete.
Is a reservation necessary? No. 
How to get there? It's a five-minute walk from Redhill MRT station.
HungryGoWhere paid for its meal at this eatery for this review. Still hungry? Read our reviews of Meokja by Jungga and Joo Chiat Caphe. 
Sembarang Nasi Lemak & Padang is on the GrabFood delivery service and offers free delivery (up to S$3 off) with GrabUnlimited. Or book a ride there.
Sembarang Nasi Lemak & Padang
63B Lengkok Bahru, 01-362
Open: Monday to Saturday (9am to 7pm)
63B Lengkok Bahru, 01-362
Open: Monday to Saturday (9am to 7pm)
---