Review: Muslim-owned Meokja by Jungga dishes up delicious Korean street food favourites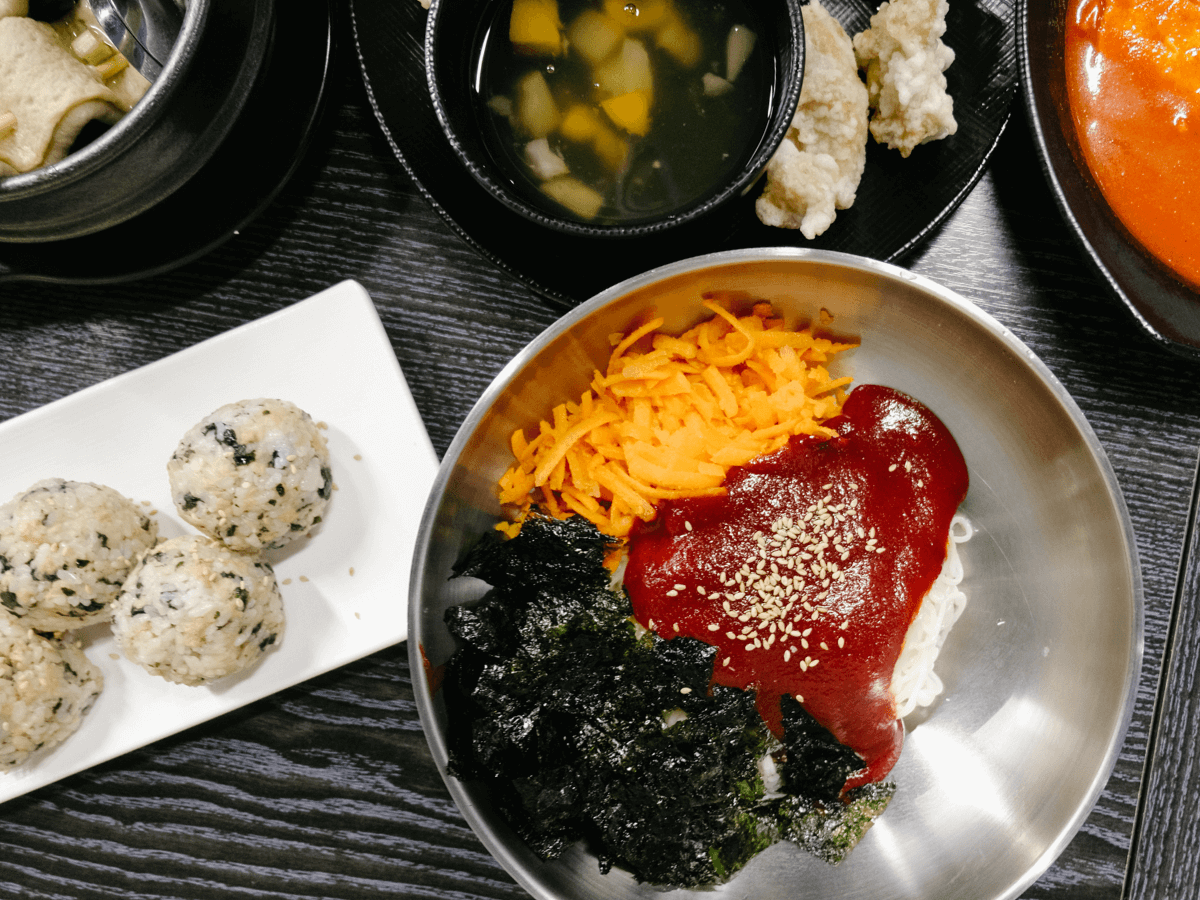 This Muslim-owned Korean restaurant on Selegie Road has been making waves on Instagram and TikTok since October
Expect a selection of familiar Korean dishes and street food staples, from fishcake soup to spicy rice cakes
Die-hard fans of the popular Korean show Running Man would remember that episode where cast members dashed around Seoul's Gwangjang Market for a game, picking up everything from chewy tteokbokki to wriggling octopus sashimi and other delicious things.
It's been more than five years since that episode aired, and every year, I strived to visit the Korean street food mecca, but life happens and it's been difficult seizing an opportunity to fly over. 
So when I heard about Meokja by Jungga, a casual Muslim-owned Korean restaurant gaining popularity over social media, I had to bite.
The backstory
Launched in October at the fancy new GR.iD mall, Meokja by Jungga is helmed by chef Jung Sangwoo, a Korean-born Muslim revert who's been living here for a while now. 
He initially started it as a home-based business to raise awareness of what authentic Korean food should taste like, and while the restaurant isn't halal-certified, he uses only halal ingredients in his cooking.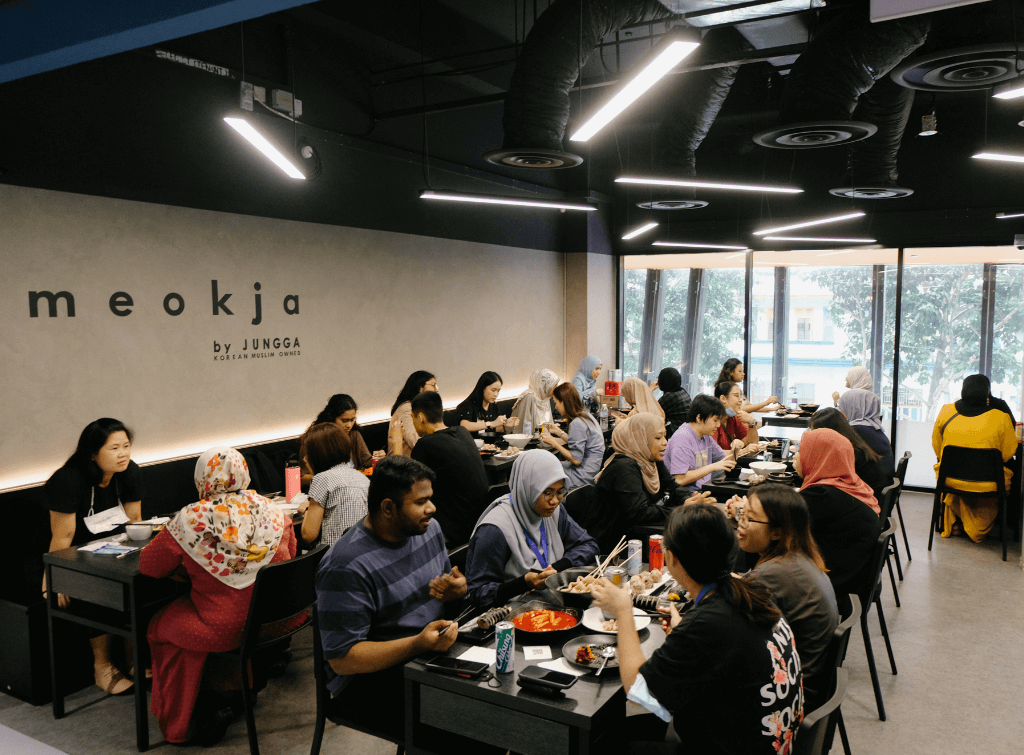 Our verdict

There are plenty of Muslim-friendly Korean restaurants in Singapore, and having eaten at a few of them myself, it's hard to say many are actually authentic, or uhm, good. 
As it turns out, you can eat very well with just chicken, beef and fish for protein, as chef Jung displays clearly in his casual eatery. 
Casual, because aside from the cool recessed lighting and stone tiling, Meokja by Jungga is rather no-frills. The small online menu is concise and affordable — noodle and rice dishes start from S$6.90, while staple street food such as kimbap and yangnyeom chicken go from S$4.90. If that's not value for money, I don't know what is.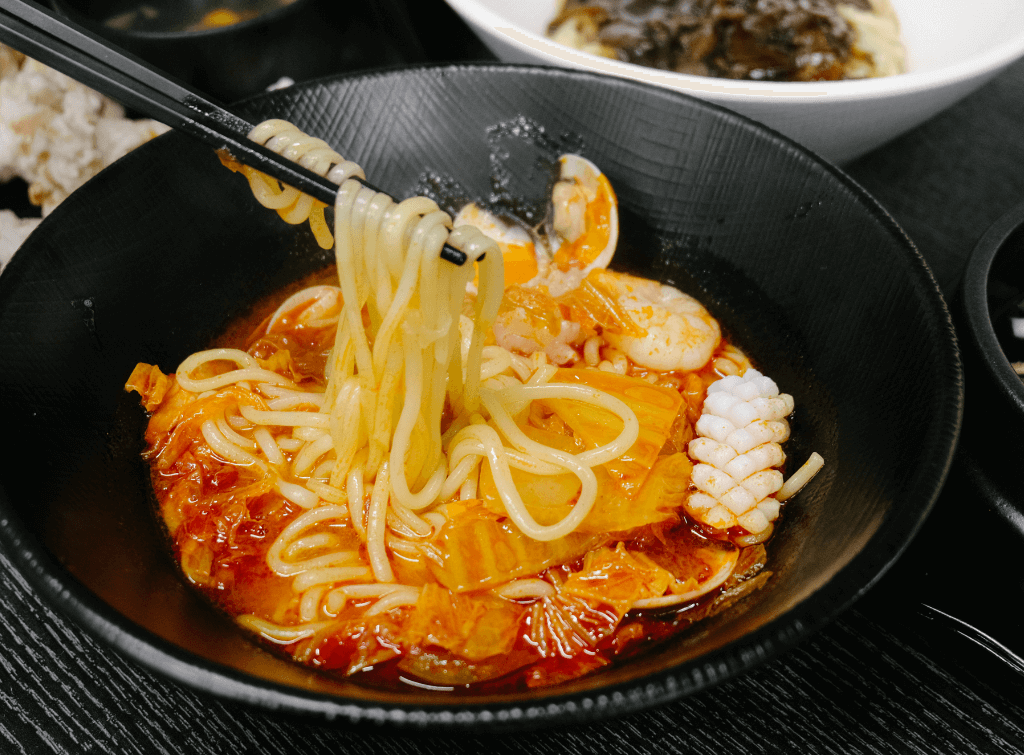 Meokja also has several combo sets that allow you to try its different mains and sides along with two drinks at a bundled price. Get the JjamJja Set (S$34) for jjajangmyeon, jjamppong and tangsuyuk, or the BunShik Set (S$32) for tteokbokki, eomuk tang and tuna rice balls.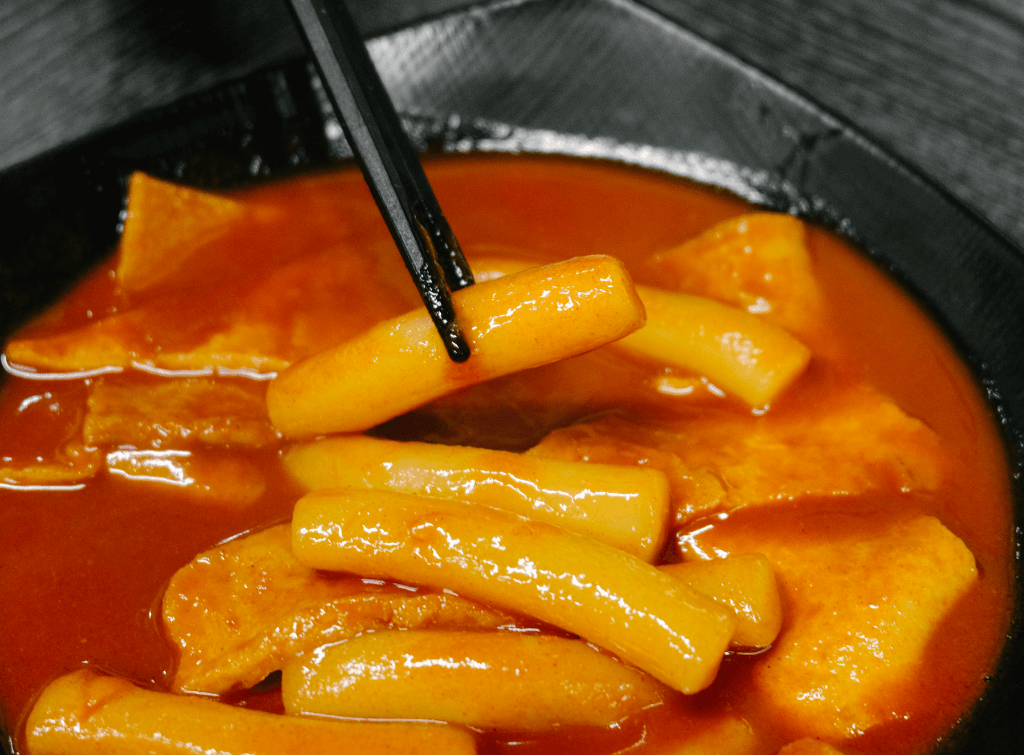 What kind of person must you be to not order side dishes in a Korean place?
Get the tteokbokki (S$6.90) to whet your appetite. Slathered in an addictively spicy sweet sauce, the texture and flavour of the chewy rice cakes and thin fishcakes are spot-on.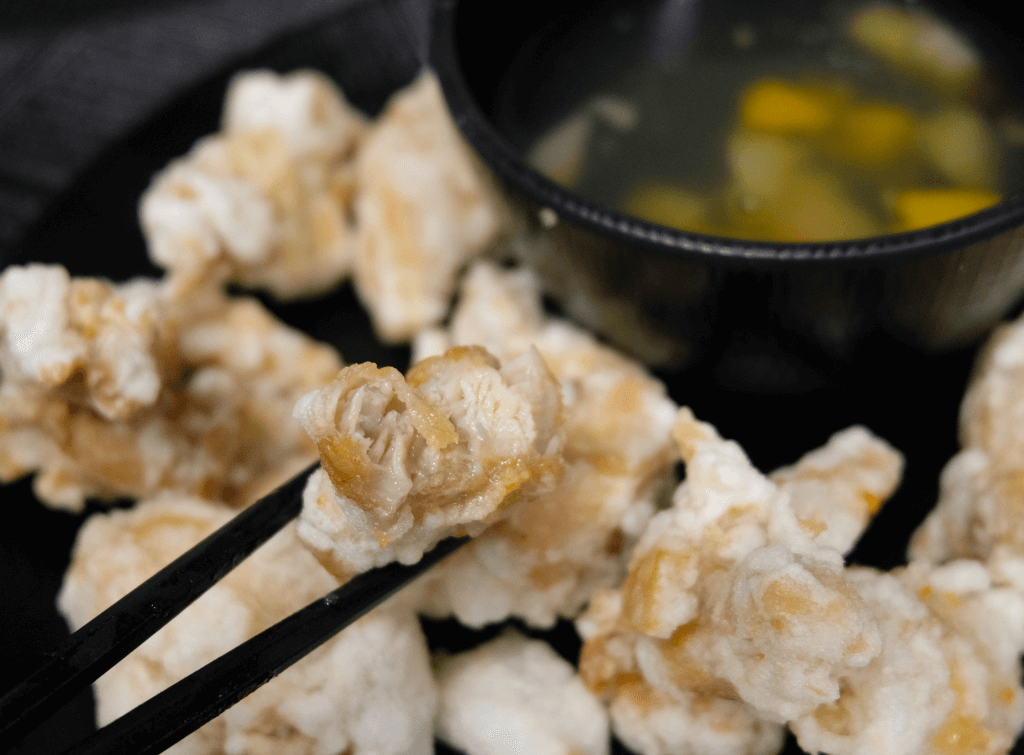 Or try the lesser-known tangsuyuk (S$11.90) – crispy fried chicken served with a sweet-and-sour fruit sauce. 
The chicken is lighter in taste than typical fried chicken, with a batter similar to that of tempura, allowing the tangy chunks of pineapple and peach to stand out.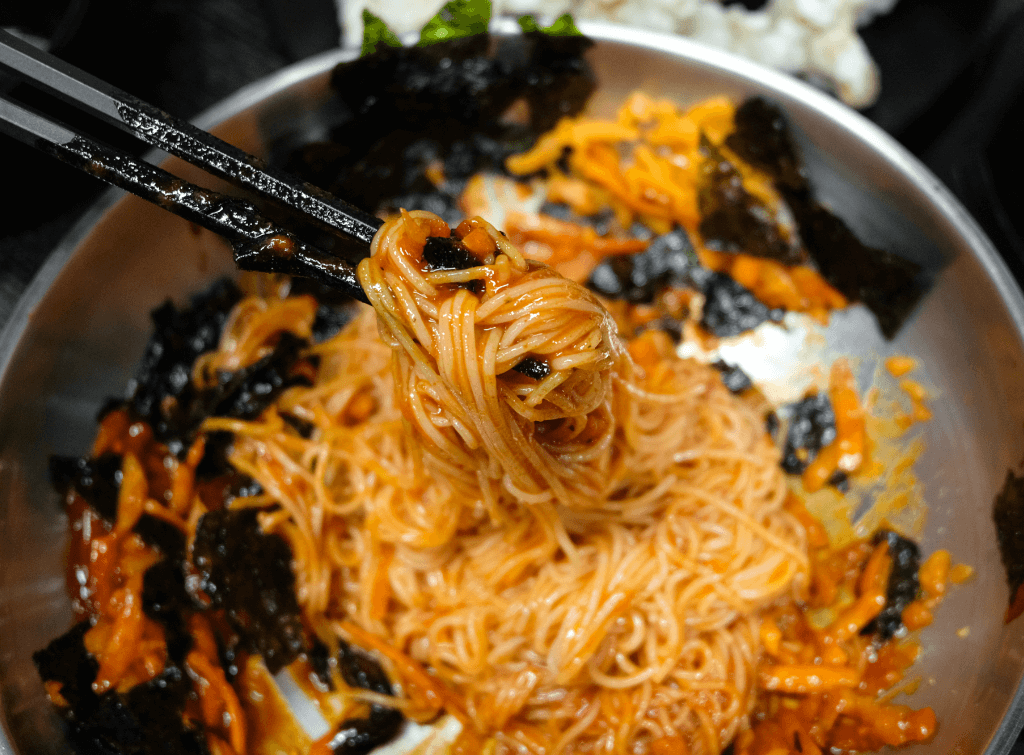 By this time, you should be ready for the mains. 
Bibim-guksu (S$6.90) is a dish I love to make at home. It's spicy, tasty, and best of all, easy to assemble. 
Chef Jung does his with a very thin sort of wheat flour noodles called somyeon, which absorbs the gochujang sauce perfectly. His version comes with julienned carrots and seaweed — simple but refreshing enough to flush the hot weather away.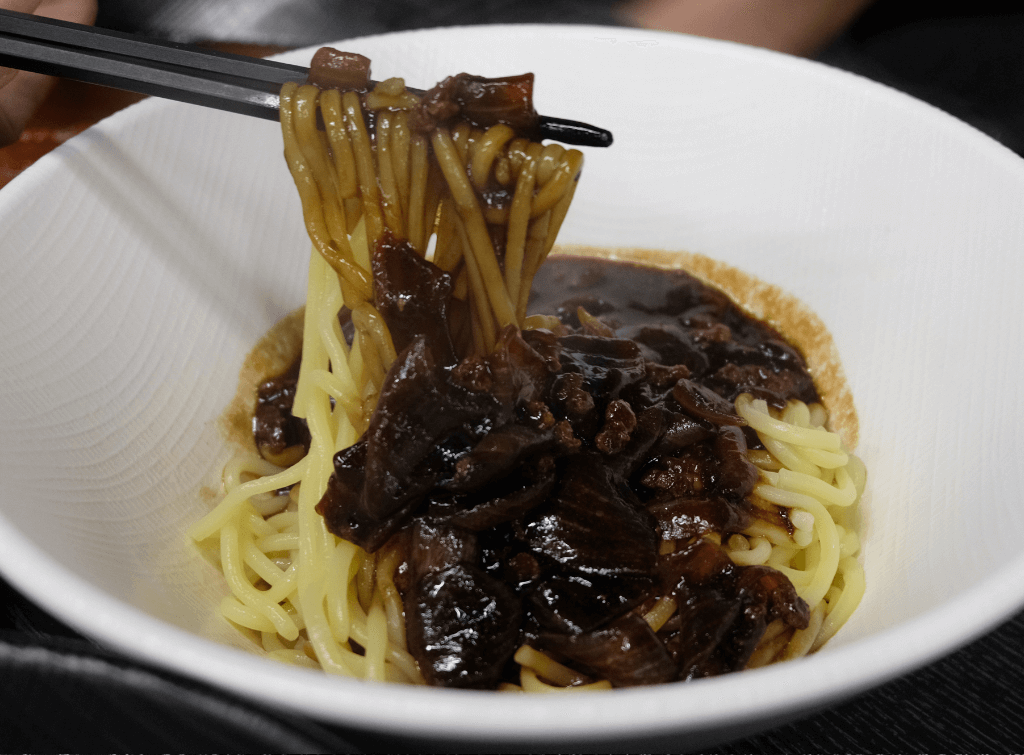 The jjajangmyeon (S$9.90) here comes as thick and chewy egg noodles coated in a rich black bean sauce, accentuated by bits of minced beef and caramelised onions. 
It's a little sweeter than what I remember of jjajangmyeon, but there's still enough savouriness and earthiness to make this a hit.
For something warmer, the jjamppong (S$11.90 for a la carte) is a pretty decent option. The aromatic bowl came topped with prawns, clams, squid and kimchi, with mildly spicy soup to soothe your soul. My only gripe is that the noodles became a tad soggy after 10 minutes, but you know, the camera's got to eat first.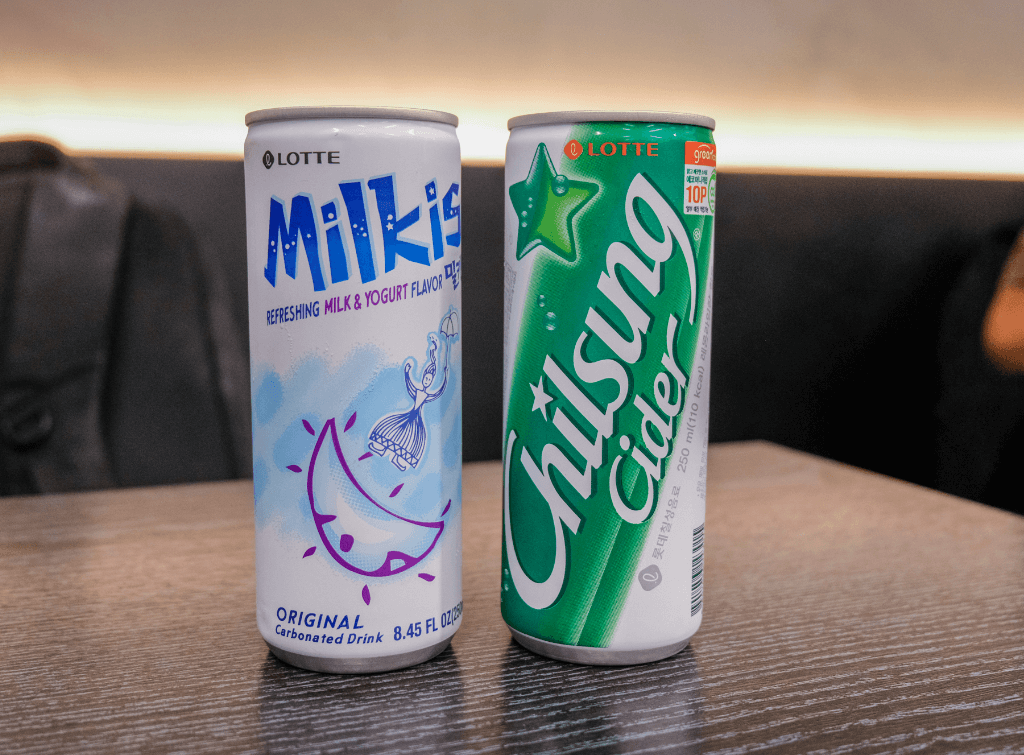 You could get a Coke to quench your thirst, but why would you when there are Korean canned drinks to be had? 
The popular Milkis (S$2.50) brings together fat-free milk and soda, and the result is a soft fizzy yoghurt taste, while the Chilsung Cider boasts a refreshing lemon-lime flavour. I'm told it's known as the Sprite of Korea, but I find the drink way more carbonated with stronger lemon notes. Both are very satisfying.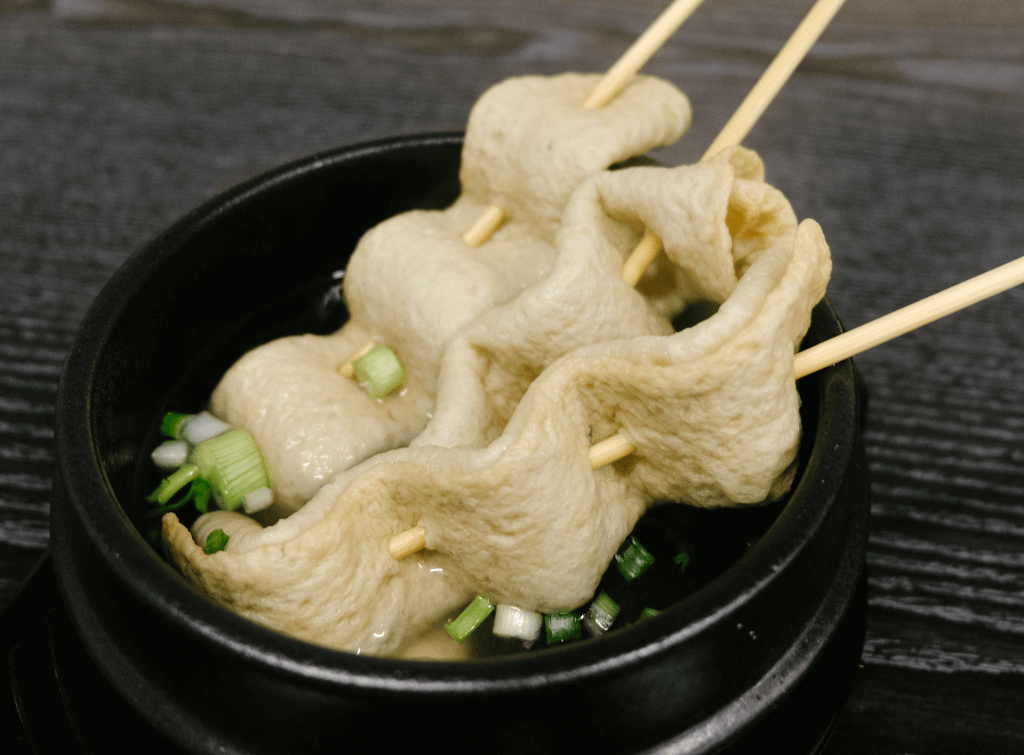 Not all the banchan (side dishes) were in unison during our visit. 
The eomuk tang (S$8.90) is a classic fishcake dish that falls a bit short. The fishcake itself is okay, but the broth lacks that satisfying and deep umami I once had on a rainy night in Myeongdong. To be blunt, it was bland.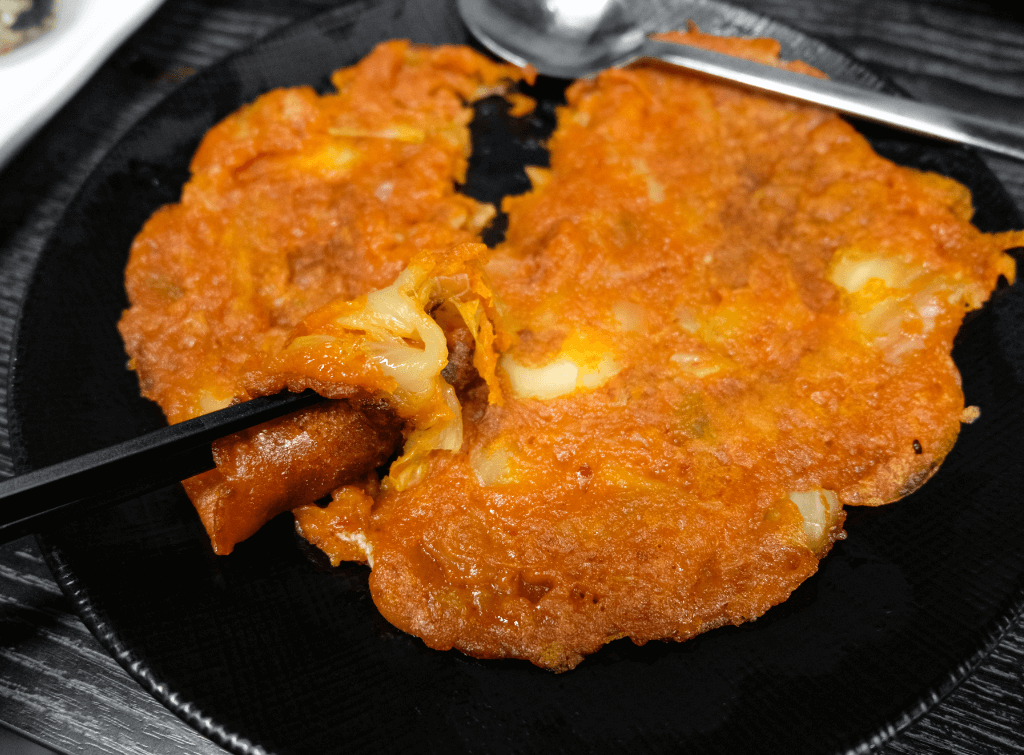 There are other sides: A kimchi jeon (S$6) that tastes absolutely delicious with generous amounts of the fermented cabbage, but also only slightly chewy and lacking any crispiness on the sides whatsoever. 
Or a plate of tuna mayo rice balls (chamchi mayo jumeok bap, S$6) — a good snack if it had more flavour and, I reckon, a lot more mayo and a dash of sesame oil.
None of these are major dealbreakers, though, and should be easily rectifiable. Chef Jung still manages to deliver a fantastic Korean cuisine experience for both adherents and non-Muslims alike, with dishes that do make the cut. 
To that, I can only say meokja, or "let's eat", in Korean!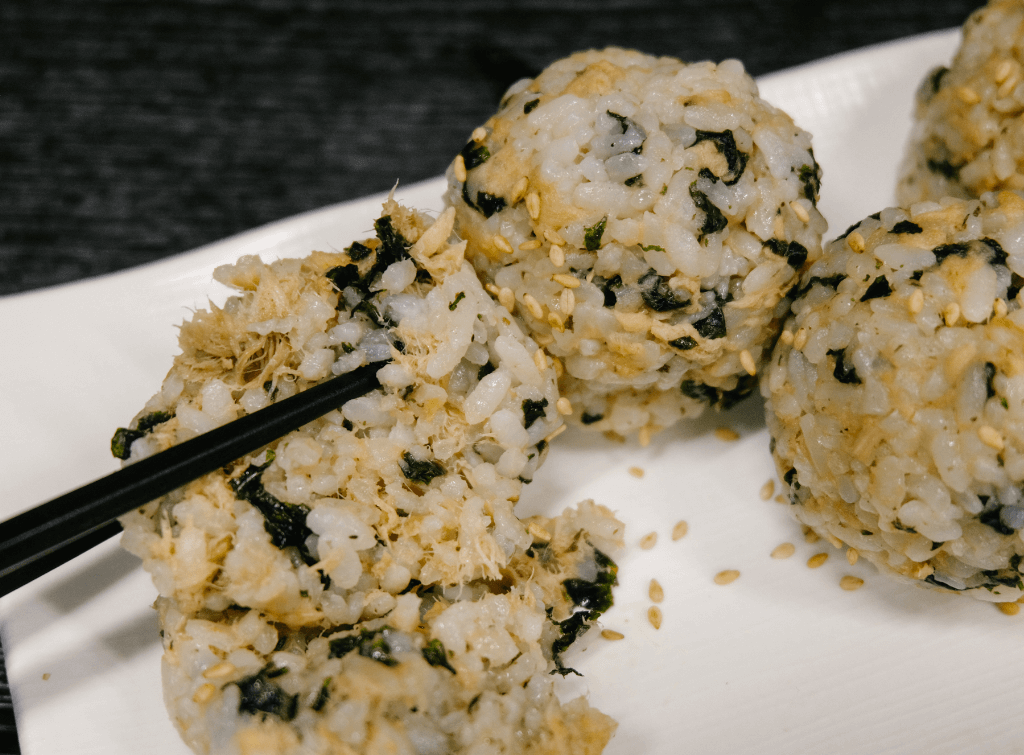 Our quick takes
Is it conducive to conversation? Meokja by Jungga's seating capacity is somewhat small, so noise is mostly contained.
Is a reservation necessary? No reservations are accepted for the moment.
How to get there? GR.iD mall is a three-minute walk from Exit B of Bencoolen MRT station, or a five-minute walk from Exit A of Dhoby Ghaut MRT station. 
Things to note: 
Meokja by Jungga opens at 10.30am and the restaurant is usually filled before noon.

Popular menu items such as tteokbokki and tuna rice balls typically sell out by late afternoon, so plan accordingly!
HungryGoWhere paid for its meal at this restaurant for this review.
Book a ride to Meokja by Jungga.
GR.iD, 02-03, 1 Selegie Road
Open: Thursday to Tuesday (10.30am to 3pm, 5pm to 10pm)
GR.iD, 02-03, 1 Selegie Road
Open: Thursday to Tuesday (10.30am to 3pm, 5pm to 10pm)