Couple behind popular home-based Muslim-friendly Korean food biz, Meokja by Jungga, launches restaurant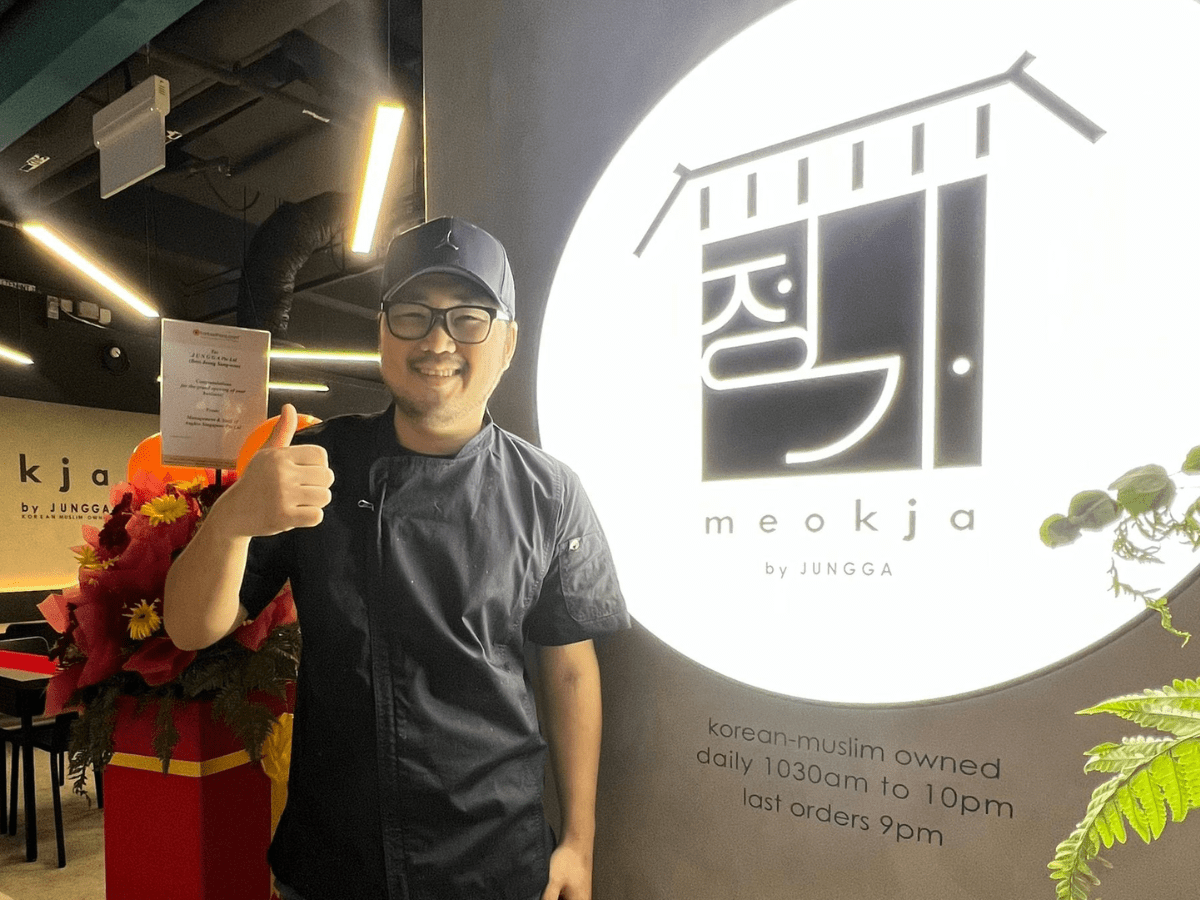 When Jung Sangwoo first started dating his wife, Singaporean Nurul Afrah, in 2017 after they met in Incheon, South Korea, he discovered a huge gap.
Halal food options were lacking in Incheon, and the pair found it hard to find appropriate eateries to go for meals together. Typically, Korean broths are made by simmering bones from non-halal sources, and pork also features quite heavily in many Korean dishes. 
Determined to find more ways for them to share meals together, Jung, who was a cook at a restaurant in Incheon, decided to whip up Korean dishes for her using Muslim-friendly ingredients.
At the end of 2018, Afrah, who was studying there, returned to Singapore after her father passed away. Jung decided to move to Singapore to be with her. They got married a few months later. 
As a new Muslim-revert, Jung struggled to find halal Korean options in Singapore. Finding himself increasingly missing the authentic dishes of his homeland, he decided to continue working on Muslim-friendly Korean dishes to satisfy his cravings. 
After years of experimentation and serving his creations to Afrah and her family, Jung felt that he finally perfected his recipes. 
In 2021, the husband-and-wife duo decided to launch Meokja by Jungga as an online home-based business, serving Korean favourites such as budae jjigae (army stew) and jjajangmyeon (noodles in black bean sauce), using only Muslim-friendly ingredients. 
Fun fact: Meokja means "let's eat" in Korean. Afrah had to quit her job as a senior teacher in a pre-school to support the new business venture.
In just one year, the online business grew to encompass about 10,000 followers on Instagram. Bolstered by the strong support received, Jung and Afrah felt it was time to set up a physical cafe offering a complete Korean dining experience. 
Meokja by Jungga's physical iteration was born, opening its doors to customers last Sunday (Oct 9). Located at GR.iD, near Dhoby Ghaut, the cafe offers an extended list of items from its original online menu.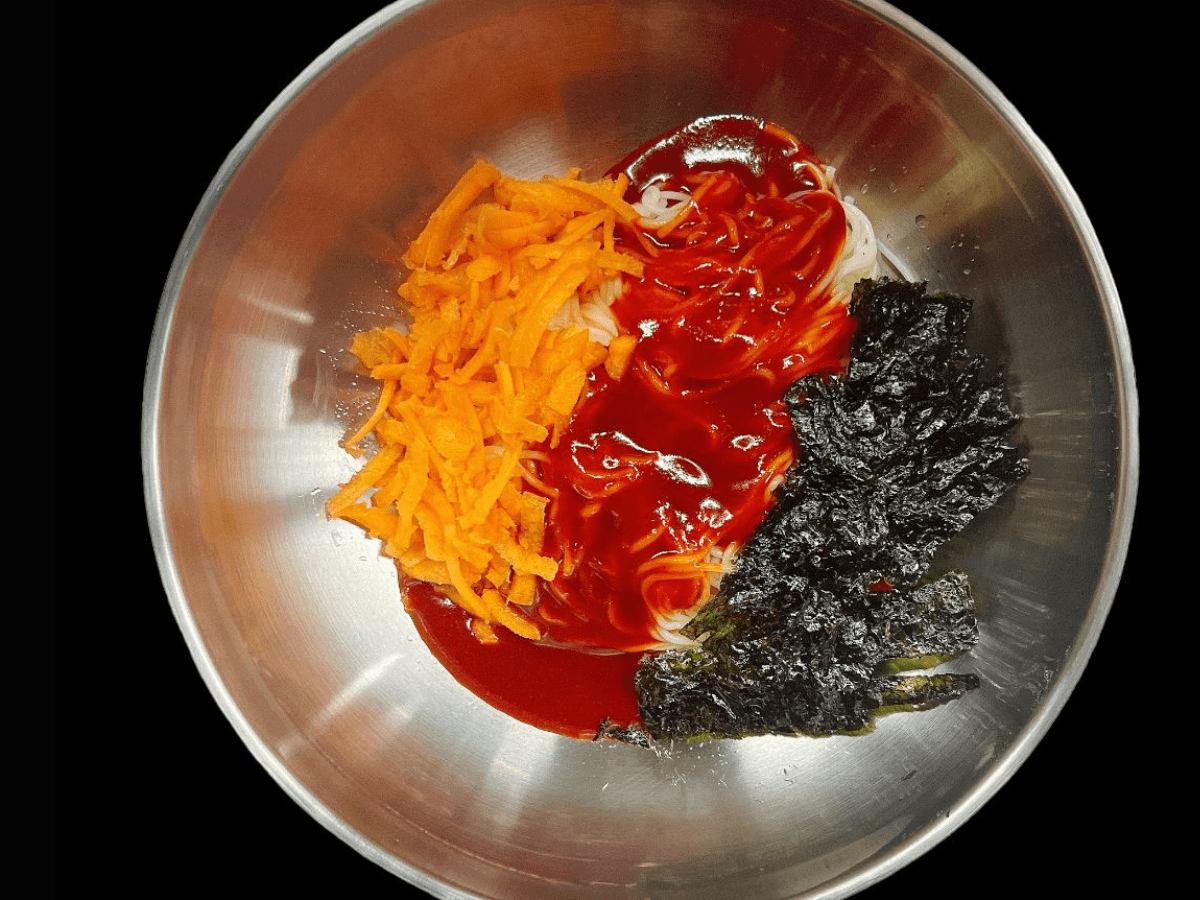 New on the menu is the bibim guksu (S$6.90 during weekday lunches; S$9 otherwise), a cold noodle dish popular in Korea. Served in a metal bowl, the noodle is seasoned with a sweet tangy sauce and served with chopped crunchy carrots and sliced seaweed. This vegan-friendly cold dish is a refreshing treat for Singapore's hot and humid weather.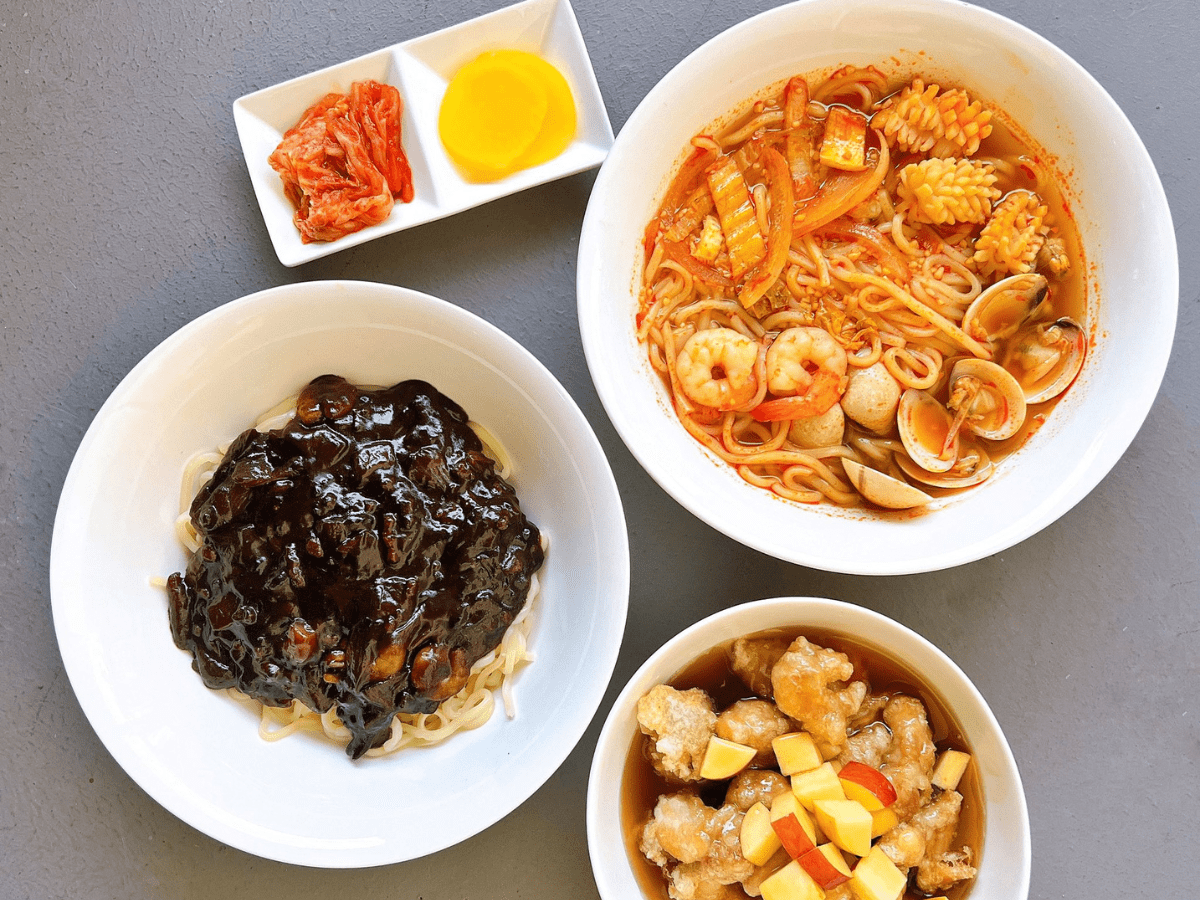 The cafe also features set meals, such as the JjamJja set (S$34 during weekday lunches; S$37 otherwise.) It comes with the aforementioned jjajangmyeon and jjamppong, a noodle dish with spicy seafood soup, as well as a sweet-and-sour chicken tangsuyuk as a side. Each set comes with two drinks, too.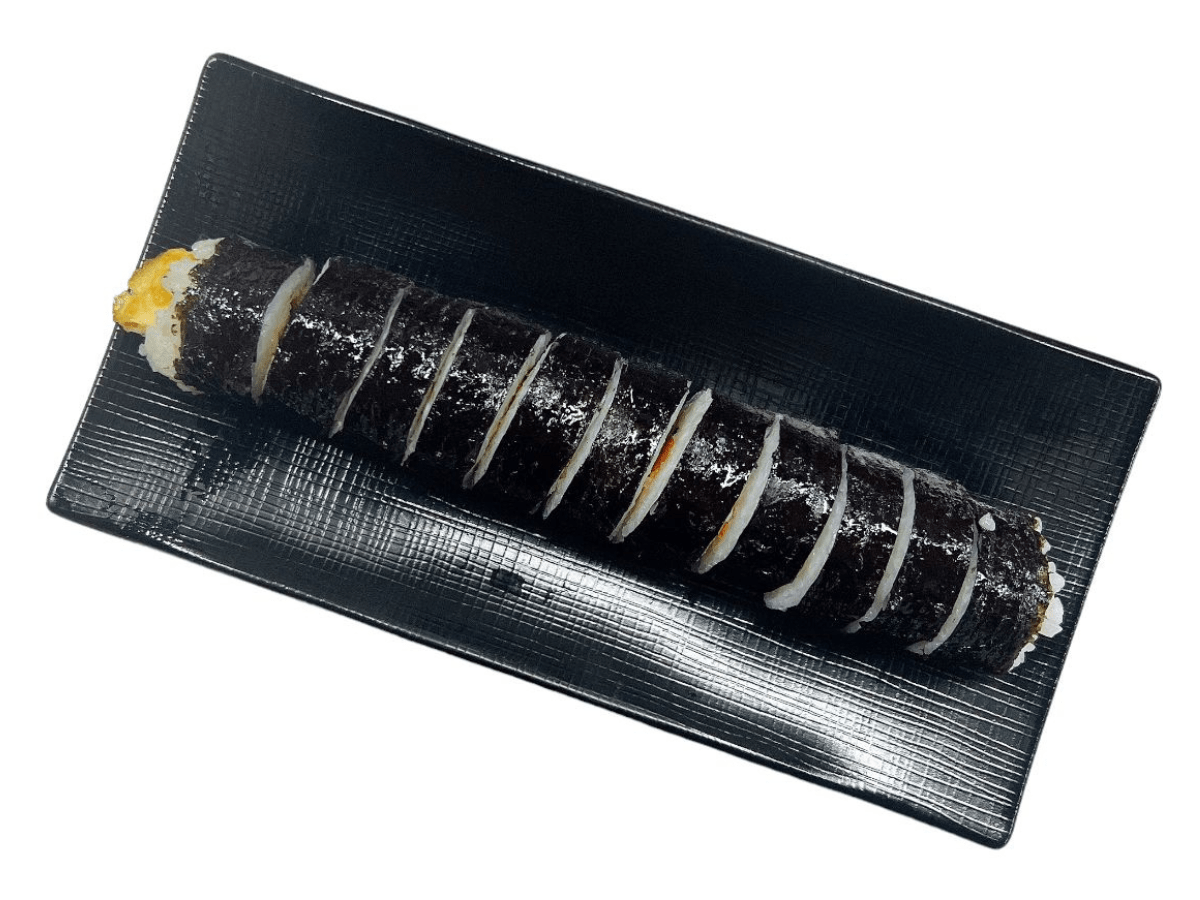 For light bites, the crowd favourite kimbap (S$4.90 for weekday lunches; S$7 otherwise) is sure to tantalise your taste buds. Each kimbap comprises a seaweed roll stuffed with rice, eggs, sausages, fresh radish, spinach and carrots, then sliced into bite-sized pieces. 
The launch of Meokja by Jungga has been successful so far, with the cafe receiving "an average (of about) 100 groups daily" in the first three days of operation. 
Nonetheless, the achievement comes on the back of plenty of challenges, such as renovation delays and difficulties importing made-in-Korea furniture for the dining area due to shipping restrictions. They also had to invest quite a bit of their own money.
Jung said: "The opening journey was not the easiest, especially financially. We are not a big corporation with oceans of funds." They managed to open the cafe after relying on their savings, loans and proceeds from the home-based business, he added.
To make matters worse, both of them fell ill just before the opening. Despite being sick, the pair postponed the opening only by a day, as they felt that "the show must go on". They didn't want to disappoint fans who have been eagerly anticipating the cafe's opening, he said.
Meokja by Jungga started from a love story, as well as a genuine desire to offer more Muslim-friendly Korean options to people in Singapore. If you're looking for a homely environment and an authentic taste of Korea with dishes cooked with sincerity, this is it.
Book a ride to Meokja by Jungga.
GR.iD, 02-03, 1 Selegie Road
Nearest MRT station: Dhoby Ghaut
Open: Monday and Tuesday, and Thursday to Sunday (10.30am to 3pm, 5pm to 10pm)
GR.iD, 02-03, 1 Selegie Road
Nearest MRT station: Dhoby Ghaut
Open: Monday and Tuesday, and Thursday to Sunday (10.30am to 3pm, 5pm to 10pm)