8 places to get cinnamon rolls in Singapore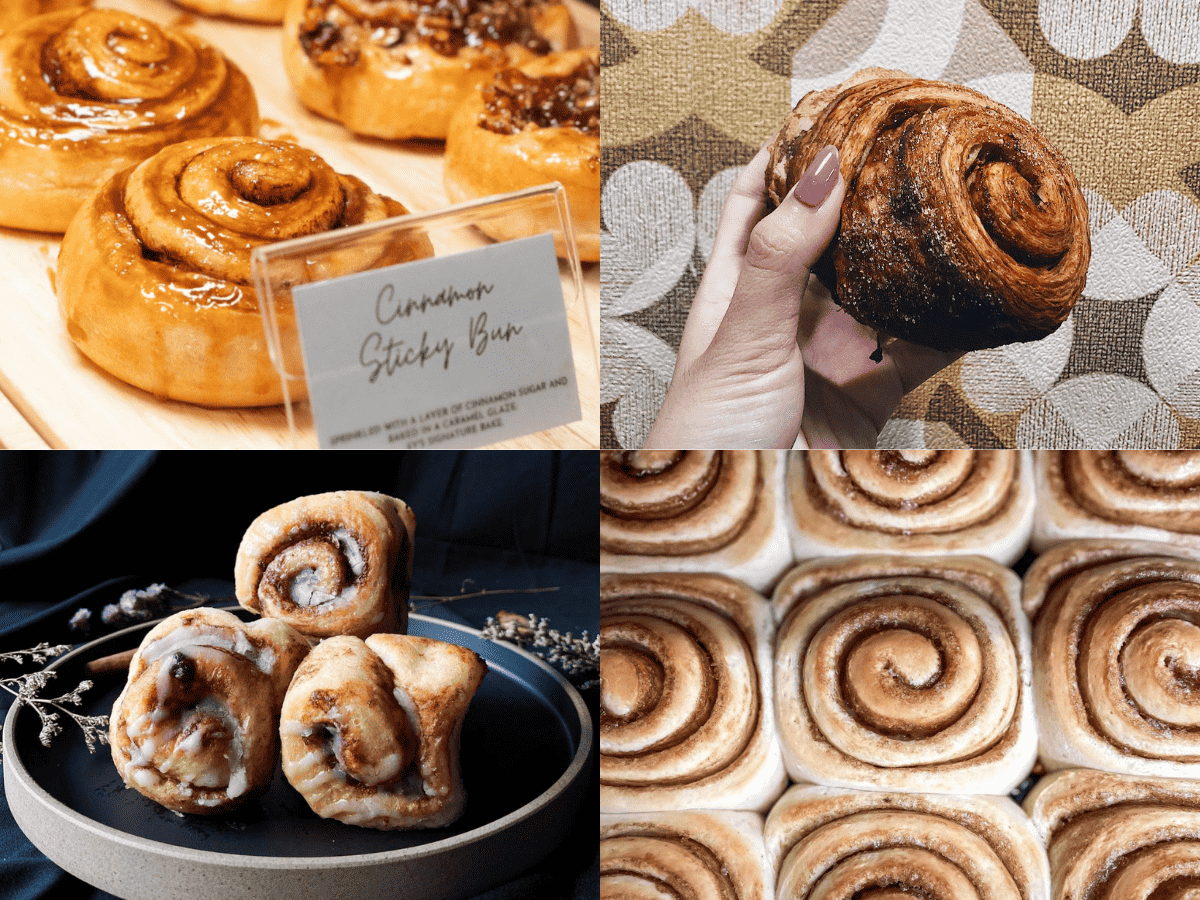 It's no secret that we Singaporeans have a sweet tooth, what with the abundance of dessert parlours setting up shop on our sunny island. 
Be they cakes, ice cream or pastries, we simply adore them all. 
But one baked treat, in particular, has our whole heart. It's none other than the cinnamon roll, a sticky and sweet creation with hints of spice. It typically sports a sugar-coated swirl, but bakeries have been spinning their own unique twist to the classic treat.  
The beloved confection now comes in different flavours, and is often dressed in a myriad of sauces and toppings, such as caramel or cream cheese frosting. 
Read on to find out where you can get your hands on one. 
1. Rrooll 
Multiple stores islandwide
Open: Operating hours vary across stores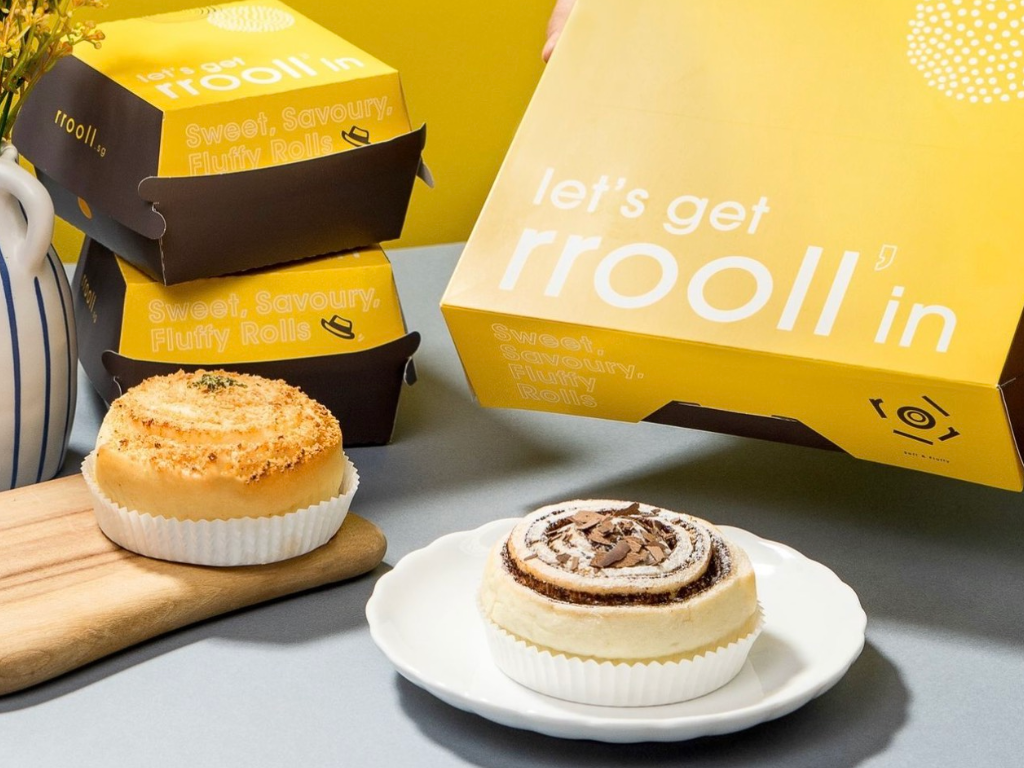 Why visit? You must've seen Rrooll's speciality cinnamon roll kiosks around Singapore, since it has multiple outlets islandwide. The halal-certified bakery first debuted at Jewel Changi Airport, and its popularity soon spurred the expansion of takeaway kiosks at various heartland locations. 
Each roll is baked to perfection, attested by its tedious dough-making and baking process. Not only are its prices affordable, but the fluffy bread also comes in several addictive flavours (think Milo dinosaur and Biscoff coffee). 
Price range: $
Crowd faves: If you're a stickler for tradition, you'll love the cinnamon classic (S$4). It features Indonesian cinnamon and brown sugar that's complemented by a dollop of cream cheese frosting. Chocolate lovers will enjoy the cocoa orange (S$3.70) that's a harmonious blend of tangy and sweet.
2. Cinnabon 
Raffles City, B1-60, 252 North Bridge Road
Open: Monday to Sunday (11am to 8pm)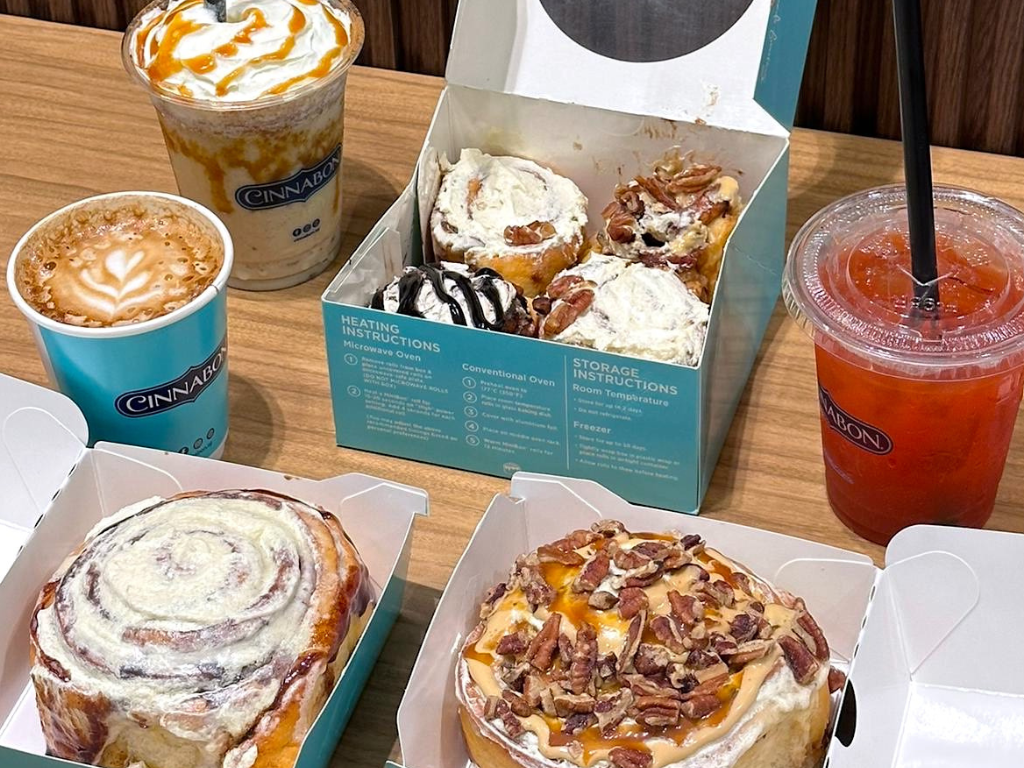 Why visit? Cinnabon's cinnamon rolls are highly sought after, and for a good reason. The American brand is famed for its sweet and gooey pastries, which come in gigantic portions and a whole lotta toppings. Imagine: Warm, pillowy breads drizzled with caramel sauce and ladened with crunchy pecans  – what's not to love? 
Price range: $
Crowd faves: The rolls come in three flavours: Classic (S$6.80 for original size, S$4.20 for mini), caramel Pecanbon (S$7.60 for original size, S$4.80 for mini) and mini Chocobon ($4.50). If you'd like to share the love with your pals, the Cinnabon 4 (from S$26.80 for regular rolls) and Minibon 4 (from S$16.30 for mini rolls) are fantastic for takeaway. 
The classic is a fan favourite. It touts a glaze made with Makara cinnamon, and is slathered in Cinnabon's signature cream cheese frosting.
3. Star Cinnamon
Bugis Junction, B1-K2, 200 Victoria Street
Open: Monday to Sunday (10am to 9.30pm)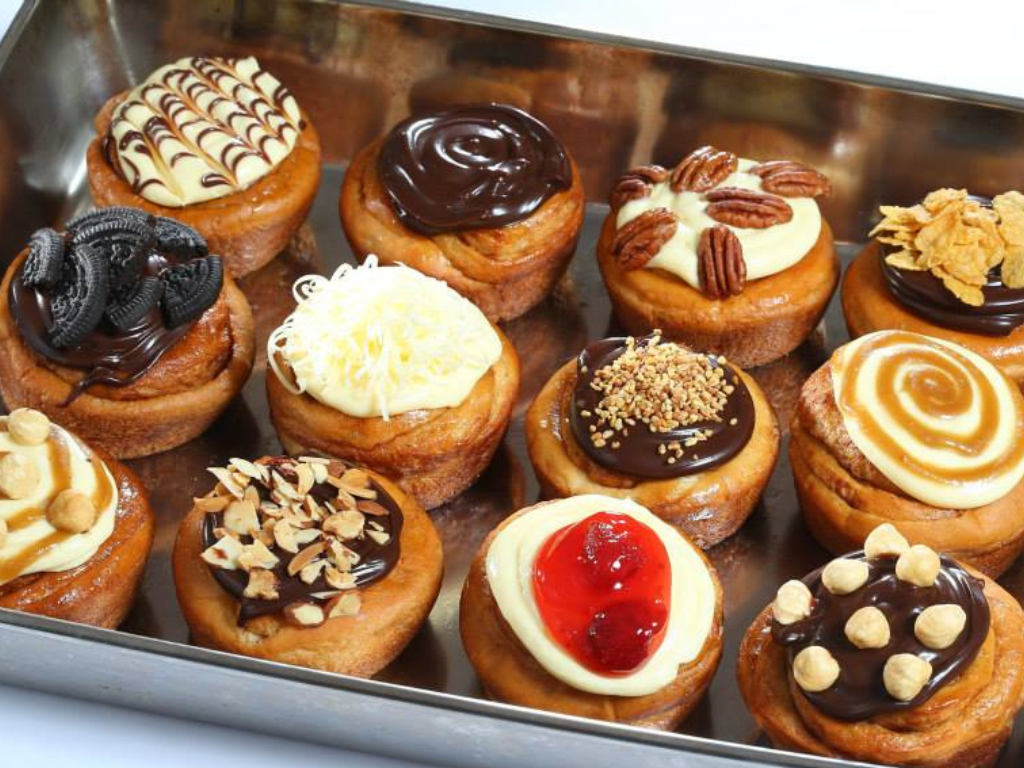 Why visit? Dare we say, Star Cinnamon is one of the "OG" cinnamon roll brands in Singapore. Situated in the basement level of Bugis Junction, it's been there for as long as we can remember, offering delicious pastries that are a perfect midday treat and a yummy indulgence after a hectic day. 
Walk past the store, and you'll be greeted by the fragrant scent of cinnamon. The tantalising display of rolls will immediately lure you in, after which you'll be torn on which flavour to go for. 
Price range: $
Crowd faves: Take your pick from more than 20 different varieties, such as the tiramisu deluxe ($3.50), gula melaka coconut (S$3.50) and strawberry marble (S$3.50). You'll love the chocolate peanut butter fudge (S$3.50), which sees a layer of decadent peanut butter and chocolate atop sticky dough. If you can't decide, fret not. The box of six (S$17) or nine (S$24) allows you to choose an assortment of flavours. Go ahead, we won't judge.
4. Three Nuts Baker
Space @ Kovan, 01-14, 9 Yio Chu Kang Road
Open: Wednesday to Friday (9am to 6pm), Saturday and Sunday (9am to 4pm)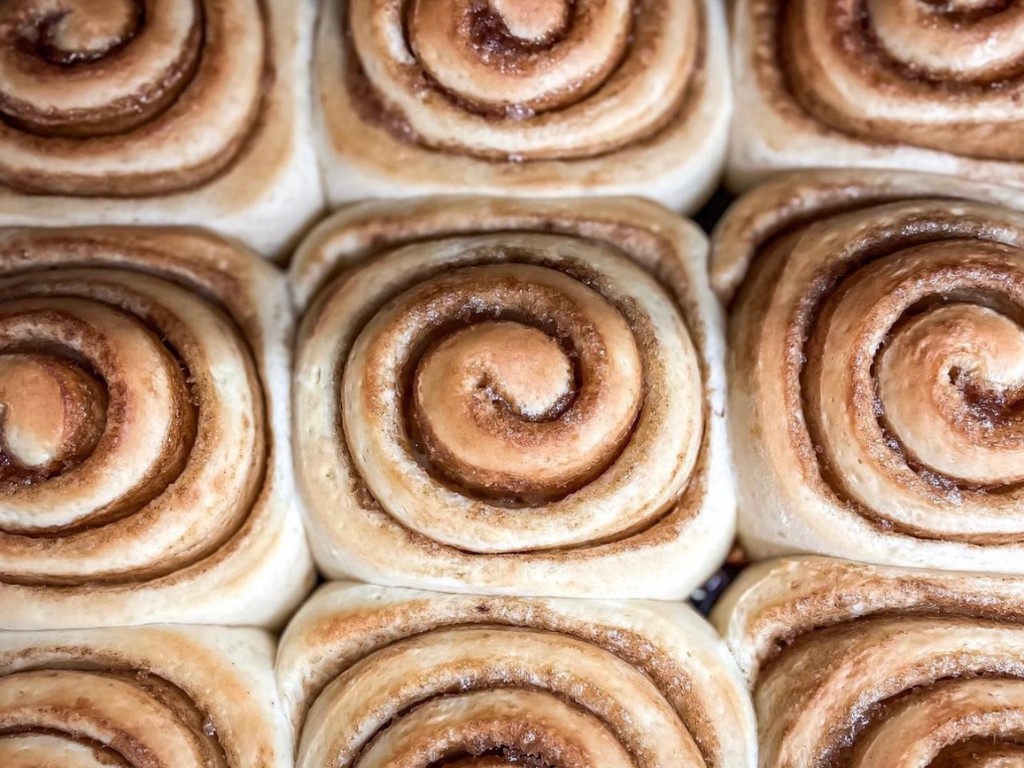 Why visit? Run by a husband-and-wife team, Three Nuts Baker is a Melbourne-inspired cafe that serves oh-so-pretty pastries, buns and cakes. Its bestseller is undoubtedly the cinnamon rolls, which are adorned with walnuts and a rich caramel glaze. 
Price range: $
Crowd faves: Don't sleep on the gooey cinnamon roll (S$5), which houses a thick cinnamon filling. Despite its unassuming appearance, each billowy roll will have you craving more. Thanks to the roasted walnuts, every bite offers a mouthwatering, nutty flavour. There's also a sweetness from the glaze, which wonderfully balances out the nuttiness. Note that it sells out fast, so head down to the outlet early. 
5. Carpenter & Cook
19 Lorong Kilat Road, 01-06
Open: Monday to Sunday (8am to 6pm)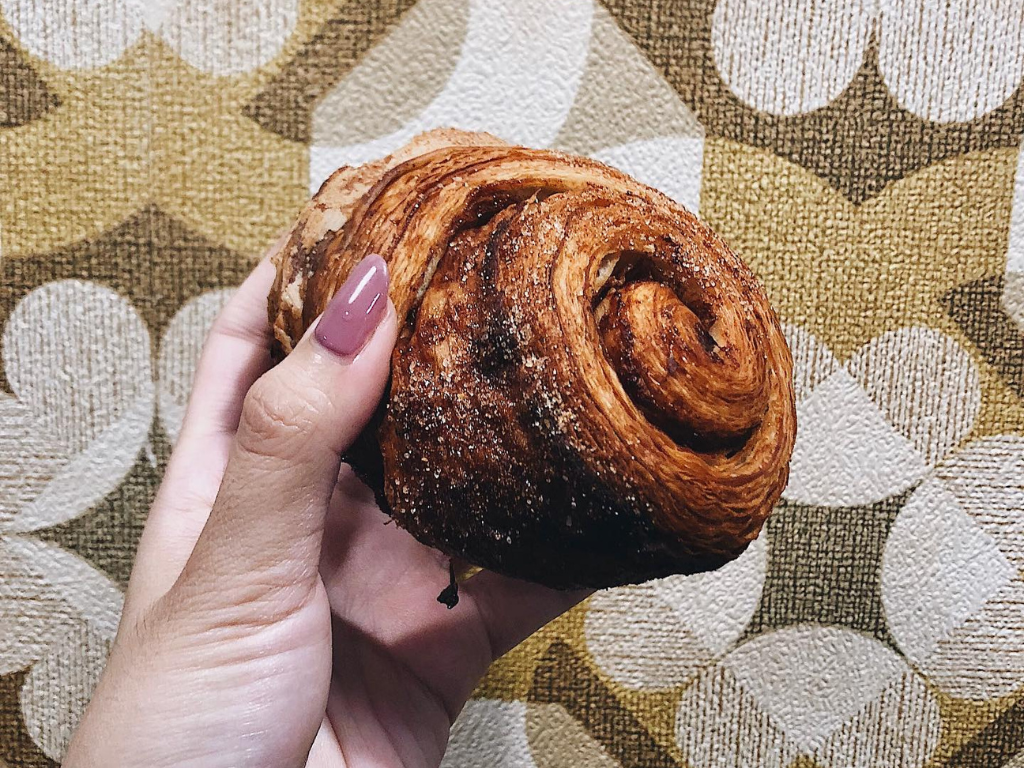 Why visit? Carpenter & Cook is a quaint vintage home store and artisan bakery cafe that sells fresh homemade baked goods and confectionery. It's more well-known for its Instagram-worthy tarts and cakes, and there's only one type of cinnamon roll on its menu, but it doesn't disappoint.
The roll served here is a crispy pastry with a warm and soft interior — slightly different from other cinnamon rolls available in Singapore.
Price range: $
Crowd faves: The no-frills cinnamon roll (S$6.50) is best enjoyed with a cuppa. Yes, it isn't decorated with eye-catching, vibrant toppings, and it doesn't contain any (sometimes cloyingly-sweet) filling. Instead, it's an unpretentious bread boasting a flaky, croissant-like crust. As it slowly unravels, it reveals a billowy, buttery centre that is sure to work up an appetite.
6. The French American Bakery
49 Haji Lane
Open: Monday to Sunday (11am to 7pm)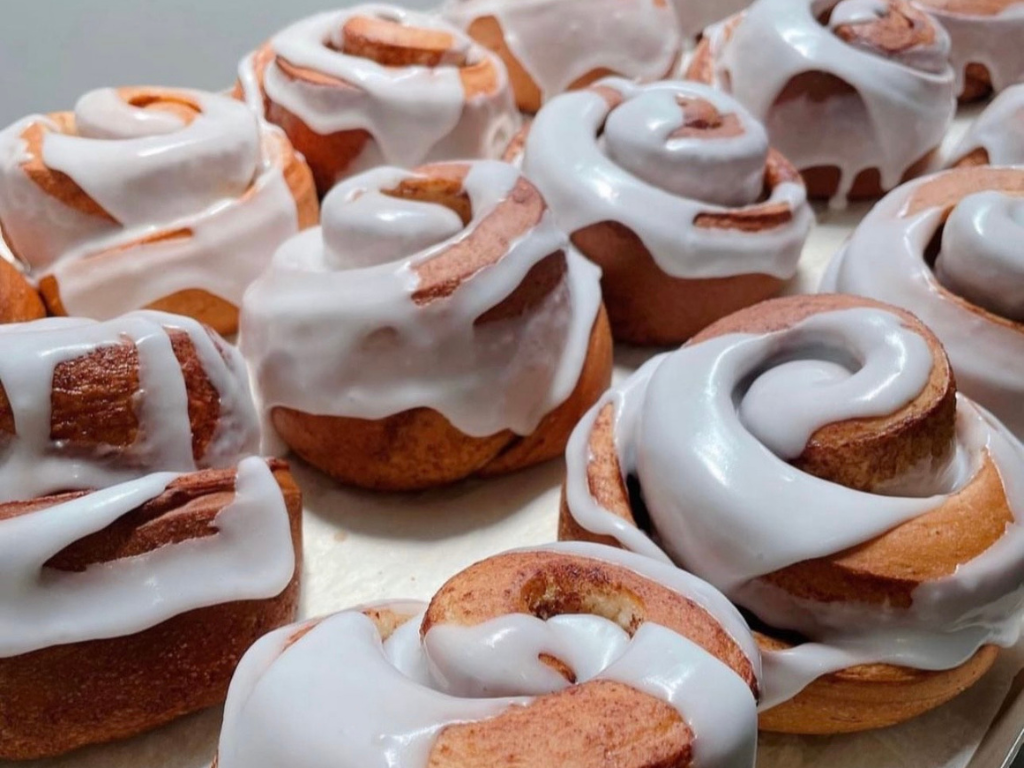 Why visit? Nestled in the heart of Haji Lane, The French American Bakery is a Muslim-owned establishment renowned for its Instagram-worthy delights. The gorgeous takeaway shop is a joy to visit, thanks to its rustic interior coupled with the enticing aroma of buttery treats. 
Here, you can find all things French, such as loaf cakes, croissants and Danish pastries. But for us, our go-to will always be the cinnamon bun. Note that the bakery isn't halal-certified. However, the goodies are Muslim-friendly and don't contain alcohol or gelatin. 
Price range: $
Crowd faves: The cinnamon bun (S$5.60) is certainly dressed to impress. Not only does it come in an enormous size (perfect for sharing!), each one is a pretty lil' thing that's laced with a butter and cream cheese spread and topped with a picture-perfect drizzle of frosting.
7. Queky Bakery
Pinewood Gardens, 21 Balmoral Park
Open: Operating hours vary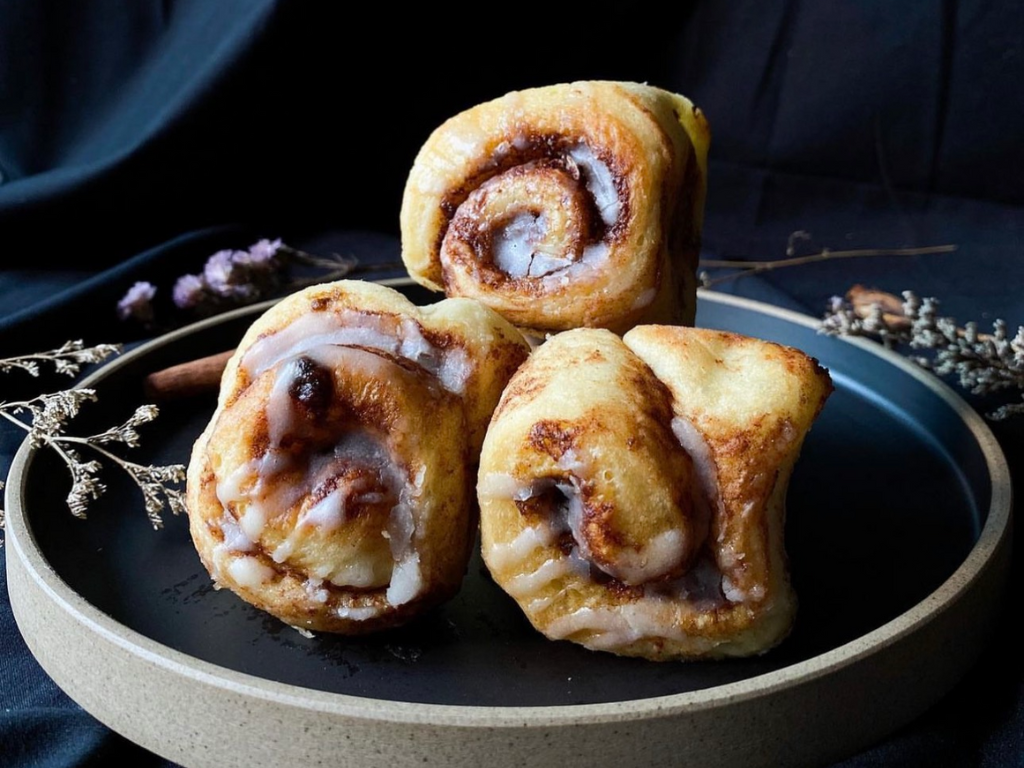 Why visit? Birthed during the Covid-19 lockdown, Queky Bakery is a home-based business that quickly rose to fame for its cinnamon buns. They're moist and decadent delicacies, topped with a special icing that will have you reaching for a second bite. 
The buns are also available in mini portions, which small eaters will appreciate. The best part about Queky Bakery's baked goods is that they're all made to be healthier. The buns are baked with less sugar, and yet still feature a perfect amount of sweetness. 
Note that the bakery operates on a preorder basis and slots are full till mid-April. 
Price range: $$
Crowd faves: The fluffy cinnamon buns (S$18 for a box of six) are a signature at Queky Bakery. Best served warm, they are just the right amount of soft and sticky to satisfy that craving. Be warned, though: They're incredibly addictive.
8. Bread & Butter by XY
Oxley Tower, 01-04, 138 Robinson Road
Open: Monday to Friday (7am to 3pm), Saturday (7am to 1pm)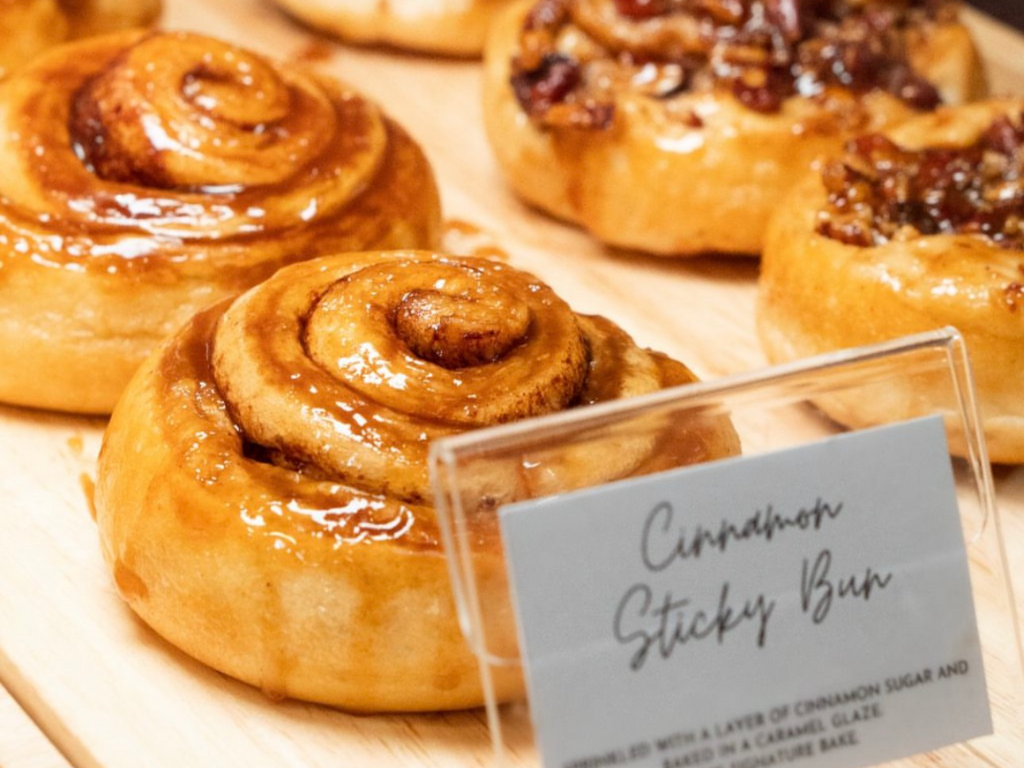 Why visit? Bread & Butter by XY is most recognised for its chic and eye-catching all-pink interior. It first started as a home-based enterprise during the pandemic, but has since transitioned to a brick-and-mortar space at Oxley Tower in the Central Business District.
Helmed by owner Xinying, some of the bakes are inspired by her loved ones' favourites. Besides the cinnamon sticky buns, which also double as the brand's logo, there are loaves, brownies and cookies on offer.
Price range: $
Crowd faves: The signature cinnamon sticky buns (S$3.90 for singles, S$42.80 for a set of 12) are amazing for the 'gram, thanks to the picturesque rolls that are lightly dusted with cinnamon sugar and topped with an immaculate glaze. Believe us, they taste as good as they look.
---