Cinnabon's famous sticky, gooey cinnamon rolls now available in Singapore; draw long queues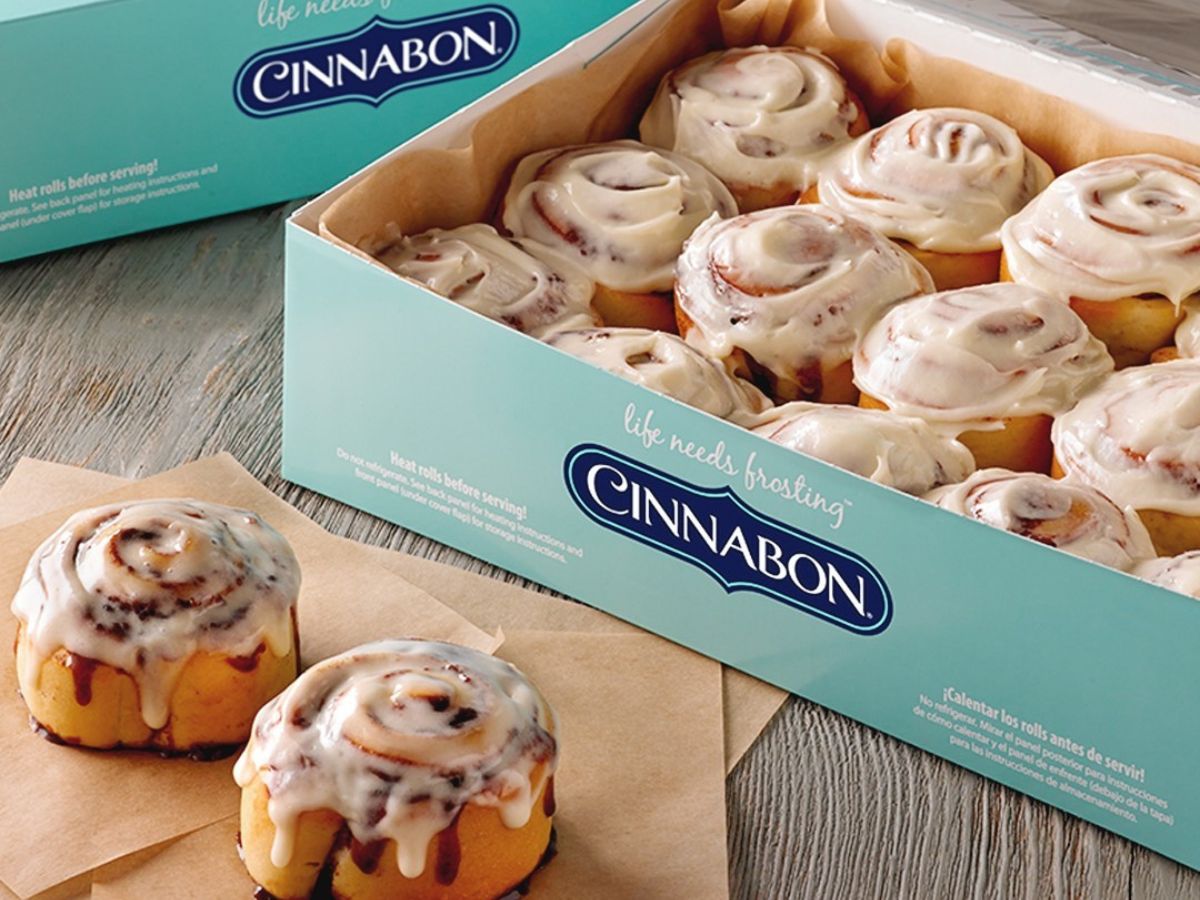 Move aside Shake Shack, Eggslut, and Mister Donut, the hottest new kid in town has just landed! We're talking about famed American cinnamon roll chain, Cinnabon — its first Singapore outpost officially opened on Feb 9.
The international chain was first established in Seattle in December 1985, and later went on to expand all over the US. Today, it has more than 1,200 locations in some 48 countries across the globe.
Cinnabon's foray into Singapore sees it taking up a cosy spot in the basement of Raffles City. It's an intimate space with wood furnishings that can seat up to 20 customers.
While its official opening is Feb 9, it had a soft launch on Feb 7.
There's just something about international brands that whips Singaporeans into a frenzy; many willingly queue for hours just to get their hands on the next trendy thing. And this famous brand is no exception.
The first day saw lines starting from as early as 9am, two hours before the slated opening time. 
When HungryGoWhere visited the store during lunchtime on Feb 9, the queue situation was hectic. While the line outside the B1 shopfront looked manageable, it extended all the way to B2, where it stretched on into the distance.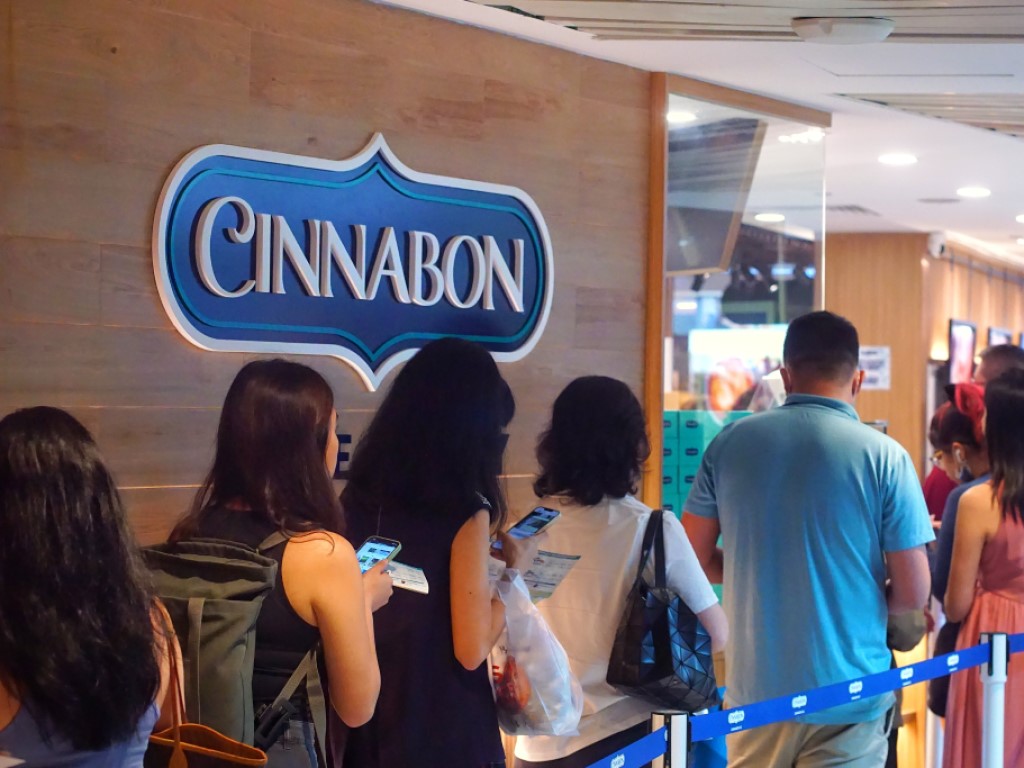 That said, cinnamon roll fiends might be willing to brave the crowd just to get their hands on an iconic Tiffany-blue box of decadent buns, especially with the tantalising options available.
If it's your first time and you want to know what to order at Cinnabon in Singapore, the Cinnabon classic (S$6.80 for original size, S$4.20 for mini) would be a good choice — who doesn't like soft, chewy dough with a glorious slathering of cream cheese frosting?
There are also variations with a little more pizzazz, such as the caramel-and-nut-encrusted caramel Pecanbon (S$7.60 for original size, S$4.80 for mini) and the chocolate-laden mini Chocobon (S$4.50).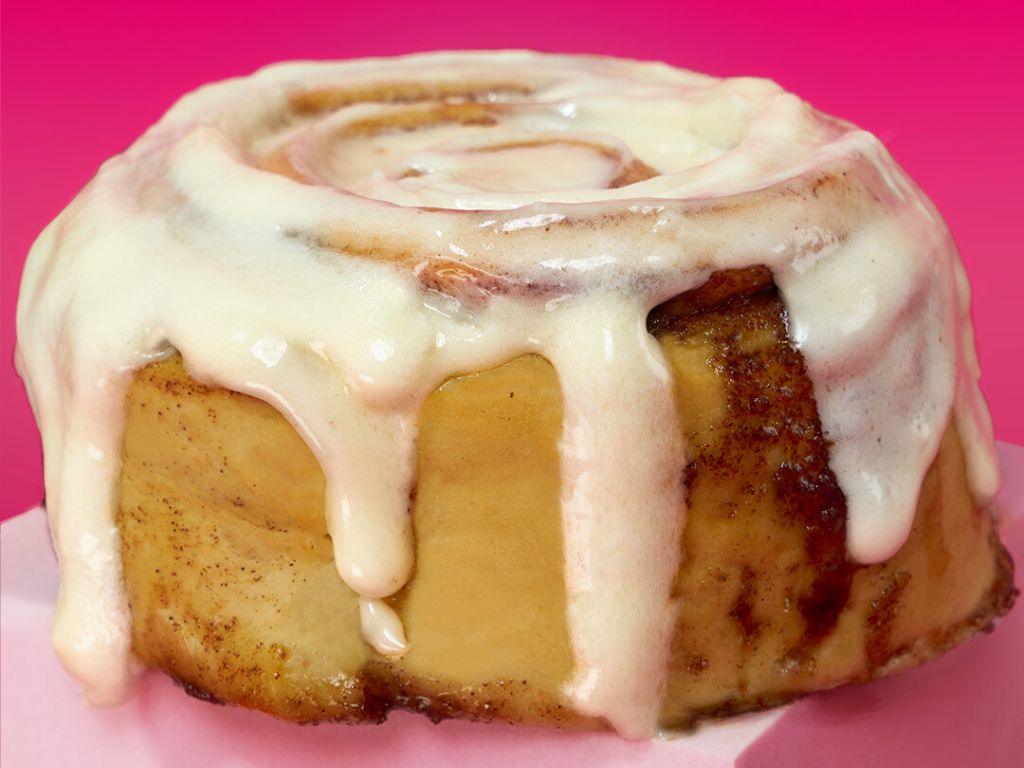 To make your queuing more fruitful, you can also choose to grab more at one go with the signature Cinnabon 4 (from S$26.80 for regular rolls) or the Minibon 4 (from S$16.30 for mini rolls). You can even mix and match your desired flavours if you wish.
But, due to high demand, each customer will be allowed to buy only three boxes each, until further notice. All products are available while stocks last.
For those who prefer more moderate portions, Cinnabon has also introduced two bite-sized snacks for handy on-the-go munching — Roll-On-The-Go (S$4) and the crunchy Cinnachips (S$4), which make use of excess odd ends.
To cap it off, there is an assortment of drinks to wash everything down. The most interesting of the bunch is its signature "Chillattas"(S$6.50) — essentially frozen blended beverages available in flavours such as mango, Oreo and cinnamon caramel.
Besides the "Chillattas", the Singapore outlet will also offer an exclusive Sweetheart Lemonberry (S$4.50), a refreshing strawberry lemonade.
On whether Cinnabon Singapore is halal-certified, it mentioned in a reply to an Instagram comment that it is in the process of obtaining halal certification.
However, all the ingredients currently used at Cinnabon do not contain pork, lard or alcohol. The buns are also made from scratch at the outlet.
Raffles City, B1-60, 743 North Bridge Road
Nearest MRT station: City Hall
Open: Monday to Sunday (11am to 8.30pm)
Raffles City, B1-60, 743 North Bridge Road
Nearest MRT station: City Hall
Open: Monday to Sunday (11am to 8.30pm)