8 places to break fast this Ramadan for under S$10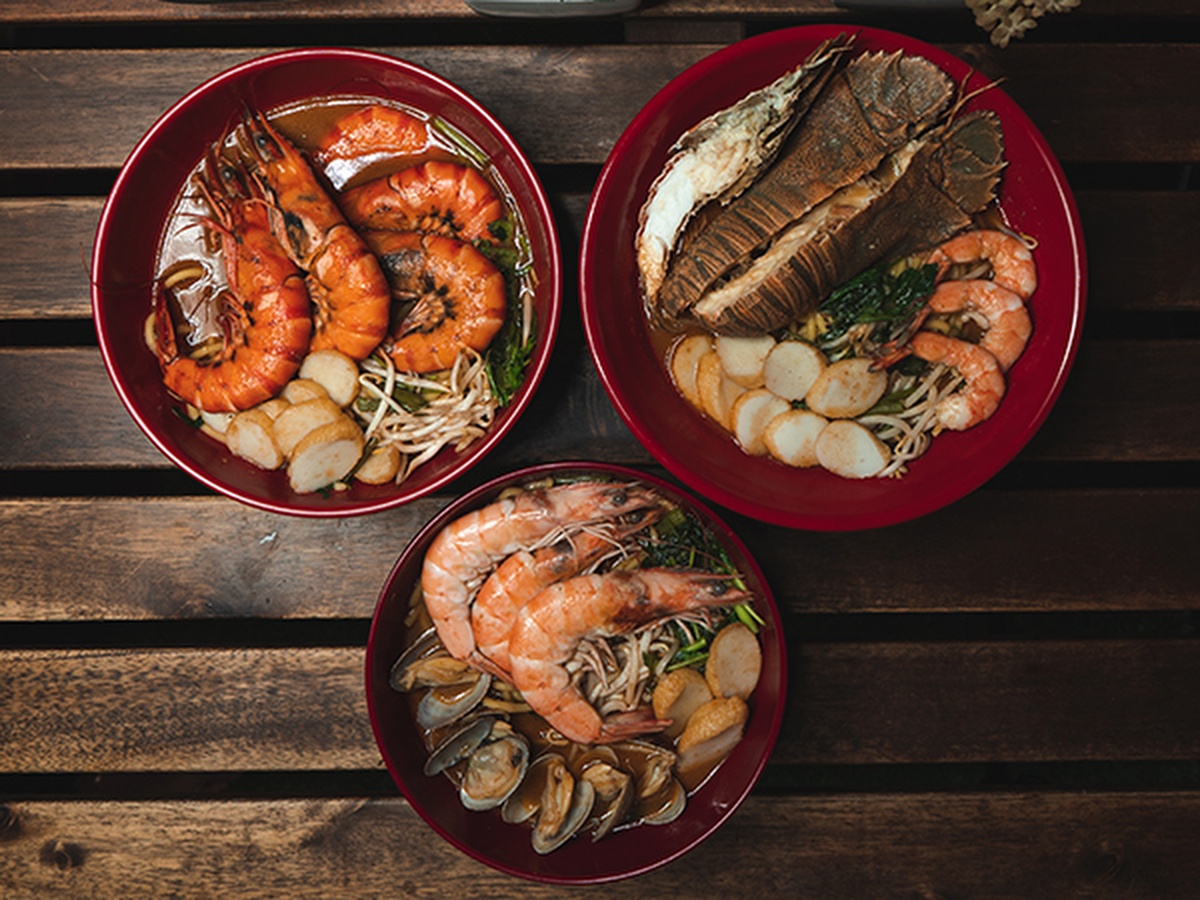 With Ramadan starting on March 23 in Singapore this year, you may be on the lookout for places to break your fast after a long day at work. Or perhaps you simply want to gather with your friends and family to bond over some good food. 
While our island has no shortage of places where you can break fast, affordability may not always be on the cards. Especially with rising food costs and general inflation.
That's where we're here to help. We've scoured the island for some wallet-friendly iftar eats during Ramadan that'll satiate all taste buds and stomach sizes. 
1. Seafood fish soup from Deanna's Kitchen – S$9.50
214 Jurong East Street 21
Open: Tuesday to Sunday (10am to 8pm, or 4pm to 8pm for Ramadan hours)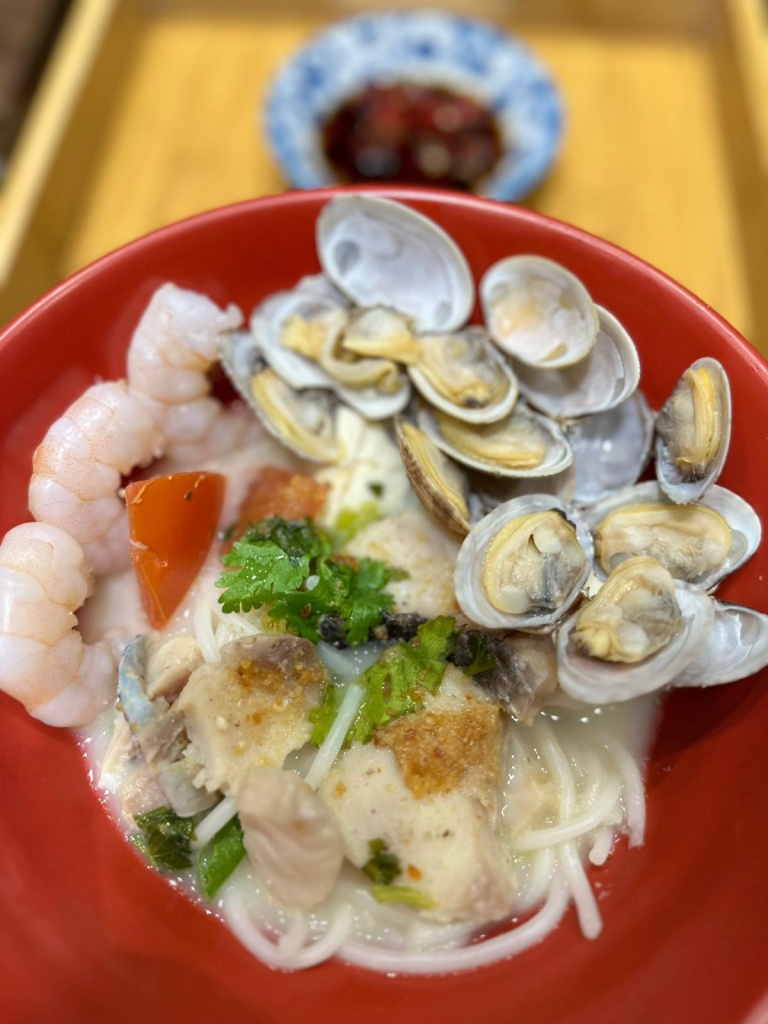 If you're a fervent prawn noodle fan, then Deanna's Kitchen should most definitely be on your radar. Owners Asri and Denise have been serving sizeable portions of its halal umami-packed prawn noodles at extremely affordable prices. 
Its latest dish, seafood fish soup (available only during Ramadan and limited to 30 bowls a day), is jam-packed with flavour and seafood such as fish, prawns and clams at just S$9.50. 
Beyond sharing their love for good food, the couple is big on giving back to society and previously gave away bowls of regular prawn mee to customers who might be struggling to afford a meal, no questions asked. 
If you are also struggling to afford a meal to break your fast this year, Deanna's Kitchen is offering free bowls of its regular prawn mee (worth S$4) during Ramadan. You can request for a bowl at its Jurong stall from March 23 to April 20 and it will be served, no questions asked, as it has done since 2017. 
While the stall still charges a takeaway fee of S$0.30, it suggests bringing your own container to circumvent this.
2. Beef noodles (large) from Thaksin Beef Noodle – S$10 
Seah Im Food Centre, 01-44, 2 Seah Im Road
Open: Monday to Sunday (10am to 9pm)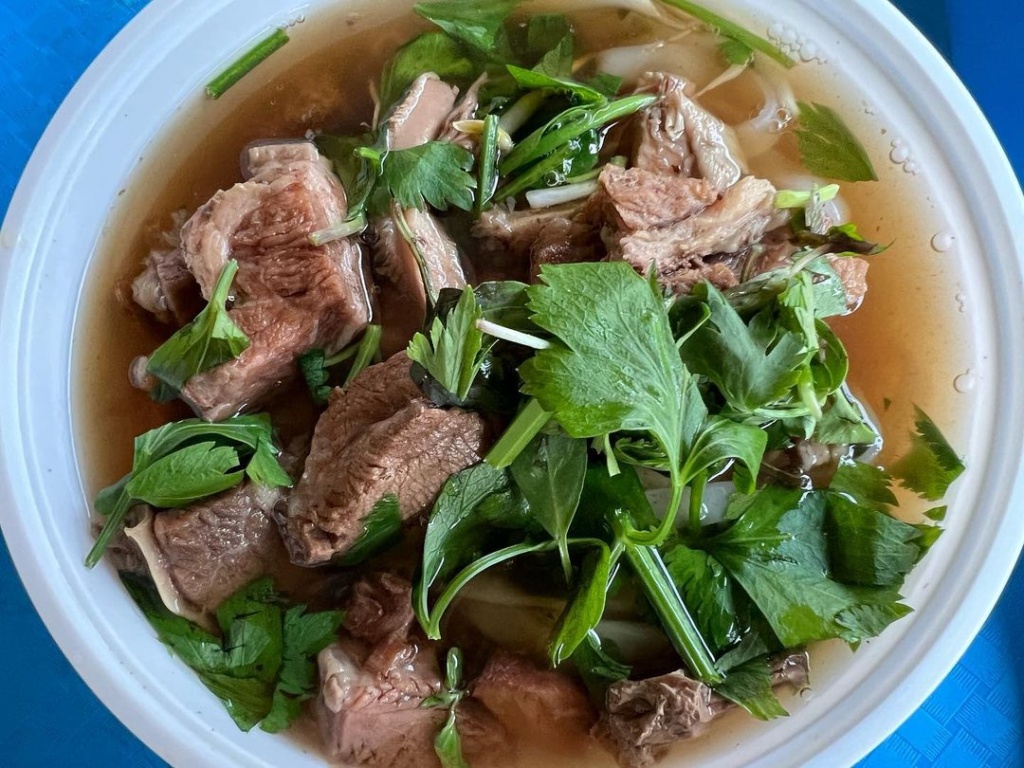 If Thaksin Beef Noodle rings a bell, it's because the place is named after former Thai prime minister Thaksin Shinawatra and features hearty halal Thai-styled beef noodles. In fact, the former dignitary even visited this humble hawker store back in 2018. 
Thaksin's beef noodles (the store's, not the former prime minister's) come with a flavourful beef broth and are topped with generous portions of beef imported from Australia and Brazil. Its owner Jaesen Ng had picked up the recipe from a Thai lady who used to sell beef noodles at the popular shopping outlet MBK in Bangkok. 
Choose from a variety of size options, but if you're feeling it, definitely get the biggest bowl (S$10) for the greatest bang for your buck. With the former prime minister himself giving a thumbs up to these beef noodles, why not try a bowl for yourself if you're in the area?
3. Wanton noodles from Puncak Best Noodles Halal – S$6.30
05-93/4, Far East Plaza, 14 Scotts Road
Open: Monday, Wednesday to Friday and Sunday (11.30am to 8.45pm), Saturday (11.30am to 9.15pm)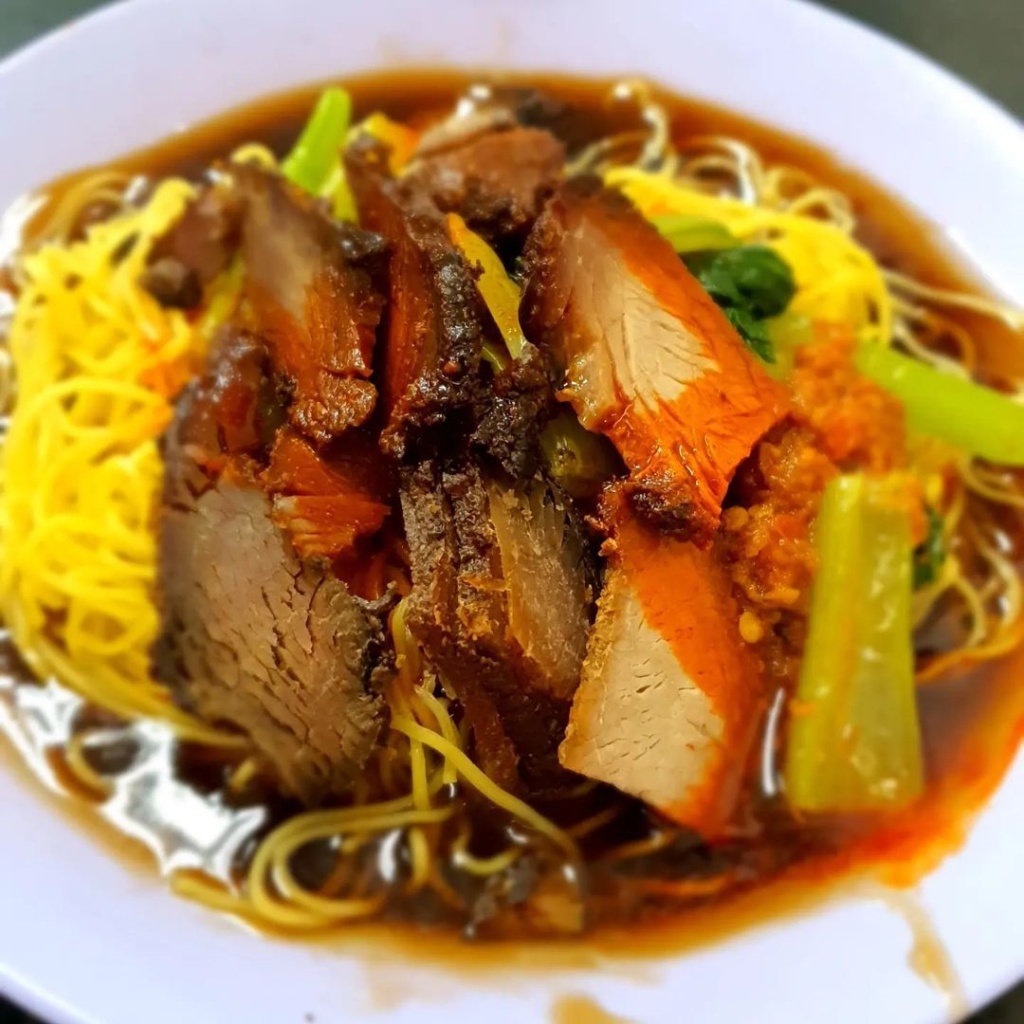 Every true-blue foodie knows that in the middle of the most seemingly expensive locations, there would be at least one or two hidden places that serve up the best food at the most unimaginable prices. Puncak Best Noodles is one of those tucked-away gems, still serving up wholesome portions of Chinese-Muslim zi-char-style food at very accessible prices.
Helmed by a team of Hong Kong zi-char-trained chefs, you can be sure of Puncak's dedication to quality. 
Go for the signature wanton noodles (S$6.30) but have it with its special sticky, thick honeydew sauce (mostly honey, not so much honeydew) that is satiating and full of umami. If you're particularly famished, you can add a side of fried wantons (S$7.30) to make your meal even more satisfying.
4. Mee hoon/mee/kway teow/maggi goreng combo from Adam's Delights – S$7 
Stall 11, Adam Road Food Centre, 2 Adam Road
Open: Monday to Friday (9.30am to 9pm)
If you're looking for one of the most value-for-money food places, then Adam's Delight at Adam Road Food Centre has to be its poster child. For less than S$10, indulge in a huge portion of halal mee hoon/mee/kway tiao or maggi goreng, fries, fried egg and mutton that promises flavour, fullness and a satisfying iftar meal. 
Having fries with carbs might be quite full-on, but trust us – the sweet and salty mutton gravy, combined with the cheese and mayo drizzle on the fries is well-worth every calorie. It's so good, you'll make space — even if there isn't quite any left!
5. Char kway teow (large) from 786 Char Kway Teow – S$6.50
01-28, Bukit Merah View Market & Hawker Centre, 115 Bukit Merah View
Open: Saturday to Thursday (12pm to 8pm)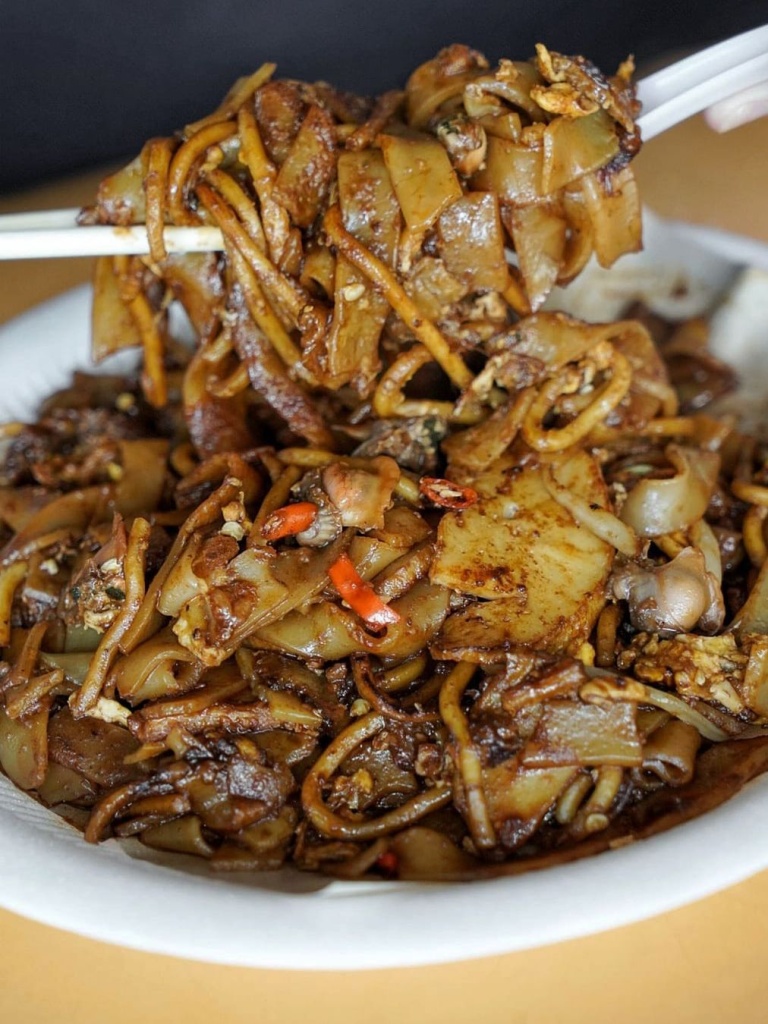 Despite having opened for a few years now, 786 Char Kway Teow, owned by a Muslim convert, is still commanding strong crowds. If you're in need of a quick iftar meal, its long queues might deter you. But if you've got time to spare and a very strong craving for some wok-hei-heavy char kway teow, then 786 Char Kway Teow will be worth the wait.
Owner Anis was a former banquet chef so he is well acquainted with what it takes to create the charred and savoury flavours commonly found in char kway teow, even without the use of pork or lard. 
For S$6.50, indulge in a large portion of halal char kway teow that comes with the usual – beansprouts, fishcake and cockles. You can even add cockles for an extra S$2 and still stay well below the S$10 budget.
6. Rojak from Habib's Rojak – S$7
Stall 68, Ayer Rajah Food Centre, 503 West Coast Drive
Open: Monday to Sunday (11am to 10pm), closed on alternate Mondays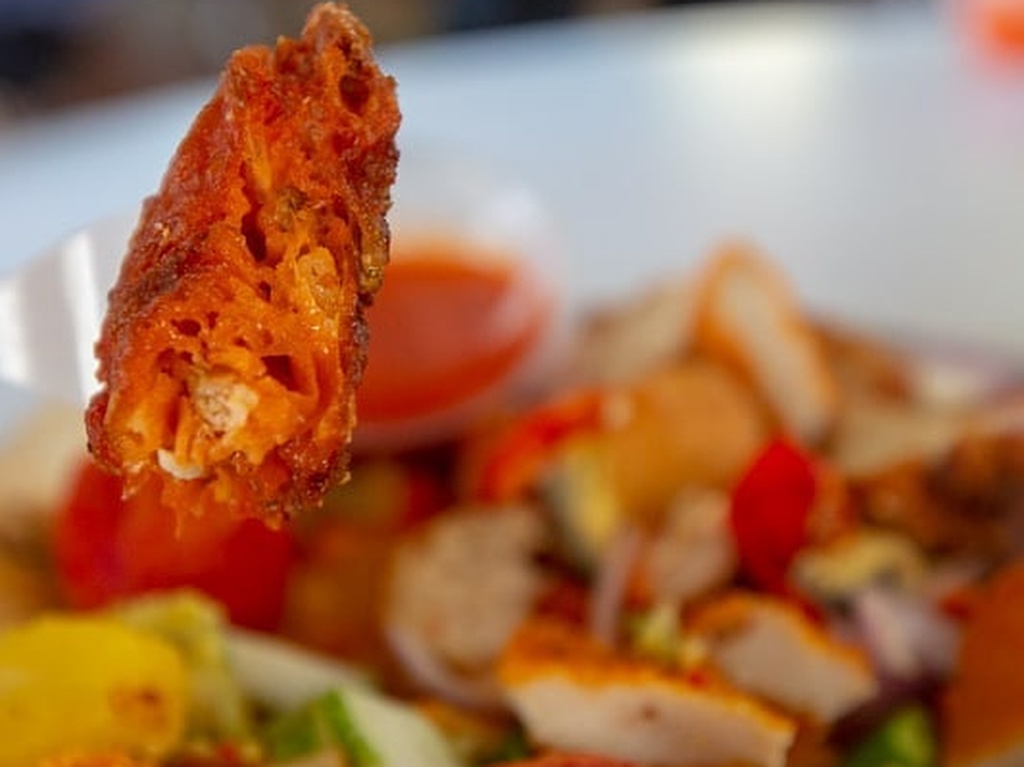 Habib's Rojak is helmed by owner Habib Mohamed who took over the business from his father. The store is so named because his father had named it after him when he was born.
Established for more than three decades, it is well-known among the community for serving up the best and most authentic handmade Indian rojak. 
Prices of items start from 70 cents, so depending on your final selection, you can easily have a filling meal for S$7 or even less. Just make sure you keep count as you pick the items, if you want to stay within budget! 
The crowd favourites include its coconut fritters and crispy prawn fritters. And whatever you do, do not forget to enjoy your picks with its sweet and savoury dipping sauce. It comes with a smattering of chopped peanuts, and isn't spicy.
7. Gado Gado from Kampong Glam Cafe – S$4
17 Bussorah Street
Open: Monday to Sunday (8am to 2am)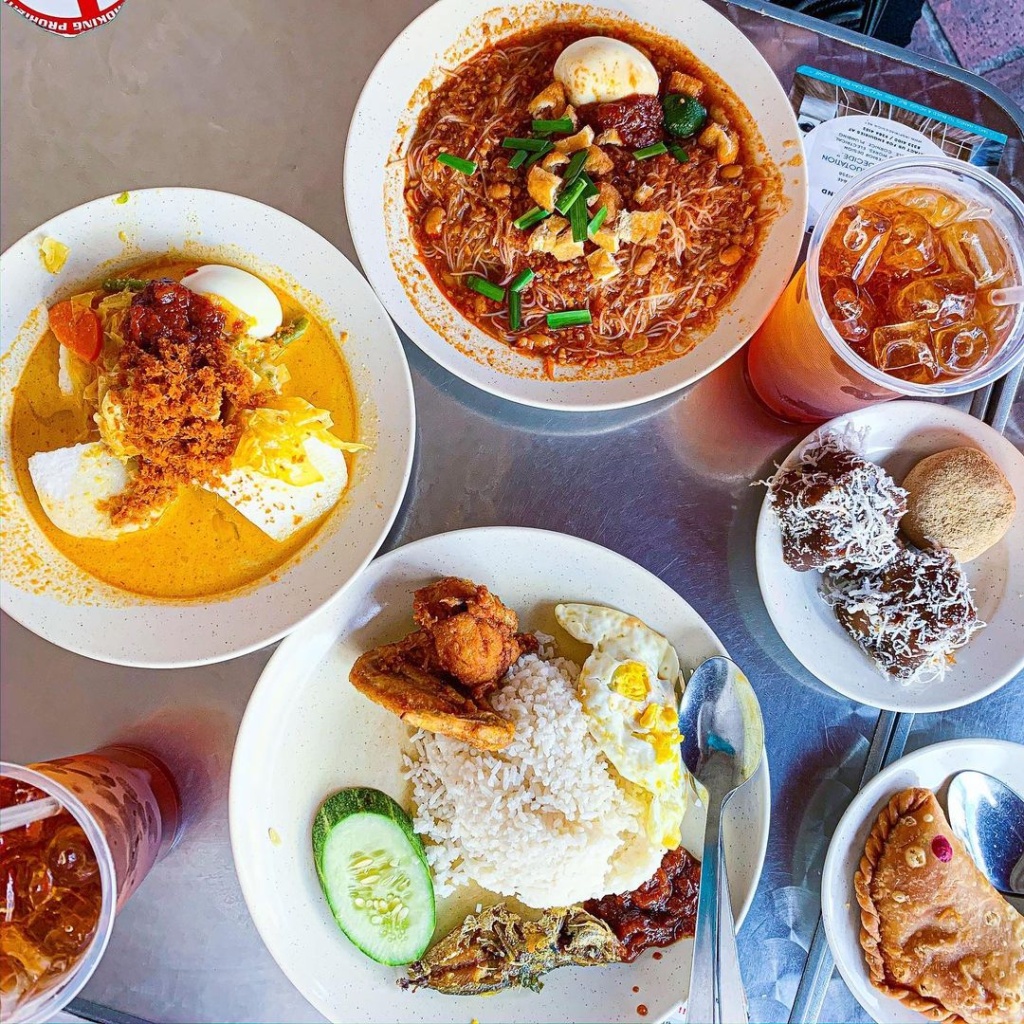 Stuck somewhere central and looking for a cheap, affordable bite that'll keep you satiated till you reach home? Kampong Glam Cafe, situated right in the middle of the busy Bussorah Street, has some of the most affordable dishes in the area despite it being a touristy district.
Its gado gado and tahu goreng (both S$4) are simple, delicious and filling enough for its price point. If you prefer more carbs for your iftar meal, it also has a selection of more substantial mains, such as mee goreng, roti john and nasi lemak. 
The only downside is that with the crowds it attracts, you could find yourself in quite a long queue during peak hours or seated back-to-back with adjacent tables.
8. Fried Carrot Cake at Green Sky Fried Kway Teow – S$5 
01-14, Bedok Corner Food Centre, 1 Bedok Road
Open: Friday to Wednesday (12pm to 9pm)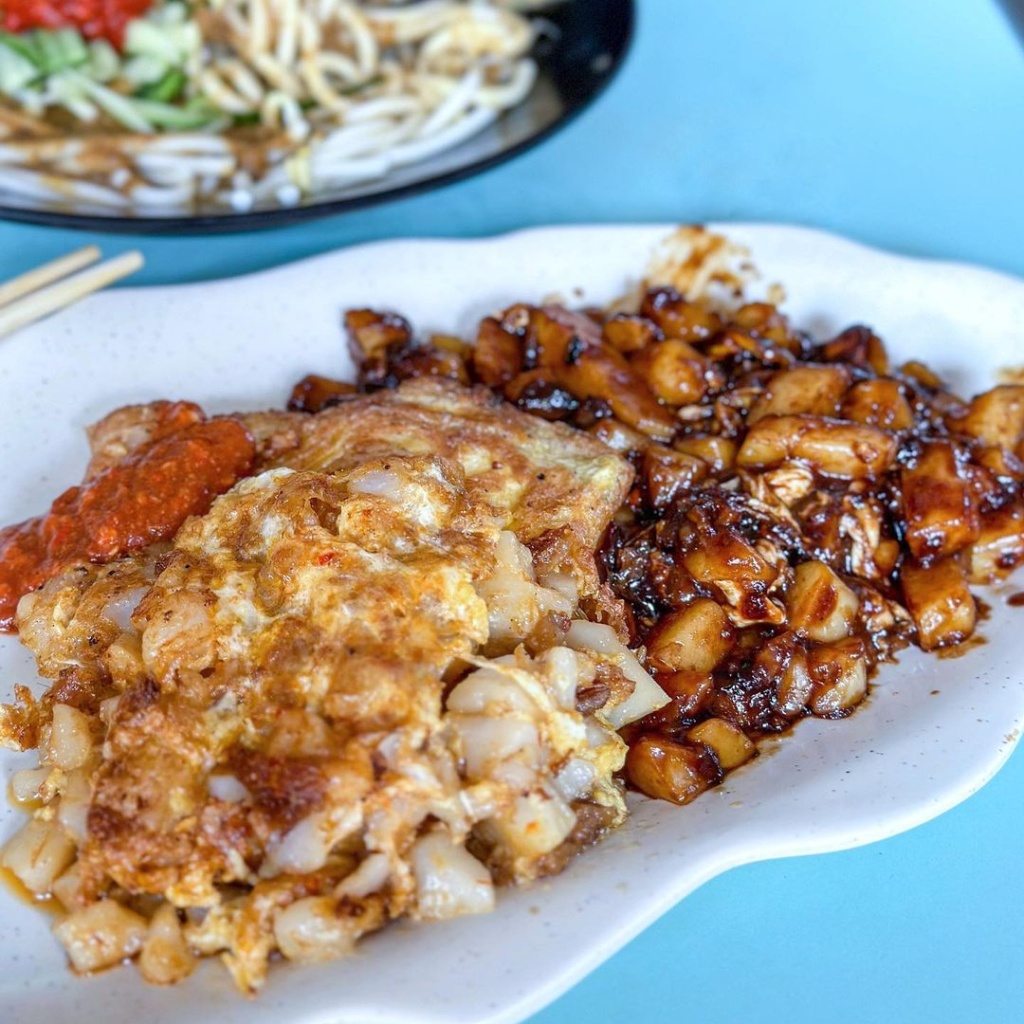 Green Sky's signature item may be its cockles char kway teow but its fried carrot cake also has its fans. The stall got its halal certification as it believes that good food should be shared with all, and its wallet-friendly price points are also a testament to that.  
While there is a clear consensus on the flavour and quality of its dishes, there are mixed opinions on its service standards. 
We say, if you're the type of foodie that can look past anything in pursuit of good food and happen to be in the Bedok vicinity, then just dive right in and place your (correct) order. You'll forget everything once you dig into its plates of oily, floury goodness.
For more ideas on muslim-friendly options, check out our guide on Muslim-friendly Japanese restaurants or our review on Meokja by Jungga.

All the eateries except Green Sky Fried Kway Teow are on the GrabFood delivery service and are offering free delivery (up to S$3 off) with GrabUnlimited. You can also book a ride to these eateries.