10 cafes in Bangkok to visit for the 'gram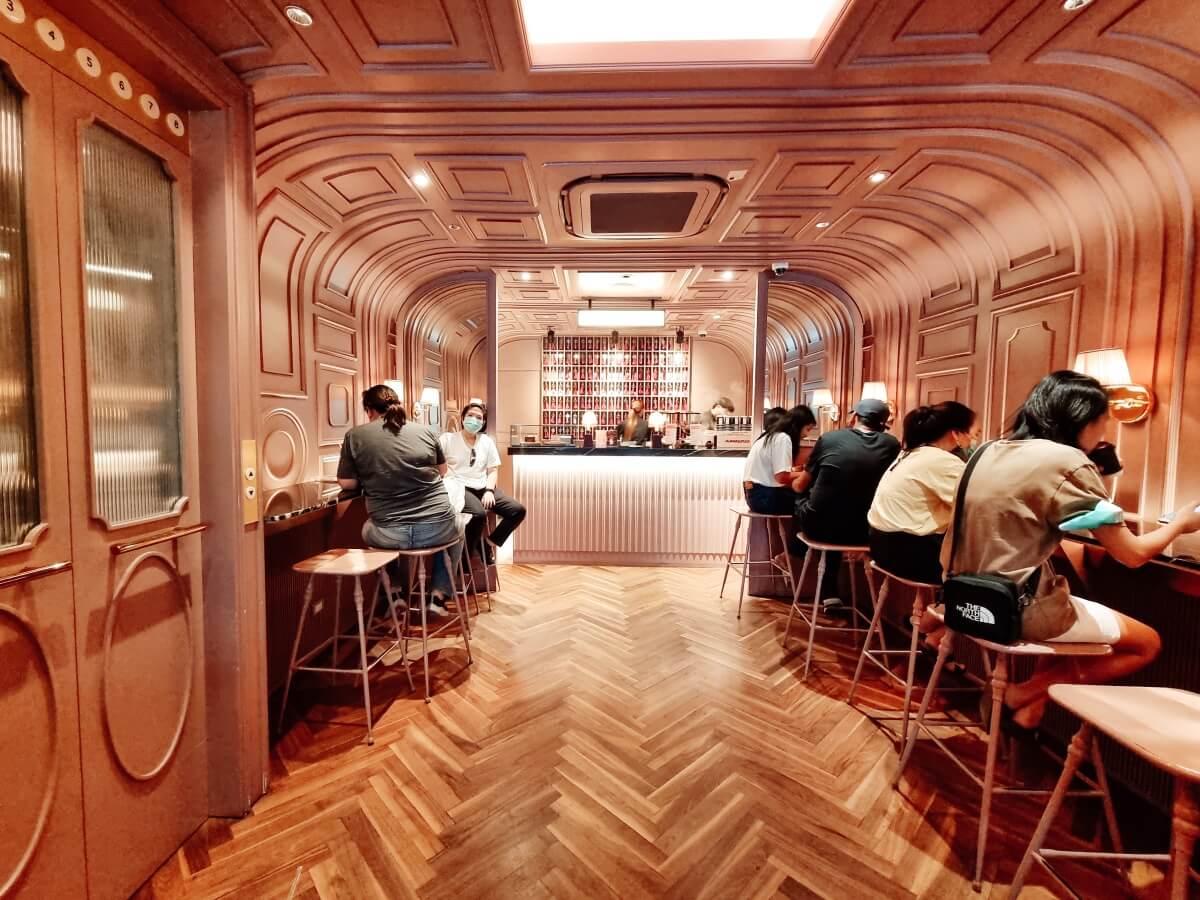 With Bangkok a hop, skip and a jump from Singapore — well, two-and-a-half hours by flight, to be exact — the capital of Thailand is top of mind for many Singaporeans mulling over a weekend getaway.
Apart from food, massages and shopping, you'll definitely want to put aside time to check out these Instagram-worthy cafes in Bangkok. They're guaranteed to jazz up your feed and add a special touch to those holiday shots.
1. Cassette Coffee Bar
264/4 Siam Square Soi 3, Pathum Wan, Bangkok 10330
Nearest Bangkok Mass Transit System (BTS) station: Siam
Open: Daily (10am to 8pm)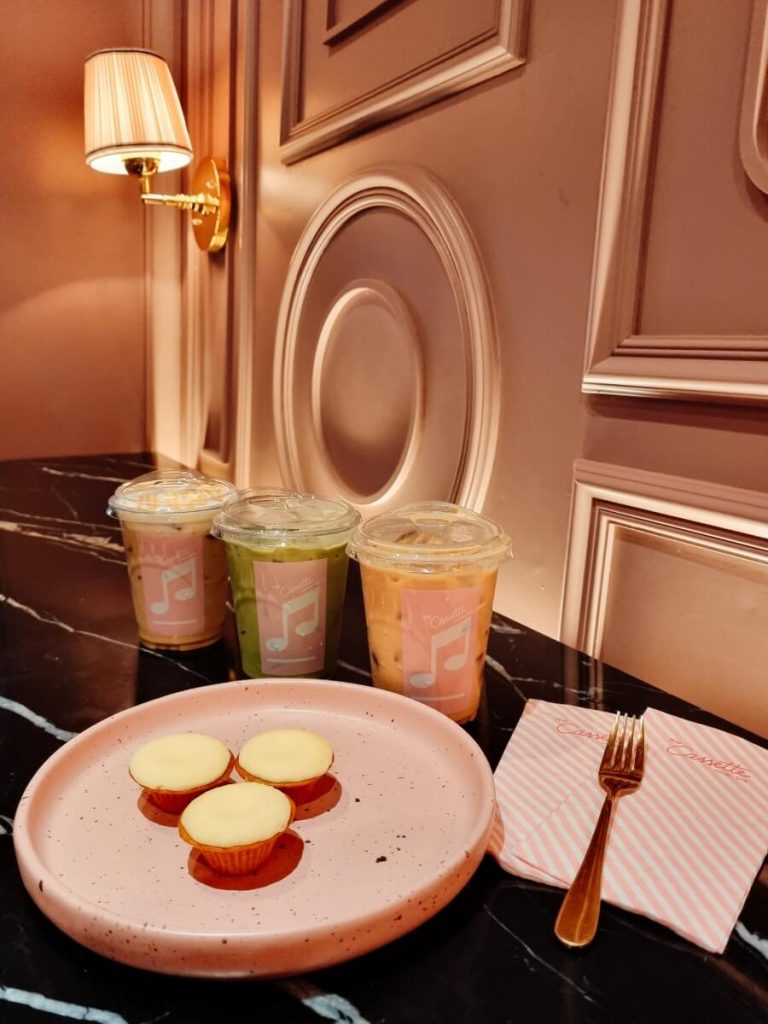 From the creators of the Cassette Music Bar, a popular night-time music spot in the trendy Ekkamai district of Bangkok, comes the all-pink Cassette Coffee Bar, with the same retro-chic vibes sans alcoholic drinks.
The interior isn't too in-your-face, but it does make you feel as though you've stepped into a candy shop, albeit a classy one.
For such a pretty cafe, I was half-expecting the drinks to just be decent, since many cafes appear to be vested in one or the other. Yet Cassette's coffee was fragrant and robust, and gave me a much-needed kick to carry on with my sightseeing.
The sweet creaminess of the baked button cheese tarts, sold in a trio, complemented the strong coffee and left me wanting more.
What to order: Orange latte (120 baht, or S$4.80), button cheese tart (three for 120 baht)
2. Stockroom
119, 80 Soi Chalermla, Khwaeng Thanon Phetchaburi, Khet Ratchathewi, Bangkok 10400
Nearest BTS station: Ratchathewi
Open: Tuesday to Friday (8.30am to 5pm); Saturday and Sunday (9am to 5.30pm)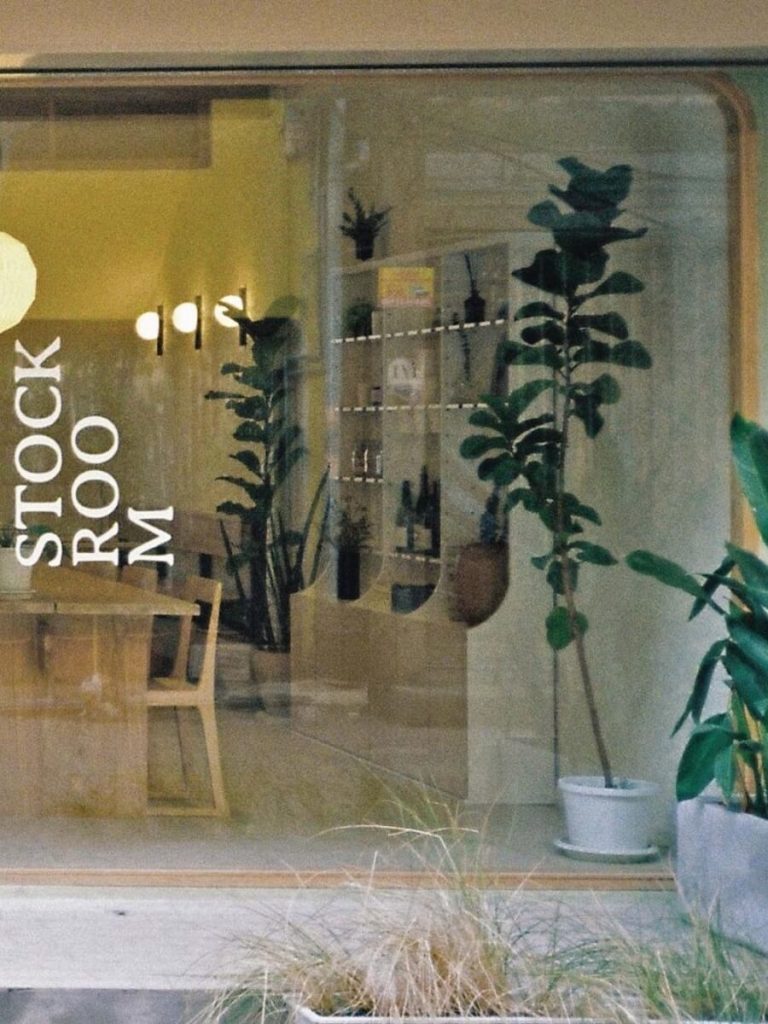 Close to popular shopping spots such as Pratunam Market and Platinum Fashion Mall, Stockroom offers a great respite post-shopping, with its good coffee, minimalist Scandinavian aesthetic and soothing vibes. The cafe is fairly new, but it's already caught the eye of Bangkok's cafe-hopping crowd. Try going in the mornings for that uninterrupted shot for the 'gram.
If coffee isn't your thing, we hear its 100 per cent housemade sangria and butterscotch milk provide quite the kick, too.
For those who enjoy their brews, the coffeehouse works with WonderRoom BKK, a hole-in-the-wall cafe, for beans that are specially profiled for Stockroom.
What to order: Creme brulee latte (140 baht), almond tart (180 baht)
3. Mugung Cafe
25 Ari 4 Fang Nua Alley, Samsen Nai, Phaya Thai, Bangkok 10400
Nearest BTS station: Ari
Open: Daily (10am to 6pm)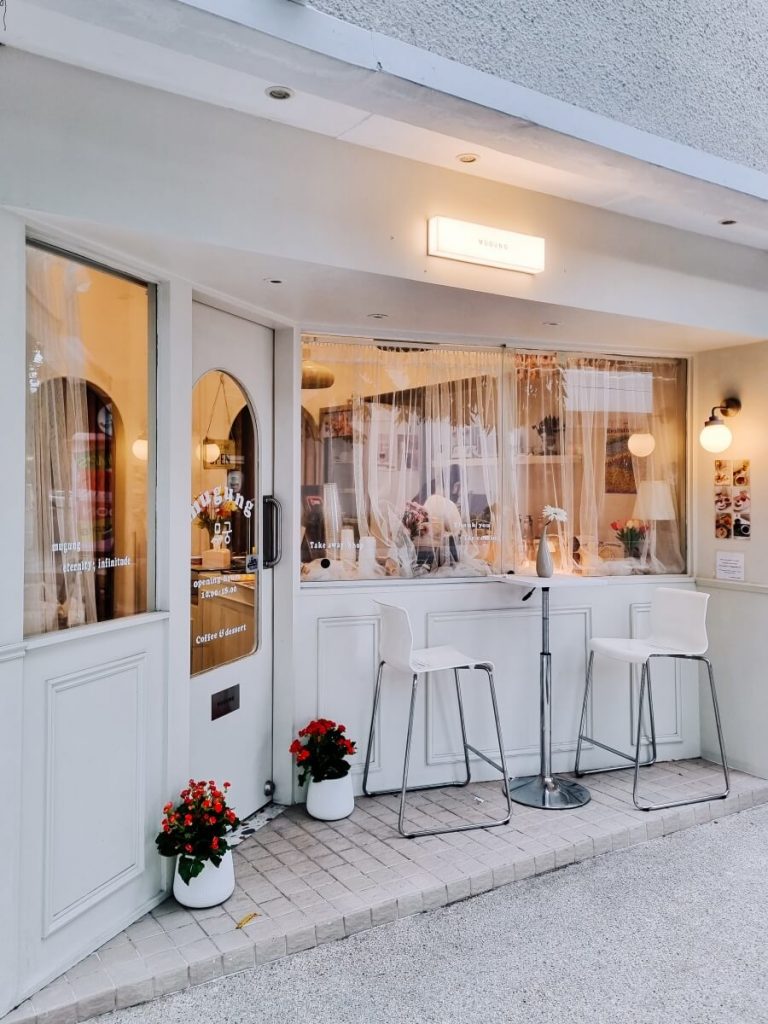 Located in the up-and-coming Ari neighbourhood of Bangkok, Mugung Cafe is right next to Gump's Ari Community Space, a spot built for Instagram with its colourful signs, installations and murals.
Unlike Gump's Ari, though, Mugung is a way smaller outfit, more understated, and extremely cosy with its soft white furnishings and curtains.
Its name "mugung" (Korean for hibiscus) also stands for eternity. The owner chose it because she loved the word's meaning and sound. Its name also explains the Korean-esque vibes you'll experience. Besides its look, everything on the menu, particularly its dessert-inspired coffees and cakes, is great for the 'gram.
What to order: Coffee with banoffee — banana, cream and toffee (120 baht), strawberry croffle (115 baht)
4. Brooke BKK
Lat Phrao 26 Alley, Lane 4, Khwaeng Chom Phon, Chatuchak, Bangkok 10900
Nearest Bangkok MRT station: Ratchadaphisek
Open: Monday, and Wednesday to Friday (8.30am to 5pm); Saturday and Sunday (9am to 6pm)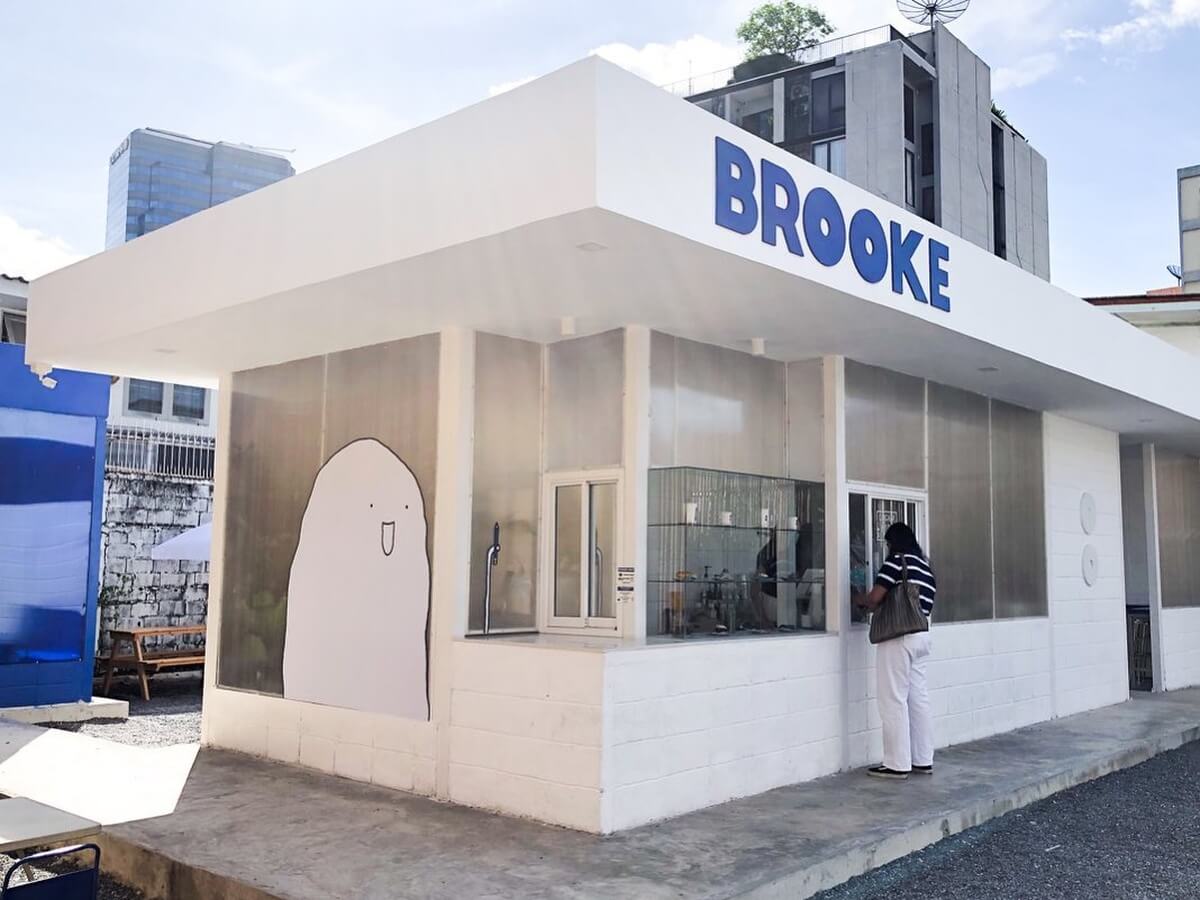 Brooke is a standalone cafe in a car park in the Lat Phrao area of Bangkok, with a penchant for all things blue — from its decor to its food, and we're talking about a vibrant cobalt blue, not the pastel sort.
Its blue theme has made it a hit with those wanting that prized high-contrast #OOTD shot for the 'gram.
A note that the cafe doesn't have indoor seating. All seating is outdoors or non-air-conditioned, so make sure you slather on enough sunscreen before heading down and come prepared to take in a bit of sun with your cuppa. It's a rather long, unsheltered walk in, too.
What to order: Black coconut — americano topped with a scoop of coconut ice cream (130 baht), Brooke custard croissant (100 baht)
5. Jolie Cafe & Bar
180 Lat Phrao 26 Alley, Khwaeng Chom Phon, Chatuchak, Bangkok 10900
Nearest MRT station: Ratchadaphisek
Open: Daily (8am to 12am)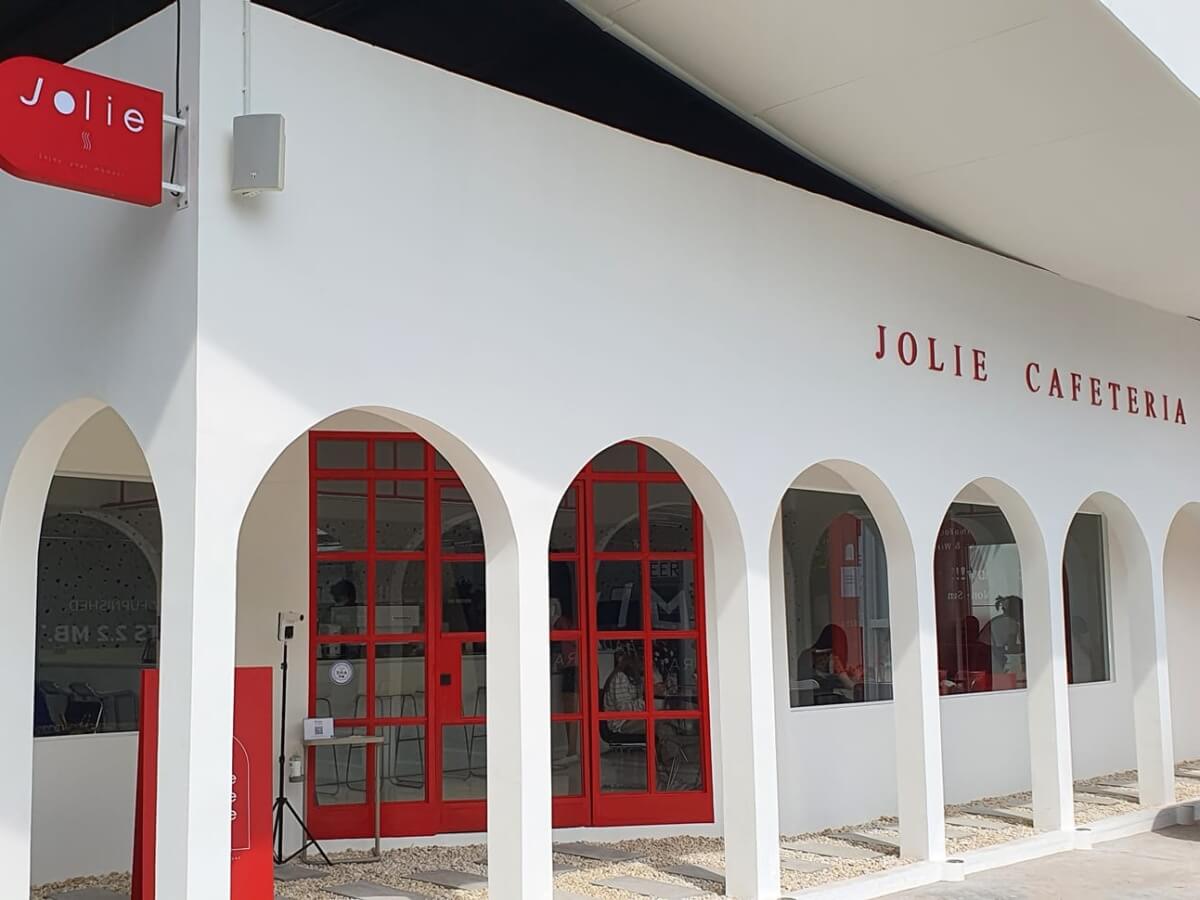 If blue isn't your colour of choice, take a 300m walk to Jolie Cafe & Bar, a red-and-white themed cafe with a unique arched pillar front.
The cafe, which doubles up as a bar by night, opened in 2021 and has been steadily attracting a strong crowd.
The compound, which is spacious with plenty of seats, also houses a small nail salon and a pedestrian crossing, which could offer other photo angles if you're gunning for that unique shot. If you're there for afternoon coffee, stay behind on Fridays and Saturdays for live music and hearty modern Thai mains.
What to order: Tropical orange — cold brew with orange juice (110 baht), croffles in assorted flavours (from 69 baht for an original croffle)
6. Cuppa Beluga
46, 1 Thetsaban Nimit Nue Road, Lat Yao, Chatuchak, Bangkok 10900
Nearest BTS station: Mo Chit
Open: Tuesday to Friday (9am to 5pm); Saturday and Sunday (10am to 6pm)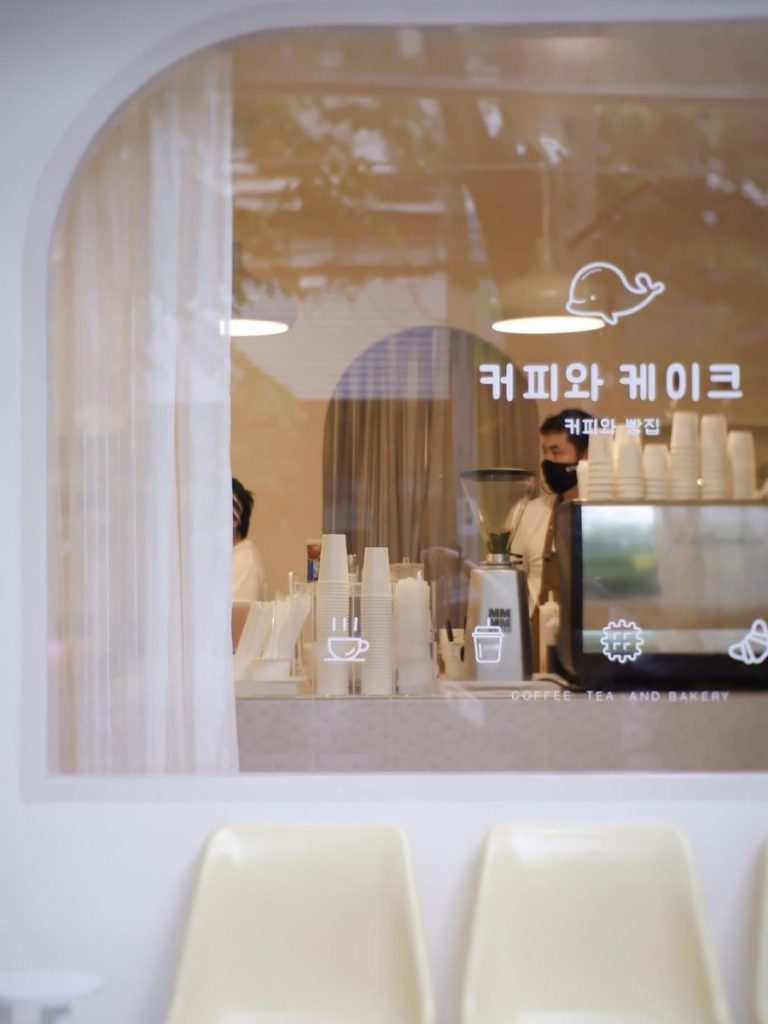 This cafe's a little farther out from the centre of Bangkok, but it's well worth the trip if you're heading to the famous Chatuchak weekend market. We must add, though, it's still a 15-minute bus ride from the nearest BTS station, Mo Chit, and short distance from the weekend market.
I've visited many Korean cafes and Cuppa Beluga's vibe — from its pastel theme to its picture-perfect sweet treats — matches that of quaint cafes in the trendy Seoul district of Yeonnam-dong to a T.
The best part is that unlike some of the other popular cafes on this list, Cuppa Beluga's menu, where an original croffle starts from 25 baht, isn't at all overpriced, which means you can order more.
If you're not done with shopping, the owner of Cuppa Beluga stocks its clothing label Studio Kath within the store — complete with a fitting room.
What to order: Strawberry milk latte (80 baht), cream cheese croffle (70 baht)
7. Omise Cafe
Section 4, Room 007, Chatuchak Market, 587/10 Kamphaeng Phet 2 Road, Chatuchak, Bangkok 10900
Nearest BTS station: Mo Chit
Open: Saturday and Sunday (11am to 7pm)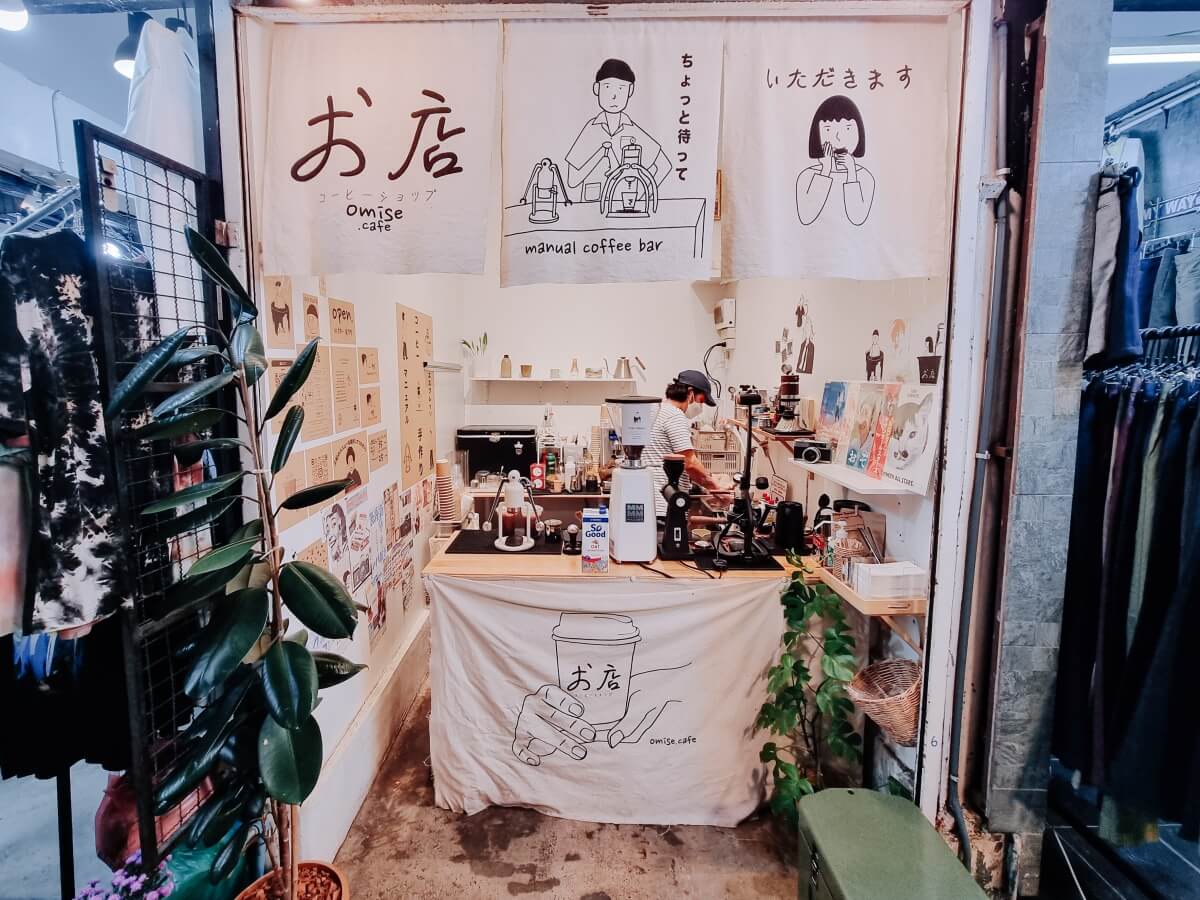 Wedged between two clothing shops along Bangkok's main Chatuchak weekend market street, Omise Coffee is easy to miss.
But the smell of freshly brewed coffee is unmistakable. I was browsing around a row of shops across from the stall when I caught the pleasant aroma of its coffee, which thankfully distracted me from spending more baht.
Calling itself a manual coffee bar, Omise uses an all-manual espresso machine, complete with a hand-lever press for its brews. Another quirky thing about the cafe: It claims that the taste of its drinks differs every time because the staff members can't remember the recipe.
What to order: Es-yen — Thai-style iced coffee comprising espresso with condensed milk, evaporated milk and fresh milk (65 baht), matcha latte (65 baht)
8. Craftsman Roastery at Bamrung Mueang
83 Bamrung Mueang Road, Sao Chingcha, Phra Nakhon, Bangkok 10200
Nearest BTS station: Sam Yot
Open: Daily (7.30am to 6pm)
Housed in an once-abandoned century-old printing house, Craftsman Roastery at Bamrung Mueang is a Bangkok coffee-shop pop-up that embraces the history of its location with a touch of modernity.
Aside from its modern furnishings and lighting, most of the compound retains its original look, even if it means peeling paint, uneven walls and graffiti.
We hear the space will be renovated later this year, so swing by while you can to drink in the old-school charm and explore the compound.
What to order: Yuzu americano (175 baht), chocolate fudge cake with dark rum sauce (175 baht)
9. Aunties Coffee
267 6 Thonglor 13 Alley, Khlong Tan Nuea, Watthana, Bangkok 10110
Nearest BTS station: Thonglor
Open: Daily (9.30am to 6.30pm)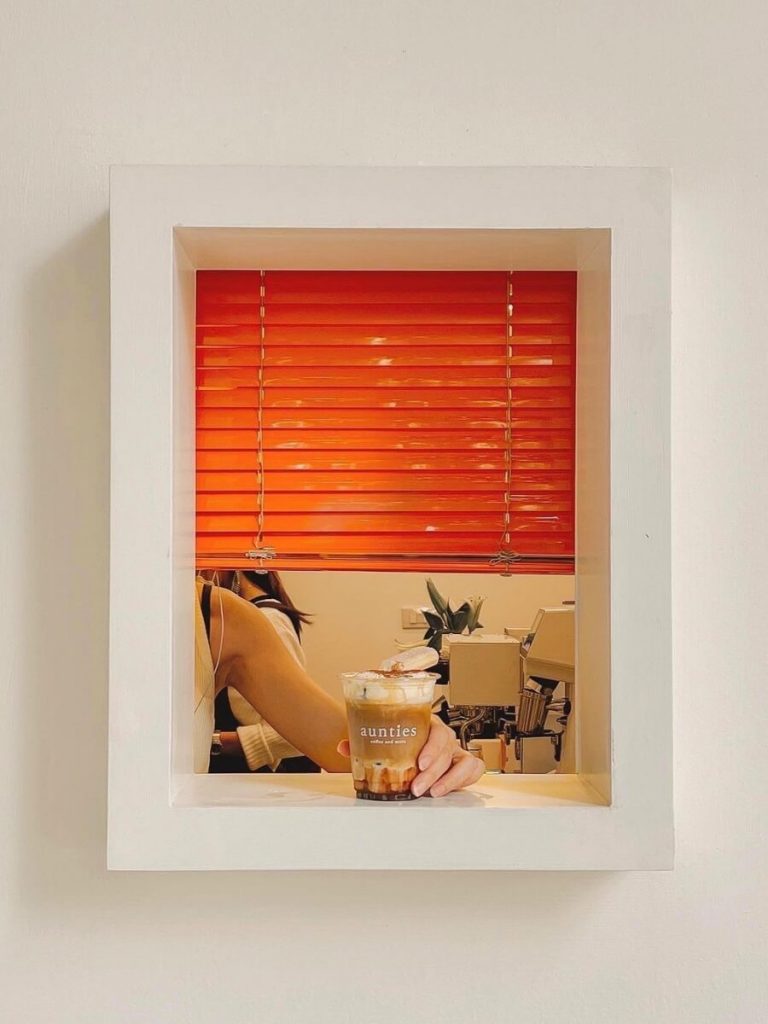 Previously available only in Chonburi, a province in the eastern gulf of Thailand, Aunties Coffee has opened its Bangkok outpost in the heart of Thonglor, a trendy district brimming with cafes and fashion and nightlife establishments.
In spite of its flashy neighbours, Aunties occupies a tiny, nondescript space in a small alley and is mostly available for takeaways and delivery — save a small table inside and two lone chairs outside.
Most people visit for a shot outside the white-walled cafe or for its gram-worthy kraffle cake, which is essentially a croffle stacked into a tall cake and layered with cream in between. If you want to get one, remember to preorder one or two days ahead via its channel (@aunties.thonglor) on messaging app Line.
What to order: Aunties coffee (100 baht), banoffee pie (150 baht)
10. Hilling Cafe
32 Chuea Phloeng 2 Alley, Thung Maha Mek, Sathon, Bangkok 10120
Nearest BTS station: Khlong Toei
Open: Daily (10am to 6pm)
Calling itself a "healing and chilling" space, Hilling Cafe is a calm respite in the middle of bustling Bangkok, giving off camping site and beach resort vibes. Once you make your way into the compound, a big campervan greets you, surrounded by wooden seating and camping chairs.
You order from a tiki-style bar counter and take your pick from campfire-inspired drinks with toasted marshmallows, or if you prefer, a more tropical-looking fizzy coffee.
Whether you're a fan of the wilderness or the beach, you're sure to fall in love with this cafe's understated charm.
What to order: Camp fire ar'cocoa — iced cocoa topped with a toasted marshmallow (150 baht), lemon tart (130 baht)