Mr Bucket Chocolaterie to open chocolate factory and cafe at Dempsey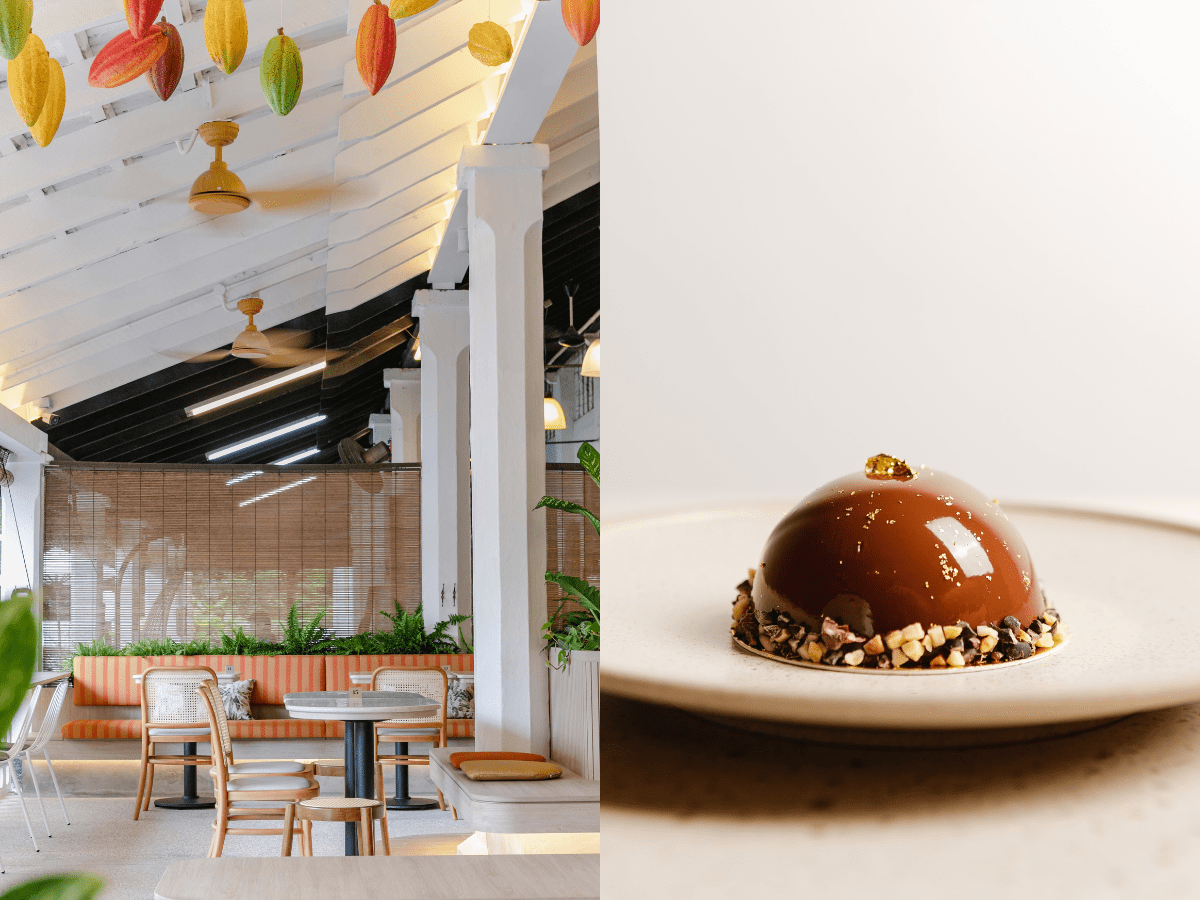 Charlie and the Chocolate Factory might be a fictitious story, but chocolate fiends rejoice: We are getting our very own chocolate factory in Singapore, thanks to homegrown chocolate brand, Mr Bucket Chocolaterie.
Sure, there won't be the eccentric chocolatier Willy Wonka in attendance, nor any golden tickets to be won.
But the brand promises a chocolate wonderland that will be a contemporary reimagination of Wonka's whimsical factory, complete with chocolate delicacies and a multisensory journey to appreciate the cacao fruit.
Located in Dempsey, the factory will open this Saturday (Dec 3). It spans close to 5,000 sqf and houses experiential zones, including a creation station that allows you to build your own slab of chocolate, a first in Singapore. Pick from a wide variety of ingredients such as dried fruits and nuts to create your personalised chocolate bars.
Then, move on to get an exclusive behind-the-scenes look at Mr Bucket Chocolaterie's chocolate-making approach. 
Take a peek as its chocolate makers sort, roast and grind cacao beans before tempering it into a rich substance at the Hot Kitchen (named The Bean Room). 
The Cold Kitchen (named The Chocolate Room) is where the magic happens — you'll get to see the velvety chocolate being crafted into the brand's signature bon bons, bars and more.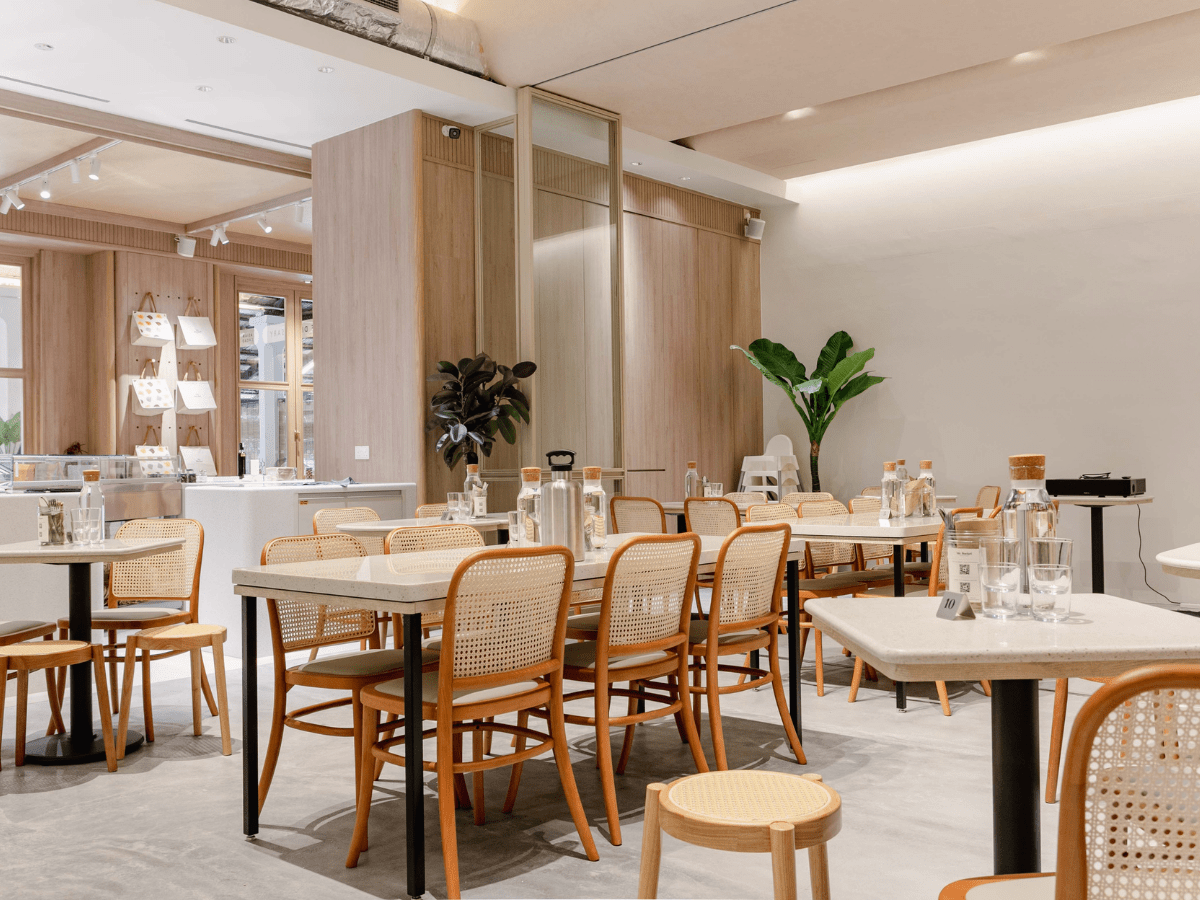 Desperately needing chocolate after the delightful view? You can instantly indulge in your craving in its cafe. The dining area comprises an indoor space, named The Tasting Room, and an al fresco set-up at the factory's outdoor patio, called The Cacao Garden. 
The natural wooden chairs, high ceiling and minimalist aesthetic lend a calming vibe to The Tasting Room. This, coupled with the aromatic smells of the freshly made chocolate desserts, makes dining in here an exquisite experience.
Dig into an array of food and beverages from a menu that has been specially curated by the brand. A highlight is the bean-to-bar journey tasting set, a chocolate flight that showcases the bean-to-bar journey.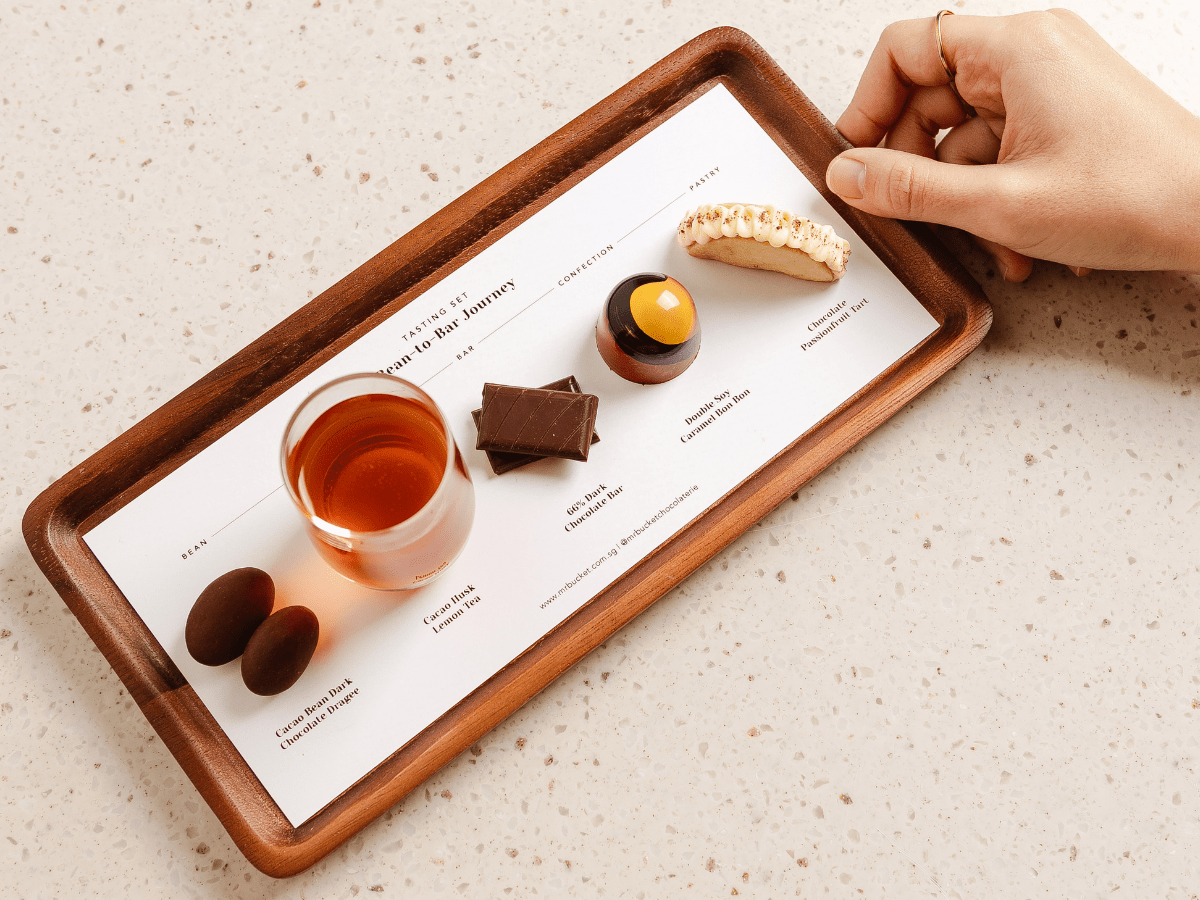 Served on a wooden tray, it showcases the evolution of cacao beans harvested from a farm in Panchor, Malaysia.
Eat your way through the tray, starting from the cacao bean dark chocolate dragee, before moving onto a refreshing cacao husk lemon tea, 66 per cent chocolate bar and double soy caramel bon bon. Finish with a 64 per cent chocolate passionfruit sable.
Other bakes are also available, such as the chocolate passionfruit tart, which features 64 per cent panchor ganache and passionfruit mousse, and the festive maple apple cake — made with maple mascarpone, apple insert, panchor cremeux and maple sable breton.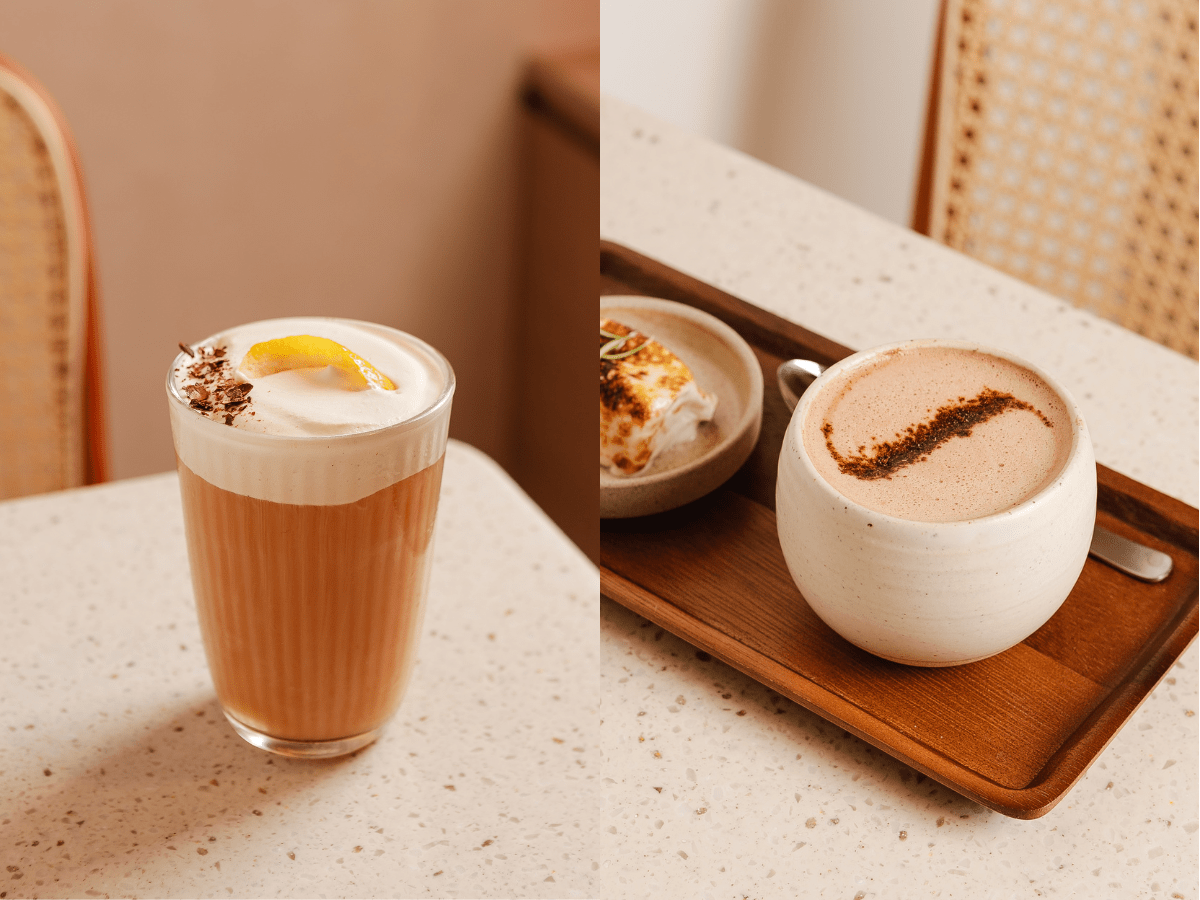 Mr Bucket Chocolaterie adopts a sustainable, zero-waste approach to the cacao fruit. It does this by using all parts of the fruit to create a variety of beverages to complement its bakes.
If you haven't gotten enough of the cacao husk lemon tea from the tasting flight, you can order a full-sized version. It's made from cacao husks infused with lemon, sweetened with homemade cacao syrup and topped with a cacao foam sweetener. 
Alternatively, you can opt for the classic iced chocolate, which is made by steeping 64 per cent panchor granules in milk.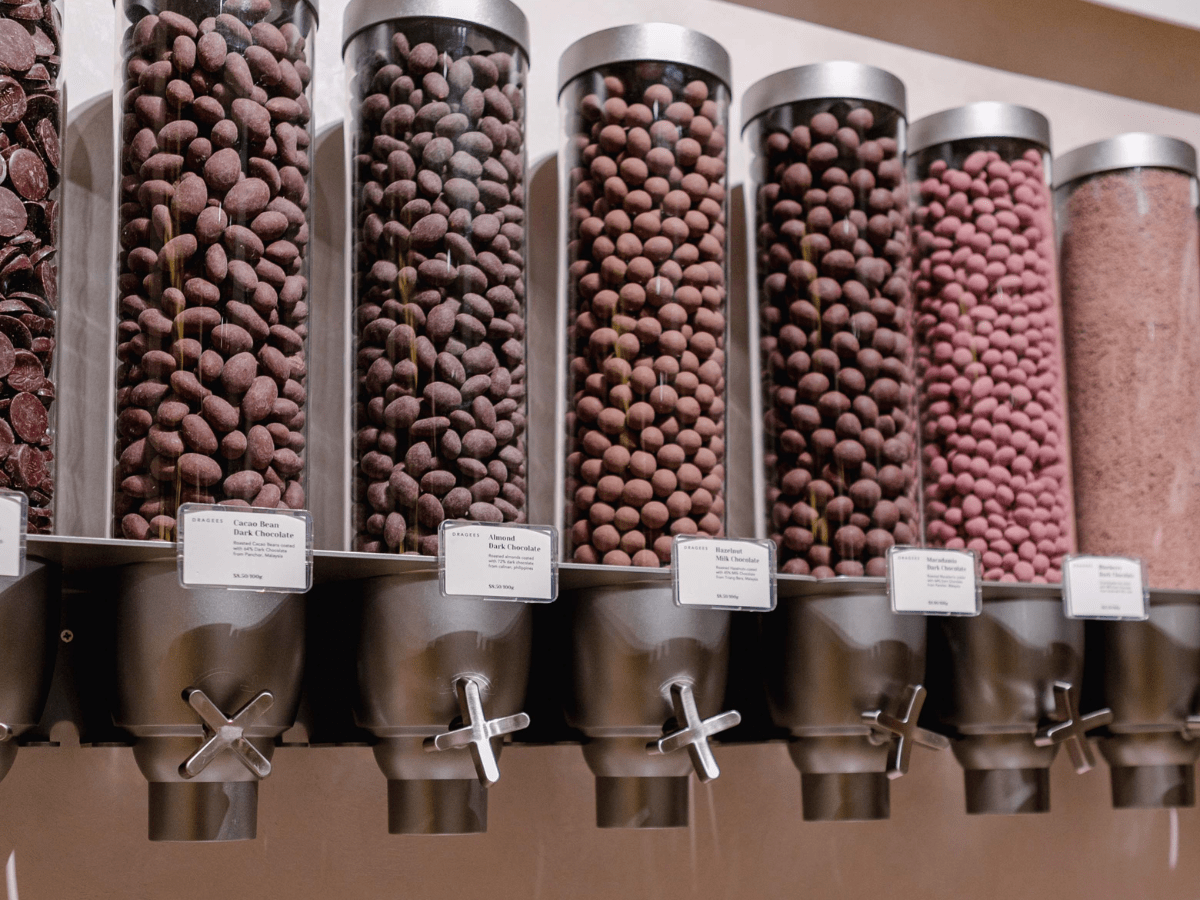 Once you're satiated, move on to the chocolate dispensary, where you get to load up on treats for snacking at home.
Launched in November 2020, Mr Bucket Chocolaterie is a Singapore-based chocolate lifestyle brand that specialises in artisanal chocolate bon bons and treats from cacao sourced only within Asia. At present, it has one chocolate store in Sin Ming.
Its founder, James Penafort, said in a press release that he hopes the new Dempsey factory will help to "cultivate a deeper appreciation for cacao grown in Asia".

"We'll continue to champion Asian cacao and pay homage to producers from the region, through showcasing the bean-to-bar process and sharing the stories of the farms and farmers behind these delicious chocolates," said Penafort.
Mr Bucket Chocolaterie is on the GrabMart delivery service. You can also book a ride to its Dempsey factory.
Mr Bucket Chocolaterie (Dempsey factory)
13 Dempsey Road
Nearest MRT station: Napier
Open: Tuesday to Friday (12pm to 10pm), Saturday to Sunday (10am to 10pm)
13 Dempsey Road
Nearest MRT station: Napier
Open: Tuesday to Friday (12pm to 10pm), Saturday to Sunday (10am to 10pm)
---