12 bakeries for fluffy, loaded bomboloni in Singapore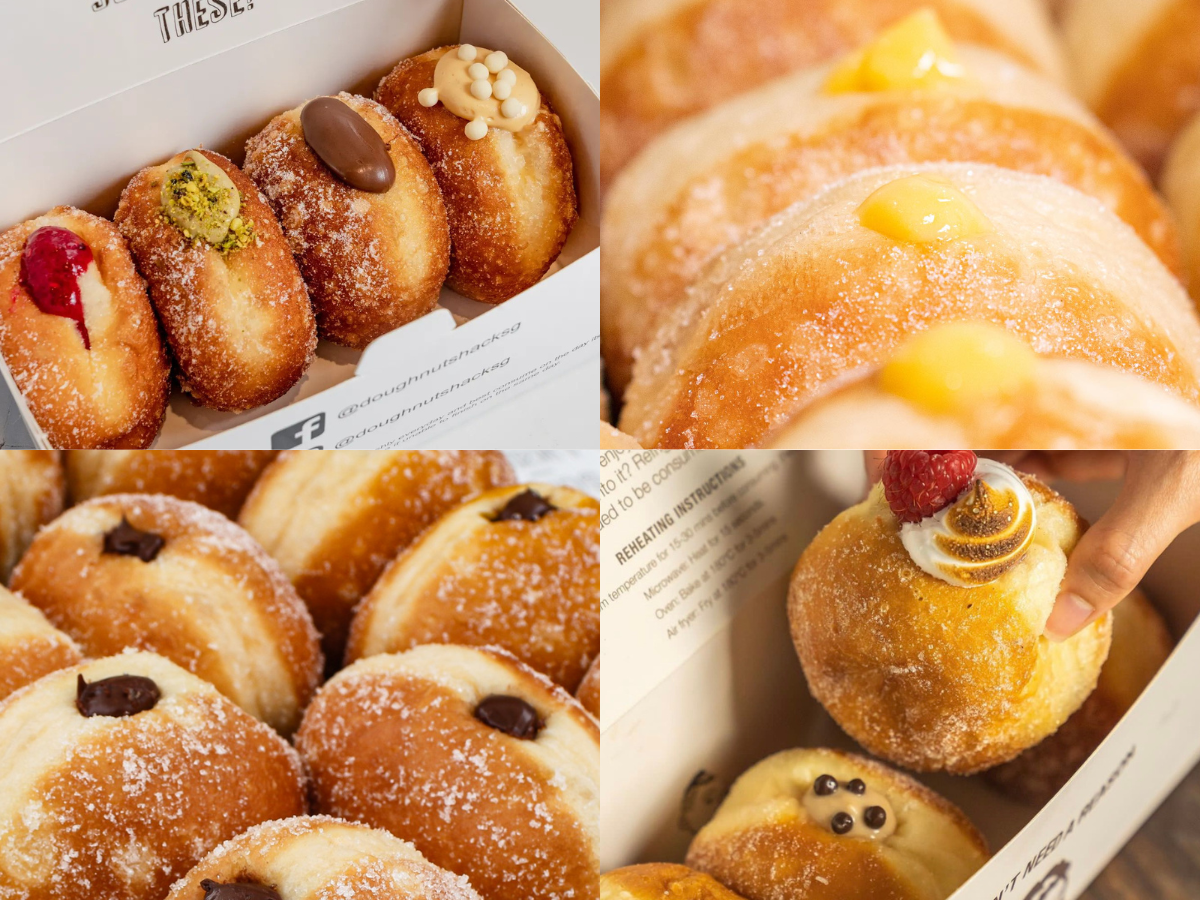 While decadent cakes and indulgent ice cream paired with waffles are typically our go-to sweet treats, you might have come across bomboloni in Singapore recently.
The beloved Italian stuffed donuts are round, sugar-coated pillows that are chock-full of velvety pastry cream. Without a doubt, these fluffy, brioche-like buns are every dessert lover's dream, for they come in a spectrum of flavours ranging from sweet to savoury. 
Sink your teeth into these morsels, and we guarantee that one bite won't be your last. If you'd like to add bomboloni to your list of pastries to savour, these are 12 cult-favourite bakeries where you can find bomboloni in Singapore. 
Remember to bookmark this article for hotspots that churn out loaded bomboloni in Singapore. 
1. Doughnut Shack
151 Kitchener Road
Open: Tuesday to Sunday (11am to 7pm)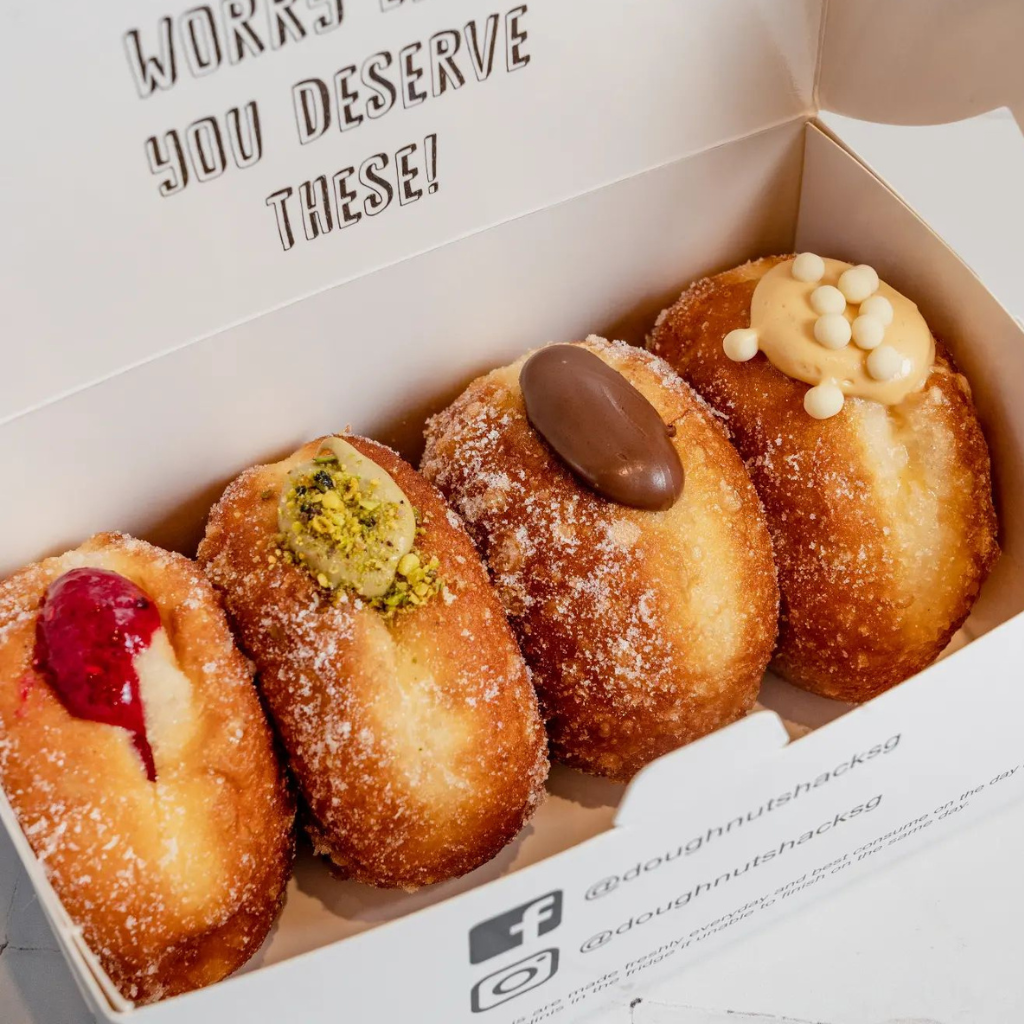 Why visit? Nestled along Kitchener Road is Doughnut Shack, a takeaway outlet dedicated to the chonky bomboloni and other types of donuts. Some may also be familiar with the brand, as it claims to be the first to create the chilli crab bomboloni in Singapore. 
Unfortunately, the local-inspired flavour is no longer on the menu. There's still a plethora of other interesting flavours to choose from, which includes modern takes such as New York cheesecake (S$4.20) and pistachio ganache (S$4.20). 
Doughnut Shack rolls out different flavours each month, so stay tuned to its social media page for what's available at the store. If you prefer a daintier, bite-sized version instead of the regular bombolone, there are also minis on the menu. 
Price range: $
Crowd favourites: We can't say no to chocolate, so Donutella (S$4.20) is our top pick. It's a treat that's bursting with luscious Nutella cream. Tear it apart, and it oozes chocolate fudge that's absolutely irresistible.
2. The Fat Kid Bakery
39 Amoy Street
Open: Monday to Thursday (9am to 5pm), Friday (9am to 6.30pm), Saturday (10.30am to 4pm)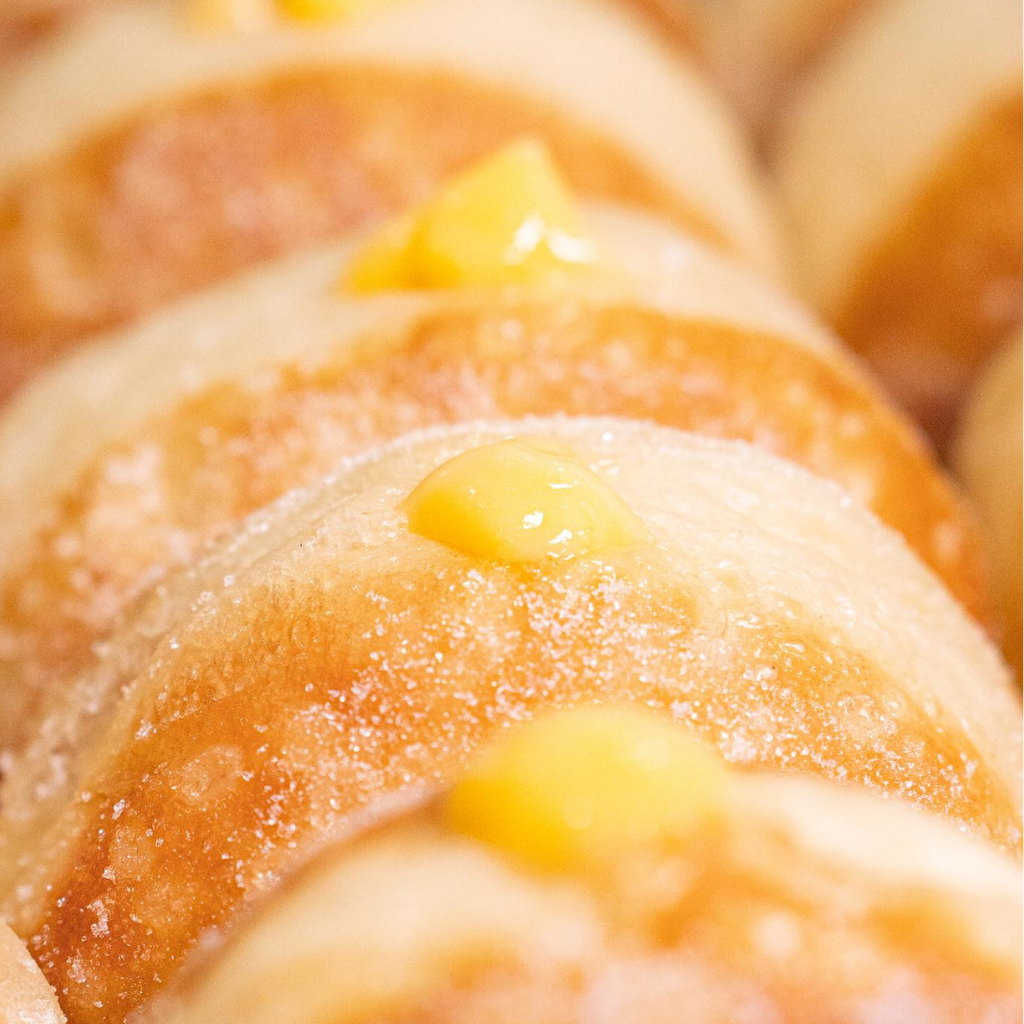 Why visit? Most of us have heard of The Fat Kid Bakery, a local homegrown brand that made waves on social media for its stuffed bomboloni. Previously situated at a secluded spot at Flora Vista in Ang Mo Kio, the popular sourdough eatery has since relocated to Amoy Street.
Helmed by head baker and founder Ariel Tang, the bomboloni at The Fat Kid Bakery are made with a homegrown sourdough starter. This results in an airily soft body, which is filled to the brim with tasty filling. 
Grab a freshly made donut to go, or have the buns in a box of four, eight, 10 or 12. We'd recommend getting a dozen if you're sharing with peers.
Price range: $
Crowd favourites: Some sweeter fillings include vanilla creme brulee (S$4.50), summer berries (S$5.30) and seasalt maple (S$5.50). There's also a slew of savoury options, such as torched mentaiko (S$6.50) and roasted garlic mascarpone (S$6.50).
3. Burnt Ends Bakery
7 Dempsey Road, 01-01
Open: Thursday to Sunday (8am to 4pm)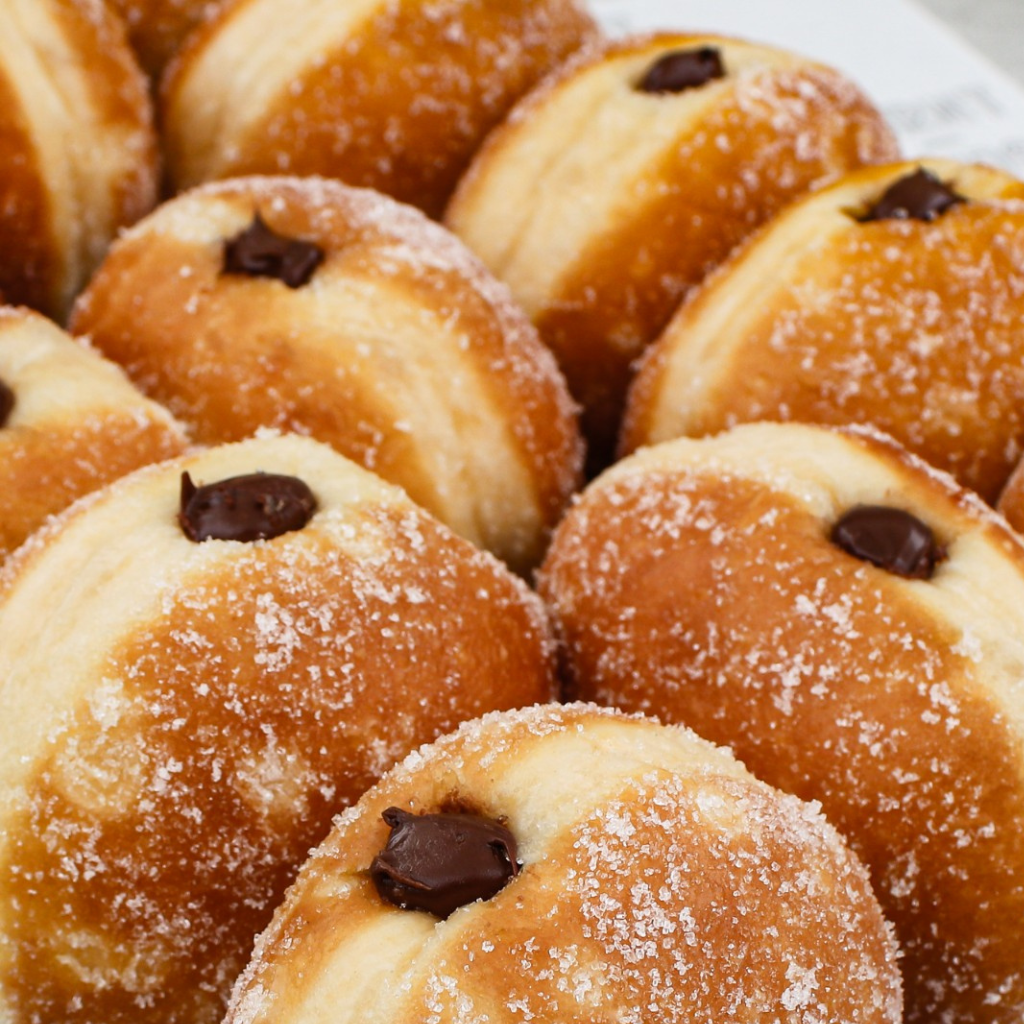 Why visit? Under Burnt Ends is Burnt Ends Bakery, the bread and pastry arm of Michelin-starred chef David Pynt's Australian-style barbeque restaurant. The bakery houses some of the best bomboloni in Singapore, and they're incredibly hard to snag. They're constantly sold out, which tells you how popular and tasty they are. 
Have the donuts in an assortment of five, six, a Baker's Dozen (comprising 12 buns) or in a package of 24. There's an eye watering lineup of flavours, which currently spans the likes of smoked Japanese yuzu, passionfruit curd and lemon meringue. 
Price range: $$$
Crowd favourites:  Get the box of five (S$25) to try a couple of its bestselling flavours. We hear the Milo dinosaur bombolone is a wonderful choice, for it's a fluffy brioche-like bun that's laden with Milo cream and adorned with a crunchy biscuit. For a lighter finish, the pandan bombolone is a fragrant lil' thing with pandan cream, coconut glaze and desiccated coconut bits.
4. Donas8
Great World, B1-K122, 1 Kim Seng Promenade
Open: Monday to Sunday (10am to 10pm)
Market Blue, B1-122/123/124, 163 Tanglin Road
Open: Monday to Sunday (10.30am to 4pm, 5.30pm to 10pm)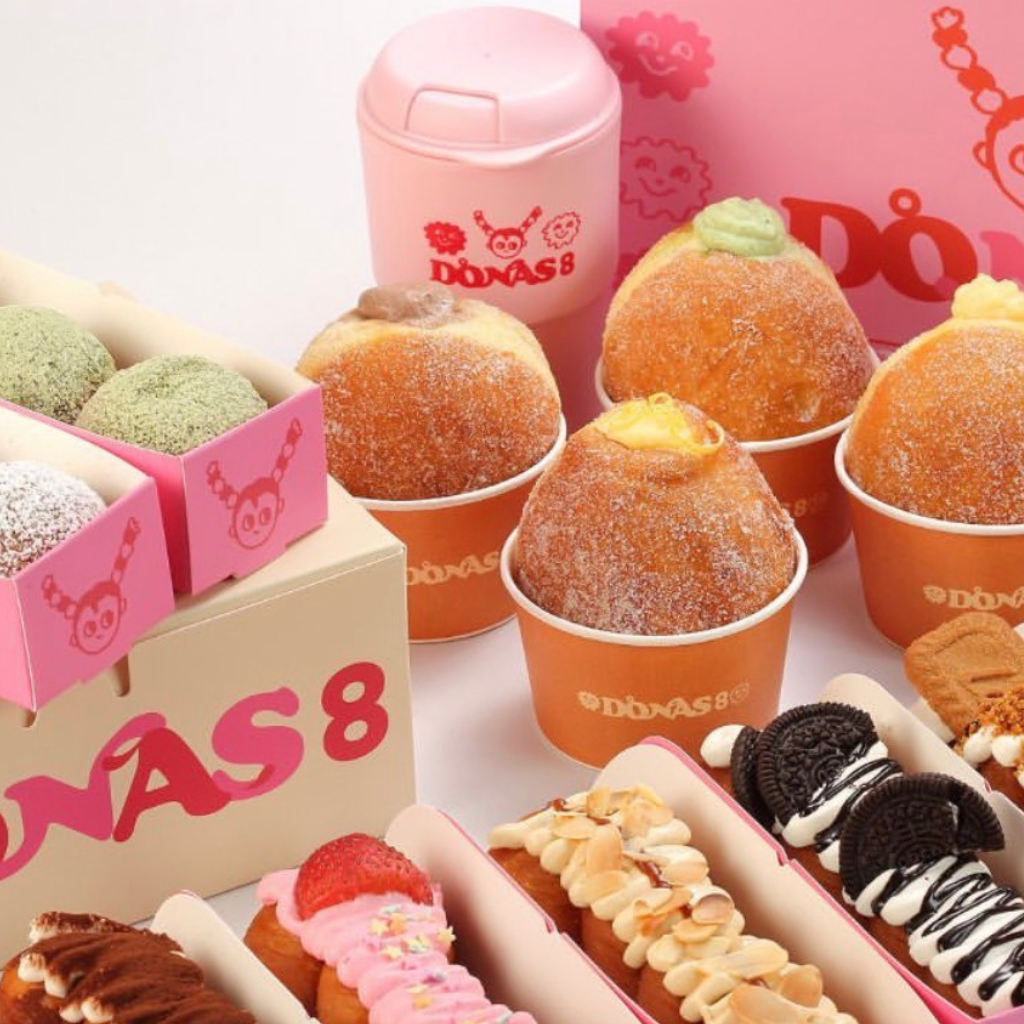 Why visit? Sweet treats are presented in the form of mochi donuts, twisted donuts and bomboloni at Donas8. Located at Great World and Market Blue in Tanglin Mall, this speciality donut chain is known for its doughy bakes that are crisp on the outside and chewy on the inside. 
While its chewy mochi donuts may be the main stars, the bomboloni comes close in popularity. There's a lineup of six classic flavours (S$5.50) each), such as strawberry, chocolate and matcha. If you're not a fan of sweet cream and prefer something simpler, there's also a plain option. 
Price range: $
Crowd favourites: The custard bombolone is a signature flavour at Donas8. The body is covered in sugar, and smooth custard cream lies within. You should also get the lemon custard bombolone, which is a zestier option with the perfect balance of sweetness and tartness.
5. Sourbombe Artisanal Bakery
9 Penang Road, 02-03
Open: Tuesday to Sunday (10.30am to 5.30pm)
Jewel Changi Airport, 02-237, 78 Airport Boulevard
Open: Monday to Sunday (10am to 10pm)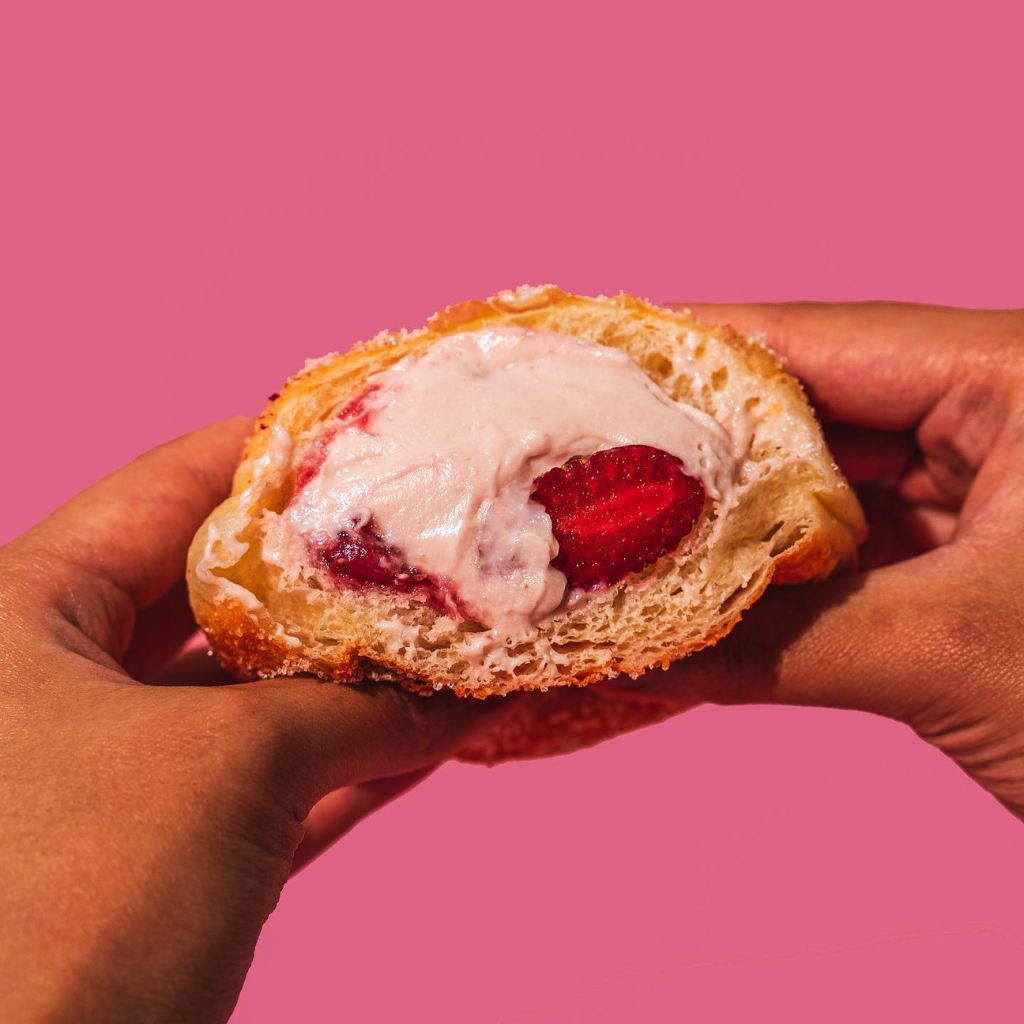 Why visit? This bakery at Penang Road is the brainchild of Genevieve Lee, the runner-up of MasterChef Singapore in 2018. It started off as an online store before it moved to its current brick-and-mortar location. 
The brand specialises in the eponymous "sourbombe", which is a melding of sourdough and the Italian donut. Crafted with a sourdough starter, the artisanal bombes undergo a fermentation process of more than 18 hours. They're then fried to crisp, golden perfection. 
Sourbombe Artisanal Bakery also prides itself on gourmet pairings, pushing the boundaries of traditional flavours and textures. There are nine moreish flavours available on the menu, excluding the plain option. 
Price range: $
Crowd favourites: For sticklers of tradition, you'll love the Milo (from S$4.80) and White Rabbit (from S$4.80) sourbombes. They're a nod to Singapore's favourite local treats, recreated in pillowy temptations that ooze pure decadence.
6. Puffs and Peaks Bakery
Tampines Central Community Complex, 03-03, 866A Tampines Street 83
Open: Thursday to Sunday (10.30am to 5pm)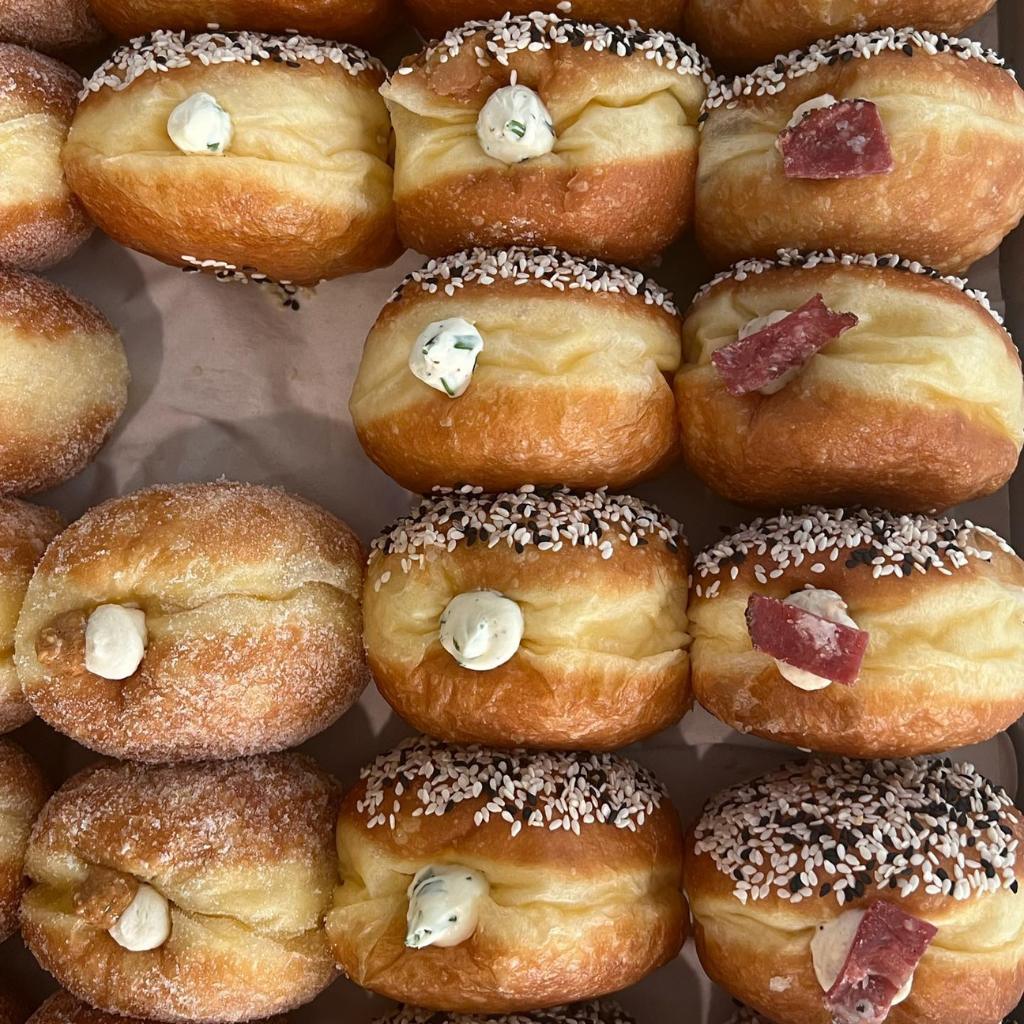 Why visit? Previously a home-based business, Puff and Peaks Bakery transitioned to a physical space after huge success with the online crowd. The brand is helmed by a mother and daughter duo, who whip up freshly baked bomboloni and other homemade pastries at a bakery cafe in Tampines. 
Monthly menus are released on its social media page, while the bomboloni flavours rotate weekly. The buns sell out quickly, especially on the weekends. You'll have to head down early to Puff and Peaks Bakery if you'd like to get your hands on its crowd-favourite bomboloni. 
Price range: $
Crowd favourites: The brand constantly impresses with its imaginative bomboloni flavour combinations. Think pulut hitam (S$4.20), sour cream and chives (S$4.20) and mango pomelo (S$4) — the latter being a refreshing, citrusy take on the traditional Chinese dessert. 
7. Mr Holmes Bakehouse
Multiple outlets islandwide
Open: Operating hours vary across stores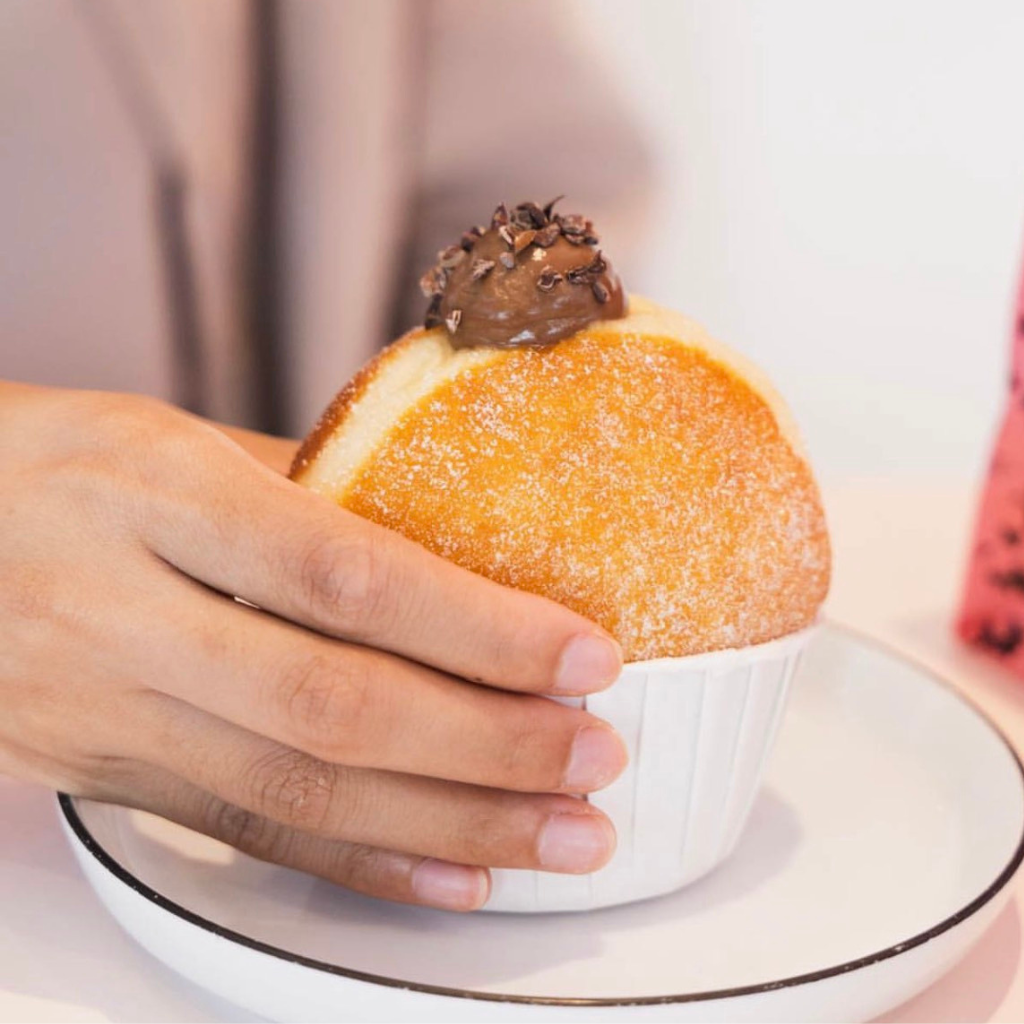 Why visit? Find one of the best bomboloni in Singapore at Mr Holmes Bakehouse, a world-famous viennoiserie bakery hailing from San Francisco. Besides its iconic stuffed donuts, it's also known for its flaky cruffins.
The prominent brand made headlines when it announced that its cruffins were coming to Singapore in 2021. Two years and a whirlwind of orders later, the brand now has multiple outlets islandwide. 
Get your hands on Mr Holmes Bakehouse's brioche bomboloni from any of its stores, including the newly opened Mandai Wildlife West at Bird Paradise. Look forward to the fruity pebble (S$5.50) flavour that's exclusive to its Mandai outlet! 
Price range: $
Crowd favourites: Savour the chocolate donut (S$5.94), a staple at the bakery. It's a luscious treat that's filled with an indulgent 70% dark chocolate cream and finished with a sprinkling of sugar and cocoa nibs. If you're in the mood for savouries, the creamy lox donut (S$5.94) comprises a hearty combination of fresh cucumber, red onions, cream cheese, and smoked salmon.
8. Kobashi
Serenity Park Condominium, 05-04, 157C Tamarind Road
Open: Self collection, 2pm to 5pm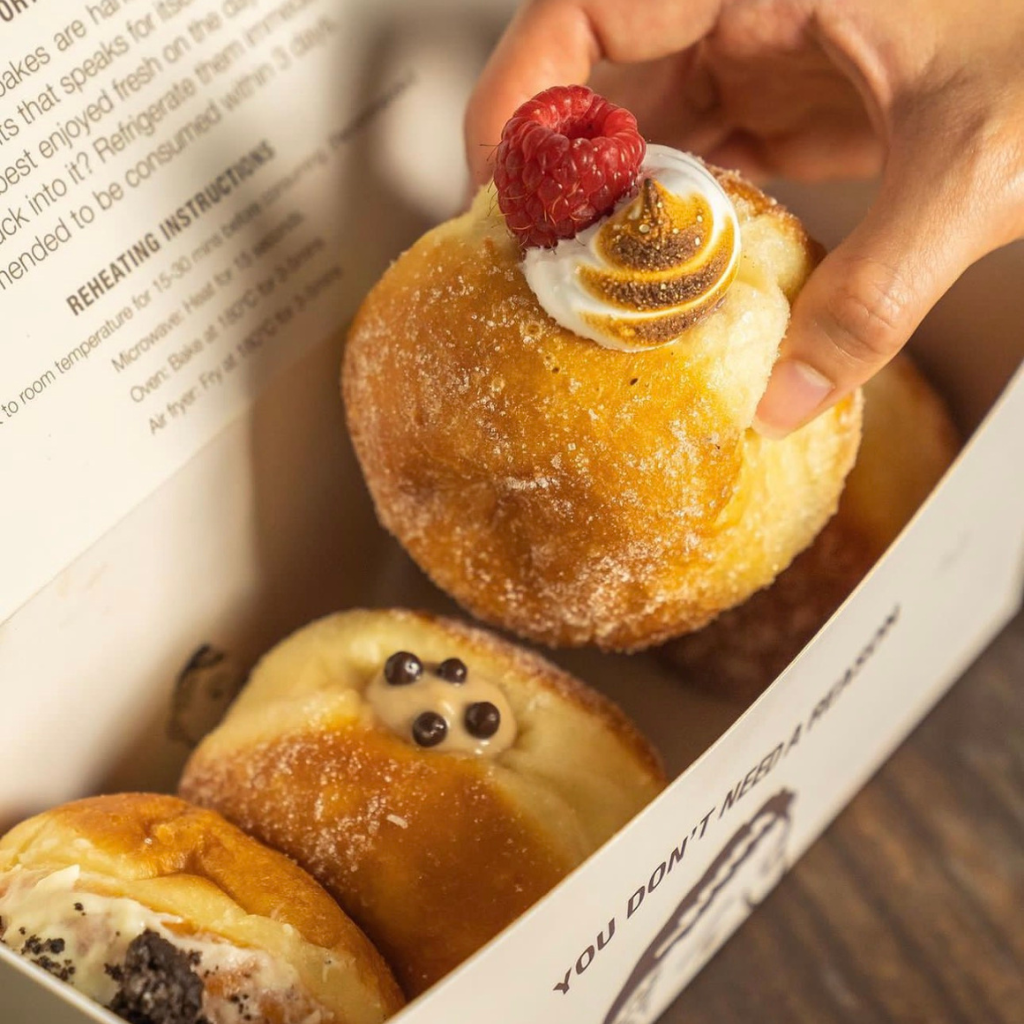 Why visit? Unlike other brands in this list, Kobashi is an online home-based business that operates on a preorder basis only. 
If you haven't heard of Kobashi, the brand specialises in sourdough treats prepared with its signature sourdough starter. Helmed by co-founders Kenji and Adam, its ethos is to craft artisanal bakes that are delicious, flavourful and invoke the five senses.
A goodie that you mustn't miss out on is its sourdo'nuts, which come in a box of four, six or 12. Seasonal premium offerings also sit on its menu, namely the luxurious mao shan wang charcoal sourdo'nuts (from S$28).
Price range: $$$
Crowd favourites: Savour the sourdo'nuts box of six (S$30) with your peers — they'll love the doughy buns packed full of fudgy cream! It comes with six interesting flavours, such as O'Oreo, Cookie Dunked (a cookie dough-inspired flavour), white chocolate pumpkin and more.
9. Fluff Bakery
795 North Bridge Road
Open: Monday to Saturday (11.30am to 7pm) and Sunday (11am to 6pm)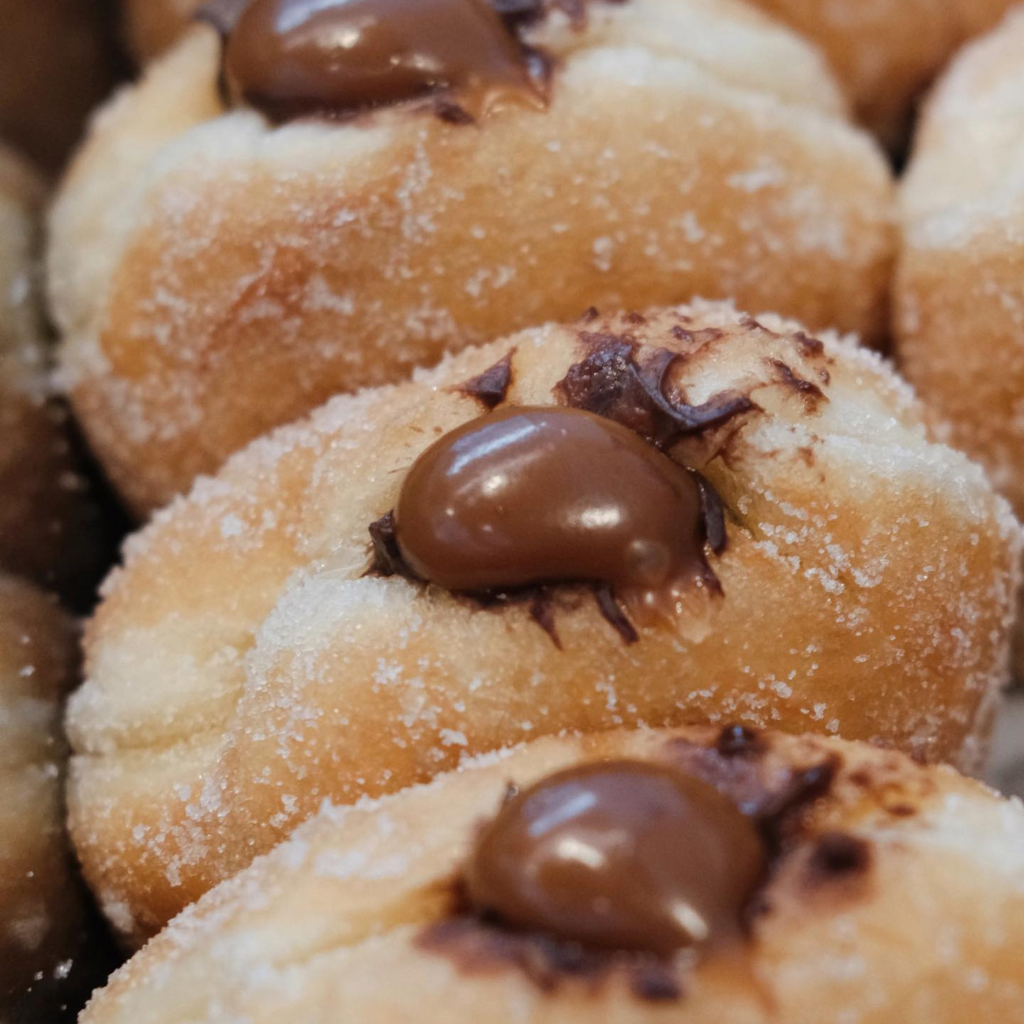 Why visit? Swing by Fluff Bakery for its toothsome bomboloni, available in both regular and mini sizes. The minis come in boxes of eight or 20, which serve as perfect bites for parties and gatherings. 
For those not in the know, the bakery is a halal-certified joint along North Bridge Road that's reputed for its yummy bakes and donuts. The latter comes in an assortment of flavours, all of which are baked to pillowy perfection. 
Bomboloni flavours change monthly, so it's best to check its social media page for what's currently on the menu. Those craving a savourier bite can check out its galettes, which come in delectable variations such as Nutella banana cheese (S$5) and miso butter mushroom (S$5). 
Price range: $
Crowd favourites: The mango cream pie donut (S$4.50) will entice you with its smooth vanilla bean cream and sweet mango puree. The vanilla seasalt caramel donut (S$4.50) is an equally tempting delight with its vanilla bean custard and notes of salted caramel.
10. All Things Delicious
34 Arab Street, 01-01
Open: Monday to Sunday (8am to 7pm)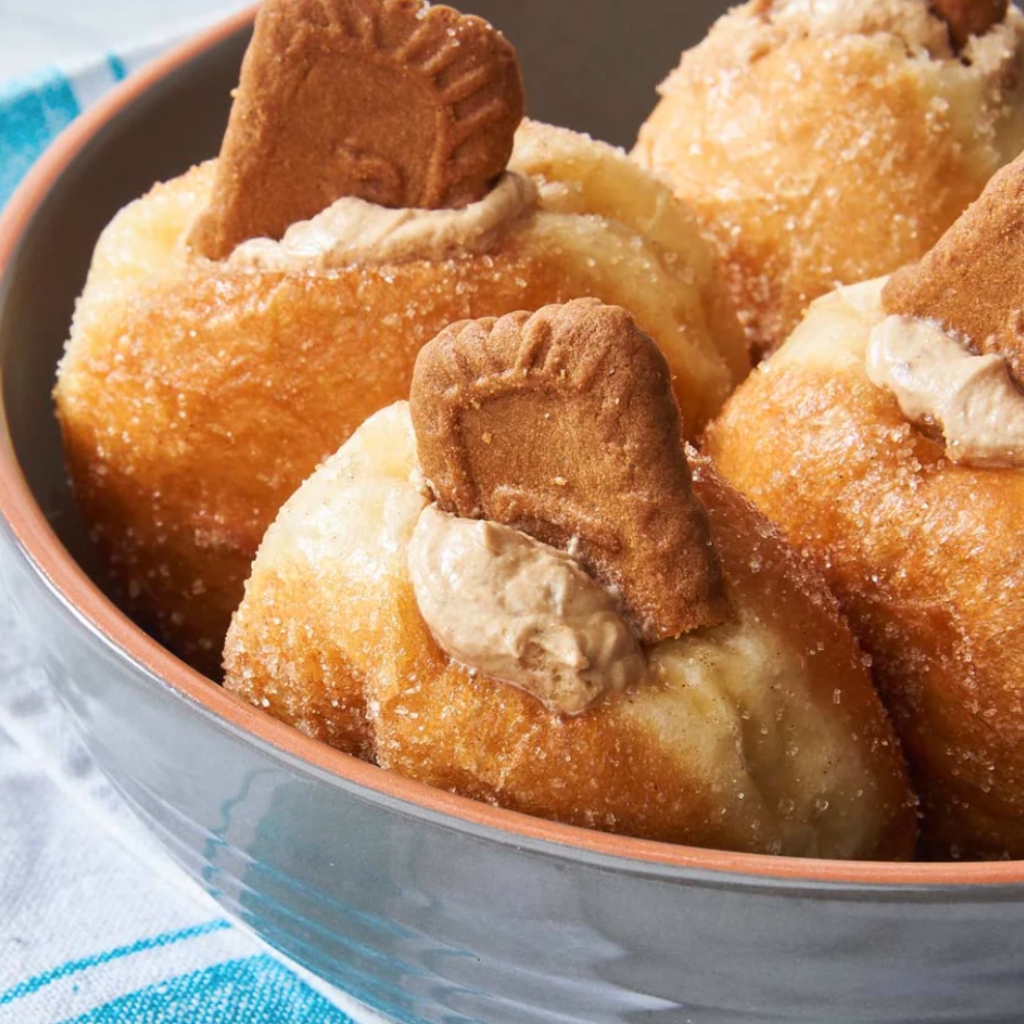 Why visit? Foodies will surely recognise All Things Delicious, a halal-certified bakery located at the heart of Kampong Glam. All bakes are prepared with premium ingredients sans artificial flavours and colouring, so you know you're getting a great bang for your buck. 
While the eatery is best known for its 'gram-worthy brunch fare and desserts, the outlet also serves tantalising brioche bomboloni that are topped with a myriad of ingredients and fillings. 
According to Chef Bjorn Shen, he crowns the fluffy buns from this brand the "perfect package" — and we couldn't agree more. With five ambrosian flavours to choose from — think speculoos cream, mango curd and more — you'll be craving a second bite.
Price range: $$
Crowd favourites: Order the bomboloni in a box of six (S$24.90) and share them with your friends! The fragrant kaya pandan butter is a local-inspired option that caught our eye. For those who enjoy nuttier flavours, go for the Italian pistachio crunch (additional S$2).
11. Delish Hotel Pillow Doughnuts
The Brooks 1, 01-10, 60 Springside Walk
Open: Monday to Sunday (8am to 1pm)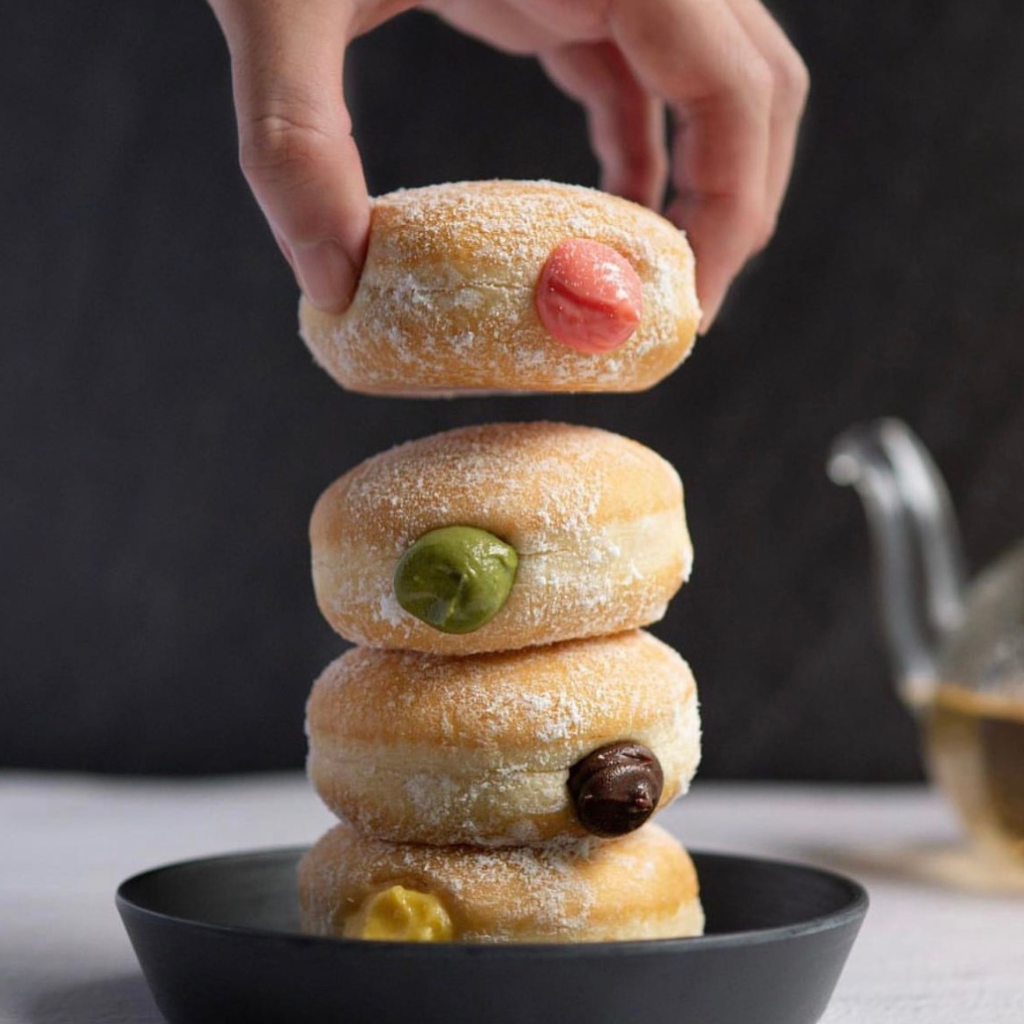 Why visit?  For delicious bomboloni in Singapore, pop by the aptly named Delish Hotel Pillow Doughnuts. This halal-certified speciality donut shop features a slew of scrumptious donuts, all of which contain a creamy, flavoursome filling. 
With a diverse range of flavours comprising both classic and unconventional creations, there is an option that will satisfy both the young and old. Feel free to opt for a box of six and pick your own flavours, or go for the assorted boxes of 10 bomboloni or more. 
Price range: $$
Crowd favourites: If you're looking to gift the bomboloni to a friend, consider getting the box of 10 (S$21) comprising buns with chocolate ganache, matcha, passionfruit mango, strawberry cream and classic flavours. It has a good mix of fillings that will certainly put a smile on your loved one's face.
12. Nassim Hill Bakery Bistro Bar
56 Tanglin Road, 01-03
Open: Tuesday to Sunday (8am to 10pm)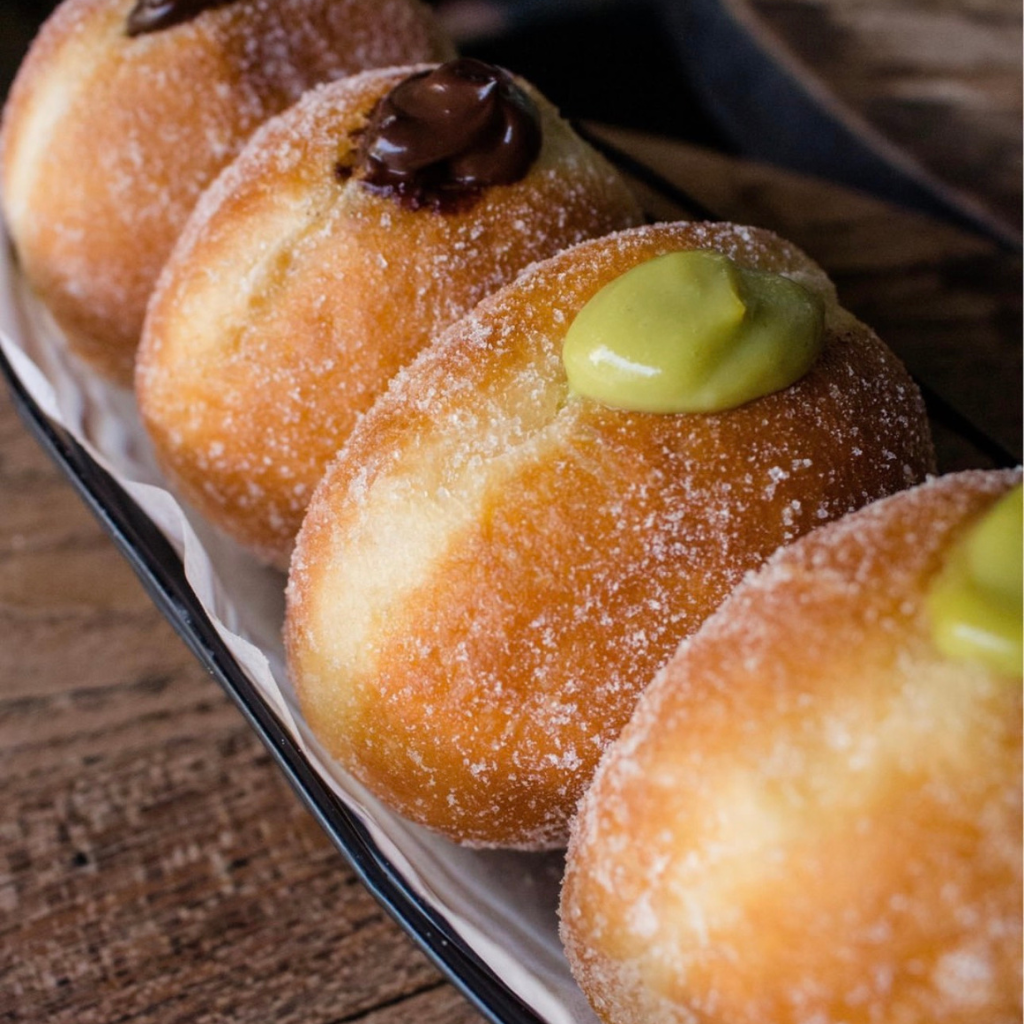 Why visit? Nassim Hill Bakery Bistro Bar is a concept that follows a philosophy of serving good food amid a comforting space. It's a hotspot for brunch delights, as well as freshly prepared pastries. 
A highlight of its menu is the chocolate cream bomboloni, which are a hit with chocolate lovers. Crafted with premium ingredients, namely the French Elle et Vire butter, each donut is a round, airy sphere with a crisp exterior. 
For delivery, you'll have to preorder the bomboloni a day in advance. You can either pick them up at the Tanglin bakery or have them delivered to your doorstep. 
Price range: $$
Crowd favourites: Get the brioche donuts in a box of four (S$14.80) as a yummy midday snack. This is the perfect set for purists who enjoy simple flavours, as it features two kaya and two chocolate cream donuts. 
---