5 hidden food spots in the trendy Tanglin area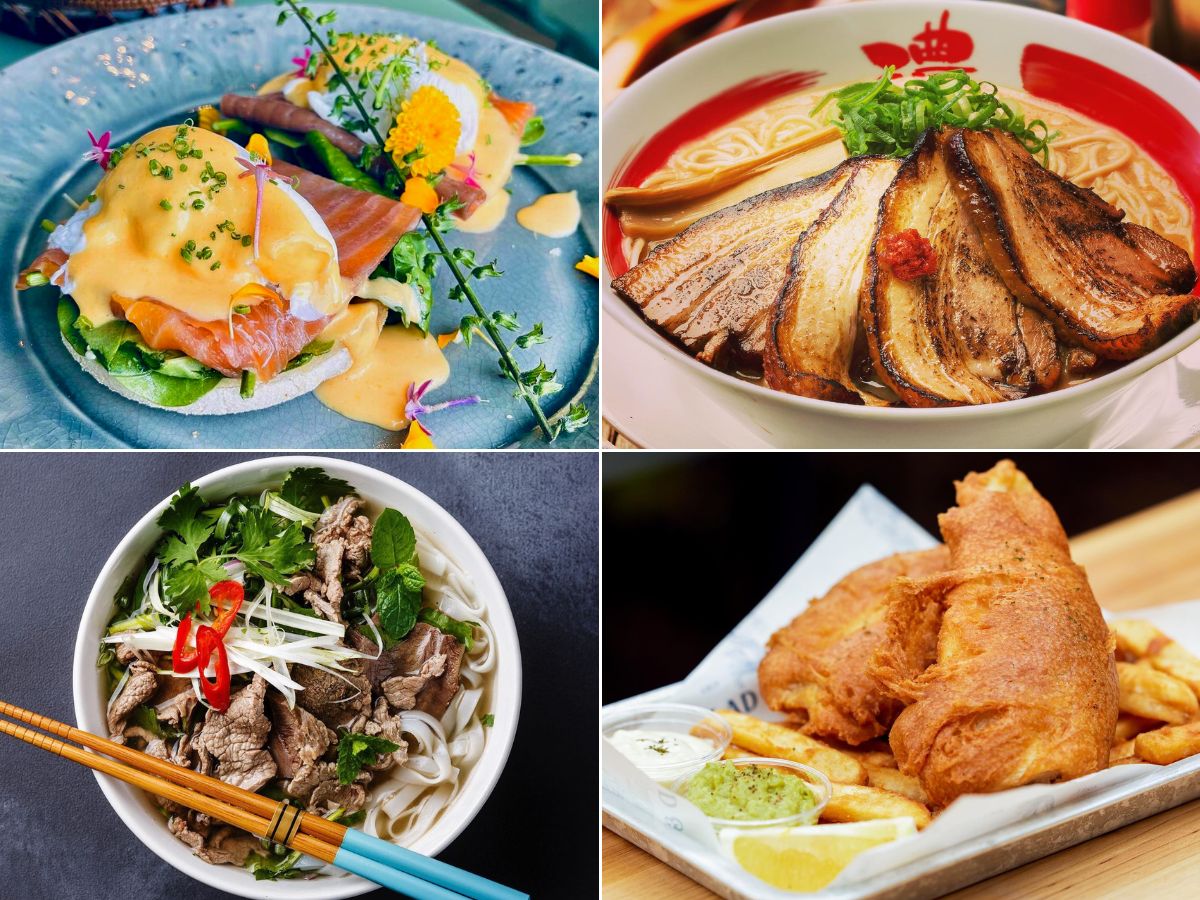 Tanglin has long held the reputation of being that "ulu" place that nobody really ventures to. Located on the outskirts of Orchard Road, Tanglin is just off the bustling shopping belt, and is often deemed its more subdued cousin.
But this has changed in recent times. The once-quiet neighbourhood is seeing an injection of trendy new restaurants, in part because it's more accessible now, thanks to the new Orchard Boulevard MRT station.
As a nation of gluttons, new areas to explore also mean one thing — new food to discover! We sifted out some under-the-radar Tanglin food spots  — both old and new — that will get food lovers going.
1. Lad & Co
Tanglin Post Office, B1-02, 56 Tanglin Road
Open: Tuesday to Sunday (12pm to 10pm)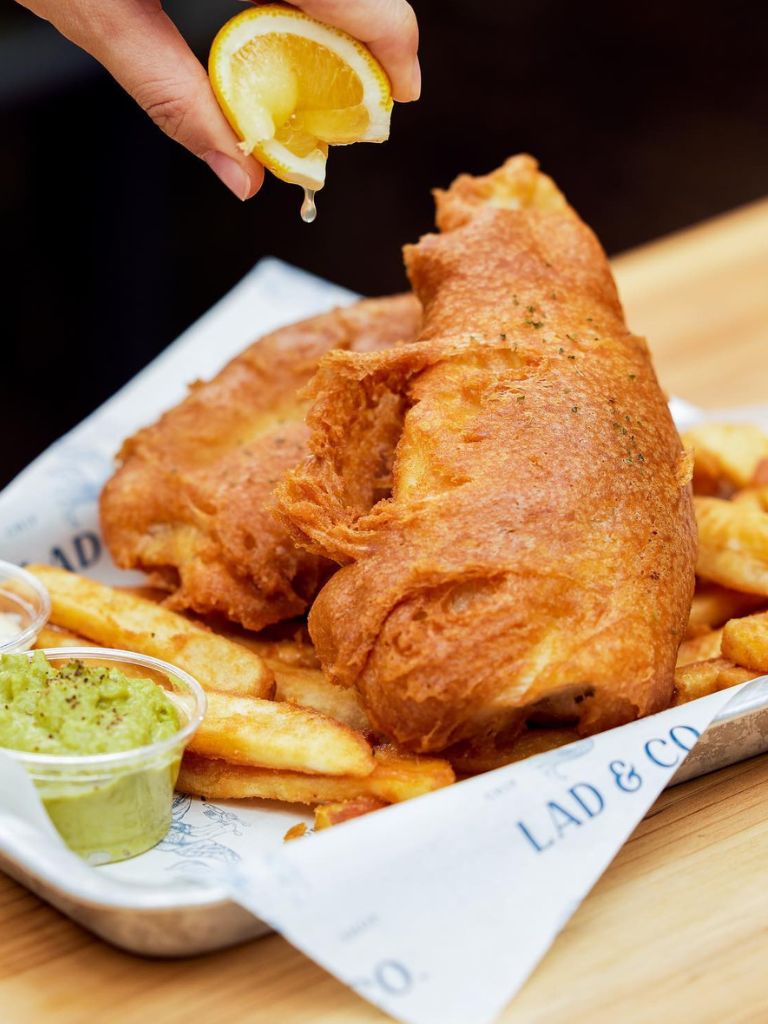 Lad & Co is a quaint outpost of Lad & Dad, a British gastropub-inspired eatery that started as a humble hawker stall in Serangoon Gardens Food Centre before it moved to Maxwell Food Centre. Started by a father-son duo, it has gone on to make quite a splash in the food scene. 
It upgraded to a cosy bistro at Tanjong Pagar Plaza, before launching its new concept, Lad & Co, in December 2021. Lad & Co sells more casual British food, including an authentic English-style fish & chips (S$19) — a gratuitously crispy beer-battered Atlantic Haddock, served with a side of chips and mushy peas. 
Other decadent bar grub on its menu include the classic bangers & mash (S$16) and scotch eggs (S$12) with a golden molten centre, if seafood doesn't tickle your fancy.
With a breezy alfresco setting surrounded by fairy lights and greenery, Lad & Co makes for a wonderful spot to wind down during the evening with a pint in hand.
2. Bari-Uma
Tanglin Shopping Centre, B1-01/02, 19 Tanglin Road
Open: Monday to Sunday (11am to 9.30pm)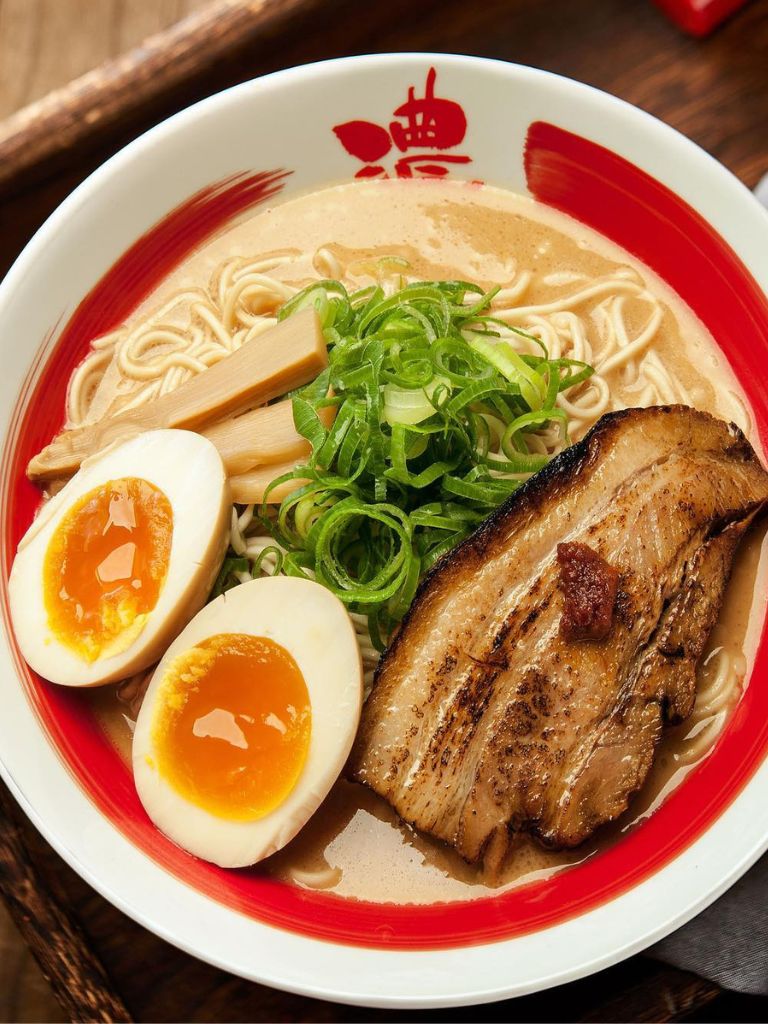 Bari-Uma is a hidden gem specialising in hearty bowls of tonkotsu ramen that boast a creamy and rich broth.
It has served ramen at Tanglin home long before the recent deluge of trendy new food offerings. For a place that has operated for close to a decade, this authentic ramen joint is possibly one of the most under-the-radar finds in Singapore.
As a testament to its authenticity, you'd often find many Japanese-speaking groups slurping on its signature ajitama-uma (pork flavored shoyu broth with thick cut grilled chashu and flavoured egg, S$14.90) or the nori-tama-uma (the ajitama-uma dish with additional slices of seaweed, S$16.80).
If you prefer your ramen with a kick, Bari-Uma has spicy options, too. Get the kara-tama uma (S$16.90), a pork-flavoured spicy shoyu broth with thick cut grilled chashu and flavoured egg, or the tori kara-uma (grilled chicken spicy soup, $14.90), which adds a fiery intensity to the lighter chicken-based broth.
3. Lucky Saigon Cafe
365 Tanglin Road
Open: Monday to Sunday (9pm to 10pm)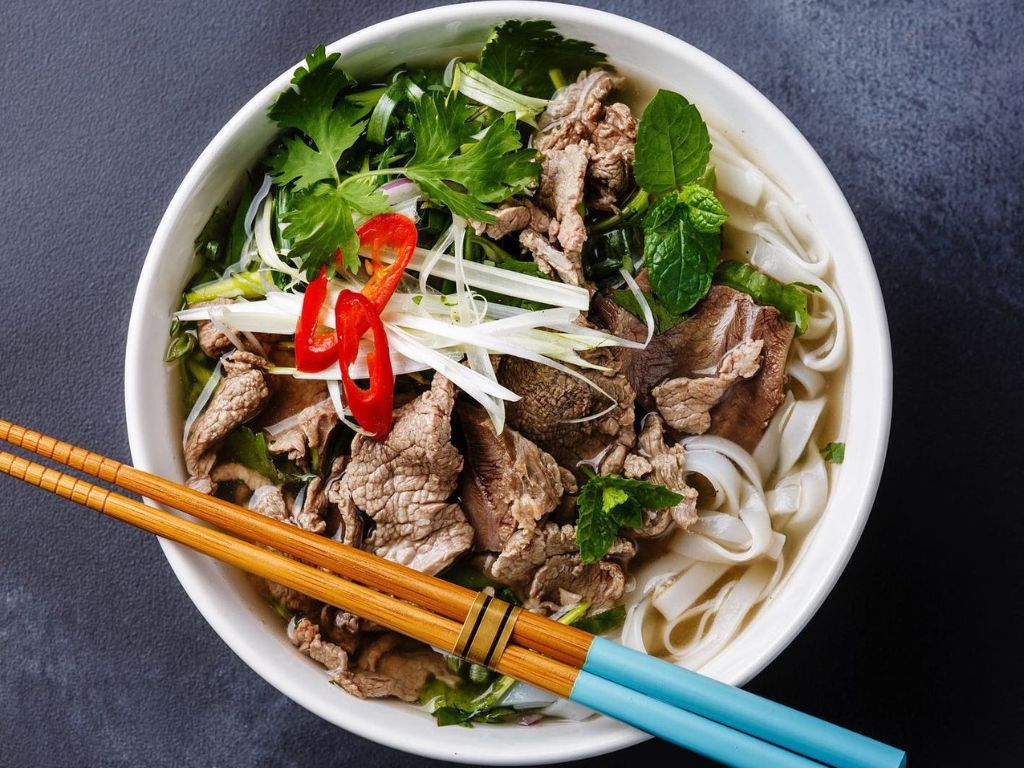 Unlike the rest on this list, Lucky Saigon Cafe is a little off the radar — literally. This spot serving Vietnamese food in Tanglin can be found at the tail-end of Tanglin Road, closer to Margaret Drive.
This Tanglin Vietnamese restaurant has a spacious outdoor patio, lush greenery and rustic setting, complete with a small waterfall, lends it an ethereal, out-of-city vibe. Decorated with draping plants and light bulbs, you'd immediately feel like you stepped into a beer garden abroad.
Like many popular Vietnamese eateries in Singapore, Lucky Saigon Cafe specialises in authentic Vietnamese classics. Its extensive menu contains many familiar choices, such as summer rolls (rice paper rolls comprising rice noodles, vegetables, herbs, and shrimp or pork, S$6.50) and traditional Vietnamese slice beef pho (S$12.50). 
There are also bigger sharing plates for bigger party sizes, including the bbq seafood platter (S$68) comprising grilled prawn, squid, fish and vegetables.
4. La Veranda
Tanglin Mall, 03-128, 63 Tanglin Road
Open: Wednesday to Monday (9am to 3pm)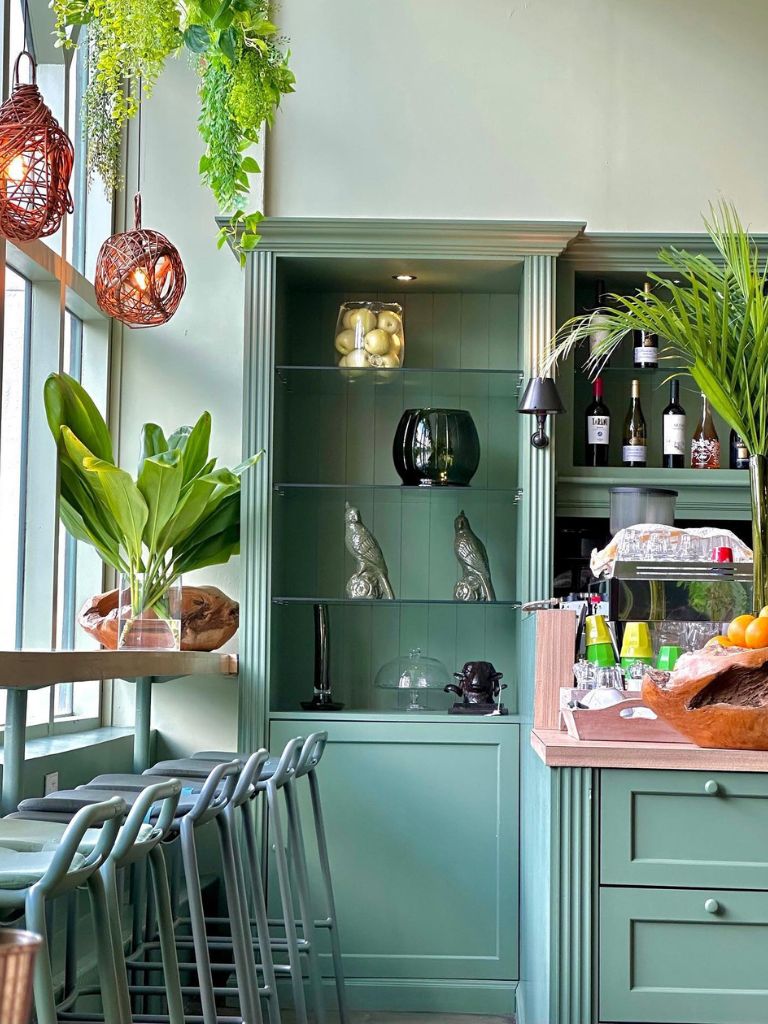 La Veranda, which is nestled within level three of furniture shop House of AnLi, is a hidden gem that offers a one-of-a-kind experience.
Its capacious and sun-drenched space, along with the striking pastel tones and botanical theme, make it a gorgeous spot for a mid-day sojourn among friends looking for an intimate space to catch up.
Besides its tasteful decor, La Veranda also offers a menu that will leave you spoiled for choice. Its selection ranges from wholesome sandwiches, such as the naked ricotta & burrata mousse tartine (S$28), to an array of fresh bakes, including French croissants (S$6)
Early birds who are there to enjoy the ambience for breakfast and lunch can also tuck into the hearty all-day breakfast selection. 
You can get iconic brunch classics, such as the smashed seasoned avocado on sourdough toast (S$20), or the classic organic poached eggs "royale" with Scottish salmon & hollandaise sauce (S$32), which you can wash down with slow pressed fresh juices or specialty coffee from Allpress Espresso
5. Necessary Provisions
Tanglin Place, 01-01, 91 Tanglin Road
Open: Monday to Sunday (8am to 5pm)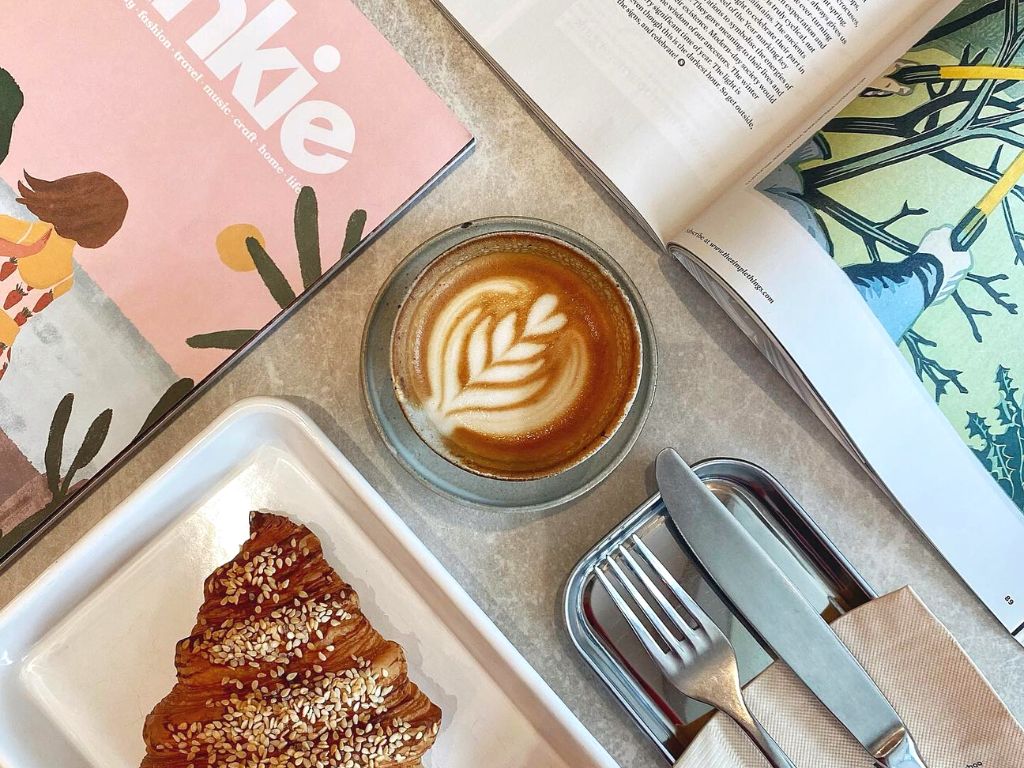 Most people should already be familiar with Nassim Hill Bakery in Tanglin — it's a stalwart in the Singapore cafe scene. What you might not know, is that another pioneer in the scene, Necessary Provisions, also moved into the area, serving food at Tanglin. 
Fans were dismayed when Necessary Provisions shuttered its Upper Bukit Timah location in 2018. In 2020, it reopened in Tanglin, and is now tucked within the SmartFit Pilates Studio.
The chic hideout in Tanglin Place makes for a great brunch spot. Warm lights, wooden rustic decor and an understated palette give it a cosy vibe that's perfect for anyone looking to kick back and enjoy a mid-day cuppa.
Coffee options are one of the cafe's strong suits as it runs its own roastery. Customers can have their pick from classic options, including americano (S$5/hot, S$6/iced), caffe latte (S$6/hot, S$6.50/iced), and mocha (S$7/hot, S$8/iced).
Besides coffee, Necessary Provisions also provides some light bites, such as french toast (S$17) and freshly baked cake (S$4), in case you're feeling peckish.
---