Find sourdough too… sour? Bake Anthem in Sin Ming aims to make the bread more appealing to all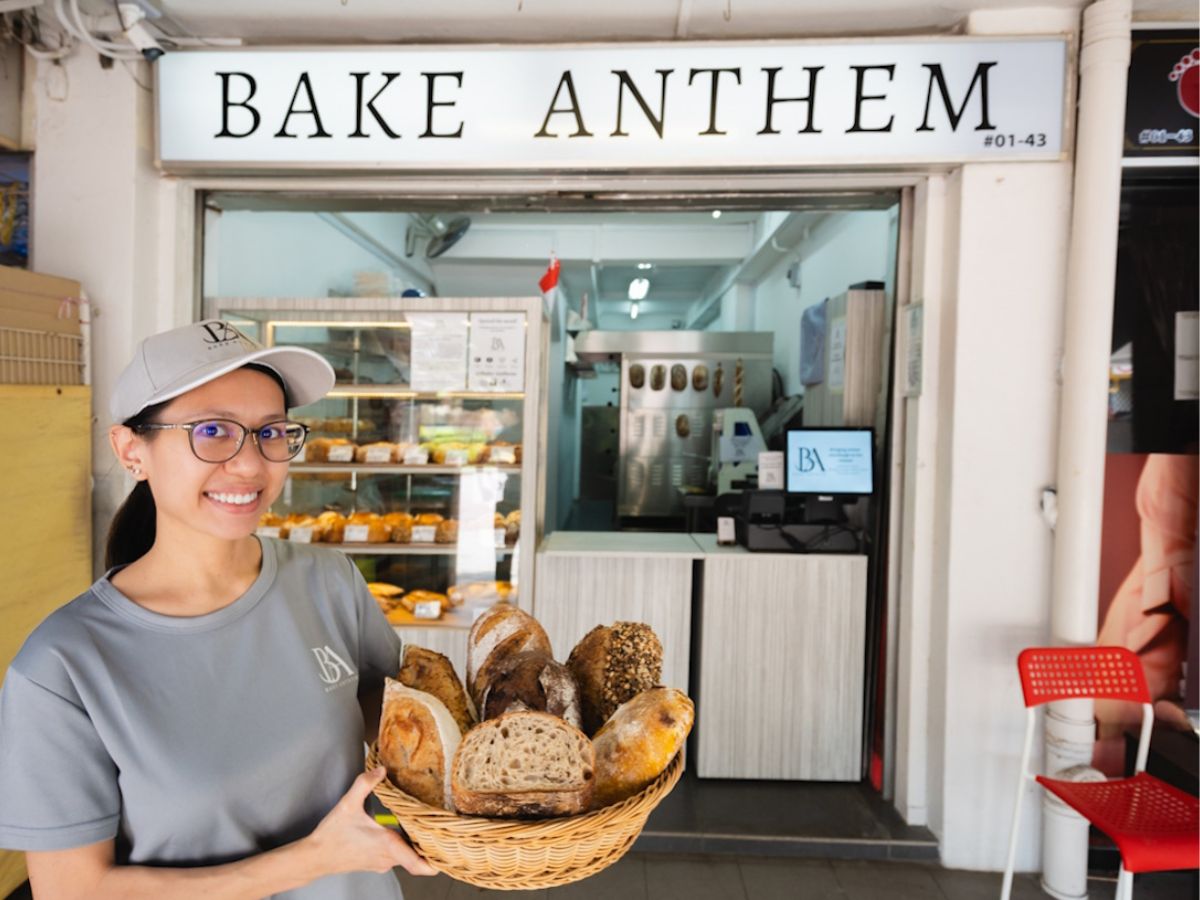 Bake Anthem is a passion project by Renee Wee and her husband, who has close to nine years of baking experience
Their aim is to make sourdough more attractive to a wider audience
All of the bakery's offerings are made from scratch daily, and are lighter in texture and less tangy compared to regular sourdough
Nestled in the quaint and rustic neighborhood of Sin Ming lies Bake Anthem, a store that might seem a tad out of place in a HDB estate that's more known for provisions than artisanal goods. 
Bake Anthem is a takeaway shop that sells a range of homemade sourdough loaves, and its gleaming display case of freshly baked sourdough breads is a marked difference from the old-school stores surrounding it. 
Case in point: It's located next to stores selling religious goods, Chinese medicines and provisions. After all, the neighbourhood of Sin Ming, generally seen as the quiet sister of its trendy neighbour, Upper Thomson, is more popular for its coffee-shop offerings than "hipster" cafes or artisanal, boutique shops.
Located along 24 Sin Ming Road, Bake Anthem is just a few doors down from the busy kopitiam that houses a slew of popular stalls including Sin Ming Roti Prata.
We got a chance to chat with Bake Anthem's co-owner Renee Wee, who gave us more insight into the bakery's ethos and genesis.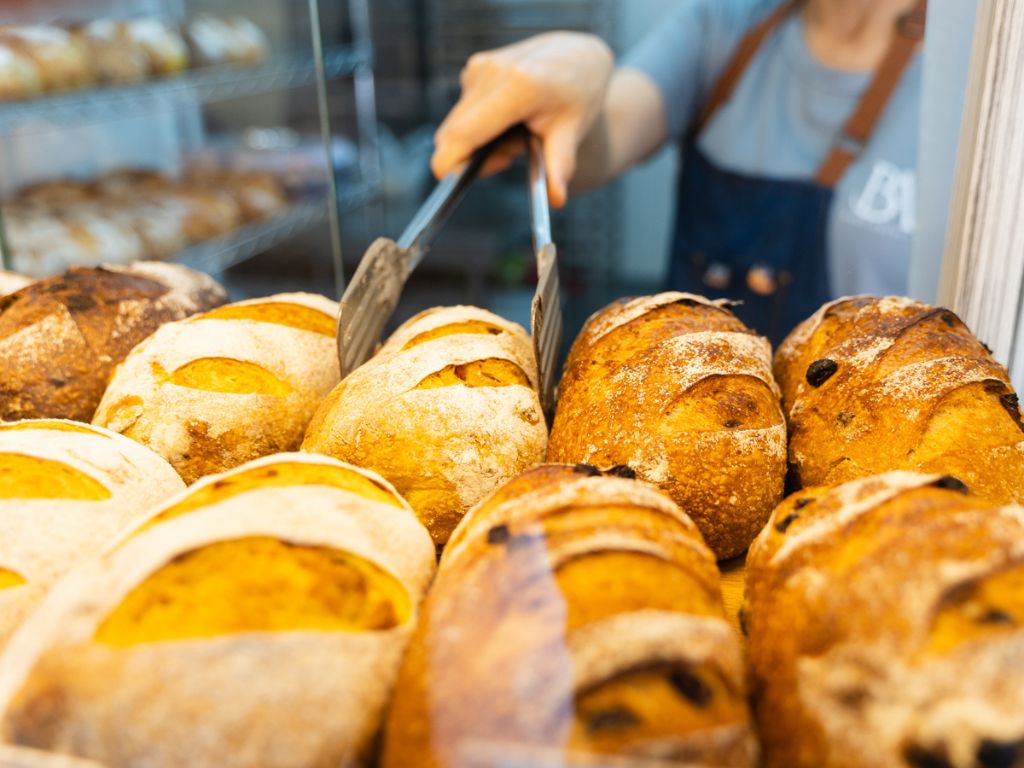 According to Wee, the six-month-old Bake Anthem was a passion project she created together with her husband, a baker with close to nine years of professional baking experience. 
They chanced upon the rather unlikely Sin Ming location and found it a suitable location for their goals. "We felt (it) had the potential to be molded into our vision of an artisanal sourdough bakery, especially due to the surrounding customer demographic," Wee says.
For the couple, Bake Anthem is a way to spread their love for sourdough, particularly among the older generation and critics, some of whom may have had patchy experiences with the distinctly tangy bread.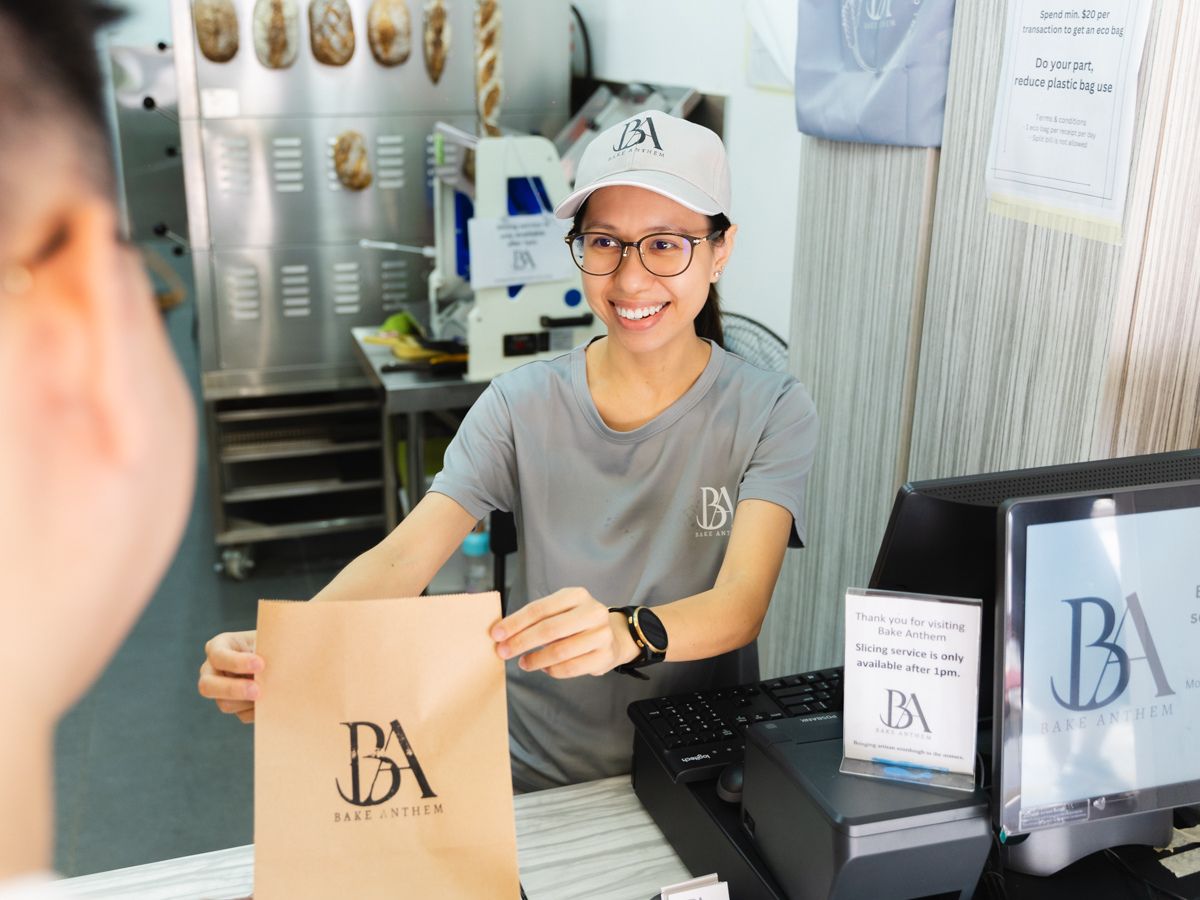 "You know how a lot of people, especially the older generation, tend to think of sourdough as very hard on the outside and too sour? We wanted to explore different methods of making sourdough to broaden our customers' perception of sourdough," Wee explains.
How they are doing that is by tempering their bakes and creating loaves that are more balanced in texture and taste — that is, not too tough on the exterior and sour in the interior.
It took the pair some time to convince residents of the beauty of sourdough, though. Bake Anthem started out by giving free samples to passers-by to get them acquainted with its sourdough offerings.
The reception and Bake Anthem's reviews have been very positive. "We find it very interesting (to interact with customers) and we like to hear surprised customers giving feedback that our sourdough isn't sour and hard," Wee observes.
Besides the goal of propagating a wider love for sourdough, the couple is also hoping to forge a more supportive work environment for their team. 
At present, the pair entrusts the majority of Bake Anthem's operations to their competent all-women team, and pop in on occasion to check on them and provide support.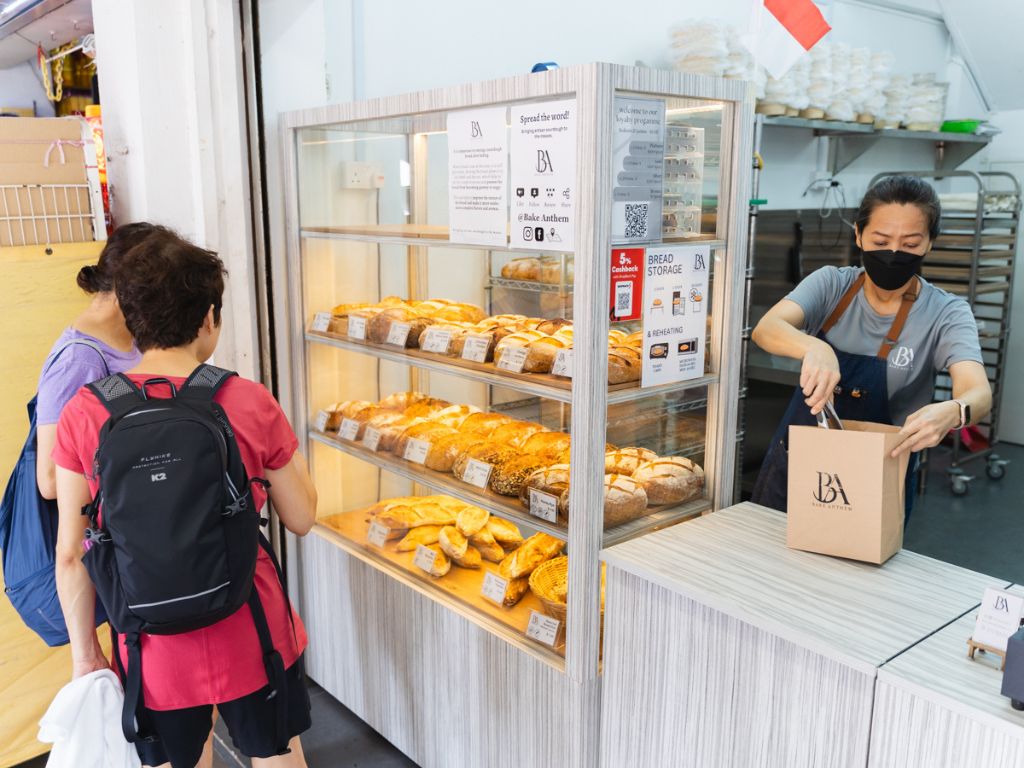 Staff and the owners work out a set schedule, but the owners do not enforce strict hours as long as the work is done and the standard of the bakes is not compromised. This means there's more flexibility for staff if they need to leave early or come in late due to family commitments. 
Being parents themselves, the couple understand the struggles of juggling family time especially in the usually draining — and sometimes toxic — F&B industry.
"We don't micromanage and we recognise that they are all experts in their own right. So they are free to plan out timings that best suit them, as long as the quality is still there," says Wee.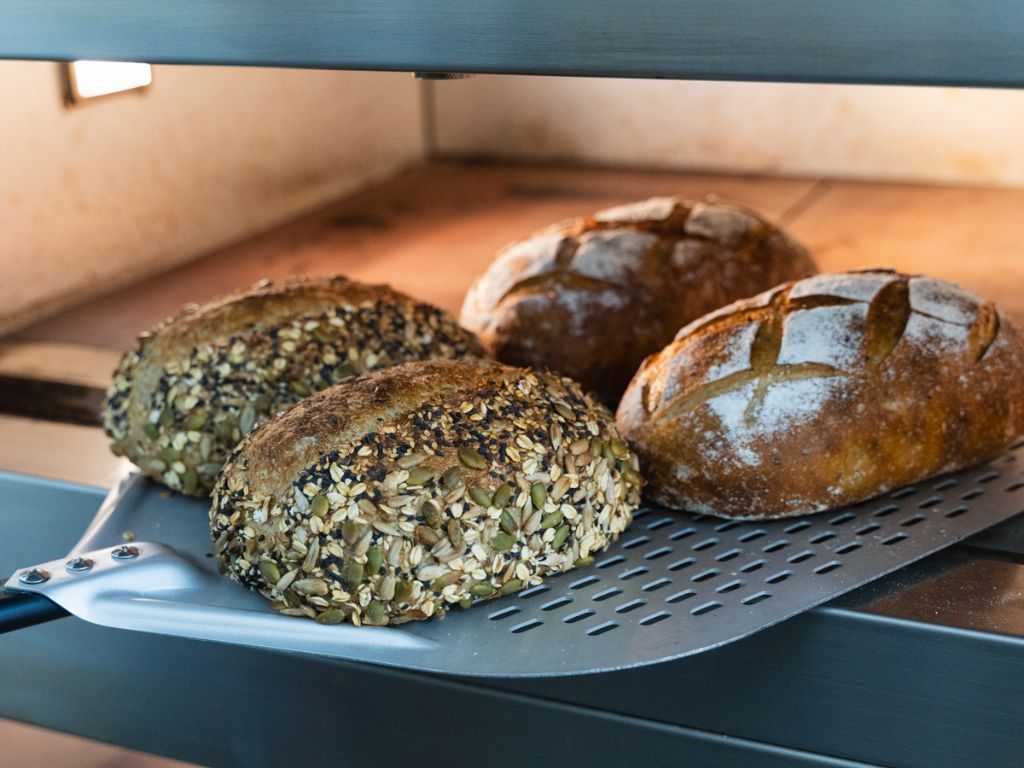 Everything at Bake Anthem is made from scratch using the trusty mother dough starter, endearingly nicknamed "Gary". 
As everything is crafted with quality in mind, there are limited quantities for each day and there will be no new batches in the afternoon, even if certain batches don't live up to expectations.
The team takes pride in transparency, regularly updating social media and explaining to customers if certain varieties are not up to scratch for sale that day.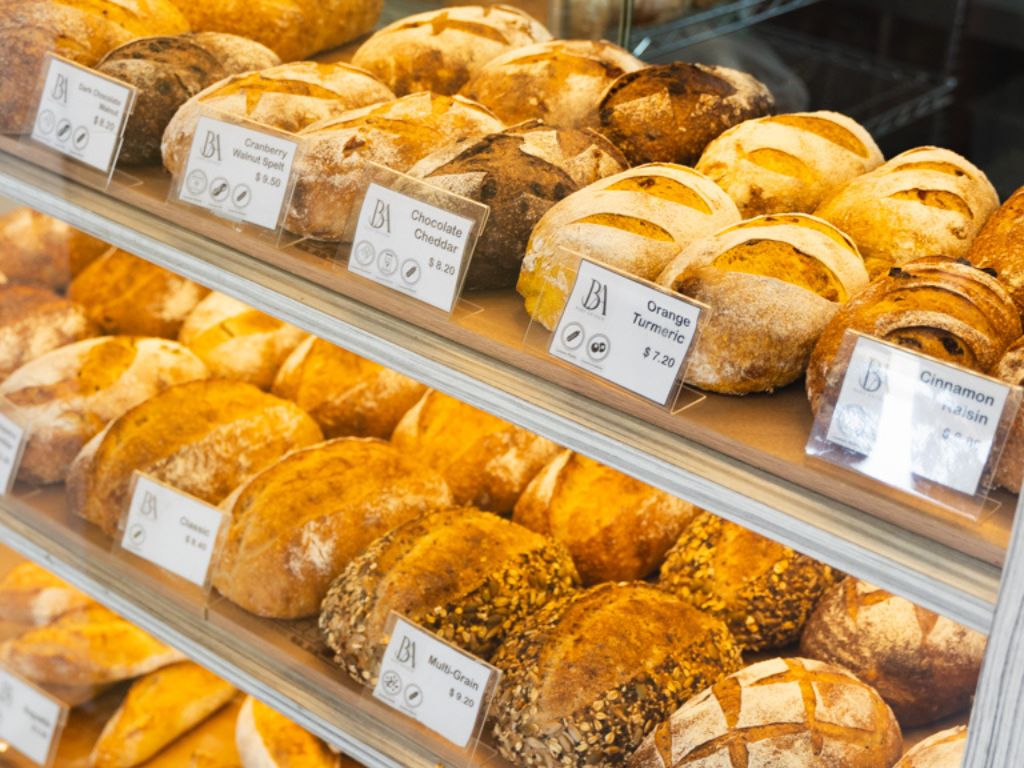 Don't worry though, there are more than enough varieties to cater to all customers.
After all, Bake Anthem has a wide range of both sweet and savoury options on its menu, ranging from mini baguettes (S$2.60) to robustly flavoured loaves such as the jalapeno cheddar (S$13).
Some of our favourites included the rich and nutty dark chocolate walnut (S$8.20) and the mixed herb olive (S$13), which has a fragrant and umami flavour profile that somewhat resembles classic Italian focaccia.
Another standout is the cranberry walnut spelt (S$9.50) that blends the piquant berry with the fragrant walnut. This is also one of the couple's favourites.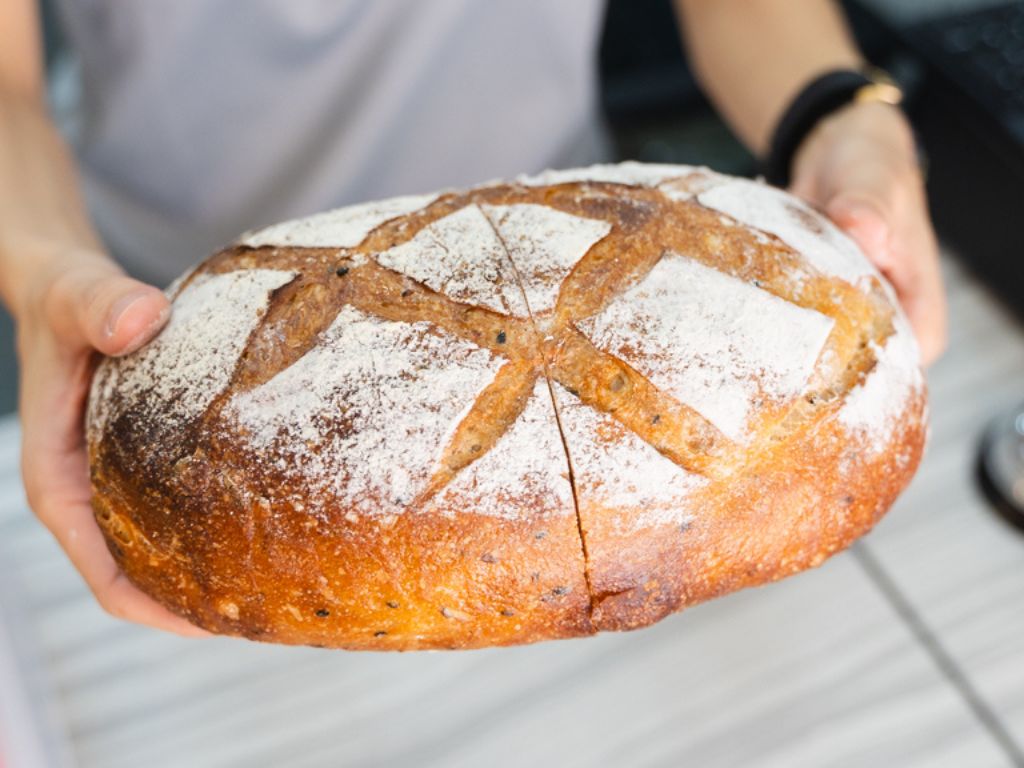 However, don't brush off the bakery's simple classic loaves, too, such as the multi-grain (S$9.20) and flax seed (S$8.40). 
We enjoyed these the best, as the textural quality is more evident here.
For one, the crumb (inner part of the bread) is less chewy and tangy, almost like a hybrid with our familiar local-style white bread. It's light and fluffy, with just the right touch of moisture. The crust is less dense but still crunchy, reminding us of lightly toasted bread.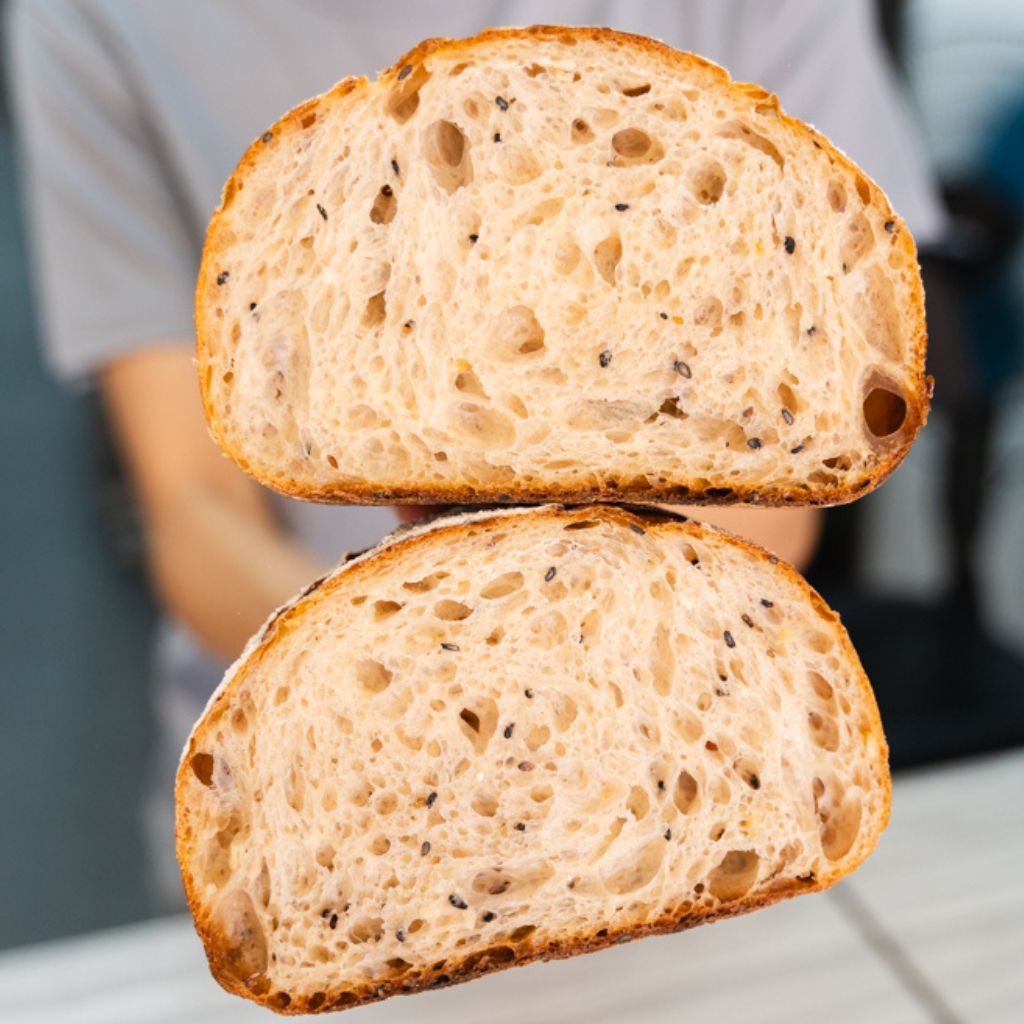 Apart from the regular loaves, other bestsellers at Bake Anthem include the ciabatta (S$4.20), which was already sold out when we reached at 11am, and the focaccia (S$5.50).
Despite the name, the latter is actually different from the beloved Italian classic. Instead, it's an intriguing item that focuses on sustainability, using surplus ingredients as its components. So on certain days, you'll get a mix of herbs and olives, and on other days, it could be a combination of cheese and tomatoes.
When asked what their future plans were, Wee says it's too early to tell. However, they remain optimistic.
"We've received a lot of encouraging feedback from customers and friends alike. It's seeing our brand reach grow bigger than we expected, getting support for our belief in transparency and receiving praise for our sourdough for its one-of-a-kind texture that really keeps us going."
24 Sin Ming Road, 01-43
Nearest MRT station: Upper Thomson
Open: Friday to Wednesday (9am to 6pm)
24 Sin Ming Road, 01-43
Nearest MRT station: Upper Thomson
Open: Friday to Wednesday (9am to 6pm)
---