This former marketer quit her corporate job to create mousse cakes at Arc En Ciel Patisserie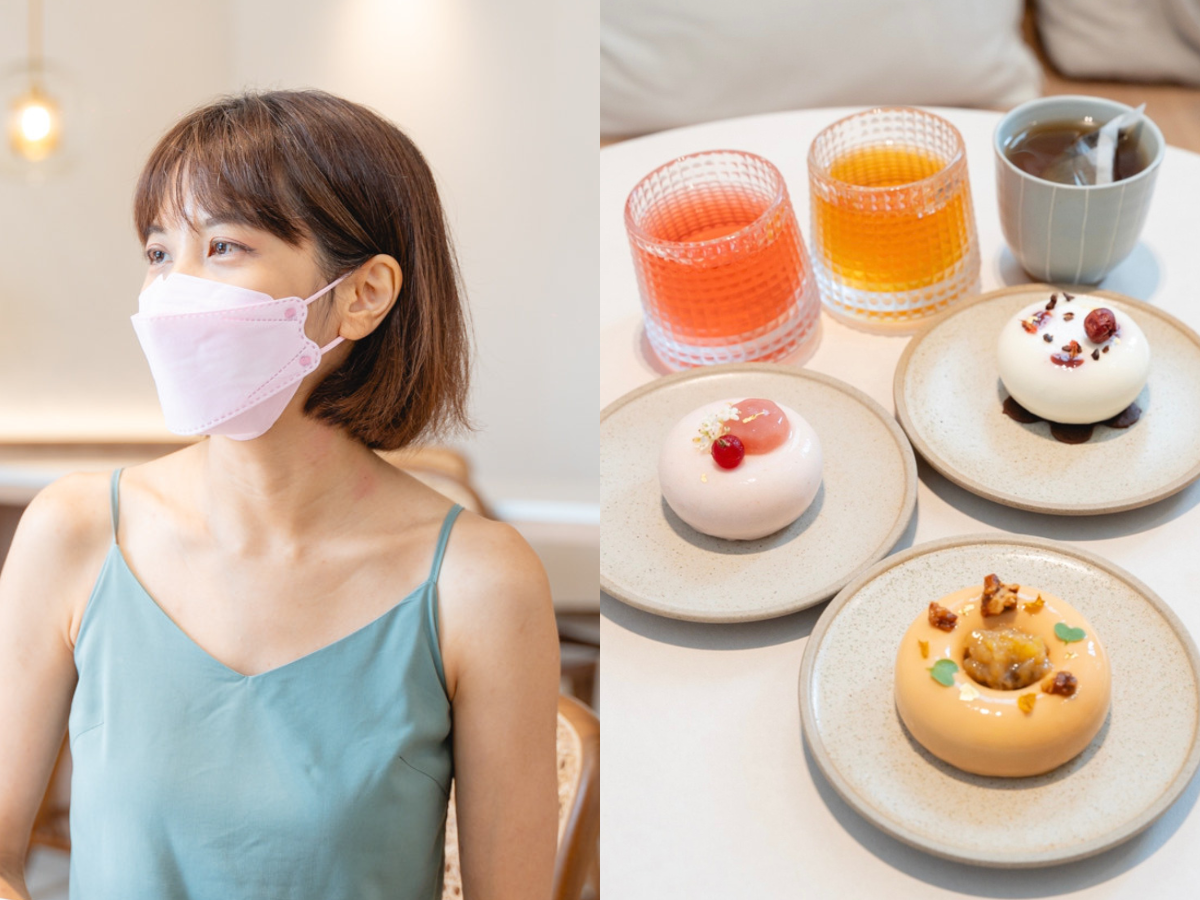 39-year-old Lin Jiawen was in the corporate marketing sector for about six years, before she left her job to enroll in pastry school 
She took a six-month sabbatical, where she travelled solo and gained new experiences, such as farming in Taiwan and Tennessee, USA 
Arc En Ciel Patisserie is inspired by Lin's love for cakes, where she creates "belly smiles" for diners through her pastries
For most, switching jobs mid-career can be incredibly daunting. The uncertainty and fear of transitioning to a new profession often stop us from biting the bullet to pursue a new career path. 
Not for Lin Jiawen, the bubbly chef-owner of Arc En Ciel Patisserie, though. 
The 39-year-old decided to take a leap of faith, gathering up her courage to try something completely new. She quit her corporate marketing job of nearly six years and enrolled herself in an 18-month pastry course at At-Sunrice GlobalChef Academy in Singapore. 
That was nine years ago, when Lin made her career switch in 2014. Today, she's a successful pastry chef at Arc En Ciel Patisserie, a popular mousse cake shop situated along Neil Road. 
Pronounced as "ar-kon-see-ell", which translates to rainbow in French, the dessert parlour embodies Lin's dream of sharing "belly smiles" with diners through her pastries. It's her ethos that the flavours in her food are as bold as the colours of a rainbow.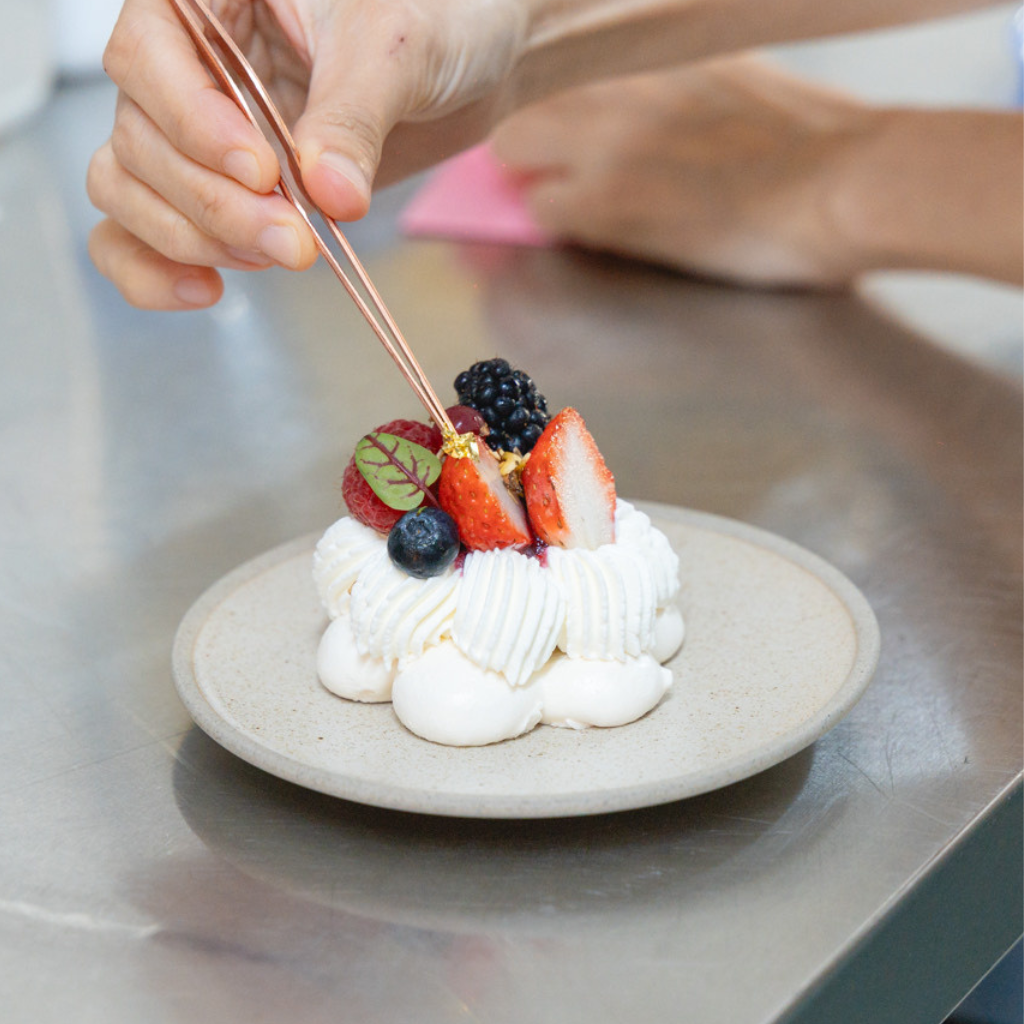 Unlike many others in the culinary trade in Singapore, Lin never dreamt of becoming a pastry chef. She attributes the decision behind her sudden career change to a six-month sabbatical she took in 2013. 
During this time, she travelled solo around the world, where she gained a plethora of new experiences. 
For starters, Lin tried her hand at organic farming in Taiwan and Tennessee, as well as experienced life in various cities in the United States, such as San Francisco and New York.
Though these farming experiences were out of Lin's comfort zone, they taught her to push her limits and muster the courage to try new things. 
"I ended up doing things that I wouldn't usually do," Lin muses. "You only get one chance to do certain things in life, so (I thought) why not explore the things that you typically wouldn't?" 
Lin has carried this YOLO (you only live once) mentality with her since then, which is how she eventually got into baking — an interest that she unexpectedly chanced upon after returning from her holiday.
How Lin's culinary career began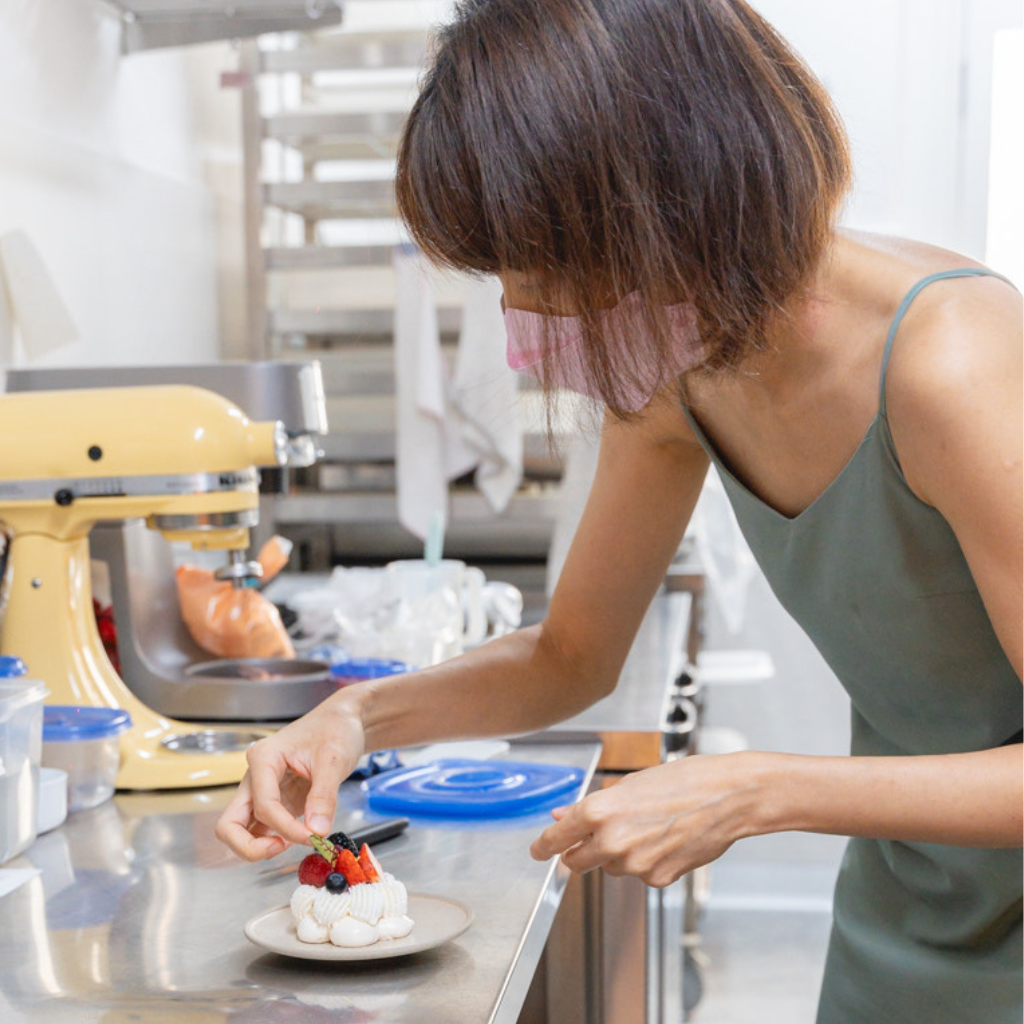 Upon returning from her trip, Lin decided to leave the corporate world, using her savings to support her during this break. It was an "extended holiday without the Monday blues", she says. This gave her time to explore new activities, such as baking.
"I realised that every time I gave the bakes to my friends or family, they were very happy," Lin added. "So I decided to sign up for pastry school."
However, the journey to becoming a pastry master wasn't easy. Compared to other fresh-faced classmates in the programme who were in their early 20s, Lin always felt that she was racing against time to make a name for herself. 
But despite all odds, Lin enjoyed her time in the kitchen, where she learnt how to make different types of pastries. 
"It makes me very happy when I see people eating the cakes that I make," Lin says. "It gives me the satisfaction and meaning in life that I never had when I was in a corporate job."
As part of the curriculum at At-Sunrice, Lin clinched her first internship at French establishment DB Bistro & Oyster Bar by Chef Daniel Boulud. She worked there for a year, where she familiarised herself with the ins-and-outs of working at a busy restaurant.
She recalls the job being extremely fast-paced, which served as a good training ground for her to cope with stressful situations. 
But Lin realised that restaurant life wasn't cut out for her and her true passion lay in pastry making. After graduating from the course, she worked in the pastry department at gourmet cafe The Providore. 
She was also a pastry chef at Japanese patisserie Kki Sweets for half a year, where she worked with owners Kenneth Seah and Delphine Lau. Lin had also previously met the couple when they were working as food consultants for The Providore.
Seah is reputed for his exquisite mousse desserts that are light as air. 
Lin describes Seah as an inspiration of hers, and that working with him prompted her to also specialise in mousse pastries. 
"I saw how beautiful his craft can be," she says. "The way he made his cakes was very inspiring, and I was motivated to create flavours of my own."
Through these work experiences, Lin got to create new dessert recipes and hone her culinary techniques — all of which equipped her with the confidence and skills to start her own home-based business, Arc En Ciel Patisserie, in 2020. 
The business boomed during the pandemic, but once the borders opened, Lin saw a drastic drop in sales. She figured that her customers preferred dining at a physical outlet instead. 
As such, Lin decided to move the current brick-and-mortar location at Neil Road in March this year.
The space at Arc En Ciel Patisserie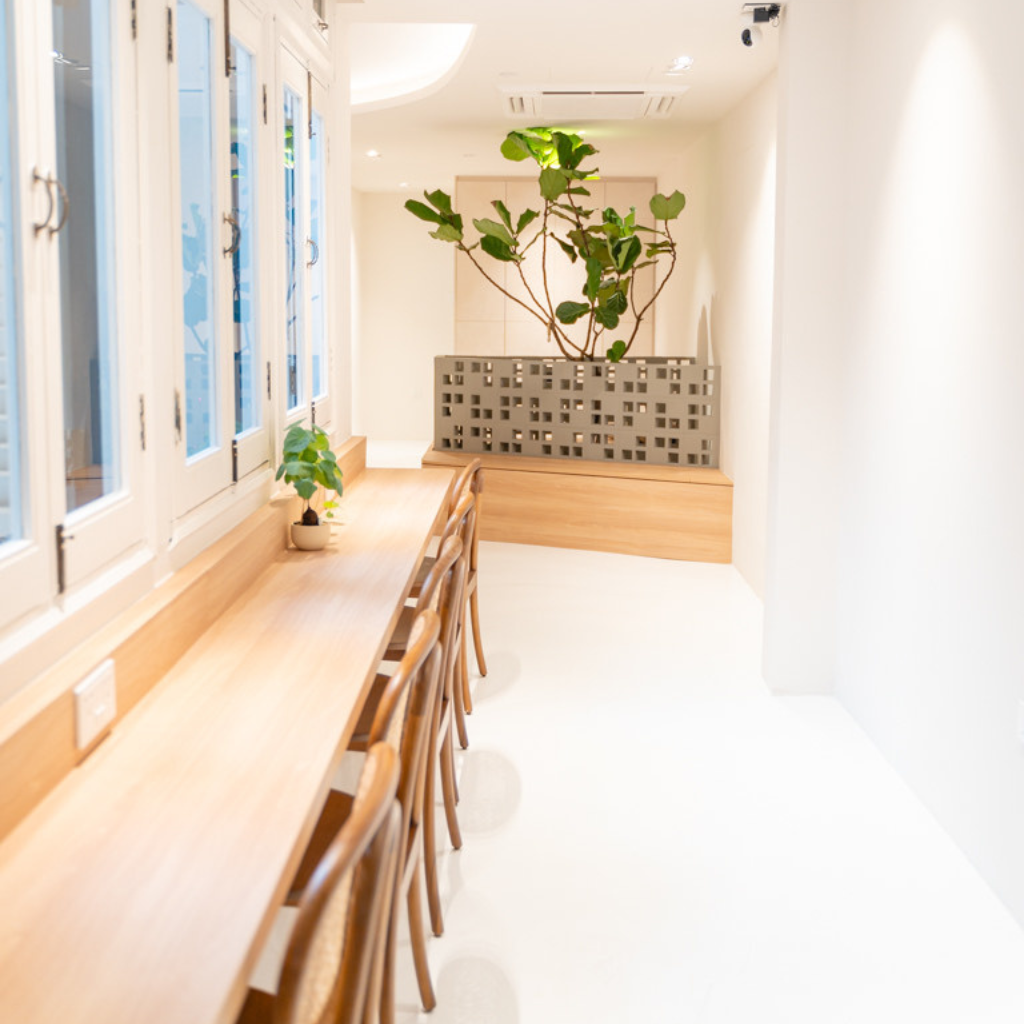 From the moment we set foot into Arc En Ciel Patisserie, we were immediately blown away by the charming, minimalistic landscape. 
Decked in brown trimmings, pebble stone flooring and lush plants, it's a cosy space that's modelled after Lin's fondest memories in Paris. 
"I like to eat cakes in parks," Lin explains. "Sometimes the cafes don't have a space with tables where you can eat, so you have to take the cakes (to-go)." 
Fashioned after parks in Paris, the interior is inspired by her love for savouring sweets in a park. It's her labour of love and the perfect place that transports diners to her happier days in the city of love.
The inspiration behind Lin's Japanese-French fusion pastries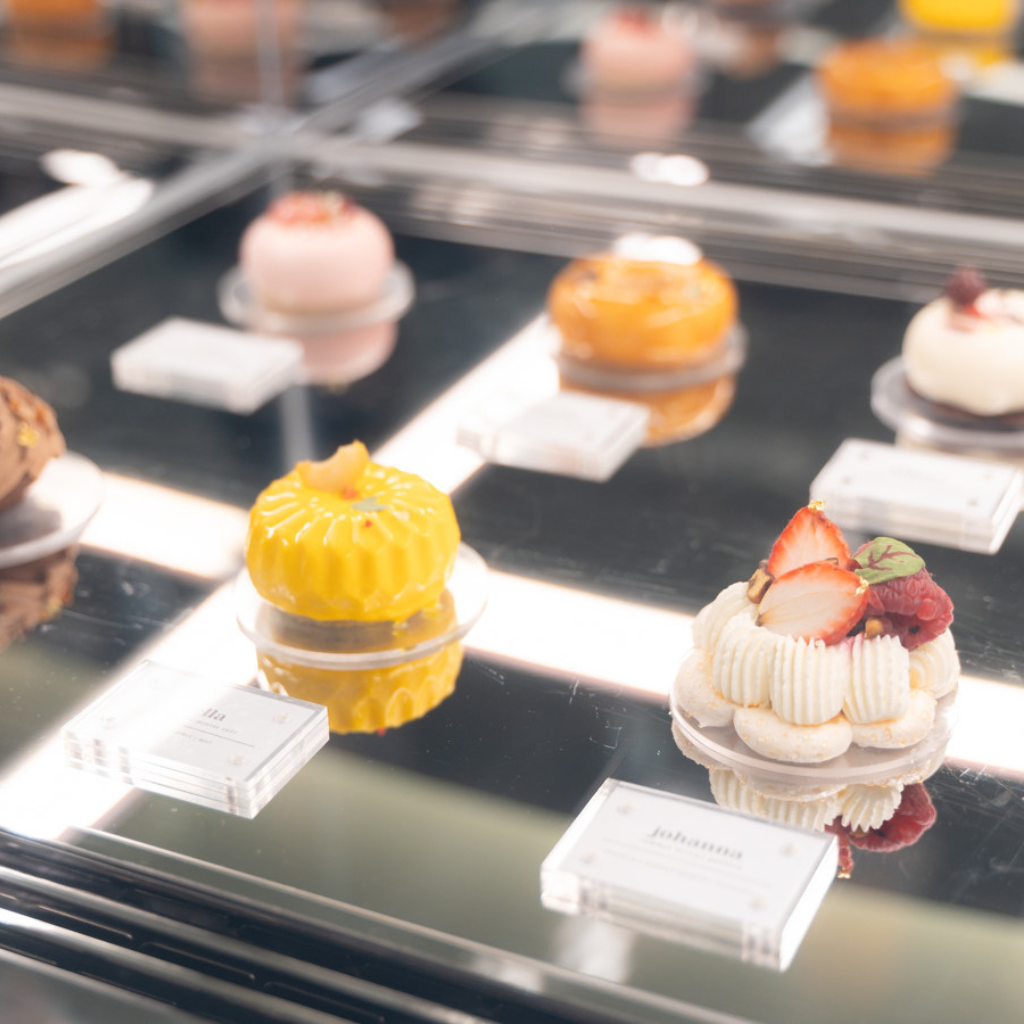 Lin's pastries are inspired by her frequent travels to Japan and Paris. "My cakes are a combination of Japanese and French," she says. "My flavours are more French-style because that's where I get my inspiration from, but the technique of doing it is more Japanese."
This technique results in cakes that are lighter and fluffier in texture. 
In 2019, Lin took a trip to Tokyo, where she tried a host of mousse cakes by now-defunct patisserie Hidemi Sugino. Inspired by Chef Sungi's gorgeous entremets, Lin was motivated to also create mousse cakes with unique flavours. 
One of her creations includes Elijah, a tangy lime-hued treat that's inspired by the nostalgic childhood Solero ice cream. 
She certainly succeeded on that front, as her picture-perfect pastries are highly beloved by diners. But what makes her desserts special is that they're named after people and places Lin has encountered on her travels. 
For her, it's not just a cake — it's a special memory of a time she holds dear in her heart.
Checking out the seasonal menu at the cafe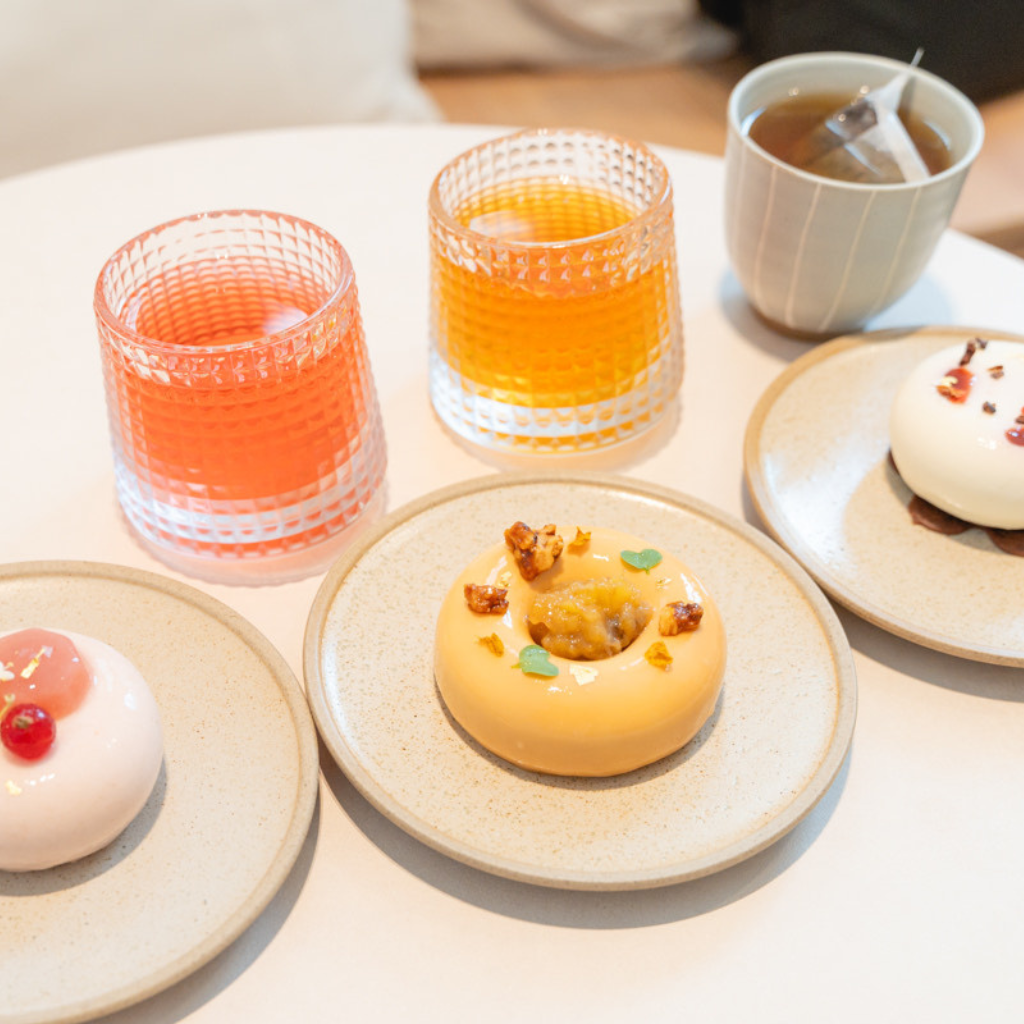 The current menu comprises six different cakes — Dali, Athena, Johanna, Claire, Bella and Charles, which will be available until mid-October. The inspiration for this series of pastries stems from a cake-eating experience she had in Paris five years ago. 
For instance, Dali is a chocolate cake that's inspired by the flavours of a chocolate pastry she ate in Paris, created by Singapore's most popular pastry chef at the moment — French culinary artist Cedric Grolet. 
"I ate his chocolate tart and it was so good," Lin reminisces. "(I remember it was) at a restaurant in (five-star hotel) Le Meurice called Le Dali, hence the name of this cake." 
Bella is one of the first cakes she made. Named after her love for Paris, it's a tantalising mango and apple mousse cake with hints of mint.
"When I came back from Paris, I was very inspired by the whole trip," Lin smiles. "I called this cake Bella because Paris is ma belle ville — my beautiful city (in French)."
The dessert menu at the cafe changes every three to four months according to the season's best. This includes seasonal fruits, so this rotation spotlights summer fruits such as peaches and mangoes. 
Lin affirms that her pastry flavours here are one-of-a-kind. "I like to use interesting combinations in my cakes," Lin says. "All my cakes are an artwork in itself."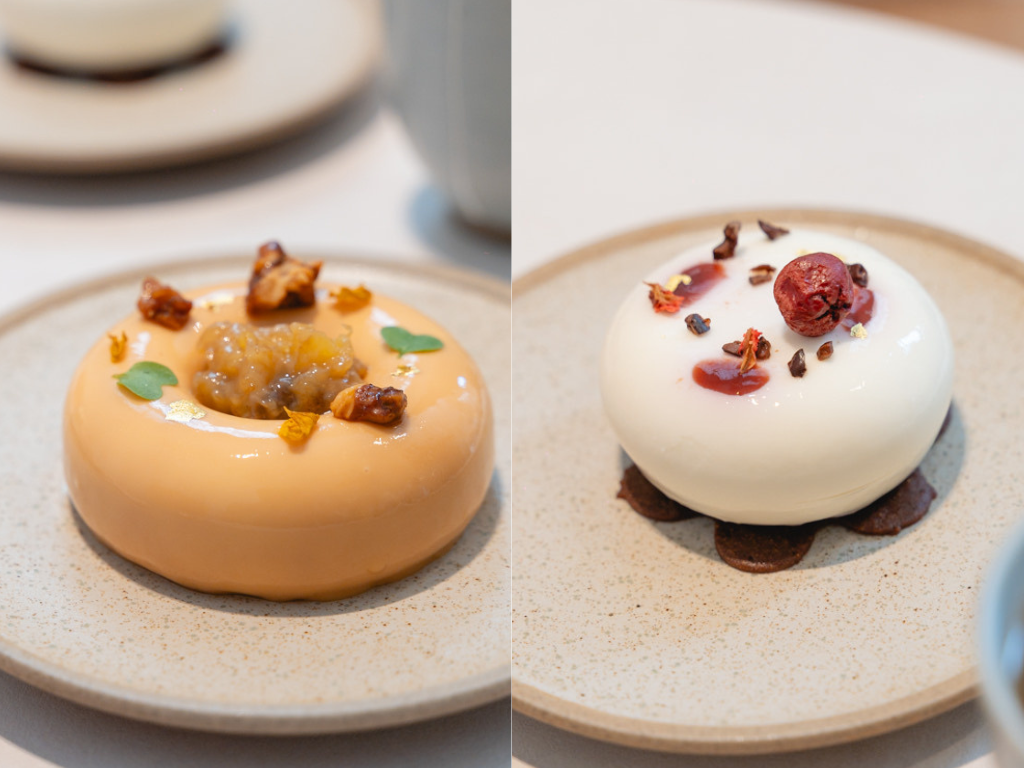 We got to try three of her mousse cakes: Charles, Claire and Athena (S$11 each). The latter is our favourite, a decadent white forest pastry that features cherry, as well as white and dark chocolate. 
It's recommended to pair Athena with the fragrant lavender citrus tea, which best complements the creaminess of the cake. 
Charles was also a treat to savour, which featured a creative combination of lime, banana and caramel. It's also topped with crunchy walnuts.
Lin mentions that it's her favourite pastry among the six flavours, and we can totally understand why. With just the perfect balance of sweetness and tartness, it's an addictive dessert that will have you reaching for a second bite.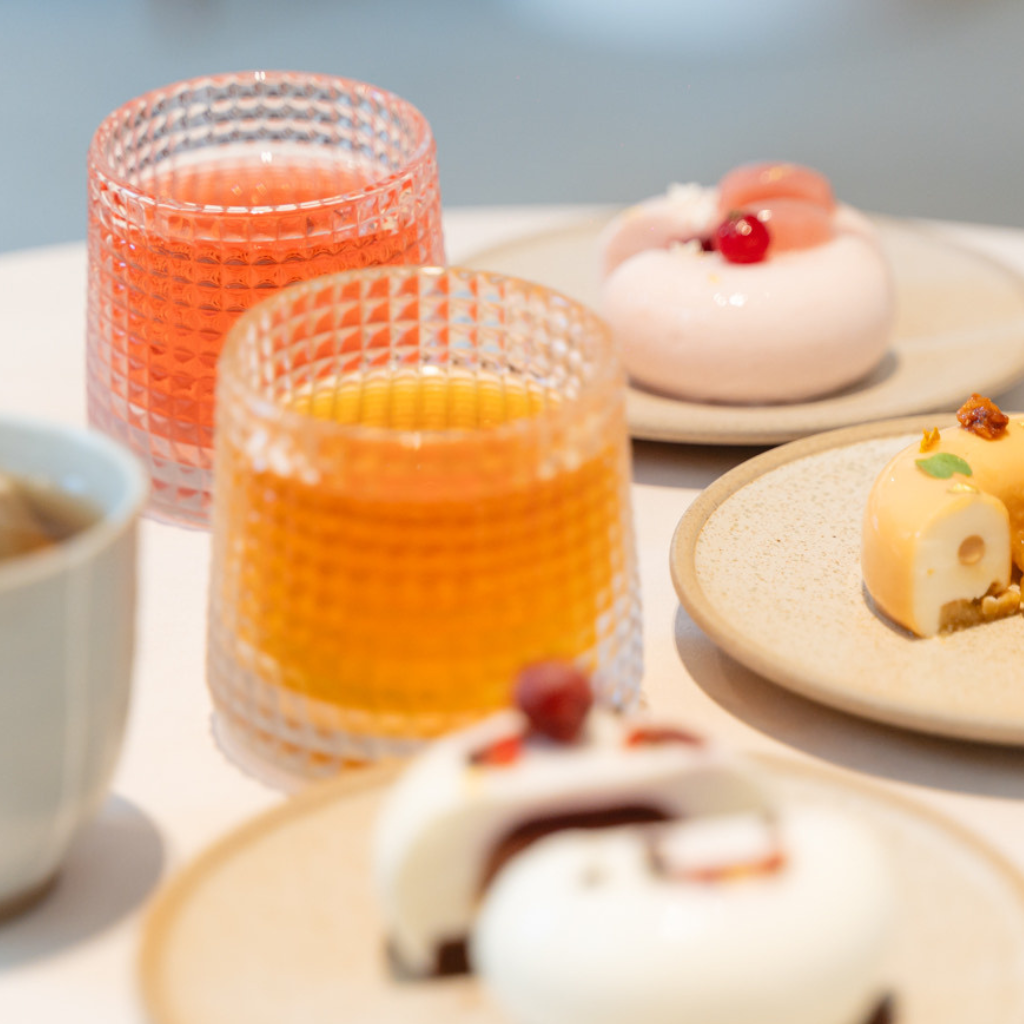 Come mid-October, Arc En Ciel Patisserie will welcome a menu change. Lin teases that the new launch will feature desserts boasting alcoholic, festive flavours — just in time for Christmas. 
She also has plans to introduce a night menu at the end of the year. It will be an elevated, up-scale concept that includes cocktail pairings.
If there's a piece of advice that Lin wishes to share with aspiring chefs, it's to never give up. "The path to greatness is tough," Lin encourages. "But hang in there and enjoy the environment that you're in rather than thinking of it as a job."
37A Neil Road, Second Floor
Nearest MRT station: Outram Park
Open: Sunday, Monday, Wednesday and Thursday (1pm to 5.30pm), Friday to Saturday (12.30pm to 6.30pm)
37A Neil Road, Second Floor
Nearest MRT station: Outram Park
Open: Sunday, Monday, Wednesday and Thursday (1pm to 5.30pm), Friday to Saturday (12.30pm to 6.30pm)
---