11 food spots to visit in and around Outram Park in 2023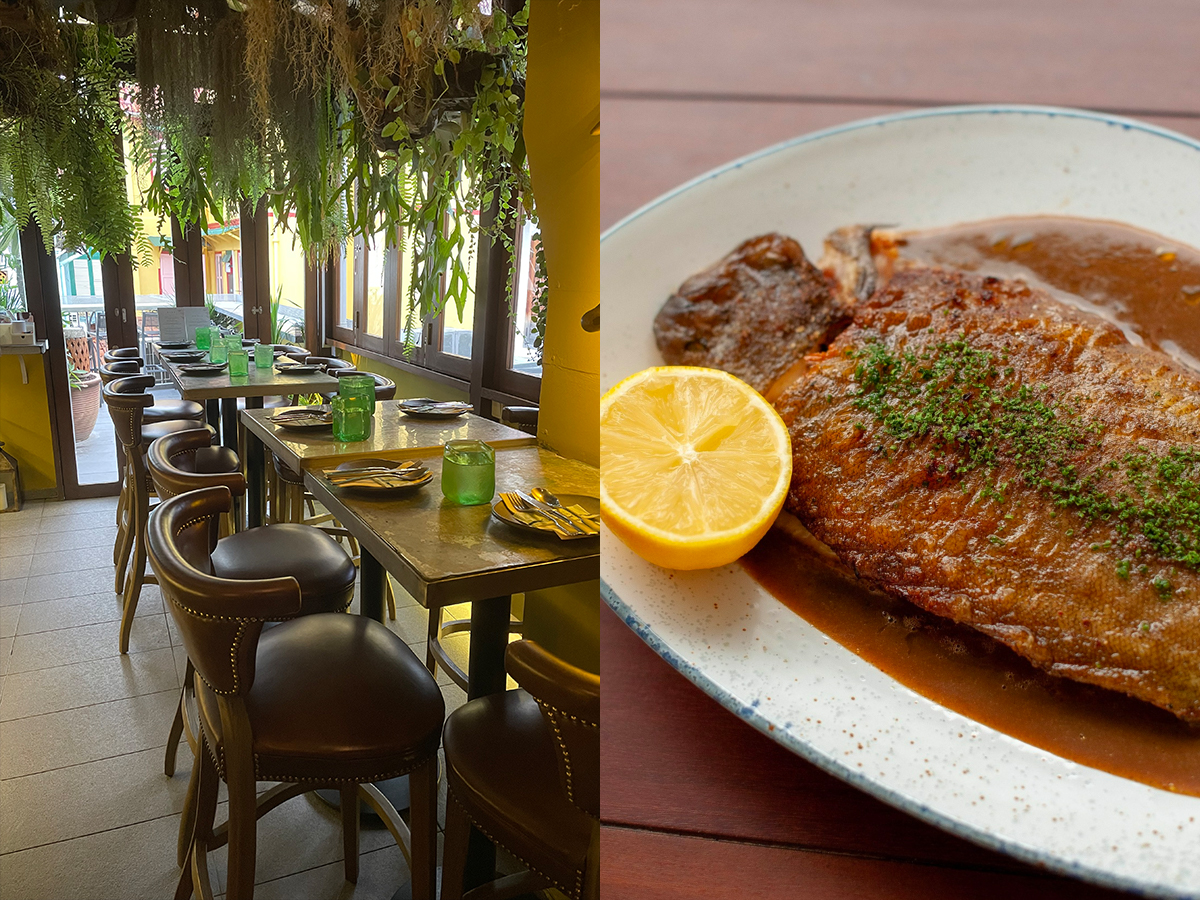 Arguably the new "it" spot, Outram Park is chock-full of popular eateries and undiscovered gems — all centrally located in Singapore. 
Aside from well-known places such as Homeground Coffee Roasters and Pasta Bar, there's plenty more Outram Park food options to explore in the area. 
Whether you're looking for ideas on things to eat at Outram Park, where to go for a date night or a place to have a tete-a-tete with friends, this guide to Outram Park's food spots has something for you. 
So venture beyond your usual hideouts and find yourself some new haunts with our Outram Park what to eat guide.
11 Outram Park food places to visit
1. The Better Half 
1 Everton Park, 01-43
Open: Tuesday to Sunday (10am to 4pm)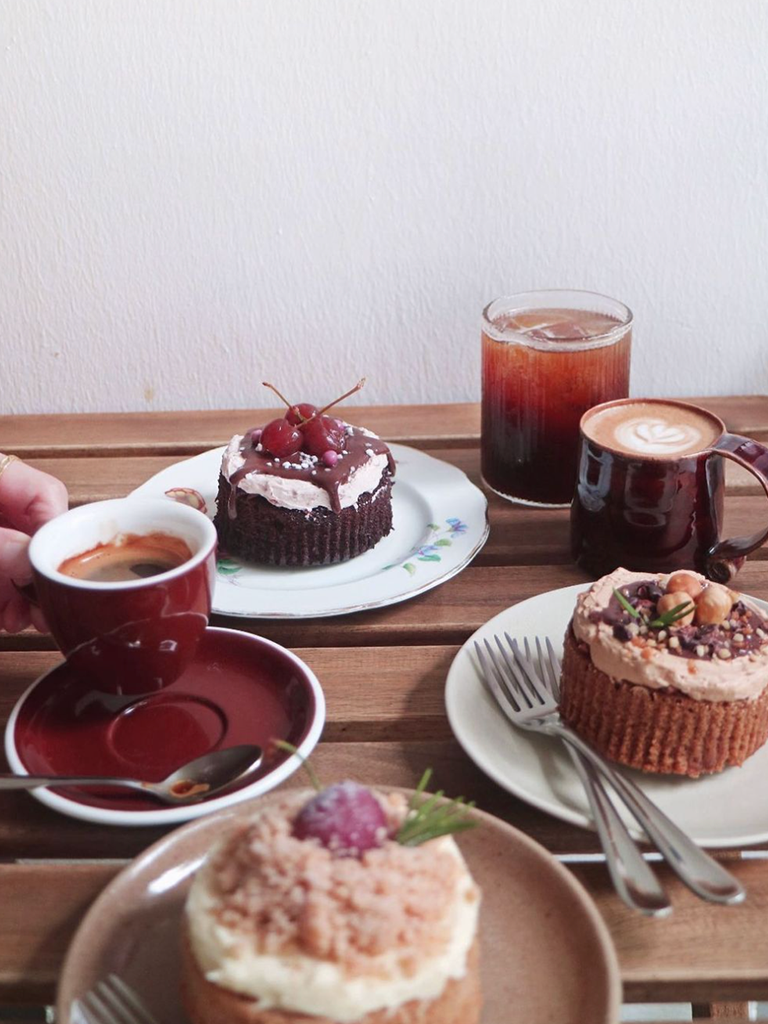 Why visit? This charming and intimate space is testament to the magic of handcrafted goods. The desserts found here are handmade with pure ingredients by one half of the duo behind The Better Half. It's a stone's throw from Outram Park MRT station and within walking distance of nearby eateries — making it an ideal spot for dessert. 
Price range: $
Crowd faves: The earl grey lavender sliced cake (S$8) is a classic that's bound to impress with its fragrant floral notes. For something a little different, try the orange almond brown butter cake (S$8) or the coconut white peach cake (S$9.50). Fans of the place have also sung praises of its mint mocha (S$6.50).
2. 46 Mittsu 
2 Everton Park, 01-61
Open: Tuesday to Sunday (8am to 3pm, or until sold out)
Why visit? Known for its innovative flavours and messy sandwiches, 46 Mittsu is a must-try if you're a sandwich lover. Just a few months after it relaunched at its new home in Everton Park, the sandwich maestros have revamped the menu to introduce customers to novel tastes. 
Price range: $$
Crowd faves: The B.E.C. (S$14) is an unbeatable classic loved by many, though with a new brioche base. A secret is to order the sandwich with hash (S$2). We also can't wait to try Disco Jangjang (S$15), a sandwich made with pork shabu-shabu, romaine lettuce, smashed cucumber and scrambled eggs. 
3. Soon Heng Pork Noodles
120 Neil Road 
Open: Monday to Saturday (8am to 3pm)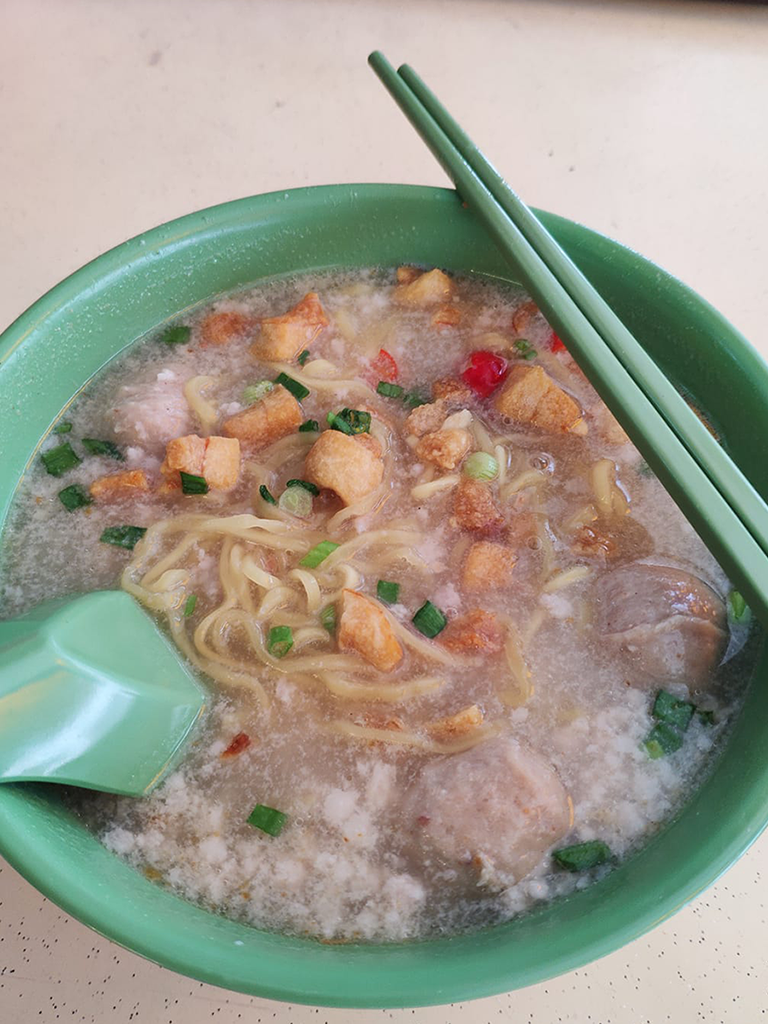 Why visit? The OG easties know that the soupy bak chor mee (minced pork noodles) at Bedok 538 Market and Food Centre rivals the famous ones at Bedok 85 Market.
And we'd like to let you in on a little secret: Soon Heng Pork Noodles' recipe comes from that very stall, so you won't have to make the trek to Bedok for your bak chor mee fix with this Outram Park food spot. 
Price range: $
Crowd faves: The stall sells just one thing: Bak chor mee. It's available in small (S$5) and large sizes (S$6). The noodles can also be selected based on your preference, though we're partial to the mee kia (thin egg noodles). 
4. Utu
12 Jiak Chuan Road 
Open: Tuesday to Friday (10am to 4pm, 6pm to 9.30pm), Saturday and Sunday (9am to 4pm, 6pm to 9.30pm)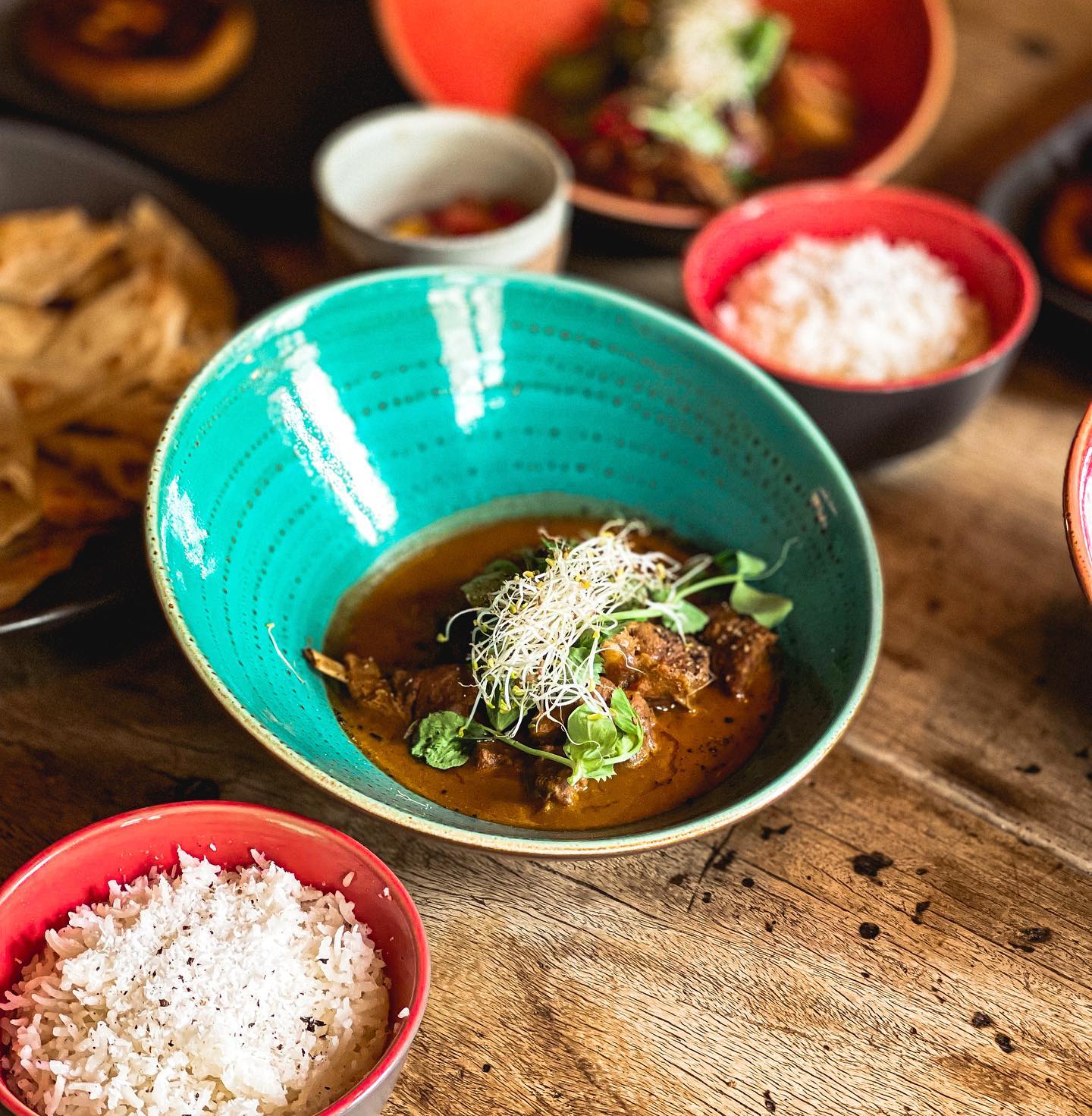 Why visit? If you're looking for a unique dining experiences in the Outram Park food scene, then Utu should be on your list. The eclectic cafe-lounge has Bohemian-esque decor and vibrant colours that will have you feeling right at home, making it the perfect casual dinner spot for catching up with friends. 
Price range: $$$
Crowd faves: Utu serves authentic African cuisine, a style of cooking not often found in Singapore. Of course, take the opportunity to dig into as many dishes as possible, starting with its bhajia (S$17) — a red ruby potato dish served with spicy tomato chutney. Add a bit of heat to your dinner with the Nigerian fiery peppered pork stew (S$33), which is served with mango salsa and coconut rice.
5. O Happi Place 
5 Everton Park, 01-22
Open: Tuesday to Thursday, and Sunday (12.30pm to 9pm), Friday and Saturday (12.30pm to 10pm)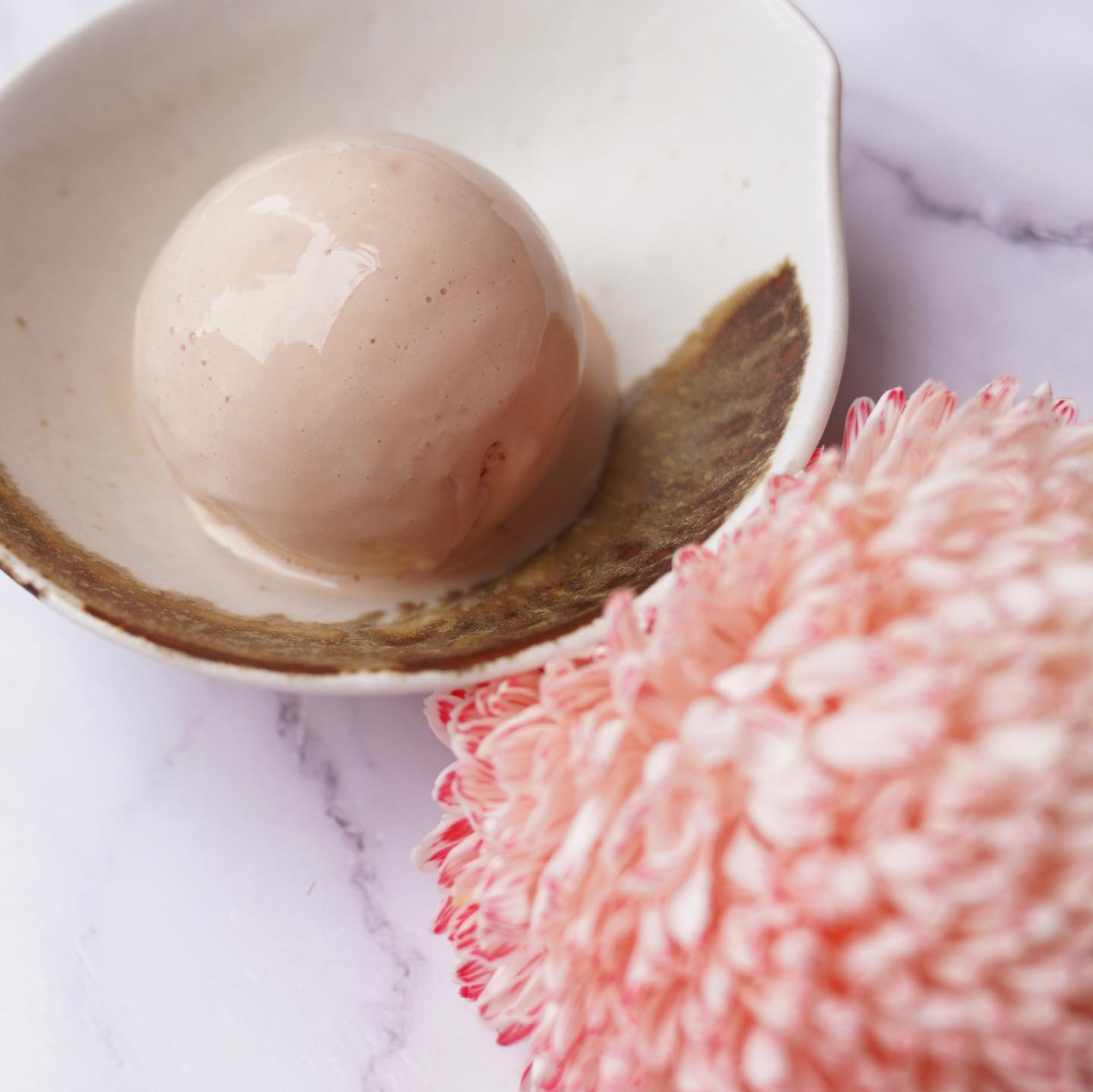 Why visit? Located five minutes from the nearest train station, O Happi Place is a convenient cafe near Outram Park MRT to feed your dessert cravings. The cafe is best known for its unique gelato flavours, waffles and croffles (a croissant-waffle hybrid). 
Price range: $
Crowd faves: Popular flavours include Ju Pu (from S$5.50), a blend of pu erh and chrysanthemum teas, and lychee oolong (S$4.50). Opt for the crispy-edged waffles (from S$6.50), or the buttery and rich croffle (S$7.50), to go with your gelato.
6. Afterglow 
24 Keong Saik Road 
Open: Monday to Saturday (12pm to 10pm)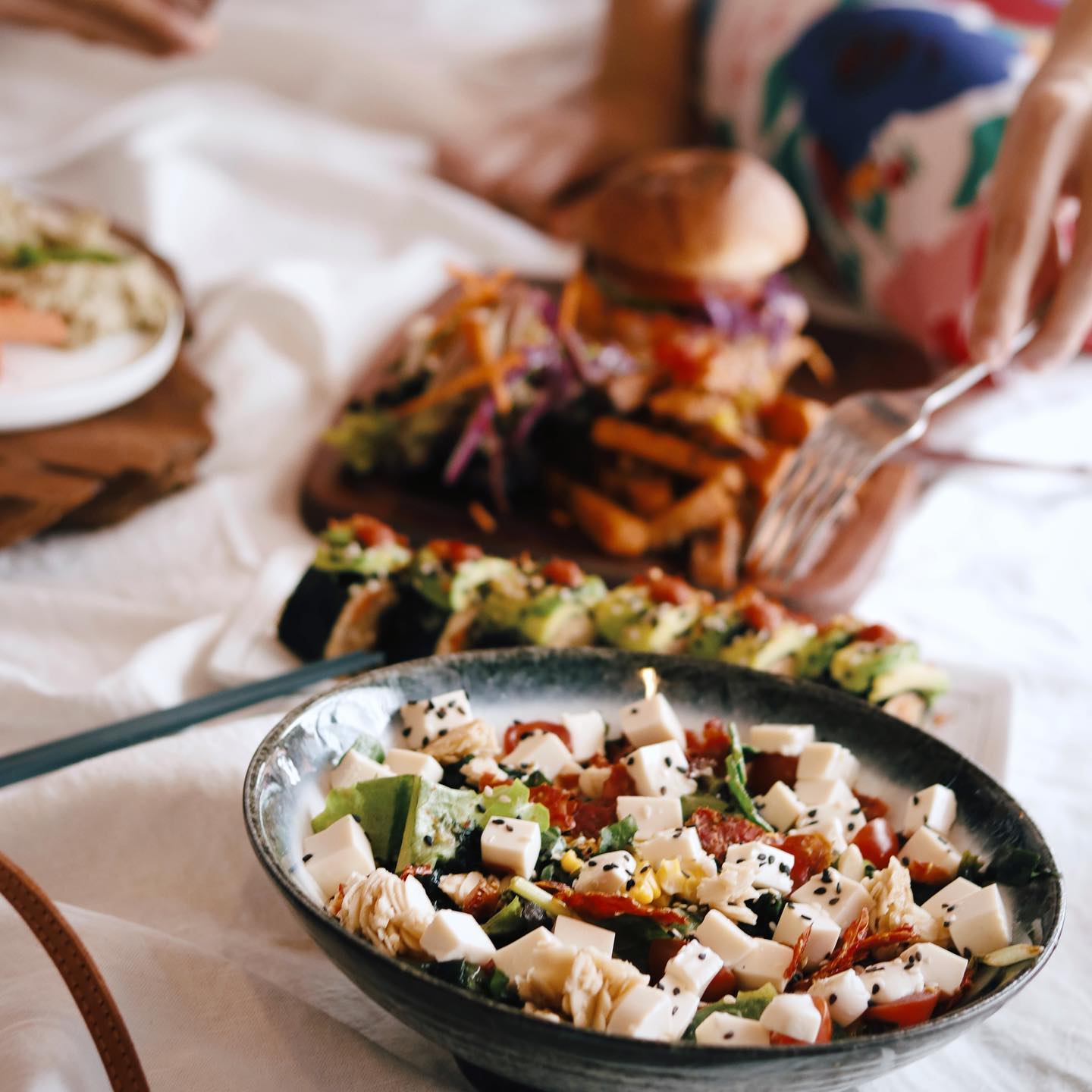 Why visit? Afterglow's entire menu is plant-based, making it a suitable spot for those with strict dietary restrictions. And while we may have the pre-conceived notion that plant-based foods are boring or atypical, Afterglow's offerings certainly overturn that stereotype. 
Price range: $$
Crowd faves: If you've never had a cauliflower "steak" (S$25), now's your chance. The baked cauliflower is imbued with a deep and comforting flavour. It's served with sweet potato mash, pumpkin seeds and more, to add variety to the dish — not too different from a regular steak, we suppose. Otherwise, go for salads such as Kyoto Summer (S$16). You may be pleasantly surprised to find how good the salad is. 
7. Humpback
18-20 Bukit Pasoh Road
Open: Monday, and Wednesday to Friday (5pm to 11pm), Saturday (12pm to 11pm), Sunday (12pm to 9pm)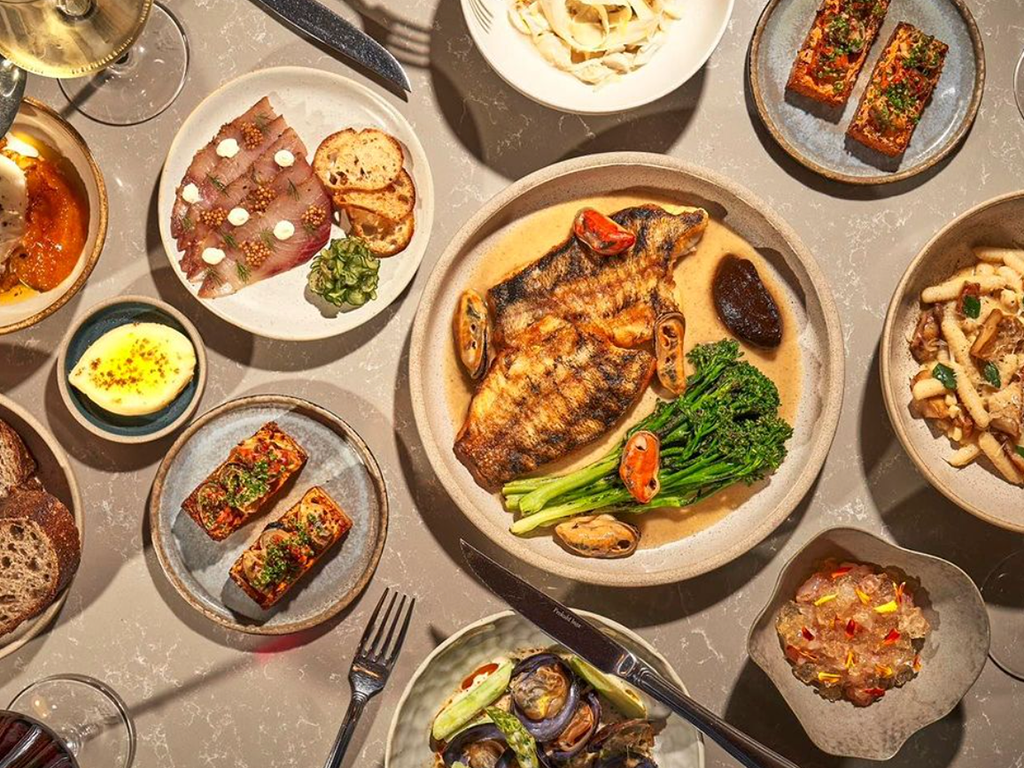 Why visit? Humpback specialises in fresh seafood dishes that are guaranteed to tantalise your taste buds. The team behind Humpback innovates with different dishes, depending on what seafood is in season so that you get the freshest catch while you're there. 
Price range: $$$
Crowd faves: The sea scallop with orange and gochujang (S$24) is a quirky combination that somehow works. Otherwise, opt for Humpback's ricotta cavatelli with swordfish bacon and Chitose corn (S$28) for simpler flavours.  
8. Tong Ah Eating House
35 Keong Saik Road
Open: Thursday to Tuesday (7am to 10pm), Wednesday (7am to 2pm)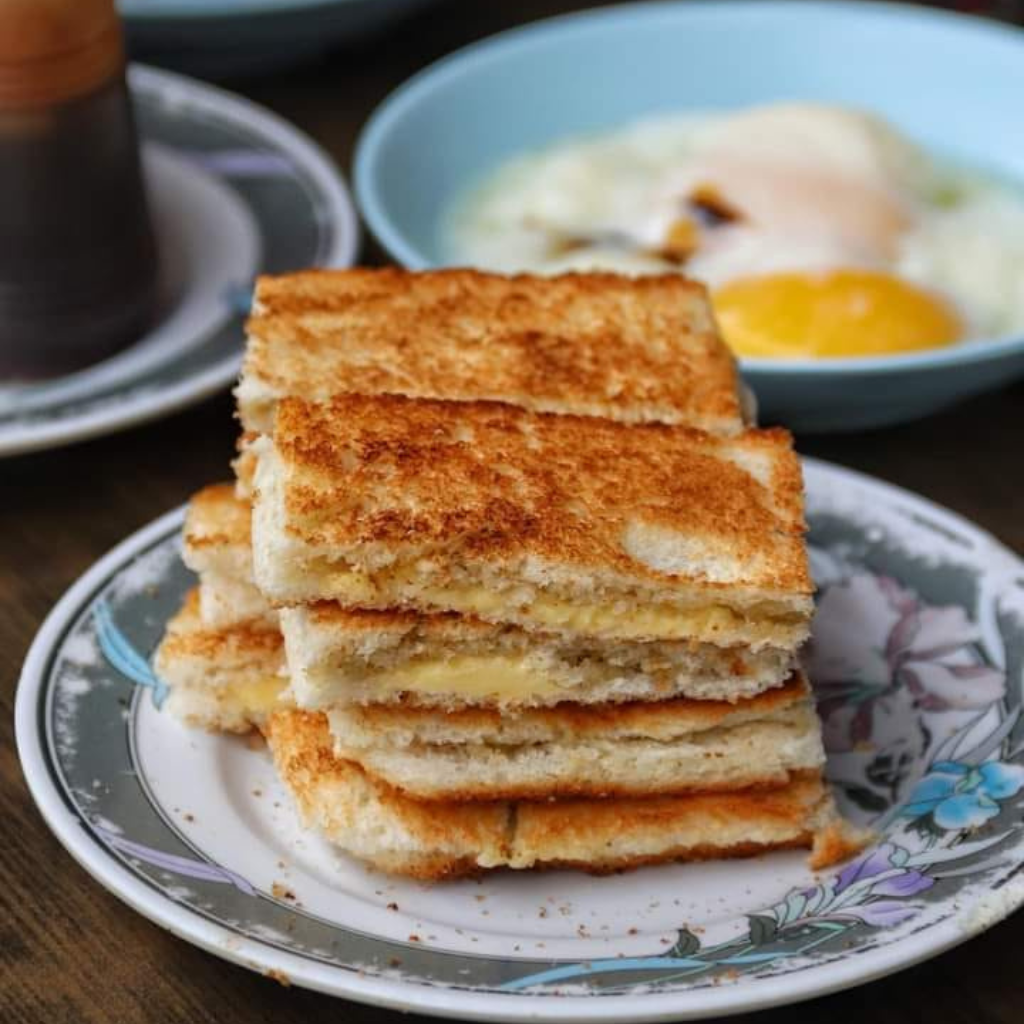 Why visit? Tong Ah Eating House is one of the most popular coffee shops in Singapore, thanks to its scrumptious traditional breakfast fare and old-school kopi. Sure, while eateries serving kaya toasts are a dime a dozen in Singapore, this eatery at Keong Saik Road exudes a comforting, nostalgic charm that's unique to Tong Ah Eating House. 
For first-timers who're unsure of what to order, there are four signature toasts available. Choose from the traditional kaya toast (S$2.40), crispy thin toast with kaya (S$2.80), French toast with kaya (S$4.20) or steamed bread with kaya (S$2.40).

Price range: $
Crowd faves: We'd go for combo B (S$6.20), which features crispy thin toast with kaya, half-boiled eggs and a choice of either coffee or tea. The pairing of crisp, flaky bread with silky smooth eggs is simply heavenly.
9. Apiary
84 Neil Road
Open: Sunday to Thursday (12pm to 10pm), Friday and Saturday (12pm to 11pm)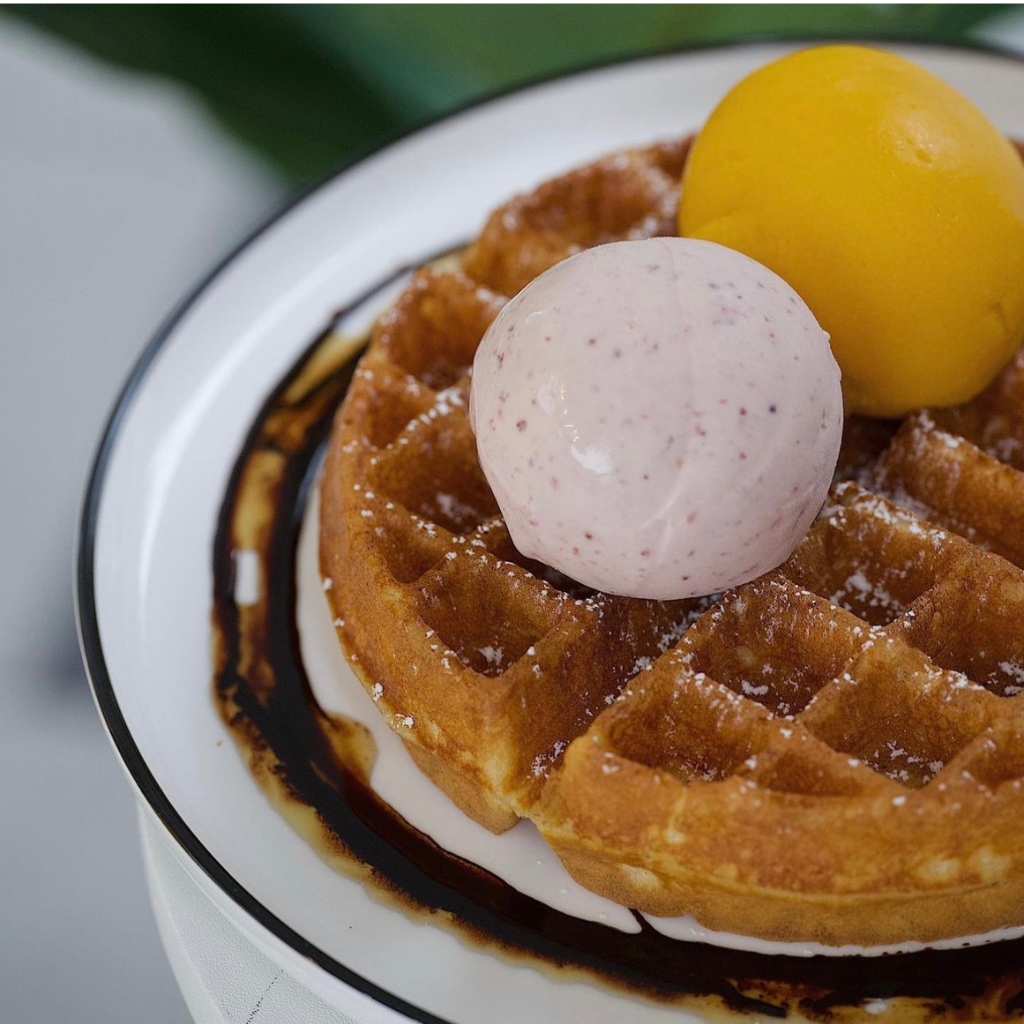 Why visit? If you're on the hunt for 'gram-worthy dessert parlours around Outram, you should check out Apiary. A well-known creamery with multiple outlets across the island, the popular ice-cream brand pasteurises its ice cream in-house without the use of artificial ingredients, colouring and flavouring. 
Ice-cream flavours are also rotational, so diners can look forward to new offerings each time they pay a visit. Prices range from S$5 to S$6 for a scoop, depending on the flavour. Some popular selections include the bestselling Blue Milk (S$5 for a single scoop) and Sicilian pistachio (S$6 for a single scoop). You can also pair the ice cream with Apiary's signature brown butter waffles (S$8) or brownie (S$8). 
Price range: $
Crowd faves: Our ultimate must-try combination at this Outram Road ice-cream joint is the brown butter waffles with Apiary (S$5.50 for a single scoop) – an ice-cream flavour that's named after the dessert chain itself. It's a honey ice cream adorned with cocoa nibs.
10. Little Oasis
Grassroots Book Room, 25 Bukit Pasoh Road
Open: Monday, Wednesday to Saturday (12pm to 6pm), Sunday (12pm to 5.30pm)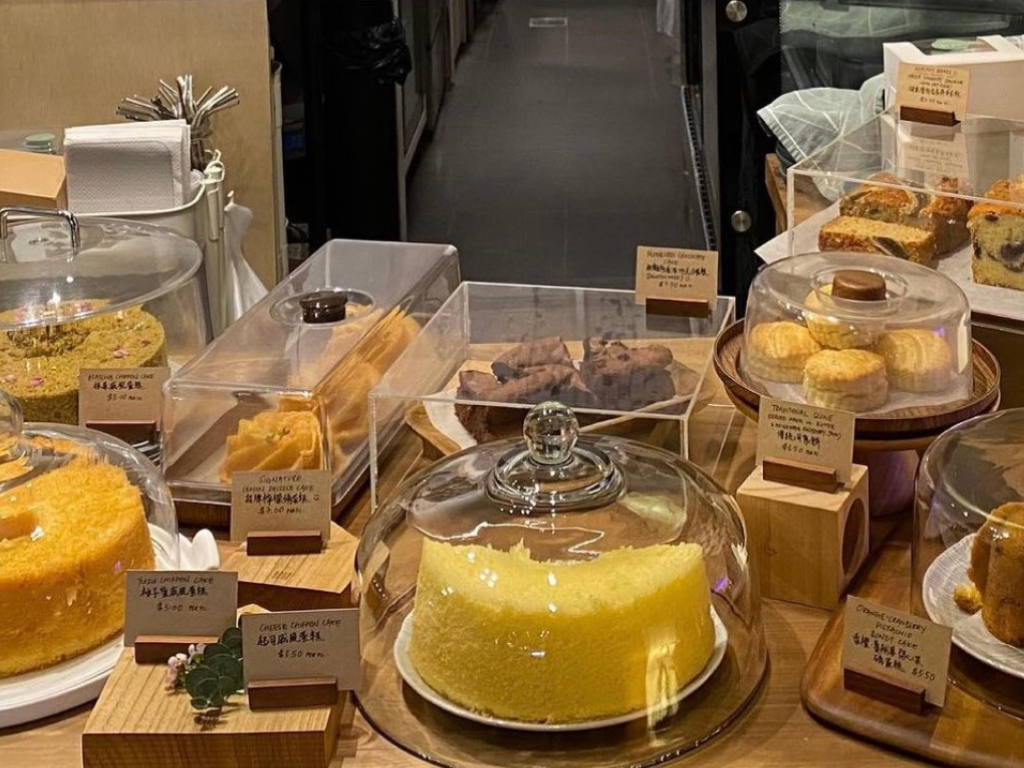 Why visit? Foodies searching for hidden gems in Singapore can add Little Oasis to their list. Situated in a shophouse at Grassroots Book Room, this quaint cafe near Outram Park MRT station doles out handcrafted cakes, artisanal bakes and healthy eats.  
It's a lovely escape from the hustle and bustle of the CBD area — here, you need only kick back and relax with a good book and a delicious cuppa. If you prefer a heartier dish, take a look at its all-day breakfast menu. There are options such as smoked salmon and cream cheese bagel (S$16) and hearty soba with lemon herb sous vide and chicken breast (S$13). 
Price range: $
Crowd faves: One of the highlights at Little Oasis is undoubtedly its chiffon cakes (from S$2.50). Baked in-house with reduced sugar, flavours include the likes of passionfruit, osmanthus oolong and more.
11. Morimori Yogashi
1 Everton Park, 01-31
Open: Monday to Friday (9am to 6pm), Saturday (9am to 4pm)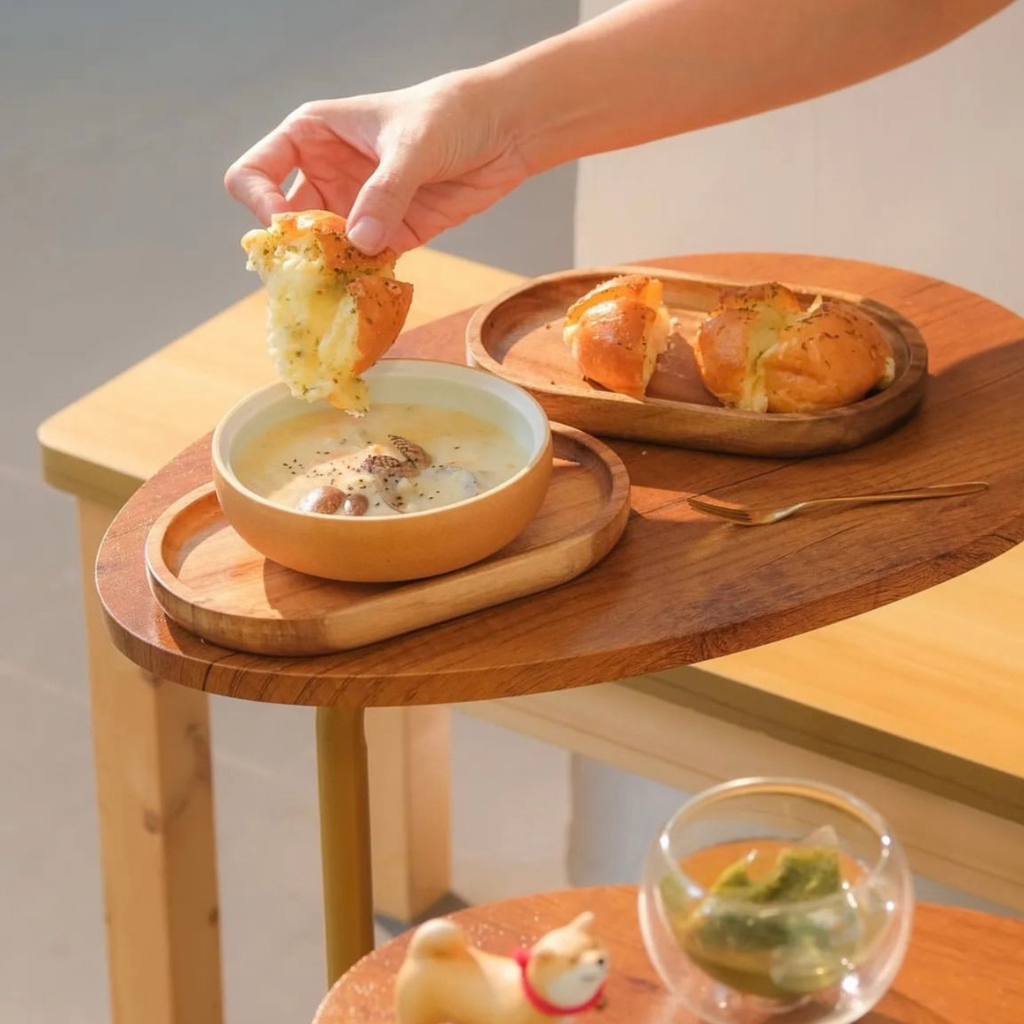 Why visit? Peep another hidden gem nestled in the heart of Everton Park: Morimori Yogashi. The bakery is helmed by former pastry chef, Terrian Lim, who left his job at a one-Michelin-starred Japanese-Italian restaurant, Terra Tokyo Italian, to open his very own artisanal Japanese bakery in the heartlands. 
At first glance, the patisserie near Outram Park doesn't look all that eye-catching. However, set foot into the store, and you'll be greeted by the aromatic fragrance of bread baking in the oven. The display is also impressive, for it showcases a vast array of baked goods and confectioneries at affordable prices.
Price range: $
Crowd faves: You have to try Morimori Yogashi's bestselling item: The signature Fijusawa garlic cheese bread (two small pieces for S$6, one big piece for S$8). It's a fluffy bread chock-full of Japanese mayo, creamy butter and mozzarella cheese topped with garlic crumbs.
---