Review: Homeground Coffee Roasters is a culinary joy that Outram Park deserves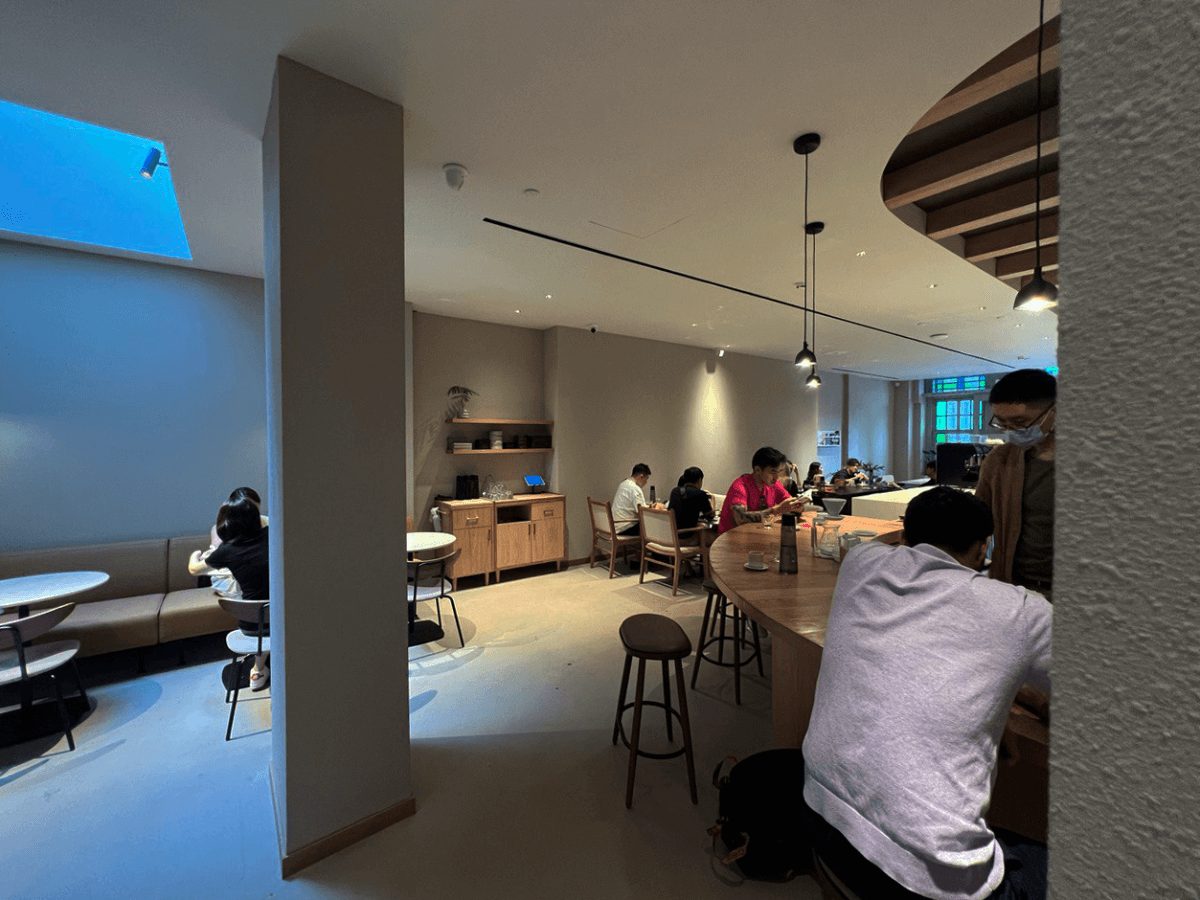 Homeground Coffee Roasters moved into its new home at Outram Park after four years at Joo Chiat Road
The food menu at the new outfit has been expanded and properly elevated, thanks to a new kitchen team led by chef Aaron Kueh
Plenty of vegetarian options make dining here a thoughtful exercise in inclusivity
A delightful banter about uniforms was not what I expected from my late lunch at Homeground Coffee Roasters' new home at Teo Hong Road, just outside Outram Park MRT station's Exit H. 
All around me, servers fleet about wearing knee-length overcoats in various shades of earth, the fabric billowing as they make their way to customers asking to see the menu or for a glass of water. 
"They're from Muji," a server tells me almost inaudibly, when I stopped to ask.
This seamlessness between pret-a-porter sensibilities and the physical units Homeground Coffee Roasters occupies is impressive. Inside, the space is expansive, breathable even. A light breeze can waft through quickly, passing by walls painted in a soothing hue of stone and wood panels in nutmeg.
In the middle of the cafe, a bar table wraps around the wall that separates the two units. And while it acts as a unifier of the two spaces, it's also fashioned into a coffee bar. 
Here, guests sit in pairs (or, by themselves, if the week calls for it), deep in conversation as a coffee artisan quietly serves glasses of Arabica blends in various permutations of preparation methods. 
It's all so breathlessly poetic and impressively intentional. 
The backstory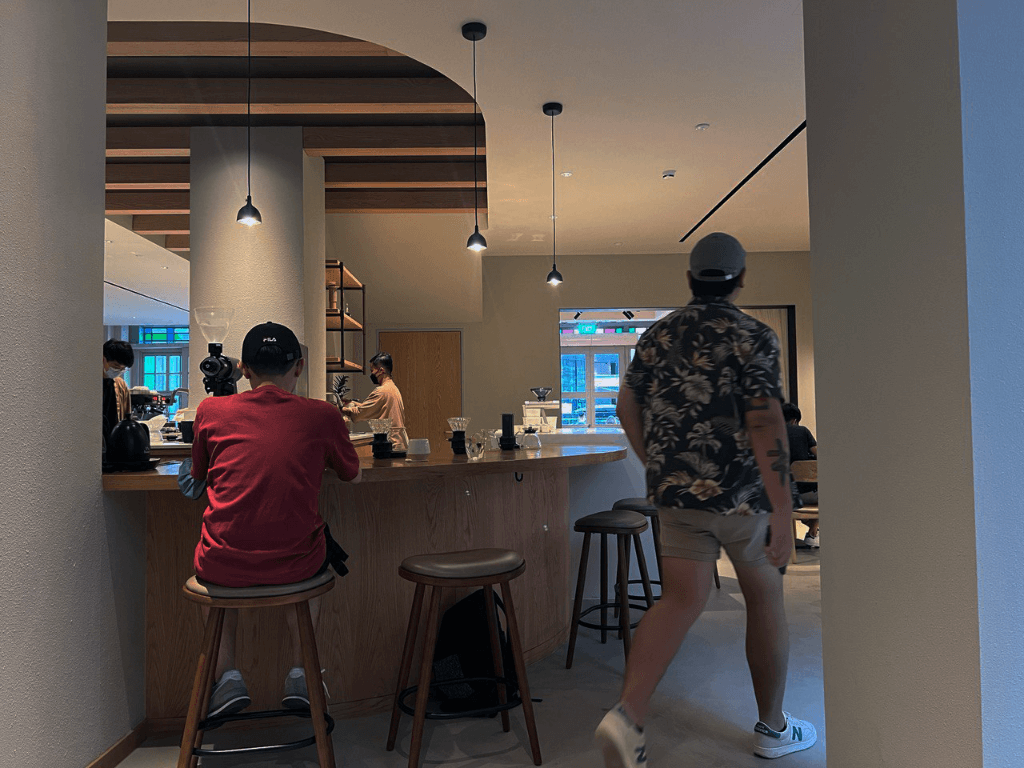 Co-founded by Elysia Tan, winner of the Singapore National Brewers Cup Championship for 2019 and 2022, Homeground Coffee Roasters opened at Joo Chiat Road in 2018. 
In its initial identity-finding mission, Homeground acted as both a coffee joint and a makeshift art gallery. It once hosted an art exhibition by Singaporean artist Ly Yeow, titled Salt and Light, which I visited. I recall thinking how austere the space looked with its overabundance of grey shades and stiff angles.
Shortly after, the cafe underwent a style revamp going from severe and edgy to fun and kitschy, with menu items such as What a Chick and It's a Wrap that aptly reflected the turn of mood.
One pandemic and a few months later, Homeground Coffee Roasters is kitschy no more. There's a maturity now that's apparent even from the crowd it attracts — mature, quiet, reflective. 
They're here for a good time — and a long time, if Homeground plays its cards well.
Our verdict
What this place is good for
The culinary brains behind Homeground is Aaron Kueh, who leads the spacious kitchen at the back and whose name is a delightful augury to the career path he has taken.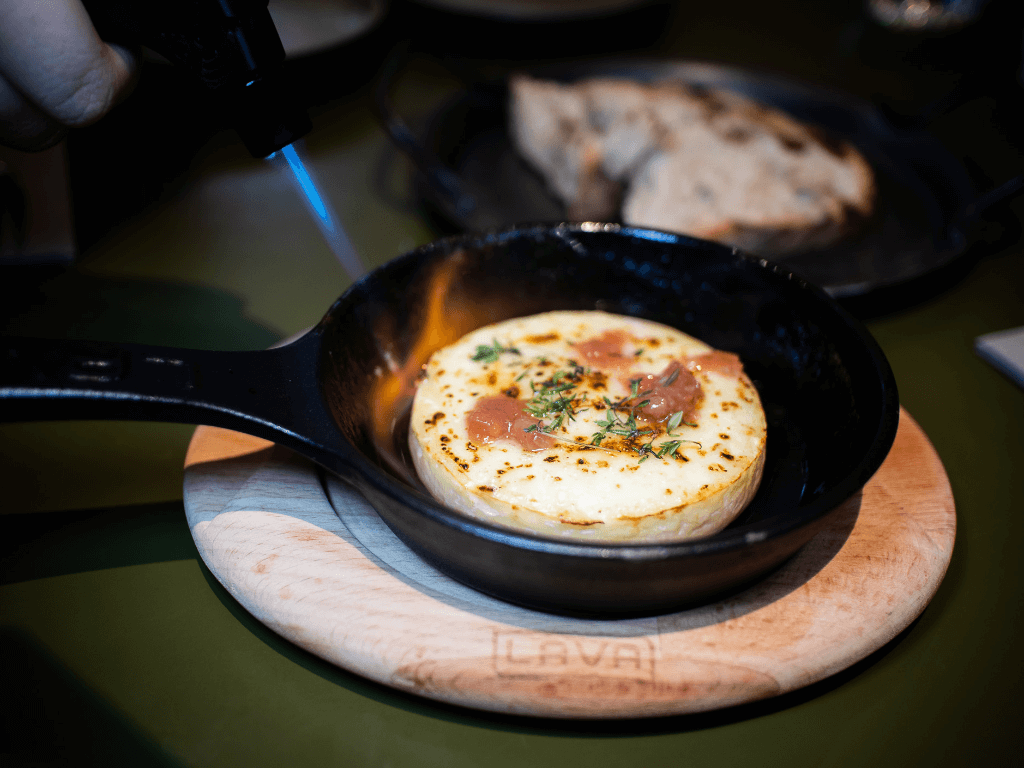 Kueh used to stage at Ce La Vi, Maggie Joan's and the Michelin-starred Jag, leveraging his fine-dining resume to craft a menu at Homeground that's elegant, refined and delightfully unexpected — especially for a cafe.
Take, for instance, the baked brie (S$19). It's a straightforward slab of Danish brie elevated by the inclusion of umeboshi (salted Japanese plums), Korean honey, and a flambe of brandy served with slices of sourdough. 
The sweetness, creaminess and sourness come together to great savoury effect. Even when flambeed, there's no untoward harshness or edge to the plate — everything works so delicately.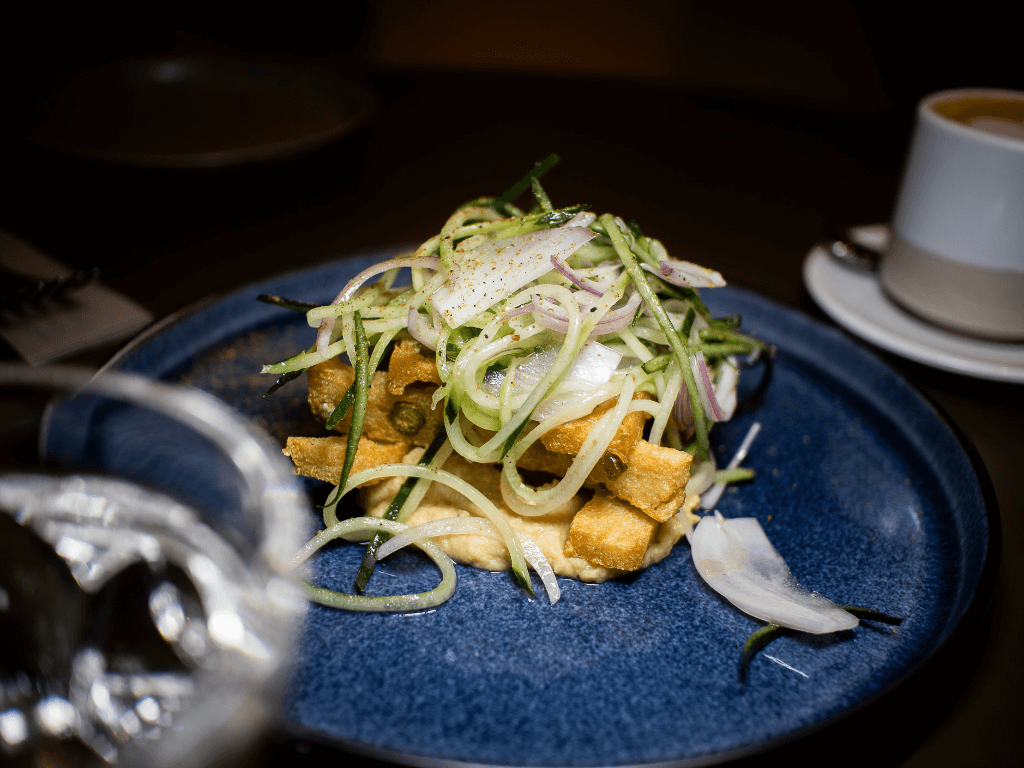 Then there's the quinoa tofu fritters (S$12), one of Homeground's many inclusivity-forward vegan items. Quinoa and tofu are combined, breaded, then fried and served on a bed of hummus. 
Still, while the hummus could do with a touch more seasoning, the star of the show is, bar none, the pickled salad on top. Here, strips of cucumber and red onions are tossed in a sweet-sour raspberry vinaigrette for a slight acidic kick. 
I love that the cafe used red onions here, further cementing my theory that red onions are making quite the triumphant comeback on plates.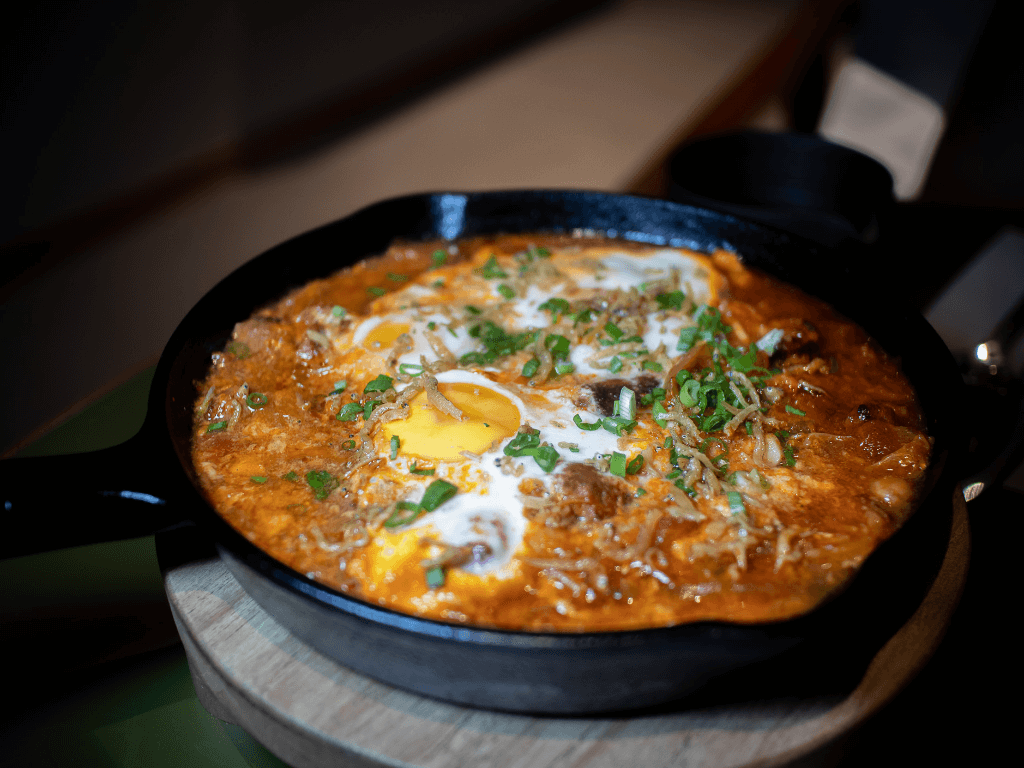 Mains come by way of a chorizo kimchi stew (S$28). It's a rare thing of beauty for something this flavourful (tomato-ey, sweet, tangy, spicy, savoury) to still be nuanced and layered in its execution. 
The typical chorizo stew has a reputation for being bold and brash (which many people enjoy). Yet here, the dish is light and delicately balanced, with hints of kimchi and smoked paprika peeking through.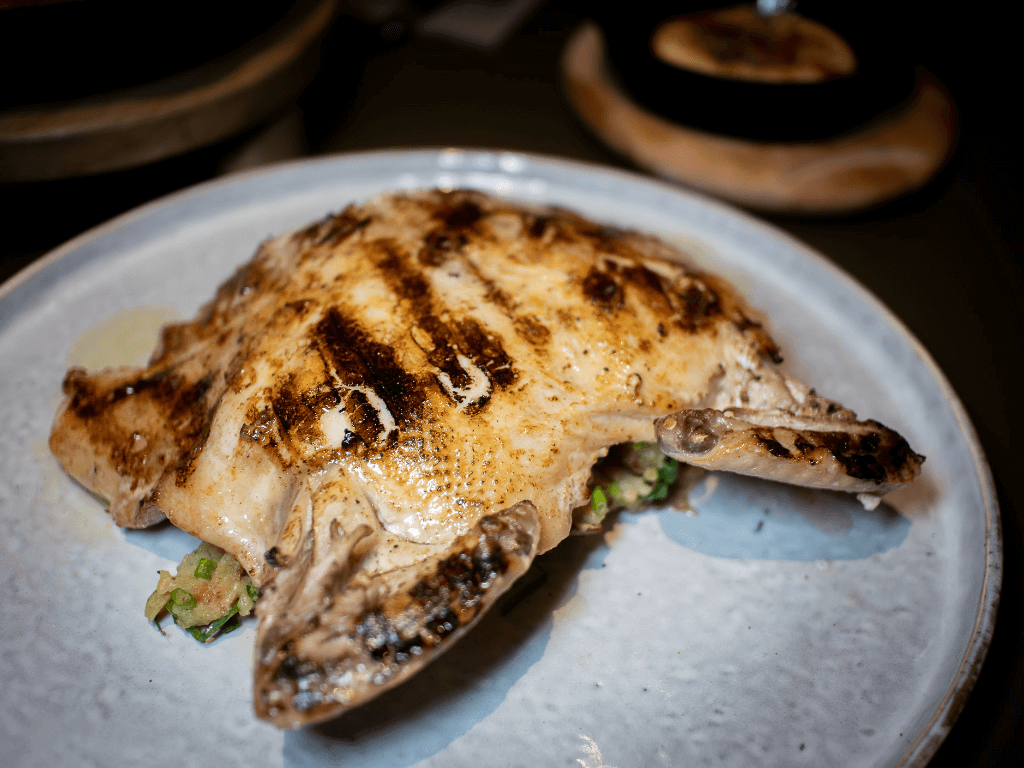 I also liked the charcoal grilled chicken (S$29) that has been brined (yay!) and grilled till a handsome char forms on parts of the spatchcocked bird. Underneath this cutlet is a bed of pomme de terre, roughly chopped so it retains bite, and then mixed with yuzu dressing for a sweet and citric aftertaste. 
When eaten with the bright (both in colour and taste) coriander chimichurri sauce, the dish becomes a magical and congruous melange of flavours that's addictive and a delight to experience.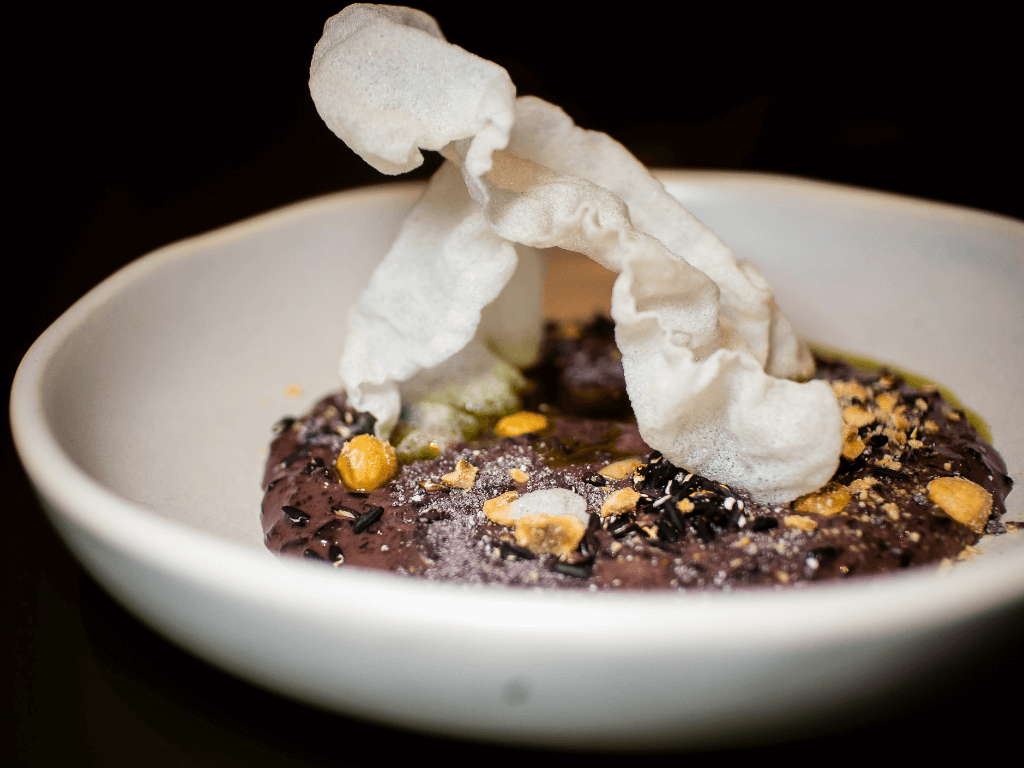 Dessert gave me pause. A dramatic plate of burnt rice coconut (S$15) comes served with an architectural sculpture of fried Vietnamese rice paper roll, perched atop a pool of burnt black rice pudding. This has been carefully sweetened so as not to take away from the earthy taste of black glutinous rice, almost in reverence for original flavours. 
It's then elevated with the addition of hazelnut crumble, uncooked black rice, and pandan-spinach oil, giving this a more Odette vibe than one from a humble eatery at Outram Park.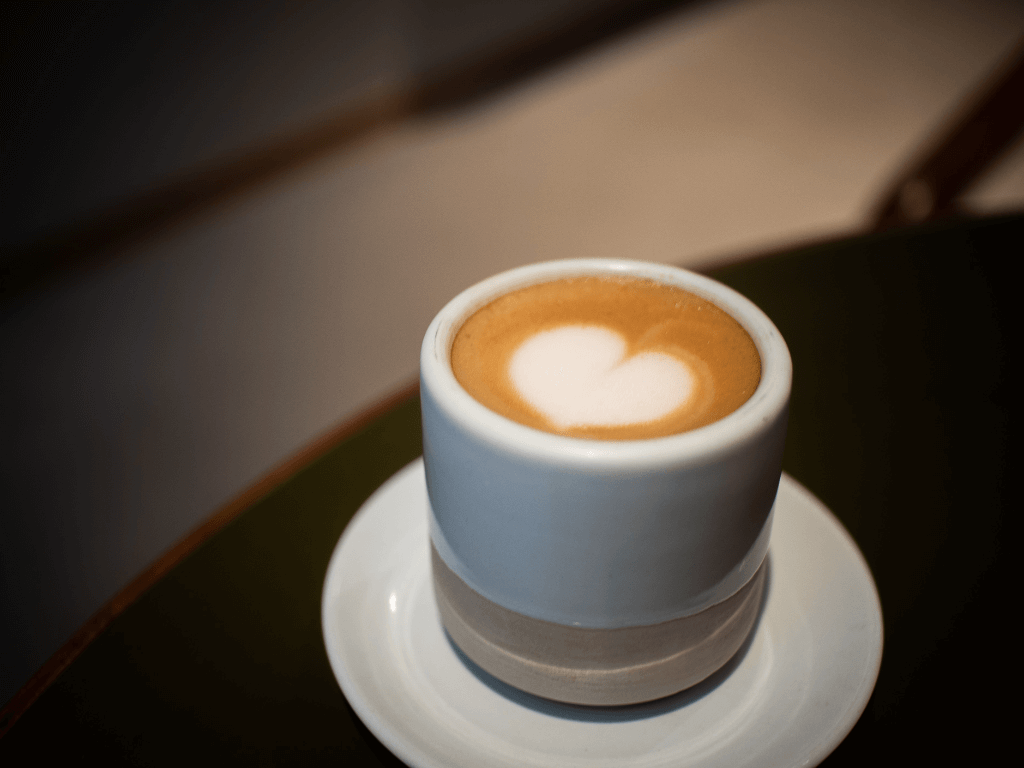 What it could improve on
Food-wise, Homeground Coffee Roasters left me satiated, deliriously surprised and impressed. The coffee was great, the food heroic, and the service incredibly warm and personable. 
I wished Homeground spoke more about the food served here on its social media pages and website. It's a shame to hide this gastronomic treasure from curious eyes. I came here expecting none of these wonders and left wanting more. Bravo.
Quick takes
Is it conducive to conversation? Yes.
Is a reservation necessary? Homeground Coffee Roasters doesn't accept reservations. There's an automated queuing system at the entrance.
How to get there? It's across the road from Exit H of Outram Park MRT station.
HungryGoWhere paid for its meal at this cafe for this review. 
Homeground Coffee Roasters is on the GrabFood delivery service. You can also book a ride there.
Homeground Coffee Roasters
13 and 15 Teo Hong Road
Open: Thursday to Monday (8.30am to 6pm)
13 and 15 Teo Hong Road
Open: Thursday to Monday (8.30am to 6pm)
---