The Wizard's Brew, a hidden Chinatown dessert bar with a touch of magic
Hear ye, hear ye, fans of the wizarding world — there's a new Harry Potter-themed cafe called The Wizard's Brew in town and it's got quite a bit of magic within its little nook to excite any Potterhead or wizardry fan. 
Tucked away in a third-storey shophouse along Trengganu Street, The Wizard's Brew is a bit of a hidden spot with its street-level sign easily missed at first glance. 
Once you've finally found the right entrance (hint: it's nestled between a British pub and a Thai restaurant), walk right up the stairs. 
You'll come face-to-face with a doodled-on door and a suspicious-looking doorbell.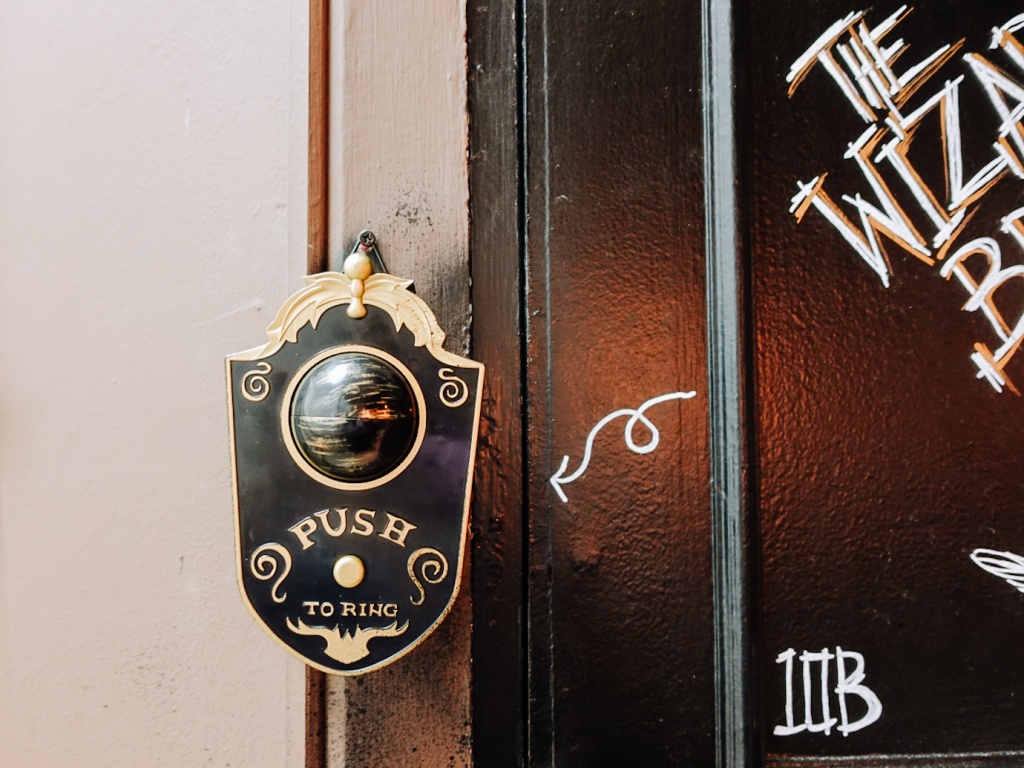 You can opt to press the doorbell for an interesting greeting but feel free to step right in — there aren't any dragons or three-headed dogs waiting behind. 
Once within the space, you'll feel like you've been transported into a different realm, far above the bustling Chinatown crowd, with floating candles above you and mystical artefacts all around.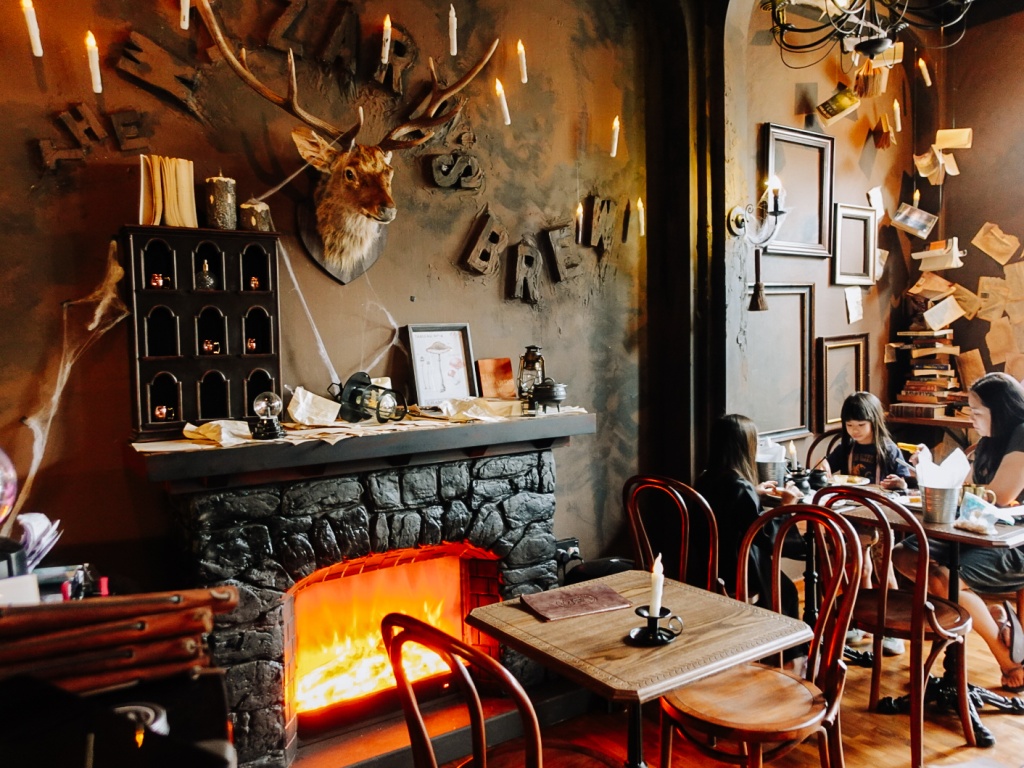 Look closely and see if you can spot the Harry Potter references among the wall decor — it's not quite in-your-face, which makes it accessible for non-Harry Potter fans to appreciate, too.
Beyond its wizard paraphernalia and props, we loved how its interior was modelled to resemble a wizard's den, complete with a cave-like entrance, leading up to its similarly styled bar counter.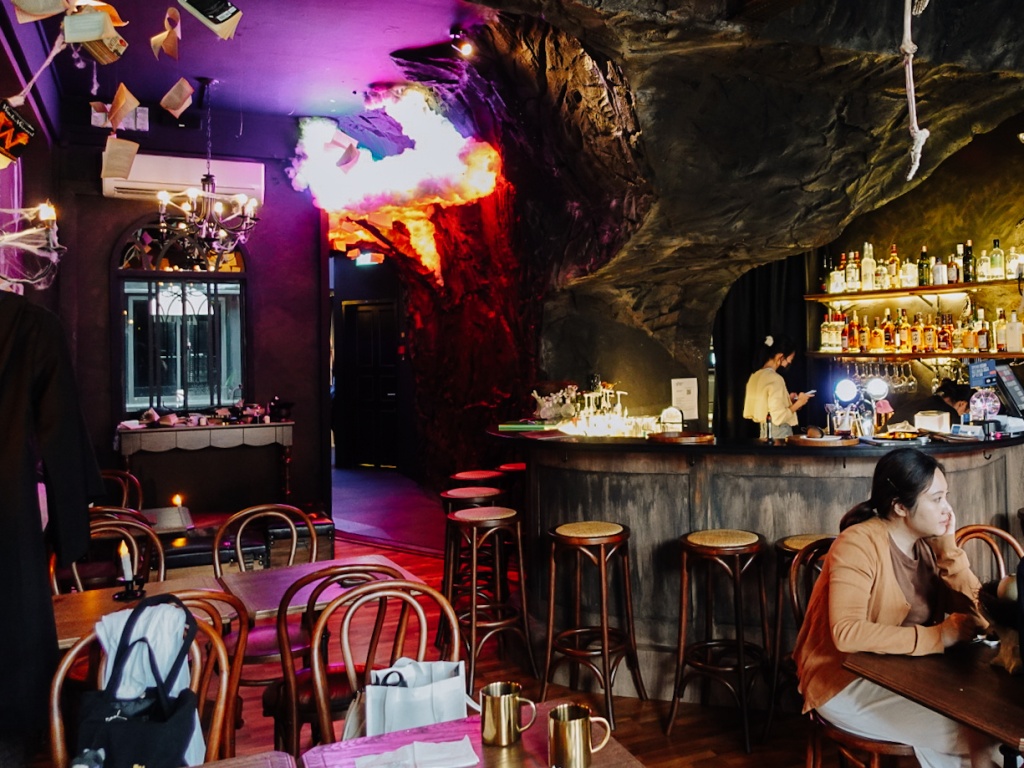 With its quaint interior, it could also easily pass for a bar in the quaint Harry Potter village of Hogsmeade — all that's missing is a pint of Butterbeer. 
The Wizard's Brew menu 
The dessert-bar's menu has a good mix of specialty cocktails and unique desserts, with the menu items meticulously curated to provide both a visual spectacle and an immersive experience. 
Take for example its rum-based Phoenix Fire cocktail (S$22), which comes with orange juice, lime juice, grenadine and rum.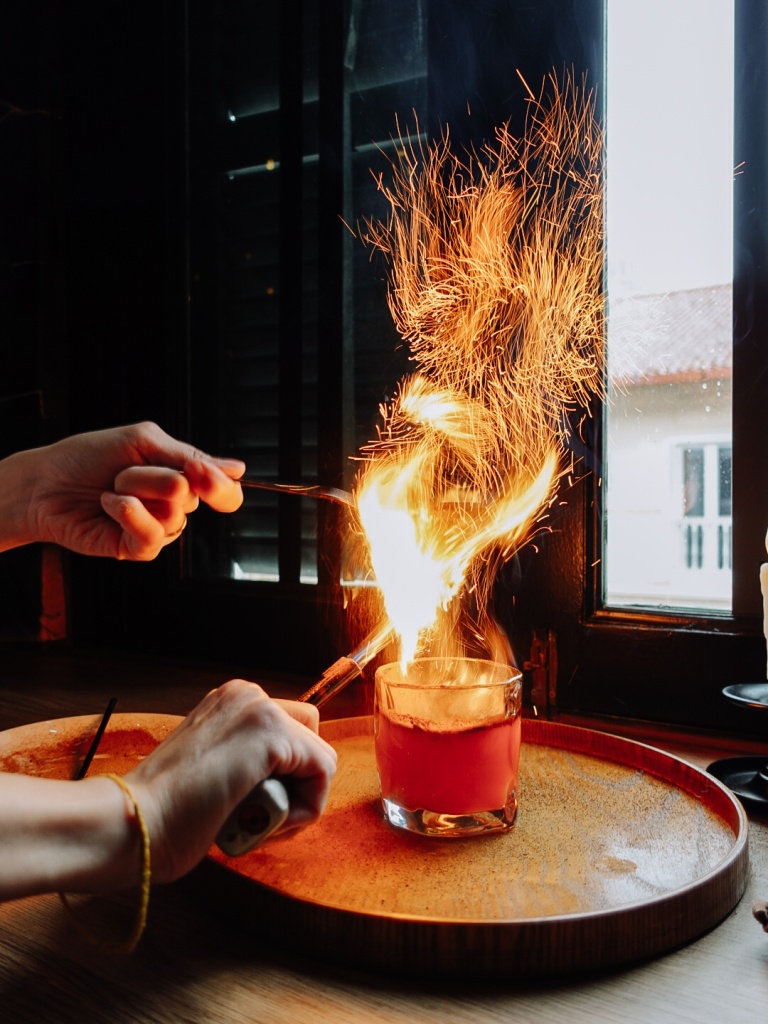 Using a combination of rum and cinnamon powder, the crew managed to conjure up an almost-Phoenix-like apparition to go with our drink. 
We also had Sparkulous (S$22), yet another rum-based cocktail, which is said to be a purple potion that turns pink and bubbly when a spell is cast nearby.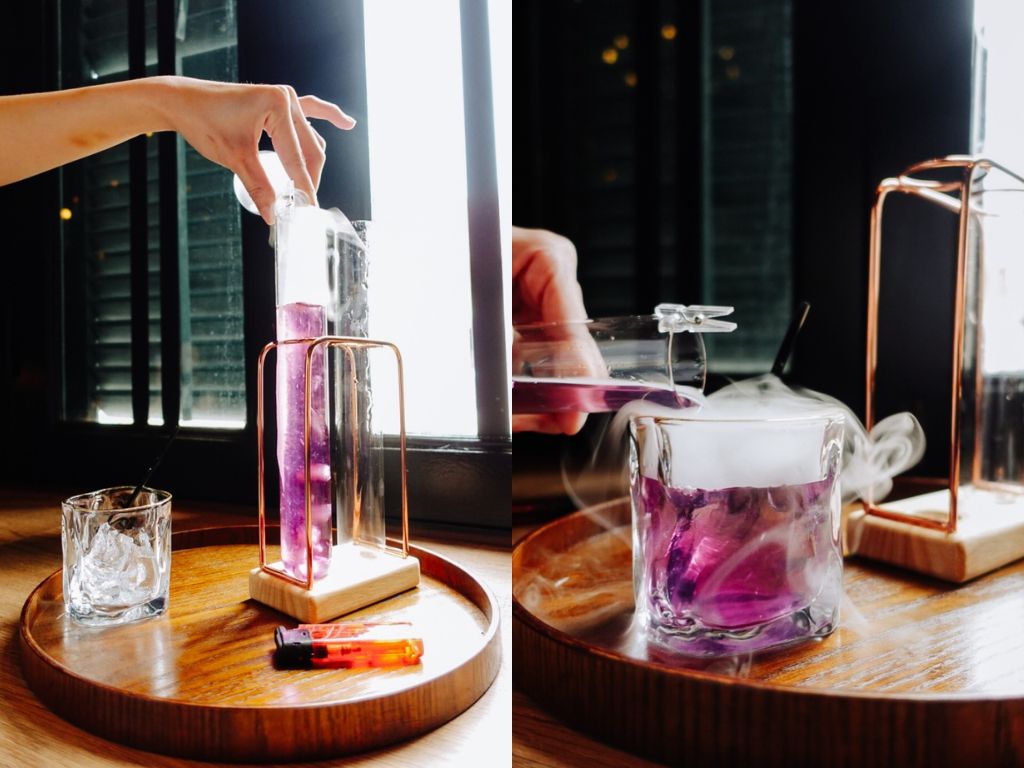 It relies on the colour-changing properties of butterfly pea mixed with lemon juice to cause the colour change, followed by dry ice to produce the bubbling effect.
It sounds technical when spelt out in this manner, but trust us — it's actually quite a sight when performed in front of you. 
Its desserts are similarly photo-worthy. 
We opted for the Reaper's Gold (S$16), a tiramisu dish topped with house-made Baileys pearls. It is served in a goblet that looked right at home in a witch's lair.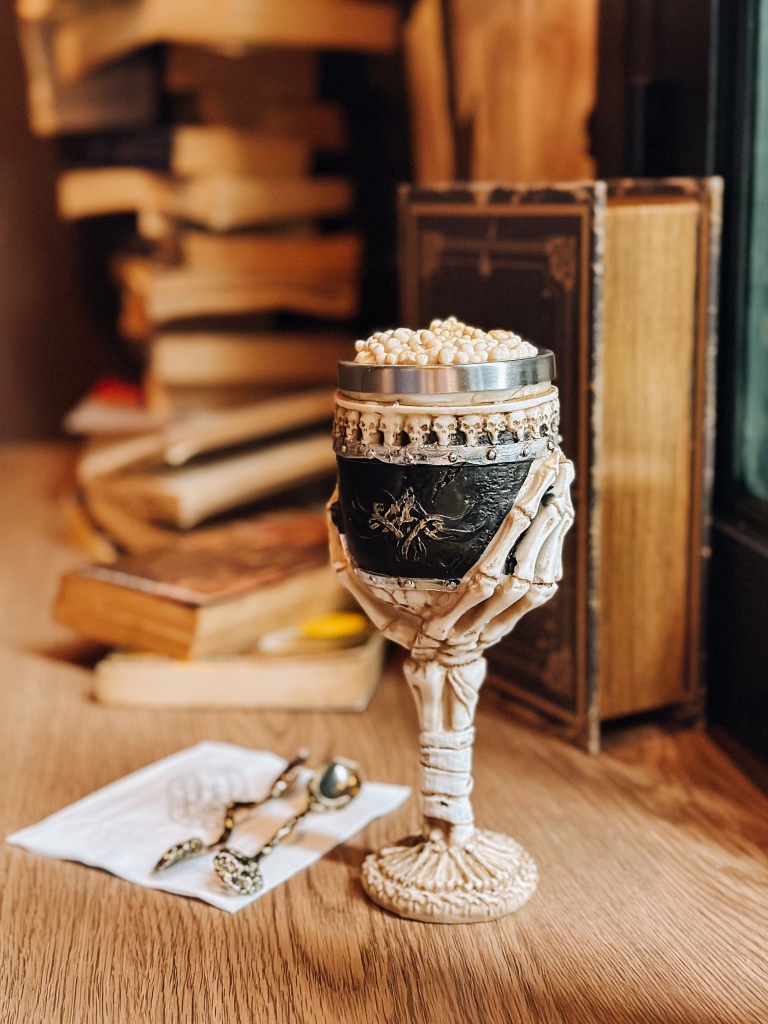 Its Flaming Cauldron (S$16) dessert also intrigued us. The tapioca and mango-passion cream dessert is served in a small black cauldron, topped with crimson flames and surrounded by small black "charcoal" logs.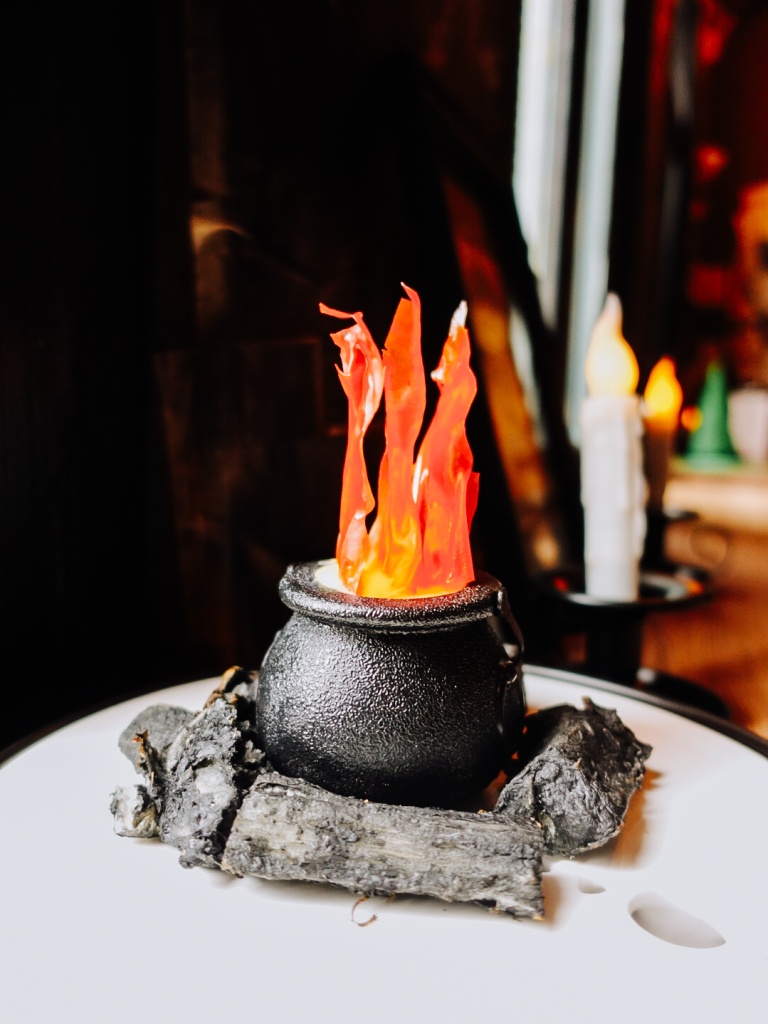 Both the flames and the logs were both edible — the logs are made of coloured tapioca and can be dipped into the cauldron, which contains a tangy mango-passion fruit dip. We loved the dip and only wished there was more to go around. 
The journey to The Wizard's Brew felt like a magical escape, complete with even in-house wizards' robes for top-tier immersion. 
We can see this space being a great spot for themed parties and special occasions.
While the space is intriguing and plenty photogenic, The Wizard's Brew has more to offer as a feast for the eyes rather than the tummy. If you're looking for robust cocktails and decadent desserts, there are plenty of other options in the vicinity.
Looking for more places around Tanjong Pagar to dine at? Check out our extensive guide to the neighbourhood's eats. 
You can book a ride to The Wizard's Brew. 
Do explore the new GrabFood Dine-in service for awesome deals.