Food Feuds: 328 Katong Laksa vs Janggut Laksa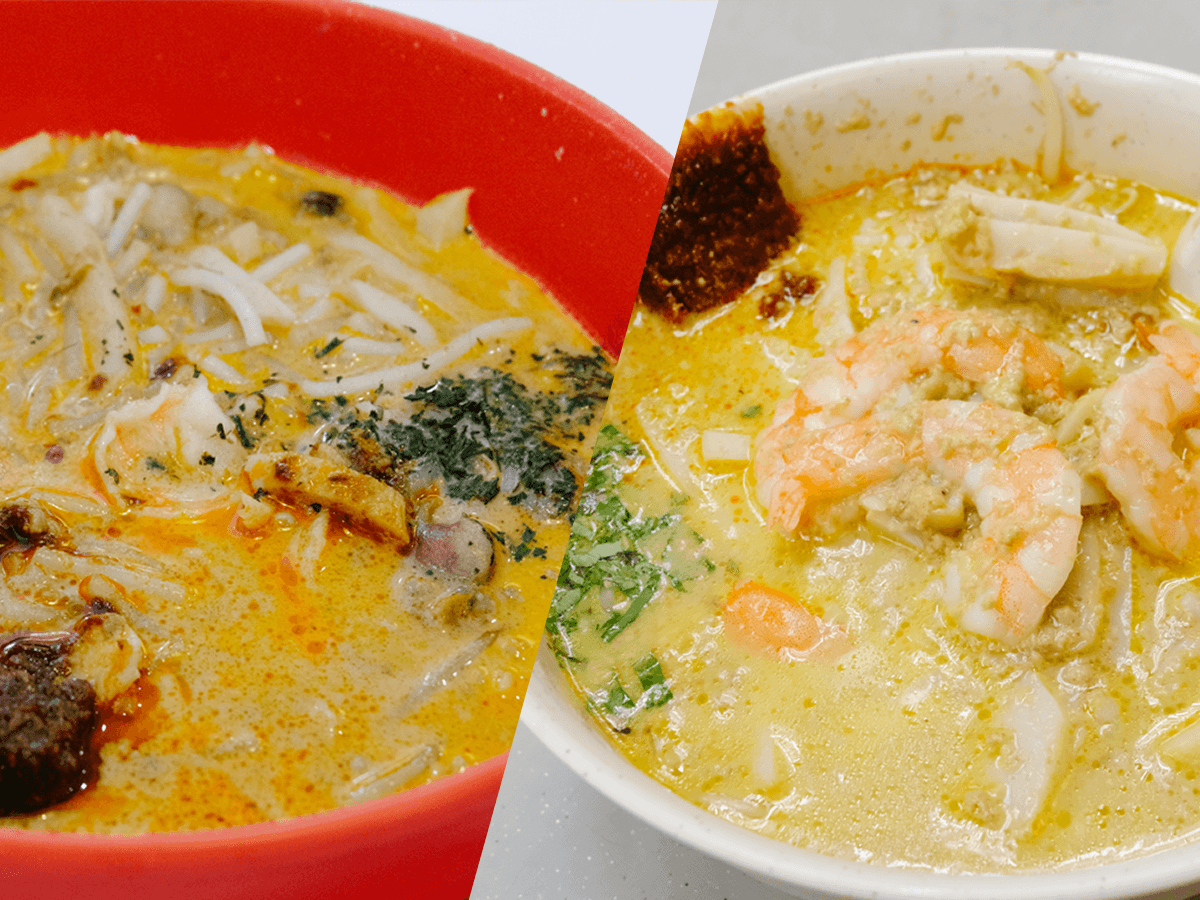 In our new series Food Feuds, we visit competing local food stalls known for their rivalry and try to find out which one does it better.
Who in Singapore hasn't heard of Katong laksa? It's one of the many versions of laksa that can be found on our sunny island, together with the tamarind-spiked Penang assam laksa and the curry-like Sarawak. But unlike the other two, the Katong variant is the only one that can be considered homegrown.
Inspired by the Peranakan's nyonya laksa, Katong laksa has a bright orange shrimp stock that's mellowed out, aromatised with coconut milk, topped with ingredients such as prawns, blood cockles, fish cake, and served with spicy sambal. It's then garnished with daun kesum flakes (also called laksa leaf or Vietnamese coriander).
The dish's defining characteristic? Thick rice vermicelli cut into short two-inch pieces that you can slurp up with a spoon — no chopsticks needed.
Katong laksa is so coveted that it's now available all across the country (we're not that big of an island, but still…) as enterprising cooks try to replicate the dish, but it's generally accepted that authentic Katong laksa still comes from the stalls in the Peranakan quarter.
The feud
You'd perhaps heard of the time when Gordon Ramsay faced off against a certain laksa stall and lost.
That was 328 Katong Laksa, which quickly rose into new-found popularity among an international audience. 
Yet, they only came into existence in 1998, 35 years after Janggut Laksa sold its first bowl of noodles. 
The history goes like this: Janggut Laksa's founder Ng Juat Swee (the name comes from his nickname Janggut, or beard in Malay) would go around Marine Parade peddling his laksa from metal buckets on a pole slung over his shoulders. 
The Fujian native moved to Singapore in his teens and married a Peranakan, thus explaining his knowledge of nyonya laksa.
He was the first to cut the noodles up so that customers could eat his laksa easily, with just a spoon. He eventually upgraded to a tricycle, and in the late 1950s rented a coffee shop space at 49 East Coast Road together with his younger brother Ng Chwee Seng. They called it Marine Parade Laksa. 
When Janggut passed away in 1986, his family closed the stall and the space was taken over by the current owner of 328 Laksa, Nancy Lim, who used to work at the stall under Ng Chwee Seng.
Janggut's family restarted the business two years later, first just up the street near Roxy Theatre, before moving it to its current location of Roxy Square in 2000 and adding several more outlets in Queensway, Ang Mo Kio and Paya Lebar.
For the sake of this article, I'll only talk about the food from the main Roxy Square outlet.
The point is, both 328 Katong Laksa and Janggut Laksa come from the same roots, though the former has since tweaked its recipe over the years. What we get now is two vaguely similar bowls, each with their own merits.
328 Katong Laksa
51 East Coast Road
Open: Monday to Sunday (9.30am to 9.30pm)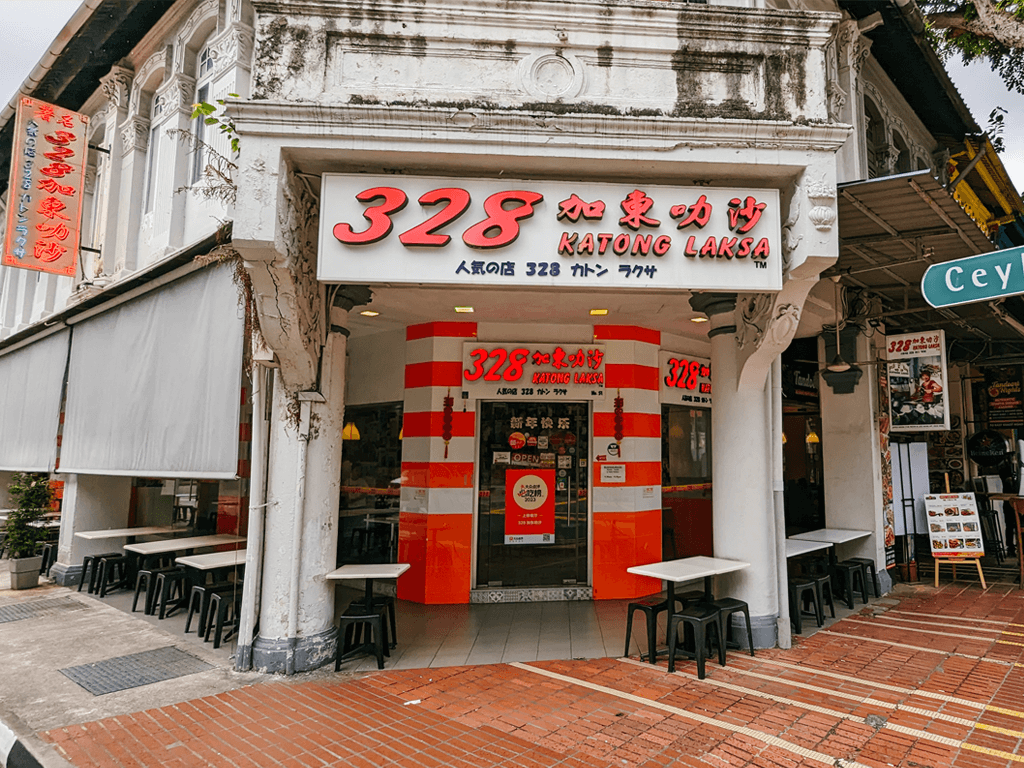 Long regarded as the benchmark for good Singapore laksa, 328 Katong Laksa is popular among both tourists and locals for serving up reliable and delicious bowls of laksa.
The East Coast Road outlet has been around since the 1990s. 328 is clearly the more commercial (they currently have four outlets islandwide and are open to franchising) of the two brands in question, but this original outlet still has nostalgic vibes — just ignore the plethora of celebrity endorsement-style photos on the wall — especially if you sit outside, along the side of the road.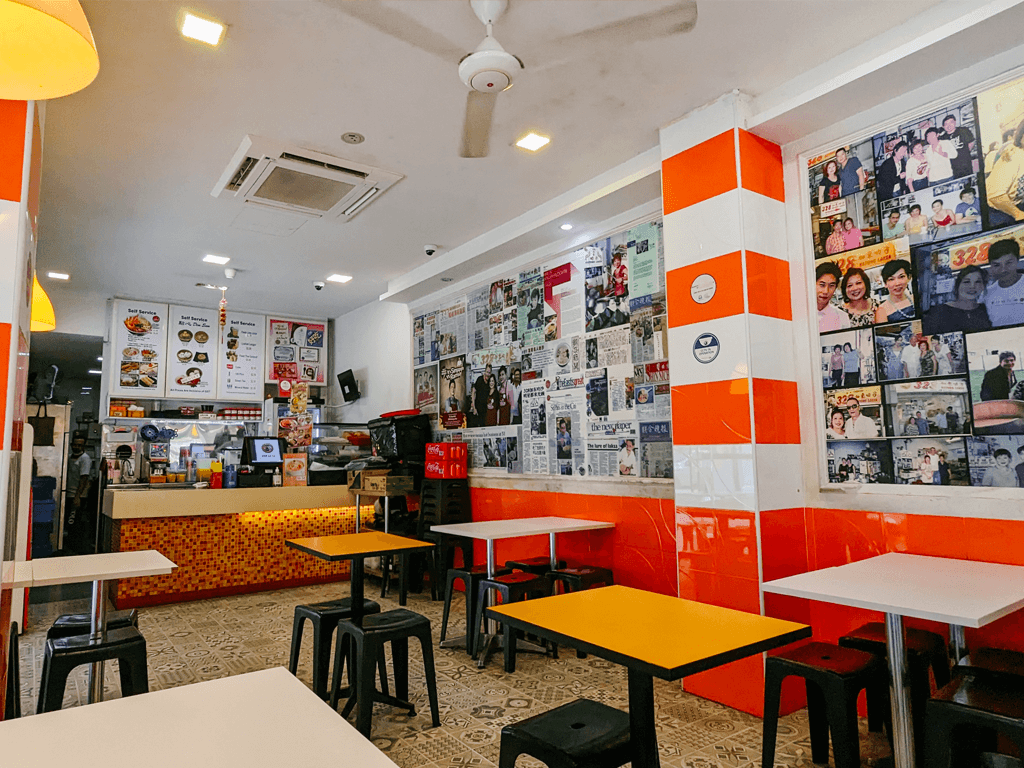 The shop was relatively empty when I visited on a weekday afternoon, but I've seen the place packed during weekends. Service was brisk and I got my laksa within minutes.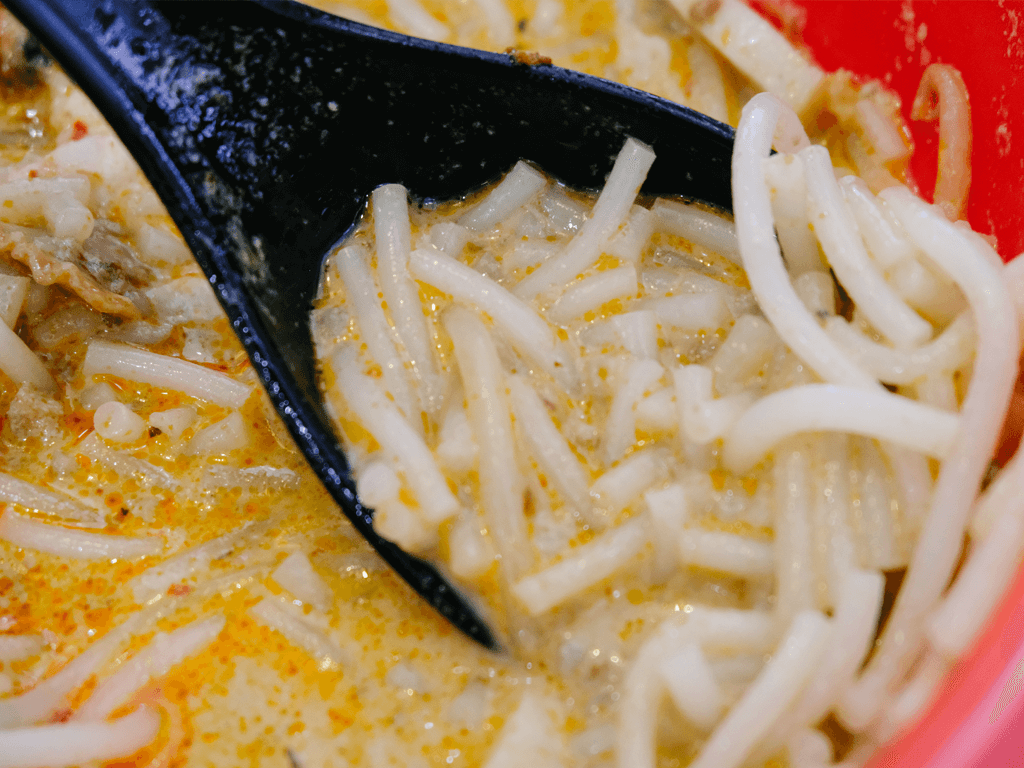 Noodles: 4.5/5
The noodles here are firm and ever-so-slightly chewy and cut very consistently so as to fit easily into the spoon. I've had laksa noodles that are either too hard or too mushy and this is definitely not one of them. This is important as the rice noodles need to be of the right consistency to cling onto the broth.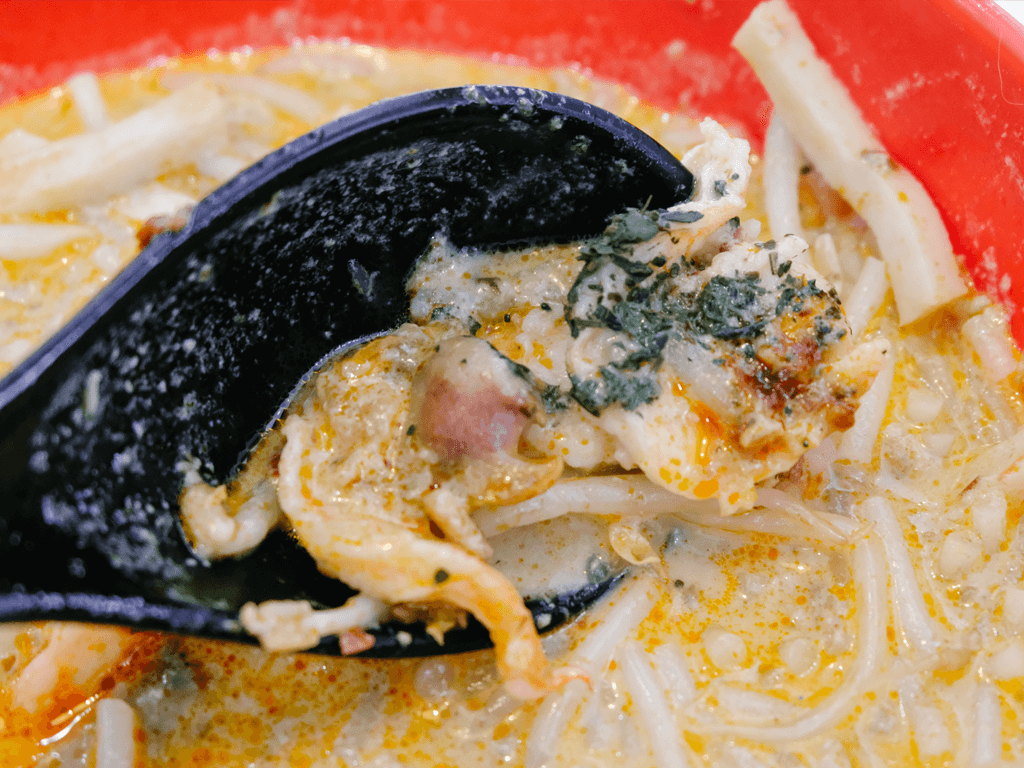 Toppings: 3.5/5
The partially butterflied prawns come fairly large, as do the plump blood cockles, though I noticed the prawns didn't taste particularly fresh and sweet. The savoury fish cakes are sliced into perfect rectangle strips — in fact, the individual ingredients seem to be just the right size to make each collective bite satisfying.
Soup: 4.5/5
What a great broth: Thick (but not overly so) and flavourful with savoury-salty crustacean goodness from the fried hae bi (dried shrimp). It's also balanced out well by the coconut milk and a hint of spices and herbs (turmeric, galangal) to give the soup a complex body that's very enjoyable.
Sambal: 4.5/5
While I'm not a fan of how 328 Katong Laksa packages its sambal in plastic packets (presumably so tourists or those who can't take much spice can choose how much they wish to add), this is some incredible stuff. There's an instant whiff of intense spices, and it adds a very robust shrimpy onion flavour to the dish once mixed in. It's very spicy and sure to warm your belly.
Value: 3.5/5
Their bowls start from S$7, with a bigger one available for S$9, so it's not the cheapest bowl of laksa out there (prices here have shot up over the years). The pricier bowl doesn't have much more ingredients than the former, but it sure has a lot of noodles. Most diners will be happy with the smaller size.
Final score: 82%
Janggut Laksa
Roxy Square, 01-64, 50 East Coast Road
Open: Monday to Friday (10.30am to 4.30pm), Saturday to Sunday (9am to 4.30pm)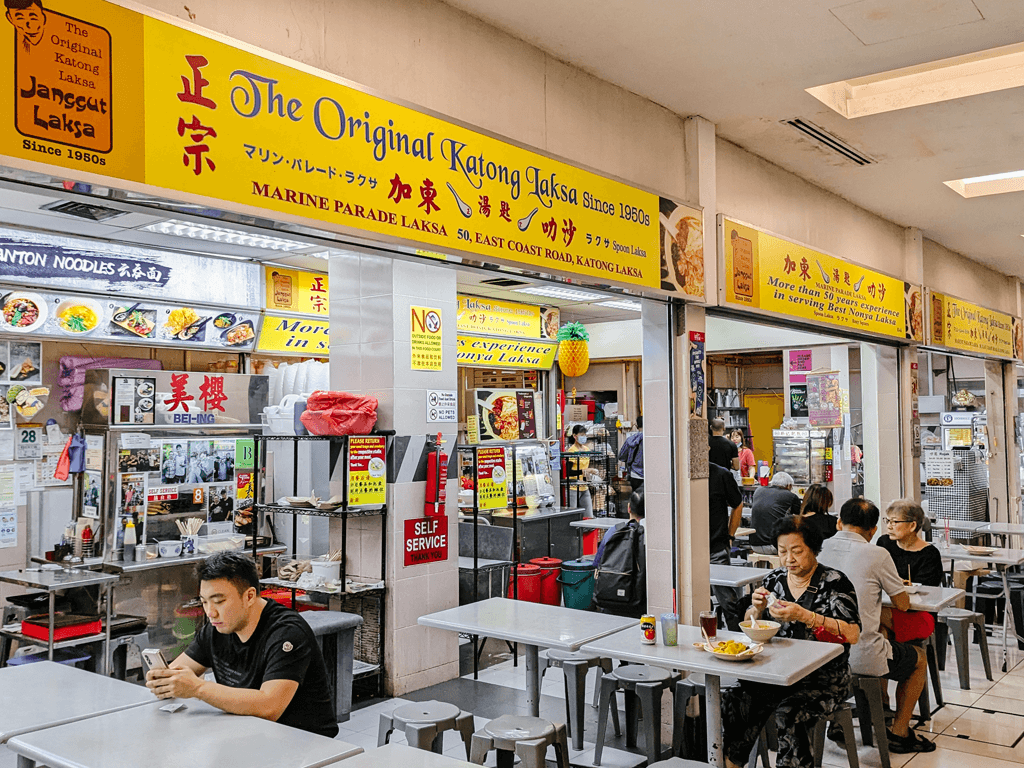 The one that started it all! We wish Janggut Laksa had stayed in its beautiful shophouse, but this location isn't so bad either — at least there's air-conditioning.
It's amusing to see their sign plastered all across the coffeeshop, but it's well-deserved. Janggut Laksa has made its fair share of appearances on both the news and food media for being the progenitor of the famed Katong laksa.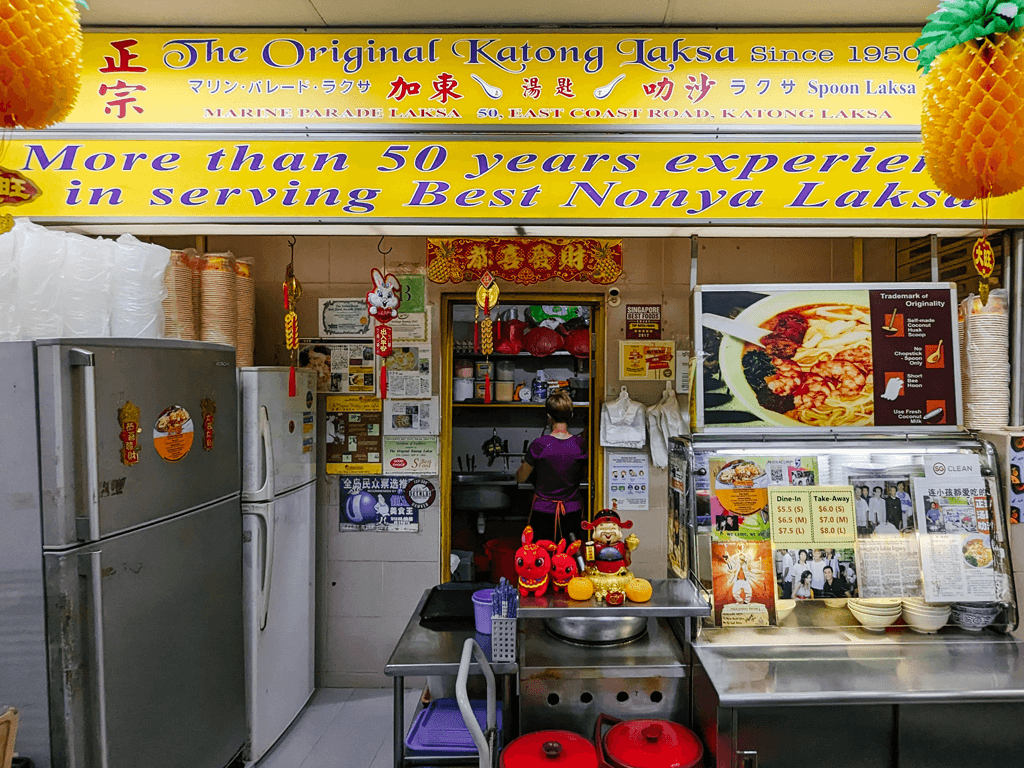 There were two people in front of me in the queue, despite being 3pm on a weekday afternoon.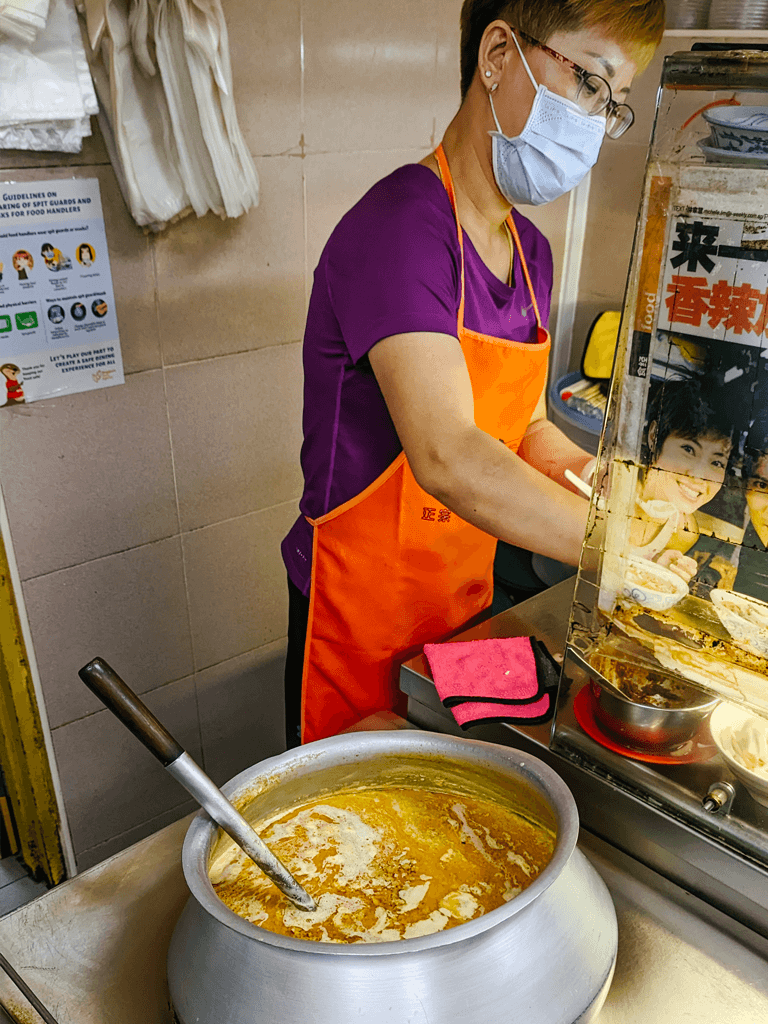 Only one person — a long-time employee (not the daughter of Janggut, as she's usually based at the Queenstown outlet) and a very sweet lady — was manning the counter, but she was quick to scoop up a hot bowl of laksa for me.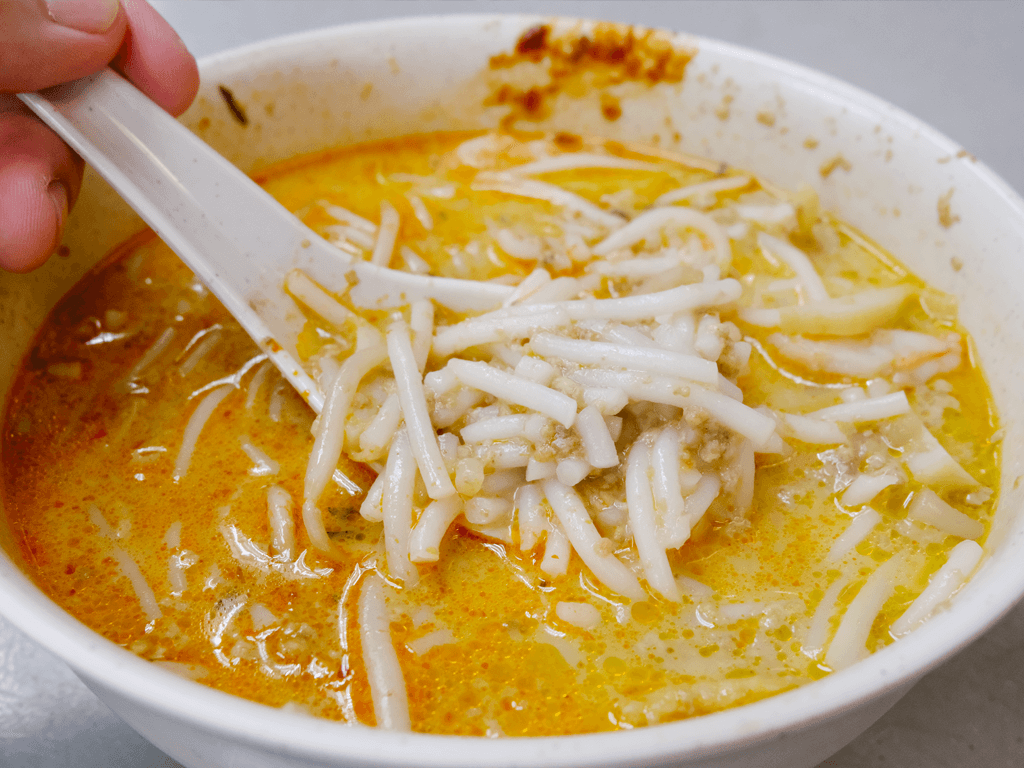 Noodles: 4/5
The rice vermicelli was cut short in the typical style, making it easy to eat with just a spoon. The noodles are softer, and a little more haphazardly cut than 328's, but still offers a nice chew and size that's easy to slurp up with a spoon.
Toppings: 4/5
You get plenty of bean sprouts and fish cake in each bite. The handful of prawns and qi hum, while slightly smaller than those at 328, are sweeter, fresher, and firmer to the bite. The blood cockles have that slightly metallic taste (from high amounts of iron) and ocean flavour that makes it such a delicacy. 
Slivers of daun kesum, more loosely chopped than 328's, add a more pronounced lemony, spicy and tangy flavour compared to the dried ones at the other shop.
Soup: 3/5
The yellowish broth is visibly less thick and oily than 328's (and most places in fact) – more like a savoury, thin milky broth than the creamy, gravy-ish soup I've come to associate with laksa. It means that it's a lot more drinkable, but also less fragrant and rich. The umami crustacean flavour is there, thanks to the minced hae bi (dried shrimp), but I wished it could be a bit more lemak with a stronger and sweeter coconut flavour. The difference is especially stark as I had both bowls back-to-back.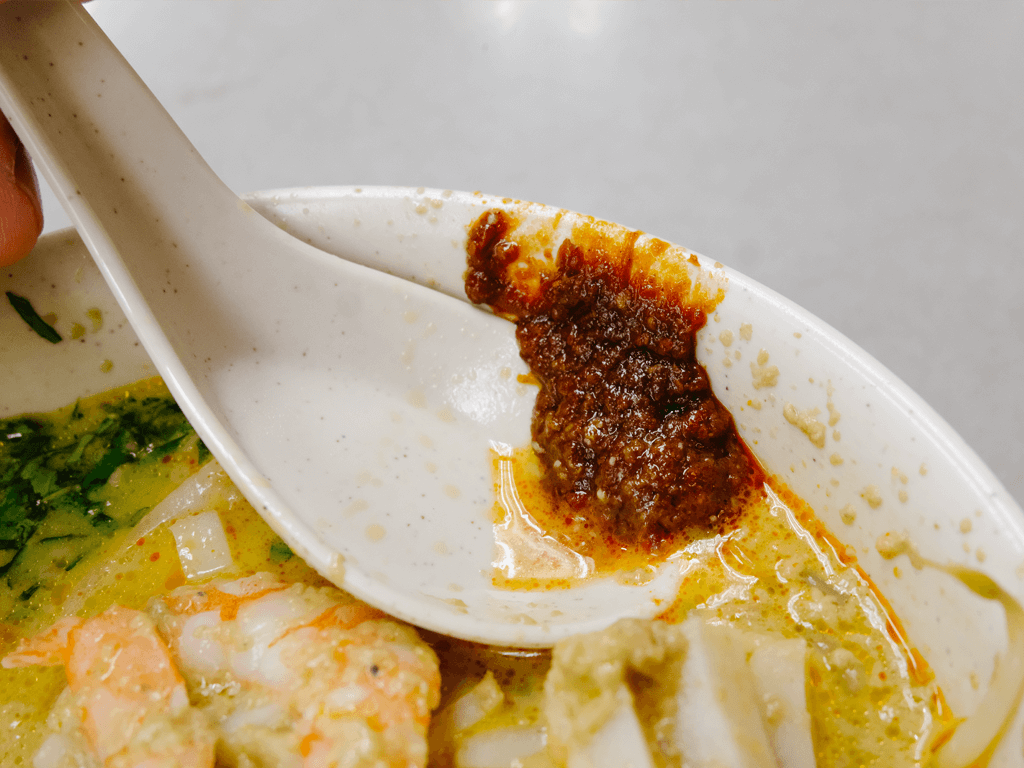 Sambal: 4/5
The deep red sambal here is quite decent, partially sweet and shrimpy, a tad salty, and so fine it quickly blends into the broth. It's not particularly spicy though, so help yourself to more sambal at the counter if you want a stronger kick.
Value: 3.5/5
Starting from S$5.50 for a small bowl, Janggut is a fair bit more affordable than 328 Laksa, though I still recommend getting their medium (S$6.50) or large bowl (S$7.50) as the small one might not be enough for most people. My medium size bowl had enough ingredients in every bite to make for a satisfying meal, with four to five prawn slices and a good spoonful of cockles and sliced fish cake. 
Final score: 74%
Our verdict
The winner: 328 Katong Laksa
As commercial as it is and despite the fact that it's been around for a shorter period of time, 328 Katong Laksa wins by a good margin on delivering a consistent, solid bowl of nyonya laksa that's as lemak and mass-appeasing as it gets.
Having said that, Janggut Laksa has its fair share of loyal customers, with short queues forming even at 3pm on a weekday. They must be doing something right, even if their laksa feels a bit less satisfying to me — mostly because of the broth, which is what makes laksa… laksa. 
HungryGoWhere paid for its meals at both stalls for this article.
For more ideas on what to eat, check out our top bak chor mee or Chomp Chomp Food Centre picks.
Both stores are on the GrabFood delivery service and offer free delivery (up to S$3 off) with GrabUnlimited.
Alternatively, you can book a ride to 328 Katong Laksa and Janggut Laksa.
Do explore the new GrabFood Dine-in service for awesome deals.